Easter is a little more than 2 weeks away! Can you believe it?! I love Easter so much and have been excitedly purchasing things here and there for the kids baskets. So today I've got some of our favorite Easter basket fillers for you. As always, we either own and love these items or purchased them for this year's baskets.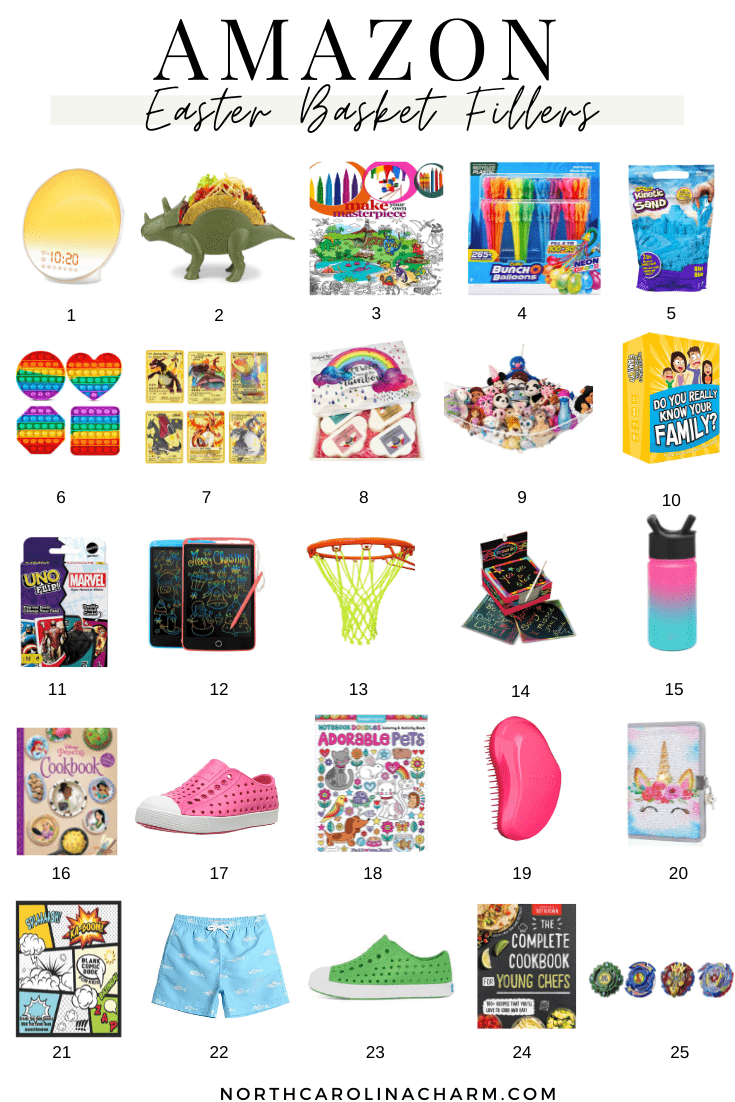 Easter Basket Fillers On Amazon
Sunrise Alarm Clock: This alarm clock simulates a sunrise to gradually wake you up! I think we're going to grab these for the kids this year to hopefully make it easier for them to wake up when it's still dark outside.
Dinosaur Taco Holder: We use these weekly for Taco Tuesday and they are so fun!
Jumbo Coloring Posters: These were a Christmas gift for the kids that have majorly come in handy for snow days and teacher work days! These have entertained the kids for hours. Thomas has the dinosaur theme and Caroline has the unicorn & fairy theme.
Water Balloons: Break open the package and stuff these into any remaining basket holes!
Kinetic Sand: Always a fave.
Pop It Fidget Toys: These are all over my house, in my car, in my purse, in both kids backpacks…they LOVE these things.
Pokemon Gold Plated Collector Cards: Let's talk pokemon for a second…all of the kids at school (including mine) are currently obsessed with these cards. They spend every morning and afternoon bus ride trading cards with friends and discussing what card does what. For Christmas, Santa grabbed a pack of the "super rare" gold collector cards and their minds were blown when they found them at the bottom of their stockings. Their pokemon collections are their most coveted possession right now. We got them both these trading card binders for them to keep their cards safe and organized.
*Rainbow Bath Bombs: For girls AND boys. We put these in the kids Easter baskets and they were a huge hit. So, these bath bombs shoot out a RAINBOW OF COLORS to create a magical effect in the bath tub. You can purchase them as a single, 2 pack or 4 pack!
Stuffed Animal Hammock: Getting one of these for Caroline to put all her stuffed animals in.
Table Topics: We LOVE to use these at dinner time with the kids.
UNO Flip: This MARVEL version features a twist on the game with a two-sided deck of cards and some new action cards too (skip ALL and back to you!). At any point in the game, you may encounter a "flip" card which requires all players to flip their cards and play from the other side.
LCD Doodle Writing Tablet: We take these to restaurants a lot for the kids to play with while we wait on our food.
Glow In The Dark Basketball Net: We love this net and it's so nice for playing after sunset!
Disney Princess Cookbook: This simple cookbook includes 50 beginner-friendly recipes, including dishes like Rapunzel-inspired Frying Pan Eggs, Tiana-inspired Bayou Meatloaf, Moana-inspired Te Fiti Tropical Punch, and many more. Caroline has had SO much fun making recipes from this cookbook and we've purchased several copies to gift at birthday parties.
Natives (color: hollywood pink): An Easter basket staple year after year for us.
Coloring Book: Caroline has 3 of these coloring books and just put the rest of her collection on her birthday wish list.
Tangle Teaser Hair Brush: A must-have for little girls. This brush is magic and makes detangling hair ouch-free.
Secret Diary: Caroline has been writing in this little diary for more than a year! She loves that it has a lock and key to keep Thomas out.
Create Your Own Comic Book: Thomas has had so much fun with this.
Swim Trunks (color: blue fish): Our favorite Amazon swim trunks for Thomas. They come in a million colors.
Natives (color: grasshopper green): The pair we're grabbing for Thomas's basket this year.
*The Complete Cookbook for Young Chefs: I recently posted this to IG after a reader shared it with me and received a LOT of messages from mom's who own and can attest to how awesome this cookbook is. I grabbed a copy for Thomas for Valentine's Day!
Beyblades: This battle toy has provided hours of entertainment for both kids!