I mentioned yesterday that for Supper Club our hostess Lisa made the most amazing Caramelized Onion & Prosciutto Pizza pizza ever. Since Thursday I had been dreaming about having this pizza again so over the weekend I grabbed all of the ingredients at the grocery store and whipped this up on Sunday night. As expected, it was a hit around here.
Since I try to keep dinners pretty simple these days I purchased a pre-made pizza crust, a bag of mozzarella cheese, a few slices of prosciutto from the deli counter and a red onion. This meal took all of about 20 minutes to prepare and 12 of those minutes were pure bake time. So easy, so delicious – a huge win.
Caramelized Onion & Prosciutto Pizza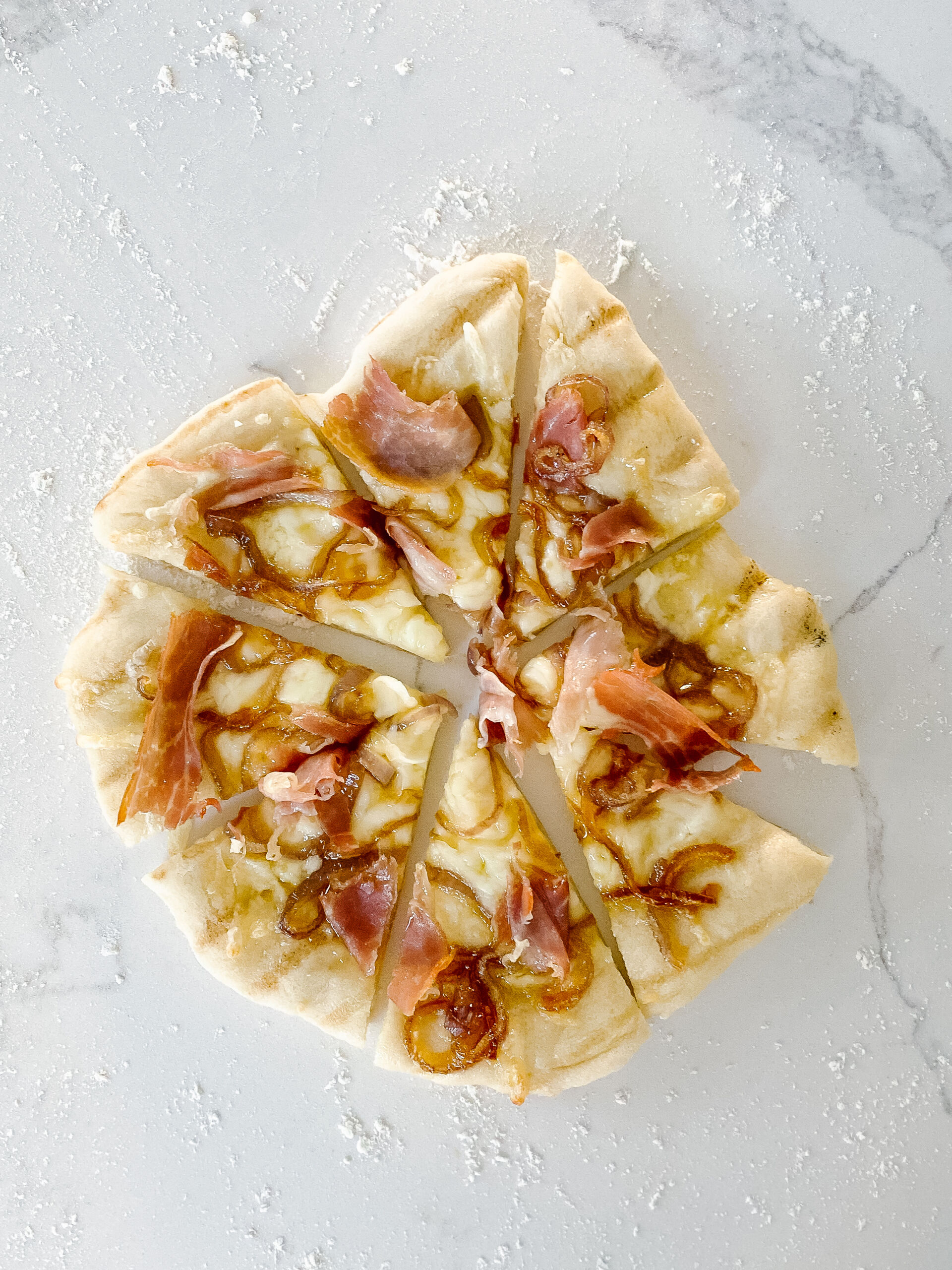 Ingredients
1 prepared pizza crust
1 medium red onion, thinly sliced
1/4 cup brown sugar
1 cup Parmesan cheese, shredded
1 cup fresh mozzarella cheese, shredded
8 slices prosciutto, torn into bite size pieces
Olive oil, for drizzling
Kosher salt to taste
Instructions
Preheat oven to 500 degrees.
Heat 2 tablespoons olive oil in a large skillet. Add onions and brown sugar and toss/stir for several minutes, or until onions are brown and cooked. Set aside.
Roll out pizza dough to a rectangular shape. Drizzle on olive oil, sprinkle on a little salt, followed by a little Parmesan.
Lay slices of mozzarella evenly over the top of the crust. Arrange caramelized onions over the top of the mozzarella. Randomly lay slices of prosciutto over the onions.
Bake for 15 to 17 minutes in the lower half of the oven, or until crust is golden brown. Remove from oven and cut into squares. Serve immediately.
*updated photo March 2022