Just wanted to pop in and share the Mickey Mouse cupcakes I made for Caroline's class party on Friday! These were so unbelievably easy to make and a class full of toddlers went absolutely wild over them!
The simplest way to make these? You can pick up pre-made cupcakes and add your ears if you don't have time to bake!
Supplies: Polka dot cupcake wrappers / Wilton Star Decorating Tip / Wilton Disposable Decorating Bags

When I arrived I asked Caroline if she wanted Tom Tom to attend her class party and she was pretty adamant that he should join us so I ran across the hall and snagged him from his class. They both demolished their cupcake.
Even though Caroline and Thomas were the only two kids who refused their Mickey ears, the party was a success!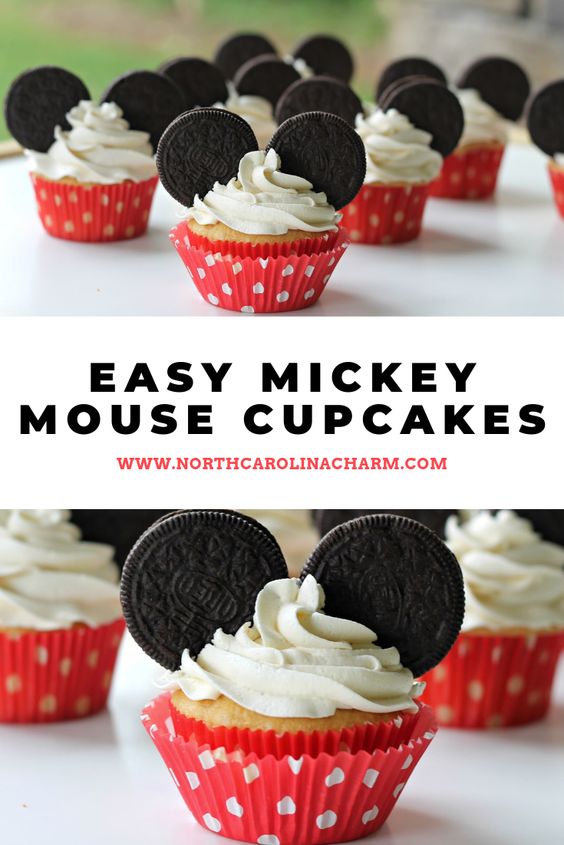 Mickey Mouse Cupcakes
1 box cake mix (plus eggs, oil, water, etc)
2 sticks salted butter, softened
4 cups powdered sugar
2 tsp vanilla extract
5 tsp cream or milk
1 package Oreos
Cupcake Wrappers
Bake cupcakes according to package directions.
Meanwhile, make your buttercream frosting. In a large mixing bowl whip the butter. Slowly add in 2 cups of powdered sugar. Mix until combined. Add the vanilla and 1 more cup of powdered sugar and continue mixing. At this point you may need to add a teaspoon or two of milk to thin the frosting down. Add in your last cup of powdered sugar and mix until combined. Add more or less milk depending on the consistency. You want the frosting to be thick and creamy.
Assemble and fill your decorating bag up with frosting. Frost your cupcakes.
Add two Oreos for Mickey ears