We recently sailed the new Disney Wish cruise ship and I'm excited to share all about it!
We originally booked our cruise vacation back in 2020 on the Disney Dream ship. However, over the next few years, it would get rescheduled, rescheduled, and rescheduled again! During our last re-booking, our planner informed us that Disney's NEW ship would be available for our new cruise date so we switched over to the Wish…and it was totally worth the wait.
Before I dive into everything, I first and foremost need to give a non-sponsored shout-out to our incredible Disney planner, Kim Ellison of Marvelous Mouse Travels. We had such an amazing experience working with her on our Disney park vacation that it was a no-brainer to use her again for our cruise. And my goodness — she was unbelievably helpful. The planning process was overwhelming to me and there are SO many steps, instructions, deadlines, and tricks you just wouldn't know as a first-time Disney cruiser. We absolutely could not have pulled this vacation off without her help and guidance and I would highly recommend her to anyone who is planning a Disney cruise or park visit.
Alright, let's get down to it…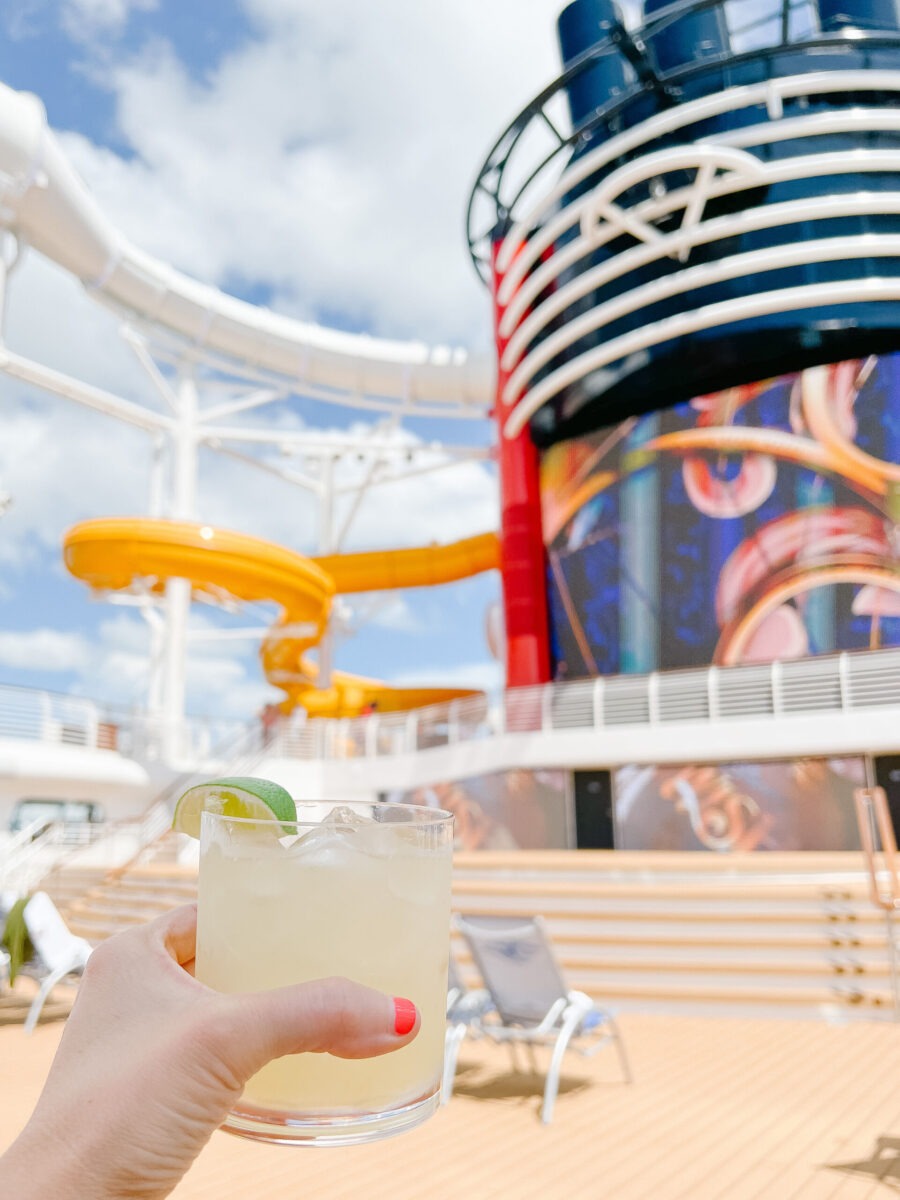 Disney Wish Cruise Ship Overview
The Disney Wish is the fifth ship (and the largest) in Disney's Cruise Line fleet and what we found most exciting was the inclusion of Marvel and Star Wars themes throughout the ship. Disney did an incredible job bringing these themes to life too and we were definitely impressed.
We took the 4-night cruise out of Port Canaveral (stopping in Nassau, Bahamas and Disney Castaway Cay) and that felt like the right amount of time for us. We probably could have made a 3-night cruise work, but there was so much to learn and navigate as first-time cruisers that we didn't feel like we knew what we were doing until day 2 — and even then, there is an overwhelming amount of activities and experiences happening around the clock.
As I mentioned, this was our first family cruise so I cannot compare this ship to any others in the fleet. Additionally, there were a LOT of things we wish we could have done that we ran out of time for — mainly the adult things (spa, beverage tastings, excursions, dinner, etc.). If we were to do this again, I would definitely tackle our time on the ship a bit differently. I'll elaborate on that in a sec.
Disney Wish Staterooms & service
We decided to spring for the Verandah stateroom which includes a private verandah, a queen-size bed, a pull-down bunk bed (the kids thought this was the most amazing thing ever), a sitting area with a convertible couch, and a split bathroom (hugely helpful). The verandah made this room worth every single penny. There is nothing more spectacular than waking up to a gorgeous ocean view.
I also want to mention how impeccable the service was throughout the entire ship. I mean WOW in every.single.area. Matt and I kept calling it a Ritz on water. The ship was well staffed with the happiest employees I've ever encountered. And all of them were available and happy to answer any question, point us in the right direction and provide helpful tips along the way.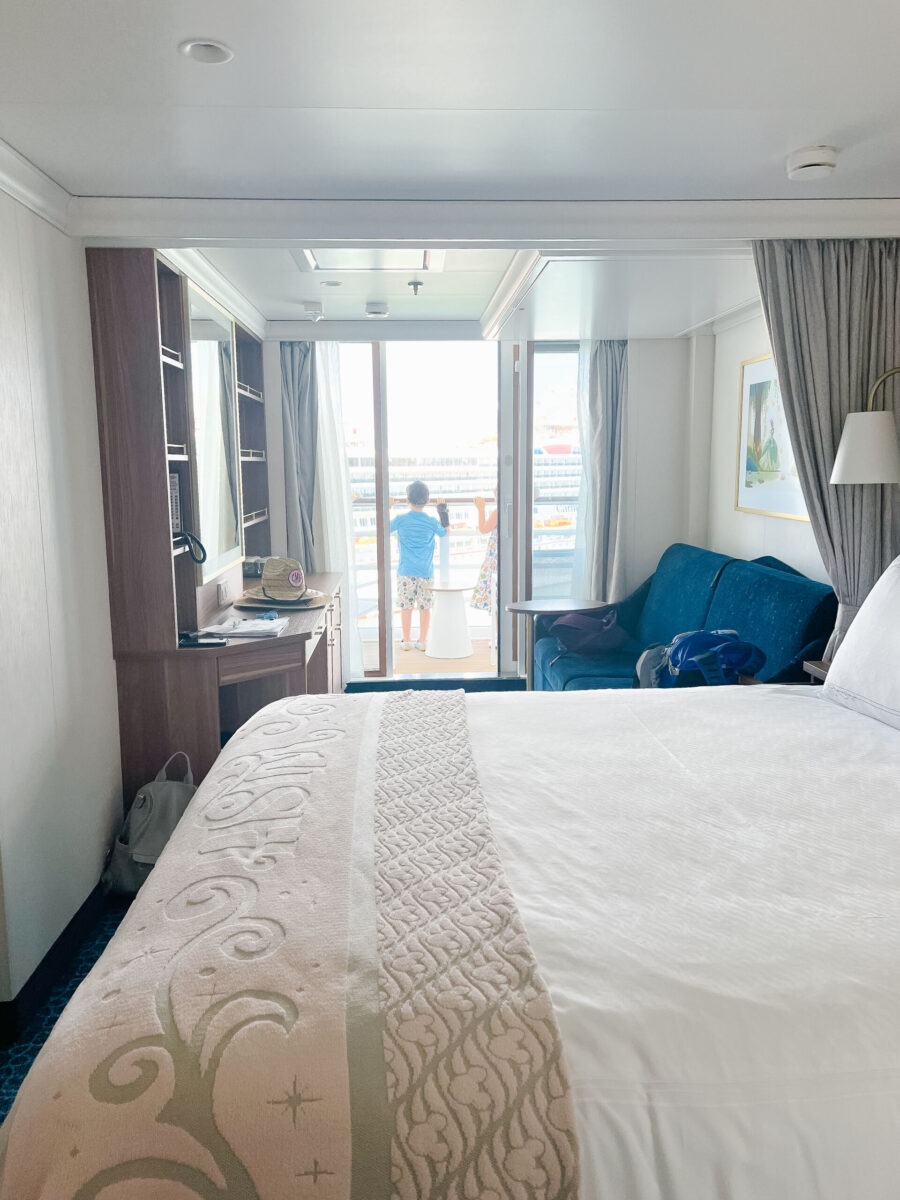 Disney Wish Cruise Ship Dining
There are three rotational restaurants on the ship (you receive your restaurant rotation upon arrival), two adult-only restaurants, a buffet-style restaurant, a food court, and a dessert store.
At the time of booking, Kim secured the first seating of the night for us which happened at 5:30 pm each day. The second seating was around 8:30 pm. We decided on the first seating (which is the more popular seating) because we weren't sure how exhausted the kids would be by dinnertime and it still allowed us time to see a show or do something after dinner if there was any energy left.
The Arendelle's Frozen Dining Adventure and the Worlds of Marvel dining experiences were our favorite. Both were interactive and magical. I may or may not have shed some tears into my pasta during our Arendelle dinner. Seeing Caroline all dolled up in her princess gown and glued to the magic happening all around us was a moment I'll remember forever. Her princess phase is quickly slipping away and I am so happy we squeezed this cruise in when we did.
The food at all of the restaurants was great and of course the service was truly exceptional. And if you want to order multiple entrees or desserts, no one is going to judge you.
I will say that not knowing our dining rotation until boarding made booking an adults-only dinner at Palo tricky. We were really lucky to get a dinner reservation at Palo when the booking window opened and had heard great things about it, so we decided to make our reservation for the last night on the ship. However, upon boarding we learned that our Marvel dinner was scheduled for our last night on the ship. We attempted to move things around but dining changes are pretty difficult to pull off due to wait lists, so we ended up canceling our Palo dinner so we didn't miss the Marvel experience (which is really, really cool).
Star Wars Hyperspace Lounge
Before I move on from food and beverage, I wanted to share that visiting the Star Wars Hyperspace Lounge was absolutely a ship highlight for me. I am not a Star Wars fan at all, but this virtually-enhanced lounge is definitely something you will want to check out for the experience. With the push of a button, you magically enter through a "space door" into a galaxy far, far away. There is a short list of specialty cocktails which are all fascinating to watch come together. The drinks are served in unique cups (of course Matt ended up purchasing his glass because he absolutely cannot pass up a novelty cup) and most have some sort of interactive element (smoke, multiple colors, interesting garnishes, etc.). There is even a $5,000 cocktail on the menu (I confirmed that someone ordered it while we were on the ship too) and that it comes with high-end liquors, a private stateroom experience, tickets for a tour of George Lucas's Skywalker Vineyard in California and a few other things. Wild.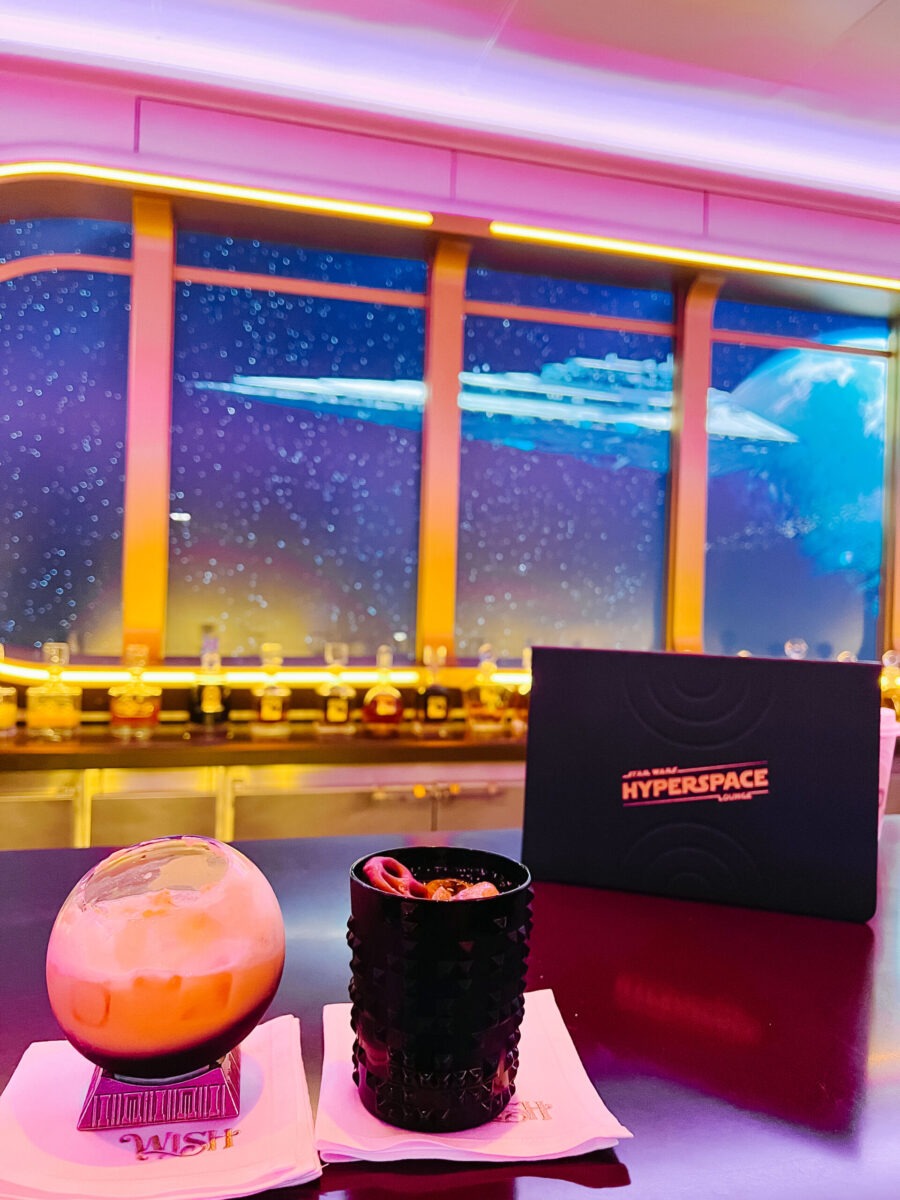 Disney Wish Cruise Ship Activities & Experiences
In my opinion, there was an overwhelming amount of activities and experiences happening every 42 seconds around the clock. Each morning we browsed all the activities within the app and tried to map out our day based on what the kids wanted to do. Of course, Caroline and Thomas wanted to do different things throughout the day which made it challenging to get to everything and relax. In fact, I don't think I would use the word "relaxing" at ALL when it came to this vacation.
In hindsight, I wish we would have let the kids pick 1-2 activities each day, carved out more time for kids club so Matt and I could spend time together, and skipped everything else. But no, I'm someone who must do ALL the fun things…and then pay for it later with cranky kids and exhausted parents.
But were the activities fun? Absolutely. And there really is something for everyone happening at all times — deck parties, live performances/music/entertainment everywhere, games and competitions, crafts, movie theaters (offering first-run films), the list goes on. Oh, and of course, the pool deck offers TONS of fun too with 10 pools, lots of water play areas, and two slides.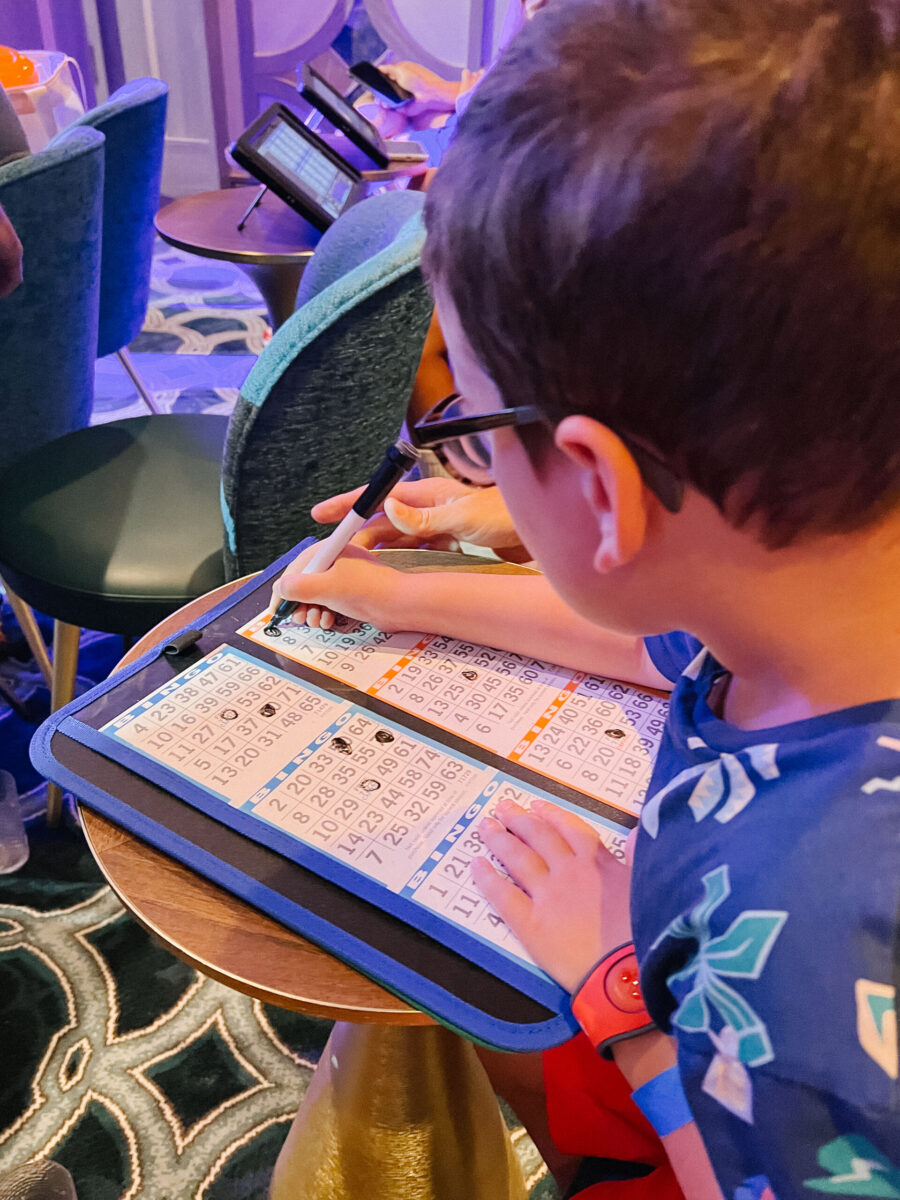 The Aqua Mouse Water Slide
Hands down, the AquaMouse slide was our kids' favorite attraction on the ship. This high-speed water coaster wraps around the upper deck and features lots of fun twists and turns. And it is an absolute blast.
However…be prepared to wait 30-45 minutes for the 60-second ride.
Our kids found the slide to be worth the wait, however, I've got a few tips for you if you don't want to spend a full day waiting in line to ride it again and again.
Tip 1: Board the ship wearing your bathing suits under your clothes and head immediately to deck 11 to get in line. Most people will head straight to the buffets for lunch, and this was the shortest amount of time we stood in line the entire trip.
Tip 2: Ride the water coaster at NIGHT! We planned to do this every single night after dinner and never ended up doing it because got distracted by other activities. However, we were told by the ride operators that the slide is open until 10 pm and has NO wait in the evening. You can experience more of the waterslide features (like fun lighting) at nighttime.
Tip 3: Don't get off the boat in Nassau and instead use this day to slide while it's less crowded.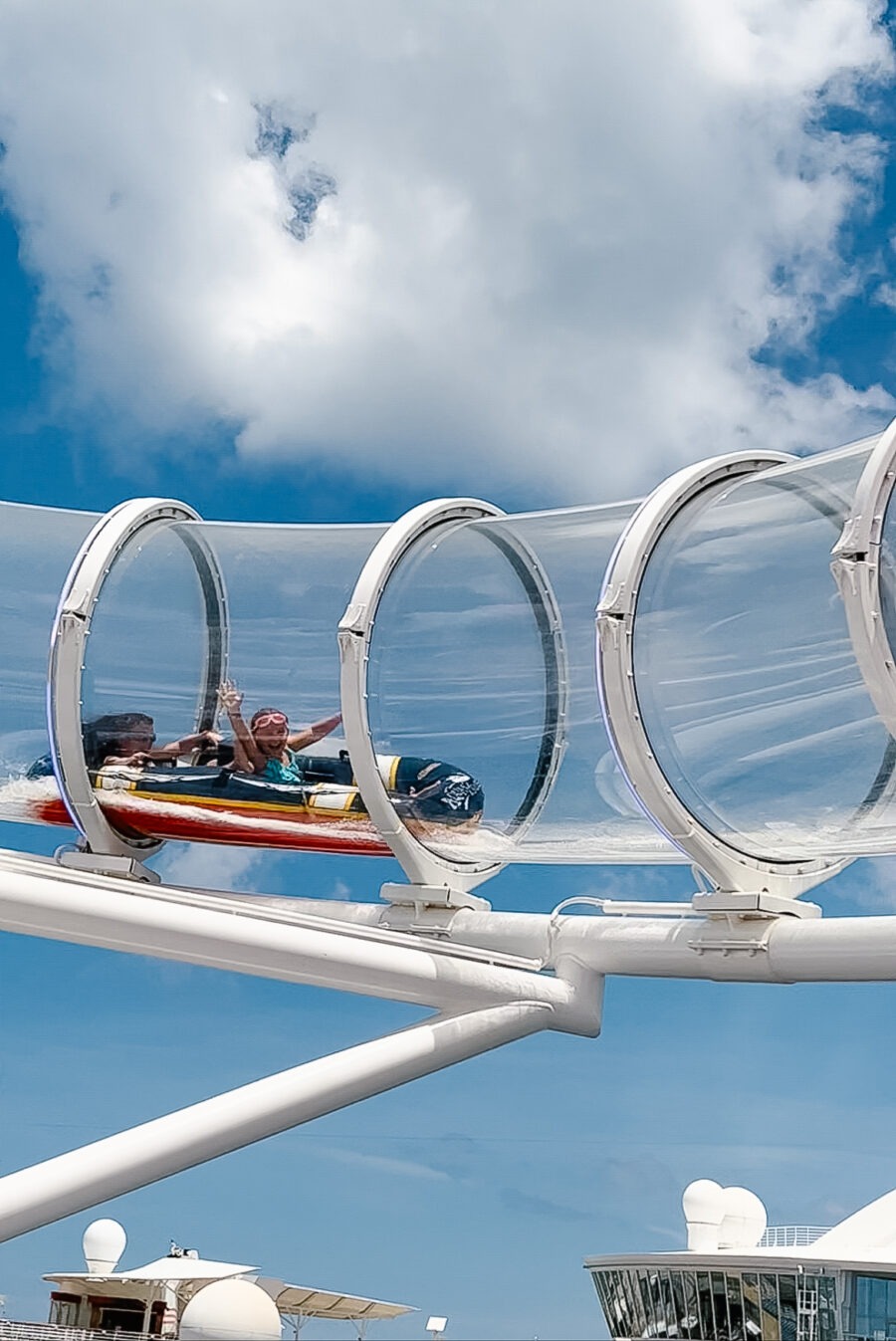 Disney Wish Cruise Ship Oceaneer Club
The Oceaneer Club is truly an amazing place for a wide age range of kids.
First, there are two ways to get into the club, with the most fun way being the SLIDE from deck 3. This was seriously SO cool and our kids were obsessed with checking in and then sliding down to the club. Once inside, there is no shortage of things to do — literally, there are a million themed rooms, all with different activities, experiences, character visits, special shows, and more.
And no surprise, the staff working in the club is amazing. They are so engaged with the kiddos from crafting, to games, to costumes, and more. Never a dull moment.
However, we definitely made a rookie mistake. The kids can request to be picked up at any time by asking a Counselor to send us a text. What we should have done was tell the kids we were dropping them off for "x amount of time" and headed straight to an adults-only activity to sit down and recharge. Instead, we took turns heading down to the kids club every 14 minutes to grab whichever kiddo was requesting to leave due to FOMO over activities happening outside of the club (usually the water slide). Next time we'll definitely plan this out a lot better.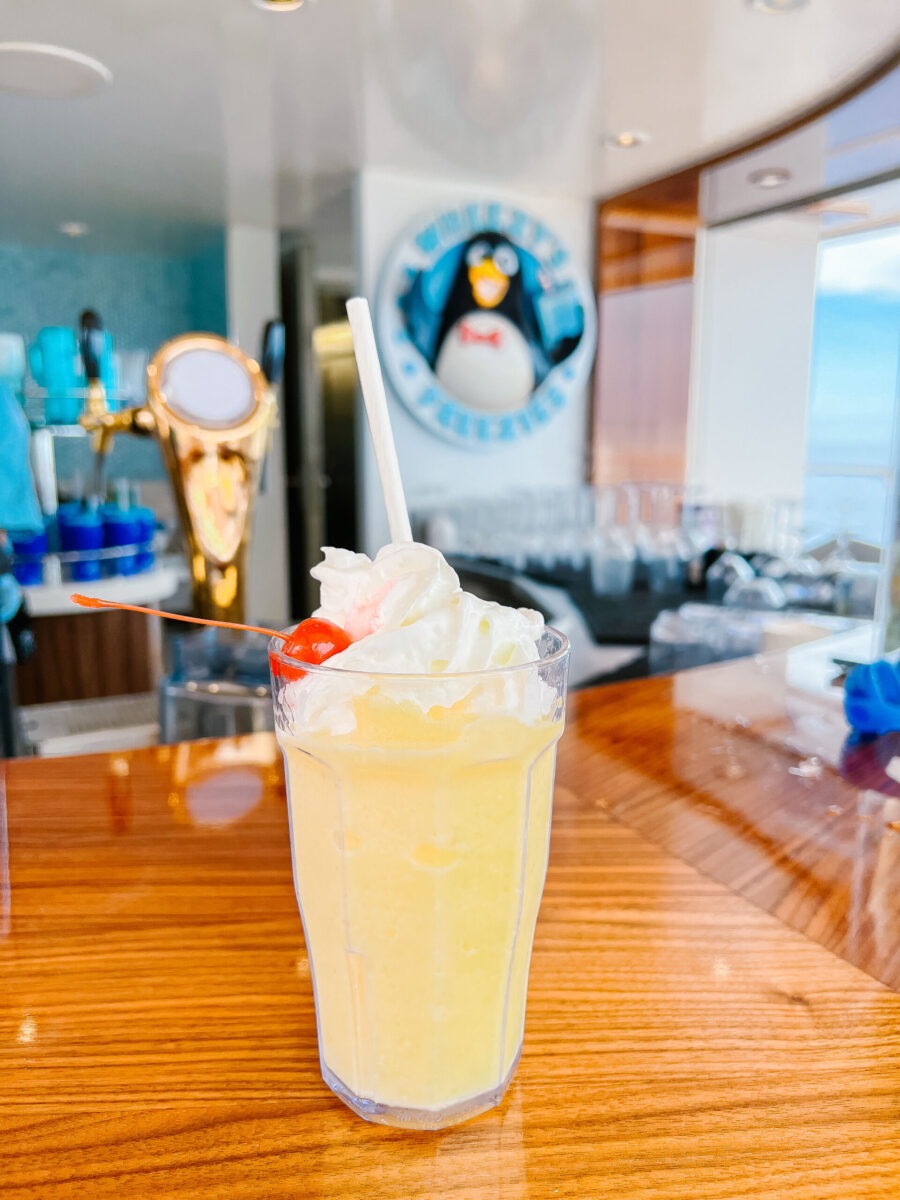 Disney's Castaway Cay
Saved my favorite part for last — Castaway Cay (pronounced Castaway "Key"). OH MY GOSH, I could live here. From the moment we got off the boat I was completely blown away by Disney's private island. The turquoise waters, white sandy beaches, colorful umbrellas and pristine landscaping…it is truly paradise.
While on the island, we took the kids snorkeling and it was seriously a BLAST. Disney has a dedicated "Snorkeling Lagoon" where you can spot lots of tropical fish, buried treasure and sunken statutes of some of your favorite characters. It was really, really cool. Thomas and Matt saw a ginormous stingray while Caroline and I made a scavenger hunt out of all the sunken statutes.
They served a BBQ lunch on the island which was great.
And of course, the 2,400-square-foot floating water playground was also awesome. This attraction offers two water slides – one is an enclosed corkscrew slide and the other is a 140-foot-long open slide into the ocean. Both are extremely FAST and FUN. Highly recommend!
This day went by way too fast and before we knew it we were being handed ice-cold towels as we boarded the ship.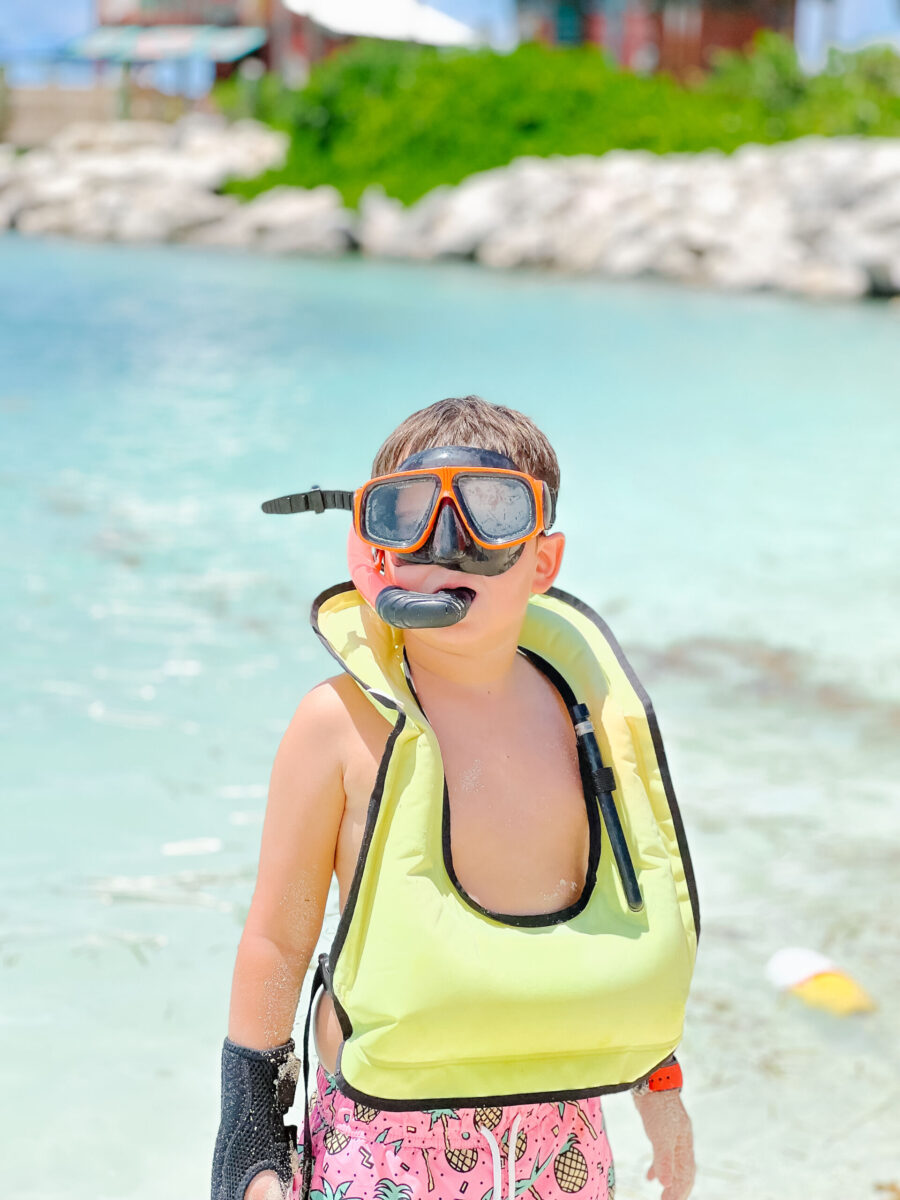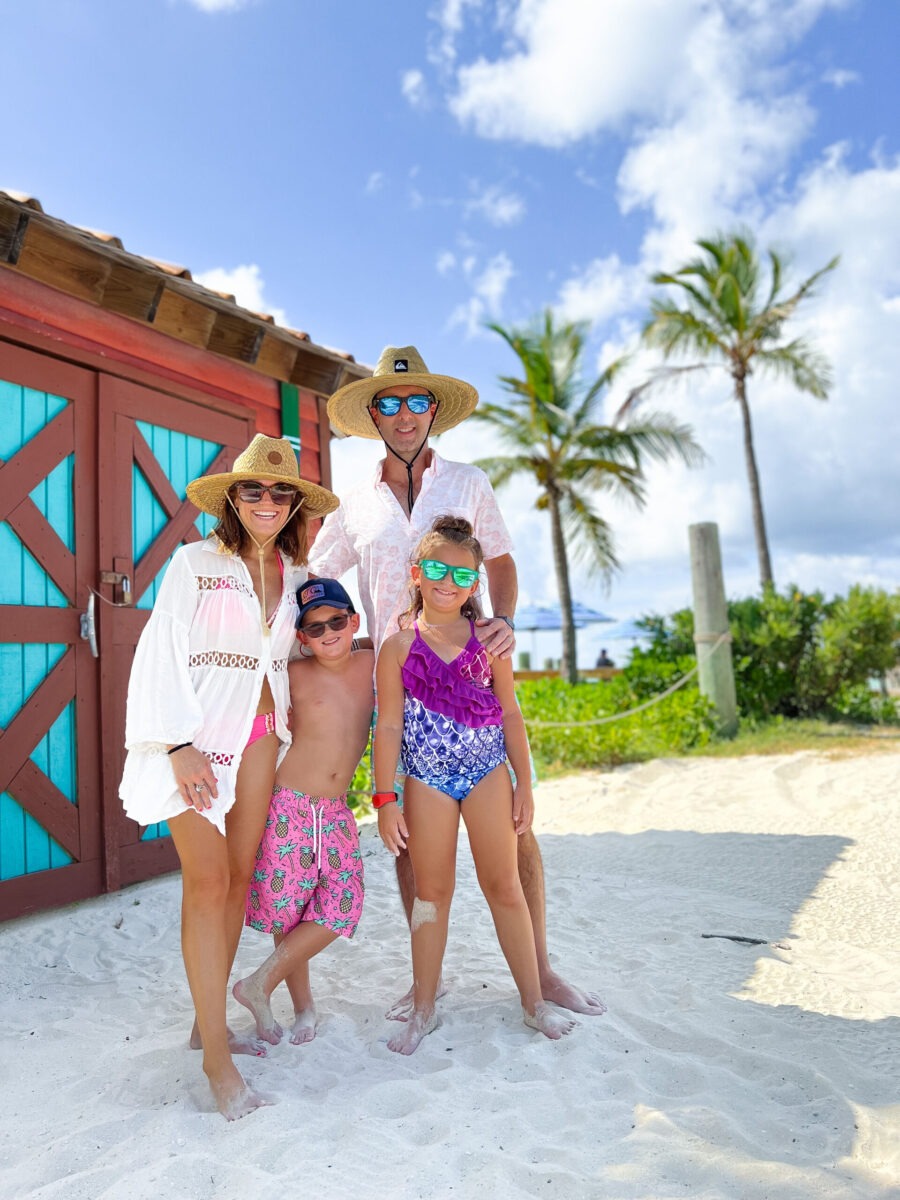 And that was a wrap on our cruise highlights.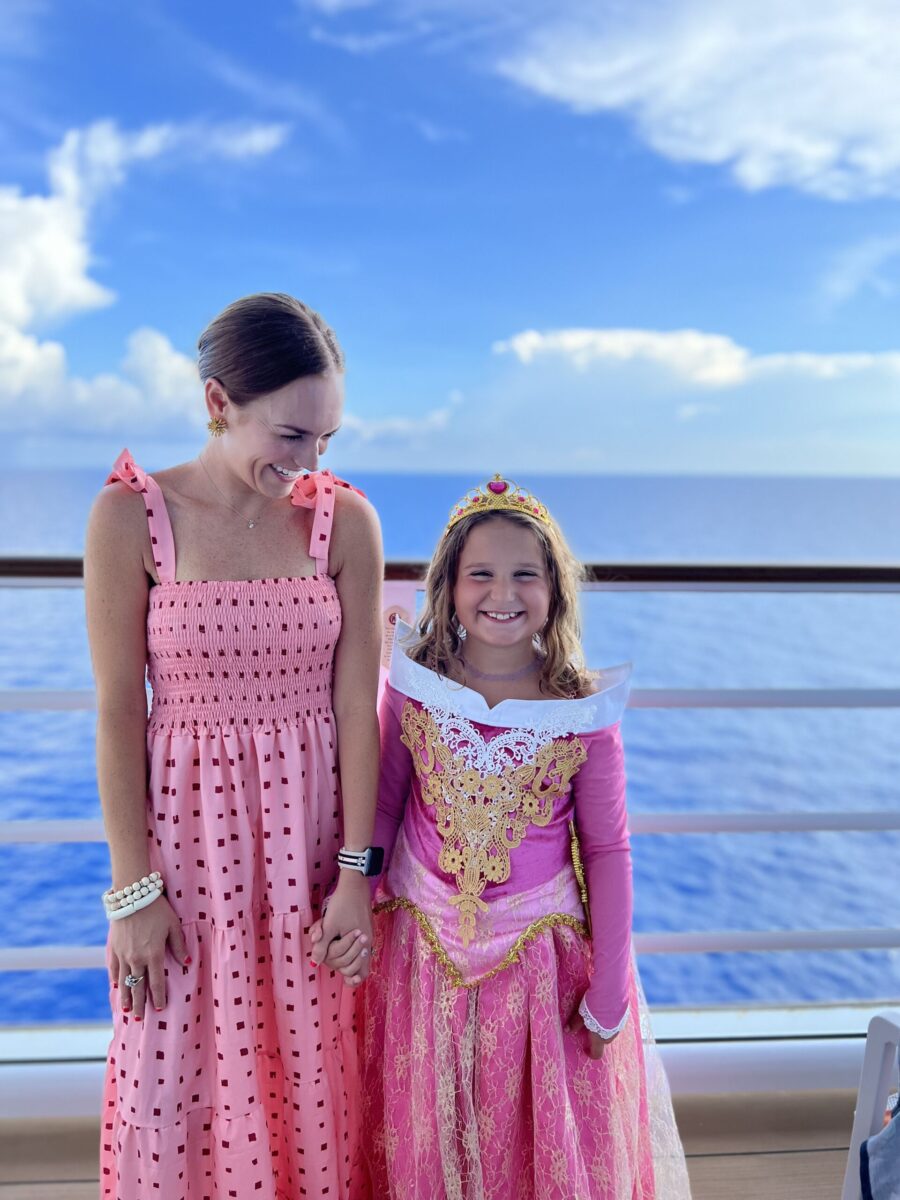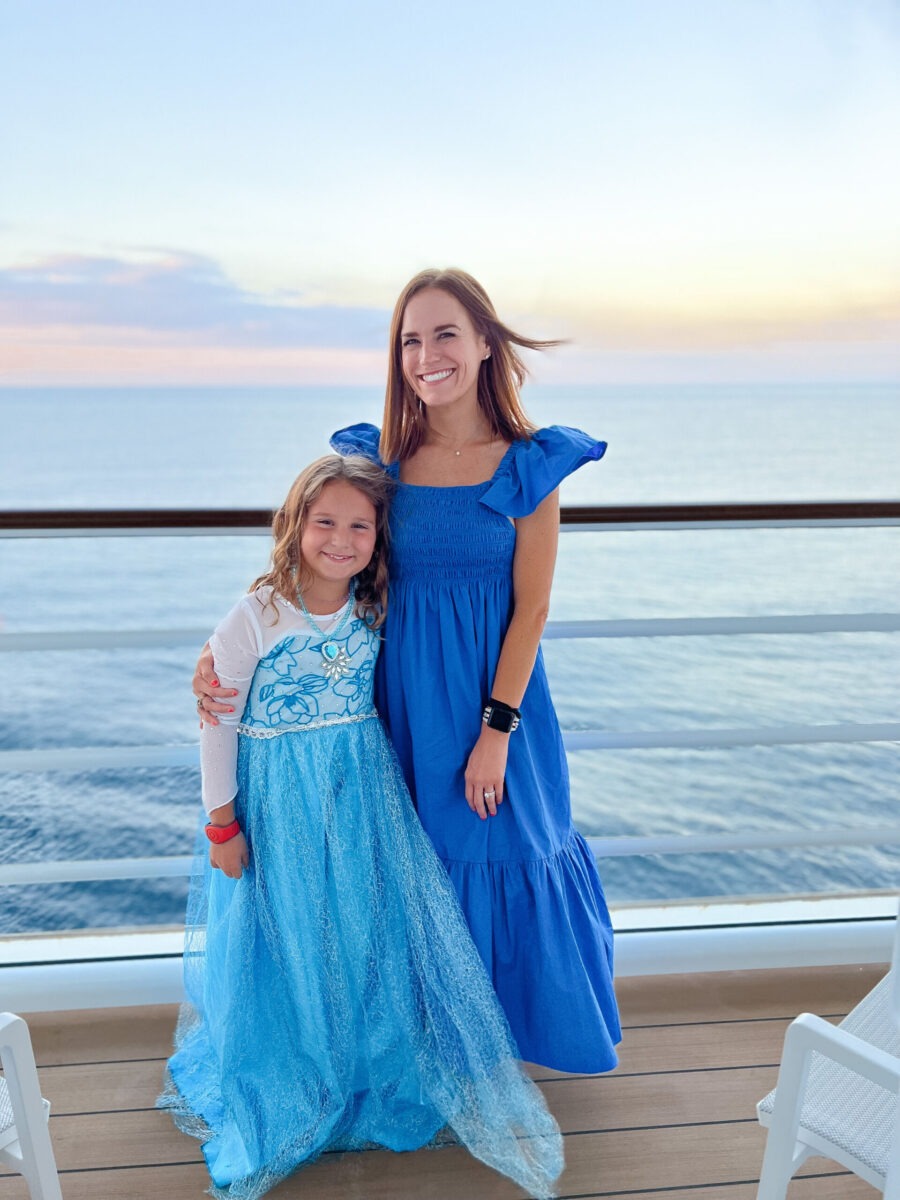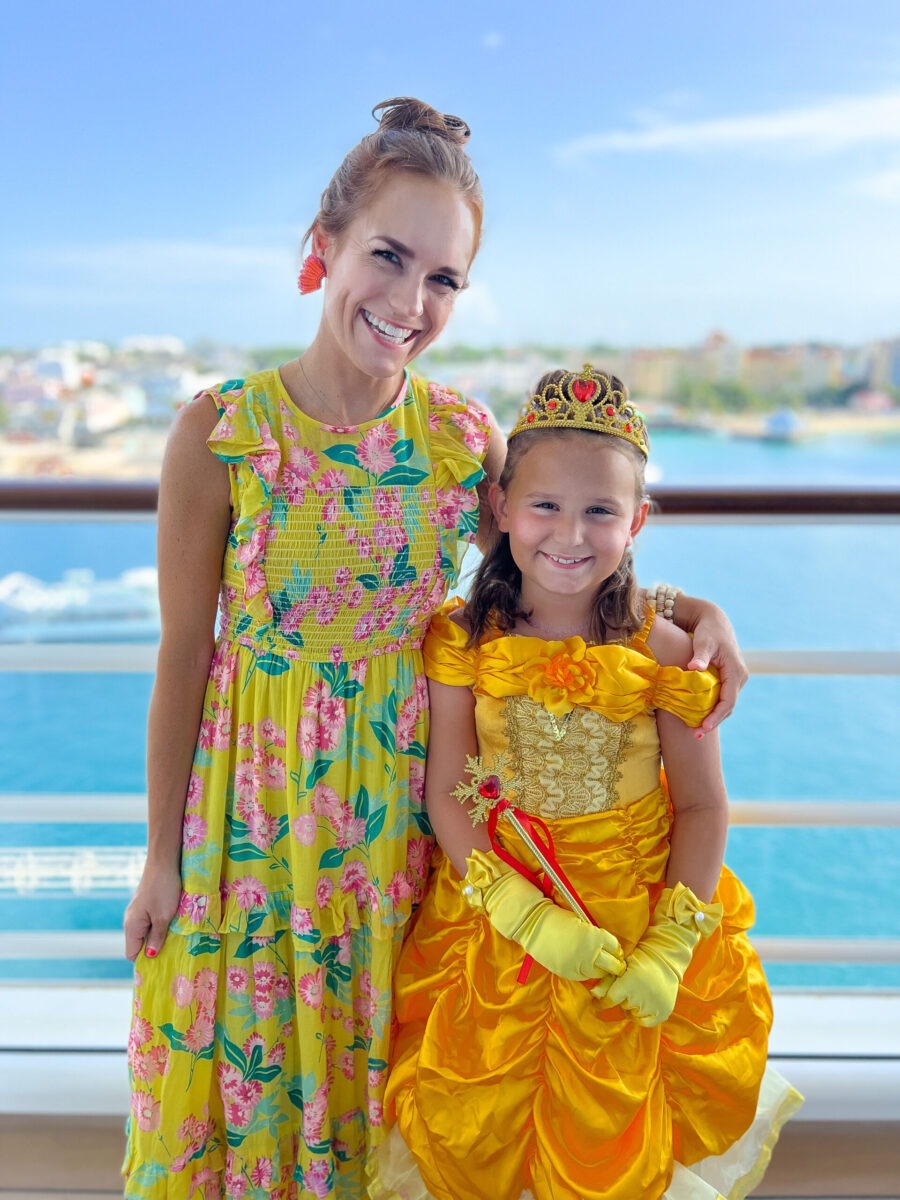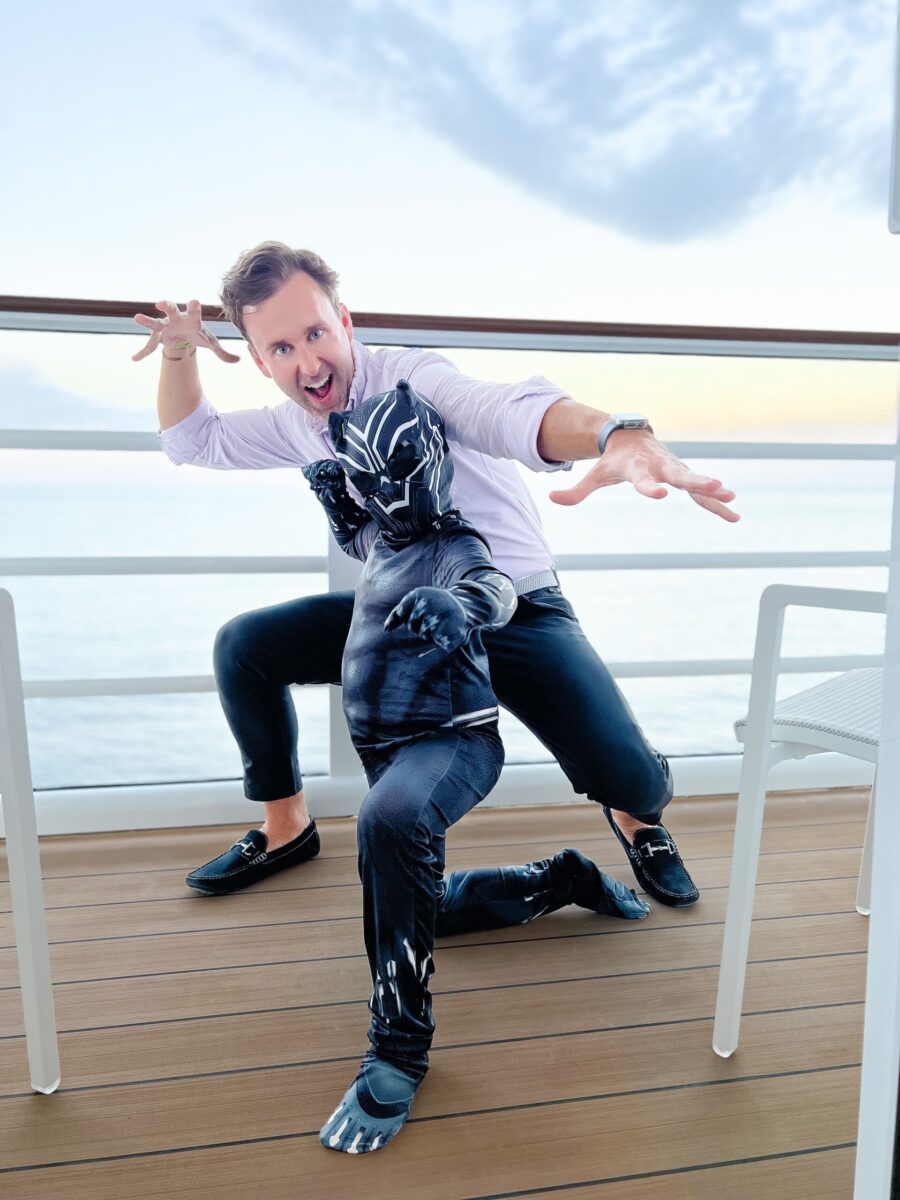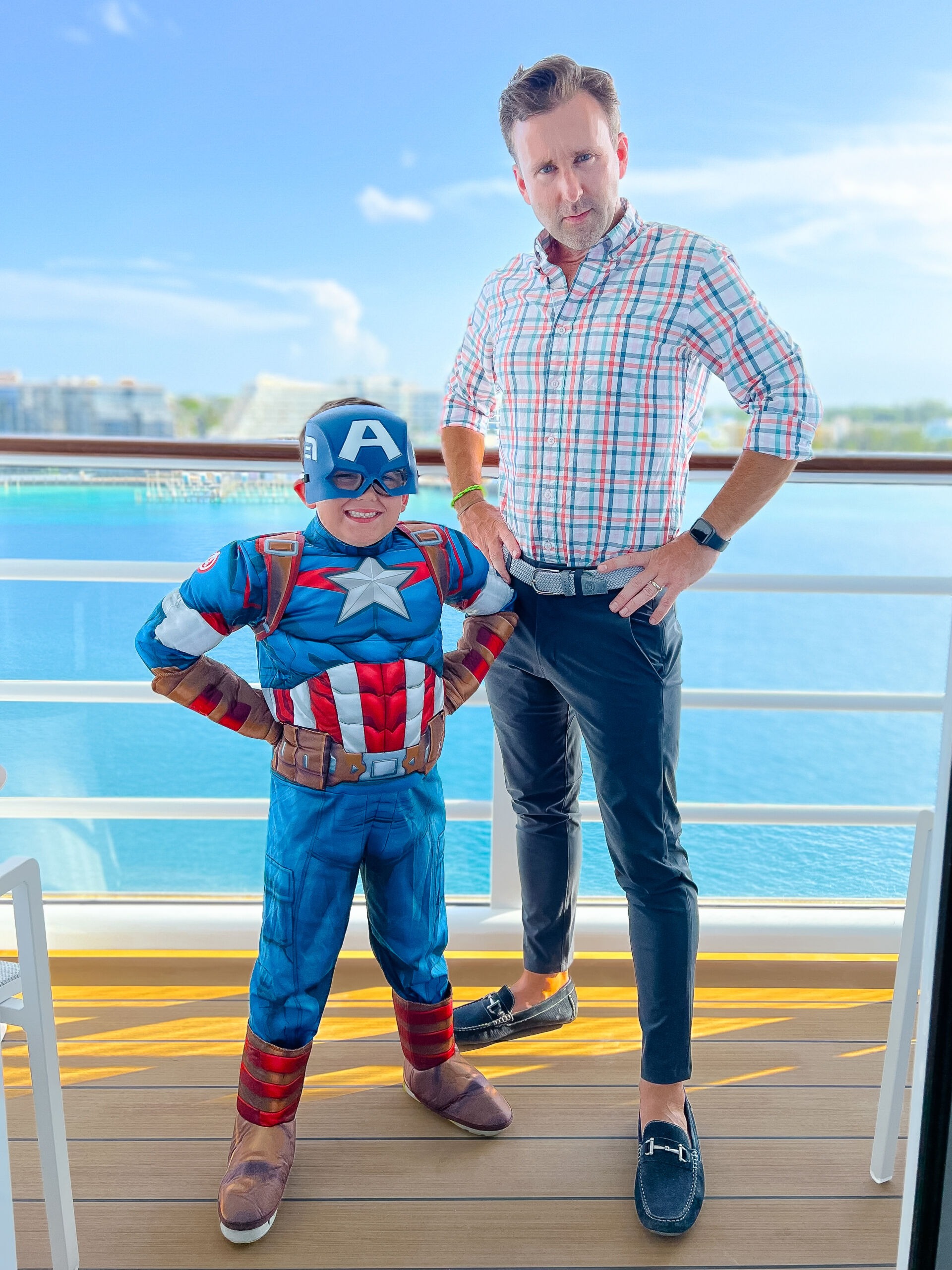 Disney Wish Cruise Ship Tips
My dear friend Lindsey who has recently been on two Disney cruises shared SO much helpful information with us throughout our planning process. With her permission, I'm sharing Lindsey's incredible tips that for sure will help you if you're planning a Disney cruise. Even though we weren't able to use all the tips, I'm including them in the list!
Night before and arrival day
We stayed at the Homewood Suites (like one mile or so from the port) the night before. It's a nice hotel, full fitness center, zero entry pool with poolside bar. Has a shuttle to the port if you want to leave your car. Priced out, it's cheaper to park at the port and pay for parking by the day.
Get the earliest available boarding time they will give you when you register! The earlier you get on the boat, the faster you can get in line for things your kids will want to do right away, like the Aqua Duck and pools. You can also eat at the buffet-type restaurants right when you get on, which will save you from buying another meal in FL before you board.
Print your boarding pass and carry it everywhere until you get on the ship. You will show it one million times. I recommend packing one folder with all these documents and carrying it around and guarding it with your life until you get in the stateroom, then lock it up in the safe.
Pack a "day bag" to take on the ship with you since you'll drop off your luggage when you arrive and it will take a few hours for you to be able to access your stateroom. I filled ours with all the swim supplies, change of clothes, etc. I would recommend boarding in your bathing suits with regular clothes over them to save time and avoid having to change on the ship.
Once on the ship, visit Guest Services immediately to see if you can go ahead and sign up for any special character meet and greets, 5k on the island, any additional beverage tastings, etc.
Activities (stuff you book ahead of time)
Nassau Day: I highly recommend staying on the ship and scheduling activities and having free play this day. The ship will be WAY less crowded when people get off, and the kids will want to explore all of the fun stuff on the ship.
Castaway Cay: The best day!!! There is a TON of other stuff to do/see/rent – bikes, cabanas, all kinds of water equipment, etc. I have found that the time on CC absolutely flies by, so I wouldn't overschedule. Snorkeling and maybe one other excursion if you want to try something new would be plenty. We've done the 5k twice, a guided fishing trip, and rented snorkel equipment for the family. They have sunken statues and fun Disney stuff at the bottom of the ocean over there and you can snorkel around with the kids to see it – so fun. They serve lunch on the island as well, and there is a Kids Club there.
Bibbidy Bobbidy Boutique: A must for little girls. Order a new princess dress off Amazon and bring it with you to open on the ship and get dressed in for hair/makeup at BBB. This will save you approximately one million dollars and then you'll only pay for the makeover. I would recommend making the appointment in the late afternoon so she gets to enjoy her look for dinner and doesn't immediately jump right back into the pool afterward.
Beverage Tastings: Super fun. We've done a bourbon, tequila, margarita, and a beer tasting. Highly recommend.
Adults-Only Dinner: There will be nice adults-only restaurants on board – and you will pay extra for those. We preferred to do this on our last night on the ship, but it doesn't matter. You will skip your regular dining assignment on whichever night you pick.
Dining Rotation: Regular dinner is on a rotation – they'll assign that when you get on the boat – so you'll know where you're going every night. If you choose to do beverage tastings, I would just try to avoid scheduling them during your dinner seating because that will get tricky with having to feed the kids, too.
Spa: Book a hot stone massage and a facial for yourself. The massage is the best I have ever had and will change your life. I recommend booking on Nassau day or on the last day which is "at sea."
Shows: You don't have to sign up for these, but make sure you get the early dinner seating assignment so you can see the later shows. That means you eat around 5:30 or so and see the shows around 8:15 pm, and they can last until 9:45 or so. It gets late and the kids get tired.
Ship stuff:
Kids Club: No reservations required. Drop those kiddos off whenever you want and go live your best life on the adult side. They will love it! I would recommend hitting the Kids Club pretty shortly after you board the ship in order to introduce the kids to it and get them super hyped about it. One level of the ship is mostly all adult stuff – champagne bar, private pools, etc. Must do for when the kids are in Kids Club.
Pirate Night: There is always a pirate night! Bring pirate-themed stuff for y'all to dress in – everyone does it and it's fun. They will give you bandanas on the ship but lots of families dress up and bring fake swords, eye patches, etc.
Cash & Gratuities: Opt to pre-pay your gratuities as part of the final payment. So much easier. You do not need money on the ship at all. Everything gets charged to your room.
Last Day Luggage: DO pack your luggage the night before and let them take it rather than having to lug it to breakfast and then off the ship the next morning at the crack of dawn – so much easier on everyone.
Packing stuff:
Princess Dresses: Pack a princess dress for every day of the trip. Most of the little girls wear them around, especially to dinner, and the crew makes a HUGE fuss over them when they walk into restaurants dressed up. It's adorable.
Pack a Sweater: There isn't a formal night on the cruise, but people do generally dress more nicely for dinner. Bring a sweater or two, as it gets cold at night with the wind, especially if the kids want to do a night swim and watch movies on the big screen outside on the pool deck.
Backpack: Bring a small backpack to carry around the ship. Much easier than a purse or anything else.
Water Bottles: Bring your own water bottles for poolside – so much easier than going back and forth to get cups of water all the time (especially on Castaway Cay).
Beer/Wine: You can pack one bottle of wine/etc. and one six-pack of beer, or mix that up. Definitely do this and keep it in the room for when you're getting ready, etc. If you plan to drink beer, I recommend going ahead and buying the beer/cooler package too. It's cheaper across the board and you receive a cooler bag to carry around the ship to drink from at the shows, poolside, etc.
Fitness Center: The fitness center is super nice, if y'all want to pack workout clothes.
Super comprehensive list of tips, right?! The ONLY thing I would add from our experience is to bring magnets for your room door which is magnetic! I had no idea EVERYONE decorates their door with themed magnets! It was really fun to walk by all the rooms and check out everyone's decorations.
Other Posts You May Love