Kicking off my gift guide series with the most perfect presents for the men in your life. Most of these items have been gifted to Matt over the years so they are truly tried and true favorites that you've seen me share before! Together Matt and I carefully picked each of these items out to help you shop for some of the hardest gift recipients!
Also, you can find these items and other gift guides under my shop tab!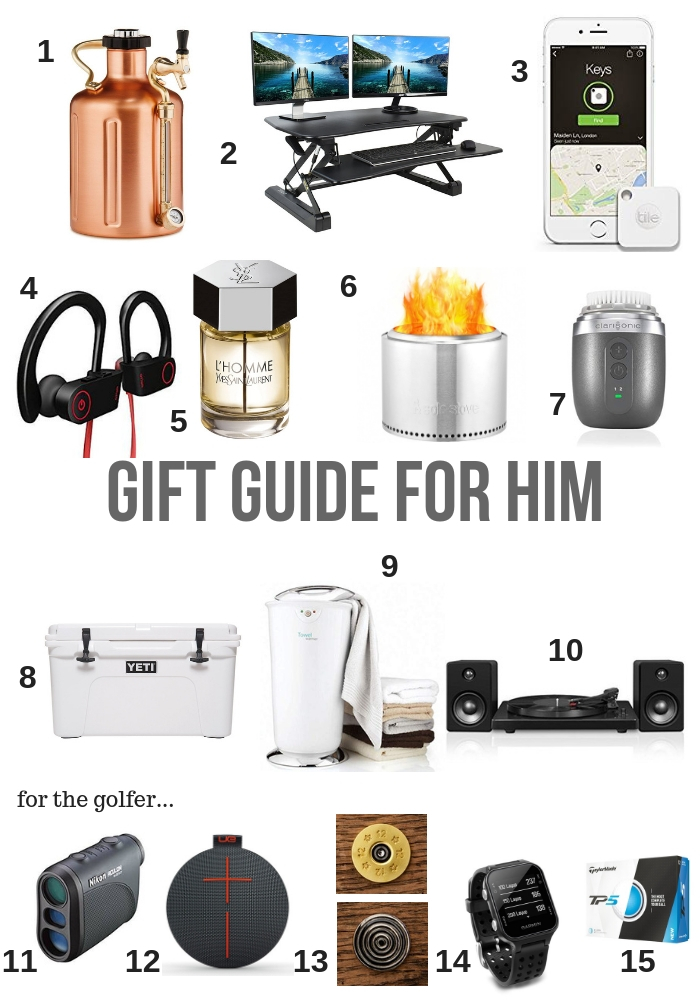 1. Pressurized Growler for Craft Beer. Matt's dad surprised him with this gift last Christmas and we've gotten so much use out of it — especially in this city filled with breweries. This mini keg keeps beer fresh and carbonated for 2 weeks. Go ahead and grab some C02 refill cartridges for the stocking too.
2. Standing Desk. Another office favorite to get Matt on his feet when he's been sitting too long and to help with posture. The desk is spacious — large enough to handle two monitors and a second tier for mouse and keyboard.
3. Tile Mate Key Finder. For the man in your life who constantly loses his keys, wallet, phone, etc. This magical Bluetooth tracker easily loops onto keychains or attaches to anything you don't want to lose so you can find it fast.
4. Bluetooth Headphones. Sweatproof tangle-free ear buds that last up to 8 hours on full battery charge. Great for running, hiking, biking, gym etc. I've received SO many reader emails thanking me for this recommendation since I posted about them awhile ago.
5. Yves Saint Laurent L'Homme Eau de Toilette Spray. My brother is a cologne connoisseur and recommended this one for Matt's birthday earlier this year. And it is amazing — my favorite cologne Matt has ever worn!
6. Bonfire Pit. This is actually on Matt's Christmas list this year. The reviews on this stainless steel fire pit are unreal. The double wall design and bottom vent holes allows a more complete burn which means little to NO smoke!!! Which also means you won't smell like smoke when you're done using it!
7. Clarisonic Alpha Fit. A cleansing face brush designed for clean shaven or bearded men's skin!

8. Yeti Cooler. A birthday gift Matt received from his parents earlier this year that we've gotten so much use out of.
9. Towel Warmer. Who doesn't want a warm towel waiting for them when they step out of the shower?!
10. Modern Bluetooth Turntable with Speakers.Definitely among the top 5 gifts I've ever surprised Matt with. He took it to the office and uses it every day to listen to records or stream music from his phone. To top off the gift I included The Ultimate Frank Sinatra vinyl to start his record collection.

11. Laser Rangefinder. Not just for golfers but for hunters too!

12. Wireless Waterproof Bluetooth Speaker. One of Matt's all time favorite golf accessories, this speaker is perfect for clipping to your golf bag — rain or shine!

13. Garmin Golf Watch. Matt hasn't taken this off since I surprised him with it on Father's Day this year.
14. Golf Ball Markers. Matt picked out one of these for himself and a few more for his golf buddies for Christmas. The shot gun shell marker is just so cool — perfect for stockings too!
15. Taylormade TP5 Golf Balls. Matt swears these golf balls are absolutely amazing — and the price is much better than his usual Titleist Pro V1 Golf Balls. Lots of pro golfers are currently using these!
STOCKING STUFFERS
Survival Kit in a Can // Golf Tees // Just a Drop // Star Wars Socks // Metal Collar Stays // Pocket Ref // Pocket Knife // American Crew Pomade // Survival Pocket Tool // Portable Charger // Sipping Stones // Moscow Mule Mug // Fake Lotto Tickets // 50 Caliber Bullet Bottle Opener // Gift Cards // Candy // Gum // Car Wash Coupon
Shop the Post