I was running through my Home Tour archives last week looking for something and realized that I never wrote a post for our family room! I've posted about projects but never shared the entire room.
When we first toured our home the family room was my absolute favorite part of the house. I loved how it was the center of the home with lots and lots of natural light and so much potential. So tackling this room has been one of our favorite projects and a work in progress for years. While it still isn't completely finished (is any room ever really finished?) we love this space so much and spend most of our time as a family in it!
If you want to see what the room looked like when we first purchased our home, you can find all the before photos here! Let's review the improvement projects we've tackled so far…
Project 1: Refinish the Hardwood Floors

We spent a LOT of time staring at brown squares in the middle of our family room before picking 50% Dark Walnut mixed with 50% Provincial. [See full Hardwood Floor Makeover post here]
Project 2: New Paint

The color we selected is Gray Owl by Benjamin Moore. We had the paint cut by 50% so it's even lighter than the original color. It's amazing how much a fresh coat of paint can transform a room.
Project 3: Install Bookcases
One of our favorite projects was installing custom built-ins to store alllll the things from our media equipment to board games! They provide so much storage and decorative space. We absolutely love how they turned out. [See full Built-In Bookcases post here.]
Project 4: Open Up The Room
By far, the biggest improvement to this room was opening up the wall between the kitchen and the family room. We spend most of our time between these two rooms so removing the barrier between them has been incredible for our family (and for entertaining)! At the same time, we removed the second story balcony above the kitchen that looked into the family room and replaced it with a wall. [See demo photos here.]
Project 5: Replace Fireplace Tile
While we were installing our kitchen counter tops, we decided to go ahead and replace the black tile around the fireplace with scraps from our kitchen counters. It's a subtle change but one that we really love! [See Fireplace Mantel Makeover post here]
And those are the improvements we've made so far!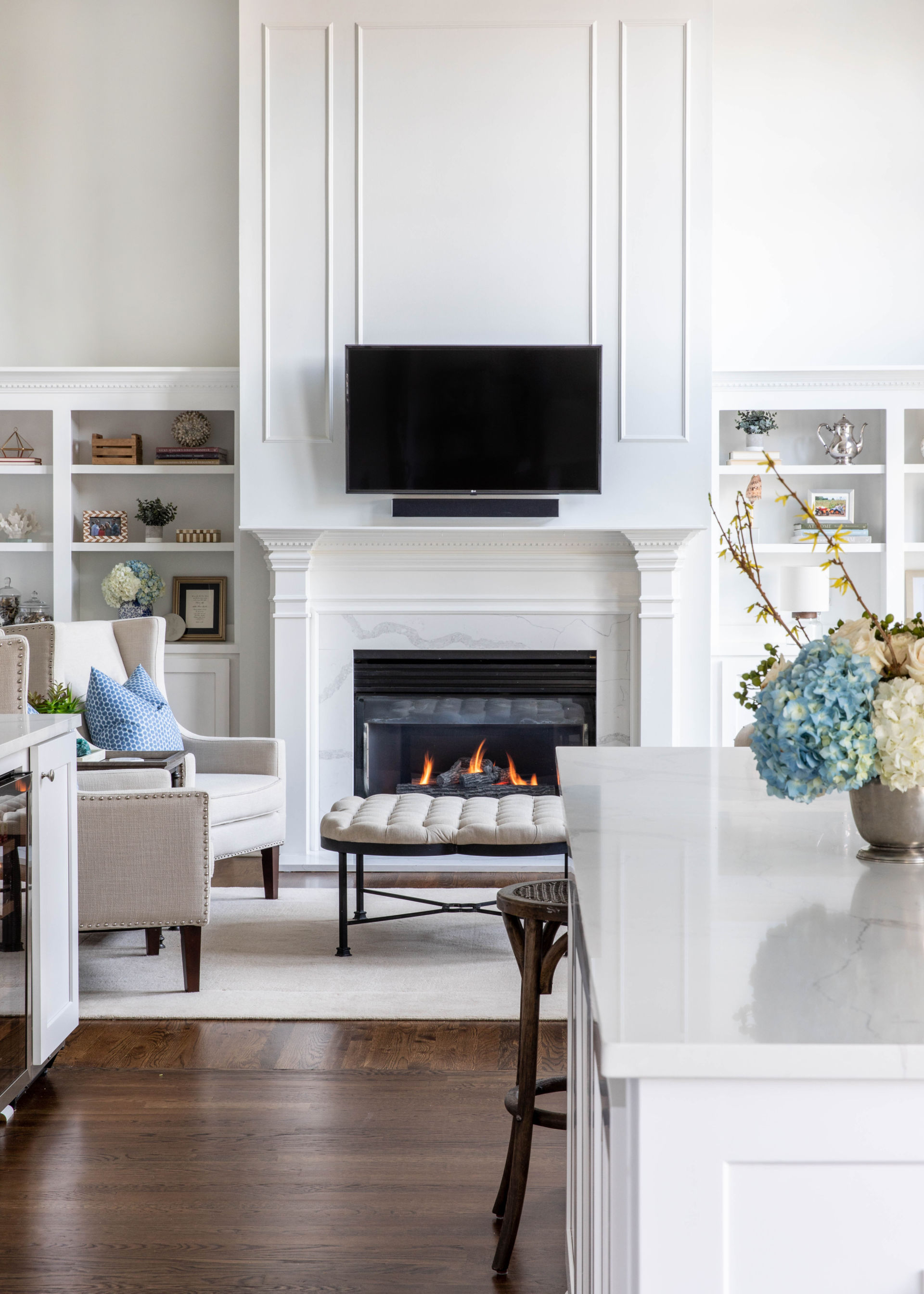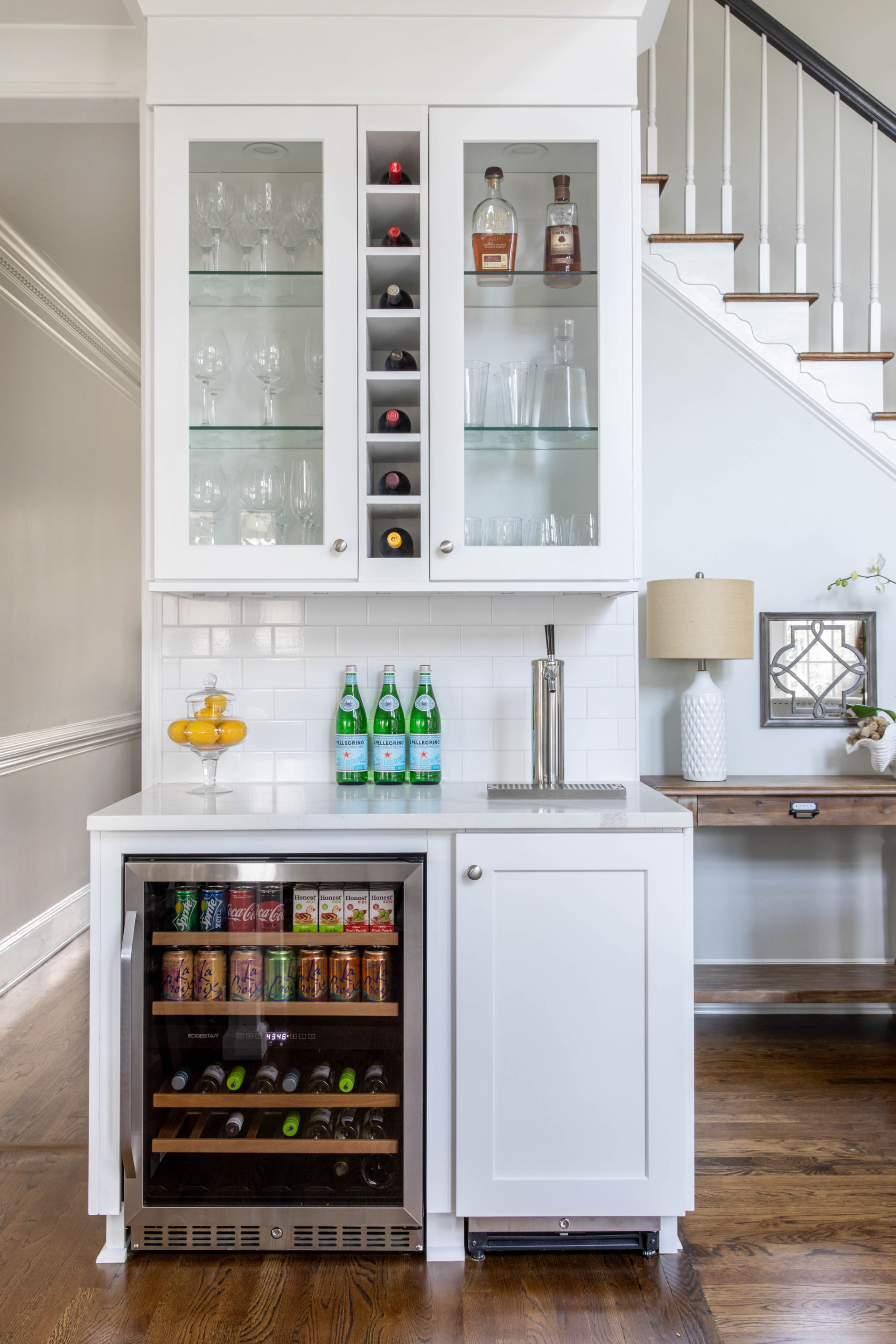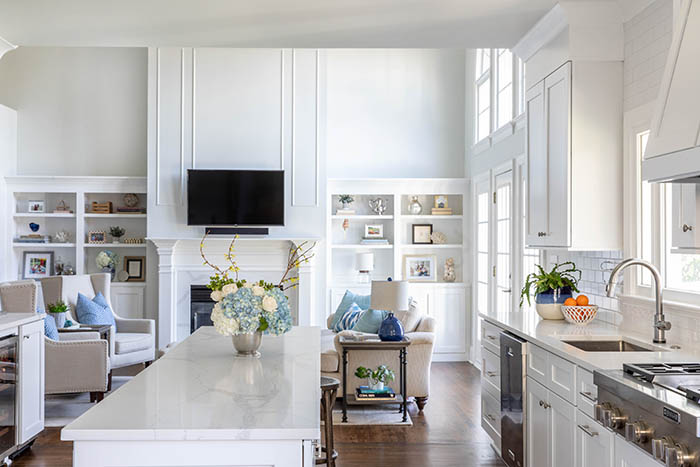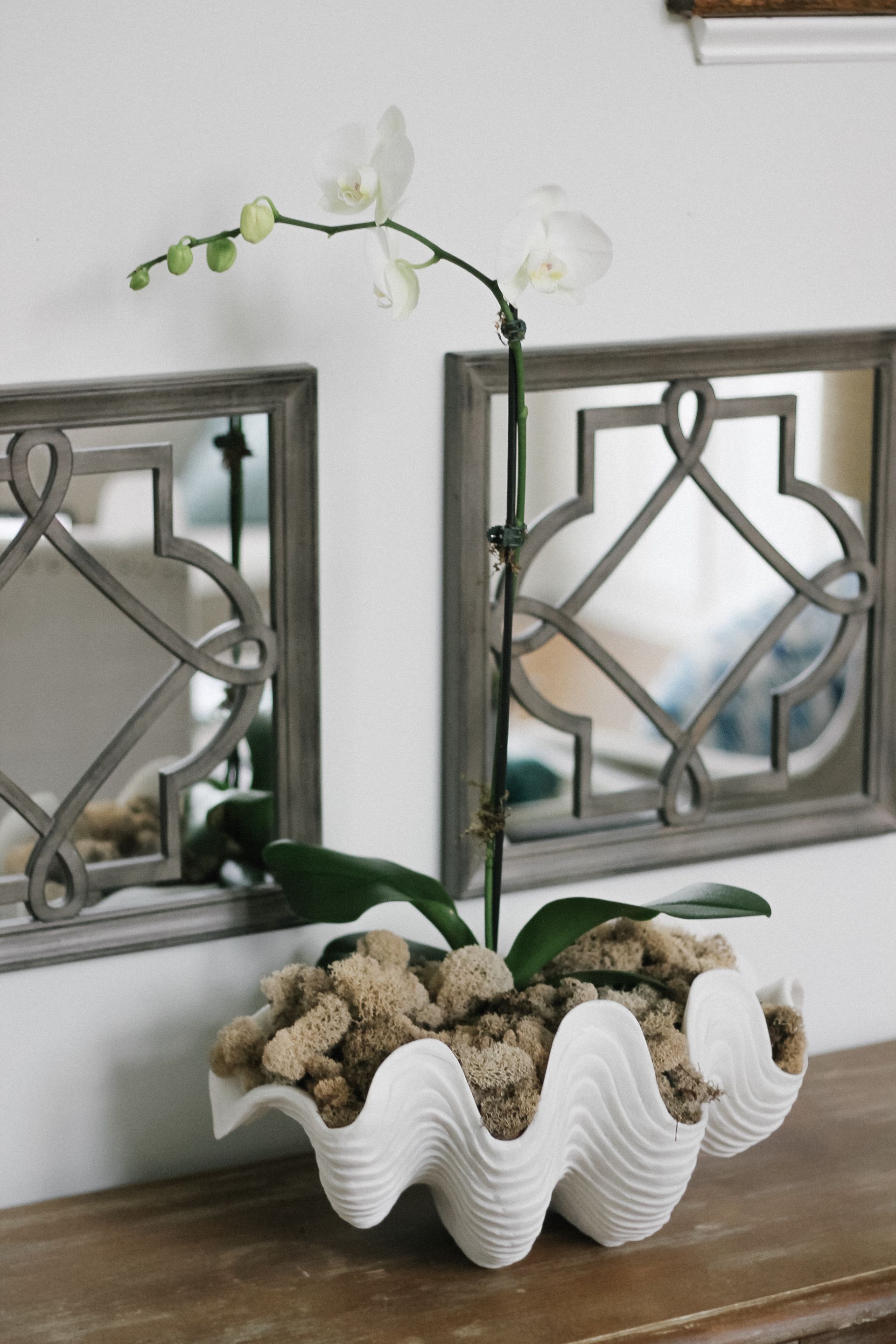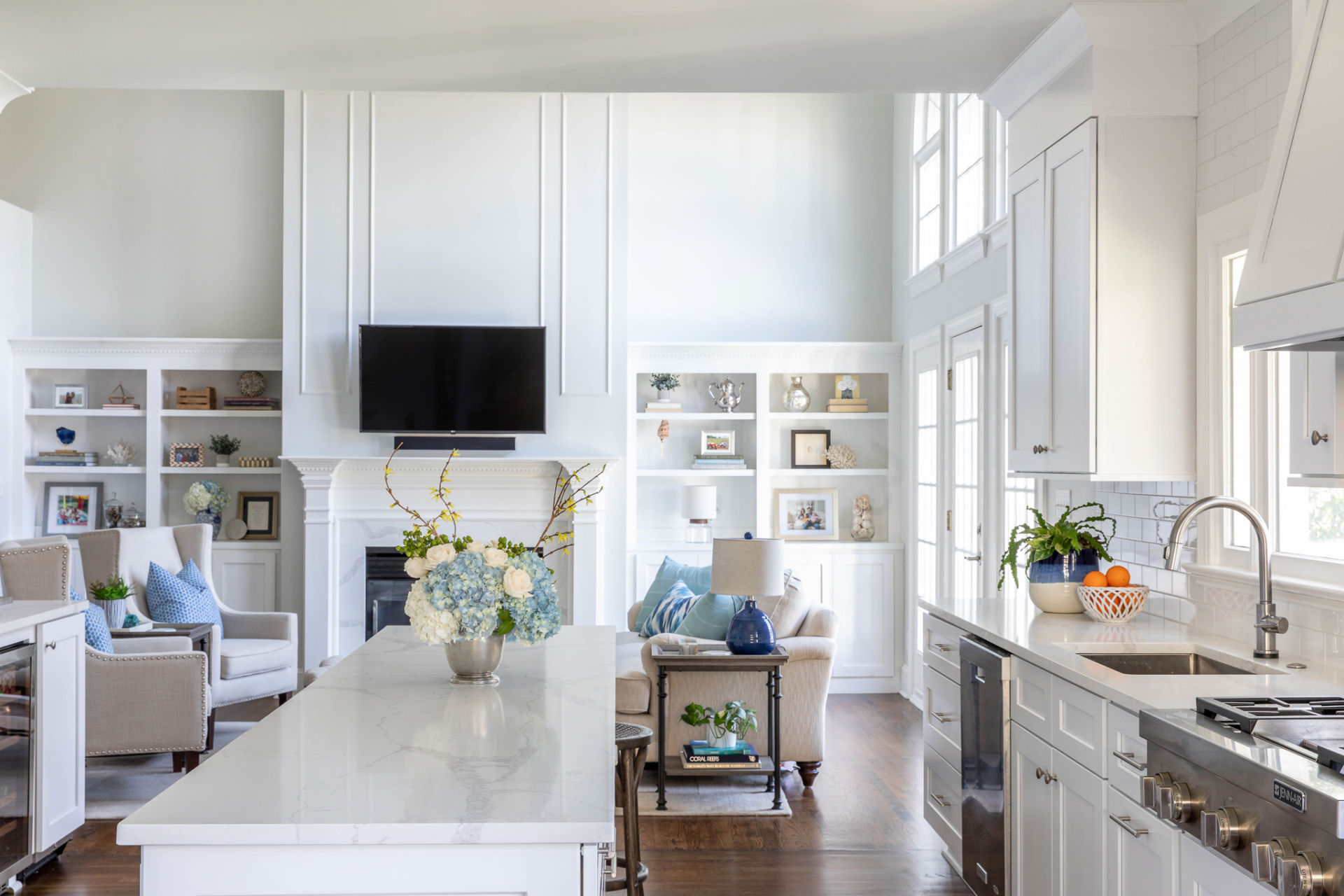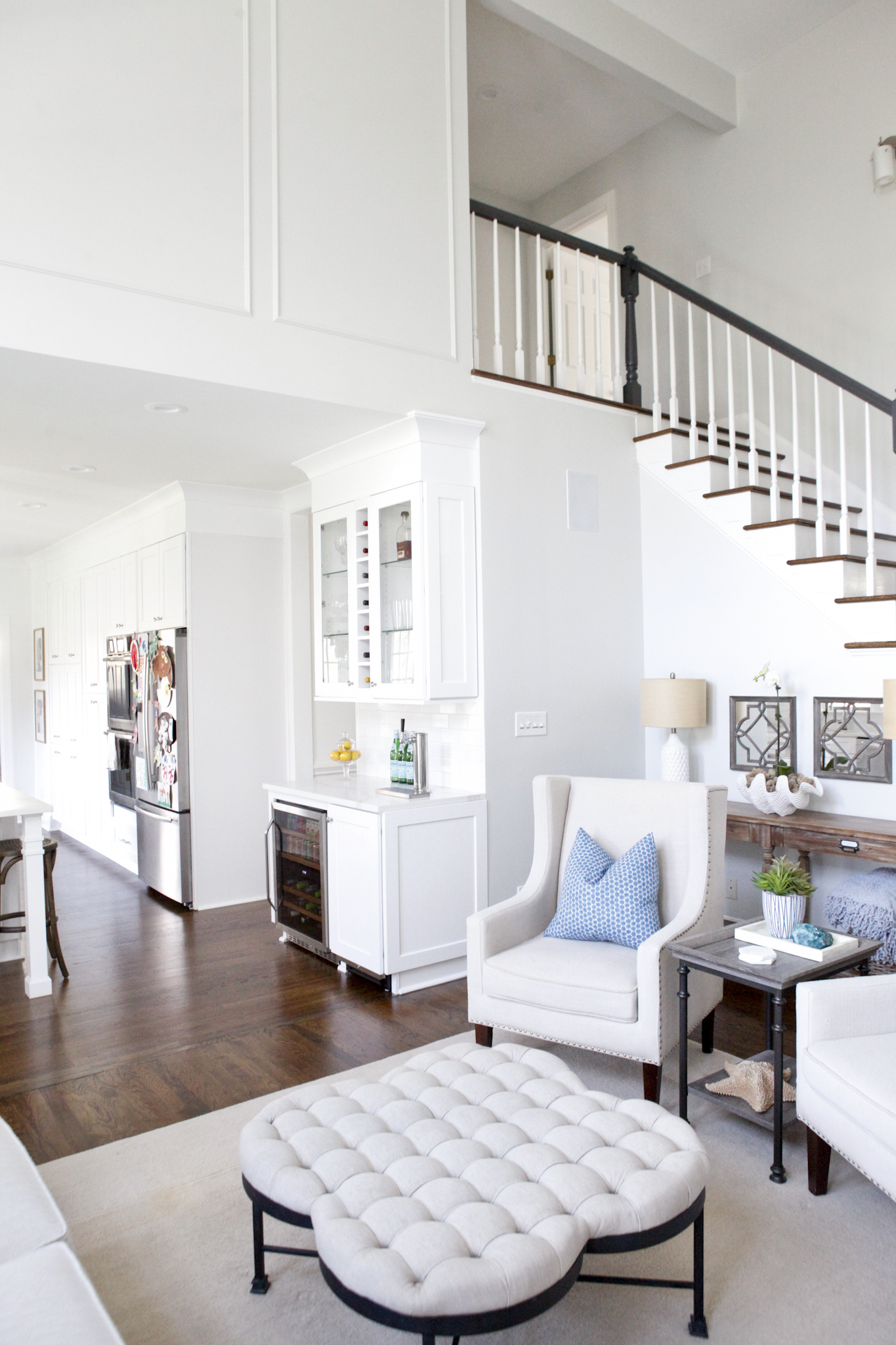 I get a lot of questions about how the heck I keep our furniture clean with two messy kiddos with constant ketchup hands. First, we purchased all of our furniture before we were parents and had no clue how terrible of an idea that was. Second, our furniture lives under blankets at all times unless we're having a party or I'm taking pictures for the blog. Otherwise, blankets all the time.
FAMILY ROOM SOURCES