Back in the spring, we began tackling one of my favorite home projects of all time — our outdoor living space. This was one of those projects that came together better than I could have ever dreamed of and we now pretty much live outside. And in just a few months since the project was completed, we've already made so many amazing memories on our porch. During the week we love to eat dinner as a family al fresco. Our porch is an outdoor classroom for remote learning and my home office on gorgeous days. We've hosted play dates, several parties (including Thomas's birthday party & Hard Seltzer Party), girls nights, guys nights and Community Group in this space. And of course, many family movie nights!
When we began envisioning this outdoor space, our plans centered around the most ginormous couch possible so our entire family could lay down together. I know that sounds silly that the entire project was built around that main requirement, but previously our family room was our only home space that allowed us to curl up and watch movies together. And during this phase of life (and hopefully forever), our kids prefer to use us as their pillows and all 4 of us (plus Sprinkles) would squeeze onto the shrinking couch for family movie nights. As the kids continue to grow, so have the "his feet are touching me!!!" and "she's hogging the blanket!!" arguments. So Matt and I began sketching out plans for a back porch that would allow us to come together comfortably, as well as provide more privacy for Matt and I to watch whatever we want on TV (at a volume we can actually hear) without the fear of two small kiddos sneaking out of bed to watch from the family room balcony.
The Plans
This space is super important to our family and it took us almost a year to finalize the porch plans. There were big decisions to make, we were constantly tweaking the porch renderings and budget considerations all factored in to our design process. The biggest decisions we had to make were whether or not we were going to roof the entire space or leave the dining area open, and whether to screen the porch in or keep it open. Thankfully, our budget ultimately helped us make the architectural decision because no matter how creative our contractor got, the exterior wall with all the windows would have to come down and be rebuilt, costing us a significant amount of money as well as our windows that provide gorgeous natural light for our family room.
However, Matt and I were split on screening the porch in. I wanted the screen and he did not. We spent months debating this decision and ultimately decided to keep it open with the option to screen it in later (possibly with retractable screens) and start with an open air space. And I have to admit, I'm really, really, really glad we went this route and absolutely love the open air feel of our porch.
I've had a lot of people ask me about mosquitoes. I'm a mosquito magnet, so we do have our yard sprayed every 3 weeks for mosquitoes and during the warm months I always have multiple citronella candles lit and 1-2 thermacells on full blast anytime were outside.
The Professionals
We were incredibly grateful for a partnership that has allowed us to make these porch dreams come true. After our amazing experience with Atreum Construction, we reached back out to them for this project and they connected us with their sister company, Screen Squad, who graciously extended a discount to us in exchange for sharing our project.
And after learning how unqualified and stressed out we were making decisions during the kitchen renovation, we hired Crystal Nagel to design and manage the project once construction began. She helped us make a ton of big decisions along the way (like the ceiling, railings, TV wall, etc.) and kept our aesthetic on track when I'd start to go a little rogue with ideas. She was also able to anticipate questions and decisions throughout the process so we didn't feel rushed or overwhelmed.
Alright — let's get down to it!
BEFORE
If you've been reading along for awhile, you know we've poured a LOT of love into our backyard since we purchased our home in 2017, tackling the projects in phases (see phases 1 – 4 in our Backyard Updates Before & After post). Matt has been the mastermind behind all of the projects out here so I really owe him all the credit for transforming our backyard. Below is what the porch area looked like before demo.
I was sad to part with our gorgeous jasmine but I don't miss all of the dirt, insects, leaves and flowers that it dropped down into our space. And I was thankful we could save ALL of our plants which we relocated along the back fence line.
After
Here's the finished porch! We still have more landscaping to tackle and grass to grow but I couldn't love this space more.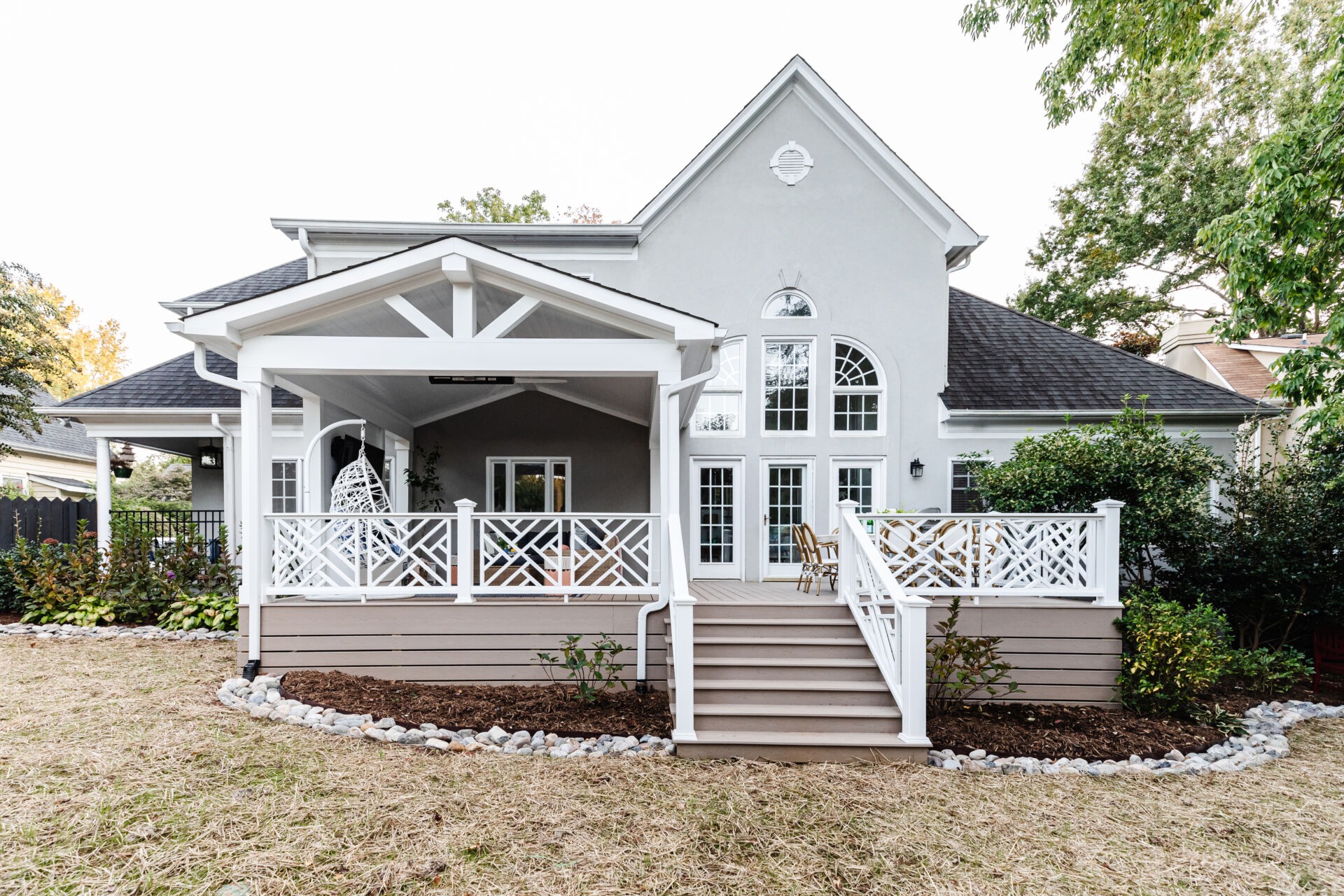 The Construction Details
Although it looks much larger, the footprint of the porch actually only changed by a few feet. Bringing the entire deck up to one level made a huge difference, and then we widened the original pergola space to be even with the upper deck…then we extended the entire porch towards the back fence by two feet. I think the overall dimensions are 26′ x 14′.
Decking
The most significant investment was the decking. I honestly did not care what the floor looked like but Matt was sold on composite deck boards by Trex since it's low maintenance and doesn't scratch, stain or get hot. We went with the Transcend line (color is Rope Swing). Now that we've had it for a bit, I'm glad we went with Trex as it's been easy to clean and we can comfortably walk around barefoot on it.
Railings
Crystal helped us design the railings and we went with chippendale style. I cannot believe how much these railings transformed the space. These were extremely labor intensive to build and I was blown away watching our insanely talented crew build them.
Ceiling/Fan/Heater
I love the vaulted tongue and groove ceiling. Although I love the white, I will say that it does show dirt. We also installed 4 LED canned lights, a 62″ 3-blade outdoor ceiling fan and mounted a commercial grade infrared heater. I've received SO many questions about the heater. Our contractor recommended and ordered the ICR H2 from Solaira. It's incredibly powerful and will definitely allow us to use this space during some of the colder months.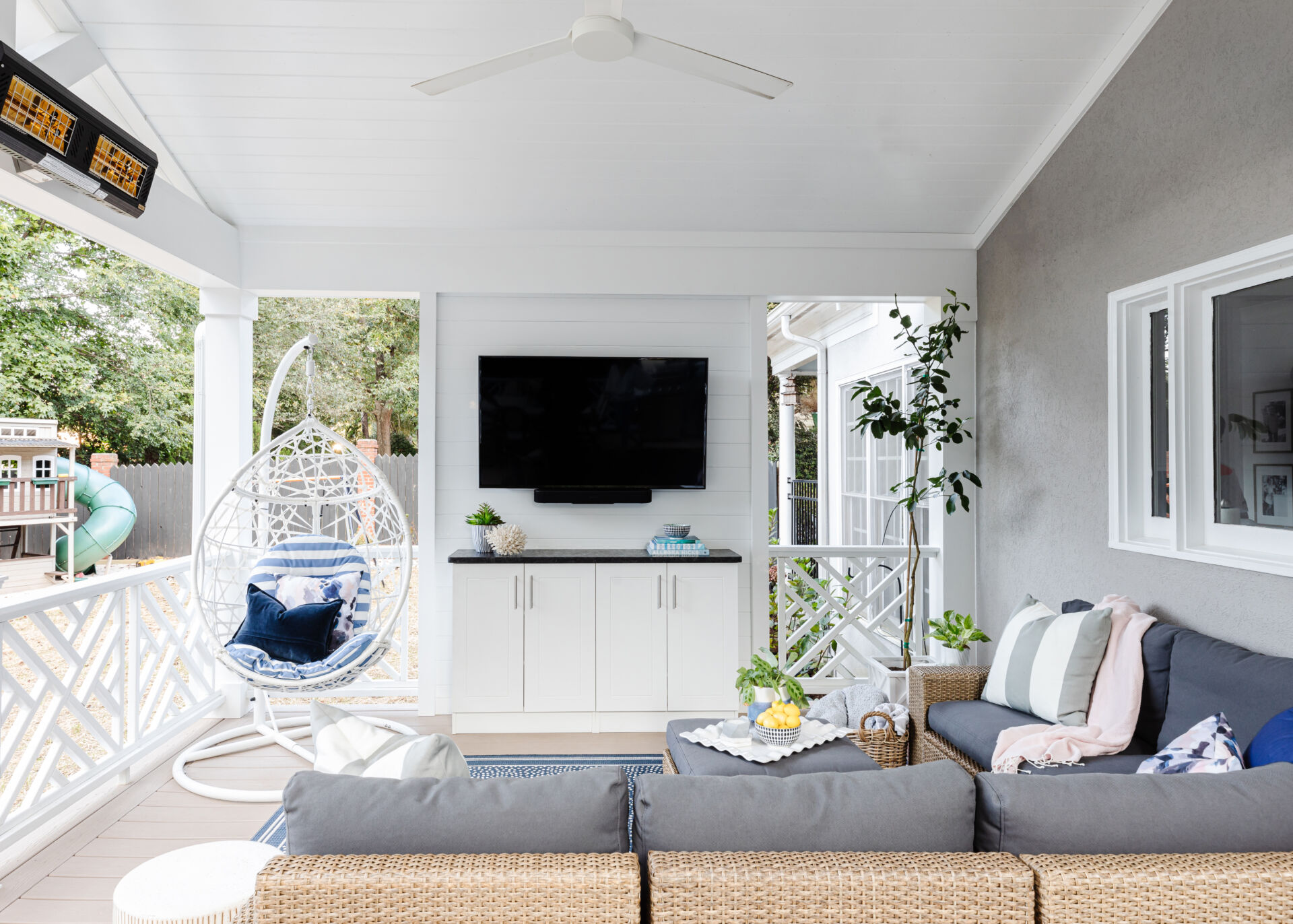 TV Wall & Cabinetry
We designed and re-designed the TV wall a million times. The original plans called for a shiplap wall that would span the entire side of the porch with a fireplace under the TV, flanked with cabinets on both sides. Then we saw the line item for the fireplace and determined it was not where we wanted to invest a significant portion of our budget. Our contractor also informed us that a fireplace wouldn't emit enough heat to actually warm up our space so if we wanted it for functionality (versus aesthetics), he recommended a commercial grade heater instead. So we ended up going with smaller shiplap wall just for the TV and kept the sides open with railings.
Cabinetry: Instead of the fireplace, we added cabinetry under the TV which has been SO useful and is already crammed full of all our citronella candles, blankets, tablecloths and more. The outdoor cabinets are from Home Depot and are the Palm Beach Shaker Style WeatherStrong 60″ cabinets. We didn't love the countertop that came with the cabinets so Crystal picked out a black quartz remnant (with a leathered finish) from a stone yard. I have no clue what the name of it is but it was a beautiful find!
TV/AV: We went back and forth about whether or not we should purchase an outdoor TV or go with a much cheaper indoor TV. The outdoor TVs are thousands of dollars so I convinced Matt that we could upgrade our TV every few years instead if we went with an indoor TV and protected it with a TV cover. He agreed. We used Home Theater Solutions to install our TV, Sonos sound bar and upgrade our wifi with the eero system (highly recommend!) so we could stream the TV outside faster. We originally used HTS when we moved in to hang our TVs and install our indoor and outdoor sonos speaker system and definitely recommend them for your AV needs!
The Design
From colors to furniture layout, we absolutely could not have designed this space without Crystal. Here are all the details…
Sectional Sofa: As I mentioned earlier, a ginormous sectional was the most important piece of furniture for our porch. It had to be huge so we could all comfortably lay down for Family Movie Night but not take up the entire space. The cushions couldn't be white. It had to be comfortable. It had to be durable so it could stay uncovered year-round. And it had to be affordable enough that I wouldn't cry the first time a popsicle melted on it.
Crystal sourced dozens and dozens of options in various colors, price points, brands and layouts. Finally, we landed on the SOLLERÖN outdoor sofa from IKEA. It checked ALL the boxes and we were able to customize the size by purchasing the amount of seats we needed to fill the space. We also ended up purchasing a second ottoman (not pictured) recently and it legitimately turns our couch into a ginormous bed for Family Movie Night. The sofa is SUPER comfortable, red cupcake icing wipes off of it easily, it's beautiful and it was a great price. I've had several friends purchase it after sitting on it!
Dining Table & Chairs: For our dining space, Matt and I really wanted either a circle or square table that fit 8 people since we host friends often in our home. And since the table was going to be exposed to the elements, we needed something pretty durable. Crystal sourced the most perfect 60″ white polywood table. It was an investment and the table took every bit of 12 weeks to arrive but it was worth it. Although the table is easy to clean, it does get pretty dirty since it's white and stains easily so we keep it protected with a clear table cover (secured with these table clamps) unless we're entertaining. And I couldn't love the chairs more — they are SO pretty, comfortable and very easy to keep clean!!
We are so happy to have this big home project complete!! We still have some work to do in the backyard but it is officially our favorite space in our home to hang out as a family. Now if only I could convince Matt to put a pool in…
SOURCES
Contractor: Screen Squad / Designer: Crystal Nagel / Photographer: Laura Sumrak / Decking: Trex Transcend (color: Rope Swing) / Ceiling Fan / Heater: ICR H2 from Solaira / Cabinets / TV + Sound Bar + TV cover / Hanging Chair + Pillows: Abstract + Lumbar / Sofa / Stools / Rug / Blanket / Tray / Candle / Coasters / Pillows: Striped + Abstract + Navy / Lemon Tree + Planter Box / Dining Table + Table Cover + Clamps / Dining Chairs / Grill