Last week I requested your tips and tricks for making motherhood and/or life generally easier on Instagram Stories. The response was incredible. In fact, I received so many amazing pieces of advice that I decided to turn this post into a Homemaker Tips series and will share the tips by categories. Whether managing your home is your primary job, or one of many, these tips are for you! I've (affiliate) linked specific item recommendation. Thank you for sharing your tricks with me to round-up for this little community of ours.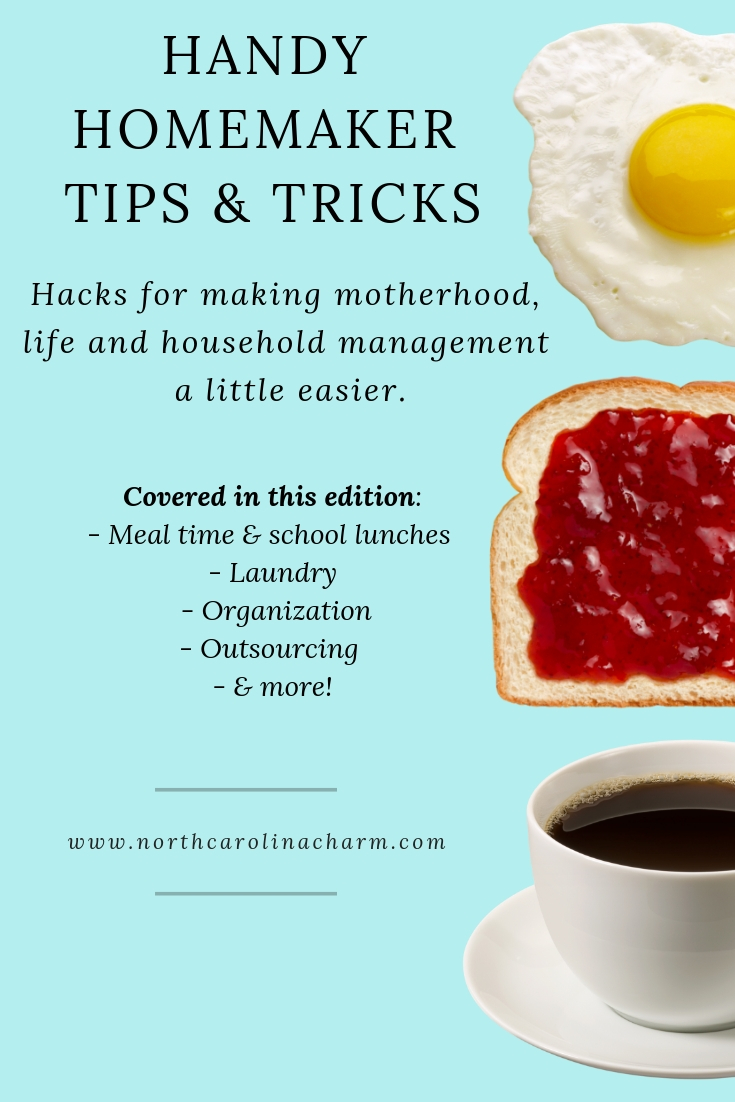 Meal Time & School Lunches
"We have a weekly meal rotation. Monday is always soup, Thursday is always tacos, etc!" – Kat
"Freeze PBJ sandwiches! Then you don't have to make them every day!" – Allyson, TH,
"Anytime I make PB&J, I make a second one and throw it in the freezer in a Ziploc" – Brekke
"Write dates on refrigerated things after opening with a sharpie on the cap. Mayo, mustard, spreads, milk, OJ, creamer, salsa, opened tomato sauce…that way you know how old and how long you've had the item." – Andrea
"We refrigerate sippy cups between uses for 2-3 days before washing" – Marissa
"Make school lunches the night before." – Gabe
"Meal prep school lunches while you're prepping supper the night before" – Crystal
"Instant pot – such a lifesaver on busy evenings. No need to plan ahead like with a crock pot" – Dori
"Make a bunch of pancakes and freeze them. Pop them in the toaster and there's breakfast" – Kathleen
"Cover the counter tops with Saran Wrap when baking! Clean up is easy — just lift & toss!" – AY
"Pre-cut apple slices. Who would have thought the amount of time saved?" – HML
"Repacking lunches and snacks immediately after unpacking them" – Lauren
"potato masher for shredding chicken in the crockpot" – GYOW
"Overnight oats are the best" – KSW
"It's bad for the environment, but paper plates (at least for the kiddos) are a sanity saver" – Marissa, CS
"Put a straw in squeezable yogurt = no spills and works on oral motor skills too" – Christine
"Pizza cutters work great for cutting pancakes, waffles and anything with a tortilla" – Shelley
"Kitchen shears for cutting spaghetti, pancakes, waffles, pizza, quesadillas, crust off bread, etc." – Alisha

"WINE" – Steph, Lisa
"Use food coloring to make food "special." Want them to eat eggs instead of other crap for breakfast? Rainbow eggs. Rice? Rainbow rice. Blue veggie pasta. List goes on and on…" – Ann
"Shred cooked chicken breasts in a stand mixer!" – KB
"Uncrustables and lunchables" – L
"When cooking with honey, spray measuring spoon/cup with Pam so honey slides out!" – DC
"I make an extra meal on Sunday to eat during the week (meatballs, enchiladas, grilled chicken)" – R
"Bring playdoh to a restaurant to entertain the kids while you wait. No clean up at home and you can toss it" – GP
"Store lemons in a gallon Ziploc bag in the fridge — they last 3x longer" – ANG
"Is it acceptable to consider Chick fil A delivering a life hack now?" – Sara
"Fill a muffin tin with leftovers and sliced fruit — call it dinner! – MVW
"Wash/cut all your fruit at once" – Erin
"Put straws in foil lids to avoid spills, like Danimals!" – Mel
"Bananas turned too ripe? Peel and toss in freezer bag in freezer. Thaw and use for the best banana bread or smoothies." – Elisabeth
"Prep all milk sippy cups for the whole week. Makes like so much easier when i have a newborn and a toddler" – Edi

"Freeze yogurt tubes as an alternative to ice cream/sweets" – Emily

"Freeze yogurt tubes and toss them into a lunch box frozen and they are thawed (but still cold) by lunch time!" – Rebecca
"Grape slicer is the best $9 I've ever spent" – Ali
"Sneak veggies like kale or spinach into smoothies" – Katie

Laundry & Chores
"Put blowout clothes in the sun to get the stain out before washing" – KM
"Do one load of laundry every day. Shout Color Catchers for the win!" – Brittany, Sara
"Load the washer the night before and use delay start so the load is ready when you are" – Caitlin
"Put lingerie bag in each kids room and put their socks in there. Makes laundry so much easier" – Erica
"Our kids are a huge help with doing their own laundry, even the littles" — TK
"Turn inside out kids' clothes when sorting dirty laundry. Saves time when folding clean laundry" – Lauren
"Get your kiddos to help with laundry, taking out trash, etc. It can be fun" – Mo
"Delicates bag for all of the tiny socks…fewer individuals to lose" – Kel
"Robot vacuum. Nuff said" – Sarah
"A box downstairs for all dirty clothes that don't make it all the way upstairs!" – Melissa
Getting Out the Door with Littles
"Lay everything out (clothes, backpacks), make lunches, fill water cups the night before" – Brittany
"Always keep socks downstairs by the shoes so you don't have to run back up to get socks" – Crina, SSH, Margo
"Socks, shoes and extra toothbrushes are kept downstairs" – R
"Kids sleeping in their next day's clothes" – JM
"I set out my kids' clothes for the week on Sundays and just grab an outfit each morning" – M
"Wake up an hour before your kids" – MRS
"I take 5-10 min for myself or to get my house back together after loading the kids in the car to go somewhere." – Gina
Outsourcing
"Instacart membership & Amazon Prime. How did we ever live without them?" – Brittany
"We pay to have our house cleaned. Two working parents and two kids, ain't nobody got time." – Kat
"Instacart and Shipt for groceries/target runs." – Cate
"Outsource or delegate whatever you can! For us, it's cleaning and lawn" – Mrs
Organization
"Keep a small stash of diapers and wipes in the cars, purses and strollers. Never without!" – Leah, Em
"A diaper basket for each main living area (bedroom, living room, TV room)" – Kel
"Keeping life things organized on google sheets shared with partner." – Kate
"We buy zip lingerie bags to store puzzles and small games" – Lauren
"Less is more – minimize stuff!" – Mo
"Keep a Clorox Wand in every bathroom! #boymom" – JLS
Kid Care & Bath Time
"Baths in the afternoon, if no events." – Crystal
"Baths every other night, if viable" – Mo
"Use a Sharpie to write prescription schedule on medicine bottles to check off" – Katie
"On the nights we have swim practice or are at the gym for a class in the evenings, I shower and wash my daughters' hair there. And, they change into PJs. Saves precious bedtime minutes." – Jocelyn
"Keeping a pack of balloons on hand helps us turn those bad toddler attitudes around quickly" – 5L
"Mix nasty medications with a little chocolate syrup, juice, cinnamon applesauce, maraschino cherry juice or yogurt…works EVERY time!" – Emily

"On Amazon Alexa, enable the "animal workout" app (on your phone) and then say "Alexa play animal exercise" – it gets the kids to move around the house like different animals… keeps them occupied for at least 20 minutes & they're moving and loving it." — Lauren
"Bed next to wall? Stick a pool noodle under the fitted sheet on the wall side to prevent lost lovies or little ones getting stuck." – Elizabeth
"Aquaphor!! I keep it on my son's cheeks, arms, lips, butt, hands and feet in the winter to prevent dry skin and chapping." – Casey
"Aquaphor for lip balm, dry skin, eczema, diaper rash…all things dry and in need of healing! A pediatrician and dermatologist told me to use it on cuts and scrapes too!! And, it really works!!" – Kelly
"Get your toddler a cup of whipped cream with a spoon when you get your coffee at the Target Starbucks. Keeps them occupied and distracted from thinking about buying toys!" – Melissa
"For administering eye drops, have toddler lie down on bed with eyes closed. Drop eye drops in corner of eye then open eyes and blink." – Reyna
Babies
"A medicine ball – the kind you sit on – for the newborn days! Bouncing baby back saver" – MVW
"Place baby in laundry basket while in the tub to safely bathe baby and toddler together" – Mary
"Glow sticks or ball pit balls in the bath tub for a bath-hating baby" – Jamie
"Puppy pee pads instead of changing pads on the go, car seats, under crib sheet and on the changing table. So much cheaper than baby pads and you don't have to wash them! And they take up a lot less space in the diaper bag." – Gwyn
"Color change tablets for the bath tub" – Kristan

On the next edition, I will be sharing your on the go & travel hacks, easy family favorite recipes, tips for making time for self-care and how you find quality time with your spouse.
To submit a tip, comment on my InstaStory Mommy Highlights!