Getting out the door in the morning with two pre-schoolers can be a struggle for our family. More often than we'd like, Matt and I roll out of bed and begin the mad dash to get ready the second we hear our kids stirring upstairs. And the chaos begins. Together, Matt and I tag team the check list (while taking turns getting ourselves ready): Negotiate weather appropriate clothing. Hair and teeth brushed. Locate shoes for each kid (seriously, how do these get lost every dang day?) and ask them 14 times to put them on. Backpacks packed. Double check backpack inventory to avoid running back home for Elmo. Serve semi-healthy breakfast…and then clean it up after it's inevitably spilled on the floor. Where are Tom's glasses? Plead with kids to hurry up and get in the car. Now we're late. And I'm frazzled. And yelling.
And then the worst part – the wave of guilt post drop-off after a stressful morning. I feel horrible about how I set the tone for the day for our entire family.
Not every day is like that though. On the days that we exercise our routine everyone is happier. Having a good routine streamlines our morning and makes all the difference in starting our day off on the right foot. And it helps me be a better wife and mom.
So today I'm sharing 5 tips that help our morning routine run smoother. I know these tips may not be for everyone, but these are what we've found work best for our family. And if you have any tips, please share them in the comments!
1. Prepare as much as possible the night before.
As part of our bedtime routine we have the kids pick out their outfits for the next day. After the kids go to bed I empty out their backpacks (so I can toss artwork in the trash without getting caught) and repack them. I also complete and pack any forms, paperwork, checks, etc. they need for pre-school. Then, in the same spot every day I set aside everything that needs to go out the door in the morning — backpacks, shoes (& socks), all my bags and snacks for work, keys, sticky notes with reminders, etc.
Prepare the coffee! Hearing the coffee pot timer go off a few minutes before my alarm helps me get out of bed in the morning. It's like a little reward I have to look forward to.
Straighten the house. Matt and I can't go to bed unless the kitchen is clean and the house is picked up. This is not a deep clean. We take just a few minutes to do a quick toy pick-up, flip or fold a load of laundry and I always sweep the kitchen floor up from dinner crumbs. We both really love waking up to a clean house.
2. Set a bedtime alarm and wake up before the kids.
This is the one we struggle with the most but is the most impactful when we execute it. I need 8 hours of sleep each night but can easily be convinced to watch just one more episode of whatever we're currently binge watching on Netflix. So I set a bedtime alarm which is automatically calculated based off of the hours of sleep you need and the time you want to wake up. I love this iPhone feature (under the clock app) and as soon as I hear the bedtime ding we turn the TV off.
As for waking up before the kids, this is truly the best way for me to get a head start on my day. And if I can squeeze in a few moments of quiet time, get dressed, makeup and hair done and have a cup of coffee in me before they come bouncing down the stairs I find I am much more patient throughout the morning. On the weekends I get up two hours earlier to blog and it's some of my happiest and most productive time.
*Side tip: In my attempt to get Thomas to sleep in his bed throughout the night again I read an awesome tip for kids, but I think it's also equally applicable for adults. Try not to let your bedtime or wake up time fluctuate more than an hour on the weekends. By staying up too late or sleeping in too long it throws your body off track for the work week.
3. Make the bed.
This is a habit of Matt's that he has in turn taught our kids. It's a quick and simple task to do that jump starts your day with a sense of accomplishment and sets a productive tone. It's also a habit that can lead to other good habits. And at the end of a long day, it's always nice to come home to a bed that's made. Thanks, Matt!
*Side note: One of Matt's favorite books that he keeps on his bedside table is "Make Your Bed: Little Things That Can Change Your Life… And Maybe The World," written by Navy SEAL commander Admiral William McRaven. He explains how making your bed every morning can have a profound impact on your well-being and behavior throughout the rest of the day.
4. Create a morning routine for the kids.
On our best mornings, Thomas and Caroline know not to get out of their beds until their alarm clock goes off. Once they've gotten the green light they are supposed to make their beds, go potty, brush their teeth and get dressed before they come downstairs for breakfast. They know the drill. And on the days they follow the routine it is magic and eliminates a lot of scrambling in the morning. (While we work on getting Thomas to go back to sleeping through the night in his bed right now, we still make him follow the morning routine by sending him upstairs to his room as soon as he wakes up!)
5. Run through schedules.
Every morning Matt and I run through what's on our calendars for the day while we get ready together in the bathroom. Not only is it nice to know what each other is up to that day and determine who will pick up the kids from daycare, sometimes we're surprised to see we are both available to grab breakfast or lunch that day. Most days we are too busy to chat outside of a text here and there, so when we can squeeze in a meal together it's a real treat!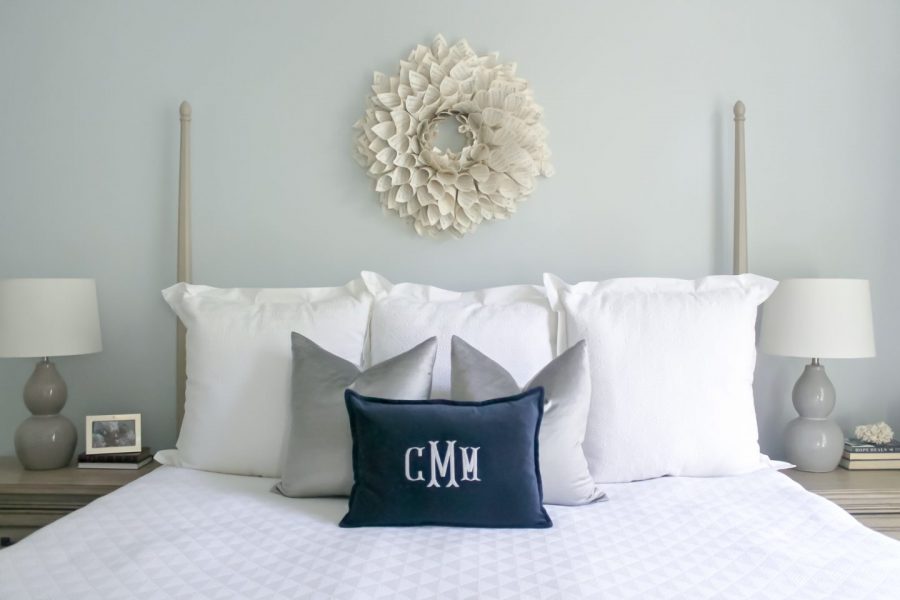 PS — I know I'm going to get a bunch of questions asking "when/how do we exercise"? This is one of the most popular questions I receive every time I write a post like this. Honestly, this depends on the week. I try to get to kickboxing 3x a week. Some weeks I don't go at all. When I do exercise, I prefer to sleep in and hit the gym after work. However that is not always feasible so some days I go to the gym at 6 am and Matt gets the kids ready while I shower and get dressed for work. Then he leaves for the gym when I get home and I take the kids to daycare. He showers at the gym and walks one flight of stairs down to his office afterwards. We know we should be making this a higher priority because it helps us feel so much better and we tend to eat healthier when we're exercising, but we're working on this!
Your turn! Please share your morning tips and routine.