To celebrate 10 years of marriage, Matt and I spent 5 glorious days in Sedona, Arizona. While planning our vow renewal, we both spent a lot of time reflecting back on our last 10 years of marriage and agreed that Sedona felt right for kicking off our next decade together. This beautiful destination has been on our bucket list for awhile and we were unbelievably excited to explore the stunning red rock formations, brilliant canyons, energy-swirling vortexes and so much more.
We decided to fly out of Charlotte super early the day after our vow renewal to maximize our vacation time since this destination requires a bit of travel. My mom stayed with our kids which made the trip even better knowing they were having the best time getting spoiled by grandma. With the time difference, we landed in Phoenix by 9:30 am, rented a car and drove 2.5 hours to Sedona. The stunning scenery along the way made the drive go by really fast and we were able to arrive to our resort in the early afternoon.
Enchantment Resort
As always, I relied on our amazing travel advisor, Christine Serio, to help us select the right resort for our trip. She has helped us plan all of our bigger trips over the years and truly is the best — she has a wealth of travel knowledge, as well as relationships and connections that come with extra perks (like upgrades, resort credits, additional amenities, etc.). With her guidance, we decided to stay at Enchantment Resort which is nestled at the base of Boynton Canyon. Everything about this resort was spectacular — the staff was so friendly, the food was incredible, the grounds were immaculate, the views were unbelievable and the suites were gorgeous.
Resort Activities
The Enchantment also offers a ton of activities daily (a lot of them are complimentary too)…
We spent a few hours sipping cocktails by the pool on two of the warmer afternoons which was nice and relaxing. The views from the pool were unreal. I cannot tell you how many times Matt and I said to each other "is this real?!"
We also visited the Trail House to plan out our hikes. The staff is incredibly knowledgeable on the surrounding geography and was able to give us lots of helpful tips for our hikes.
We booked massages for the last night of our trip. The spa menu is like 18 pages long and you can pick from ALL sorts of specialty experiences. I loved the Intentional Aromatherapy massage and Matt loved his deep tissue massage. If I'm being honest, I did think our services were overpriced given the fact that the spa is currently closed for renovation and the resort has temporarily converted a few guest rooms for spa services. However, I think the new spa being built will be worth every penny when it's finished.
One of our favorite experiences on property was stargazing! Sedona is a Certified Dark Sky Community and is known as one of the top stargazing locations in the world. Several nights a week the resort offers stargazing that is guided by an expert astronomer. We got to see several planets but the coolest to see was Saturn (seeing the ring so clearly was wild)!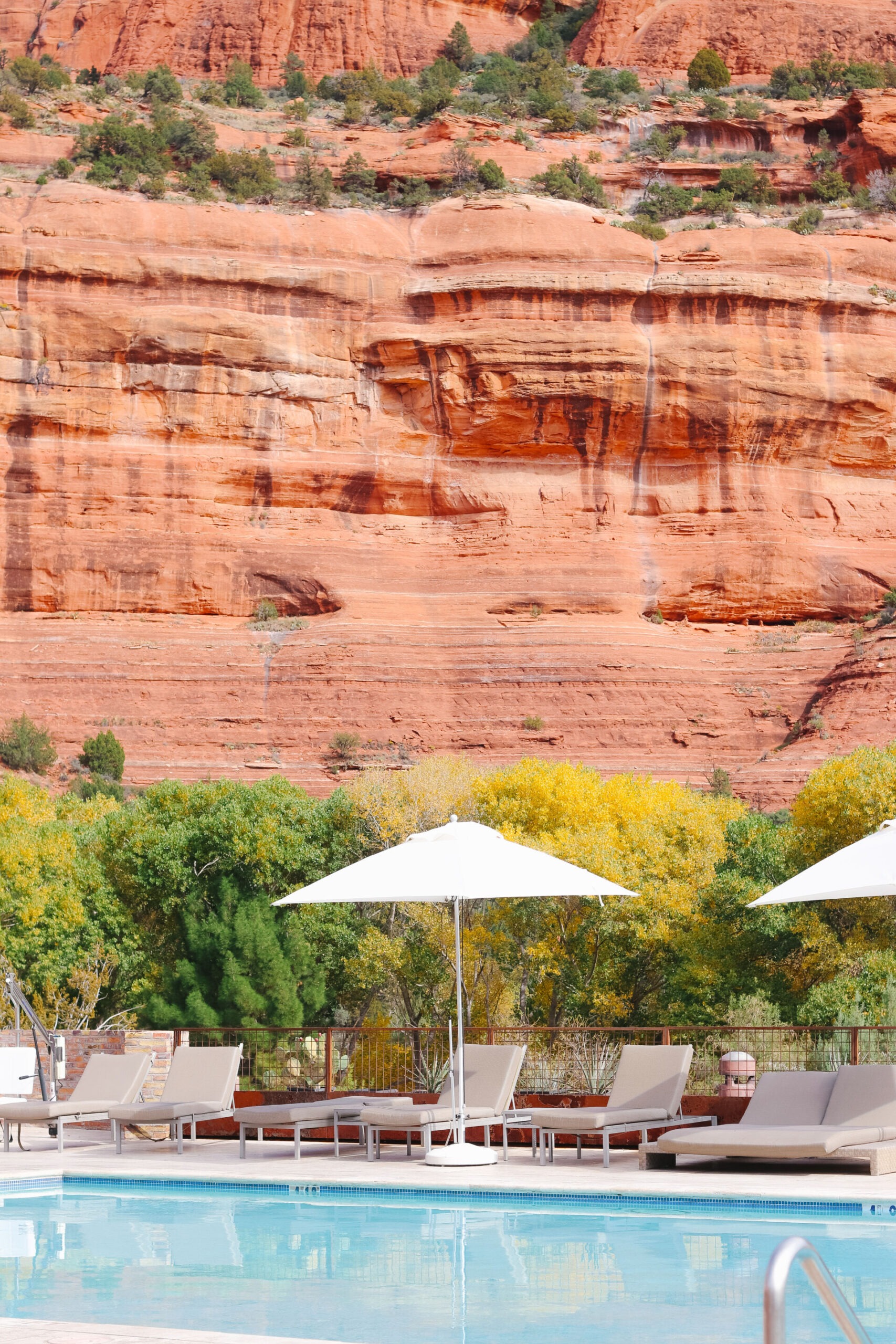 Resort Suites
We booked the Junior Suite Casita for the first few nights and then splurged on a pool suite for the last night of our stay. However, when we arrived, we were informed we had been upgraded from our Junior Suite to a spacious Hacienda Suite. This upgrade was truly an unbelievable surprise (thank you, Christine!) as the suite featured an oversized living room (with a fireplace), full size kitchen, additional pull-down beds, a separate master bedroom and a large private deck with amazing views.
Resort Dining
All of the food at the resort was incredible and the menu options made it easy for Matt to stick to his vegan diet. He did go off course for the Wagyu Beef Sirloin — twice, and the Bison Tartare (both of which were totally worth it). We loved the food (and views) so much that we chose to eat almost all of our meals on property. Normally, on vacation we love to get dressed up and go out to dinner (which we did the first night and it was wonderful), but we were so tired by the evenings that we chose to jump in pajamas, relax on our gorgeous terrace and order dinner, dessert and late night snacks from Che Ah Chi to our room the rest of the trip.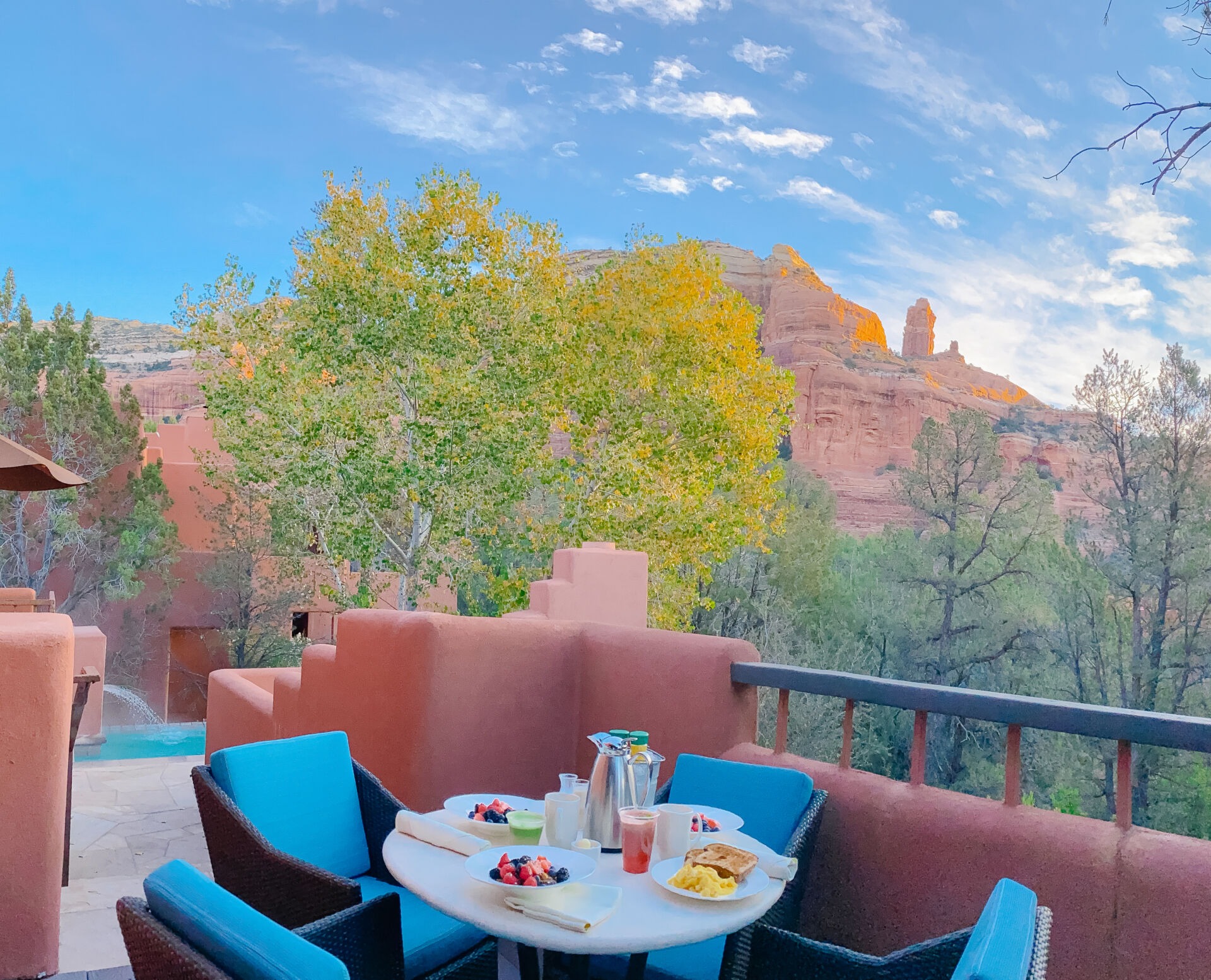 With Sedona being two hours behind, I was up early every morning in time to watch the sunrise, skim my work inbox and scroll my Instagram feed. One of my favorite parts of the day was enjoying breakfast in our room and have to mention how awesome the juice bar options were.
Sedona Excursions
We packed out our itinerary with some of the most incredible excursions during our trip. These adventures allowed us to experience the beautiful red rock formations from literally every angle.
We also spent a few hours in Uptown Sedona one afternoon and I somehow convinced Matt to get a couples intuitive reading (his first)! He was highly skeptical and this was totally outside of his comfort zone, but he thought it was interesting.
Hot Air Balloon Ride
On our first morning of the trip, we got up waaaaaay early for a sunrise hot air balloon ride with Northern Light Balloon Expeditions. Neither of us had every done this before and Matt was totally freaking out about it. However, once we were thousands of feet in the air, he was able to relax and enjoy it. And our pilot was excellent. We spent several hours flying above Red Rock State Park before landing to a champagne breakfast. The entire experience was phenomenal and I cannot recommend it enough!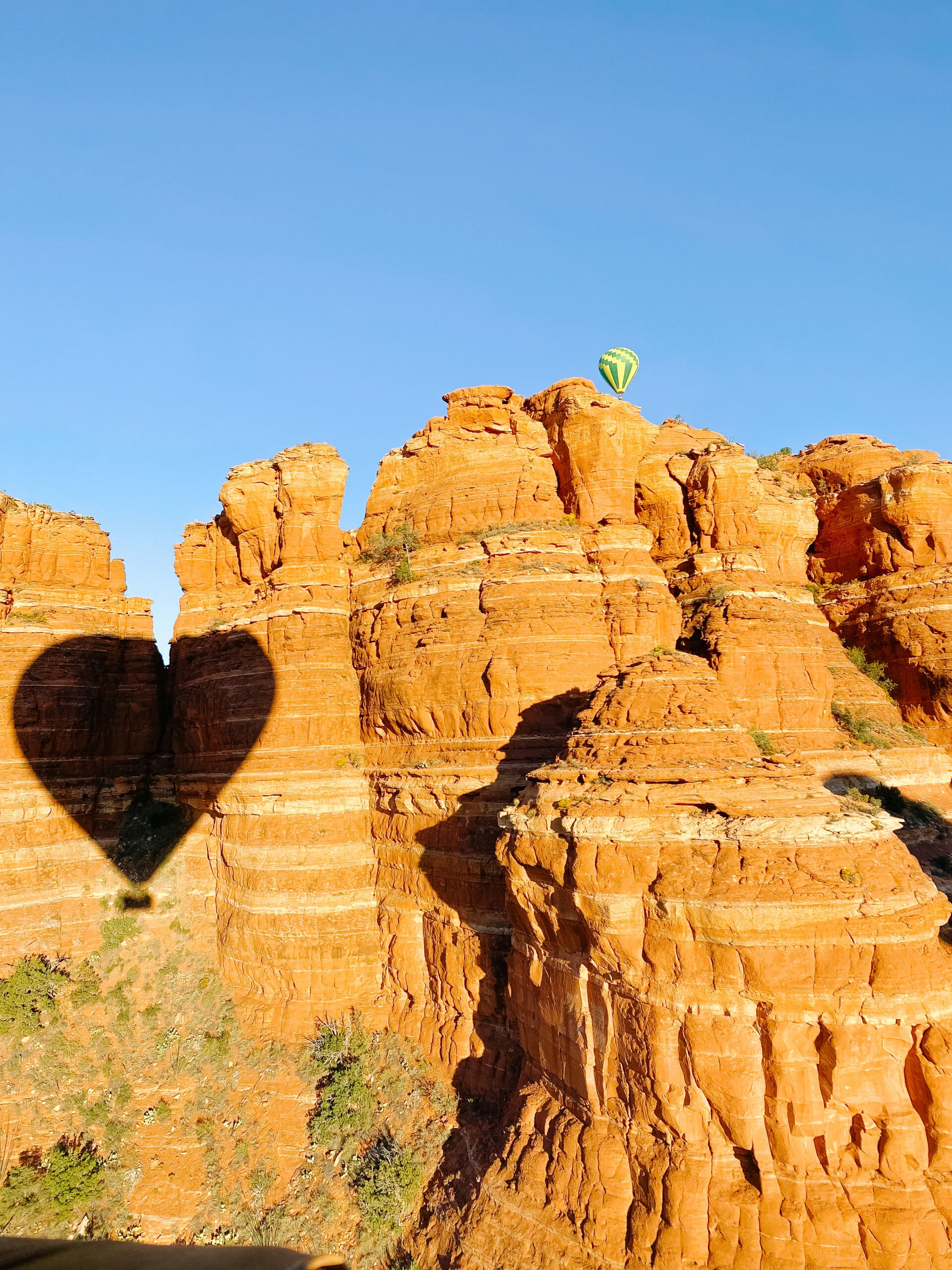 Still mad at myself for forgetting my DSLR camera for the ride. The iPhone photos don't do it justice!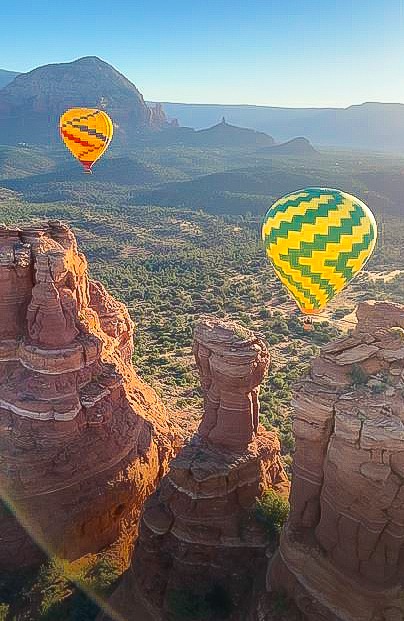 Pink Jeep Tours
Almost every single person who knew we were heading to Sedona told us we "HAD" to go on a Pink Jeep Tour — and now we know why! We booked the last Broken Arrow tour of the day which gave us an amazing sunset experience. The off-road adventure took us over some crazy huge red rocks followed by such steep descents that I had to close my eyes several times. We also stopped twice to take in the stunning 360 views. The entire tour was thrilling and beautiful.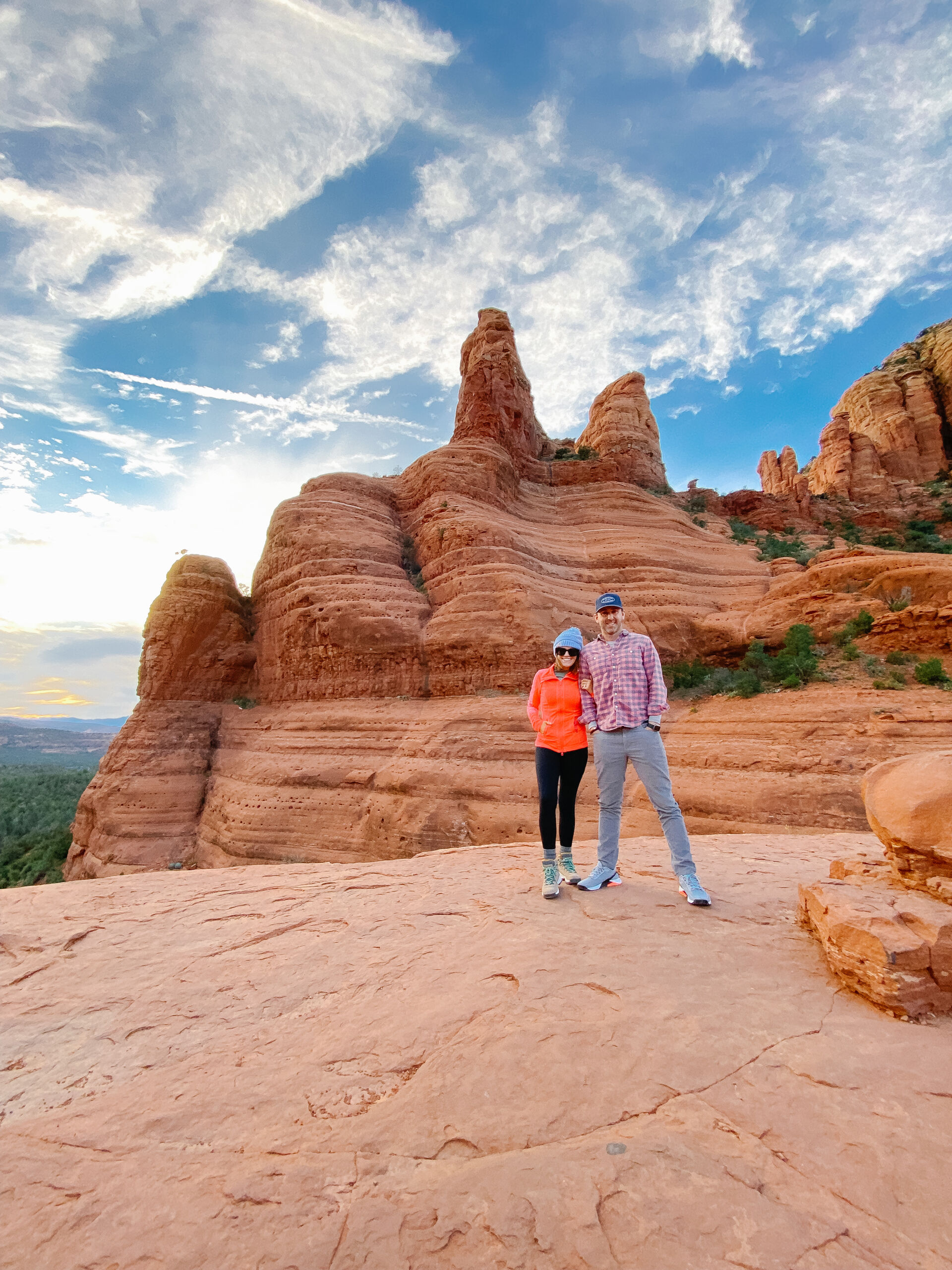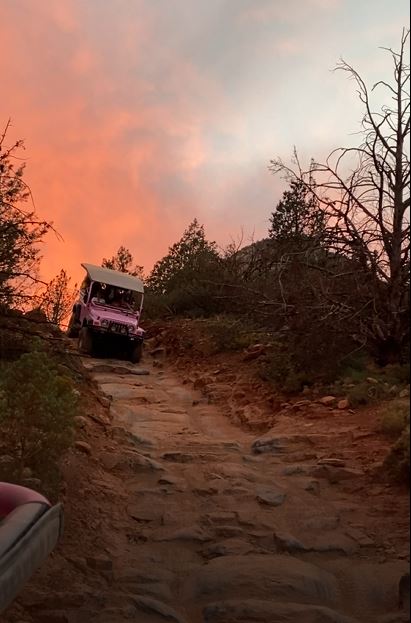 Seven Canyons Golf
Matt was sooooooo excited to play a round of golf at Seven Canyons during our trip. And I was more than happy to ride along drinking mimosas while watching him play and taking in all the gorgeous scenery. The course is set at an elevation of 4,600 feet and is bordered by the Coconino National Forest and Red Rock Mountain Wilderness. It was hands down one of the most beautiful courses I've ever seen — and Matt had a blast playing it.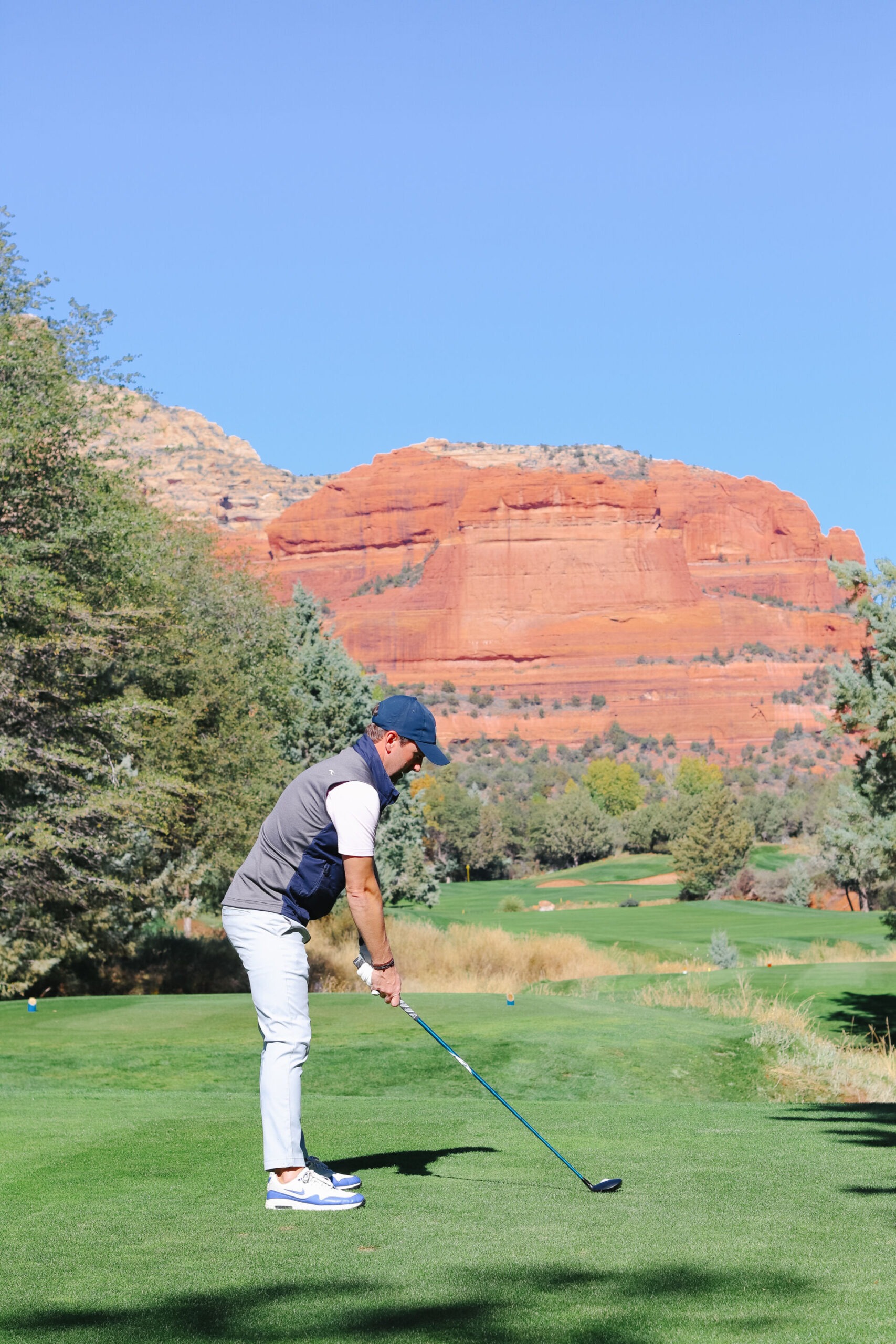 Hikes
Saved the best part of the trip for last — the hikes! There are SO many amazing hikes in Sedona. We spent two half days hiking and there is still so much more to we can't wait to come back and see!
Devils Bridge
Our first hike in Sedona was Devils Bridge and it did not disappoint. The terrain changed so much throughout the hike which was really cool. And to get to the bridge you have to climb the rocks which was fun. We did have to wait in line for about 45 minutes for our turn on the bridge but it was totally worth it. We were full of adrenaline crossing the bridge. The 50+ foot drops to the right and left are insane and the bridge is maybe only 5 feet wide? It was a really fun hiking adventure…even though we did get lost on the way back down.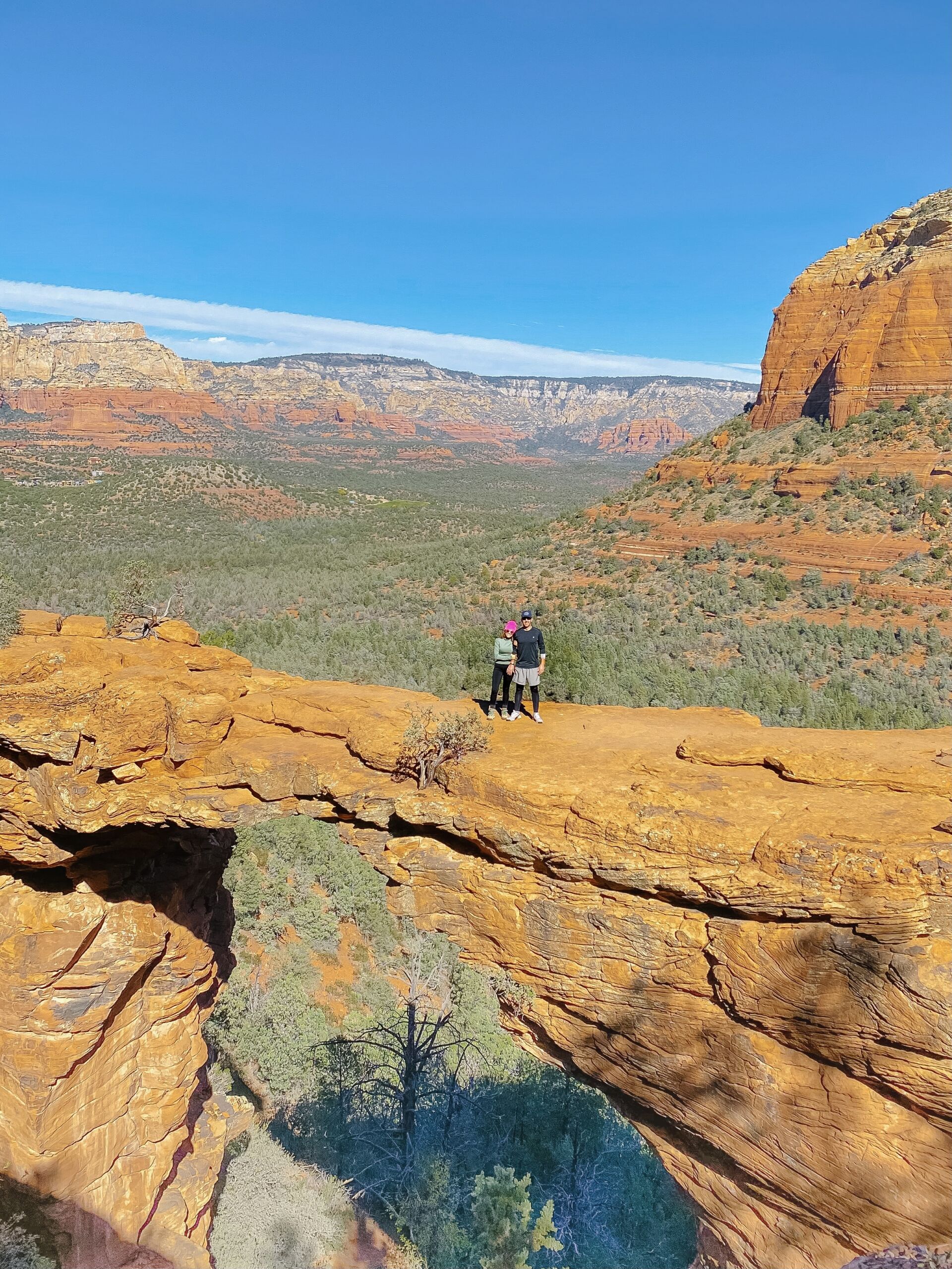 Boynton Canyon Trail
This was the hike I was most excited about! We saved this one for our last day since it was literally steps from our resort and is located in one of Sedona's vortexes (swirling centers of energy that are conducive to healing, meditation and self-exploration). The hike was easy and beautiful. We took it all the way to the end and then on the way back took the detour for The Subway Cave. To get inside the cave you do have to climb a bit, but the view from the top of the cave is INSANE — probably one of the coolest hiking adventures of my life if I'm being honest. It just seemed SO surreal. I could not get over it.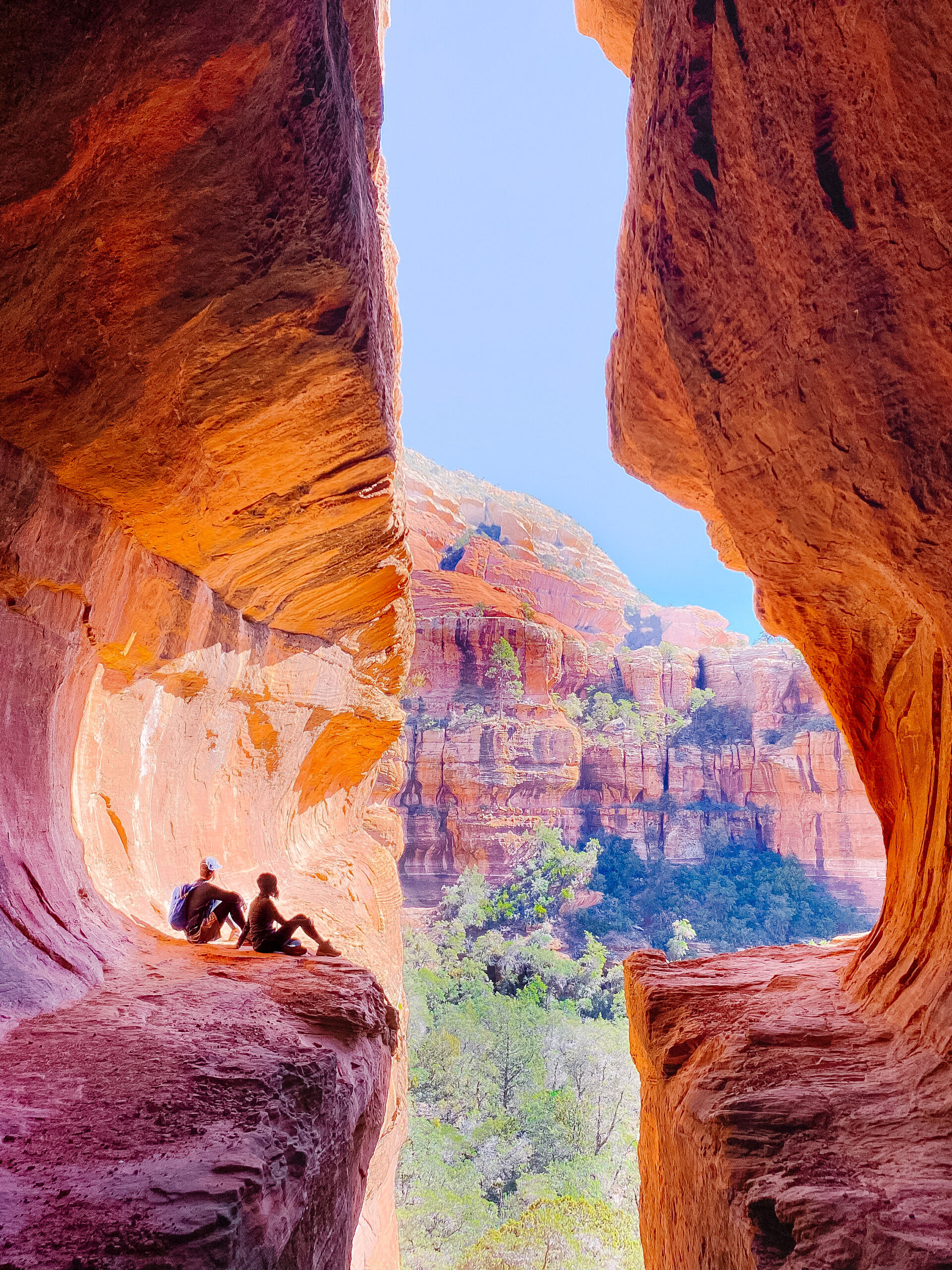 With Sedona being several hours from the airport, we decided to spend our last night in Phoenix so we didn't have to spend all day traveling! Christine recommended the most romantic resort ever — Royal Palms Resort. It was the perfect location for our last night and only a few minutes from the airport.
And that's a wrap on our Sedona anniversary trip!