Sharing some Great Wolf Lodge tips for those of you who are planning a stay at this insanely fun water park resort.
Fun fact: I LOVE water parks. Like, I really love water parks.
So when our family had the opportunity to partner with Great Wolf Lodge in Concord, North Carolina I almost burst with excitement. This post was actually not required as part of my partnership but now that we've been twice, I've learned so much and wanted to share a few tips and things we've learned along the way!
We brought the kids to this magical resort 4 years ago for Caroline's birthday (not a sponsored trip) and loved it so much that we've been dreaming of returning ever since. And while there was no shortage of things to do during our last stay, we were able to unlock SO MANY MORE activities at ages 7 and 8 (including finally meeting the 48″ height requirement for The Howling Tornado)!!!!
Alright, a few tips that may be helpful to you if you're looking to visit this water park resort…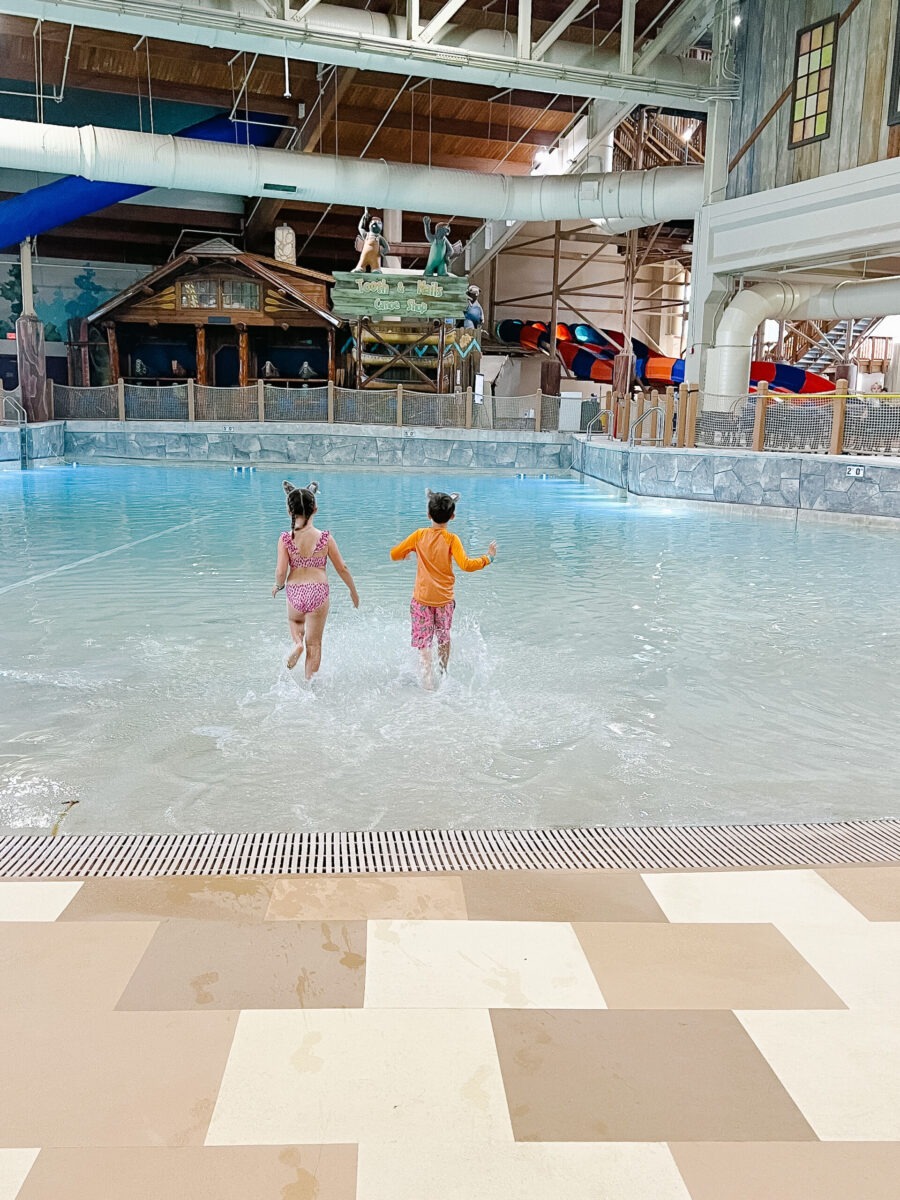 Great Wolf Lodge Suites
There are several room types available at the resort, all of which are suites — standard, themed, and premium. We stayed in the Wolf Den Themed Suite during our first visit and the Standard Family Suite during our most recent trip.
Wolf Den Themed Suite: This room type was our favorite — mostly because our kids get really excited about bunk beds! The suite features a separate kid space with bunk beds and a TV. And there are several themes you can choose from. If you think you'll need to take a break or two from the action during your stay, I would recommend getting this room type so you can relax in a separate area of the room while the kids nap. This is also nice to have if your kids have an earlier bedtime.
Standard Family Suite: If you have older kids and don't plan to spend much time in your room, go for this room. It's one of the more popular room types and includes two queen-size beds and a full-size sofa sleeper in the living space. I would recommend allocating the money you save by picking the standard room towards Paw Passes!!
Two more quick notes about the resort/rooms:
Overnight stays include water park passes and you can access the water park any time after opening on your arrival day and until closing time on your departure day!
All the rooms have a microwave and mini fridge too, which is helpful if you decide to bring your own food to make in the room.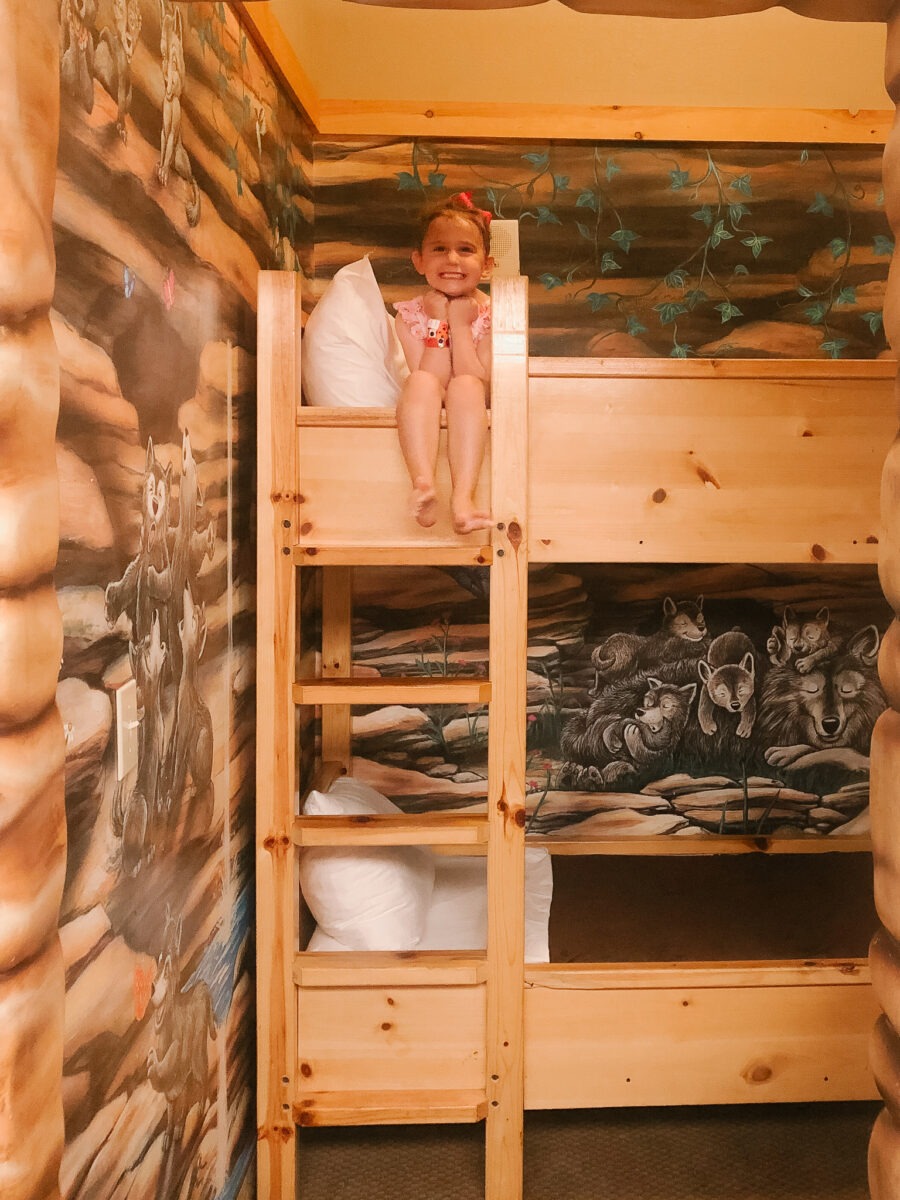 Things To Pack
These are all obviously optional, but there were a few things we brought (or wish we had brought) for this trip that were helpful.
Snacks/drinks: Technically, the website says outside food and beverage are not allowed inside the water park. From our experience in the Concord location, most people have coolers and tumblers inside the park.
Scissors: You will receive several wristbands during your stay. One operates as your wallet/room key, and your kids may receive a second band for the water park depending on their height. The tail on these bands is really long and annoying so you'll either want to throw a pair of scissors in your bag or run down to the gift shop and have them cut the tail off for you.
Bright colored swim suits: If you're keeping an eye on small kids, I highly recommend dressing them in their brightest swim suits!
Hand sanitizer: The resort is crowded and if you're going to be playing in the arcade and doing all the activities, I would have some hand sanitizer on hand.
Casual clothes: The attire is super casual (even at the sit-down restaurants) and most guests will be wearing their swim suits. No need to bring anything fancy unless you really want to.
Goggles: If your swimmer doesn't do well with water in the eyes, you may want to bring a pair for some of the rides and the wave pool.
Swim Ear: This lives in our pool bag and we always use it after a day at the pool to reduce the chances of an ear infection!
Things You DON'T NEED
You do NOT need to bring towels. You can check out towels at the water park! Just remember to turn them back in when you leave.
The resort is cashless, so you can lock your wallet up in your safe when you arrive and put everything on your wristband (which also operates as your key)!
The Indoor Water Park
As a reminder, you can access the park as soon as it opens on the day you arrive if you're an overnight guest! Take advantage of that! Also, there is PLENTY of rides and attractions for EVERY age which is really nice.
A few notes about the water park:
Towels: A reminder that the resort provides towels! Just don't forget to return them.
Shop: There's a shop in the water park if you forgot to pack something! It's got everything from goggles to medicine to swim suits.
Howling Tornado: If everyone in your party is at least 48″ tall, head straight to the Howling Tornado as soon as you set all your stuff down as the line for this ride will get longer throughout the day. This ride is so insanely thrilling and fun. We rode it so many times that I lost my voice for several days afterward. Also, riding this ride at NIGHT is a totally different experience too and I highly recommend it!
Food: Buckets is a fast food restaurant inside the water park and serves all sorts of items from cheeseburgers to nachos to treats!
Grizzly Rob's Bar: There's a full bar set up in the park!
Water Park Cabanas: I would consider your needs before reserving one of these for a day. If you are hosting a birthday party and need a zone for all the kids to put their stuff, chairs to eat, etc., then a cabana might be a good option for you. There are all sorts of amenities that come with them too including a fan, server, and guaranteed seating. However, one thing I want to note. If you are looking to camp out in a specific area of the park, I would just arrive early and grab chairs in that section. For both trips, we skipped the cabana and grabbed chairs at the wave pool where we could watch the kids swim…while we sat down for a minute. The rest of the time we barely sat down and spent all day riding rides.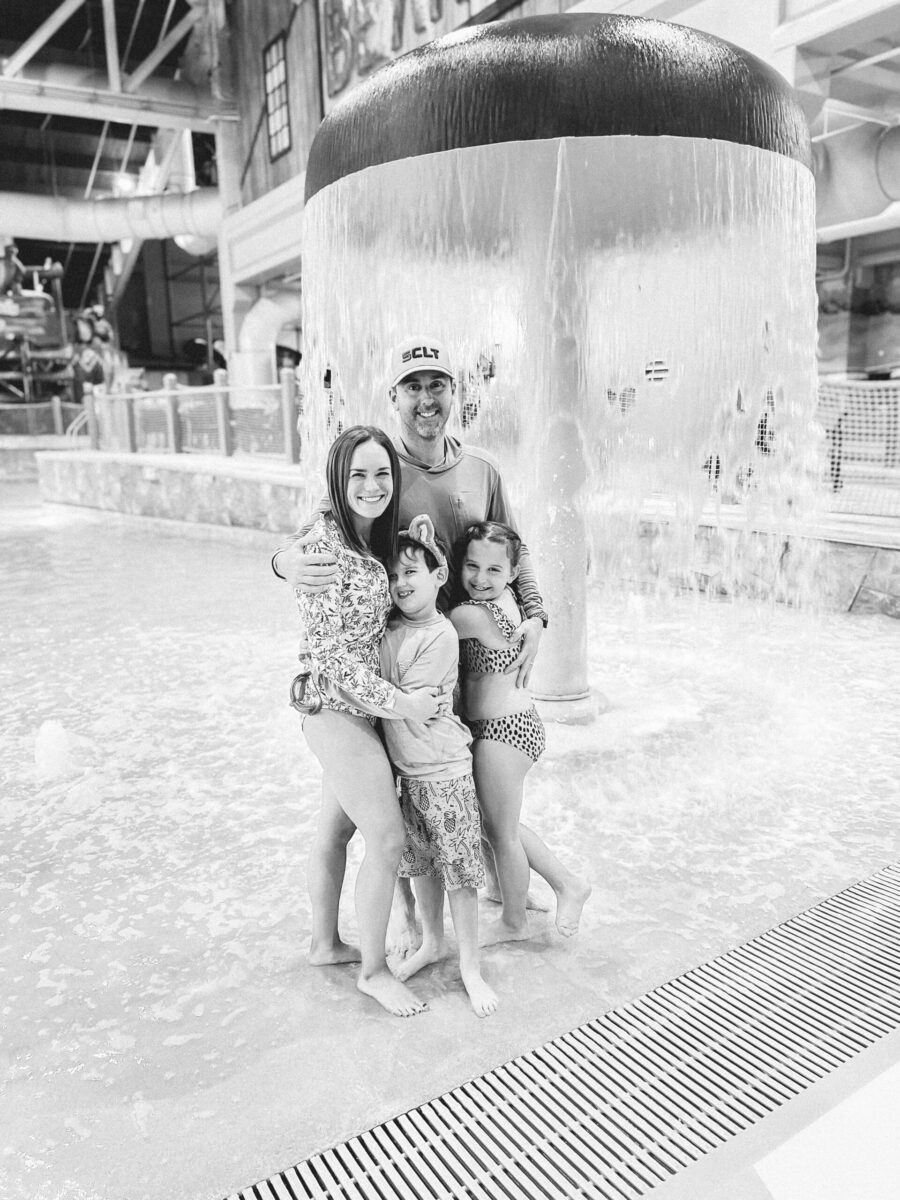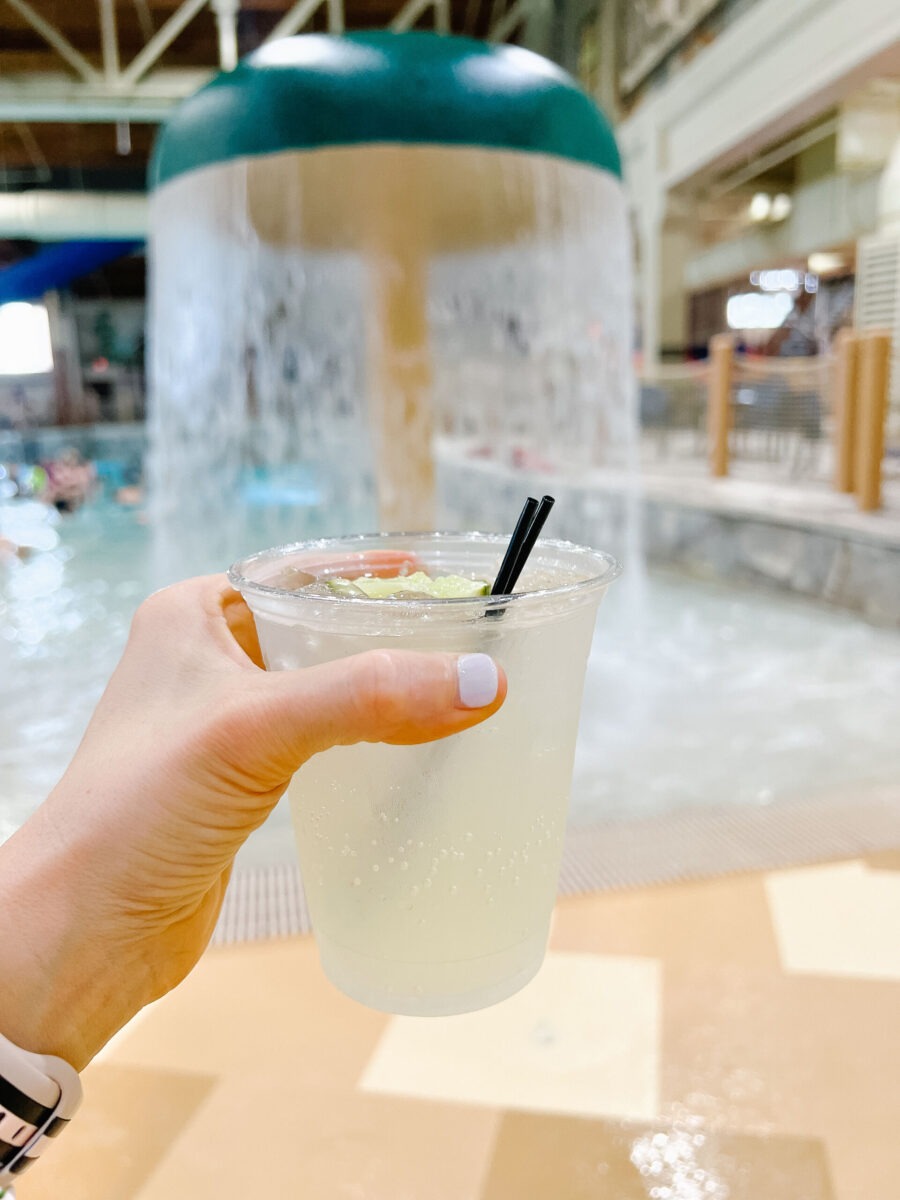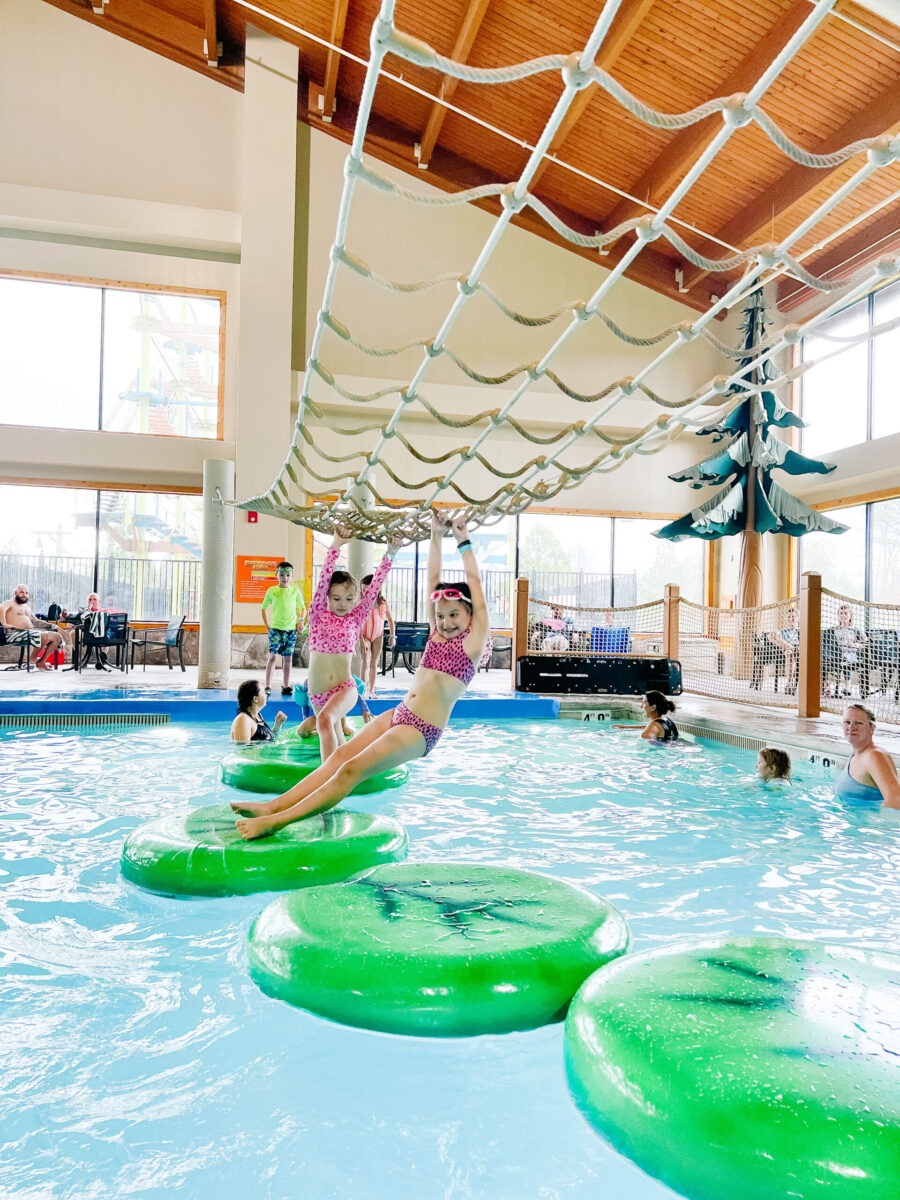 Activities, Experiences & Paw Passes
There is literally SO MUCH to do at Great Wolf Lodge that you really need two days to do it all. You'll spend a full day just at the water park alone!
If you're going to be visiting the resort overnight, I would highly recommend getting a Paw Pass! We skipped the Paw Pass when the kids were younger but they are now at the perfect age to take FULL advantage of all the things on this.
There are 3 levels of passes you can purchase, and the older your kids are the higher the package I would recommend. We got Paw Passes for the kids this time and it really was an excellent value. However, we ended up doing the additional activities that the Wolf Pass offers but paid for them a la carte (which ended up costing more than the Wolf Pass). So next time we'll definitely upgrade to the Wolf Pass.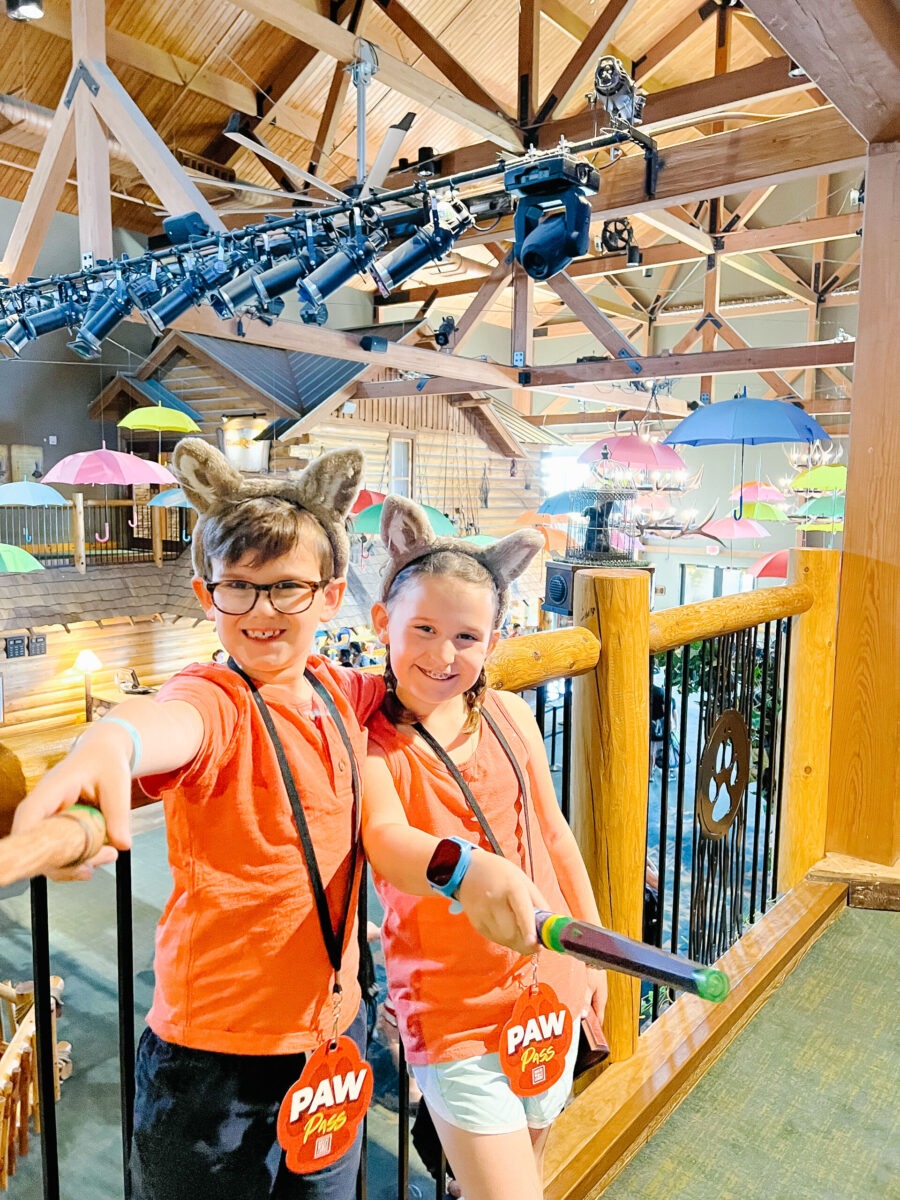 Our Favorite Activities
We skipped a few things (bowling, mini golf, and ran out of time for laser tag), but did SO much. I wanted to share a few of our favorite experiences:
MagiQuest or ShadowQuest: This game is basically a super fun scavenger hunt around the resort — and it's really well done. If it's your first time playing, my recommendation is to start with ShadowQuest (it's the beginner level) and if your kids collect all the "runes" (basically means they completed the mission), try MagiQuest next (advanced level)! This game was SUPER fun and I think we got in 10,000 steps playing it. I wasn't sure if it would hold the kids' attention but it totally did and they had an absolute blast following clues and sprinting around the resort completing their tasks.
Northern Lights Arcade: Wow. You could spend all day here. There are SO many fun games to play. Thomas and Matt played Halo the entire time while Caroline and I played ALL the games and accumulated more than 2,000 tickets! Definitely hit up the arcade at some point. It's a great evening activity too.
Oliver's Mining Sluice: This was cute and worth the $12. (Included in Wolf Pass)
AtomicRUSH: We held the kids ice cream while we watched them play this game but I really wish Matt and I had jumped in on this fun. It was a REALLY cool interactive game.
Howly Wood XD Theater: This shares the same space as AtomicRush, so you can knock these activities out at the same time and the movies are only 4-7 minutes long. This 4D experience was cooler than I expected — your chair is motion-enhanced and there are some fun effects (like wind blowing on your face) that makes it even more thrilling. My favorite movie was Safari, but the kids voted the Great Wall of China (might not be the exact title, but you'll know when you see it) as their favorite.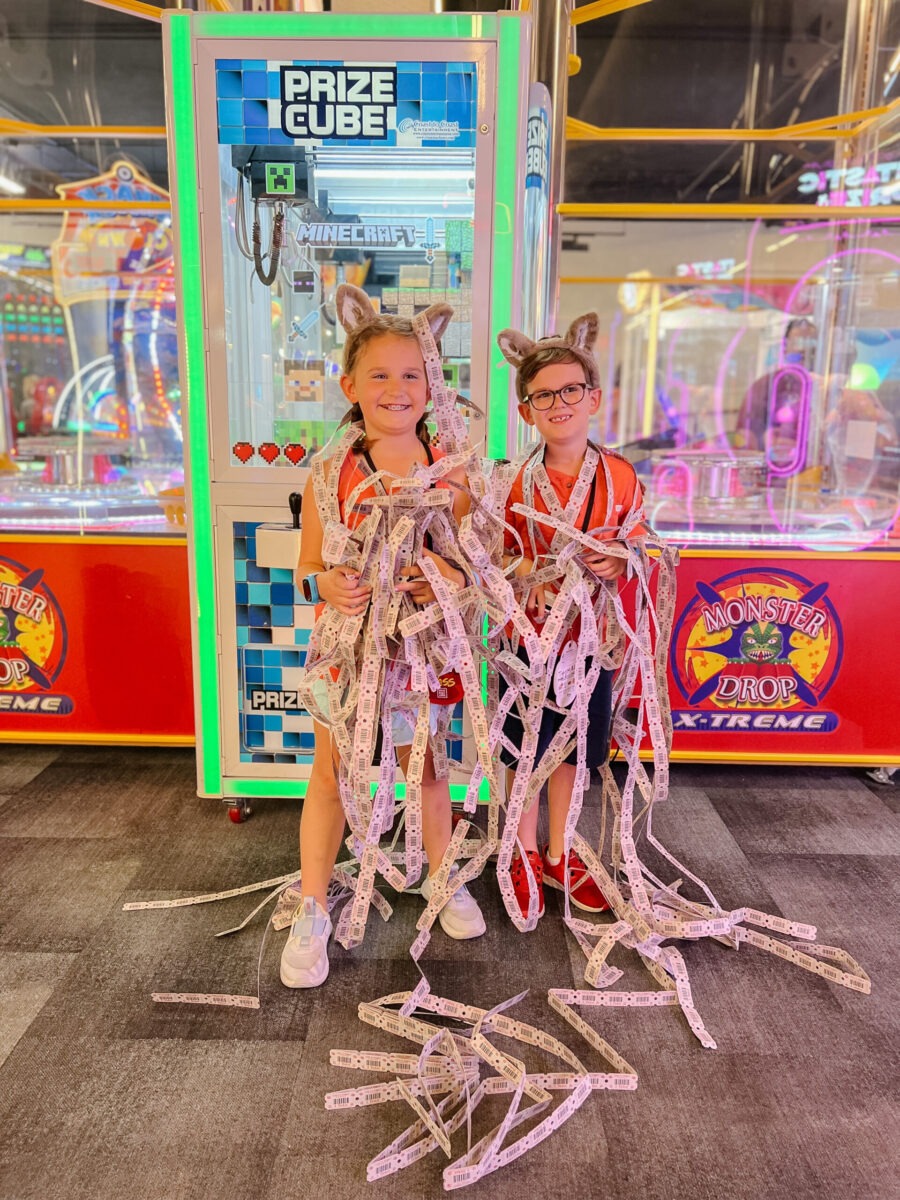 Resort Food
There are several dining options (including a buffet) at the resort and we really enjoyed all the food we ate. The Lodge Wood Fired Grill was our favorite restaurant and we ate dinner there both nights.
The resort does a great job offering allergy-friendly menu options too. Matt and I were able to eat gluten-free during our entire stay.
While it wasn't available for in-room delivery this trip (staff shortage), we LOVED having Dunkin Donuts delivered to our room while we were packing up for the water park during our first trip. Located in the lobby, the line can get long here, so plan ahead!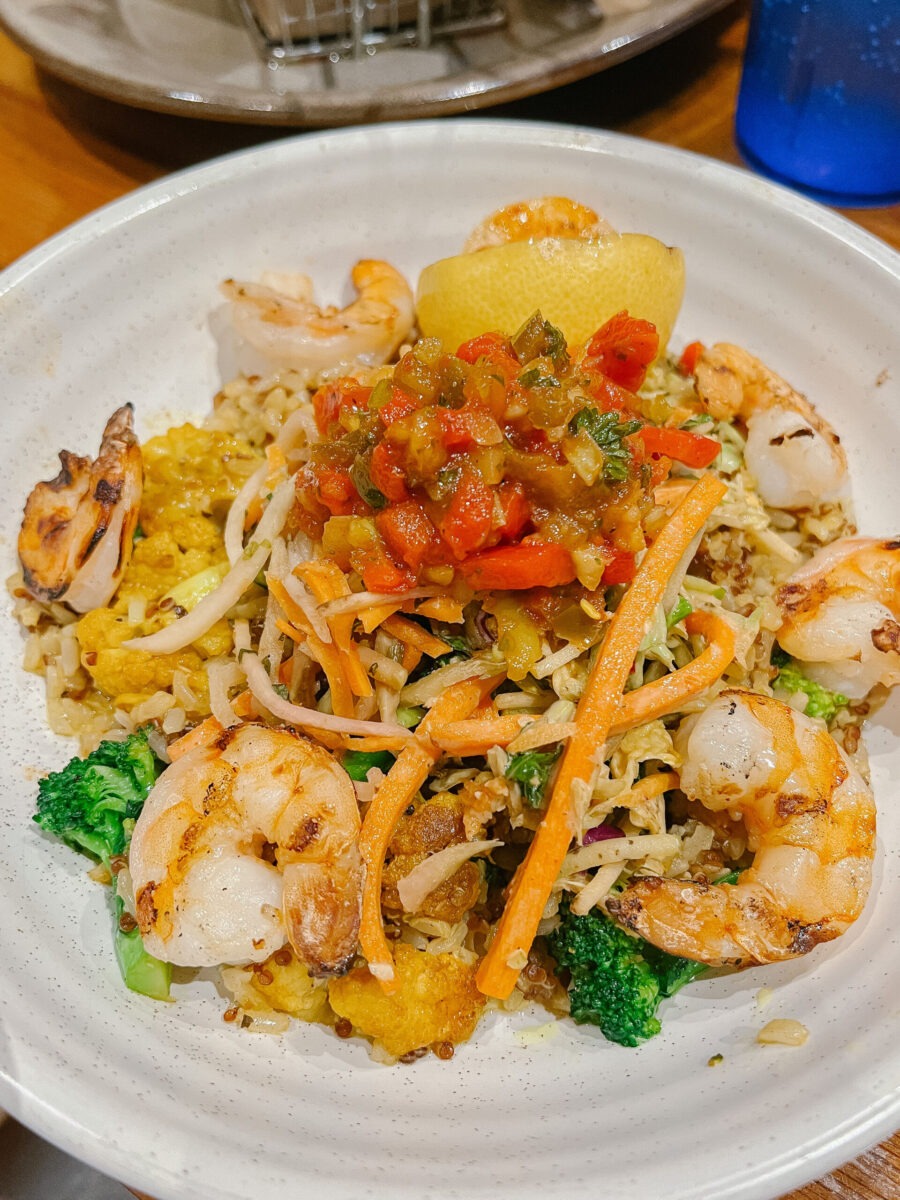 Alright, I think that covers everything! If you're thinking about booking a trip, I highly recommend doing it! We already cannot wait to return!!!
Similar Posts You May Like