Last weekend Mel hosted her 4th Annual Cookie Exchange! Over the years this exchange has gotten yummier and yummier as the ladies have become more competitive with their recipes.
More than 17 types of cookies came to the party and each girl baked 4 dozen so Mel's home was filled with more than 816 (!!!!) cookies!
The cookie I voted for — peanut butter fudge!
Mel's famous ho-ho punch: Combine 1 bottle of chilled champagne, 1 bottle of chilled ginger ale, and 2 packages of frozen strawberries, partially thawed.
And at the end of the party each girl took home a huge bucket full of treats.
Last year I made Graham Cracker Toffee for Christmas gifts and it was such a big hit I wanted to make it for Mel's party. However, I decided to tweak the recipe a bit by swapping out graham crackers for saltine crackers, added a delicious layer of peanut butter and topped them with M&Ms and sprinkles! Oh, and there's a splash of toddler love in there too.

My cookies came in 4th place which I still consider a pretty solid win considering there were 17 cookies to vote on.
Saltine Cracker Toffee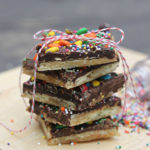 a contest-worthy holiday (or anytime) cookie!
2 sleeves saltine crackers
1 cup packed brown sugar
1 cup butter
1/2 cup creamy peanut butter
2 cups semisweet chocolate chips
1 cup chopped crushed M&Ms (or other crushed toppings like Andes mints, candy cane, toasted pecans, sprinkles, etc.)
Preheat oven to 350 degrees.

Line a 13 x 9" baking sheet with aluminum foil and mist it with baking spray. Tightly arrange saltine crackers in a single layer. You may need to break a few into smaller pieces. Set aside.

In a saucepan, heat the butter until melted. Add brown sugar and whisk to combine. Continue cooking until the mixture reaches a boil, stirring constantly. Let the mixture boil for about 2 minutes.

Remove caramel mixture from heat and pour over crackers. Use a spatula or spoon to spread the mixture evenly over the crackers. Bake for 7-8 minutes or until the butter mixture is bubbly.

While toffee is baking, heat peanut butter in microwave until melted.

Remove pan and immediately drizzle peanut butter over and sprinkle the chocolate chips evenly on top. Let sit for a few minutes until the chocolate is melted, then use a spatula to spread the mixture around. Sprinkle crushed M&Ms (or other crushed toppings like Andes mints, candy cane, toasted pecans, sprinkles, etc.)

Let sit for about two hours or chill for 30 minutes. Cut and enjoy!

Previous Cookie Exchanges
3rd Annual Cookie Exchange
2nd Annual Cookie Exchange
1st Annual Cookie Exchange