April was my month to host Supper Club this year! I usually prefer a fall month, but this year I wanted to change things up and host during the springtime. In hindsight, I wish I would have picked May only because I knew I wanted to host our dinner outside and everything was covered in pollen (see IG reel). So last weekend Matt pressure washed the deck and then helped me vacuum all the couch cushions and rug to get the porch in shape for the ladies.
For my theme this year I went with a spring floral tablescape and a build-your-own salad bar for dinner (a favorite theme Cristina did 5 years ago that everyone loved)! I was so happy with how it all came together and the night was so wonderful.
The Tablescape
I had such a great experience working with Ashley of Pretty Things Charlotte recently on a flower arrangement that I knew I wanted to reach back out for my Supper Club flowers. I shared a few inspiration photos from Pinterest and she brought my vision to life. She is truly magical.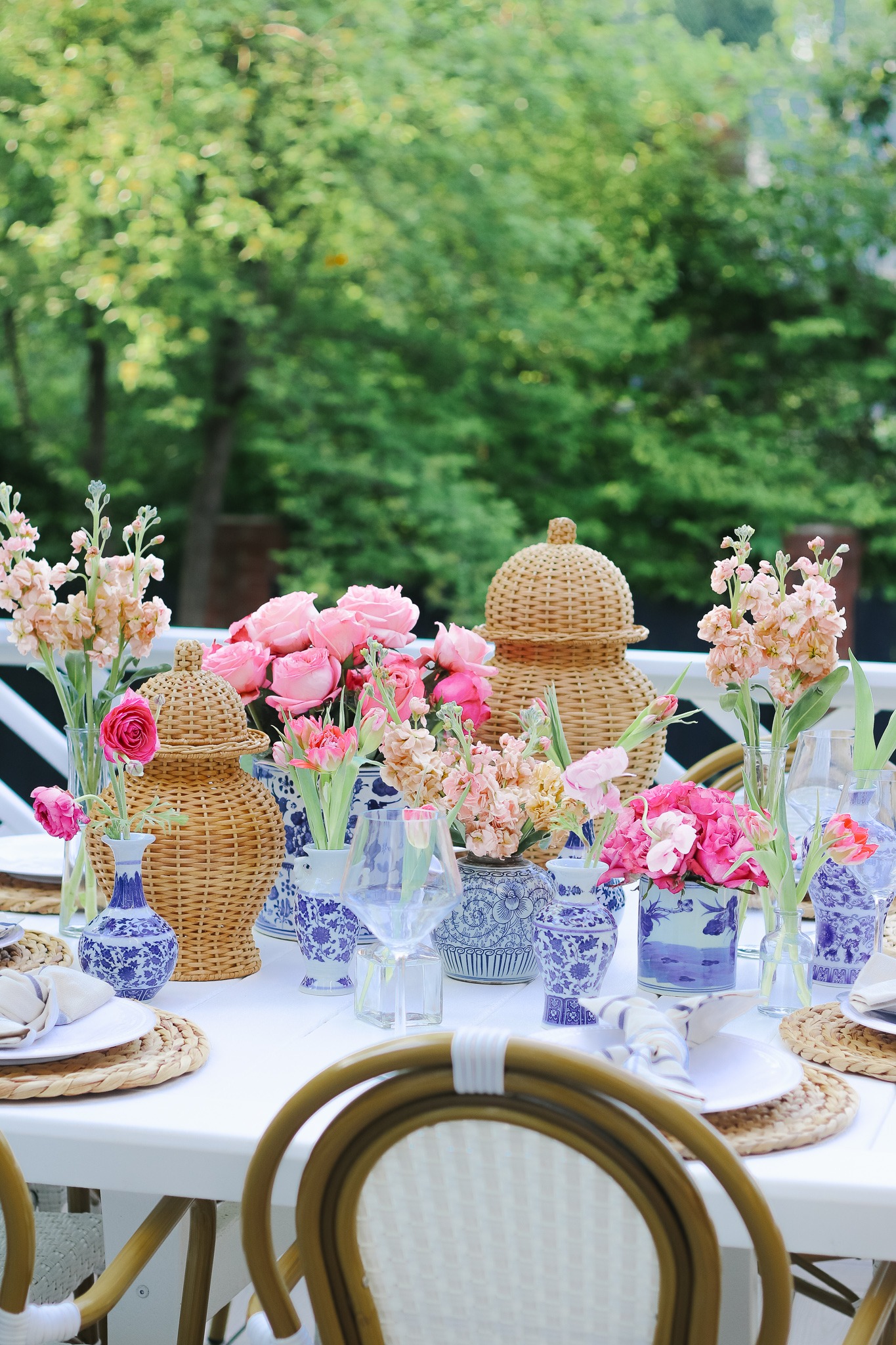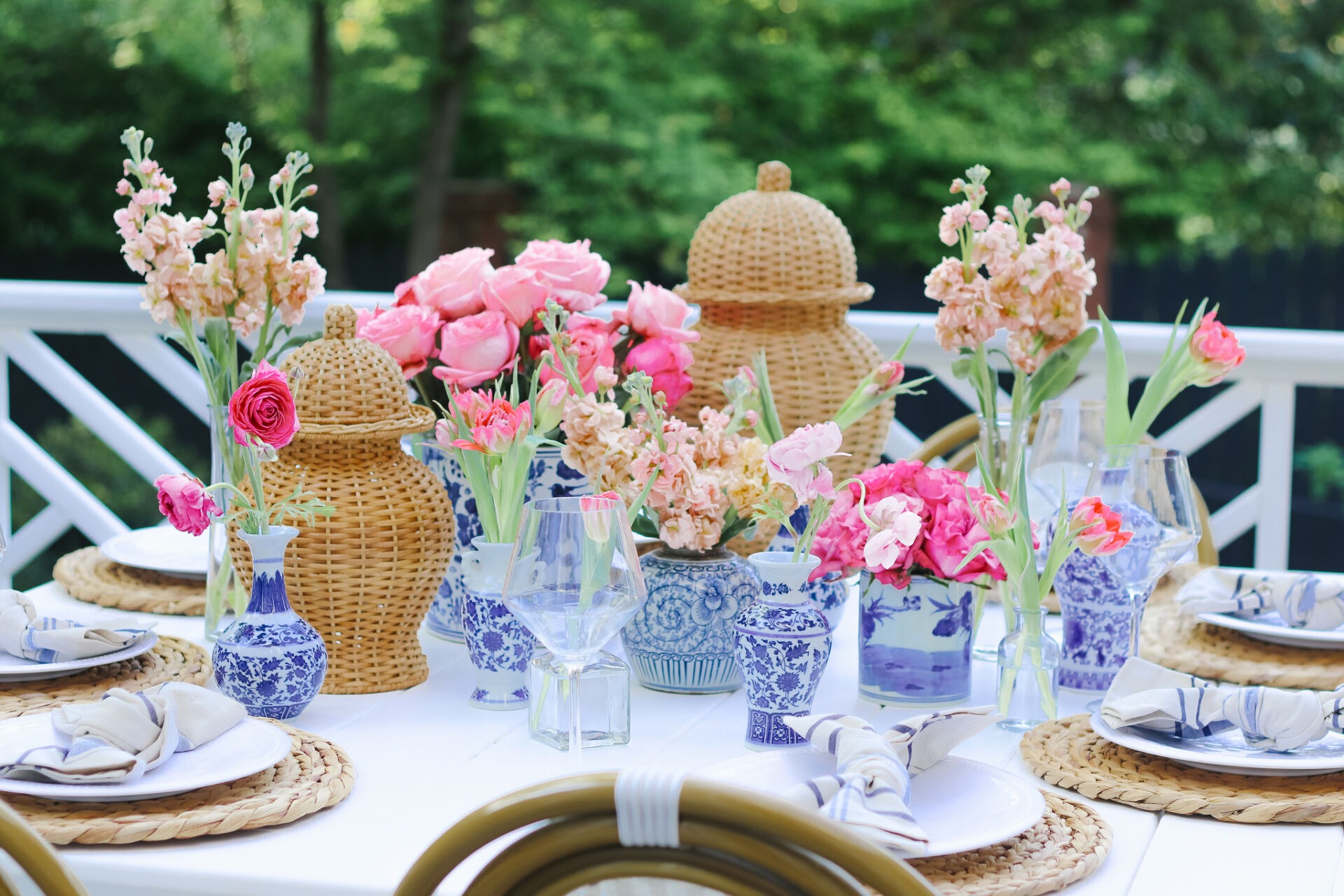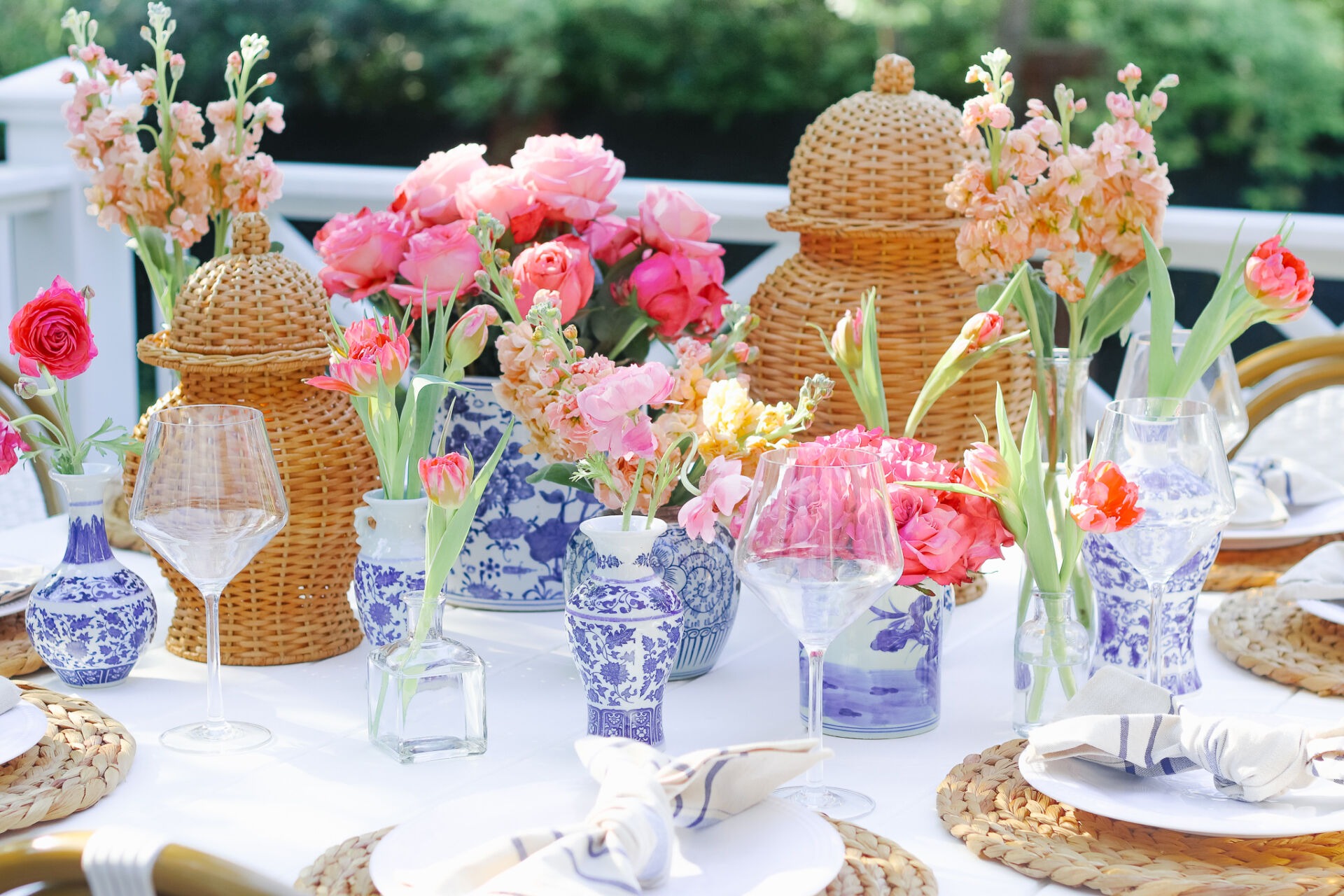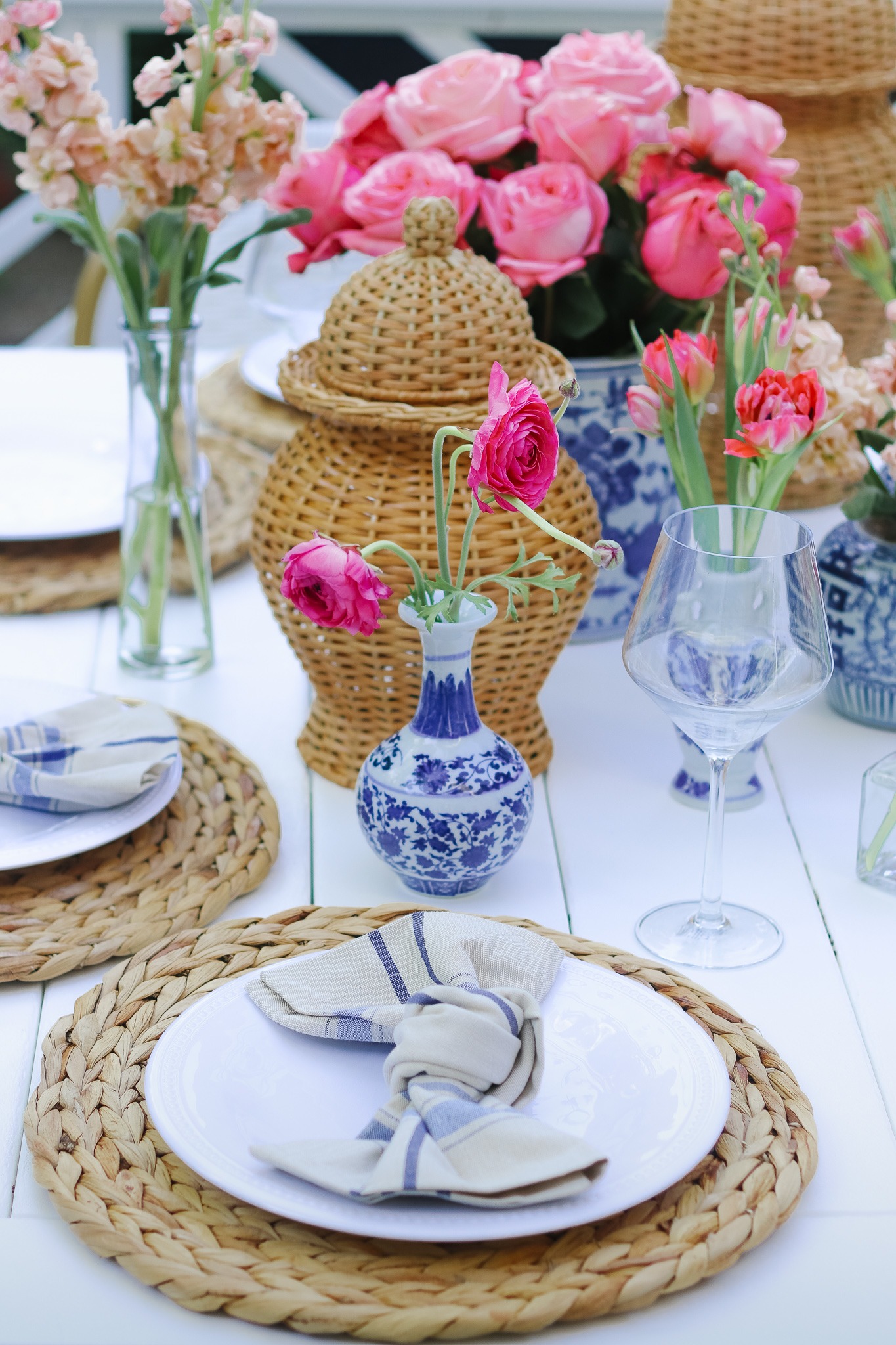 The Cocktail
For my cocktail, I served one of my summertime favorites — the Skinny Paloma! These were a huge hit among the girls and easy to whip together. They are so light, refreshing and perfect for an outdoor girls night.
The Salad Bar
For dinner, I created a build-your-own salad bar with lots and lots of toppings — 20 toppings to be exact! I marinated 6 chicken breasts overnight in Spiedies and then air fried them before the girls arrived. I was running out of time so I snapped these pictures while Matt was still slicing up the other half of the chicken, so only half is pictured. I also served two types of greens — chopped romaine and a spinach spring mix. For the dressings, I grabbed a few from Trader Joe's and a few from Target!
I didn't have enough bowls for all my toppings so I ordered a set of heavyweight disposable bowls from Amazon which made cleanup a breeze!
The Toppings
Corn
Black Beans
Chick Peas
Strawberries
Mandarin Oranges
Dried Cranberries
Avocado
Red Onion
Cherry Tomatoes
Carrot
Cucumber
Egg
Goat Cheese
Cheddar Cheese
Feta Cheese
Plantain Chip Croutons
Wonton Strips
Crispy Noodles
Sliced Almonds
Bacon

Dessert
I went super easy this year with dessert and served a pre-sliced pound cake from the grocery store!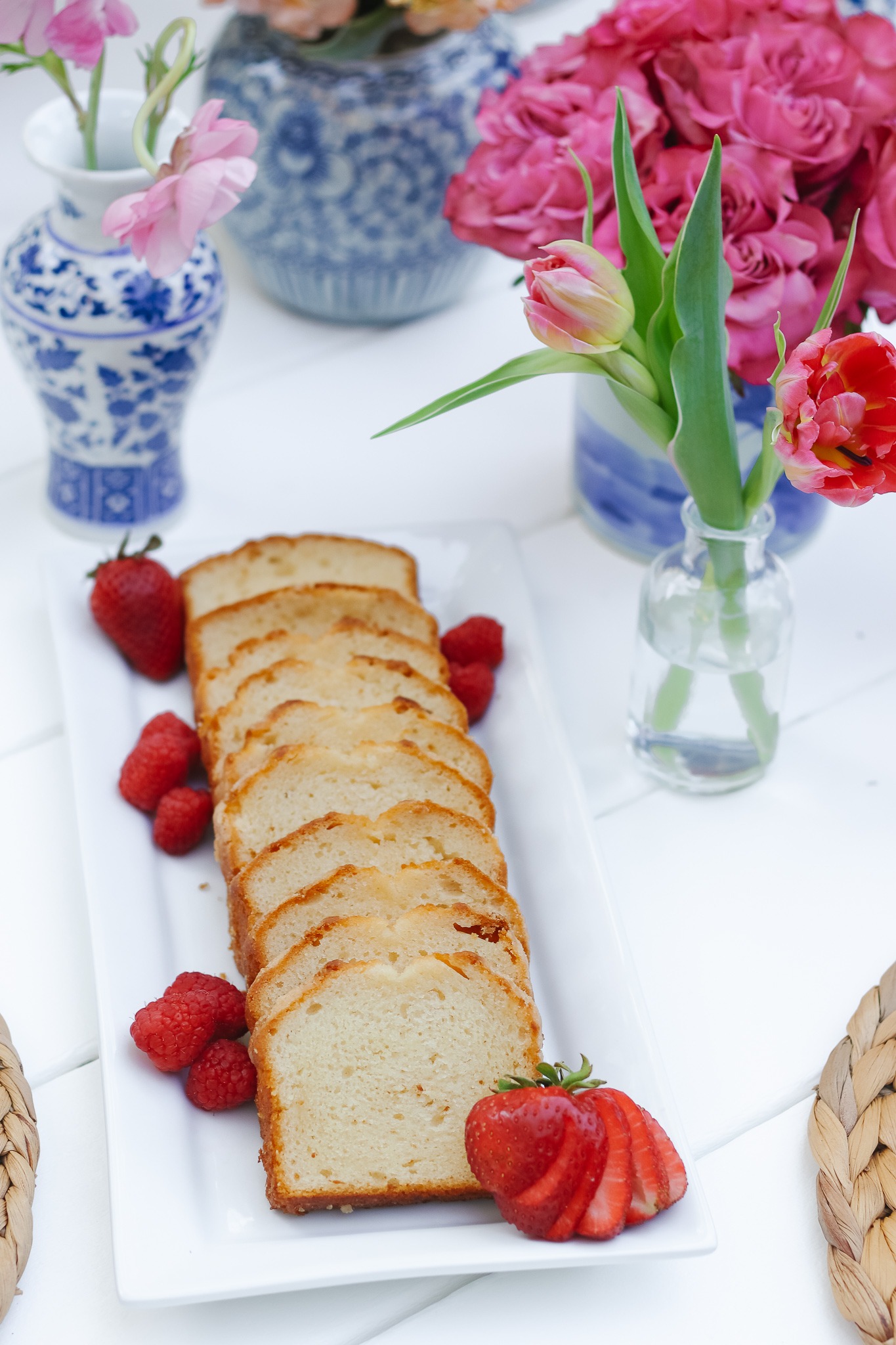 It had been awhile since our Supper Club has gotten together so it was a late night catching up with lots of laughs. My heart was so happy to spend time with these girls (we were missing a few!).
How I Prepare for Supper Club
One of the most popular questions and blog post requests I receive is how I prepare for hosting a dinner party, especially during the week! I'm not going to lie, it's a lot of work and a LOT of prep ahead of time. As much as I enjoy hosting Supper Club, it helps to know that I only host it once a year — so you know me, I like to go ALL OUT!
Weeks In Advance
I start planning my theme and writing out my shopping and to do lists weeks in advance. Believe it or not, this is actually one of my favorite parts of the process! I love scrolling through Pinterest for tablescape inspiration and menu ideas.
About a week out, I start my grocery order online and schedule it for pick-up or delivery a few days before the party so everything is fresh!
Supper Club Eve
The night before my party, I do AS MUCH WORK AS POSSIBLE (which means it's usually a late night).This is truly key as I absolutely would not be able to pull it all off on the day of. So on Supper Club Eve I washed and cut up all my salad bar veggies and ingredients, marinated the chicken, cleaned up areas that I knew the kids wouldn't have time to destroy before school the next morning, I prepped all my table settings (folded the napkins, washed the plates and glassware, etc.) and pulled out all the dishes I knew I'd need to use and added post-it notes to everything to remind me not to forget the bacon…or the avocado…or whatever it is!
Dinner Party Day
Since Supper Club falls on Thursday, I always have a full workday to get through before I can turn to setting up for dinner. However, it was really nice to be at home this year so I could tackle little things throughout the day like throwing away random papers, beads, broken nerf darts, etc. in my path every time I passed through the family room. I also straightened pillows, started shoving things into drawers and closets, cleaned the kitchen up, thew ALL the random toys, socks, bows, etc. upstairs and vacuumed. I was also grateful for Ashley delivering all of the flowers and table decor right to my doorstep, so that saved me an errand and definitely saved a lot of time on floral arranging!
Then as soon as I finished my work day, I turn into a tornado…
I have to give a huge shout out to Matt and Caroline on party days. Both of them are a huge help. This year, Matt tackled all the outdoor cleaning as soon as he got home from work — blowing off all the pollen, wiping down surfaces and vacuuming all the cushions (again!). Meanwhile, Caroline was excited to fill all the bowls with their toppings (and this year she could read all the post-it notes!) and she loves to set the table, fill water glasses, etc.!
So yeah, in full transparency, it's a lot of work and team effort to get these "perfect pictures" but SO SO worth it (if entertaining is your thing!). And if you're wondering where my kids are during Supper Club…they are usually right in the middle of it all until everyone arrives. They love to say hi to all of mama's friends before heading upstairs with Matt for baths and bedtime. And Caroline usually sneaks back down a few more times to see the girls, swipe some dessert while no one is watching and snapped our group picture this year too!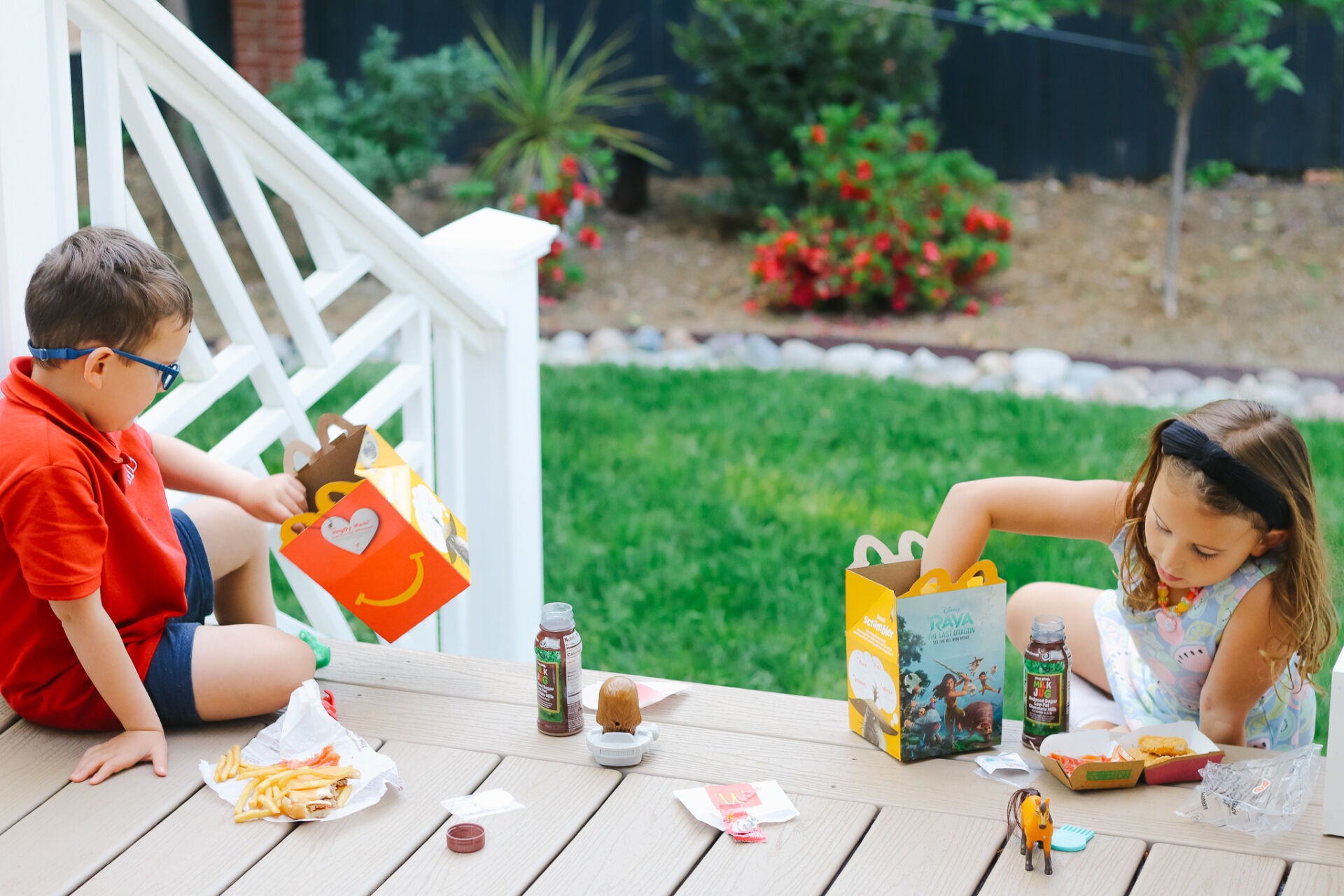 My Previous Supper Clubs