Last week I dropped off mini loaves of cinnamon bread to Thomas and Caroline's teachers. My mom has been making cinnamon bread every Christmas season for as long as I can remember for neighbors and friends. A few years ago I stole her tradition. These little loaves are SO easy to whip up quickly in a large batch and are extremely delicious. I always make one large loaf for my family to eat for breakfast too.
I stock up on holiday ceramic mini loaf pans for $1 each at Michaels. There are so many colors and prints. You can also use disposable tins too. I found some super cute holiday disposables (comes in lots of colors) and ceramic pans (another cute option too) on Amazon!
Christmas Cinnamon Bread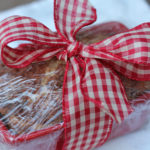 The perfect teacher, neighbor, bus driver, mailman, co-worker, etc. gift!
2 cups sugar
4 cups flour
2 tbsp baking powder
1 tsp salt
2 eggs
2 cups milk
2/3 cup vegetable oil
Topping
1 tbsp cinnamon
2/3 cup sugar
Preheat oven to 350 degrees.

In a medium bowl, combine sugar, flour, baking powder & salt. Set aside.

In a medium bowl, beat eggs, milk & oil.

Gradually add dry mixture to wet until well incorporated.

Grease baking dishes & pour mixture an inch below to the top (so it doesn't overflow while rising)

Combine topping, spoon on each loaf and swirl in with a knife, leaving some on top.

Bake 40 minutes.
*consider pinning to save for later