I've been digesting all of the feedback from y'all on my recent reader survey and there were a LOT of requests for more Amazon finds — fashion, products, etc. However, a few of you commented that my fashion finds were irrelevant to you because we are not the same size, which makes total sense! So in an effort to make my content more relevant to the larger audience, I am going to shift my "Amazon Fashion Finds" to "Amazon Finds" and incorporate fashion as one category within the monthly round-up. Sound good?! Let's dig in…
— PRODUCTS —

Lemi Shine Appliance Cleaner
I am the WORST at remembering to clean our appliances — coffee maker, washing machine, dishwasher, etc. However, on a whim I grabbed a pack of Lemi Shine dishwasher cleaner from the grocery store and used it over the weekend. I seriously cannot get over how amazing this cleaner worked. I posted it on Stories and so many of you recommended the washing machine and garbage disposal cleaner too!! I think I paid $4 for one packet of dishwasher cleaner from the grocery store but Amazon sells them much cheaper — and there's a multi-purpose version that you can use in a variety of appliances (washing machines, dishwashers, disposers and more)!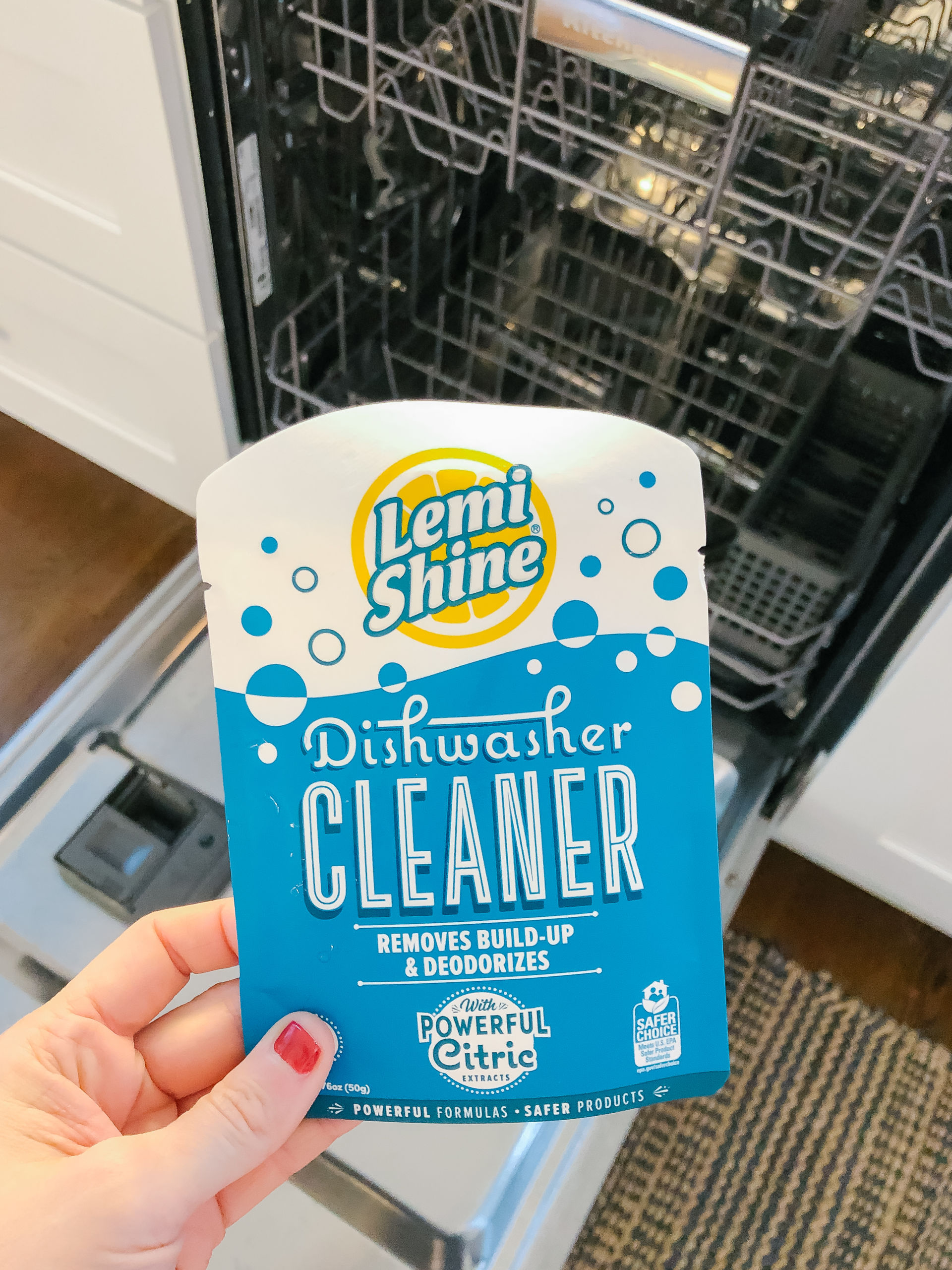 Book Recommendation
We started a new book in Community Group and it is SO good that I couldn't wait until we finished it to share! We're reading Unglued by Lysa TerKeurst and so far everyone has absolutely loved it. In fact, some girls have even read much further ahead because they cannot put it down! Here's a summary from Amazon:
God gave us emotions to experience life, not destroy it! Lysa TerKeurst admits that she, like most women, has had experiences where others bump into her happy and she comes emotionally unglued. We stuff, we explode, or we react somewhere in between. What do we do with these raw emotions? Is it really possible to make emotions work for us instead of against us? Yes, and in her usual inspiring and practical way, Lysa will show you how. Filled with gut-honest personal examples and biblical teaching, Unglued will equip you to: Know with confidence how to resolve conflict in your important relationships. Find peace in your most difficult relationships as you learn to be honest but kind when offended. Identify what type of reactor you are and how to significantly improve your communication. Respond with no regrets by managing your tendencies to stuff, explode, or react somewhere in between. Gain a deep sense of calm by responding to situations out of your control without acting out of control.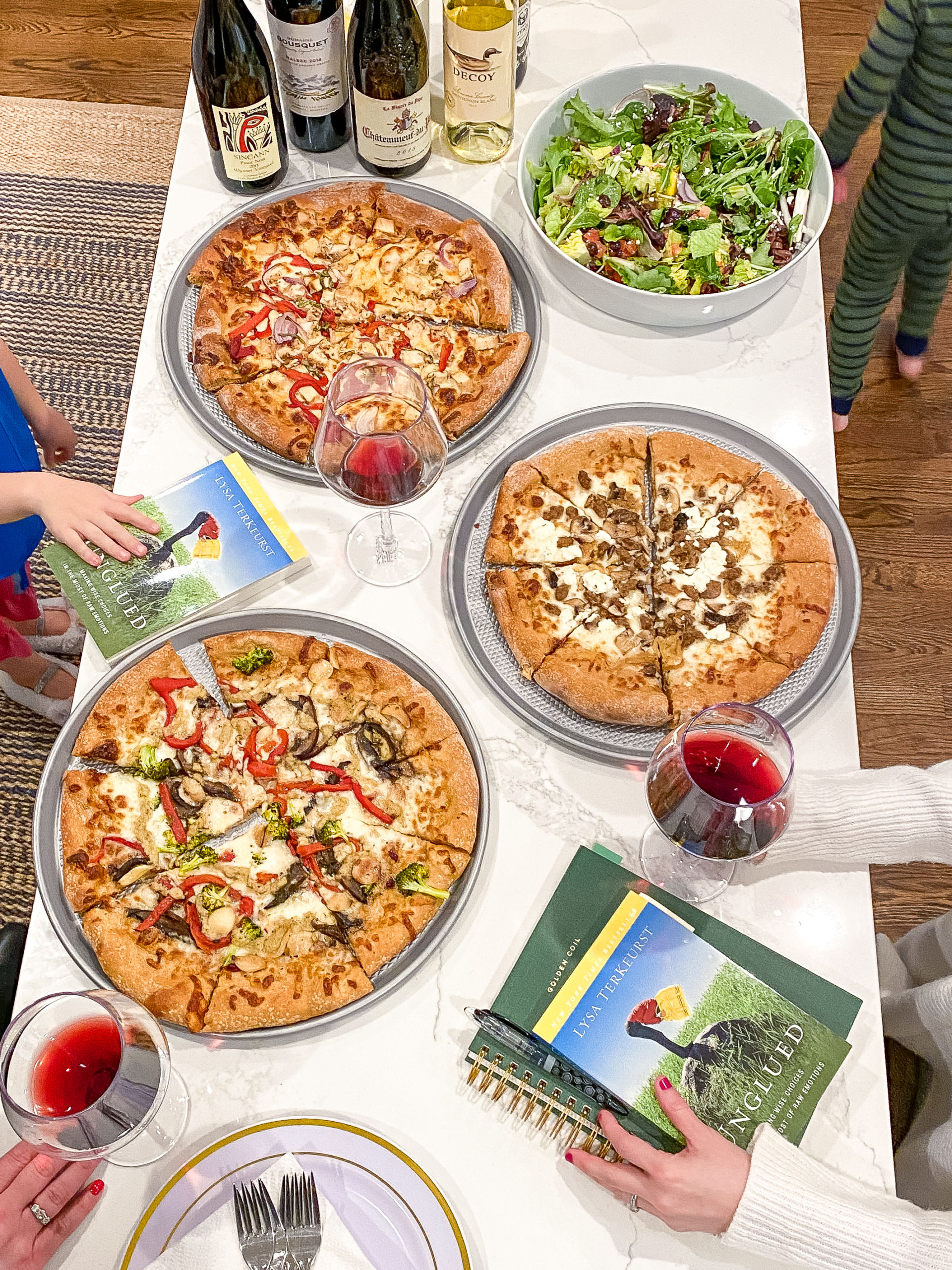 Butter Gloss
I just started using this Butter Gloss (in color Angel Cake) and the color is gorgeous! I also like that it's not too thick or gummy (I don't know if that's the word I'm looking for). It also smells like cake!
Eye Lash Serums
After using 3 tubes of RevitaLash I can honestly say that this is some of the best eye lash serum I've ever used. I was recently convinced to try GrandeLash and have liked it and seen results but I think I may go back to RevitaLash when I run out.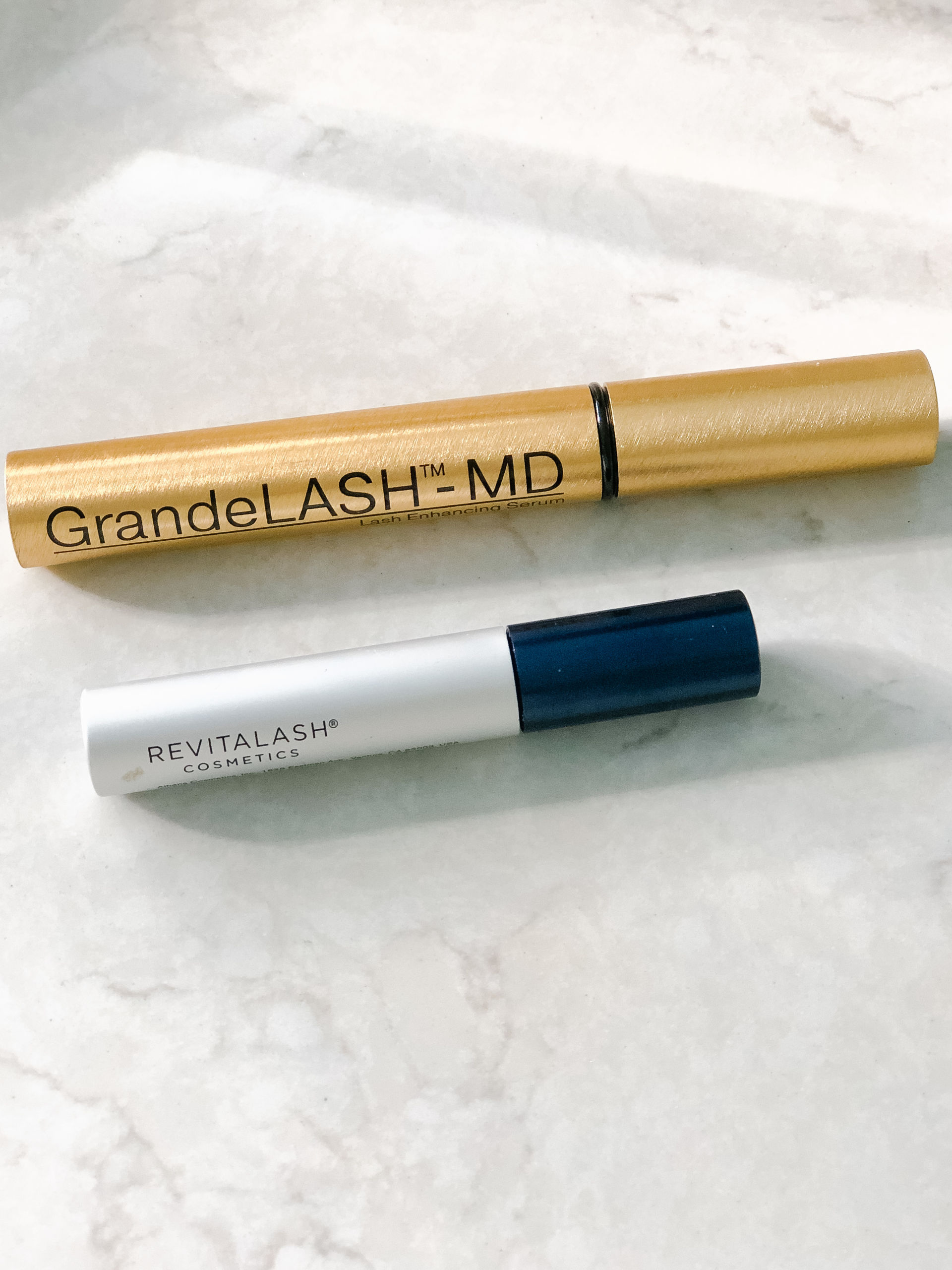 Other New Products
A few new items I picked up to try out that I'm really excited about…
Restocked Products
A few of our tried and true favorites that we replenished this month…
— FASHION —

Mock Neck Pullover Top
This mock neck pullover top is SO versatile. I like to wear it with jeans or tucked into a skirt for work. The ribbed material is lightweight (but not too thin) and is super comfortable! It comes in a ton of colors too. I'm wearing an XS in turquoise.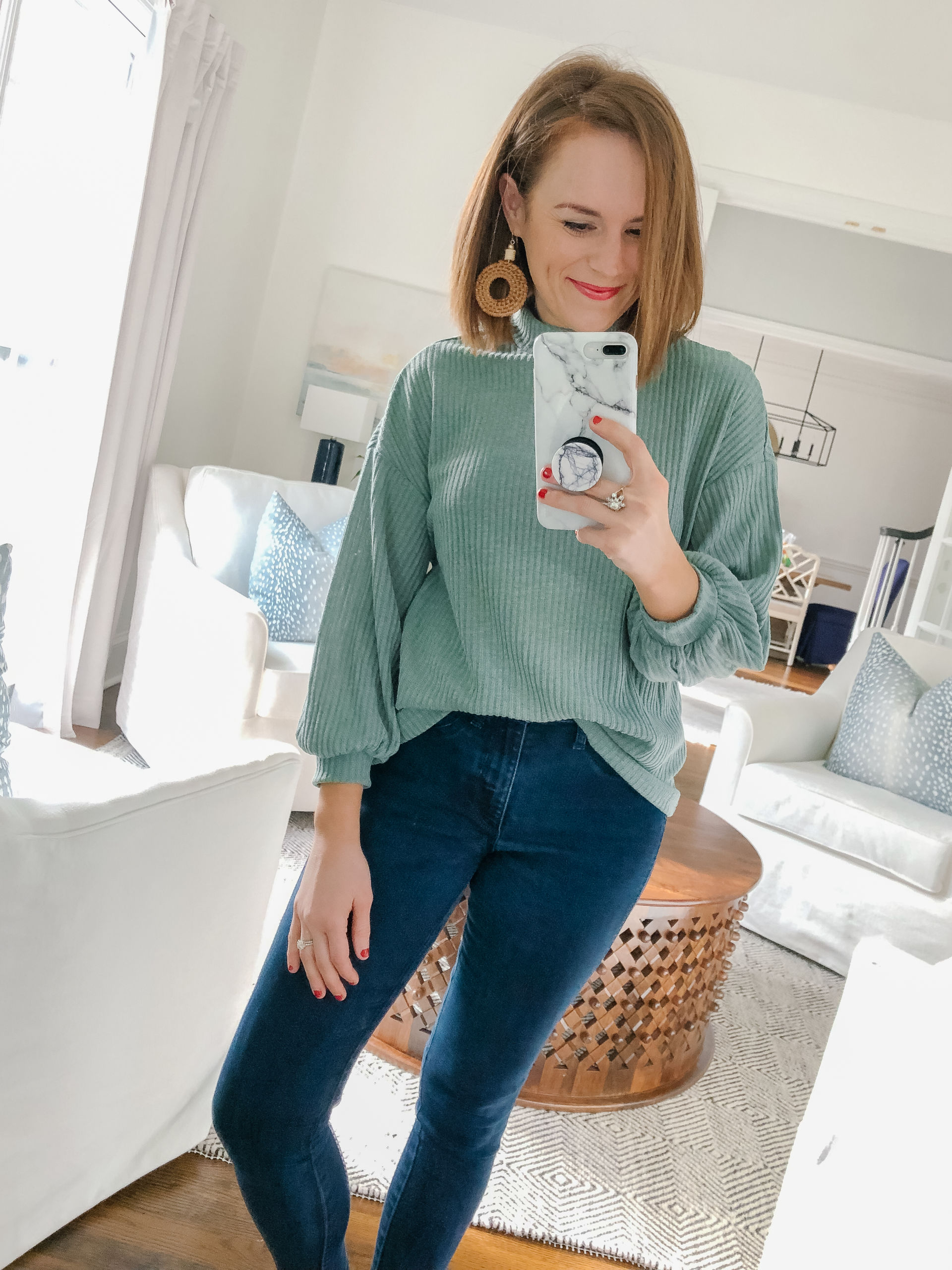 Workout
I am pretty picky about my gym clothes and always gravitate to the same two outfits whenever they are clean. So today I thought I'd share my absolute favorite gym items (and two favorite outfits) in case you're picky too…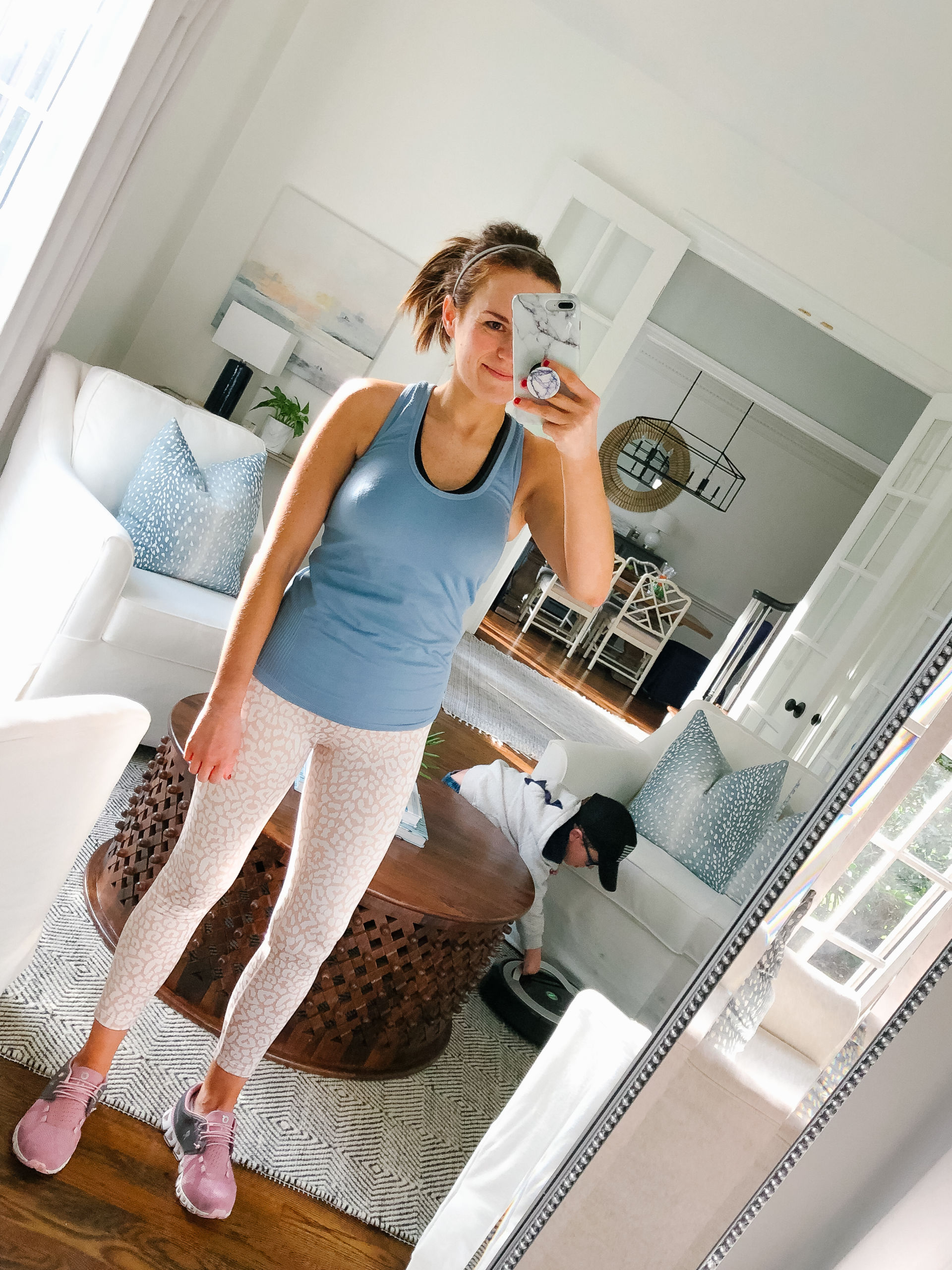 leggings / top / shoes / sports bras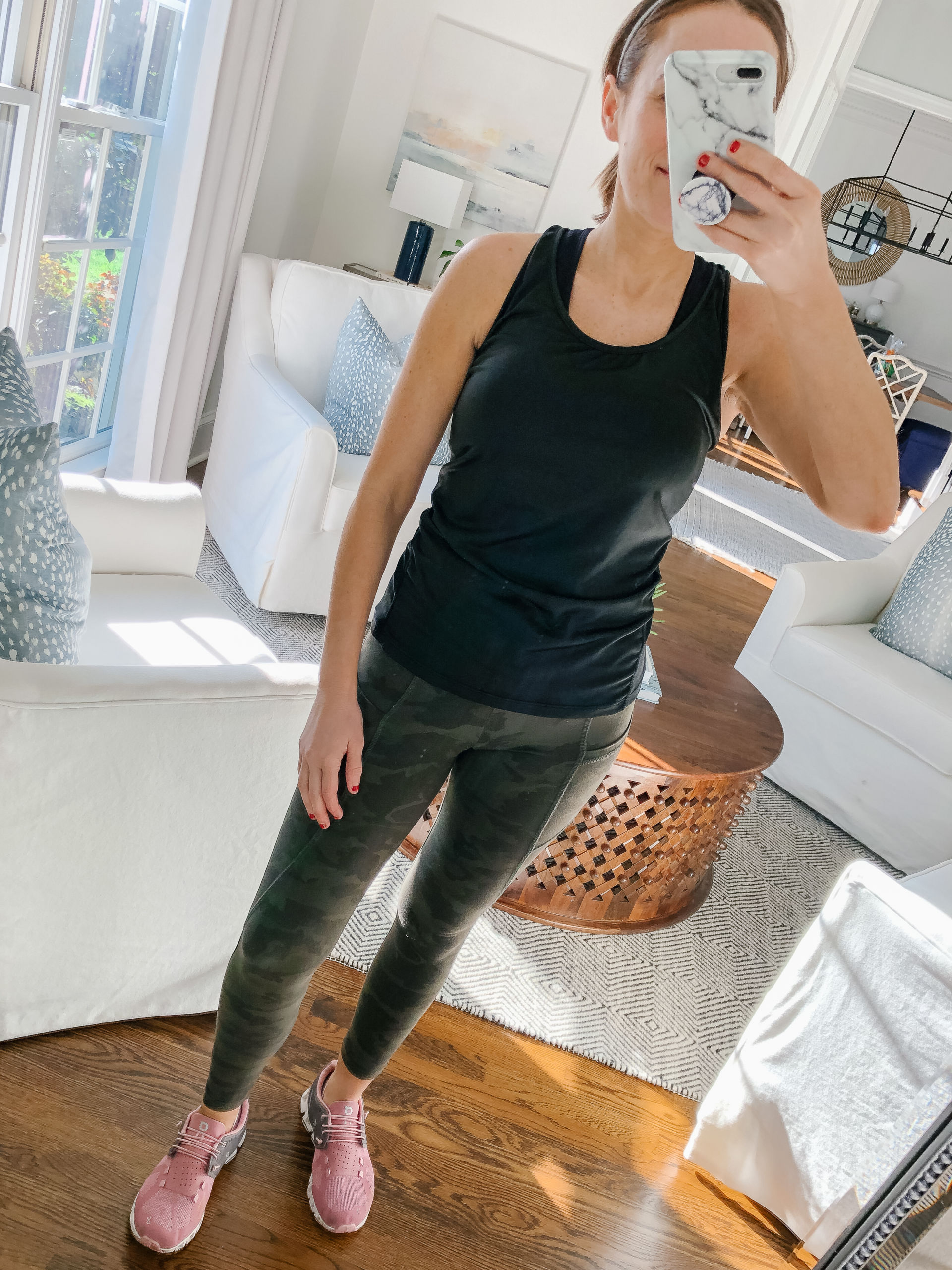 leggings / top / shoes / sports bras
Long Pleated Fit & Flare Dress + Booties
I am loving this new dress. The quality is terrific and it comes in a rainbow of colors. Also, THESE BOOTIES are amazing. I have them in both colors (taupe and black) because when I fall in love with something I tend to buy it in every color and wear it nonstop. Both items run true to size.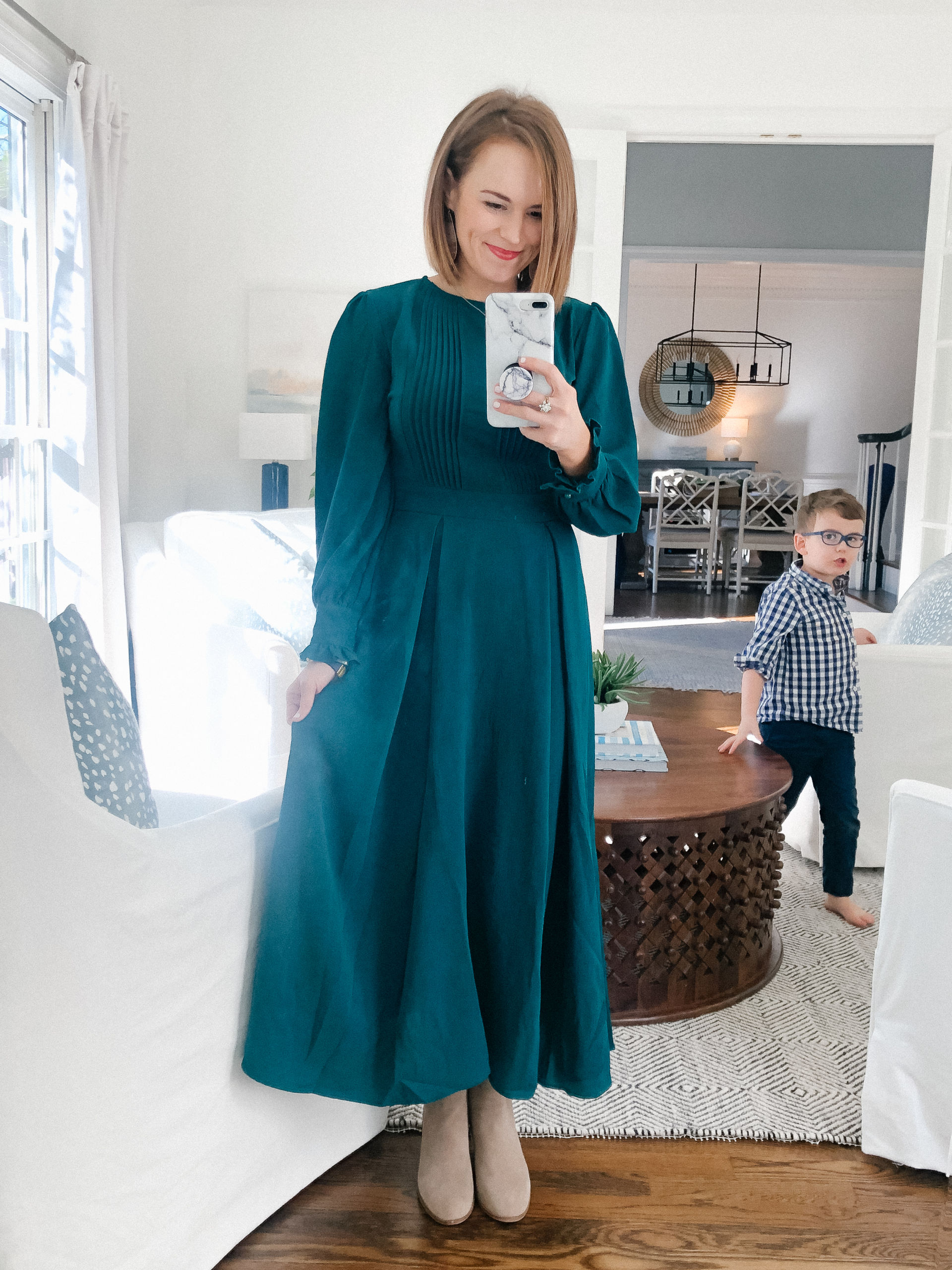 Favorite Sweaters
I've narrowed down all of my winter Amazon sweaters to my top two favorites. I've been wearing both of these non-stop. They are absolutely amazing and both are backordered often so I highly recommend scooping them up! The first one is featured in my Valentine Gift Guide and the second sweater is the softest sweater you will ever own. It feels like you're wearing a luxury blanket.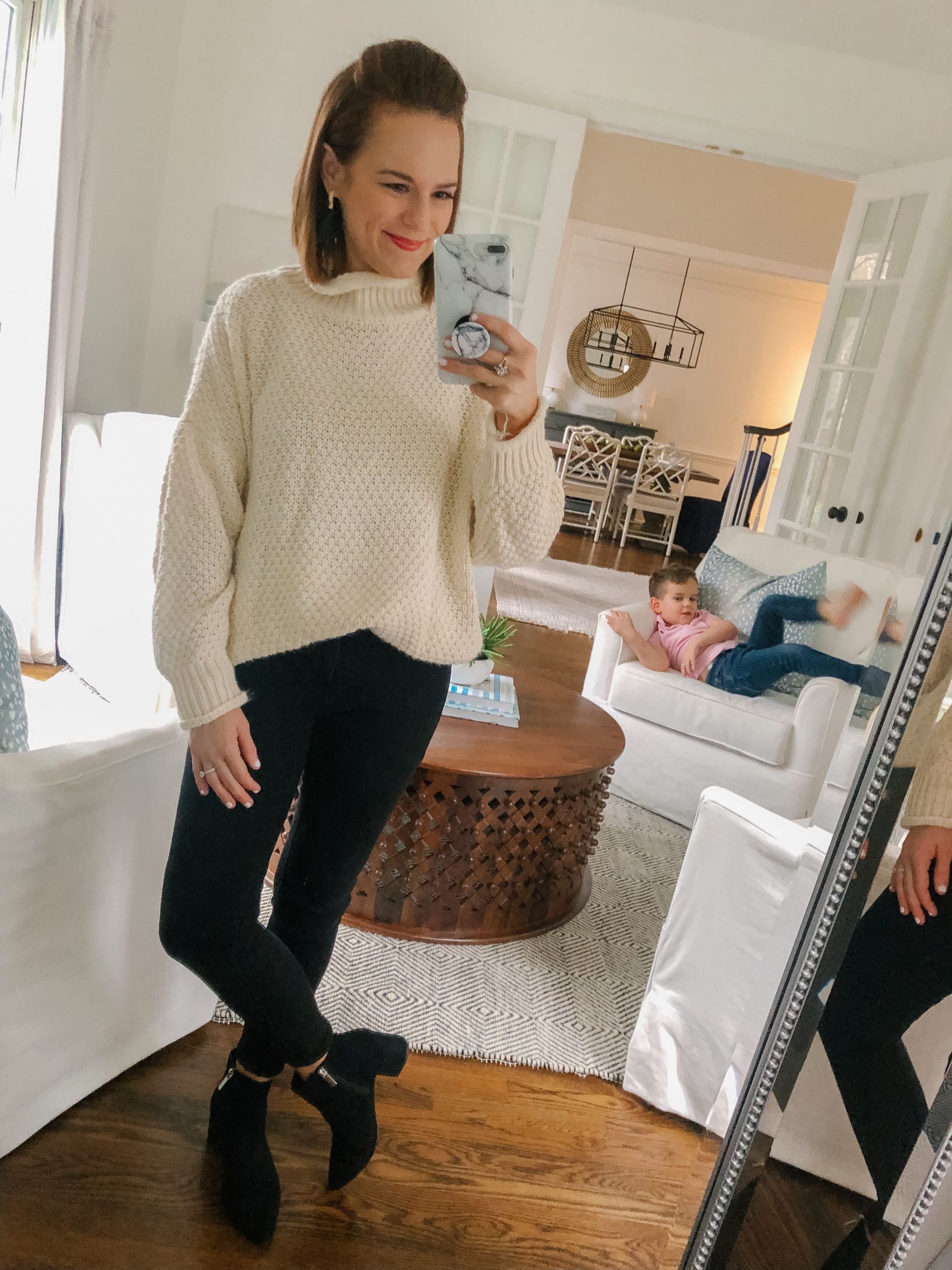 sweater (size small) / earrings / jeans (wearing size 2 short) / booties
Here's how I wore the same sweater to work recently…(paired with my favorite work pants)!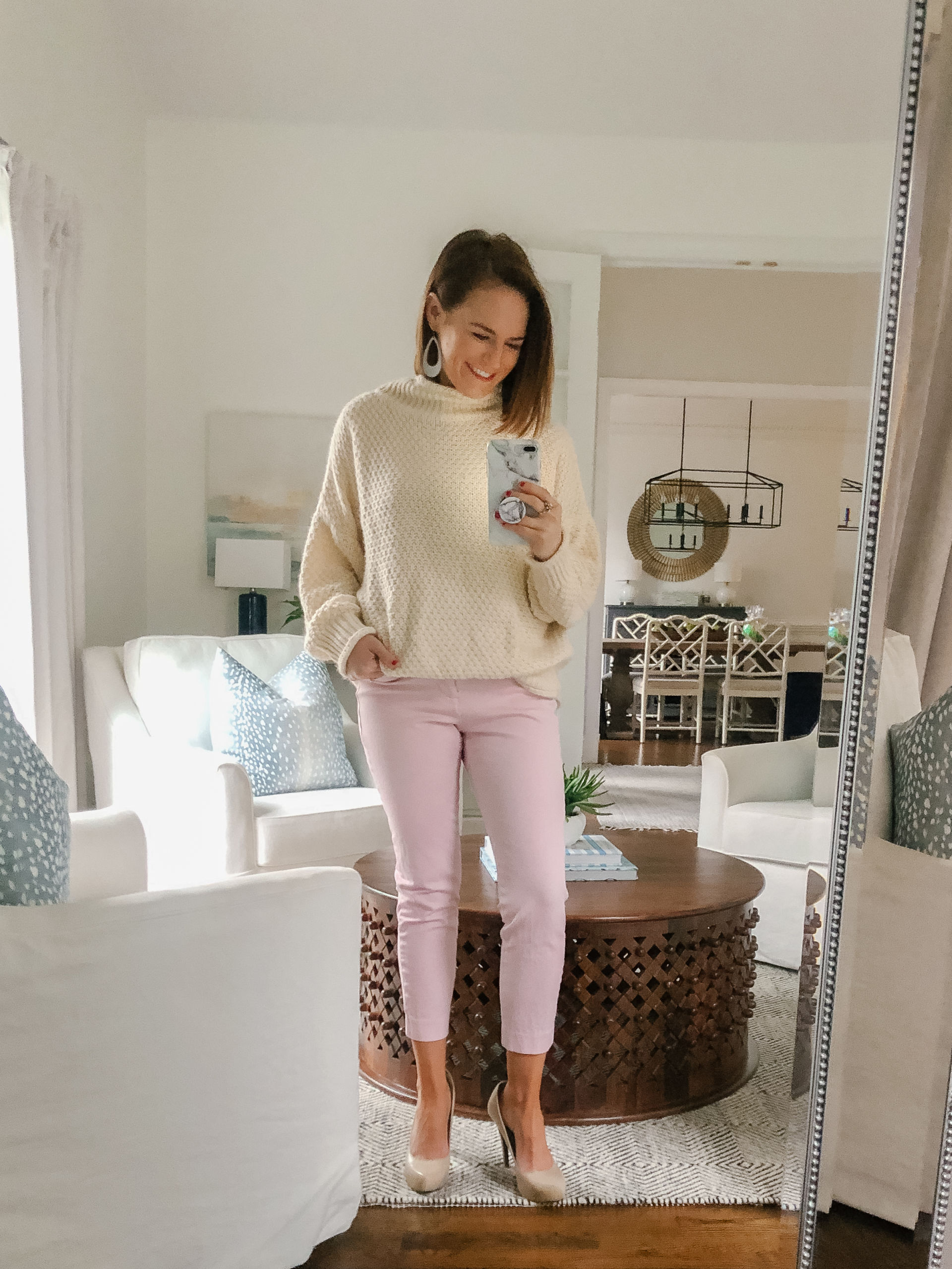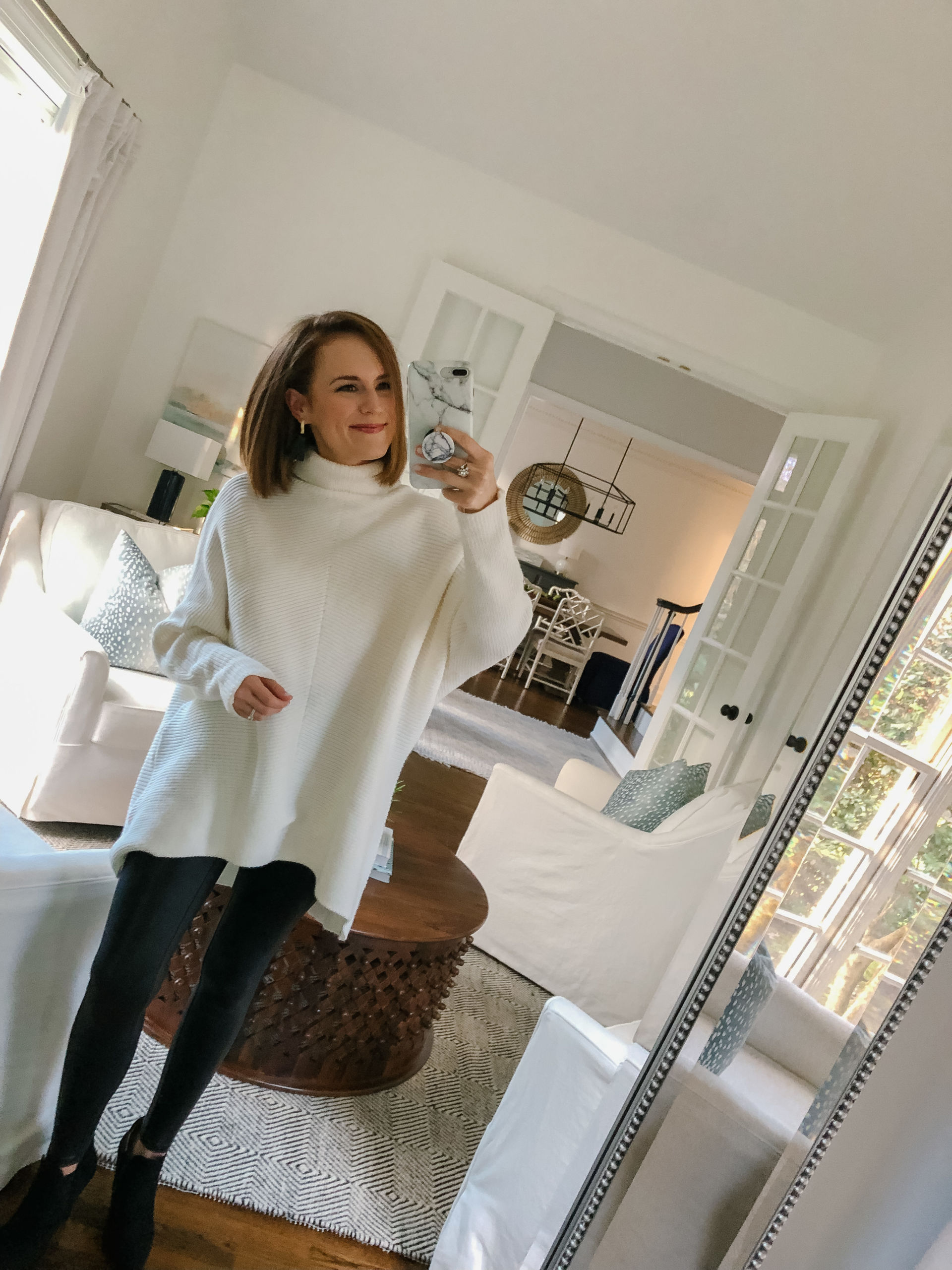 sweater (size small) / leggings (XS petite) / earrings / booties
Other Fashion Finds
— KIDS —
Our favorite family game right now is Yeti in My Spaghetti. This is also the game we love to gift for birthday party presents.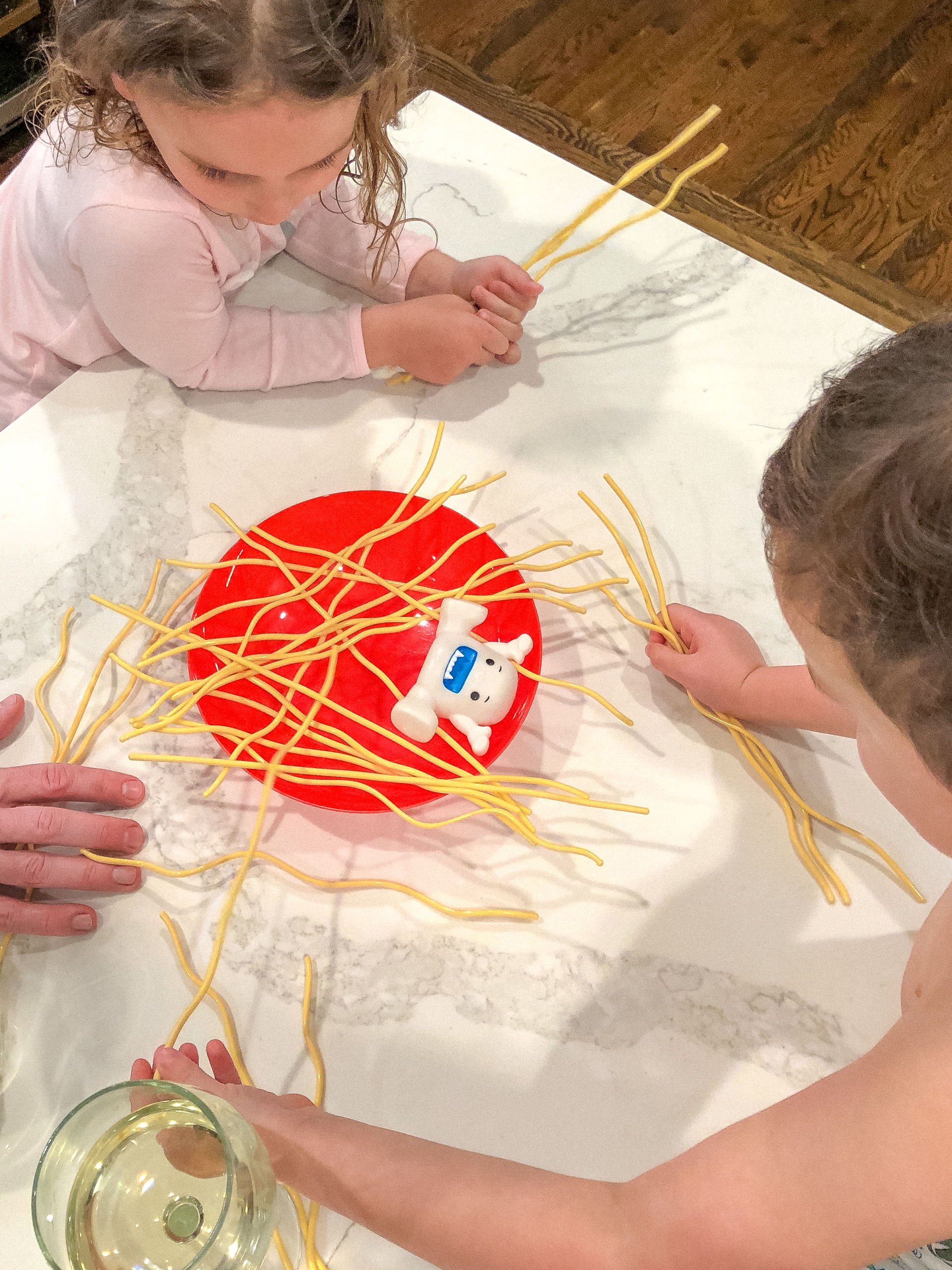 A few items we scooped up for the kids for Valentine's Day…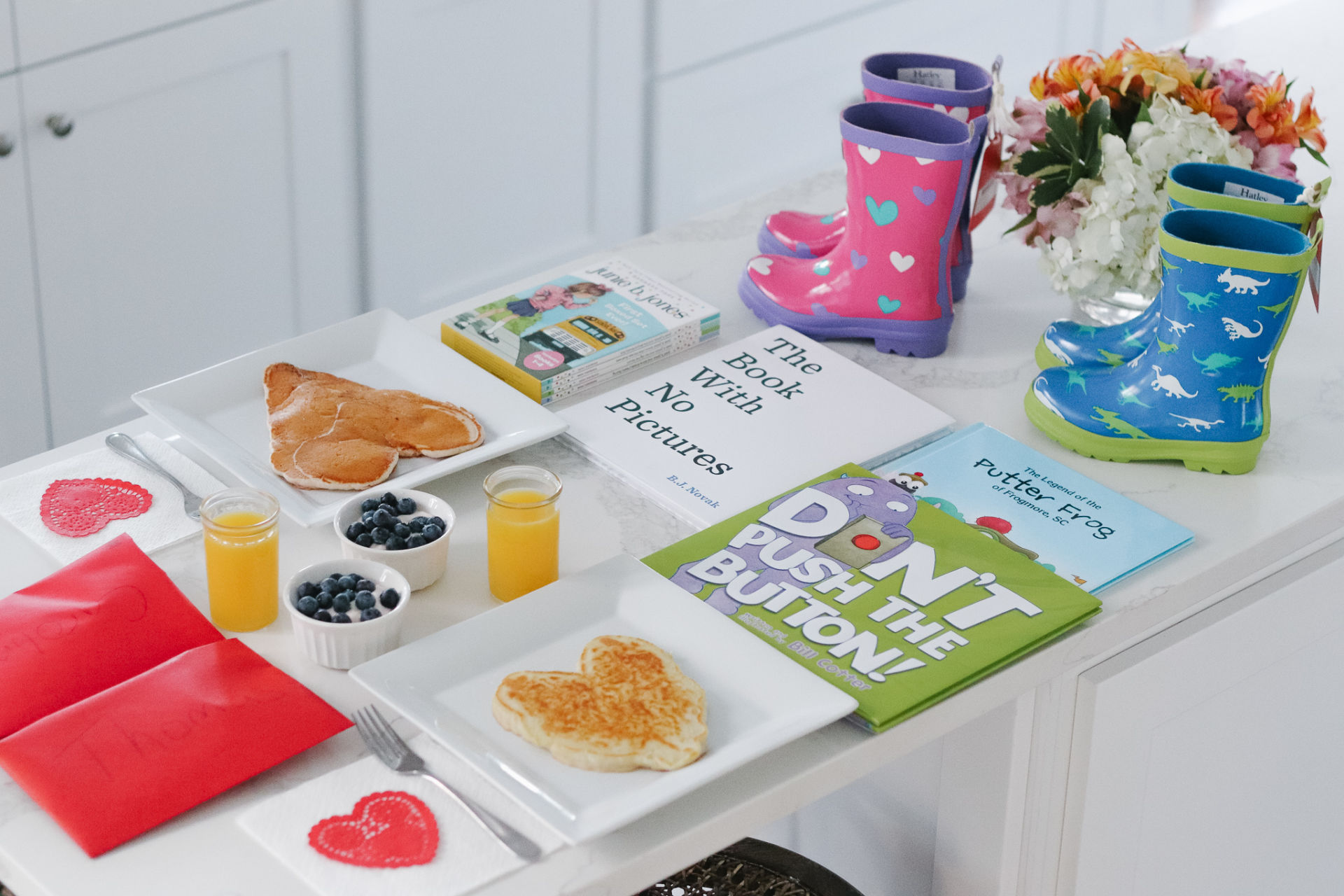 Caroline's Rain Boots / Thomas's Rain Boots / Junie B Jones Series / Don't Push the Button / The Book with No Pictures / The Legend of Putter Frog
Other Kid Finds
In Case You Missed It