Happy Friday from Folly Beach! I'm relaxing with my best gal pals this weekend for our "2018 mamas spring break"! But before I left I wrote up a quick 5 on Friday post for ya! Today I thought it would be fun to condense my entire makeup bag down to my top 5 favorite products. And I'd love for you to share your favorite makeup products in the comments too! I find a lot of my favorites through y'all!
PS — None of these items will be new to the blog…because they are my favorite and I've probably blogged about each of them 3453643 times. Also, I prefer to buy almost all of my makeup products through Nordstrom since they offer free shipping and I'm a sucker for the free samples, but I listed a few places you can scoop up these items.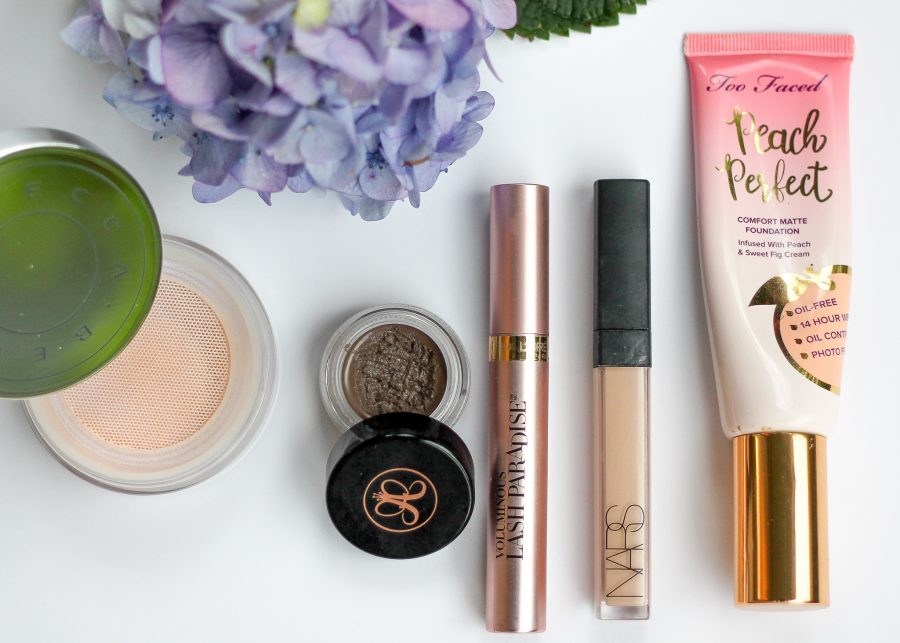 one // NARS Radiant Creamy Concealer (color vanilla): I may be the only person on the planet who didn't fall head over heels in love with Shape Tape. I bought a tube of Shape Tape and I'm going to finish using it but it's not the BEST concealer I've ever used. NARS still takes the cake as the best in my opinion. This concealer works miracles! It's creamy, smooth and can cover even the darkest under eye circles. Where you can purchase: Nordstrom // Sephora // Amazon
two // Anastasia Dip Brow Pomade (color taupe): I can't tell you how many brow products I've tried — waxes, pencils, shadows, gels, etc. For awhile I was using Anastasia Brow Wiz Pencils but I was going through them too fast and it wasn't a product I could quickly apply without it looking like I had, well, penciled eye brows! This smudge-free, waterproof pomade is truly the perfect all-in-one brow product for those of you who fill in your brows every day. Where you can purchase: Nordstrom // Sephora // Amazon // Ulta
three // Too Faced Peach Perfect Foundation: My friend Lindsey got me hooked on this one. And she's a beauty expert so I pretty much buy whatever she tells me to when she does my makeup. Right after I left her house I ditched my NARS foundation and haven't been happier. This is hands down the best foundation I've ever used. It's a medium coverage matte foundation that doesn't go on thick or cakey — perfect for warmer months (or anytime really). It's smooth, light and infused with peach and sweet fig cream! I am color nude. Where you can purchase: Sephora // Too Faced
four // Becca Hydra-Mist Set & Refresh Powder: I blogged about this product a few weeks ago but it's seriously worth mentioning again because this powder is absolutely amazing and I've received SO MUCH glowing reader feedback too. Anyway, it's a translucent weightless powder made up of 50% water and glycerin and it feels cold and misty when you apply it. And the best part, it keeps my makeup looking fresh all day! Where you can purchase: Nordstrom // Sephora
five // L'Oreal Lash Paradise: Thanks to one of my readers I discovered the incredible $7 dupe for Too Face Better Than Sex mascara ($23)! I've never been married to a specific mascara (I swear I've tried them all and they are all the same) until I used this one. Not only does this mascara make my eye lashes look fuller, they are drastically longer since I started using it. If you don't believe me, just read the Amazon reviews for yourself. Amazon doesn't lie. Where you can purchase: Target // Amazon // Walmart // Ulta

Okay, now share your favorite makeup product right now in the comments.