Do you remember the popular "what's in my purse" blog posts back in the day? I loved peeking inside those purses, seeing all the different items some of us carried around! I was reminded of those gems while standing in my shower earlier this week sharing my new shower filter with y'all. I had also just refilled most of my daily products in the shower and thought a post on "what's in my shower" would be fun to share. So I jotted down the idea for this blog post on my "Shower Thoughts" notepad and here we are…something a little different and fun for today.
But first, let's take a peek inside my shower.
I know y'all prefer to see the updated photos of pretty renovated spaces, so if that's what you're hoping for you will likely be disappointed. Updating the master bathroom in our new home is definitely on the long project list, but not at the top. And the bathroom that needs the most immediate attention is the kids bathroom, but that's a whole separate post for another day. All that to say, I really miss our old shower. It was so spacious, CLEAN, had a nice bench for shaving my legs, a huge wall niche to store all our products, double shower heads…ahhhhhh!
Alright, here are a few of the 1988 quirks that make me giggle every time I step into the shower — the funniest one being THIS RANDOM SHELF that I cannot reach — even on my tippy toes !!! What is this even for?! Razors? A coaster for a drink? When I polled y'all yesterday on Instagram, I was cracking up over the responses. The top 3 most popular suggestions to my question "what is this shelf for?" were…1. giants, 2. plants, and 3. shower beers. Y'all are the best.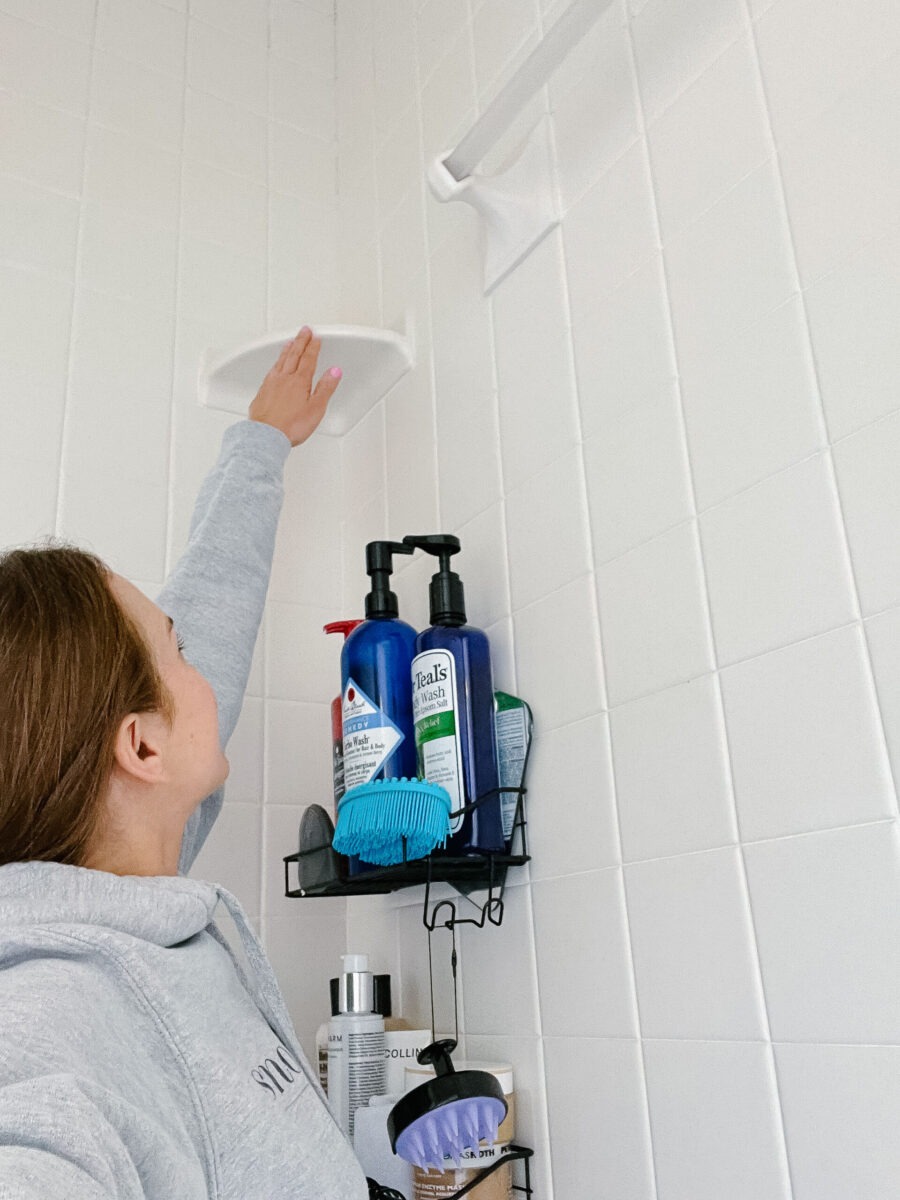 Next is the equally high towel bar, which I actually think is pretty genius to have inside the shower…but again, SO high. As a very petite person, I have to launch my towel 3 feet above my head and hope for the best each time.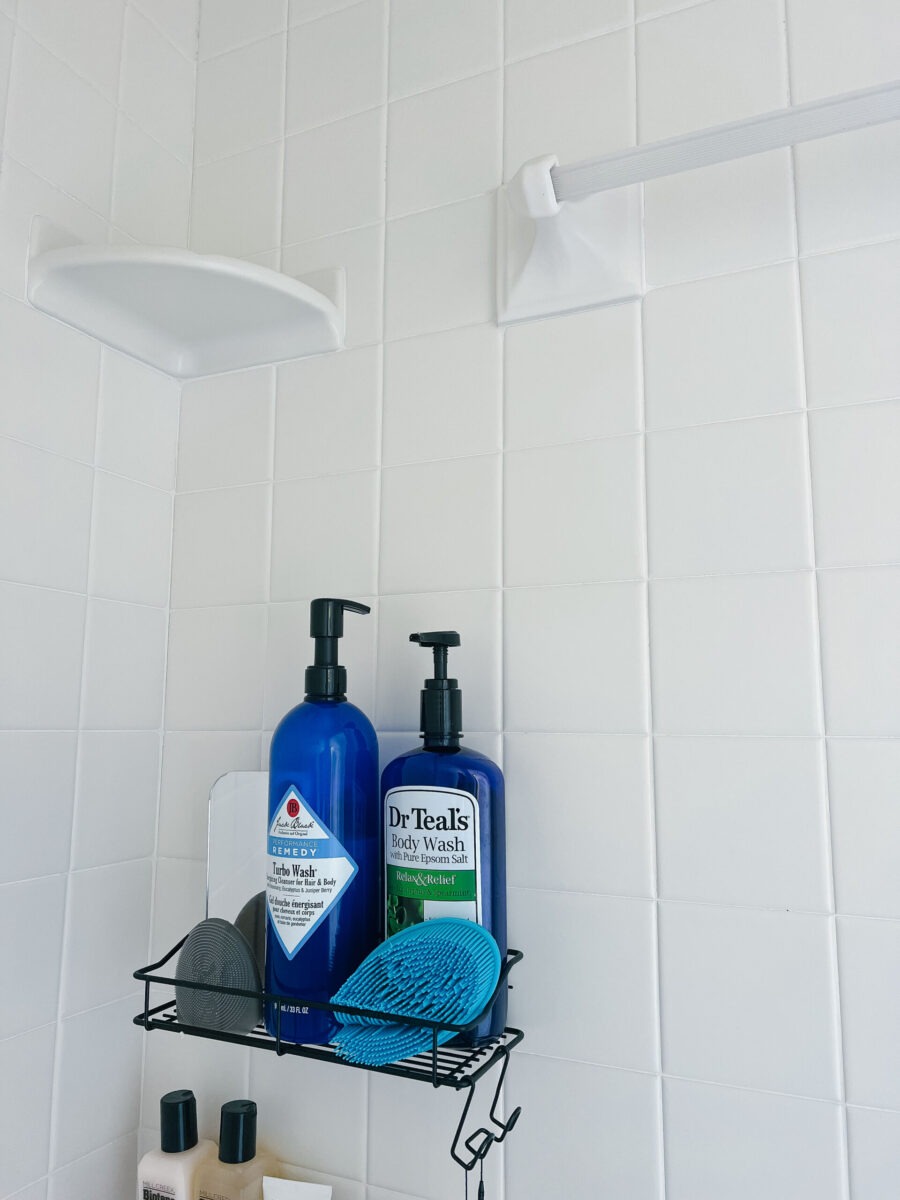 OK, but I kind of like this gold shower valve with the acrylic knob.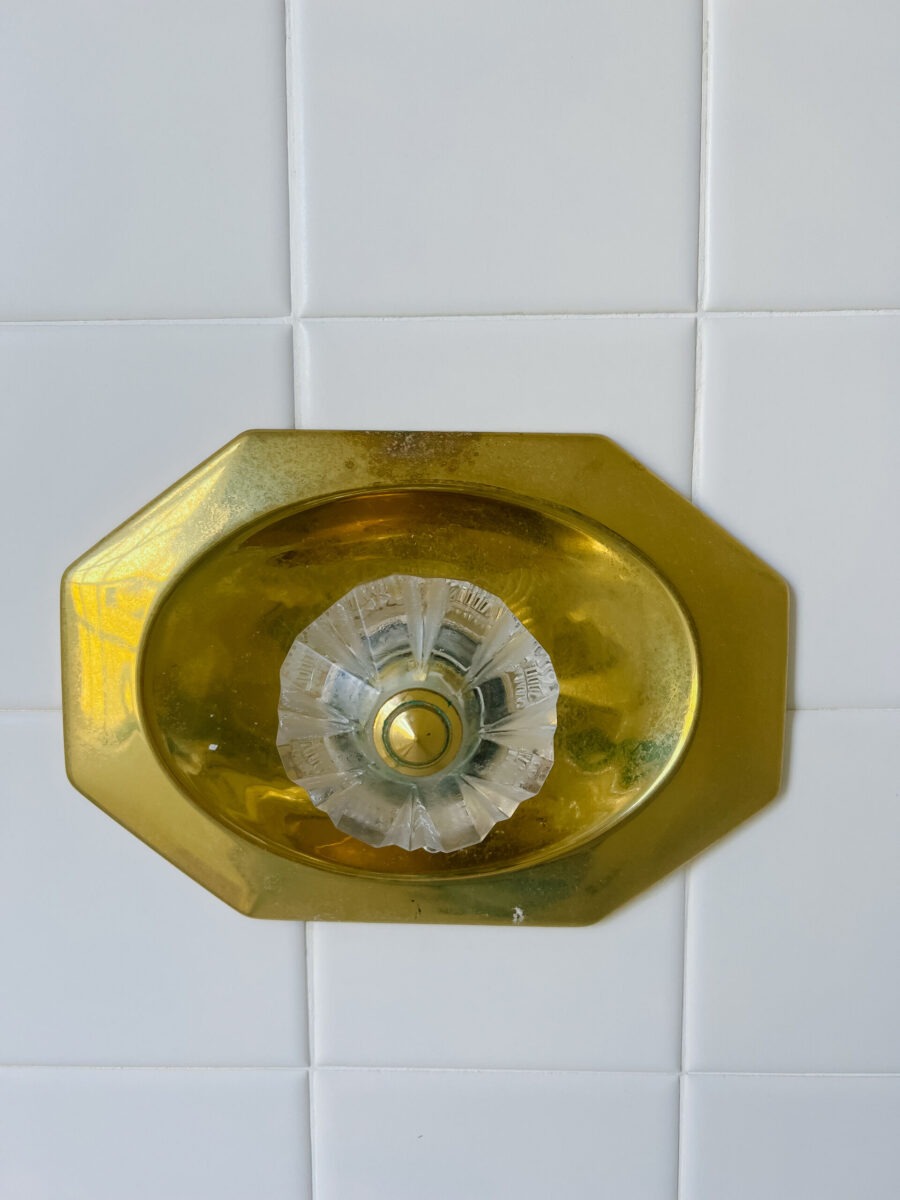 Alright, I'll stop there even though the tall soap bar shelf is also awesome. Let's get down to what you came for…
My Daily Shower Faves
Shower Filter: Starting with the most impactful and mindblowing thing in my shower – our new shower filter. I raved about this filter on Instagram and so many of you were excited about this product too. Easily one of my best Amazon purchases of 2023, this filter has made the most noticeable difference in the softness of my hair and skin — and immediately too. Matt also cannot believe how much of a difference this filter makes…or how bad our water quality must be. This shower filter is affordable, easy to install and is super helpful if you have dry itchy skin, eczema, or dandruff. I cannot recommend this product enough — be sure to check out the 45K Amazon reviews too. WILD.
Dr. Teals Body Wash: A daily product fave, Matt and I have been using this body wash for years and rotate between the Glow & Radiance, Lavender, and Eucalyptus Spearmint. And I stock the kids shower with the 3-in-1 Sleep Blend!
Biotene Shampoo, Conditioner & Emulsion Tripack: My dermatologist recommended this shampoo, conditioner and emulsion set after I was experiencing telogen effluvium (excess shedding of hair). I've been using it for almost 2 years now and it's been hugely helpful (although in full transparency, I use several products and supplements, so it's hard to attribute growth to just one thing). It's an affordable 3-step system designed to give hair fullness, strength, body, and shine.
Silicone Scalp Massager: A Top 21 Purchase of 2021, not only is this soft hair brush super effective at cleaning your scalp, it promotes blood circulation which helps foster hair growth.
Microfiber Facial Cleansing Cloths: Listed among My Favorite Skincare Products, these suuuuper soft cloths are made for removing makeup, grease, oil and dead skin cells and exfoliate the skin! I've been using them for years now and still remember after my first use how grossed out I was by the amount of makeup I was clearly not removing before. Every 6 months'ish, I'll toss my set into the "rags for cleaning" bin and purchase a new set.
CeraVe Hydrating Makeup Remover and Face Wash: Not pictured becuase it's doesn't fit in my shower caddy, this is another Top 21 Purchase of 2021. It came highly recommended by my dermatologist and I LOVE IT. This foam to cream cleanser is formulated with hyaluronic acid to hydrate the skin and works well to remove makeup. I double-cleanse my face in the shower starting with this face wash, then I use…
Juno & Co Clean 10 Cleansing Balm: My second step in my face double-cleansing! This makeup remover and cleanser is known for having an uncomplicated list of only 10 ingredients, including Japanese Pearl Barley Magic+ which nourishes and brightens complexion. My face feels so nourished and hydrated after using this!
Peter Thomas Roth Pumpkin Enzyme Mask: I love, love, love this mask and use it 1-2 times per week! This intensive skin resurfacer mask exfoliates with pumpkin enzyme that smells heavenly.
G.M. Collin Exfoliating Gel: I use this once per week for deep exfoliating! It is amazing for removing dry skin and brightening complexion.
Shower Thoughts Notepad: I think about SO much stuff in the shower — ideas for Carolina Charm, tasks I need to tackle, items I need to add to my grocery list, etc. And by the time I step out of the shower I totally forget it all. Not anymore! This "shower thoughts" notepad is waterproof and has 40 perforated sheets so you just tear off your note sheet when you're done showering and boom — all the ideas have been saved!
Silicone Loofah: YOU HAVE TO BUY THESE — one for each family member, plus your mom, your dad, your grandma, everyone in your life. My bestie Lisa brought these to my Favorite Things Party in 2020 and I have since purchased them for my whole family. I've raved about them in this post, every gift guide, and featured them in My Daily Faves post. The scrubber is super easy to clean when it gets dirty (you can boil it or I throw mine in the dishwasher sometimes) and limits bacteria.
Billie Razor: Another 2020 Favorite Things Gift Exchange item I still love and use! This razor was initially offered with a razor blade subscription, but that is totally optional now. You can find the razor and replacement cartridges on Amazon or at Target.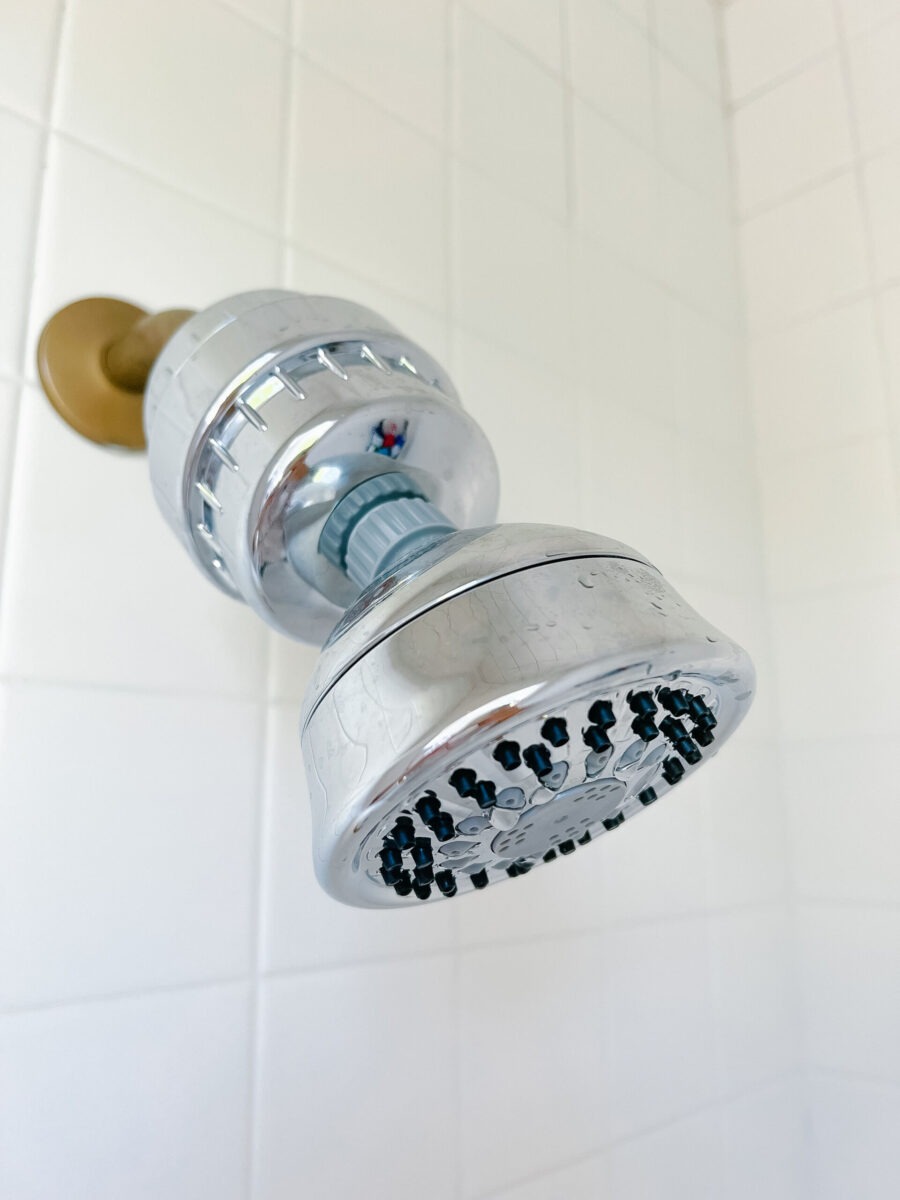 Matt's Daily Shower Faves
In addition to the Shower Filter, Silicone Loofah, Silicone Scalp Massager and CeraVe Hydrating Face Wash…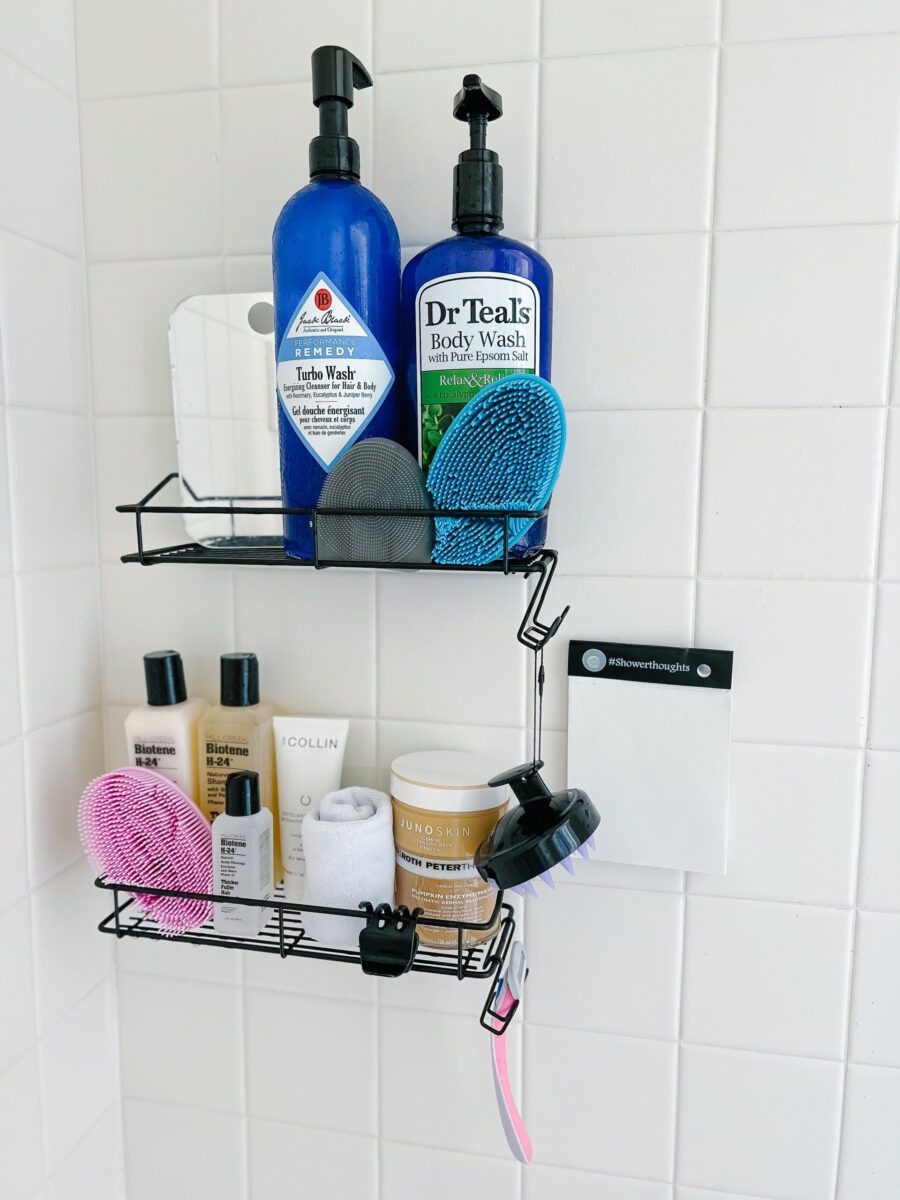 Alright, that's a very cropped peek inside our shower! Let me know if you come up with another idea for that corner shelf…