Happy Friday!
It's been a wild week around here. Both kids started school this week! Caroline started 2nd grade on Wednesday and Thomas started Kindergarten on Thursday (his only school day this week due to staggered entry). I am really looking forward to a FULL school week next week so we can get into a good routine!
If you follow me on Instagram, you may have seen the cauliflower worm debacle earlier this week. After washing, chopping and tossing a head of cauliflower in buffalo sauce for a dinner recipe, I watched a worm (or possibly a maggot) wiggle out of a piece of cauliflower. I was shocked and grossed out…and tossed the cauliflower in the trash out of fear there were other worms hiding. So I had to quickly pivot and come up with new dinner plans and ended up making an incredible orzo pesto pasta salad that turned out SO good. Everyone in the fam ate it and raved about it so I wanted to share the recipe. I swapped the goat cheese for feta cheese (and no cheese for Matt).
I recently grabbed this no-frills note pad for my daily to do lists and it is awesome. I like how clean and simple it is (no quotes or random sections I'll never use), there's a schedule section to help me keep track of my work day and lots of space for to do lists. It's full sized too (8.5″ x 11″)!
3. Lip Blush with Mara Studio
In my quest to shorten my beauty routine, I partnered with Mara Studio to share my lip blush experience! I'm not going to lie, at first Matt thought I was crazy when I told him I was going to get semi-permanent lipstick, but once my lips were fully healed he changed his mind. I finished the process a few months ago and I honestly love my lip blushing so much that I will absolutely do it again when the color fades in a few years. I never need to wear lipstick (unless I want to change the color) and the color looks natural when I'm make-up free. The timing is also nice since we're masking again in Charlotte and I no longer have to worry about applying lipstick when I take off my mask. Here's a photo timeline of the process: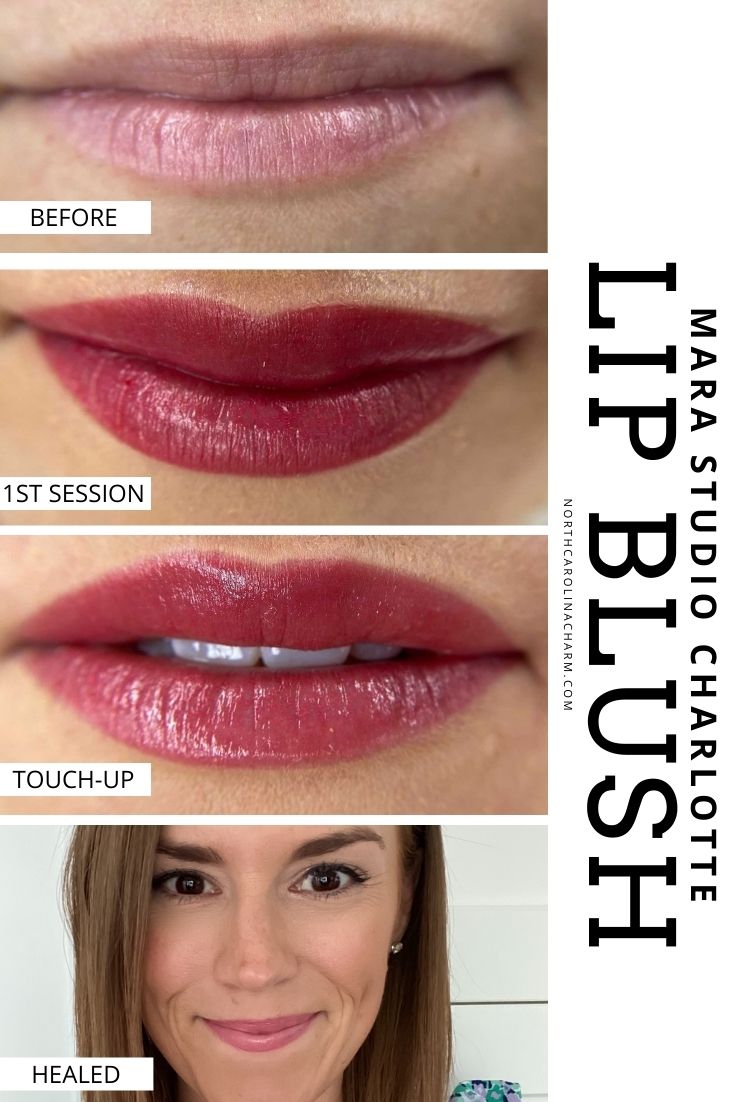 A few details on the process:
Artist: My lip artist was Aubry. She's incredibly talented and I highly recommend her.
Lip Color: To determine my lip color, I brought in several tubes of my favorite lipstick (which all look very similar) and Aubry custom created a color for me based on what I loved.
Process: Lip blushing is a tattoo procedure where pigment is deposited in your lips using small needles. The first session is to create a base pigment and to gauge how your lips retain the color. The pigment is the most vibrant after this session but fades quickly in the following days. The touch-up session is done 6-8 weeks later to perfect the color. It takes a few weeks for your lips to completely heal after each session. During the healing process, your lips may peel or flake and you can expect 50% of the color to fade. I wanted a more natural look and the final color is exactly what I hoped it would be!
Lip blushing is semi-permanent and lasts 1.5-4 years, depending on your skin type and the cost fluctuates by artist.
Rating 4.5/5: I recently binged through this reader recommended psychological thriller in 2 days and LOVED it. This story takes off right away and is fast paced. It will have you on the edge of your seat and biting your nails until the very twisted ending!
Summary: One night, Molly Clarke walked away from her life. The car abandoned miles from home. The note found at a nearby hotel. The shattered family that couldn't be put back together. It happens all the time. Women disappear, desperate to leave their lives behind and start over. She doesn't want to be found. Or at least, that's the story. But is that what really happened to Molly Clarke?
The night Molly disappeared began with a storm, running out of gas, and a man in a truck offering her a ride to town. With him is a little girl who reminds her of the daughter she lost years ago. It feels like a sign. And Molly is overcome with the desire to be home, with her family—no matter how broken it is. She accepts the ride. But when the doors are locked shut, Molly begins to suspect she has made a terrible mistake.
When a new lead comes in after the search has ended, Molly's daughter, Nicole, begins to wonder. Nothing about her mother's disappearance makes sense.
Nicole returns to the small, desolate town where her mother was last seen to find the truth. The locals are kind and eager to help. The innkeeper. The bartender. Even the police. Until secrets begin to reveal themselves and she comes closer to the truth about that night—and the danger surrounding her.
5. Amazon Girls Fall Dresses
Every fall I stock up on lots of long sleeve dresses from Amazon for Caroline. Some of these we love so much (ahem, rainbow dress, giraffe dress and apple dress) that we've purchased every fall the last few years. I wanted to round up a few cute options in case you're ready to start shopping for fall! (Heads up, some of these prints do sell out quickly or take forever to ship).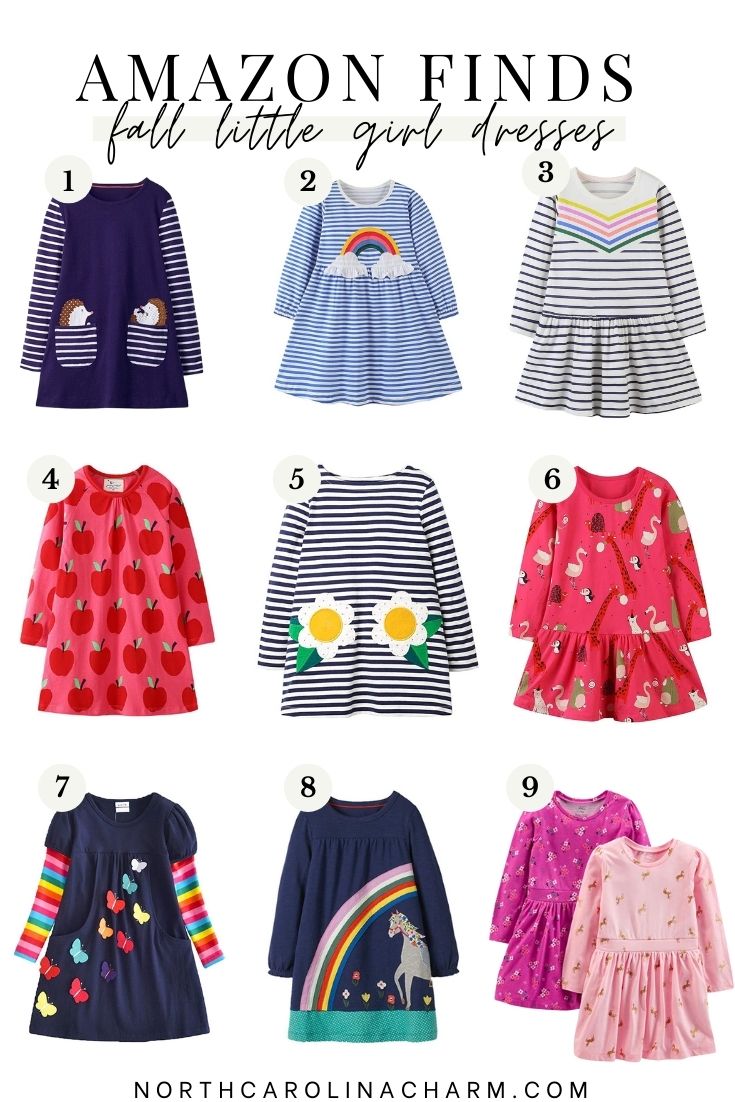 1 / 2 / 3 / 4 / 5 / 6 / 7 / 8 / 9
In Case You Missed It