As you've probably noticed, once we start working on a room in our house it tends to take forever for me to actually finish decorating it. For one, I like to wait for sales around holidays to pick up the bigger items. And two, I'm really bad at making decisions.
But today I am finally sharing our "Circle Room" after posting our Design Plans last May!!!
If you're new here, you may be wondering what the heck a "Circle Room" is. It was actually Matt's idea. He really wanted to create a formal sitting room in our home that is free from baskets of toys, nerf darts and laundry. The room would also be configured in a way to foster conversation — large comfy chairs circling a coffee table, hence, the "circle room" (and because that is more fun than calling it a sitting room). This space would allow us to retreat to a more private space to hosts guests and relax in…without kids spying on us from the top of the stairs.
And it came together better than I could have imagined…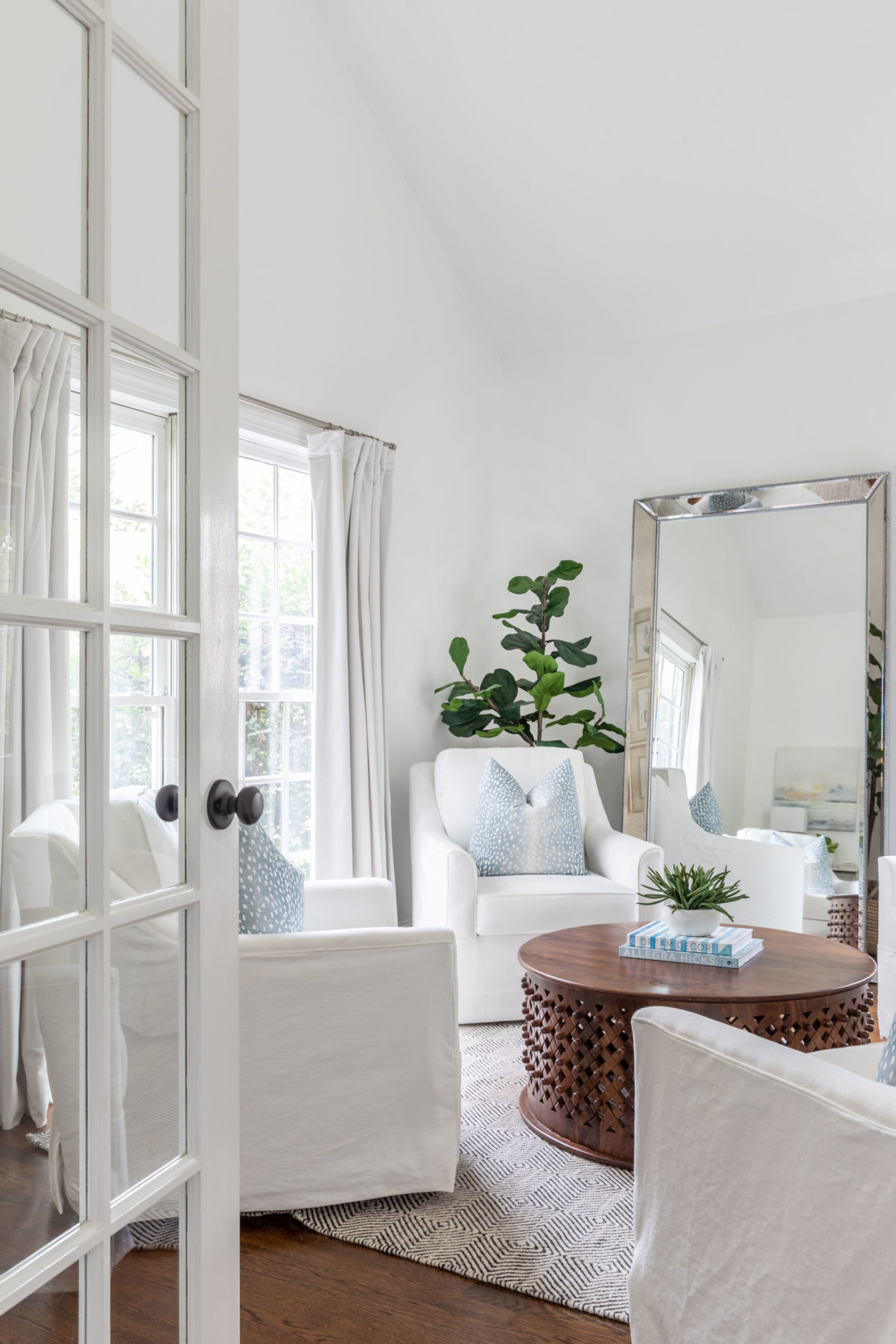 As soon as the chairs arrived we began using the room and have enjoyed this space more than we had ever anticipated. It's been incredible for sneaking away with Matt for a few minutes after work to catch up on our day, having important conversations with the kids, hosting Community Group, couples game nights and girls nights!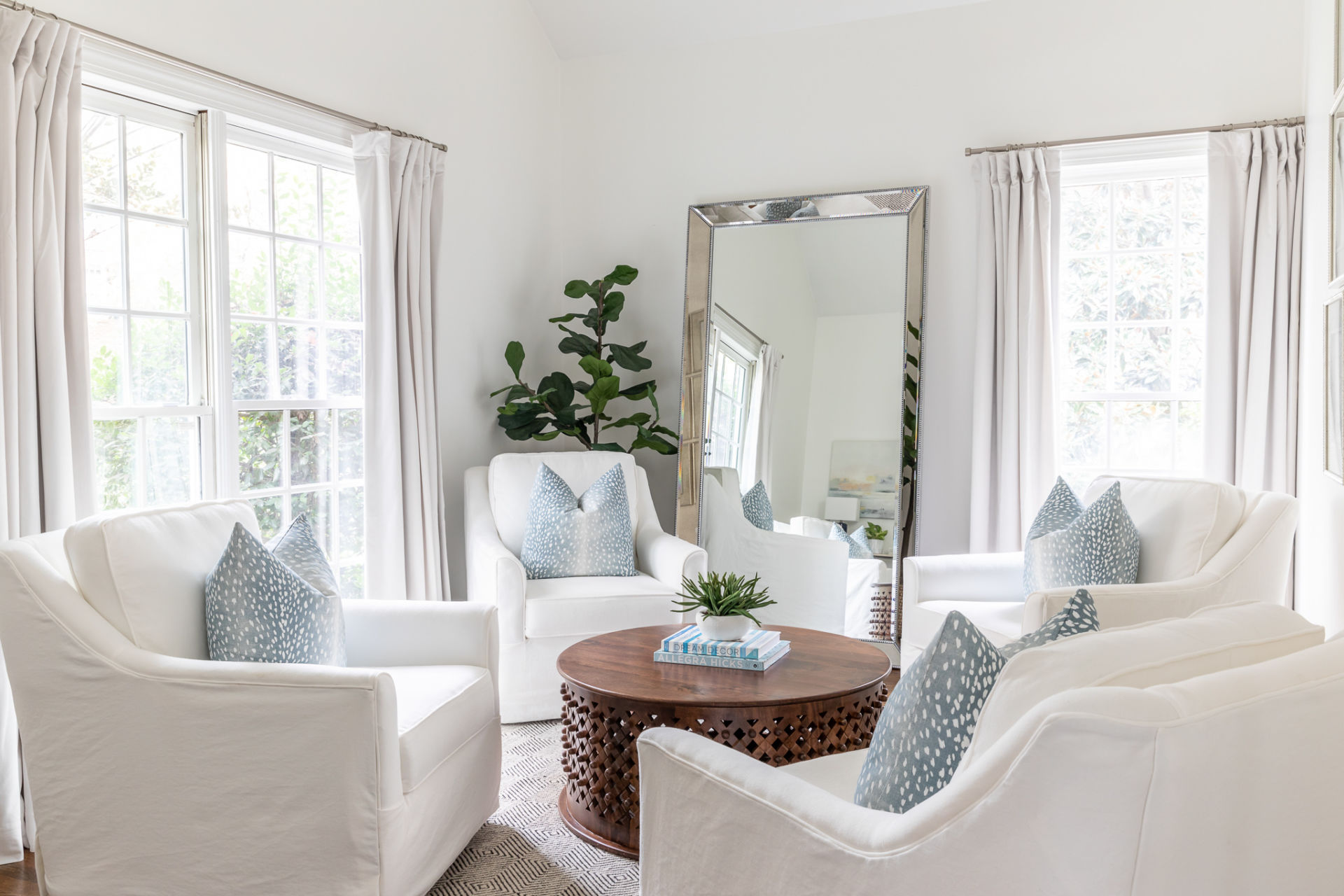 The Chairs
I've received a lot of questions about how our chairs have held up and if we've been happy with them. The answer is YES. They are seriously the most comfortable chairs and I love that they swivel! I could sleep in these chairs actually. And while the color is definitely not kid-friendly, we had them scotch guarded right when they arrived…and the kids aren't allowed in this room unless we are spending time together as a family.

The Pillows
Oh, and we love these pillows so much that I ordered them again in light pink for Caroline's room. They are the 20×20 inch and were originally sourced here, but I found them cheaper here and used these 22×22″ inserts.

The Mirror
The mirror was our first piece of the room to arrive. And right away we could tell from the packaging that it was damaged during transit. Thankfully the actual mirror was fully in tact, but one of the corners was crushed and missing all of the mercury beads. I sent a picture to Wayfair (hoping they would give us a small credit for the damage) and they refunded us our money completely — talk about insanely awesome customer service!!! Instead of going through the hassle of returning (it's extremely heavy by the way), we glued the loose mercury beads we could salvage from the bottom of the box to repair the corner and then hid that corner of the mirror behind a chair. You can zoom in to see Matt's incredible repair job here.

The Fiddle Leaf Fig Tree
I polled my readers for fiddle leaf fig trees and received lots of great recommendations across various price points. We ended up going with the least expensive option…from QVC (!!) and love it.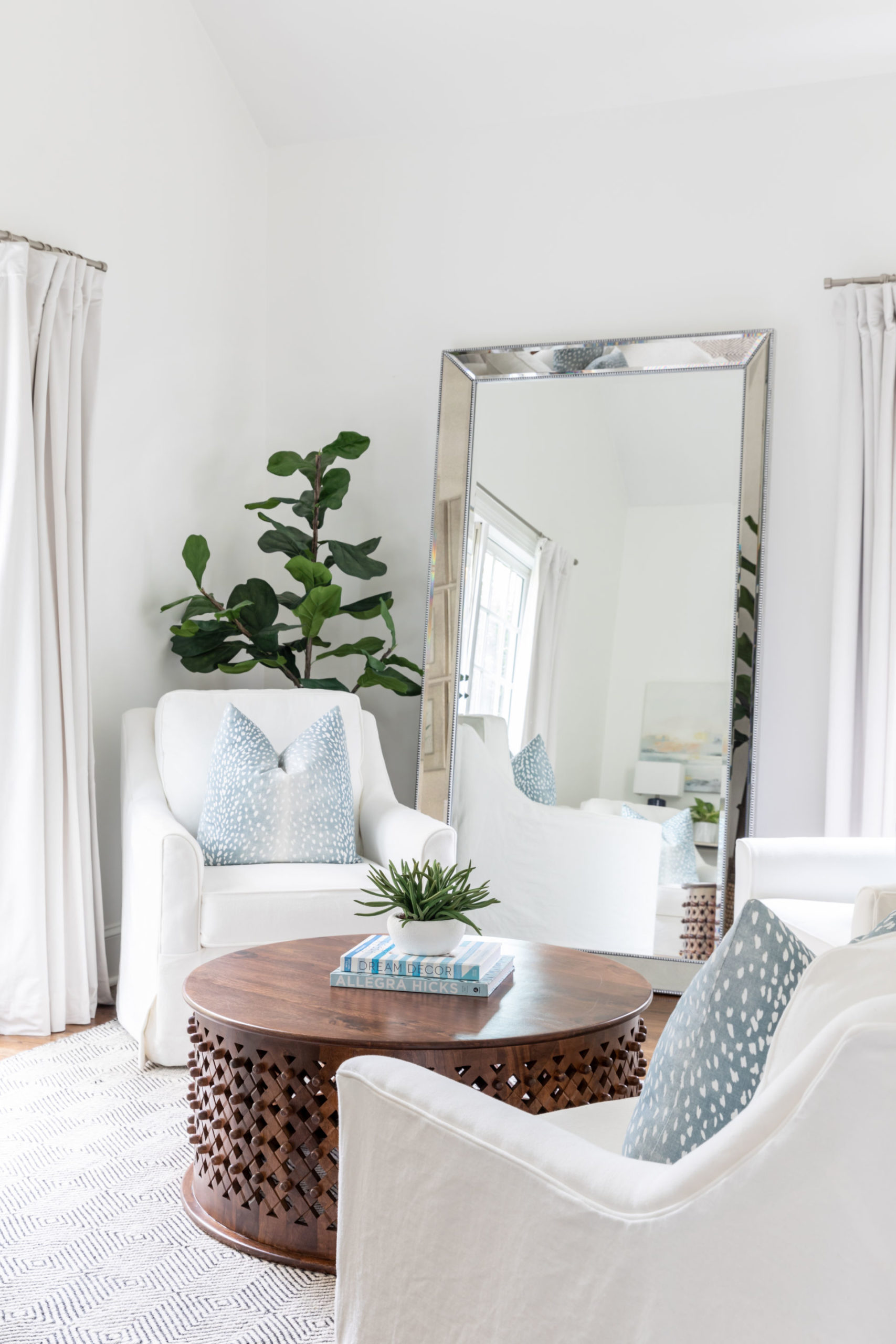 The Frames
We had a pretty large wall to fill and this set of 12 framed spring flowers were the perfect fit.

Coffee Table
The coffee table was the hardest decision to make. We couldn't decide between several contenders and colors and ultimately went with the Bornova table from Ballard. It took forever to arrive but was totally worth the wait. It fit the space perfectly and I'm glad we went with brown to break up the white!
I ordered the Allegra Hicks and Dream Decor books used (in excellent condition) from Amazon.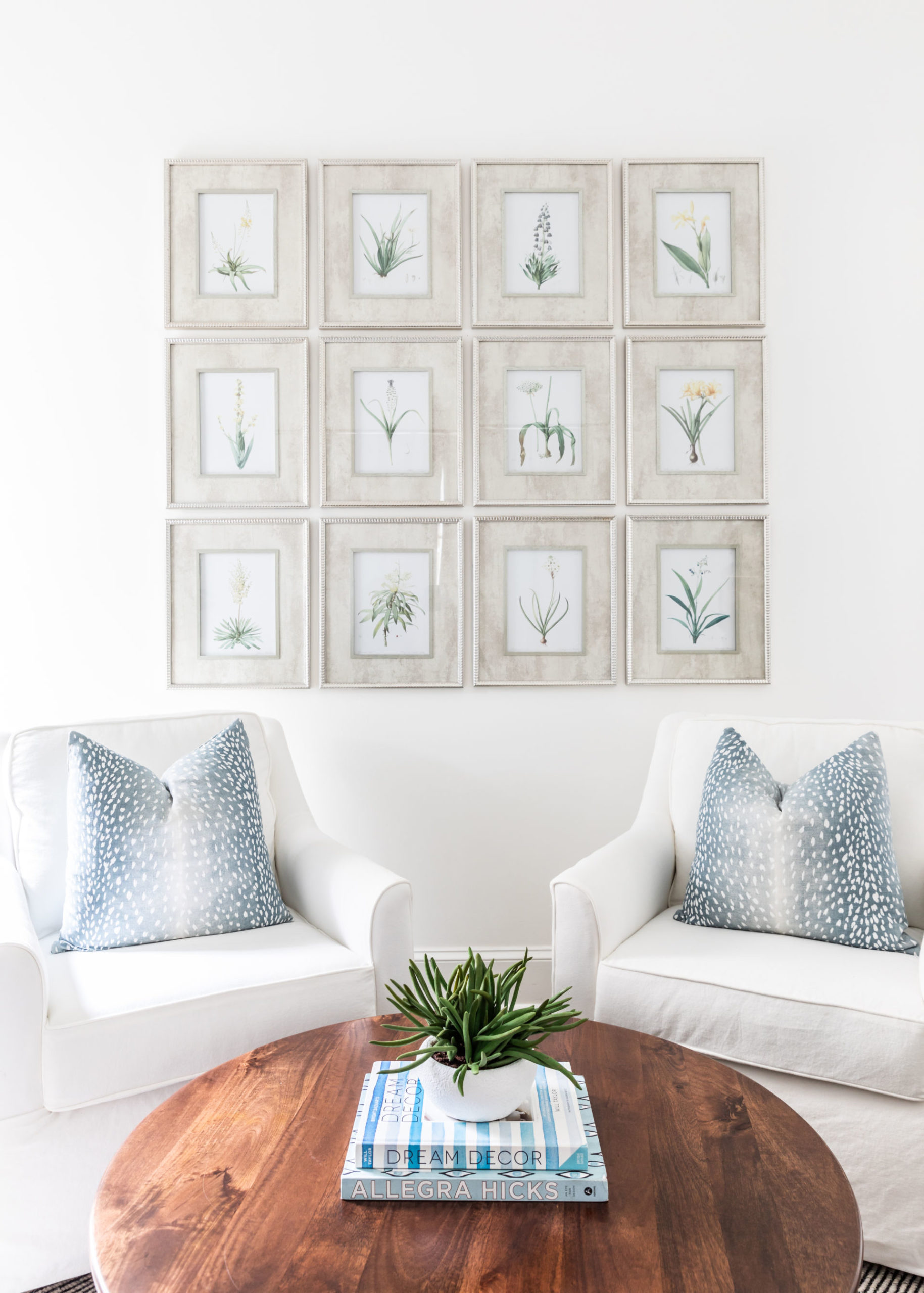 The Curtains & Hardware
When the velvet blackout curtains arrived we loved them so much that we purchased them for two more rooms in our home. They are heavy and feel custom made yet are incredibly affordable. Also, I found identical curtain rods from Target as a cheaper alternative to the original rods that were sourced for the room.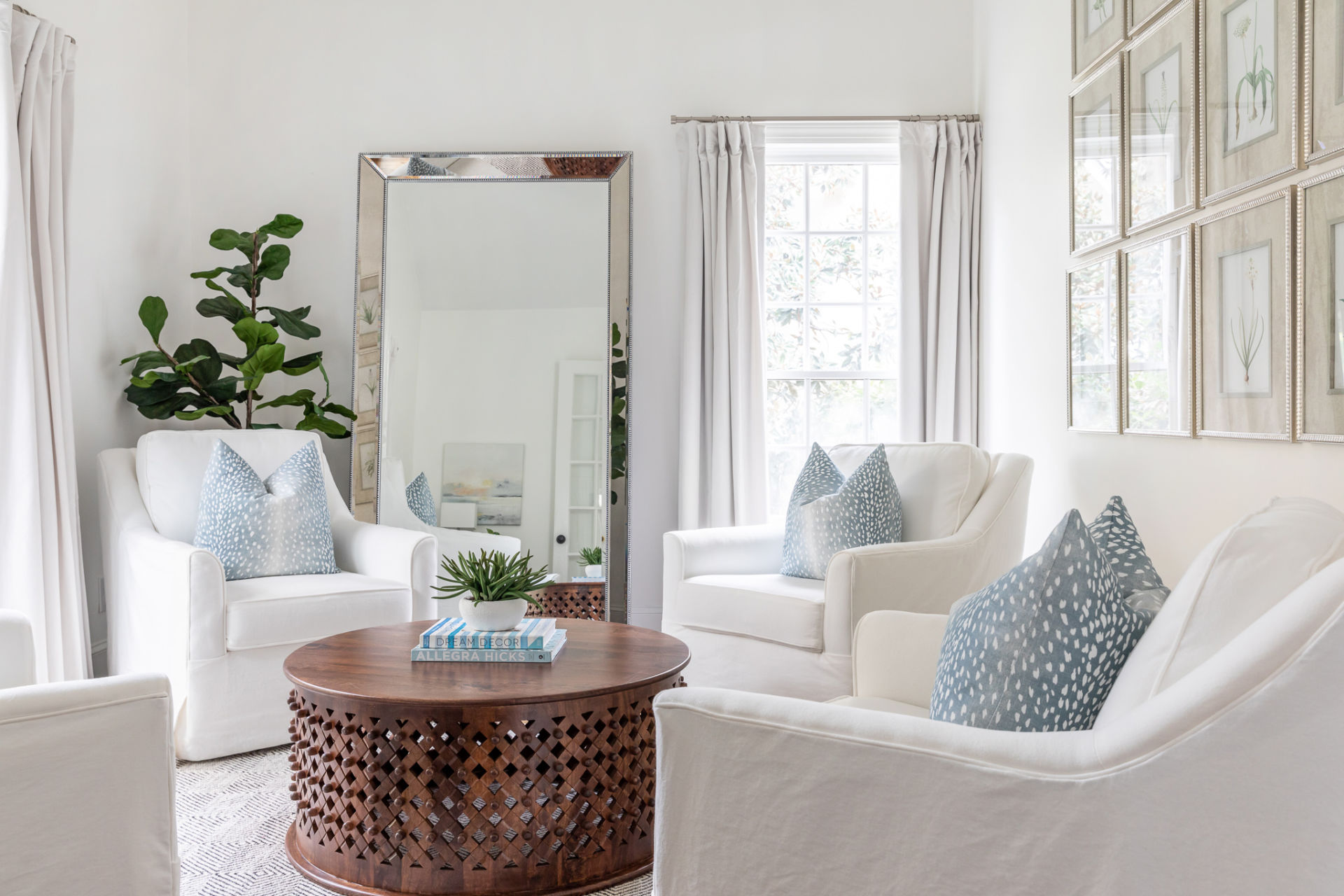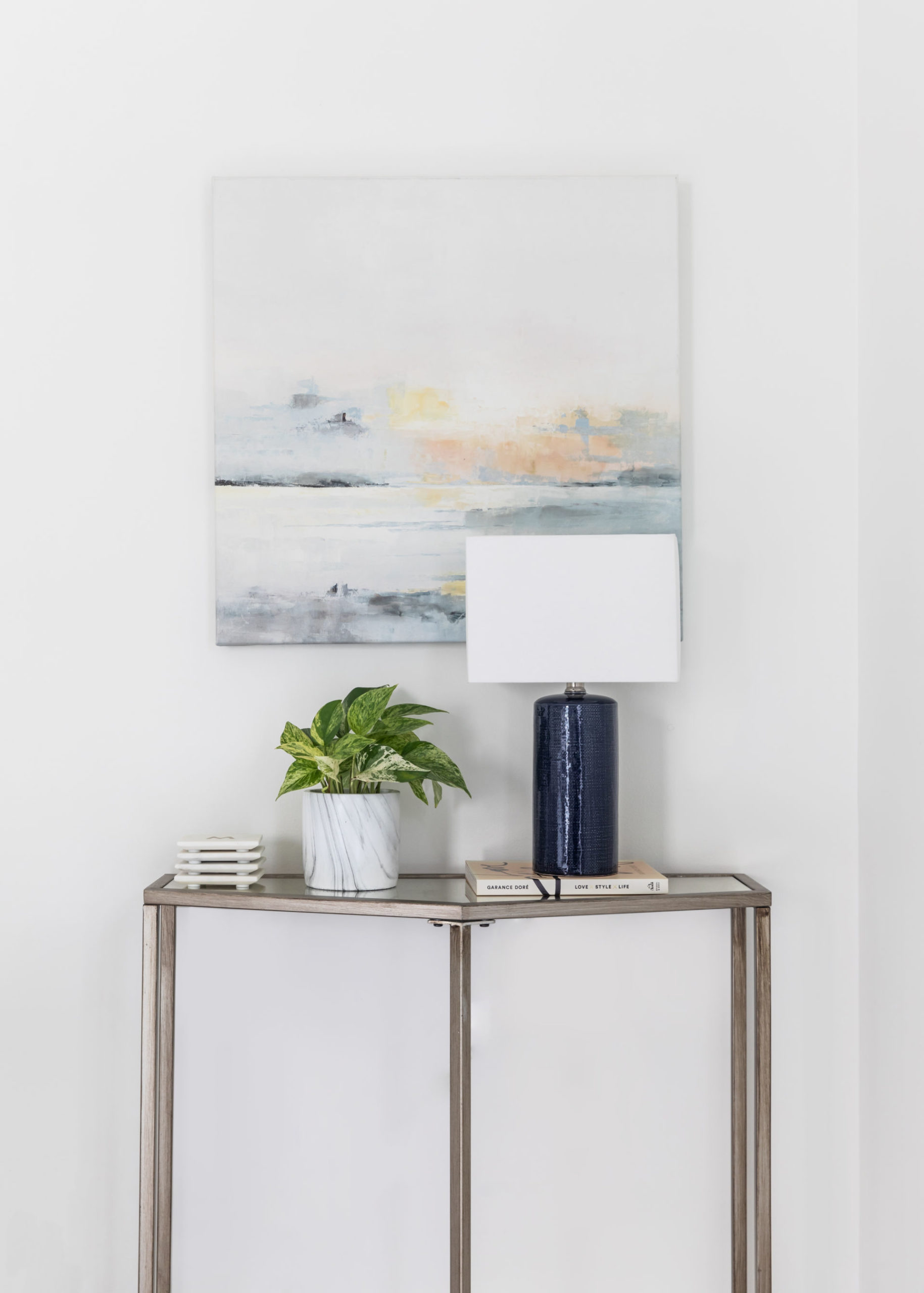 Photography by Laura Sumrak. Design by Havenly.
Circle Room Sources
Chairs | Pillows (alternate) + Inserts | Rug | Mirror | Fiddle Leaf Fig (alternates: 1 / 2 / 3 ) | Floral Framed Prints | Coffee Table | Dream Decor Book | Allegra Hicks Book | Pencil Succulent | Curtains | Curtain Rod (alternate) | Canvas Art (alternate) | Console Table (alternate) | Table Lamp (alternate) | Coasters