Last summer my friend Stephanie brought the most delicious kale salad to my Rosé Wine Tasting. Everyone raved about it and asked for the recipe, including me. Since then I've made this salad SO many times. I served it at my Favorite Things Party last month. And most recently, I served it (sans cheese for Whole30 compliance) as part of our traditional New Year's Day meal (greens such as cabbage, collards, kale, turnips, etc. symbolize wealth, prosperity and good fortune because their green leaves look like folded money. It's widely believed that the more greens you eat, the more prosperous you will become during the year ahead).
While I didn't invent the recipe (or even adapt it), I did discover some shortcuts that make this salad a breeze to put together — pre-washed & shredded kale, pre-shaved brussels sprouts, pre-sliced almonds and pre-grated cheese. All of my ingredients pictured in this recipe are from Trader Joe's, but I've also found all of them all previously at several other grocery stores too.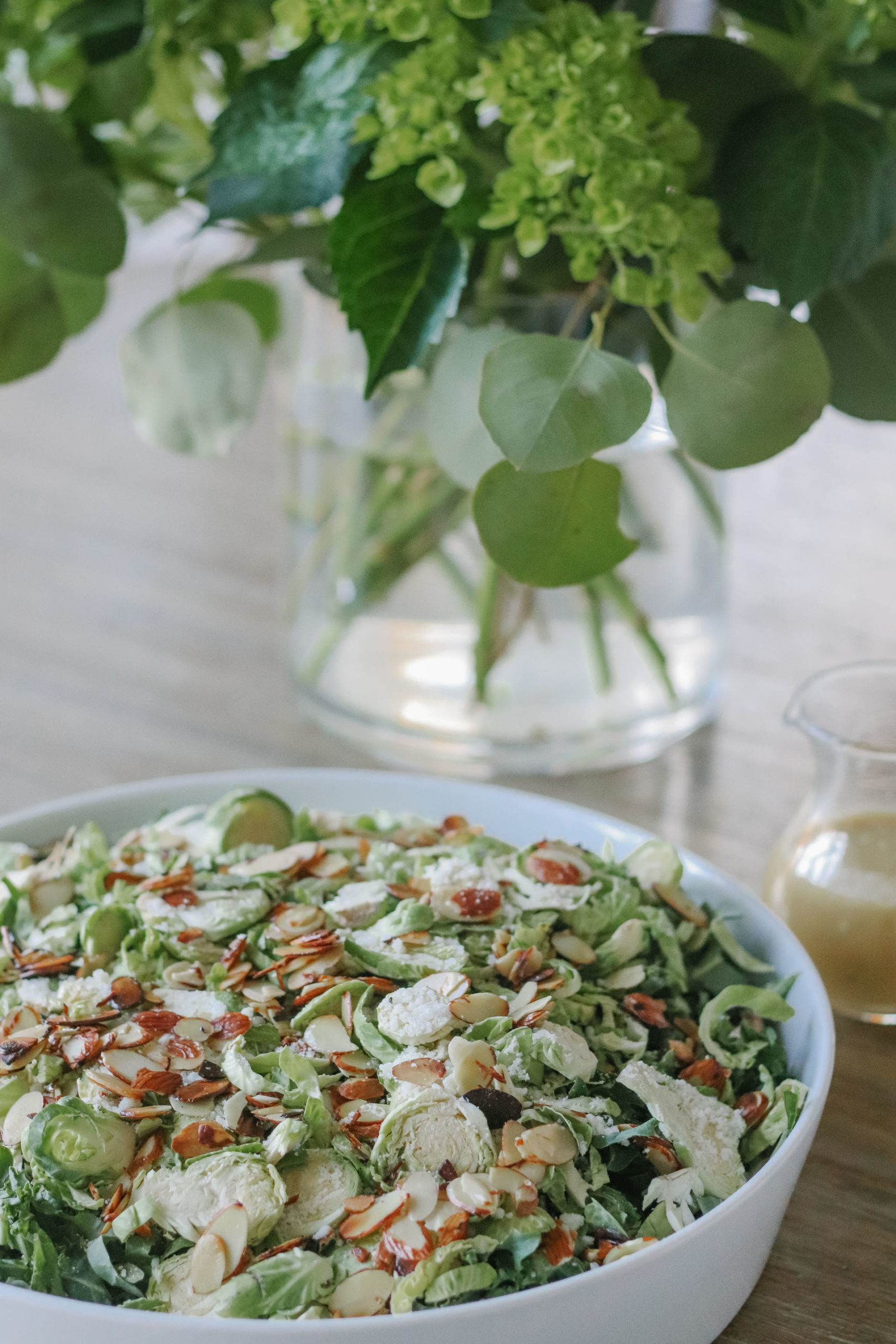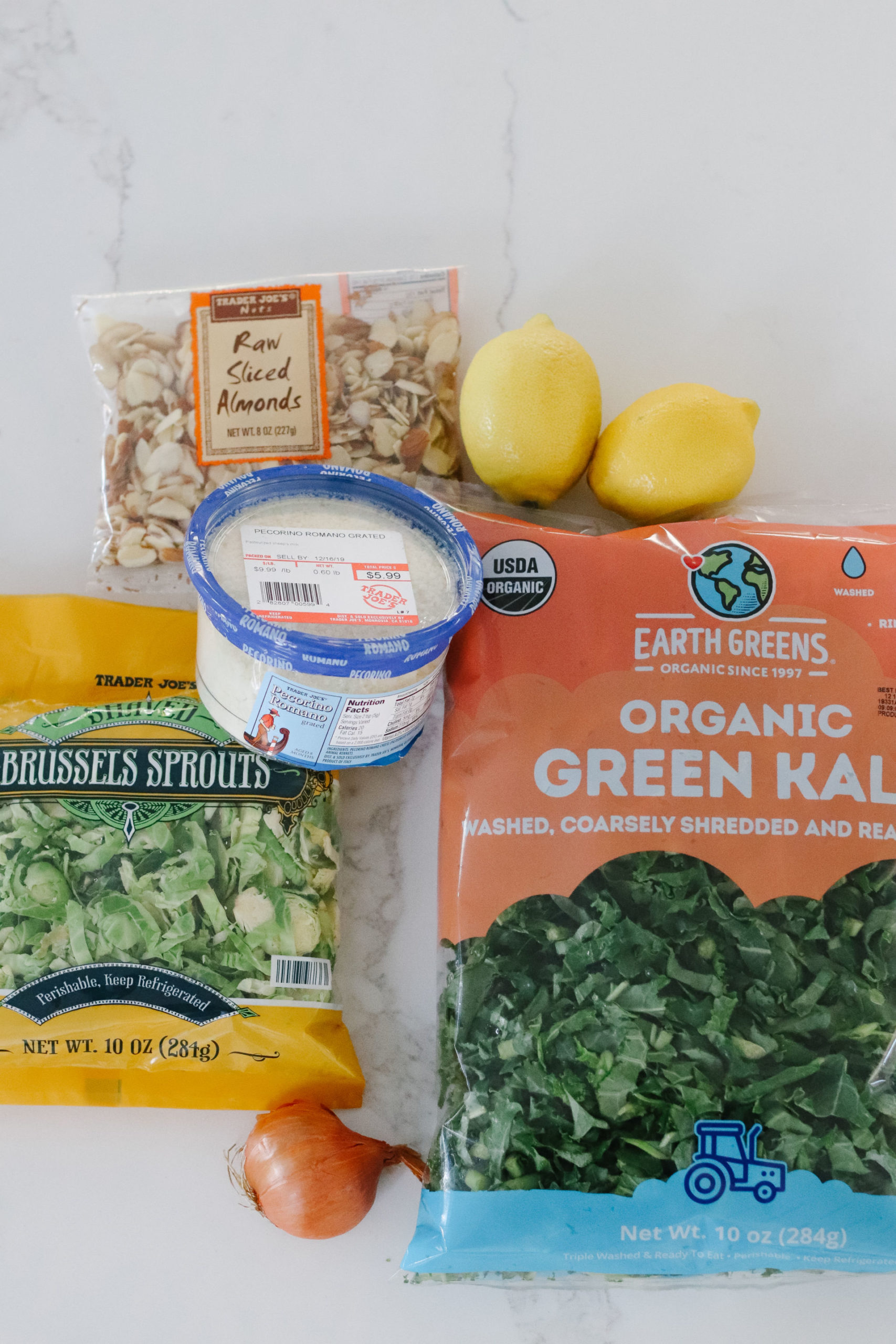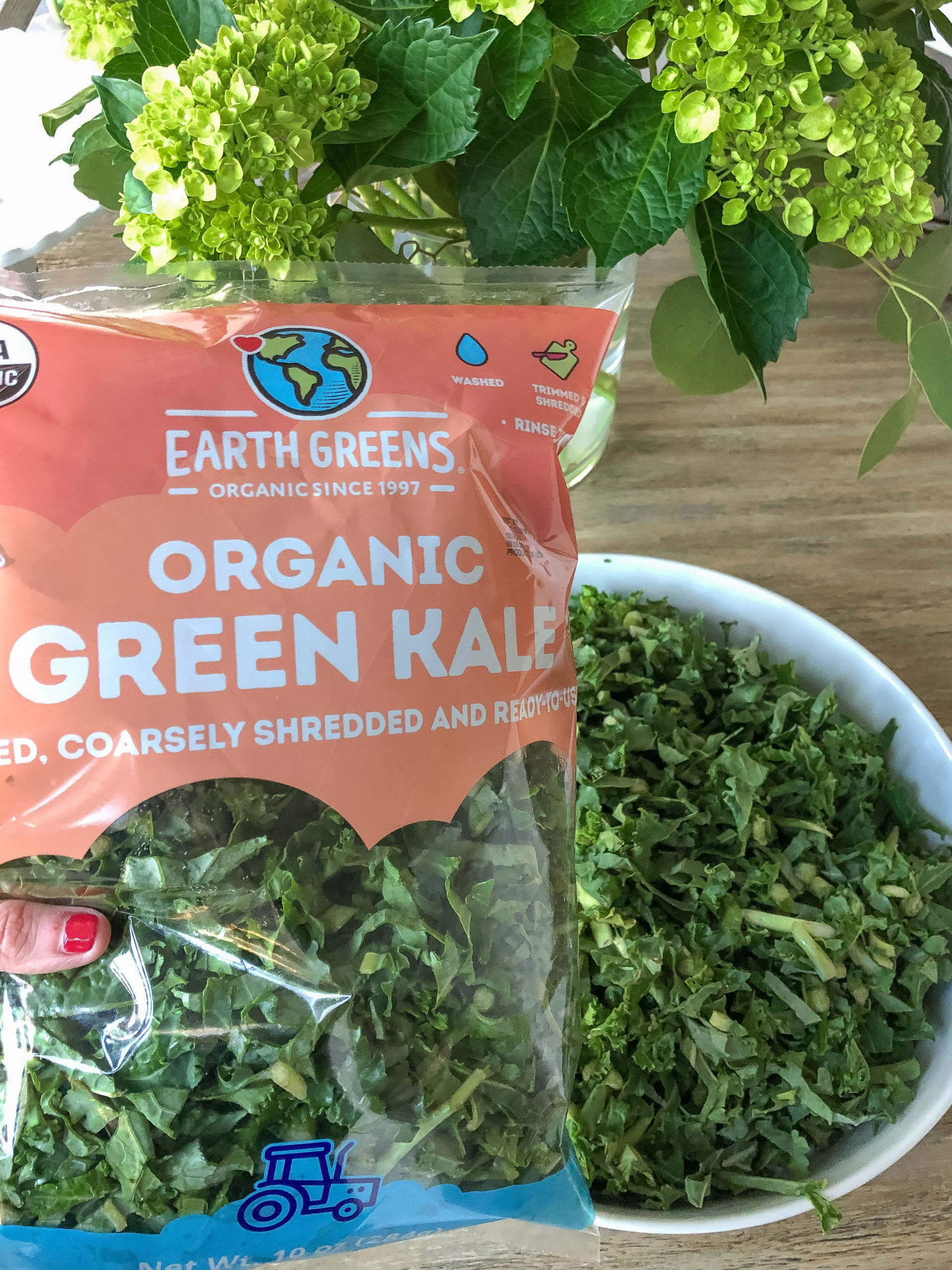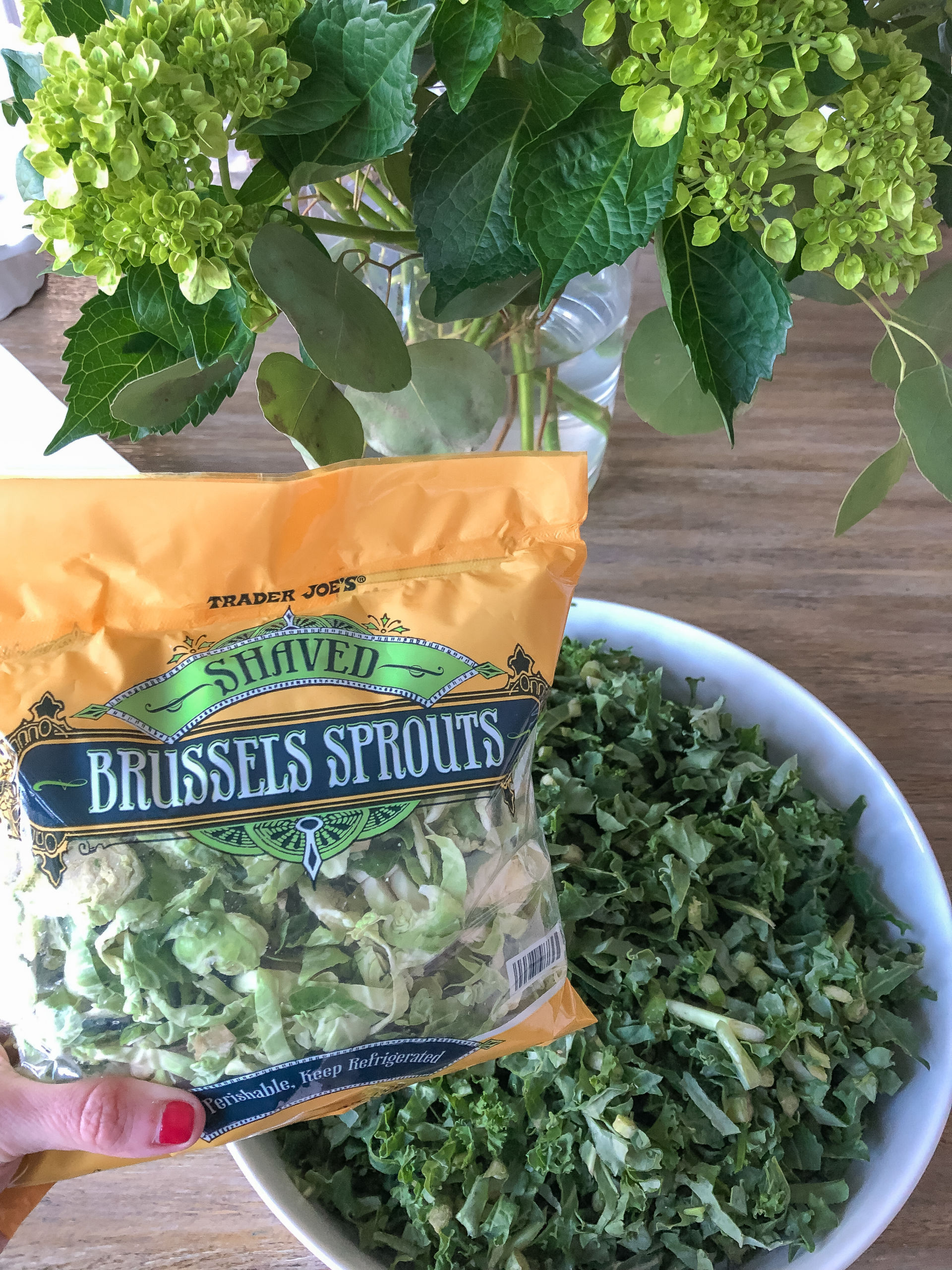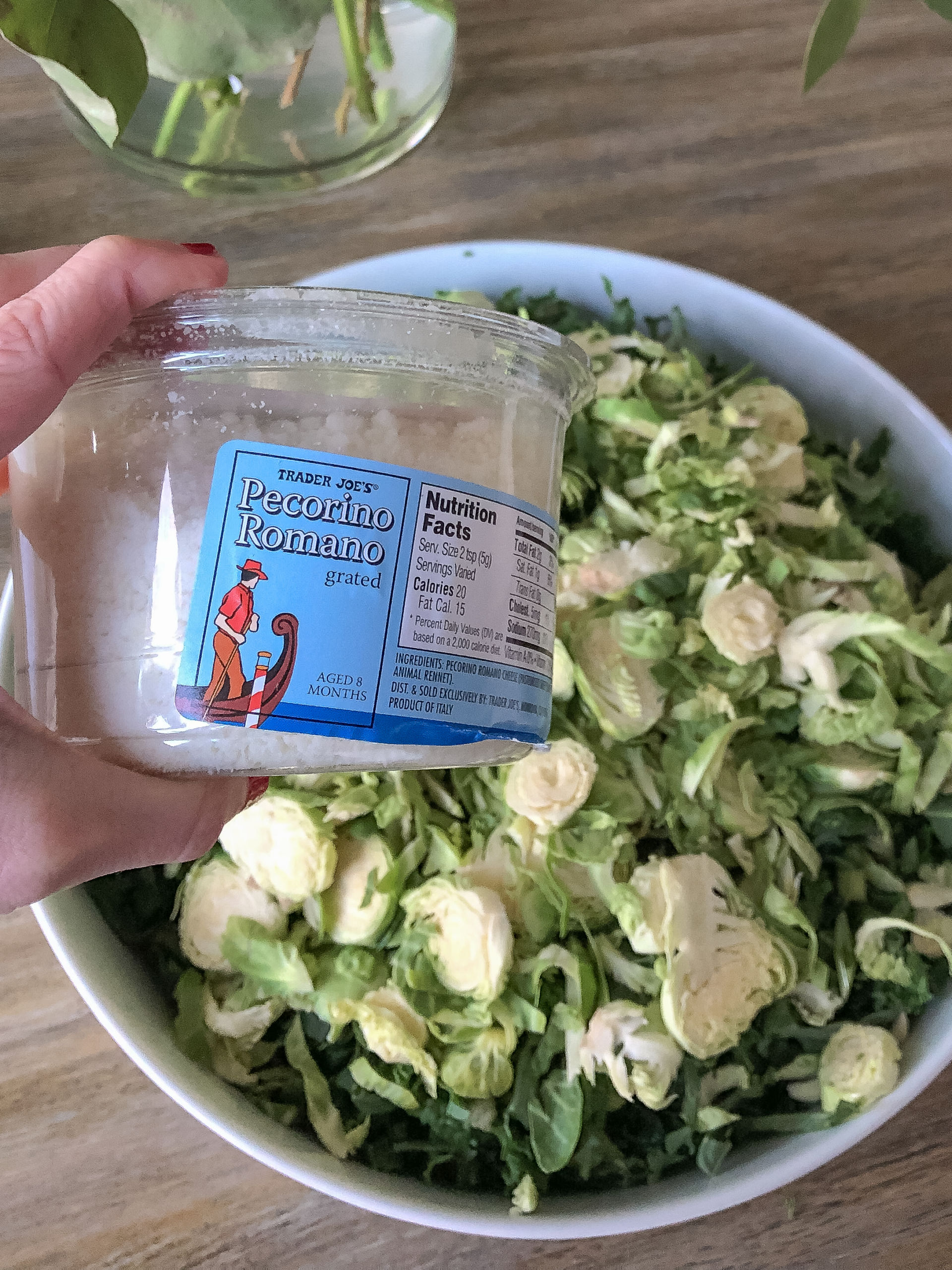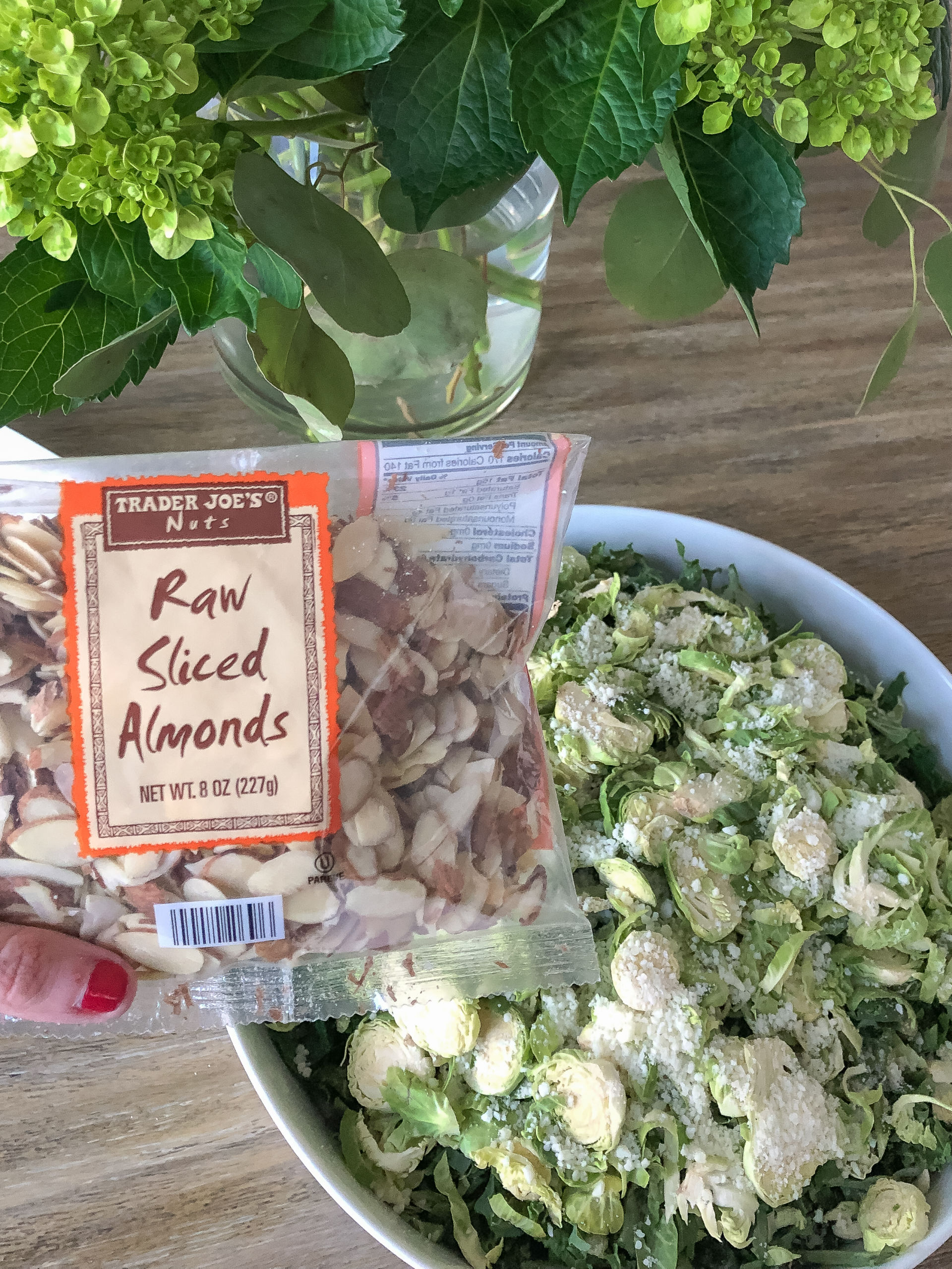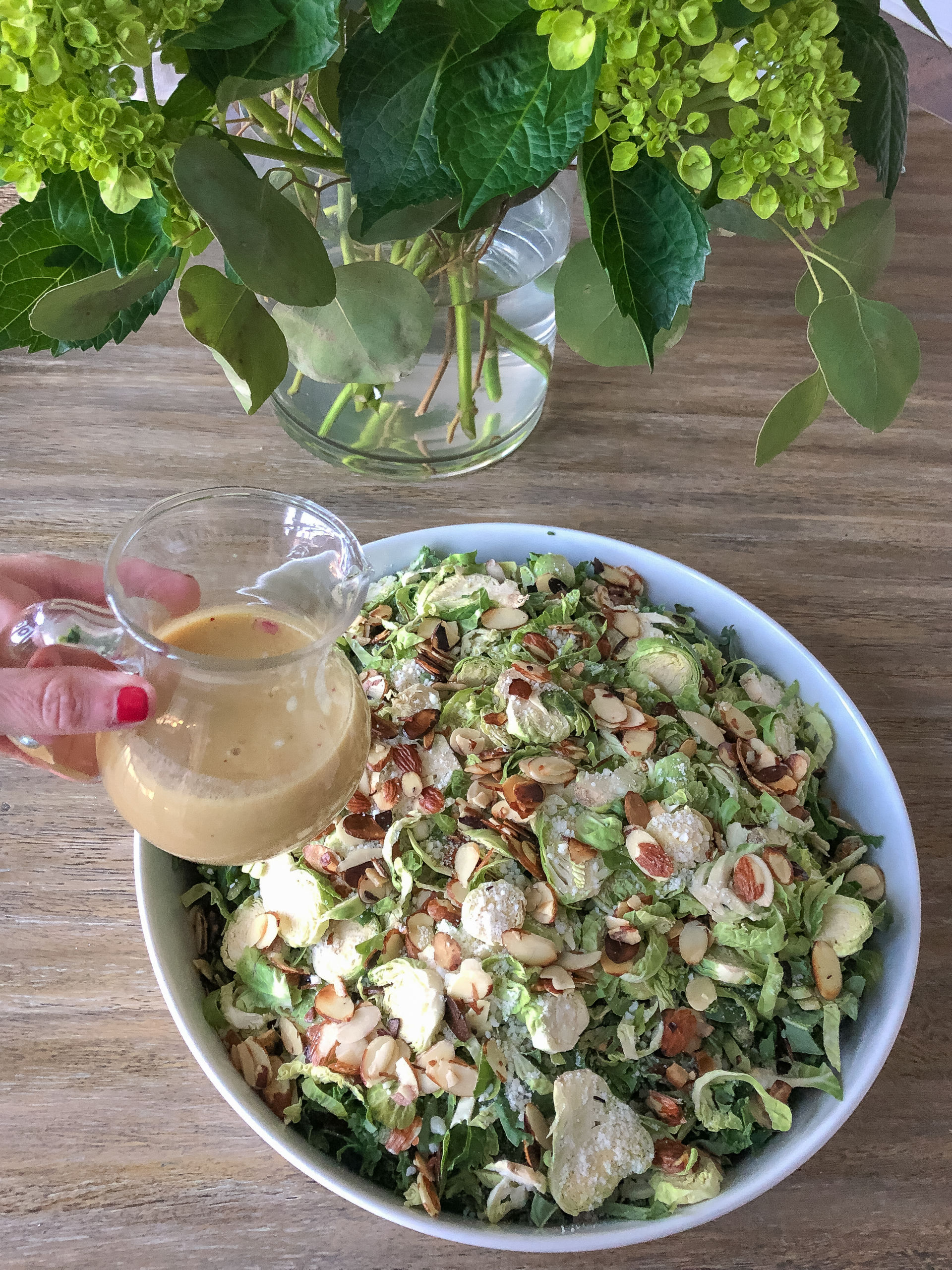 Kale & Brussels Sprout Salad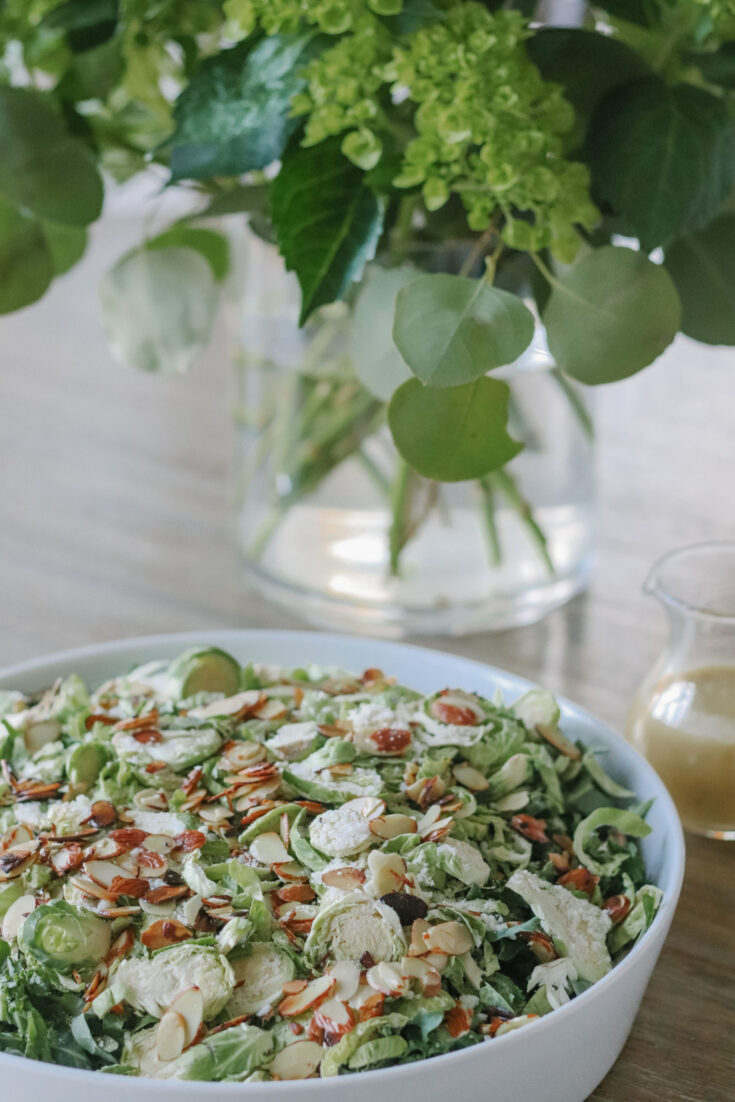 Our favorite Kale & Brussels Sprout Salad with a few shortcuts along the way!
Ingredients
1/4 cup fresh lemon juice
2 tbsp Dijon mustard
1 tbsp minced shallot
1 small garlic clove, finely grated
1/4 tsp kosher salt plus more for seasoning
Freshly ground black pepper
2 bunches Tuscan kale (about 1 1/2 pounds total), center stem discarded, leaves thinly sliced (shortcut: buy your kale pre-cut)
12 ounces brussels sprouts, trimmed, finely grated or shredded with a knife (shortcut: buy your brussels sprouts pre-sliced)
1/2 cup extra-virgin olive oil, divided
1/3 cup almonds with skins, coarsely chopped (shortcut: buy pre-sliced almonds)
1 cup finely grated Pecorino (shortcut: buy cheese pre-grated)
Instructions
Mix together lemon juice, Dijon mustard, shallot, garlic, 1/4 teaspoon salt, and a pinch of pepper in a small bowl. Stir to blend; set aside to let flavors meld.
Mix thinly sliced kale and shredded brussels sprouts in a large bowl.
Measure 1/2 cup oil into a cup. Spoon 1 tablespoon oil from cup into a small skillet; heat oil over medium-high heat. Add almonds to skillet and stir frequently until golden brown in spots, about 2 minutes. Transfer nuts to a paper towel-lined plate. Sprinkle almonds lightly with salt.
Slowly whisk remaining olive oil in cup into lemon-juice mixture. Season dressing to taste with salt and pepper.PREP AHEAD OF TIME: Dressing, kale mixture, and toasted almonds can be prepared 8 hours ahead. Cover dressing and kale mixture separately and chill. Cover almonds and let stand at room temperature.
Add dressing and cheese to kale mixture; toss to coat. Season lightly with salt and pepper. Garnish with almonds.