Happy first Friday of 2020!!!
First, thank you all for the planner recommendations! I seriously am the pickiest person ever when it comes to planners and have never found one that is truly perfect for how I use my planner. I think "planner" is the wrong word for the product I'm looking for because I use it for so much more than just calendaring things. I need lots of clean lined pages for my to do lists and personal notes, and I like pages for blog content planning. Oh, and bleed resistant pages is a must. All that being said, I went looking all over town for a planner before ultimately grabbing an Emily Ley Simplified planner similar to the one I originally wanted for $10 at Walmart (thank you to those who directed me there to look)…but don't think it's going to work out for me so I'm going to use it temporarily until…my Golden Coil Planner arrives!! I never thought I could be so dang excited about a planner until I looked at this company who many of you passionately (and successfully) convinced me this is the exact planner for me. I'll share it when it arrives.
Top 5 Planner Recommendations
For those who asked me to share the results, here were the top 5 planner recommendations I received from you all…(in order):
Alright, on to my 5…
1. New Year's Day Meal
According to my Instagram poll, only 34% of you said you cook a traditional New Year's Day meal! Matt is very superstitious so I try to make all the good luck foods. For new New Year's Day I made a roasted pork tenderloin (symbolizes progress), kale salad (symbolizes prosperity) and lots of veggies (because…Whole30).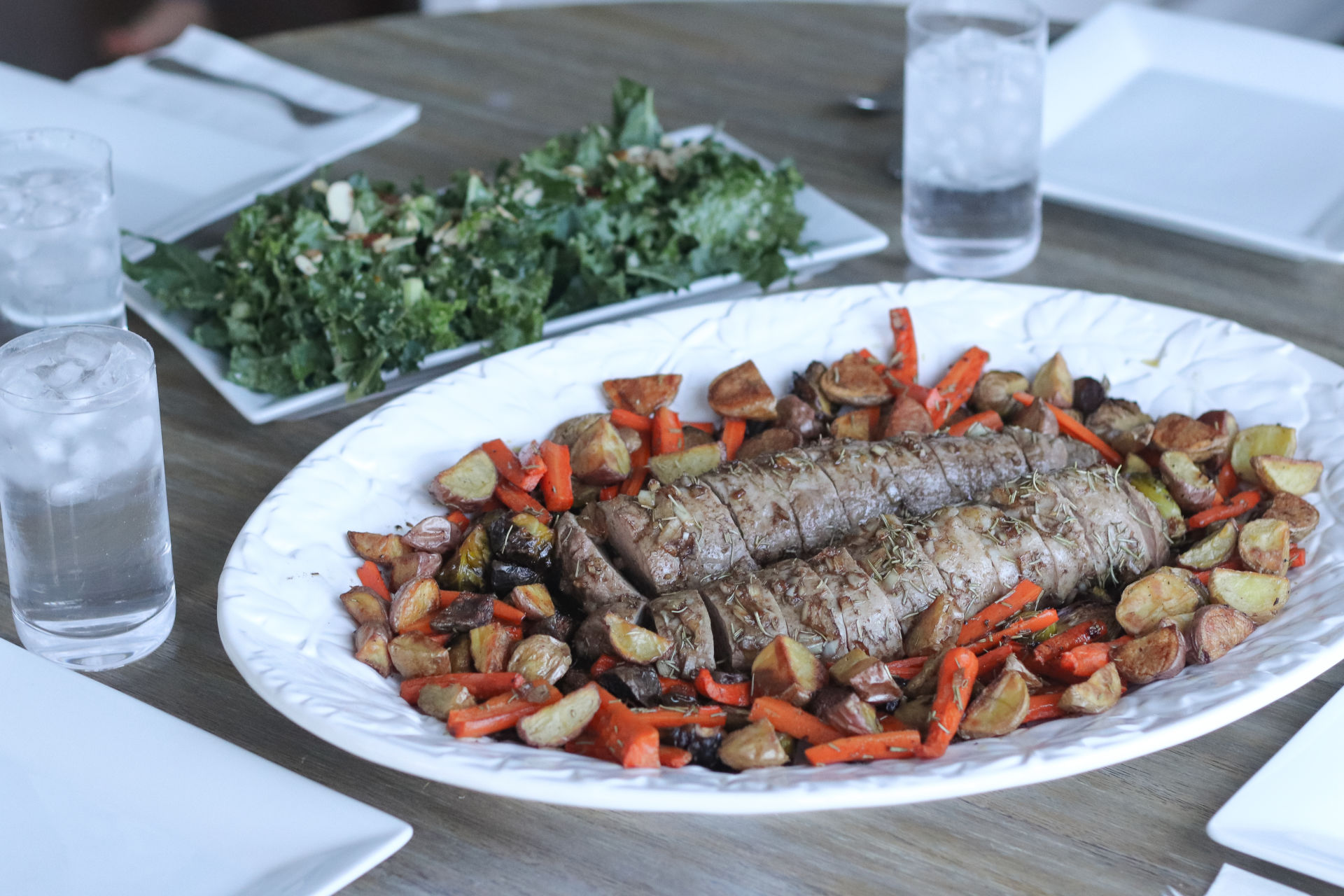 2.
Plaid Fit & Flare Midi Dress
As a redhead, I don't own a lot of red clothing. And as a very short person, I don't own midi-length! However, I thought I would give this pretty plaid midi dress a shot for the Christmas service at church — and I loved it. The quality of the material is excellent and I love that it's a little fitted with some flare — very flattering. It comes in 9 colors and I really, really, really wanted the green (my go to color) but made myself step outside of my comfort zone with the red! Anyway, I highly recommend this dress for work, church, date night — wherever! Wearing size XS.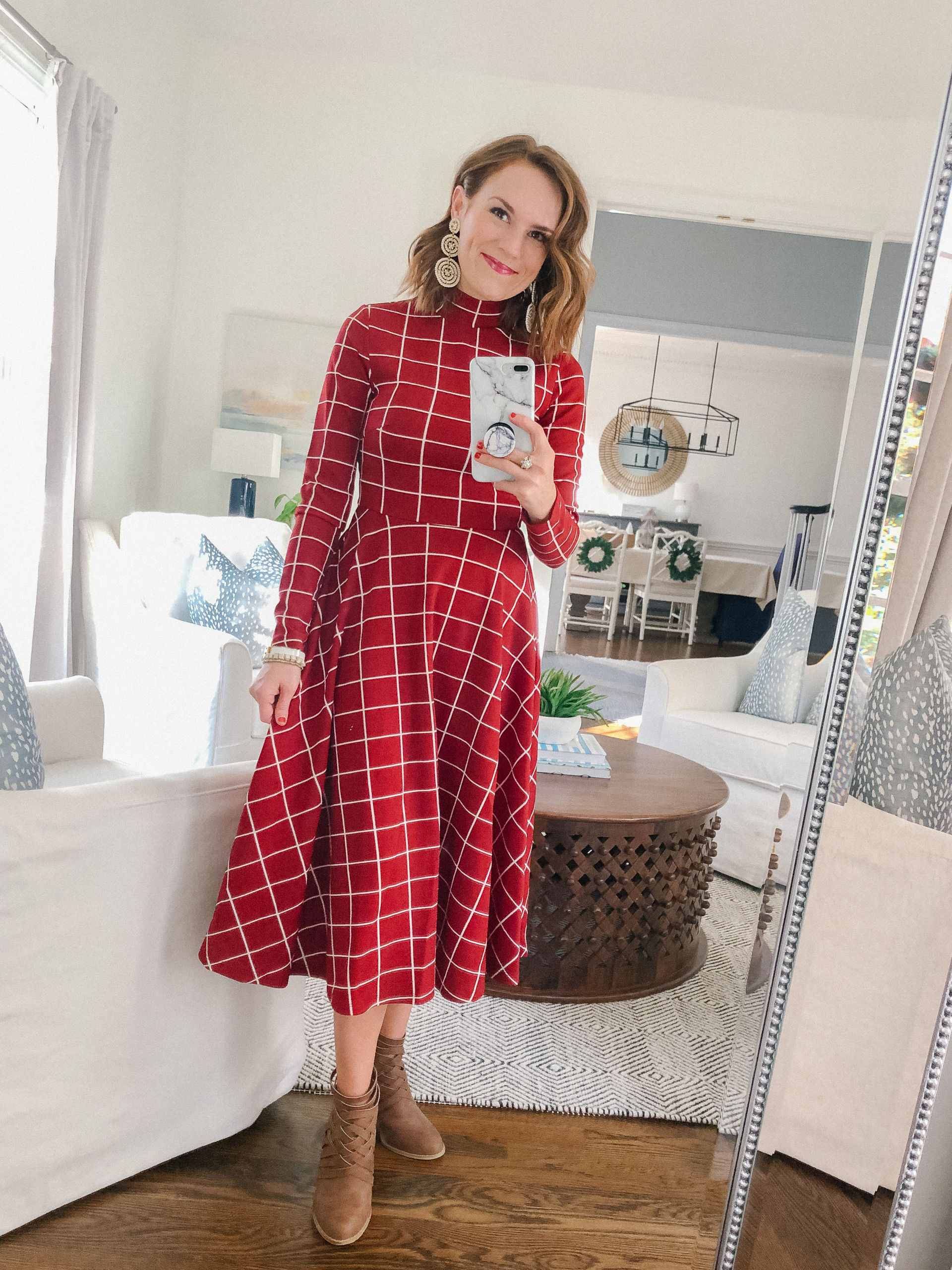 plaid midi dress | BOoties & earrings no longer available | lipstick (color #84)
It's up!!! Matt and our favorite handyman Hector spent two full days (NYE & NYD) building the playhouse Santa brought for the kids! The first day it was completed the kids played so hard that Thomas fell asleep at 6:30 on the couch (this NEVER happens)!!!! They have gone down that slide 239483958403 times and I can only hope and pray that this playhouse doesn't lose it's excitement anytime soon. Isn't it so cute?! We've still got a few things to do to finish it up the area (right now it's just dirt — everywhere) and I can't wait to plant stuff in the little planter boxes with the kids this spring!

Y'all went crazy over this meat mixer kitchen gadget when I posted it on Instagram Stories this week. It works insanely well for breaking up ground meats — hello, taco night! I definitely need to include it in my most favorite kitchen gadgets.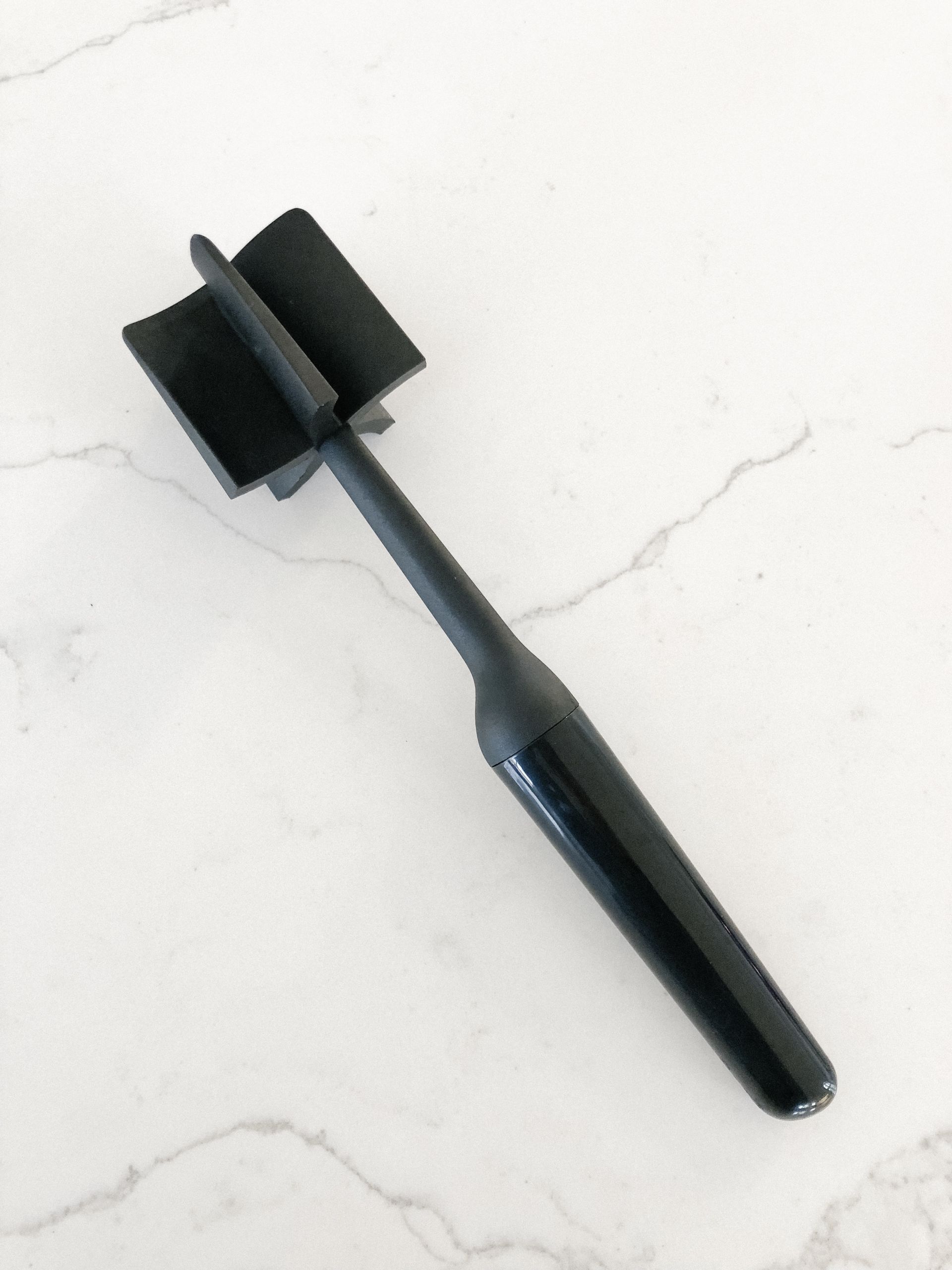 5. An Organized Pantry
At the beginning of last year Minimized organized our entire kitchen for us — it was amazing. Throughout the year things were starting to get cluttered so Caroline and I took everything out of the pantry, trashed the expired items, wiped down all the shelves, threw out all the half eaten Larabars (ahem, Thomas), washed out the storage bins and organized every can, box and bag.
It's amazing how much of a difference it makes when you throw out all of the stale or expired food…now let's see how long we can keep it looking clean and organized!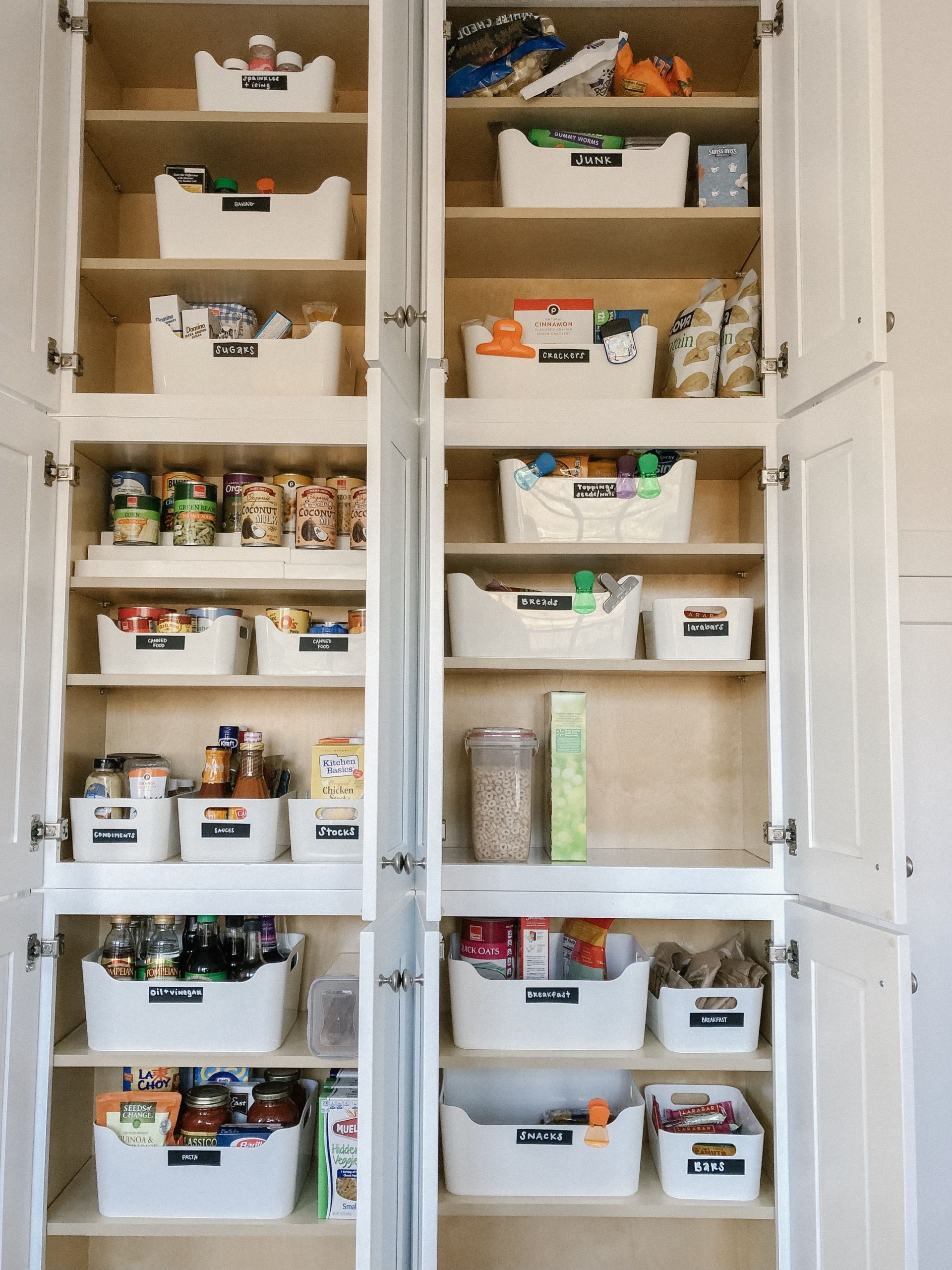 Our Pantry Organization Items
Expandable Shelf: With three tiers of shelving, I can spot the cans I'm looking for so much quicker. The shelving is expandable so you can customize it for your space.
Storage Bins: I absolutely love these white containers. They are cheap, come in several sizes and quantities, and you can easily wipe them down if things spill or leak.
Chalkboard Label Tape & Chalk Markers: All of the storage containers are labeled with chalkboard tape which comes in a 5 yard roll. You can customize your labels to any size you want and chalk markers are easy to wipe off when you're ready to change your label!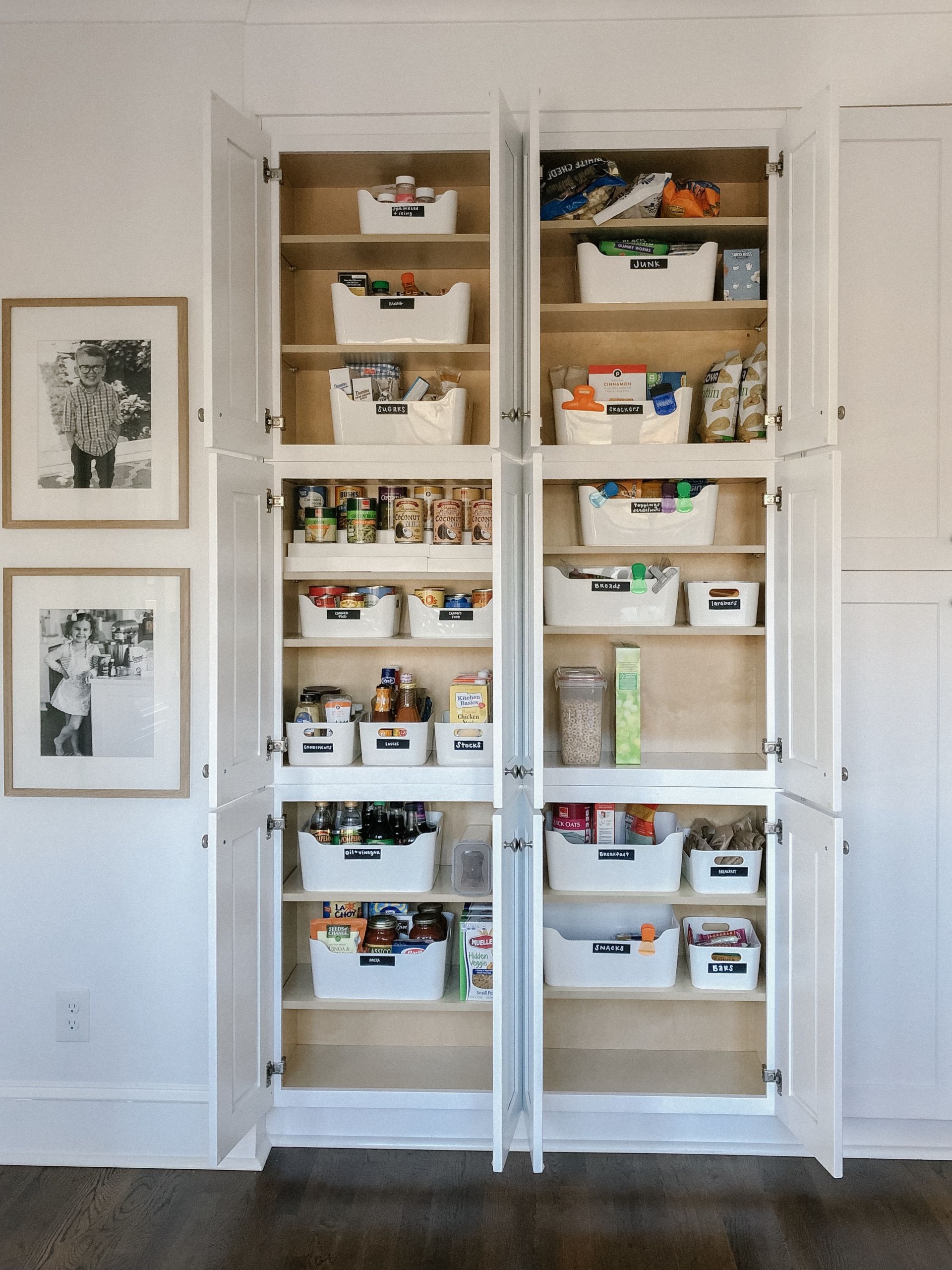 In Case You Missed It