Looking for a family friendly vacation spot this year? Try Kingsport , Tennessee! Keep reading to see why!
We spent the long holiday weekend checking out a new city — Kingsport, Tennessee! I was unfamiliar with this small town located on the Holston River until Visit Kingsport invited us to come experience their city for a weekend. Our itinerary was jam packed with incredible activities and could not have been more fun…
Friday
The drive was a little less than 3.5 hours from Charlotte. We arrived in Kingsport early Friday evening and checked into the MeadowView Marriott Conference Resort and Convention Center which was located super close to all of our activities all weekend. Once we got unpacked we headed to The Main Street Pizza Company for dinner where we devoured some incredible pizzas including their bestselling thai pie and their brand new savory strawberry pizza. Both were SO good.
The Friday Food Truck Rally was right across the street so after dinner we walked over and the kids grabbed ice cream cones and ran around a bit.
Afterwards we stopped at High Voltage for beers and live music which was so fun.
Saturday
Saturday morning we grabbed breakfast at Evelyn's Kitchen Table before heading to our first activity of the day — a pottery experience at Brixey Studios!
At the end of the weekend, Thomas and Caroline both agreed the pottery class was their favorite experience of the weekend. They had an absolute blast getting dirty and molding clay into little bowls.
After our pottery class, we explored downtown Kingsport. There was an antique car show happening while we were there and it was really fun checking out all the old cars. We also stopped for a cup of coffee at Hibbert-Davis Urban Brews and grabbed cupcakes from Little Cake bakery.
The kids also rode the (hand carved!!!) Kingsport Carousel like 8 times.
For lunch we grabbed smoothies, fresh juices and parfaits from Sisters Cravings juice bar! Caroline's parfait was hands down the best parfait I've ever eaten.
We spent Saturday afternoon at Bays Mountain Park and Planetarium which was SO COOL. We arrived just in time for the barge ride where we learned a LOT about otters. Afterwards we popped over to the wolf habitat which was Matt's favorite part of the weekend. None of us had ever seen wolves in real life before and they were absolutely beautiful. The Park had several other really cool animal habitats too, including an impressive Raptor Center!
Saturday evening we went to Gypsy Circus Cider Company for dinner and cider flights! There was live music and lots of games and space for the kids to run around which was really nice. And we enjoyed lots of delicious small plates from The Bohemian.
Sunday
We spent Sunday morning playing 9 holes of golf at Cattails at MeadowView Golf Course. It was the most gorgeous day to play golf too and the whole family had a blast.
Sunday afternoon we cooled down at the Kingsport Aquatic Center where the kids floated at least 200 laps around the lazy river. The center also had two super fun water slides that sadly Thomas was one inch too short to ride but Caroline had a blast riding them in secrecy when he wasn't looking!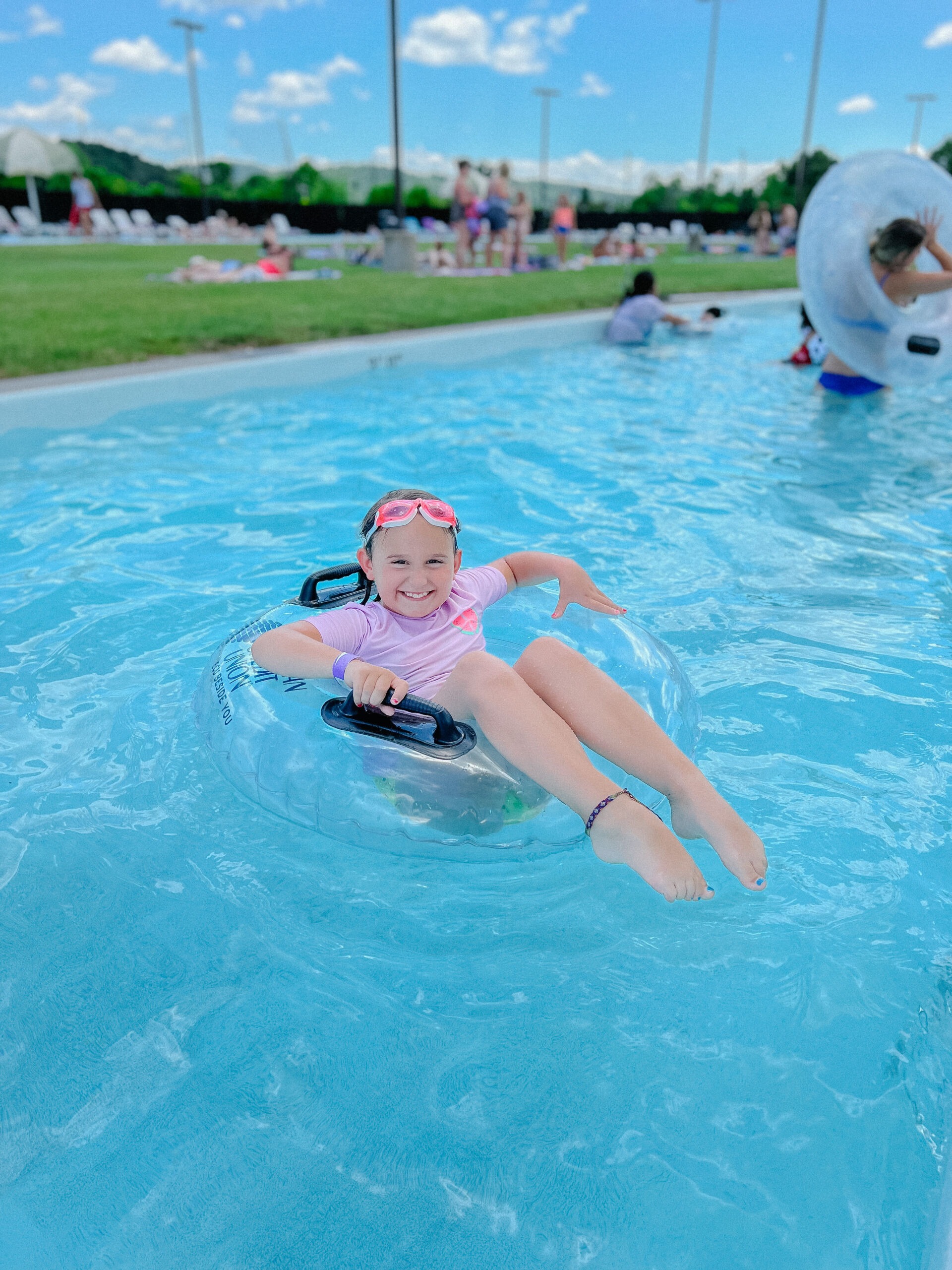 Sunday evening was my personal favorite trip highlight — our family made ravioli from scratch for dinner at Atlas Culinary Concepts! This was seriously SO MUCH FUN. The entire family was really into it too. And now I'm inspired to purchase the pasta kit for my stand mixer so we can do this again at home!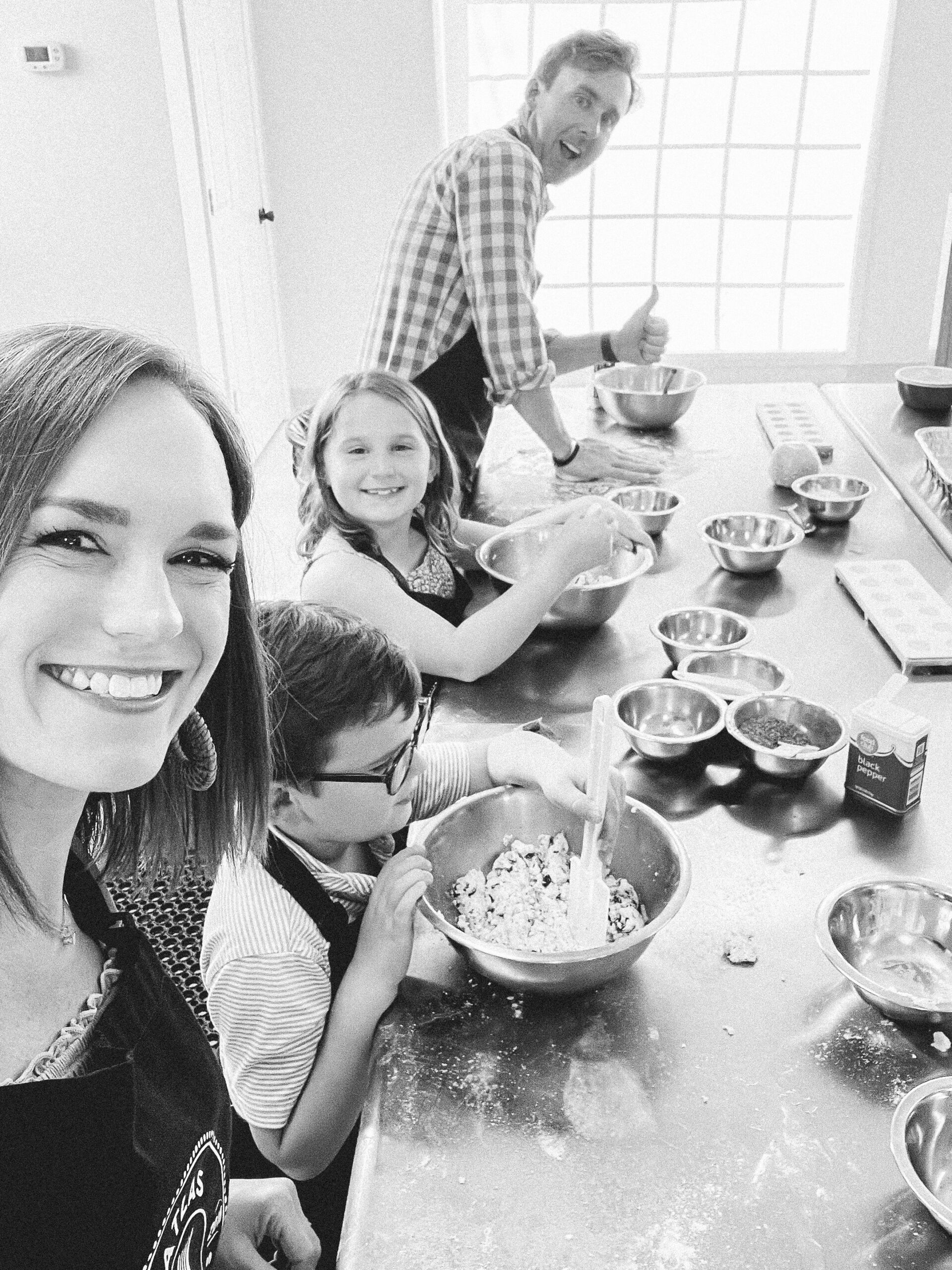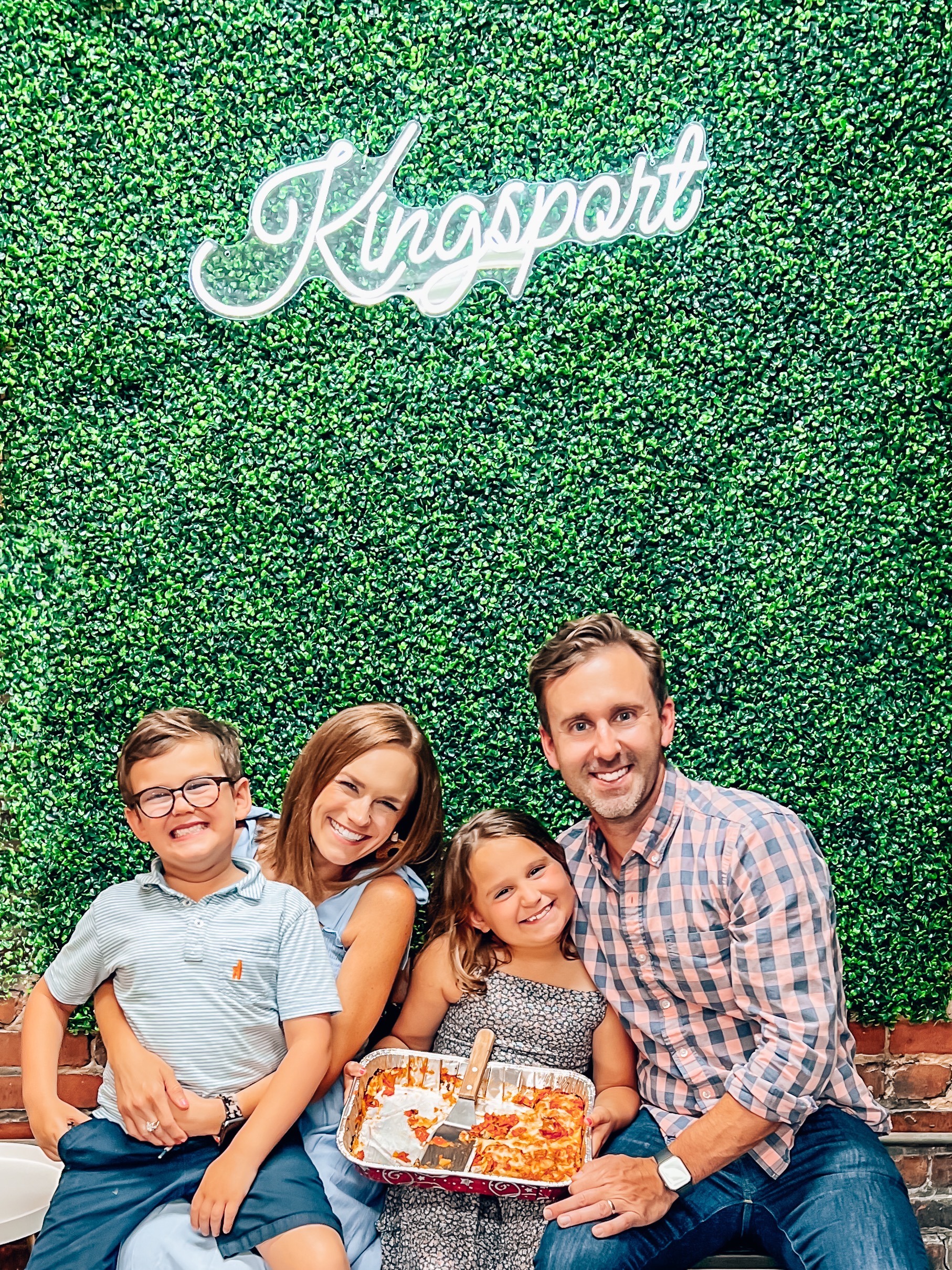 Monday
Monday we packed up, check out of the hotel and grabbed our last meal in Kingsport at Pal's!
And that was a wrap on a super fun family friendly vacation weekend in Kingsport, Tennessee!
A huge thanks to Visit Kingsport for hosting our family for a wonderful weekend. All reviews are my own!
Kingsport Trip Giveaway!!
Head to my Instagram tonight to enter my giveaway for a chance to win two nights at the MeadowView Marriott Conference Resort and Convention Center, pottery making at Brixey Studios, a culinary experience at Atlas Culinary East, outdoor adventure at Bays Mountain Park or a round of golf at Cattails at MeadowView and delicious meals along the way from Main Street Pizza Company, Pal's and Sister's Cravings! The winner's itinerary will be customized to fit your family by the Visit Kingsport team!