I had a lot of questions about how I meal plan after posting my most recent grocery store receipt savings. I promise it's super easy and doesn't take a lot of time to do but makes a huge difference in our week. I'm not a crazy coupon cutter (anymore) I just try and shop whatever is on sale, pick out a few meals for the week and not stress about what's for dinner until the following week. My goal is to keep our weekly shopping trip to $100′ish. Some weeks I nail it, some weeks I go over (especially if I'm stocking up on paper products). Oh, and wine is a separate budget since I purchase in bulk at discount. If it's a crazy week that I don't have time to meal plan for, chances are I'm either making 3 trips to the grocery store that week to pick up random ingredients or we're driving through Chick-fil-a, grabbing takeout or ordering pizzas.
Here is my ridiculously easy meal plan strategy…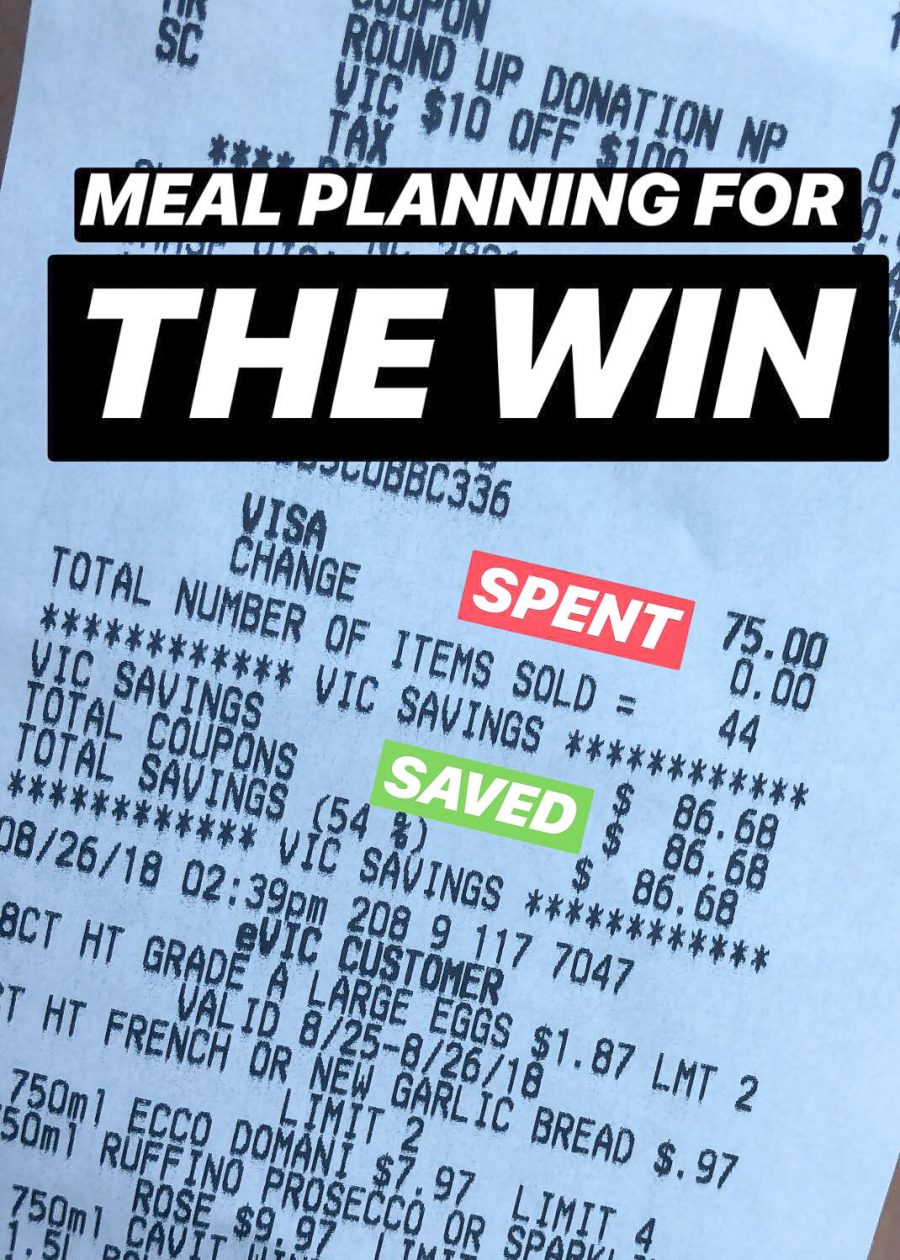 Step 1: Subscribe to Your Weekly Grocery Store Email
I actually subscribe to two grocery store ads — Publix & Harris Teeter. On Wednesdays when the email ads are delivered to my inbox I'll take a peek at both and see which one has better deals advertised and then delete the other ad. This takes me literally 90 seconds, if that. I'm just skimming the email to see the best deals, not combing through each page of the ad. Also, if one store is offering a discount like $10 off $100, I almost always pick that ad to shop from.
Step 2: Scan the Grocery Store Ad for Proteins & Produce
Proteins and produce tend to be the more expensive items on my list so I start there. Pork tenderloin, chicken, ground beef and ground turkey are our most popular dinner proteins so each week I stock up on whichever ones are on sale and throw some of it in the freezer. And produce, my goodness, we eat SO much produce each week. To save money I purchase fruits and veggies that are on sale or in season. Lately we've been eating a TON of watermelon, blueberries, raspberries and strawberries.
Step 3: Select Your Recipes
Once I know which meats I'm working with I'll build my menu. If I don't already have a recipe in mind I'll resort to my Pinterest boards. My requirements are: simple, no fancy or expensive ingredients, somewhat healthy and easy to double. I don't like to cook every night so I usually double my recipes to ensure I have leftovers for the following night. This allows me to cook only a few nights during the work week and reheat or re-purpose leftovers the next night. On Fridays we grill out and we go out for dinner at least once a week.
Also, during the week the kids usually eat what we're eating, but if it's something I know they won't like I'll give them a lunchable, PBJ or cereal (their favorite). For the record, I have zero mom guilt over that.
Step 4: Round Out Your List
After I've selected my meals I check my pantry stock to see what I'm out of that I need to complete a recipe. Then I add in our weekly staples (milk, beer, frozen fruit, yogurt, coffee creamer, etc.) and pre-bagged salad kits for lunches for me and Matt.
Sample Meal Plan
Meal Plan Example 1:
*Last week chicken and pork tenderloin were on BOGO sale.
Monday: crockpot pork carnitas, roasted sweet potatoes & green beans
Tuesday: leftover pork carnitas — for tacos!
Wednesday: crockpot buffalo chicken stuffed sweet potatoes
Thursday: leftovers planned but impromptu dinner out instead (leftovers used for lunch the following day)
Friday: grilled pork tenderloin with peach salsa (recipe coming next week)
Saturday: dinner out (date night)
Sunday: frozen pizza
Meal Plan Example 2:
*This week ground turkey & ground beef were on sale.
Monday: turkey lettuce wraps
Tuesday: leftover turkey lettuce wraps
Wednesday: ground turkey taco bowls with spanish cauliflower rice
Thursday: leftover ground turkey taco bowls with spanish cauliflower rice
Friday: burgers & fries
Saturday: dinner out
Sunday: steaks, sauteed mushrooms & sweet potatoes
Now share your meal planning tips!