Hosting a dinner party soon, and need a little inspiration? Keep reading to see how we incorporated a little Roll Your Own Sushi in this months dinner party effortlessly!
March was my month to host Supper Club this year! It's wild to think this is our 8th year of monthly dinners together!
Coming up with a new theme that hadn't been done yet was a fun challenge and I loved reading through all the ideas y'all shared with me! Since Supper Club fell on St. Patrick's Day I knew I wanted to incorporate lots of green, but I didn't necessarily want it to be my entire theme. Ultimately, I landed on a roll-your-own sushi dinner party with a simple and pretty green tablescape. This theme required a little more work than previous years but I didn't mind since I had extra time on my hands this year to pull it off and it was totally worth it for the fun and interactive dinner experience.
The Tablescape
The weather has been so up and down lately with lots of rain so I had set our dining room table for dinner the day before. However, on Supper Club day the weather was unexpectedly gorgeous so I uncovered our back porch dining table and quickly got to work scrubbing down all our outdoor furniture and pollen-covered porch railings. (Remind me next year to sign up for a month after all the pollen has dropped so I don't have to deep clean our outdoor space twice!)
Once the porch was sparkly clean, I transferred all of the dining room place settings outside and completed the tablescape with a festive Bells of Ireland centerpiece. I really loved how it turned out!
Pinched between the chopsticks at each place setting, I included a fortune cookie slip! I stumbled upon fortune cookies at the grocery store while in the sauce aisle and thought they would be a fun addition.

TABLESCAPE SOURCES
Signature Cocktail
Y'all know I cannot host a party without a signature cocktail! I wanted to come up with something unique and delicious that would pair well with sushi…and a margarita just felt right. I came across a handful of cocktail recipes that looked awesome and ended up adapting and blending a few recipes together to come up with the perfect Lemongrass Ginger Margarita (which I promise to share this week)! I will say, tracking down lemongrass was surprisingly difficult! I ran to several grocery stores before finding it at Whole Foods.
The margaritas turned out incredible and everyone loved them. They were crisp and refreshing with the perfect combination of lightly sweet and lightly tangy with a deliciously smooth finish. And I've made them several more times since Supper Club.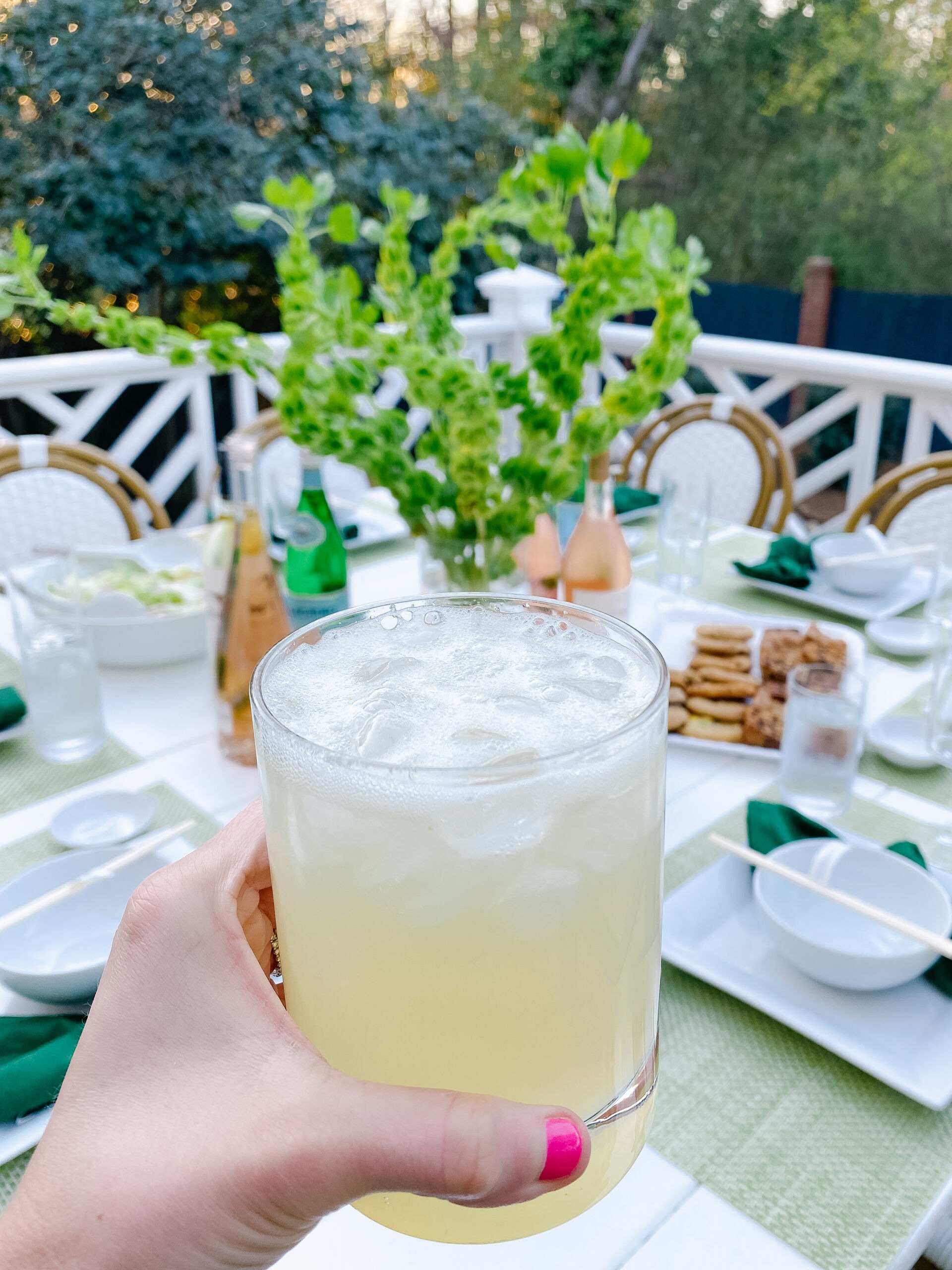 Appetizer
For my appetizer, I had printed out a few Asian-inspired recipes to make but ultimately realized I had slightly over committed myself with sushi prep and porch cleaning so I decided to outsource it last minute! Cowfish makes the best crab rangoon dip in Charlotte so I knew this would be the perfect party appetizer. The chef was awesome and packaged everything up separately for me so I could quickly assemble and bake the dip at home.
As I anticipated, we demolished this dip along with every single sweet chili sauce drizzled wonton chip in the bowl.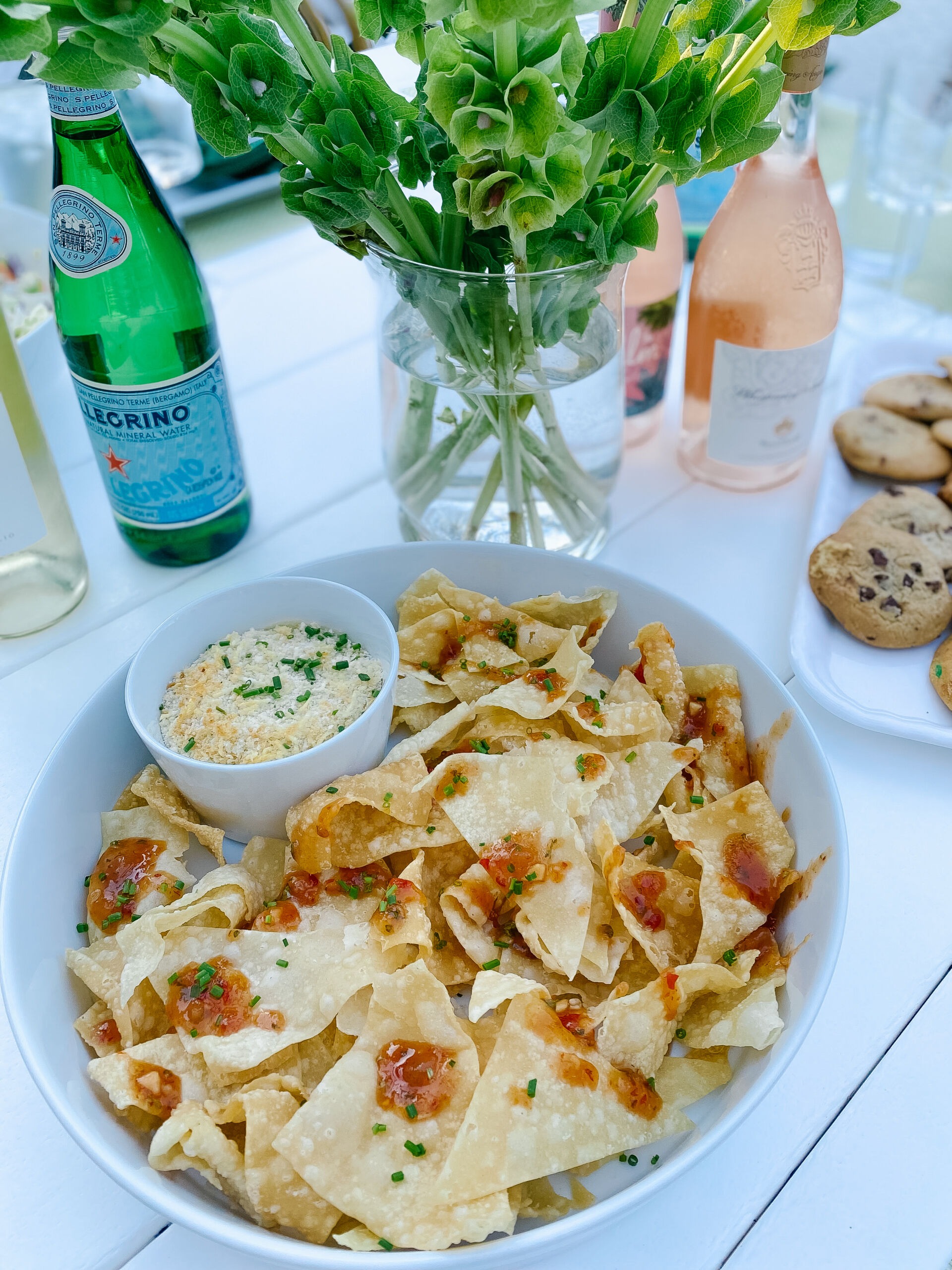 Salad
The ginger salad couldn't have been easier to toss together. In a large salad bowl, I added a base layer of chopped iceberg lettuce and topped it with a bag of garden salad, and served it with Trader Joe's ginger salad dressing.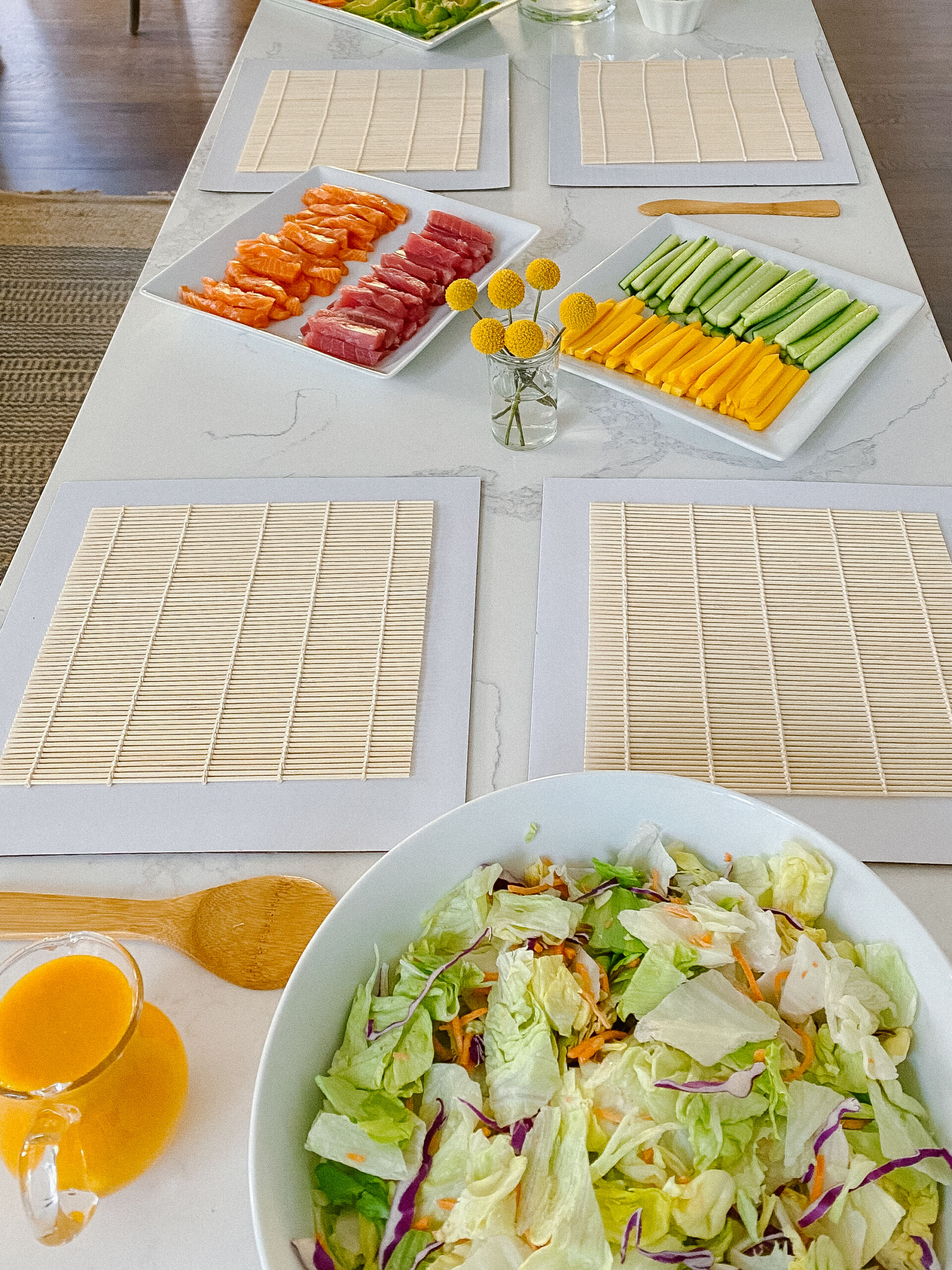 Roll-Your-Own-Sushi Dinner
For dinner we rolled our own sushi! I cannot tell you how much fun this was. Only a few girls had done this before so it was a new experience for most of the group and everyone really loved it. It was such a blast standing around the kitchen island together, passing plates of fish and veggies and watching each other create beautiful sushi rolls! And I was seriously impressed with how everyone's rolls turned out!
I received some messages asking for more details on how I pulled this together and to be honest, it was more challenging than I had anticipated. If you're looking to recreate this experience for your next dinner party, I'll give you a heads up that I ran all around town looking for sashimi grade fish until finally finding it at Fresh Market in Strawberry Hill! If you're local, you can also find it at Clean Catch in Myers Park, but you have to be willing to pay $65+ per pound. And two of the girls in our group later told me that they subscribe to Catch On Seafood Market (but unfortunately this delivery service isn't available in my neighborhood).
For our sushi fillings, I thinly sliced tuna and salmon, cream cheese, mango and avocado. I also included shredded carrots, sesame seeds and spicy mayo at our station. And at each place setting, I set out a sushi rolling mat on top of a 12″ cake board which worked out great.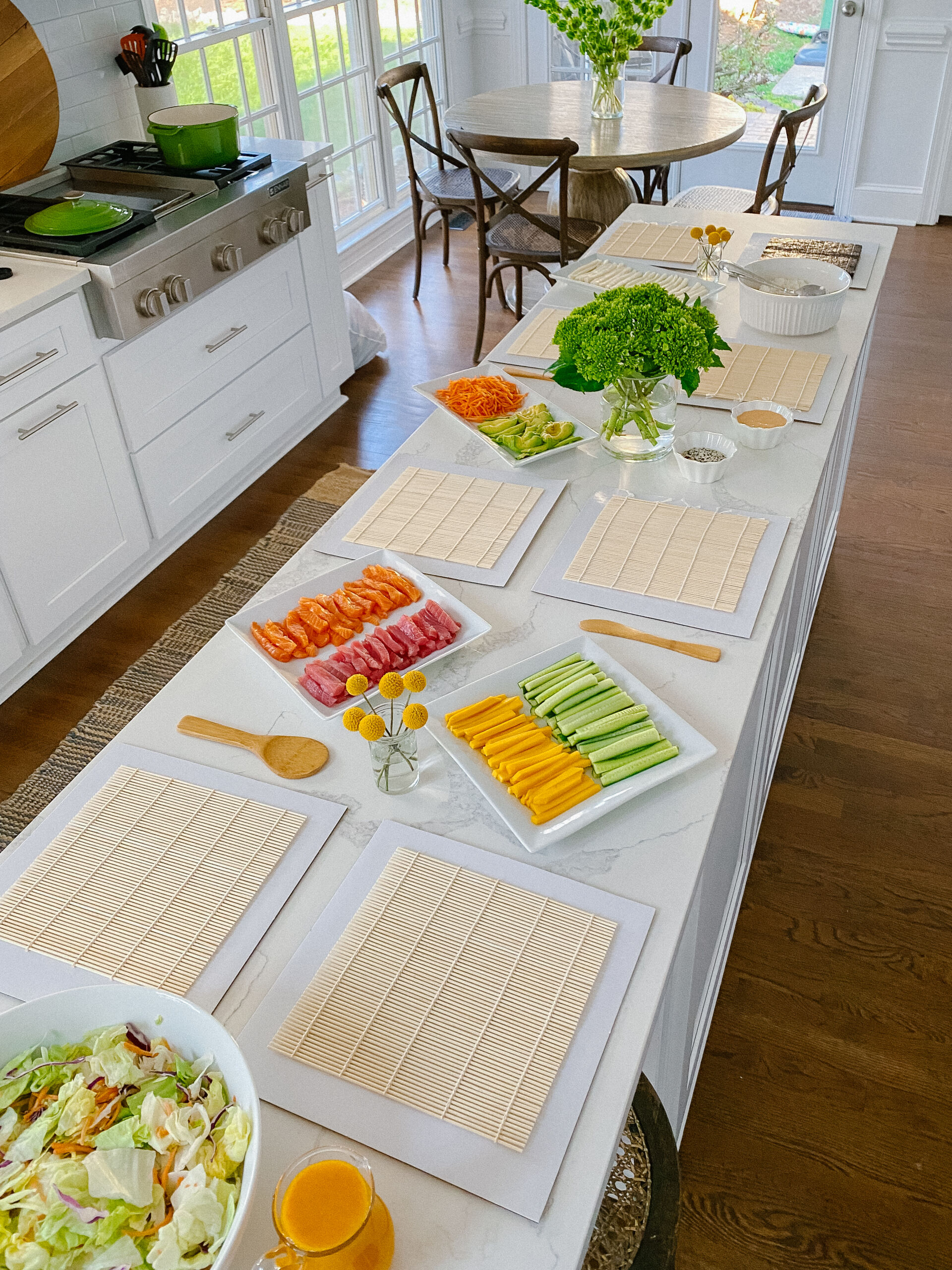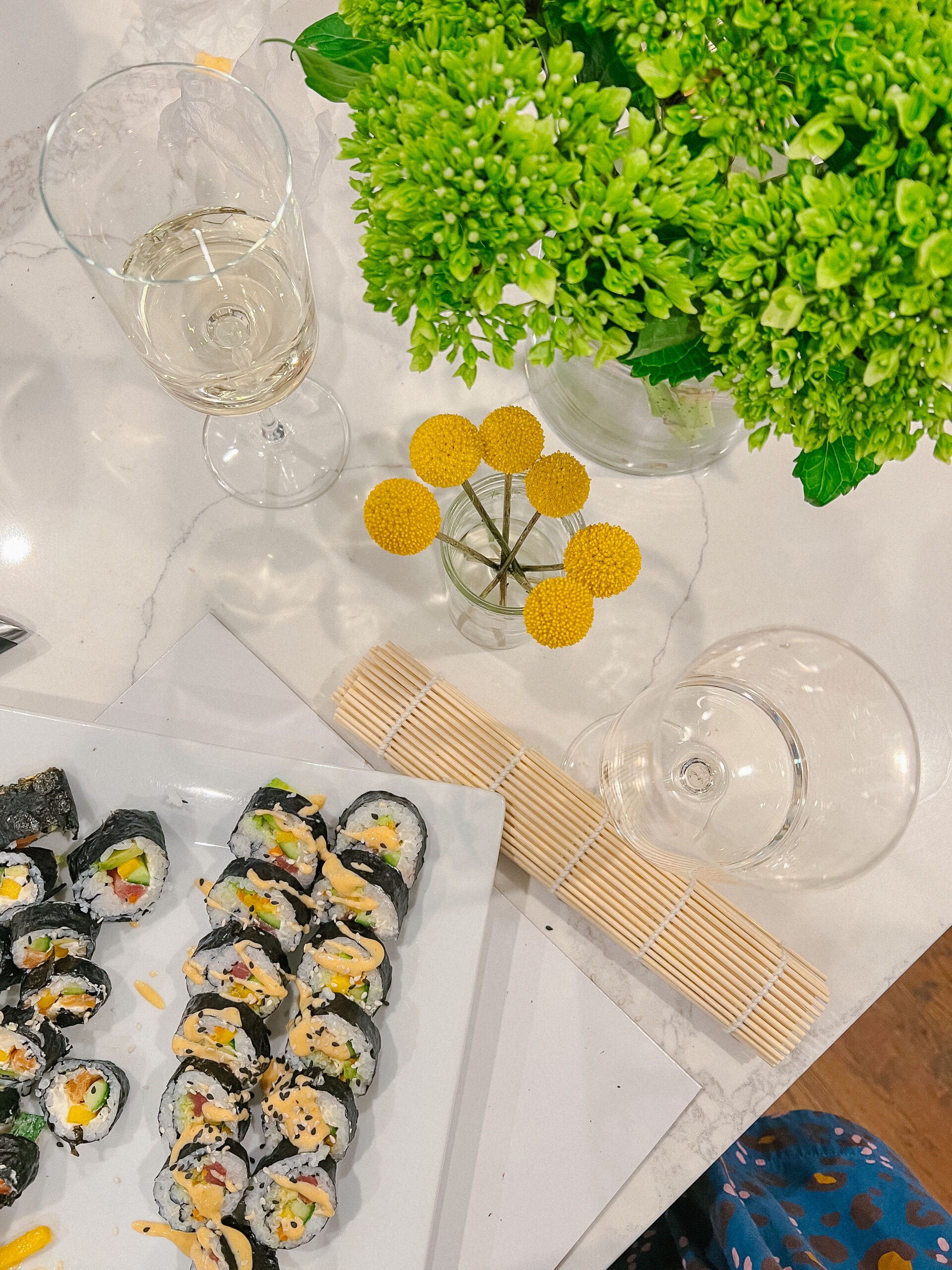 Dessert
For dessert, I served brownies and cookies from Tiff's Treats!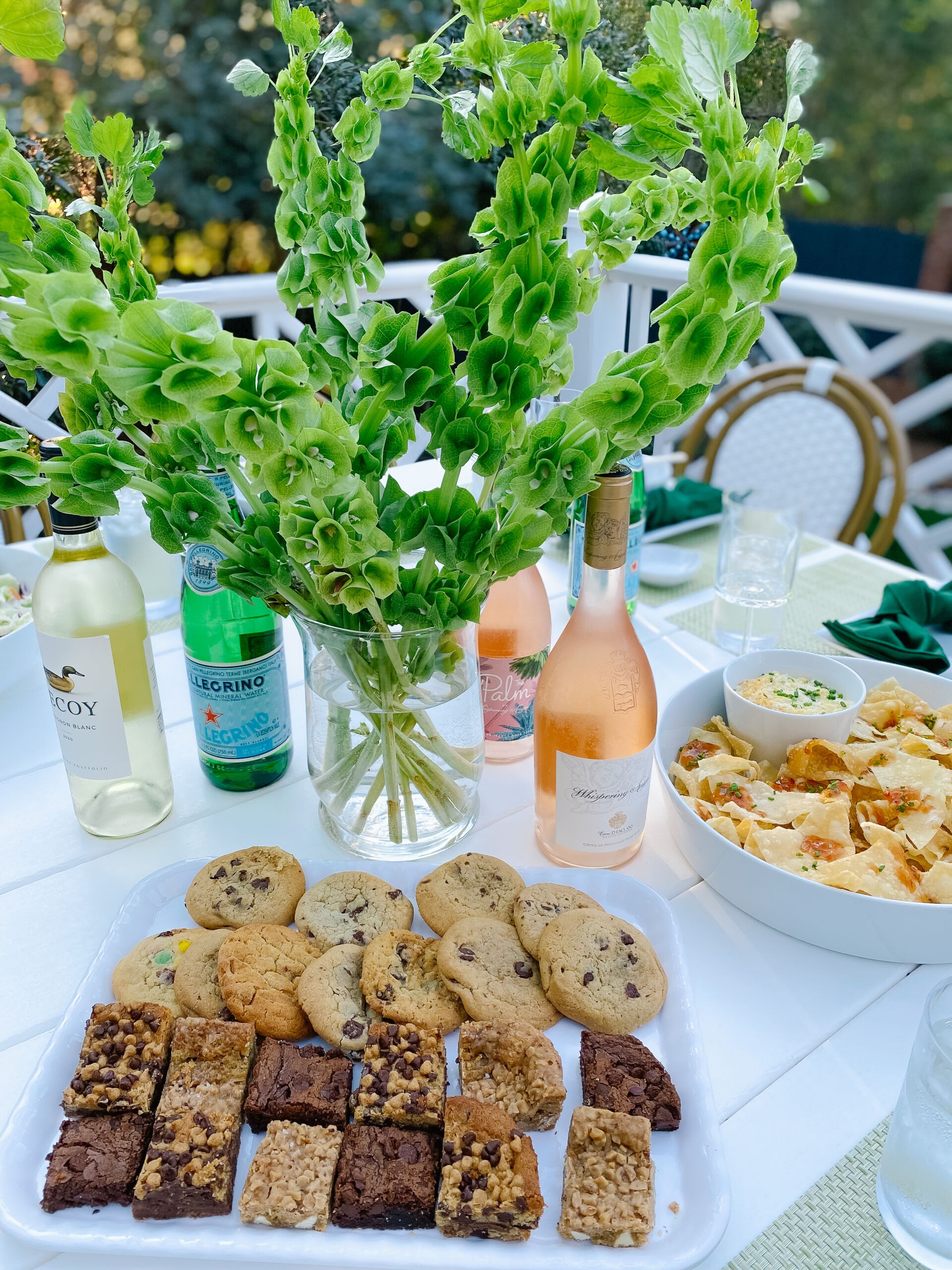 It was such a fun night and we had almost the full group for dinner — just missing Sara!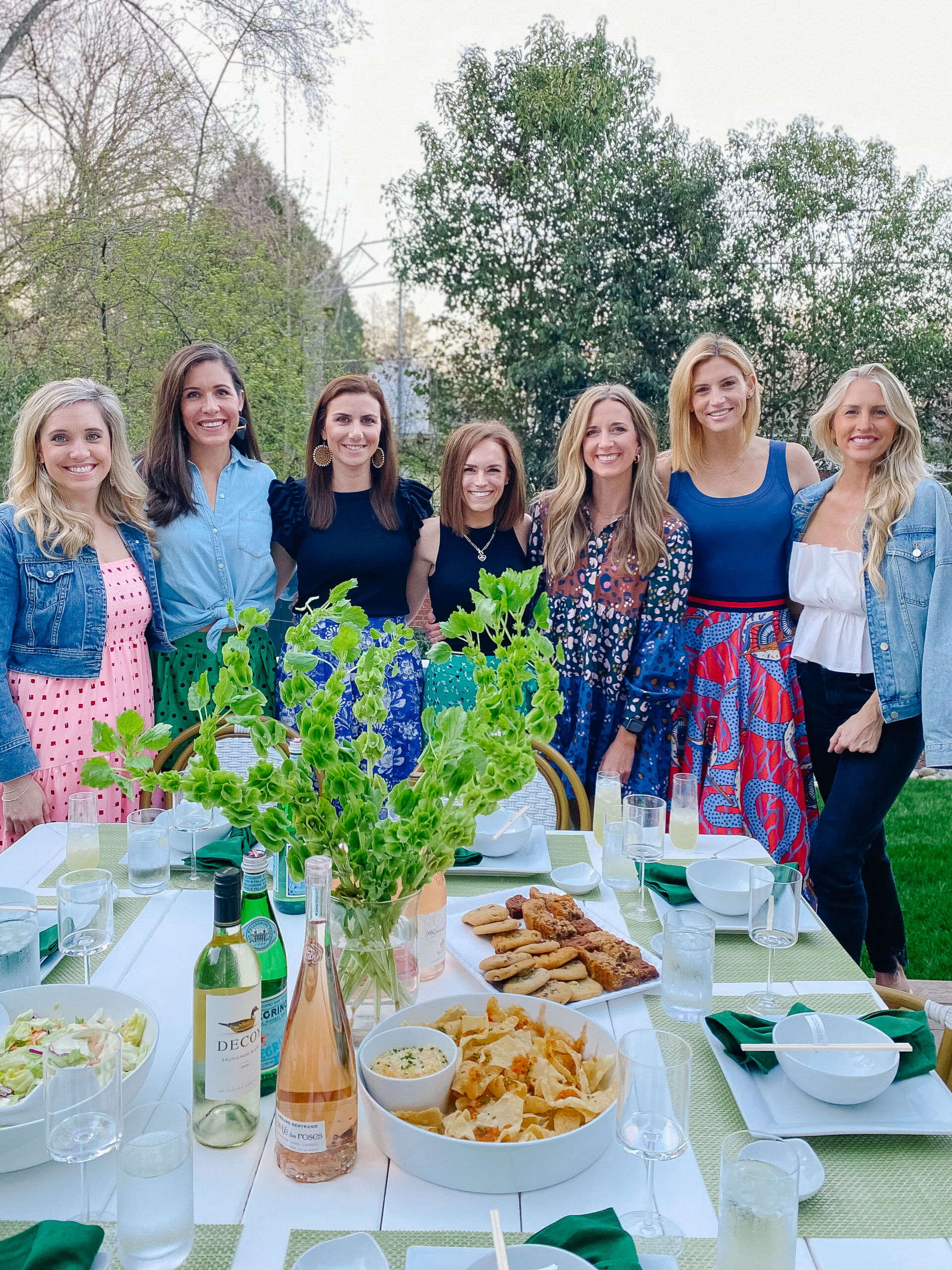 My Previous Supper Clubs