Last weekend we hosted our neighbors for a chili cook off!
It was a really competitive and fun food-filled party…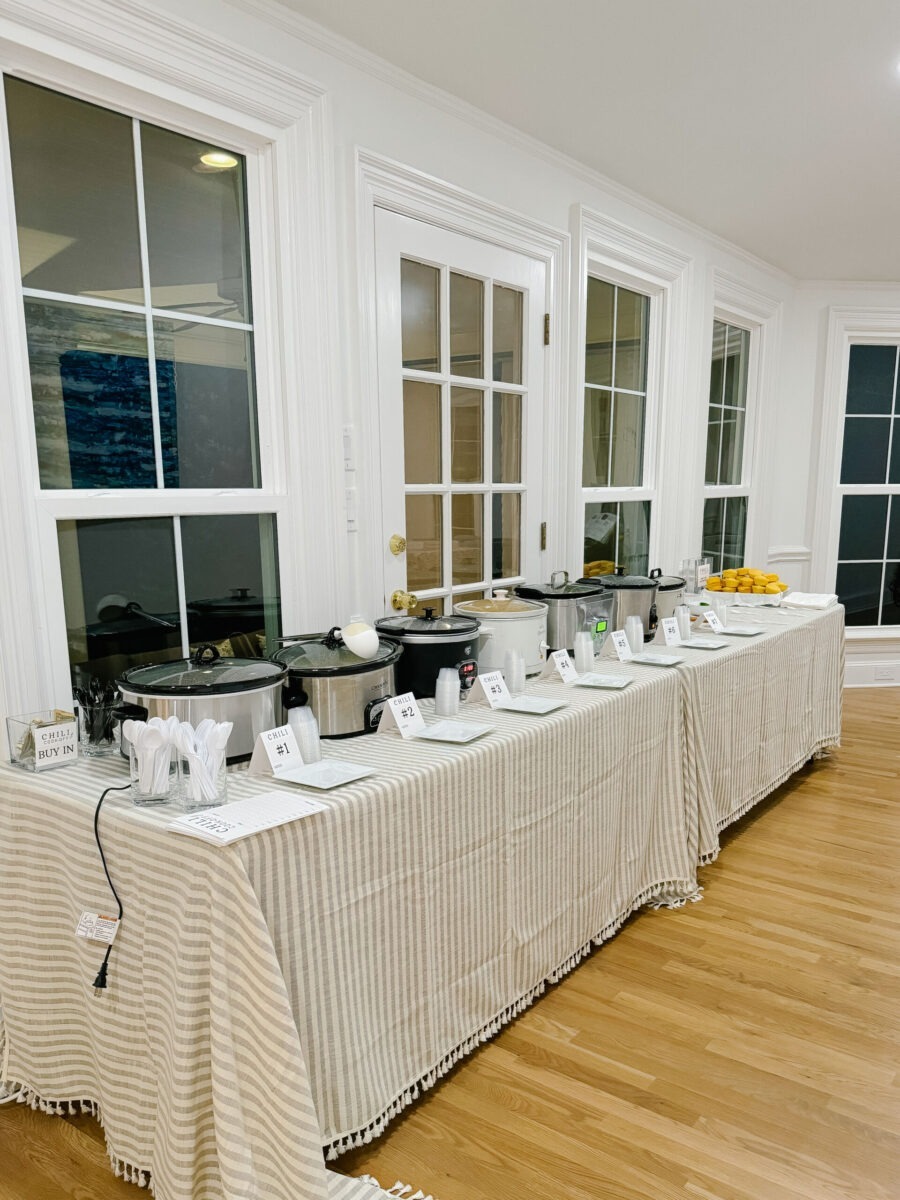 We invited 10 families which turned out to be a LOT of people once you include all the kids. Our original plan was to host the party outside but we ended up moving it inside to our sunroom since the weather was unexpectedly freezing (albeit perfect chili weather) and this space worked out great!
We ended up with 7 crockpots of chili entered into the competition — and all of them had a unique twist which made for a fun contest.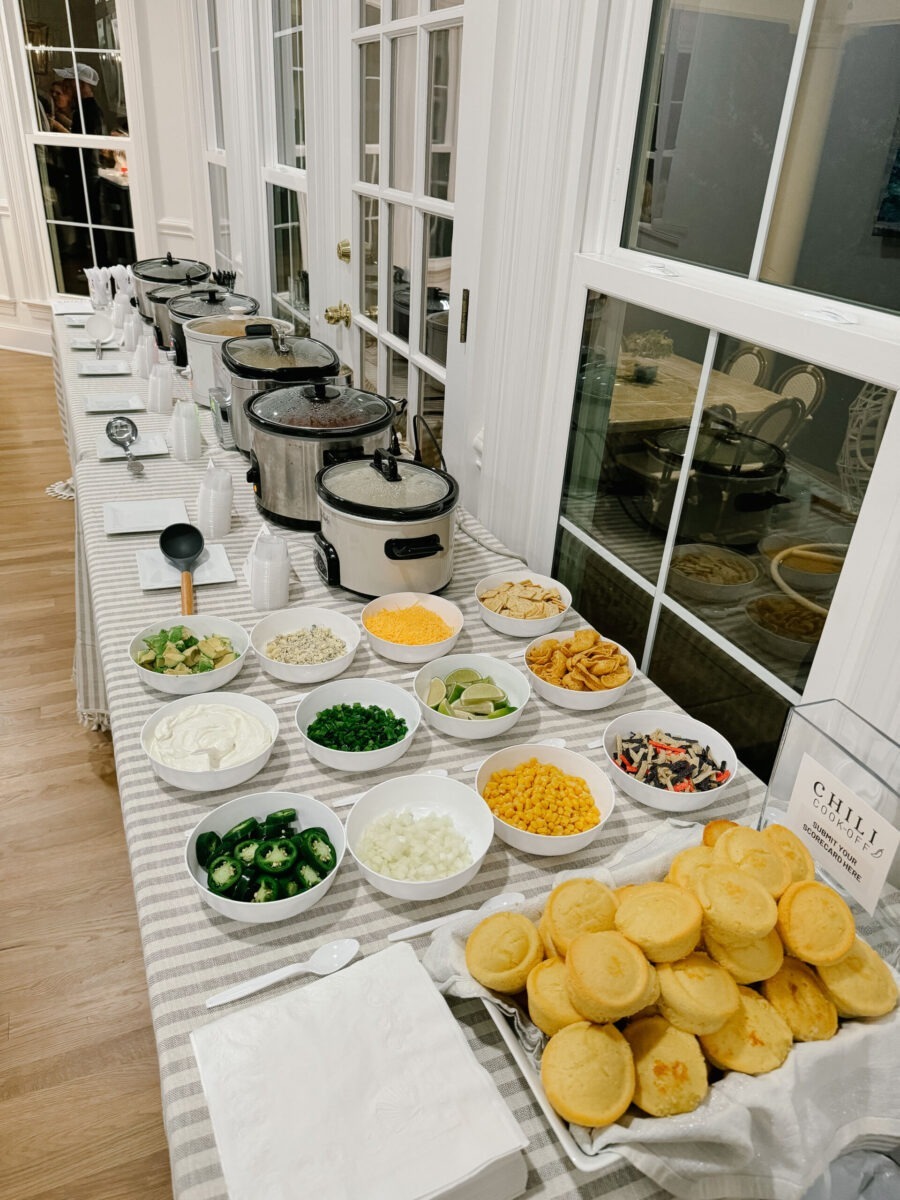 For the families who were unable to make a chili, they opted to bring apps and desserts which was hugely helpful. We also served hotdogs for the kids (although surprisingly most of them ate chili too)! And by midnight, every dish was wiped clean, including most of the pots of chili!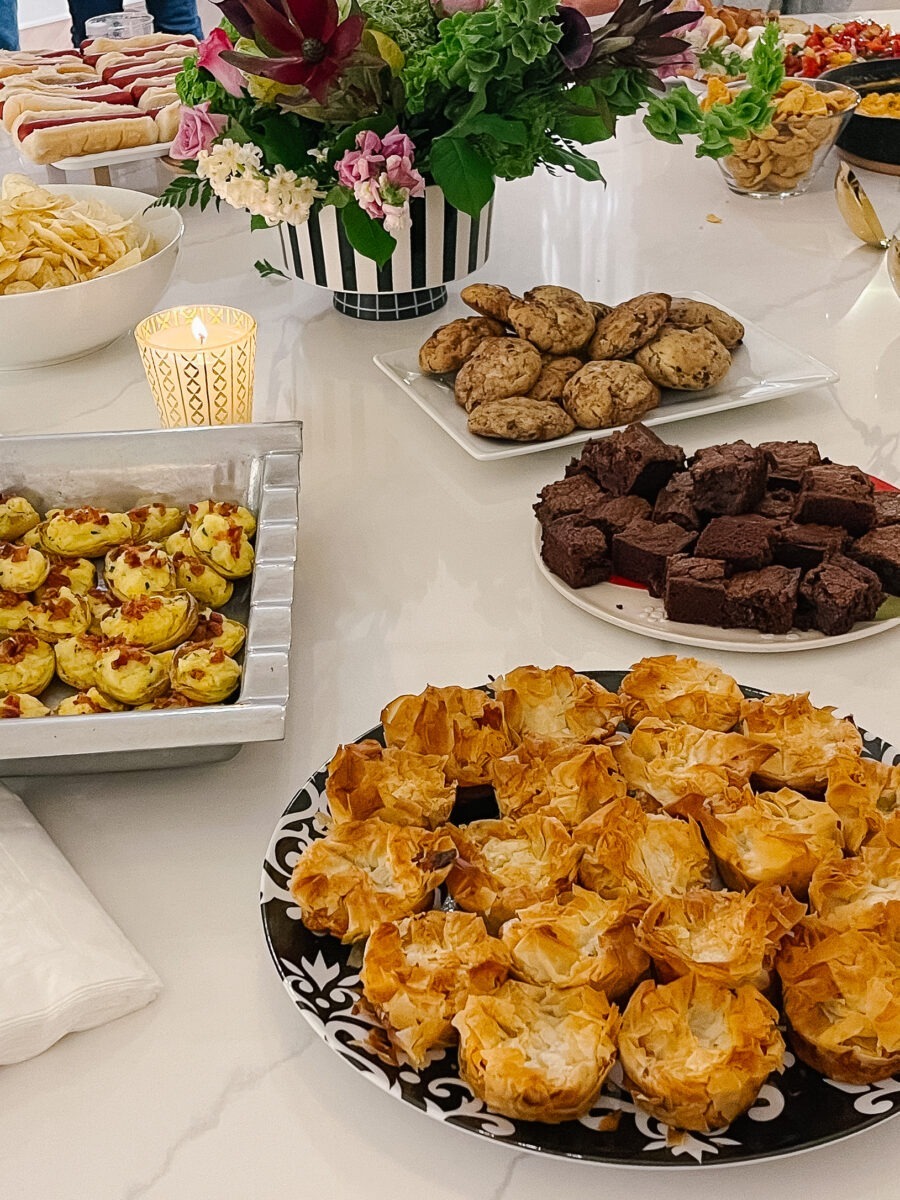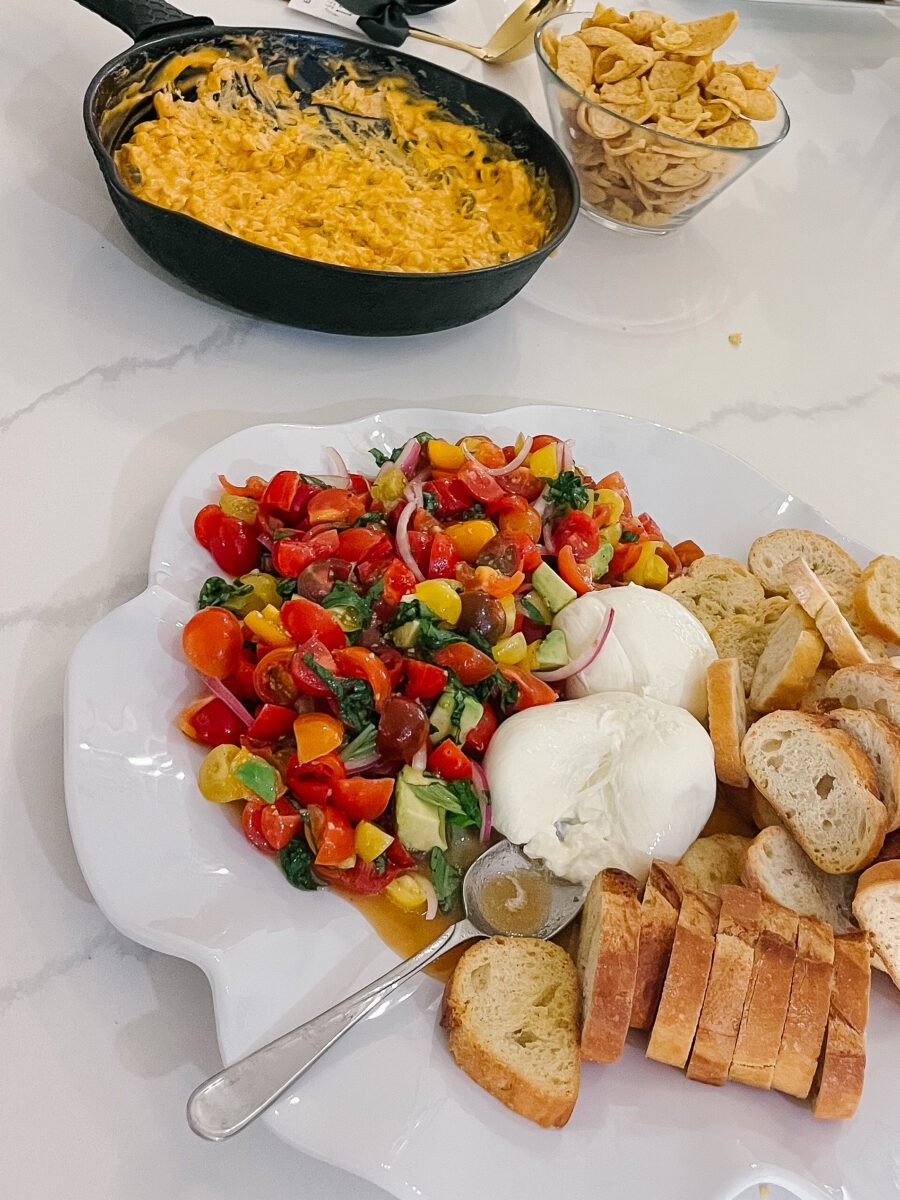 For drinks, we served Radio Haze on tap and a delicious cranberry mule punch for the adults. And for the kids, Caroline and I made a sparkling cran-apple punch (sprite mixed with cran-apple juice).
Cranberry Moscow Mule Punch
2.5 cups cranberry vodka (I used Deep Eddy's cranberry vodka)
1.5 cups fresh lime juice
3/4 cup ginger simple syrup (boil fresh (peeled/sliced) ginger with one 1 cup of water and 1 cup of sugar, steep for 30 minutes then strain)
4 cups ginger beer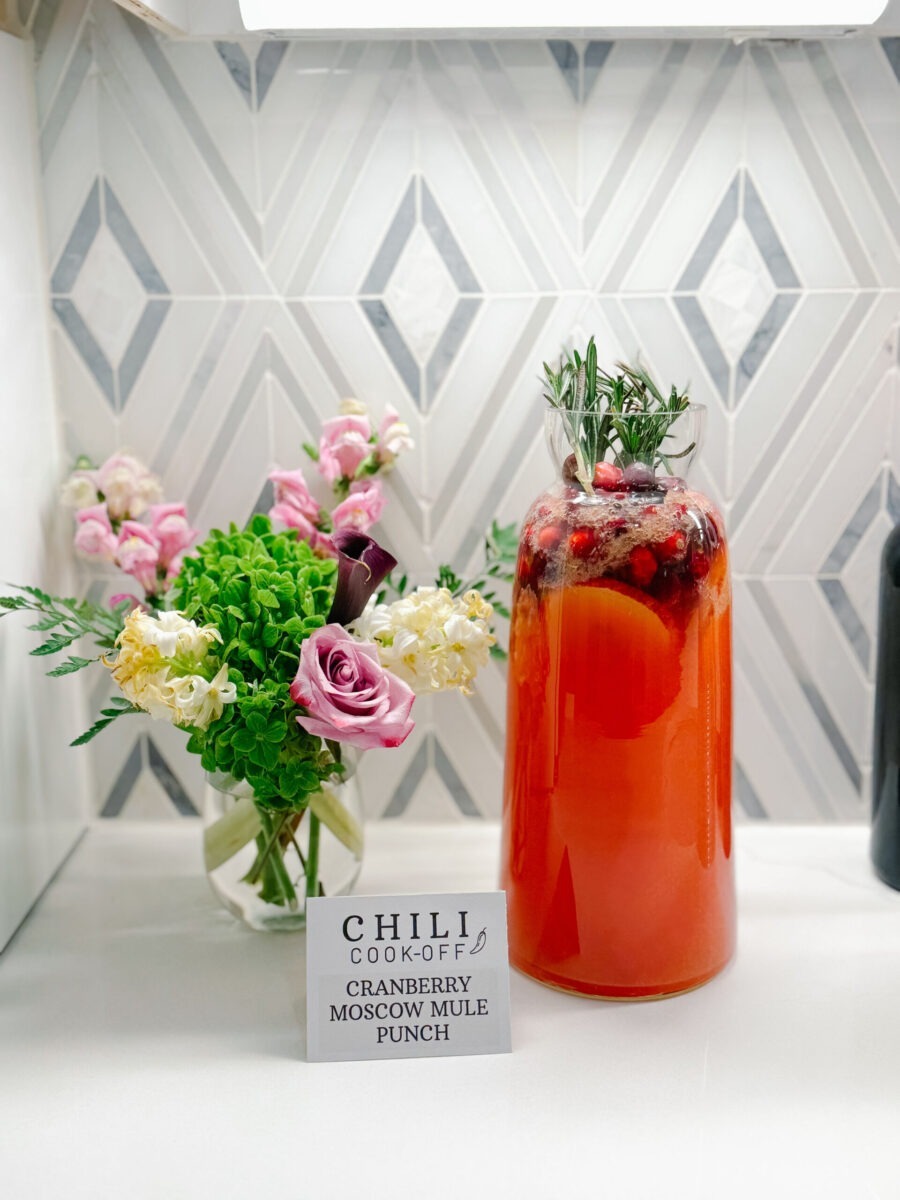 Ahead of the party, we asked each contestant to bring their chili in a crockpot and reminded them to bring a soup ladle and $10 cash for their buy in (the grand prize)!
For our set up, we used two folding tables draped in tablecloths. I purchased a roll of craft paper to run on top of the tables for spills but forgot to roll it out (highly recommend this to save your tablecloths from spills). We also had two power strips hooked up for all the crockpots and I set out small plates to serve as spoon rests.
As guests arrived they set their chili next to a numbered place card, added any serving notes (ex: serve with blue cheese and green onion), and plugged in their crockpot.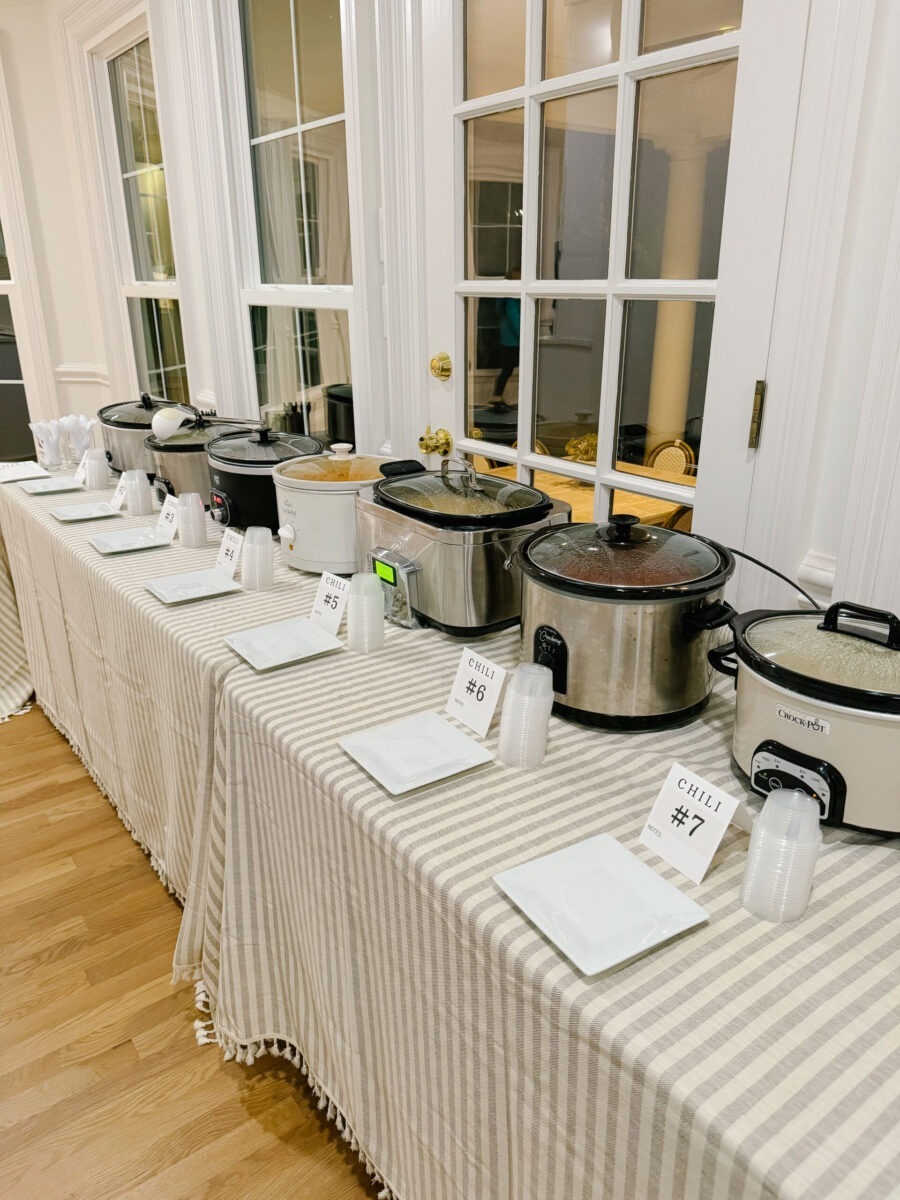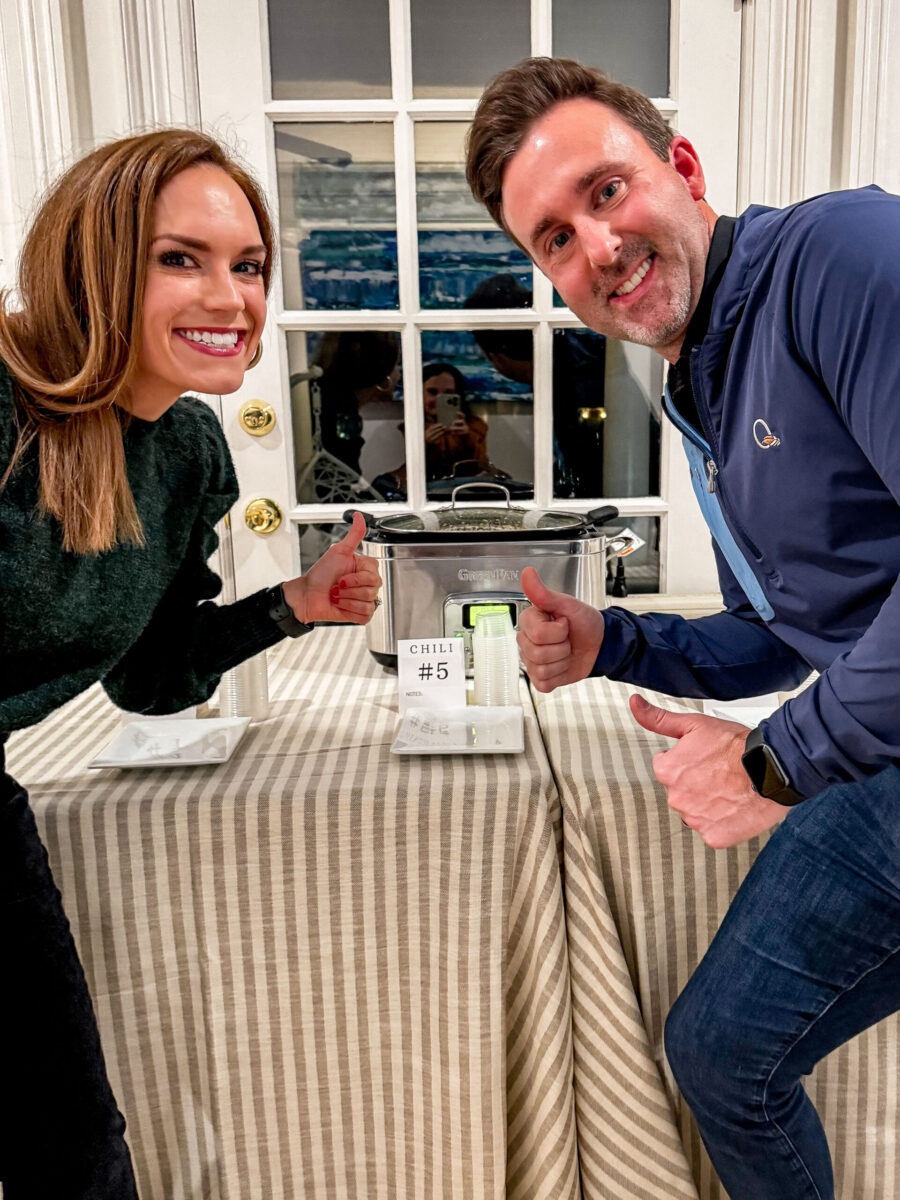 I also provided cornbread muffins and lots of toppings — avocado, blue cheese, cheddar cheese, mini saltines, fritos, tortilla strips, lime wedges, green onion, onion, sour cream, corn, and jalapenos.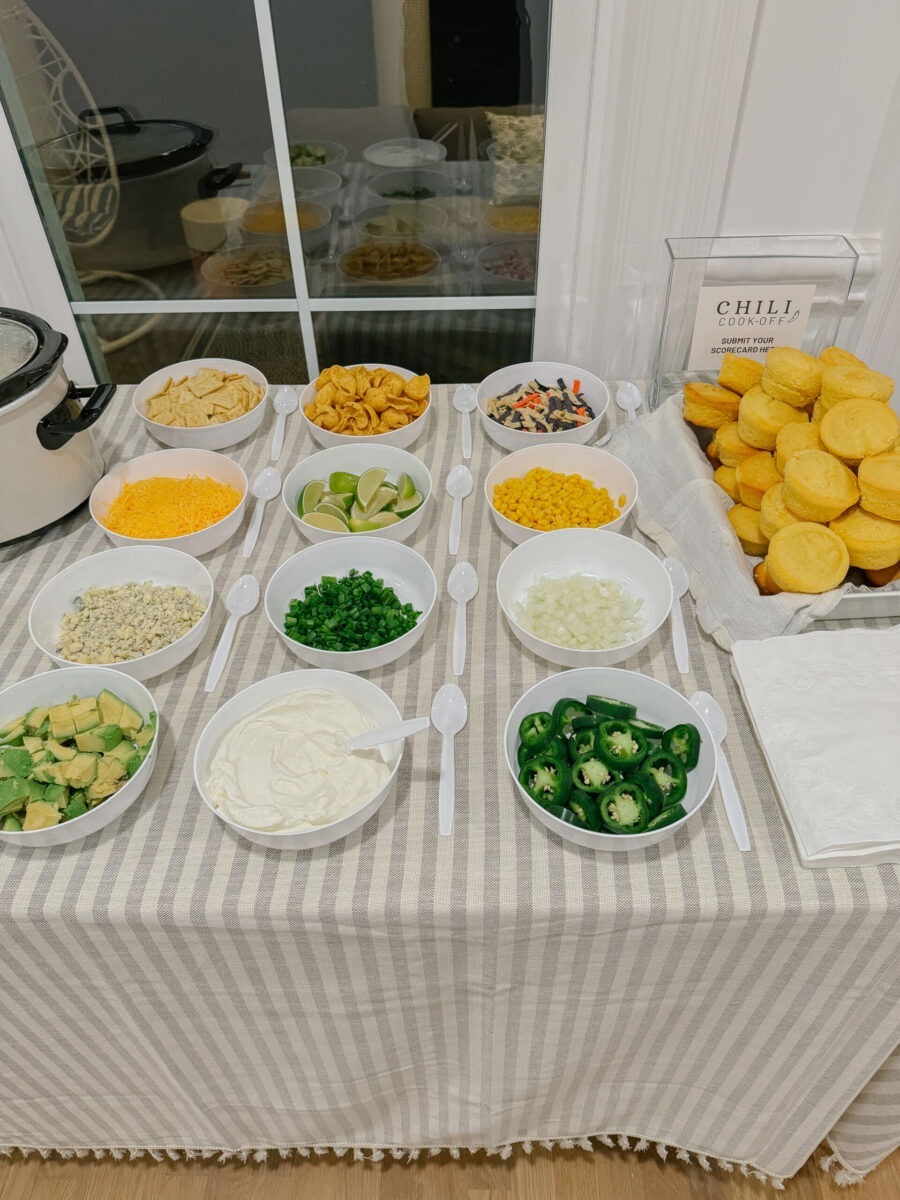 For the taste test, I made a scorecard ballot for guests to rank each chili and then select a winner, and provided lots of sample cups and disposable spoons. After the tasting was finished, I set out full size bowls for everyone to enjoy their favorite chili!
We kept the entries anonymous so guests would be honest — and boy were they HONEST. It was a hilarious night discussing who liked (or disliked) which chili.
At one point during the tasting my friend and I were unknowingly tasting each other's chili and both of us commented on them definitely not being the winner. And then we died laughing when we told each other which number they were.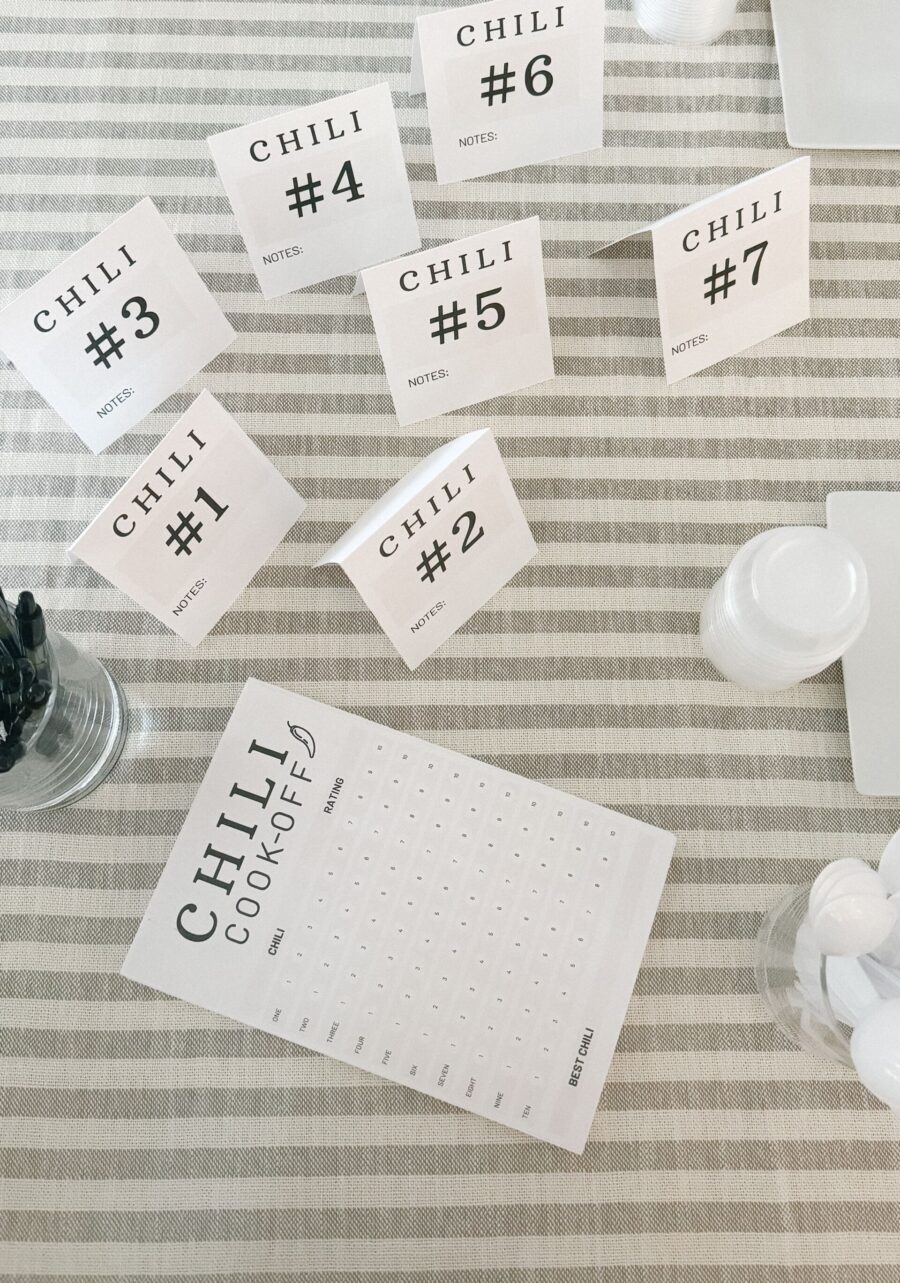 Once all the ballots were submitted (the kids voted too!), McKinsey and I tallied up the votes!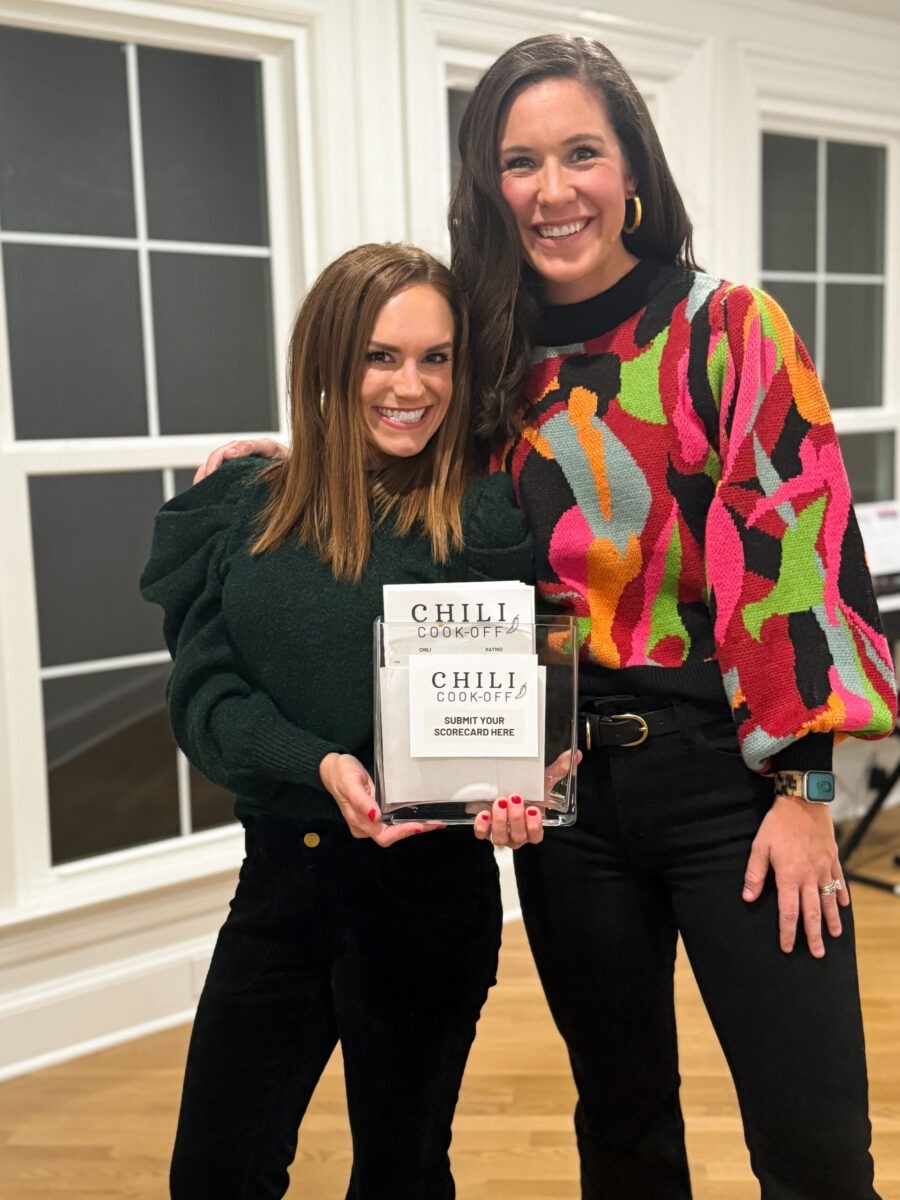 And we had a TIE! So we held a taste-off between the top two chilis to determine the winner! Megan and Ross won 1st place with their white chicken chili, Courtney and Matt took 2nd place with their traditional chili, and Bobby and McKinsey placed 3rd with their buffalo chicken chili! All the winners received gold ladles, but 1st place also received all the cash!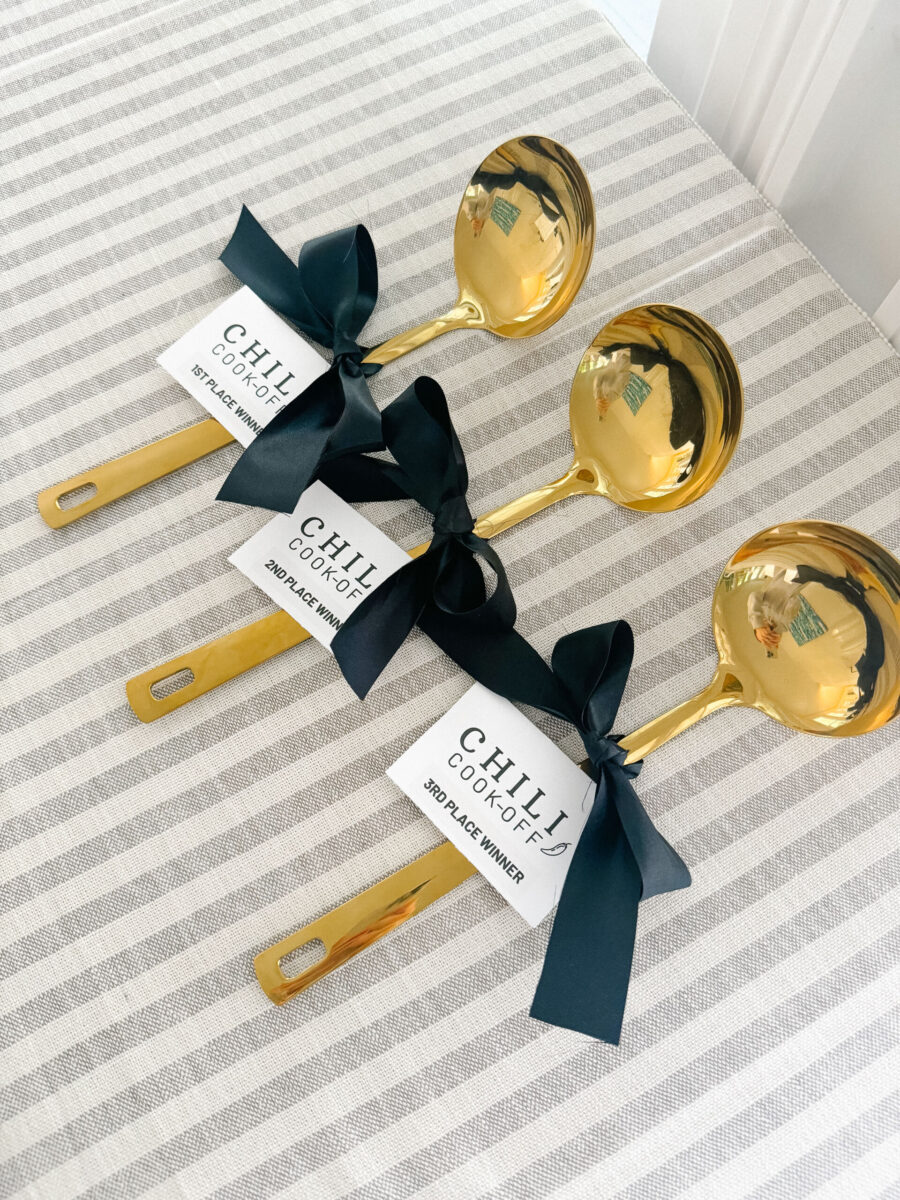 Here were the winning recipes:
Megan's 1st Place White Chicken Chili Recipe: "Saute 1 yellow onion in EVOO, then add butternut squash (pre-cubed, but cut even smaller), shredded rotisserie chicken, 2 packs of McCormick's white chicken chili seasoning, 2 cans white beans of choice, 1 can diced green chilis, 1 box chicken stock and 1 block cream cheese. Simmer for awhile."
Courtney's 2nd Place Chili Recipe: Brown 1/2-1 lb ground beef, 1/2 lb smoked sausage, 1 cup chopped onions, and 2 cloves garlic (chopped). Drain fat. Add 28 oz can dark red kidney beans (drained), 28 oz diced tomatoes, 1/2 cup ketchup, 1 tbsp chili powder, 2 tsp brown sugar, 1/2 tsp salt, 1 tsp brown mustard, and 1/2 cup chili sauce. Cover and simmer for 1 hour.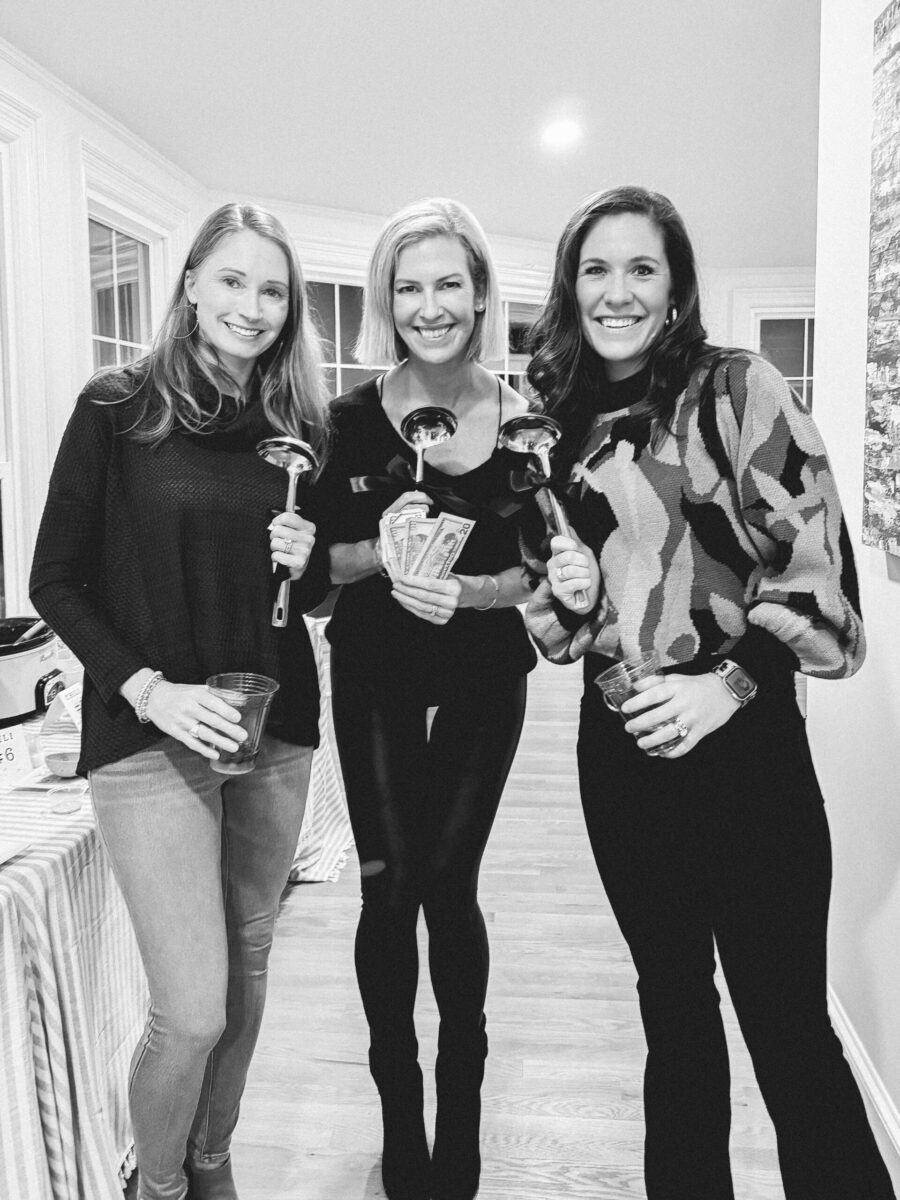 After the winners were announced, Bobby and McKinsey made an announcement. They secretly entered TWO chilis into the competition — their award winning buffalo chili…and WENDY'S CHILI! Everyone thought it was the most hysterical joke ever. Although they had hoped it would win, the Wendy's chili received ZERO votes. And NO, I had NO idea ahead of time!!!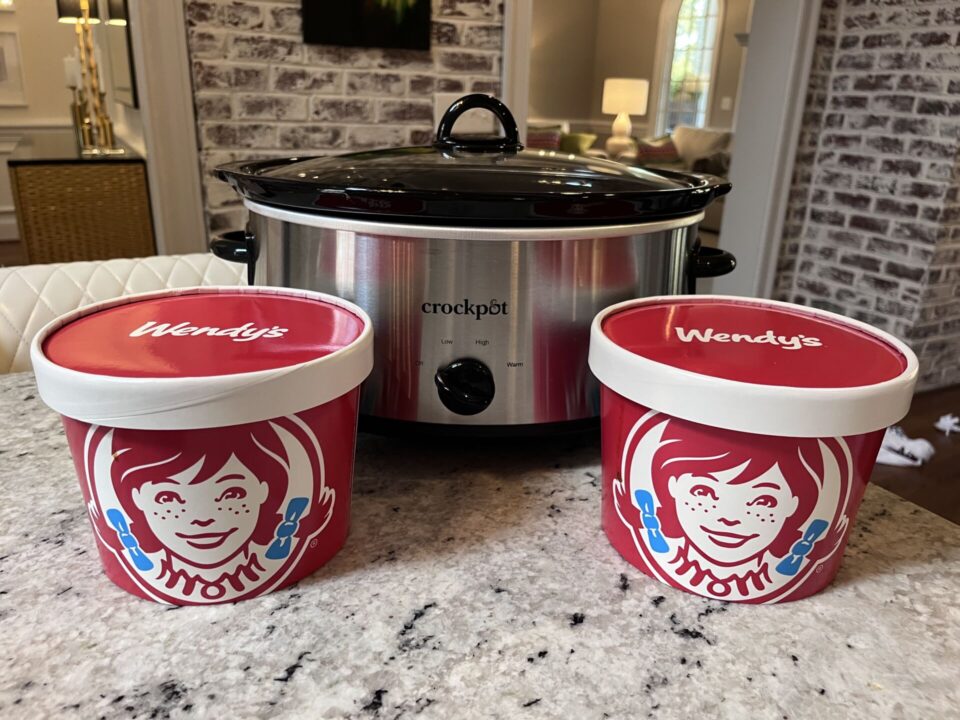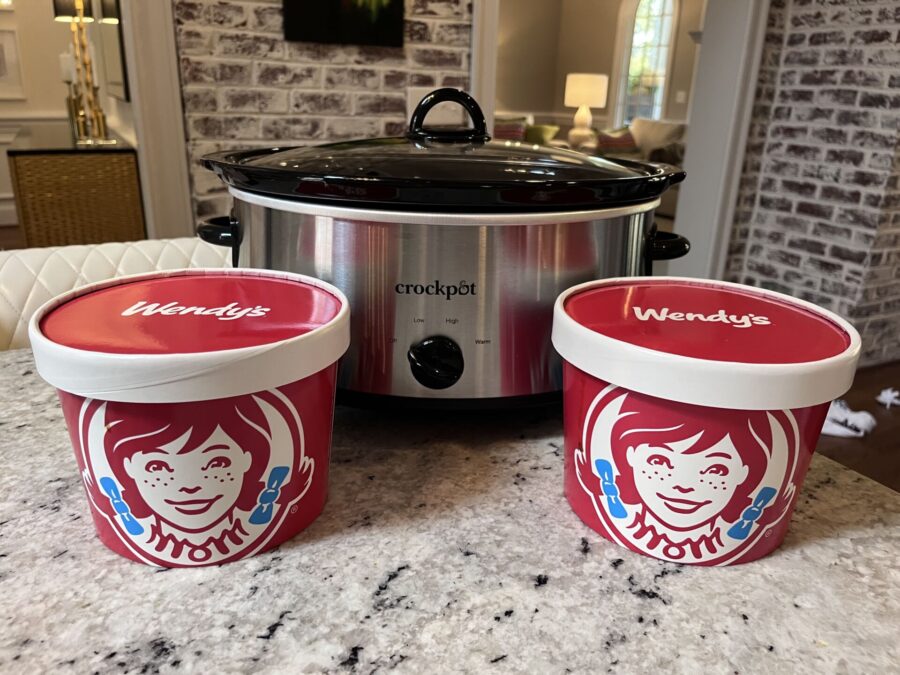 It was SUCH a fun, late, delicious, and hilarious night for the kids and adults. And we topped it off with party favors for our guests as they trickled out the door…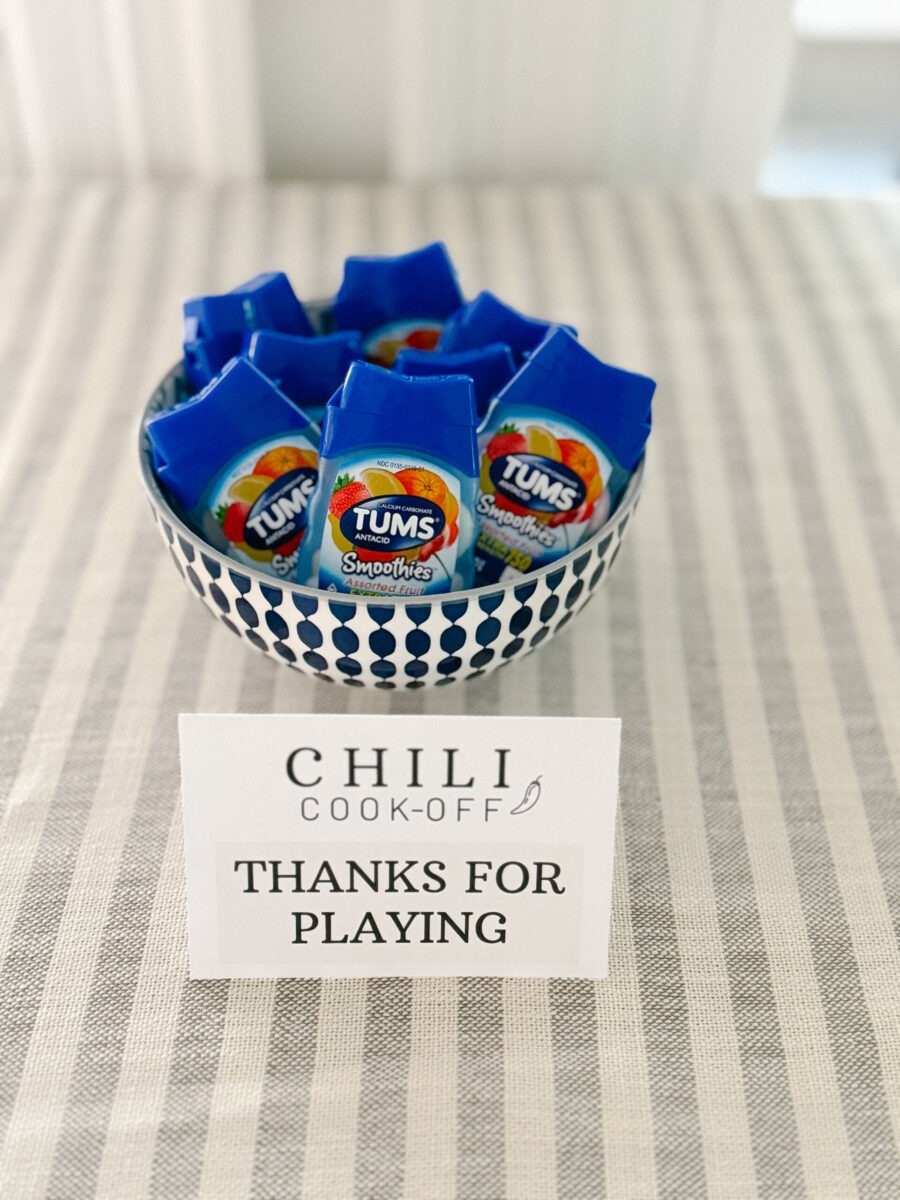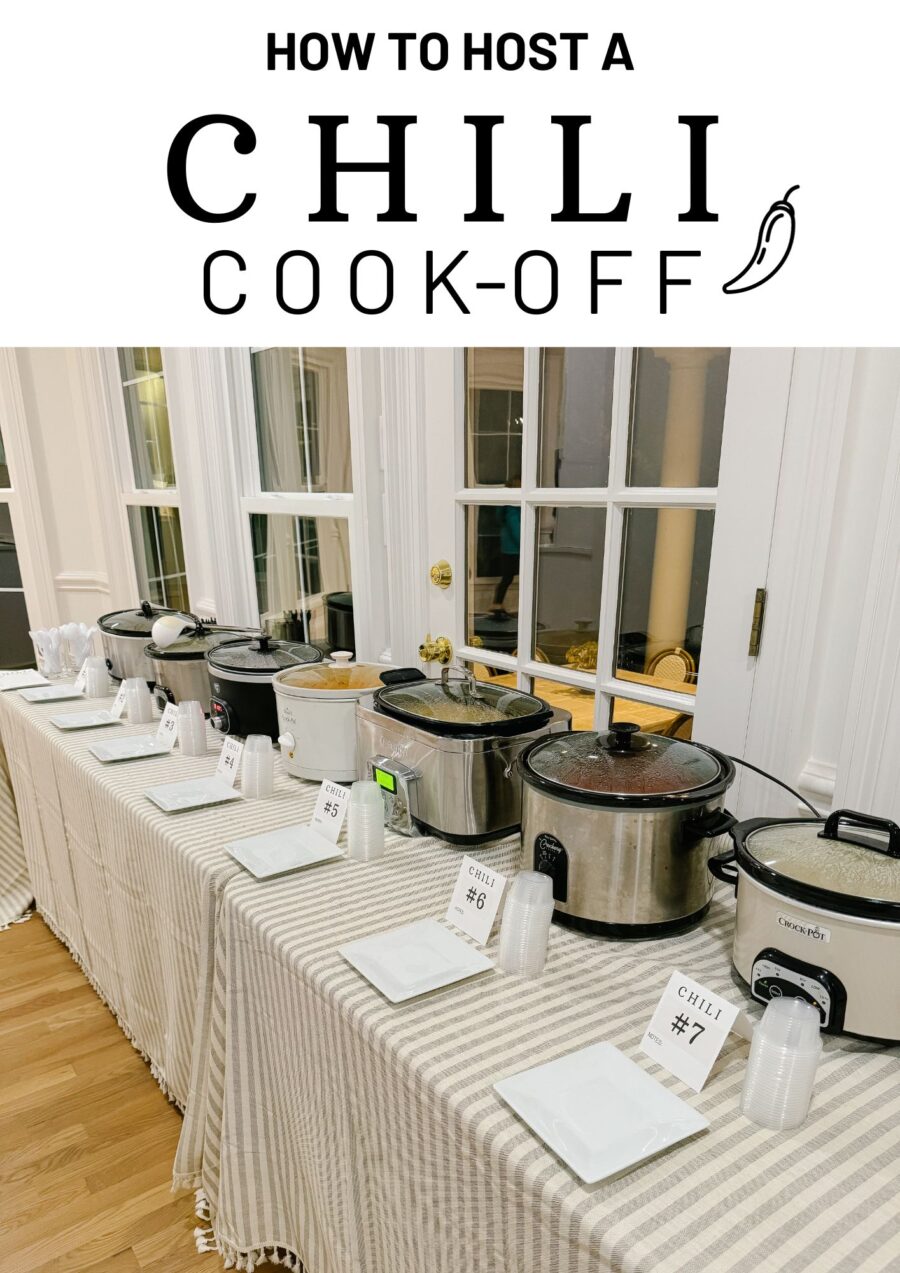 10 Tips for a Chili Cook Off
I promised some of you I'd share all the logistics and party planning tips for our cook-off. Here are my top 10 tips from our event:
Put money on the line. We required a $10 buy-in for each chili entered which made the contest even more fun and competitive. The winner got to take ALL.
Award prizes: Similar to above, the prizes were a hit! We gifted the 1st, 2nd, and 3rd place winner a gold ladle!
Chili optional: Our contest included 7 pots of chili and I think that was the perfect amount. Guests were not required to enter a chili to attend the party (see #4).
Contestant reminders: Remind contestants to bring their chili in a crockpot, a soup ladle, and cash if you're doing a buy-in!
Additional party food: Make sure to have additional food to nibble on besides chili, especially if there are kids coming. Those who couldn't make a chili on party day brought apps and desserts which worked out great. I also served hotdogs and chips for the kids who didn't want to eat chili.
Drinks: I love to create a signature drink for my events and my Cranberry Moscow Mule Punch went FAST! We also created a non-alcoholic punch for the kids. And then we had beer on tap and lots of wine too.
Equipment: You'll need folding tables, tablecloths, power strips, extra soup ladles on hand for participants who forget theirs, spoon rest plates, sample cups, disposable spoons and full size bowls.
Set-Up tips: Roll craft paper across your tablecloths — there will be spills. I purchased craft paper and forgot to roll it out! It also eliminates the need for numbered place cards. Just set out some sharpies for contestants to write out any serving notes (ex: serve with blue cheese and green onion).
Scoring system: There are lots of different ways you can do your voting system, including rating each chili by taste, texture, presentation, etc., but we decided it would be most fun to keep it simple. Our scorecard allowed each guest to rate each chili 1-10 and then decide which was their favorite. Here are the printables I made for the party: Scorecard ballot + Placecards. I highly recommend keeping your the submissions anonymous — it gives guests lots to talk about at the party.
Party favor: At the end of the night we gifted Tums as party favors and they were a huge hit!
Bonus tip: Secretly enter Wendy's chili. This joke is just too fun.