This is hands down one of the very best soups I have ever made. Matt requests this soup often and gives it a "15" on a scale of 1 to 10. You better believe our freezer is FULL of this stuff. Just make it. I promise it will not disappoint!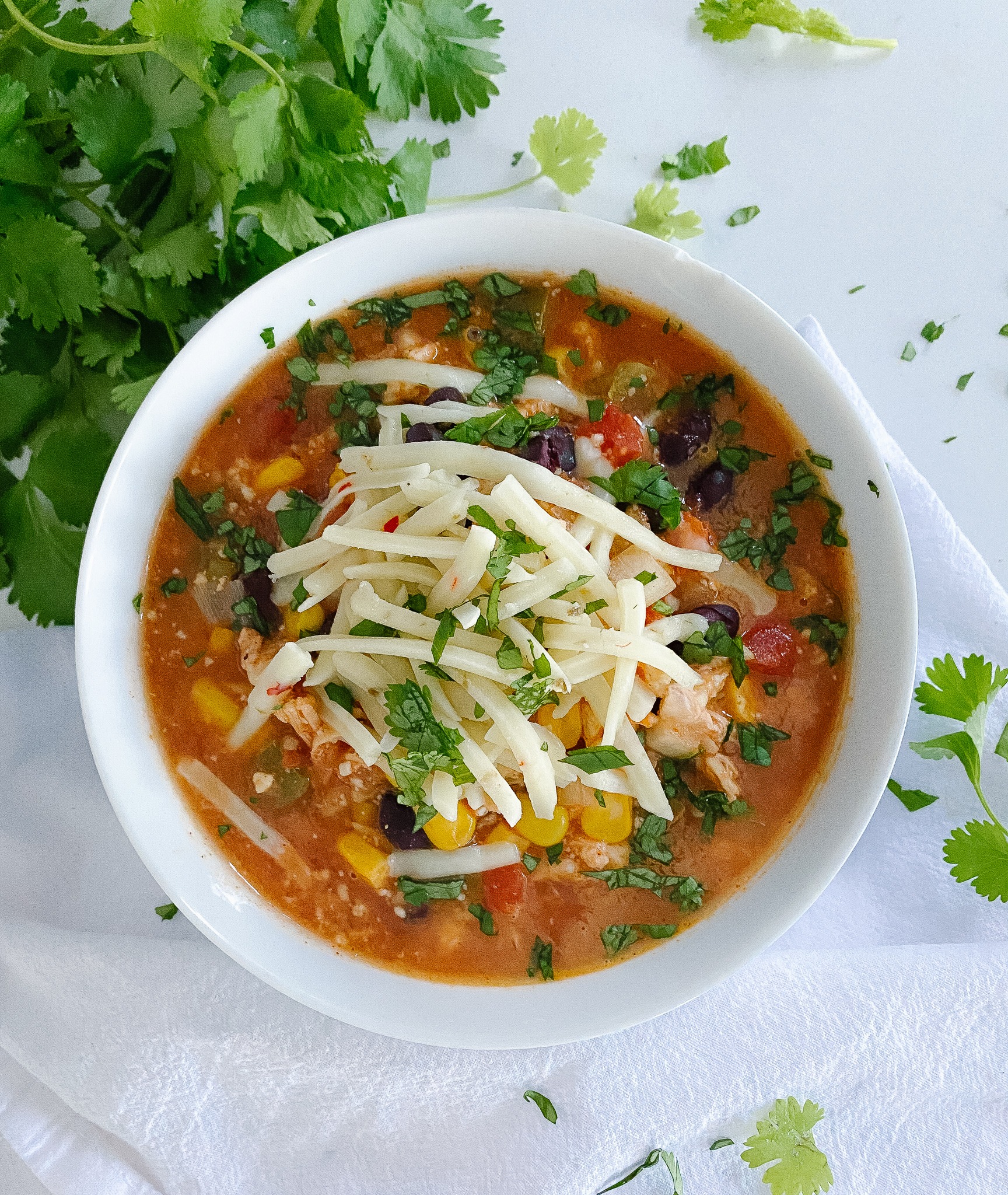 A note about Cotija cheese: Although difficult to find, you cannot substitute for another cheese. I visited 2 Harris Teeters and a Trader Joe's before finding it at an International food store. Charlotte friends, I found it specifically at Atlantic Farmers Market on Eastway but have since heard you can find it at select Food Lions, Whole Foods and Walmart!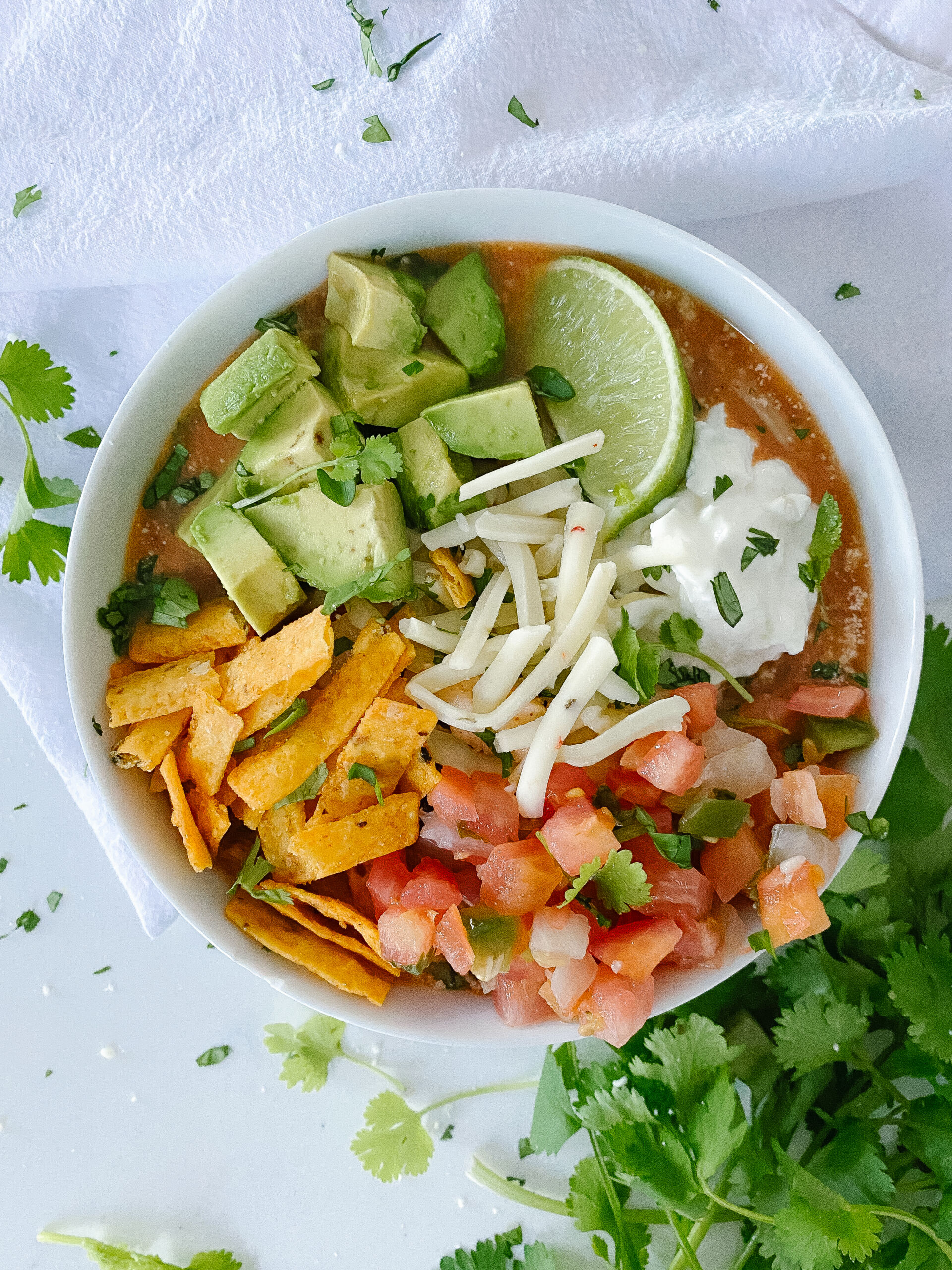 Crockpot Chicken Enchilada Soup
Ingredients
2 lbs chicken breasts
1 green bell pepper, diced
1 large onion, diced
4 cloves garlic, minced
1 15 oz can black beans, rinsed and drained
2 cups frozen corn
4-6 jalapeno peppers, minced (optional)
1 28 oz can diced tomatoes
3 cups chicken stock
1/2 cup tomato paste
2 tsp ground cumin
2 tsp chili powder
1/2 tsp cayenne pepper
1 cup cotija cheese, crumbled
1 cup pepperjack cheese, divided
cilantro, chopped (for garnish)
Instructions
1. In a crockpot, place chicken breasts. Add onions, peppers garlic, corn, diced tomatoes, chicken stock, jalepenos (if using), tomato paste and black beans.
2. Stir in cumin, chili powder and cayenne pepper.
3. Cook on high for 4-6 hours or longer for maximum flavor.
4. After 4 hours remove chicken from crockpot and shred with two forks. Stir chicken back in.
5. During the last 30 minutes of cooking, add Cotija cheese, Pepperjack cheese and cilantro (reserving some to top individual bowls, if desired). Stir to melt. If soup isn't as thick as desired, you can add strips of flour tortillas. They will dissolve into the soup to thicken the broth.
6. Top with remaining cilantro and serve with tortilla chips!
*If freezing, stop after step 4! Do not add the cheese or cilantro.
Notes
Want to make this soup quicker? Follow these original stove top directions:
In a large stockpot, add chicken stock and heat over medium heat. Add chicken breasts, cumin, chili powder, and cayenne pepper. Simmer about 20-25 minutes until chicken is cooked through. Remove chicken, shred and set aside. Add tomatoes, jalapenos, bell pepper, onion, and garlic to the pot. Simmer about 30 minutes covered until tomatoes have begun to break down. Add black beans, corn, and tomato paste and stir to incorporate. Add cotija cheese and pepperjack cheese and stir to melt. Return chicken to soup and cook about 20 more minutes. Top with cilantro and serve with tortilla chips.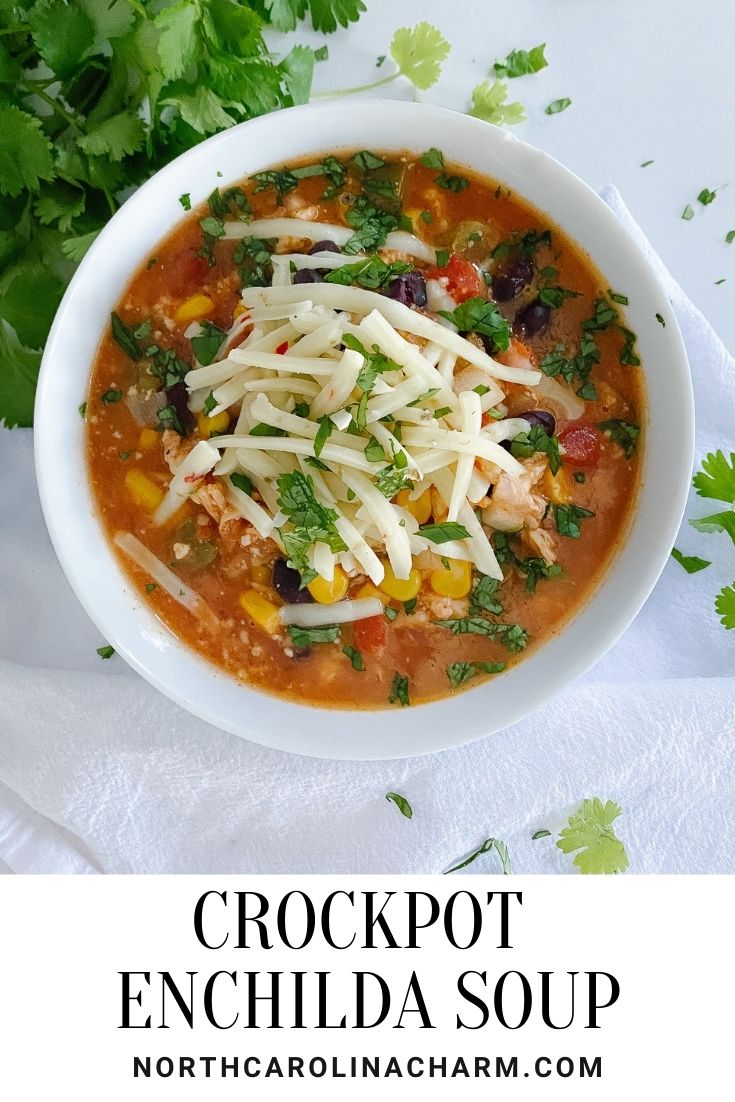 *post updated 12/27/20