One of the first things we did when we moved into our home was have custom bookcases built in our family room. When we toured the home, Matt and I both agreed book cases were an absolute necessity for the room. They house our media equipment, toys, DVDs, open up our space tremendously and well, they are gorgeous. Even though I am constantly tinkering with them, I finally decided to call them "finished"…for now, and blog about them!
Let's start at the beginning with before pictures of the space. Oh, and you can find my inspiration board here.
And if you want to go even further back, this was a picture I took when we first toured the house!
So once we finished all of our bigger, more urgent projects, we moved on to the built ins project. I totally underestimated how hard it would be to find someone to build these in Charlotte. All of the referrals I called were booked out at least 6 months! And we are impatient people so I continued to search and search until one day we received a postcard in the mail from Custom Features Inc., Matt called them up, and they arrived the next day to sketch out some built ins for us. Once we agreed on a design and finalized all of the details (height, number of shelves, number of doors, etc.), the company began building them out in their shop! On install day they brought all of the pieces and installed them in just a few hours.
To save some money on the project we decided to paint them ourselves. I mean, Matt decided to paint them himself…over many, many, many weekends, which is exactly why we normally outsource things like this. But all his hard work paid off! They are gorgeous.
I have so many favorite items scattered throughout our bookcases. One of my very favorite items is our wedding invitation that my MIL had framed for us.
My Grandma (who I was extremely close with) passed away when I was in college. She was a collector of keys! She had them beautifully displayed in their beach condo and now I have 1/8 of her collection displayed in our bookcases. And yes, this was such a TINY portion of her collection. Hers was massive.
This one needs no explanation. Miss him every single day.
Both my Grandma and my Mom collect seashells. Mom received a lot of Grandma's collection and I have begged for and received some of my favorite shells from mom for our home!

And for fun, a side by side of the before and after!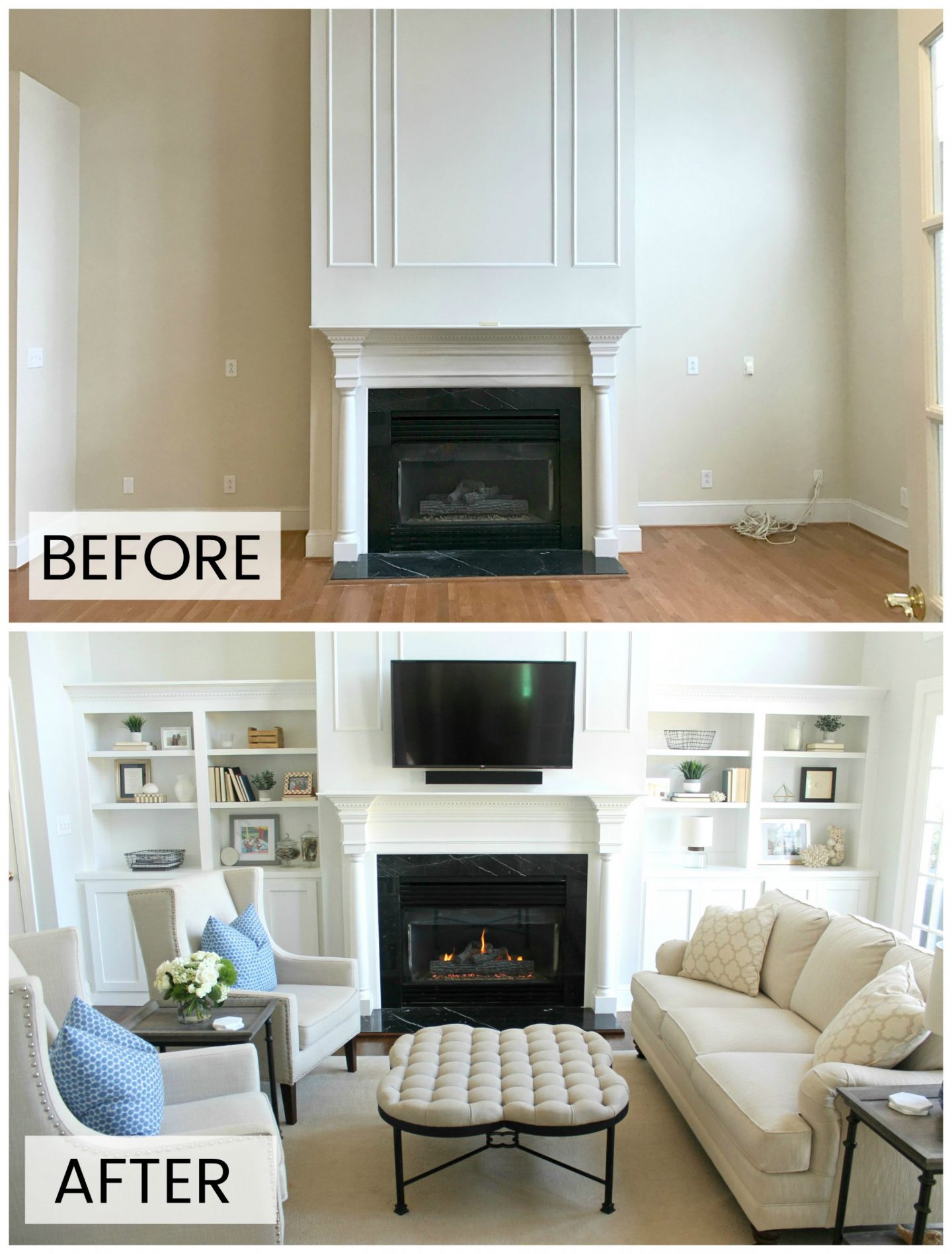 It's amazing how much the bookcases transformed this room!
You can find all our family room sources here!