Happy Friday!
Later today we are picking up the kids from "Camp Mimi & Grandad" (where they've been since Sunday)! It was such a weird week not having them home. In fact, Matt and I have never been home alone without our kids for more than a night, so having the house all to ourselves for several nights was so…strange…and clean! I'm not gonna lie, I was an anxious mess at first because of Thomas's contacts, especially since the camp they were attending included swimming each day (where he is most susceptible to losing a contact).
To be honest, this summer has been pretty brutal on the contacts front. Over the past few months, Thomas has ended up in the Nurse's Office after losing a contact to the pool numerous times, which requires me to drop everything and clear my calendar to run up and put a new one in (he can remove them himself but cannot put a new one in on his own). So while he was away this week I kept reminding myself that if we had a contact emergency I could get to him in 90 minutes…and thankfully we didn't have ANY issues!
1. Camp Mimi & Grandad
The kids had an absolute blast getting spoiled all week by their grandparents. And Matt and I were suuuper grateful to his parents for keeping them during the hardest week to find a summer camp in Charlotte (lots of schools are already back in session)!
So while the kids were away, we had the luxury of working late when we needed to (and without having to break for carpool pick-up), make dinners the kids wouldn't like, tackle some items on our to do list in the evening (like cleaning out toys, scrubbing the walls with magic erasers, etc.), sit down for a lengthy budget meeting without interruptions, and stay up late watching TV in the family room without worrying the kids would be sneakily watching over our shoulders from upstairs. And since we didn't have to worry about a babysitter, we even played 9 holes of golf one night after work! So it was a fun and productive week, but we are so ready to go get our babes later!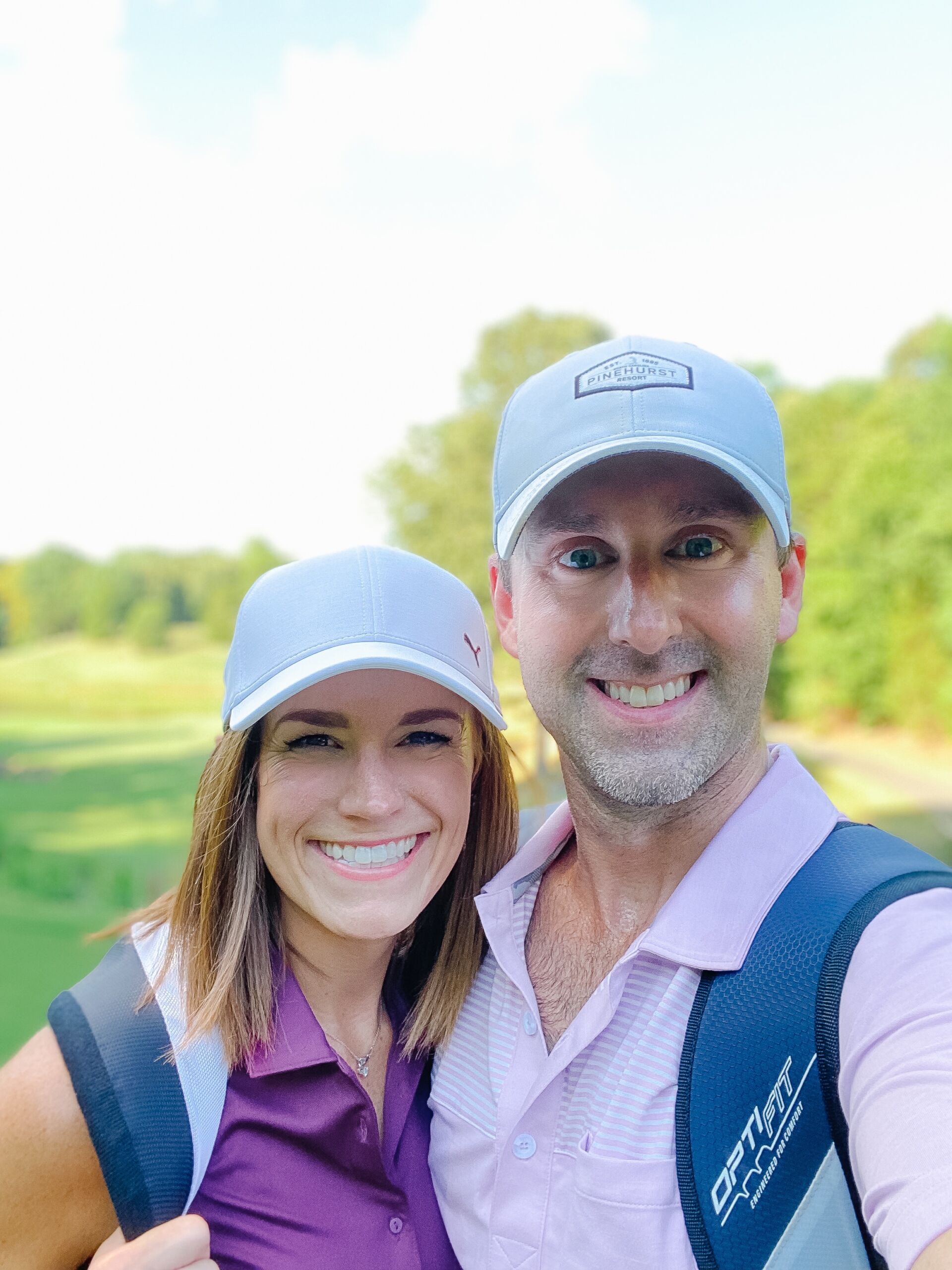 2. The Office Mullet & Puff Sleeve Top
I was cracking up over the messages on Instagram about my work outfit that Matt called an "office mullet" (business on top, party on bottom). But my favorite message was from a friend who calls her similar outfit a "zoomlet." Man, I'm going to be so sad when I have to return to my office.
And if you asked me about my puff sleeve top — it's from Amazon! And it comes in almost 50 colors. The quality is excellent and it runs true to size. It's been one of my go to work tops for almost 2 years now.
I was so excited to see all of the book recommendations on my Instagram post recently. I added them all to my library list and am impatiently waiting for some of them to become available! I am on a Karin Slaughter binge right now, so I started the Will Trent series that was recommended and just finished Book #1 — TripTych!
Rating 4/5: I flew through this audiobook and am excited because I heard that the story gets even better over the next two books. Like her other books, Karin Slaughter did an amazing job developing the characters and building suspense throughout the dark and gruesome story.
Book Summary: In the city of Atlanta, women are dying—at the hands of a killer who signs his work with a single, chilling act of mutilation. Leaving behind enough evidence to fuel a frenzied police hunt, this cunning madman is bringing together dozens of lives, crossing the boundaries of wealth and race. And the people who are chasing him must cross those boundaries too. Among them is Michael Ormewood, a veteran detective whose marriage is hanging by a thread—and whose arrogance and explosive temper are threatening his career. And Angie Polaski, a beautiful vice cop who was once Michael's lover before she became his enemy. But another player has entered the game: a loser ex-con who has stumbled upon the killer's trail in the most coincidental of ways—someone who may be the key to breaking the case wide open.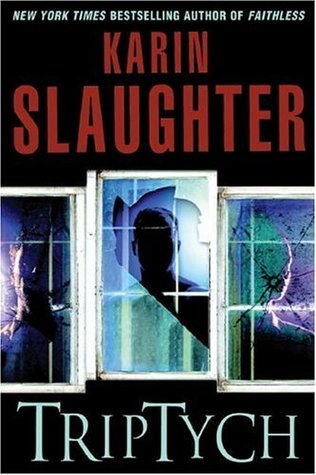 4. Make-Your-Own Sushi Rolls
This weekend we are planning to throw our annual back to school dinner (see our 2020 dinner and 2019 dinner)! When I asked the kids what they wanted to eat this year they said SUSHI! Our kids loooooove sushi and we order it to-go pretty often, but I thought it would be fun to make our own for this special dinner. I honestly had no clue how to roll our own sushi but after ordering a kit from Amazon and finding a few recipes on Pinterest, I felt like we could totally pull this off. However, to be sure Matt and I experimented with making our own sushi for dinner earlier this week while the kids were away to see how it turned out. And it was SO fun!! We kept our ingredients vegan-friendly so I grabbed cucumber, mango, tofu (which I air fried), carrots, asparagus and vegan cream cheese. And instead of making our own sushi rice, I purchased a few packs of 90 second microwavable jasmine rice (which worked out great). We really loved making our own sushi and cannot wait to do this with the kids!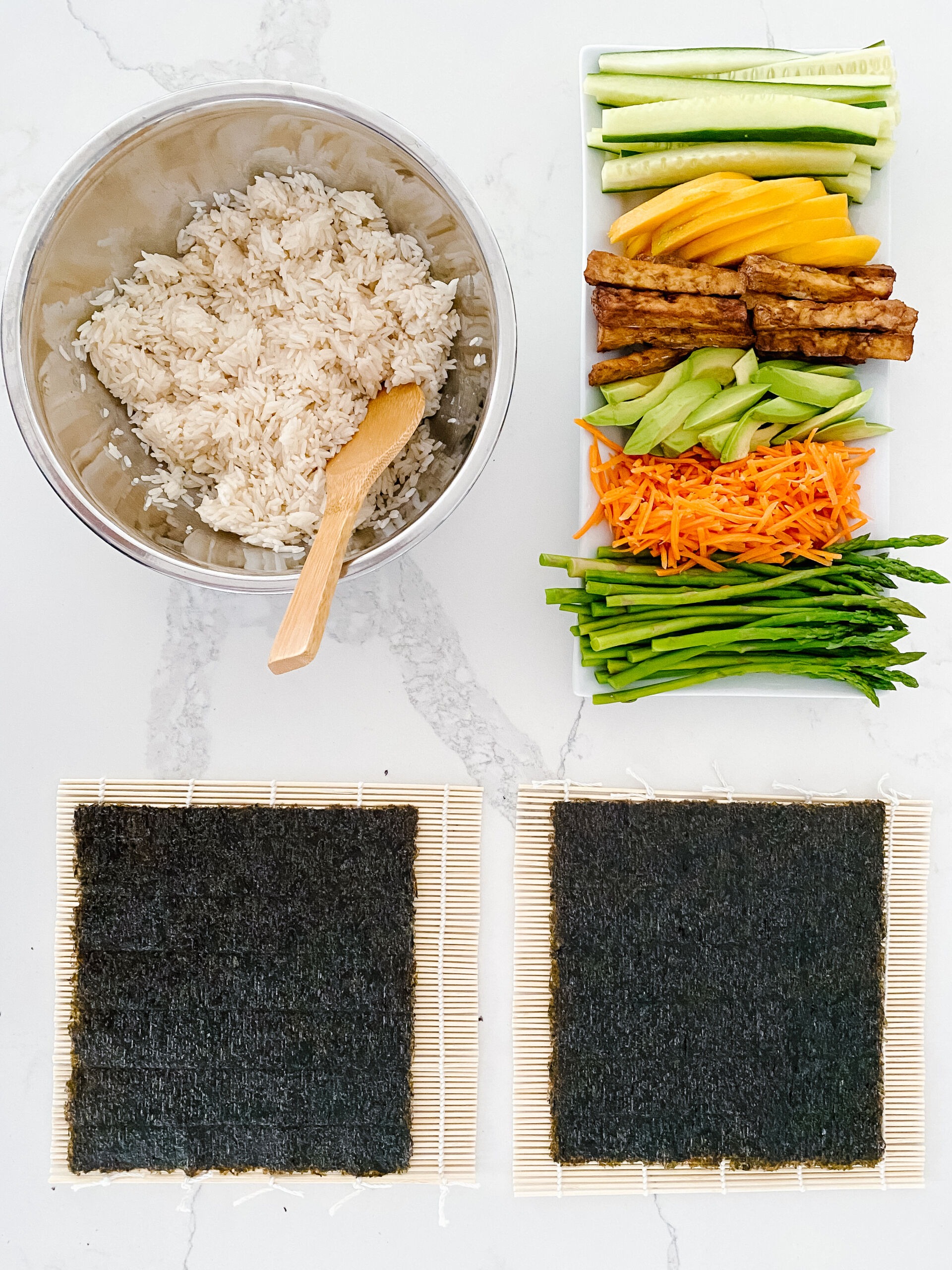 5. Summer Midi or Maxi Dress
I recently purchased this summer midi/maxi dress from Amazon and love it so much. It comes in 4 patterns, is lightweight and has tie up ribbon straps so the length is adjustable which is really nice. Technically it's a "midi" dress but fits as a maxi dress for shorter girls like me who struggle to find a maxi dress that doesn't drag on the floor.
In Case You Missed It