Happy Friday and happy spring break to my Charlotte public school readers!
1. Leader of the Month!
It's been an exciting week over here — Caroline was awarded Leader of the Month at school! She was SO proud to bring home this award — and were too! To celebrate, she got to attend a special breakfast earlier this week!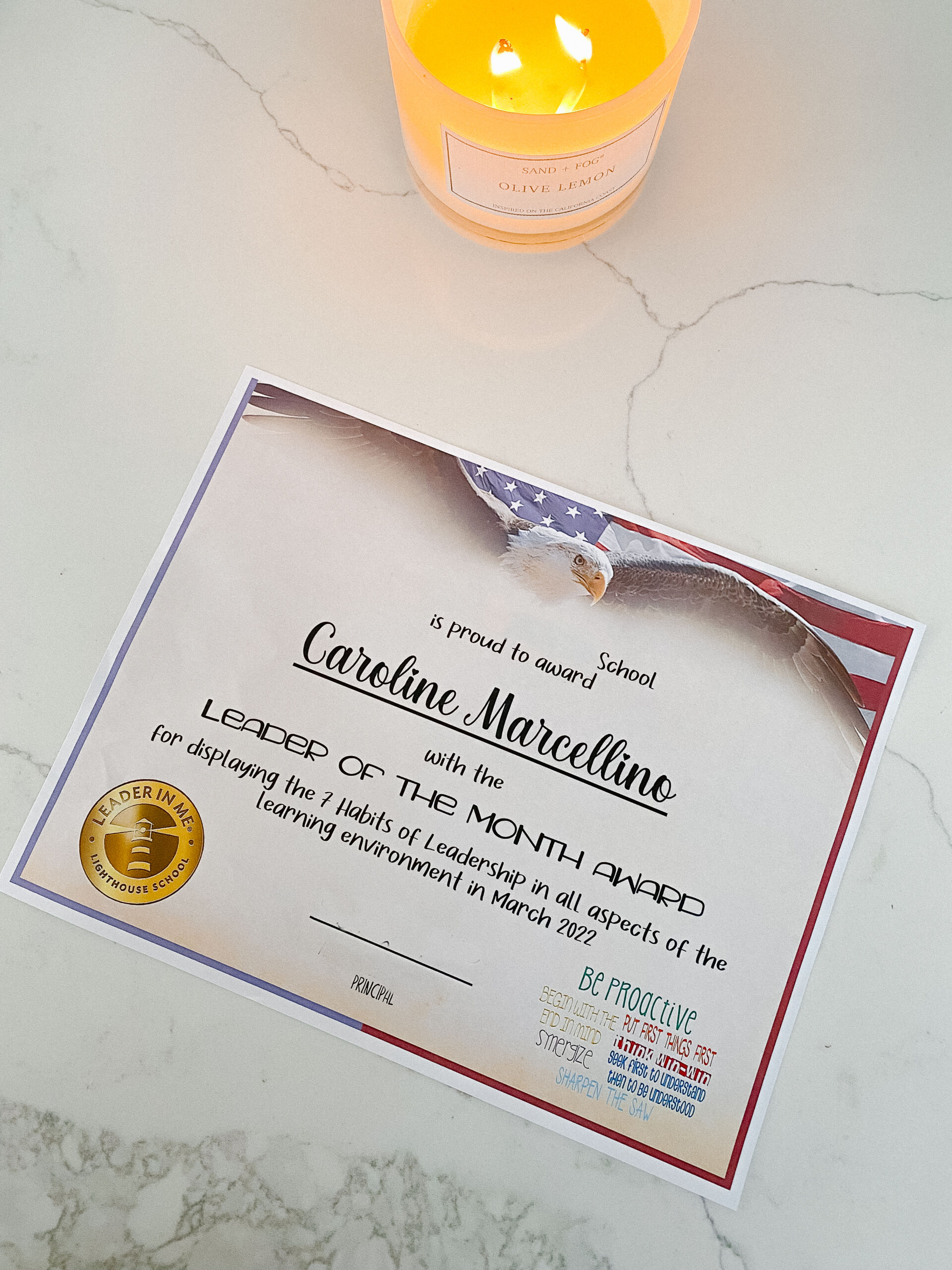 Finallyyyyyyy…the last few spring dresses I ordered from Amazon have arrived! There were some hits and misses but I'm going to round up all them in a post next week. In the meantime, this one shoulder dress was one that I really like and immediately threw it in my suitcase for the beach!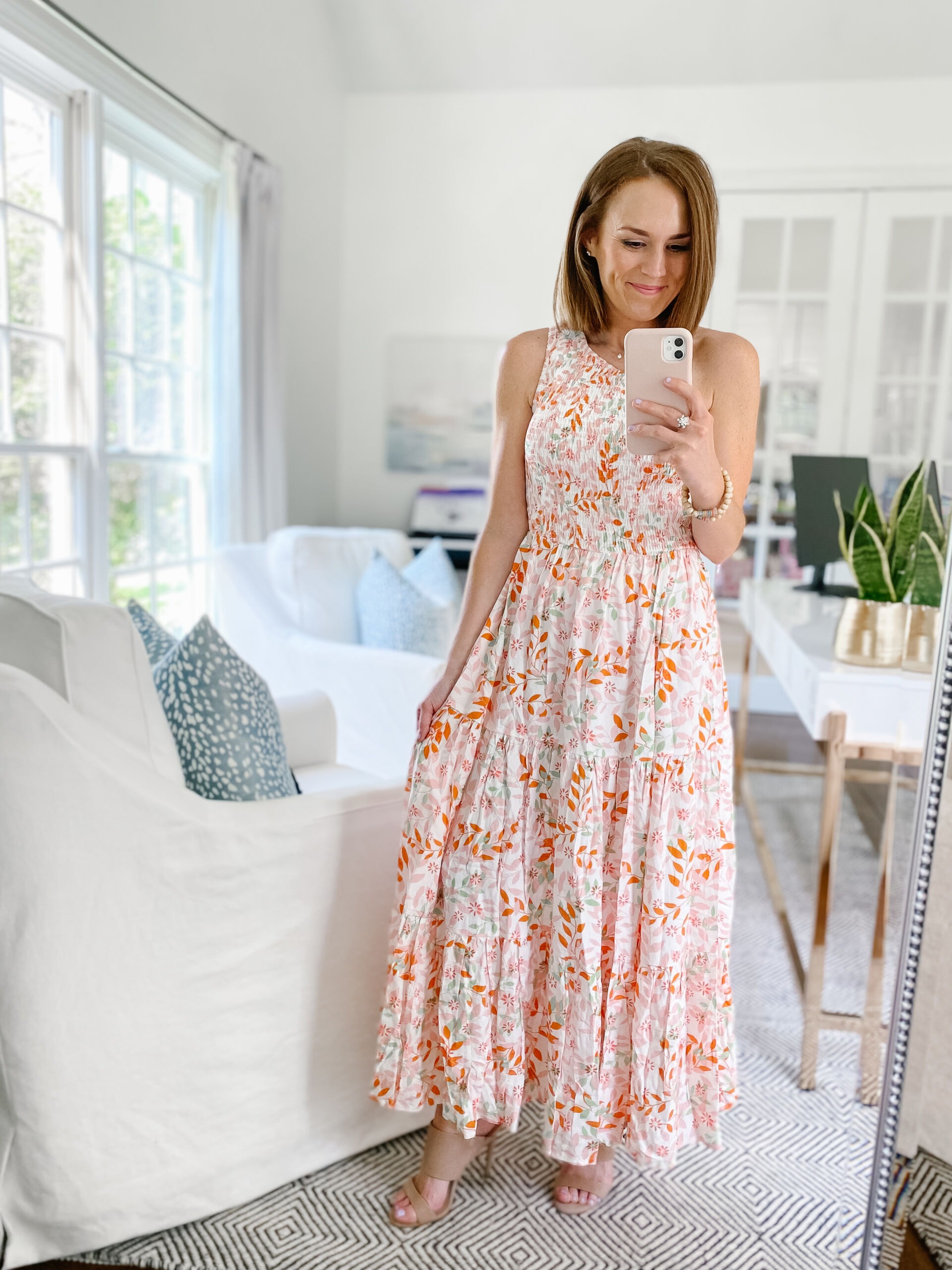 3. Easter Cinnabunnies
Wanted to re-share this fun and super easy recipe for Easter! We made these last year with the kids and they absolutely loved them.
All you need is two cans of uncooked cinnamon rolls. Use one roll for the bunny face and cut another in half to make an arch for the ears (pinch the dough where the ears meet the face. Then bake them (at 400 degrees for about 10 minutes, or until they are slightly golden). Add your icing and top with sprinkles!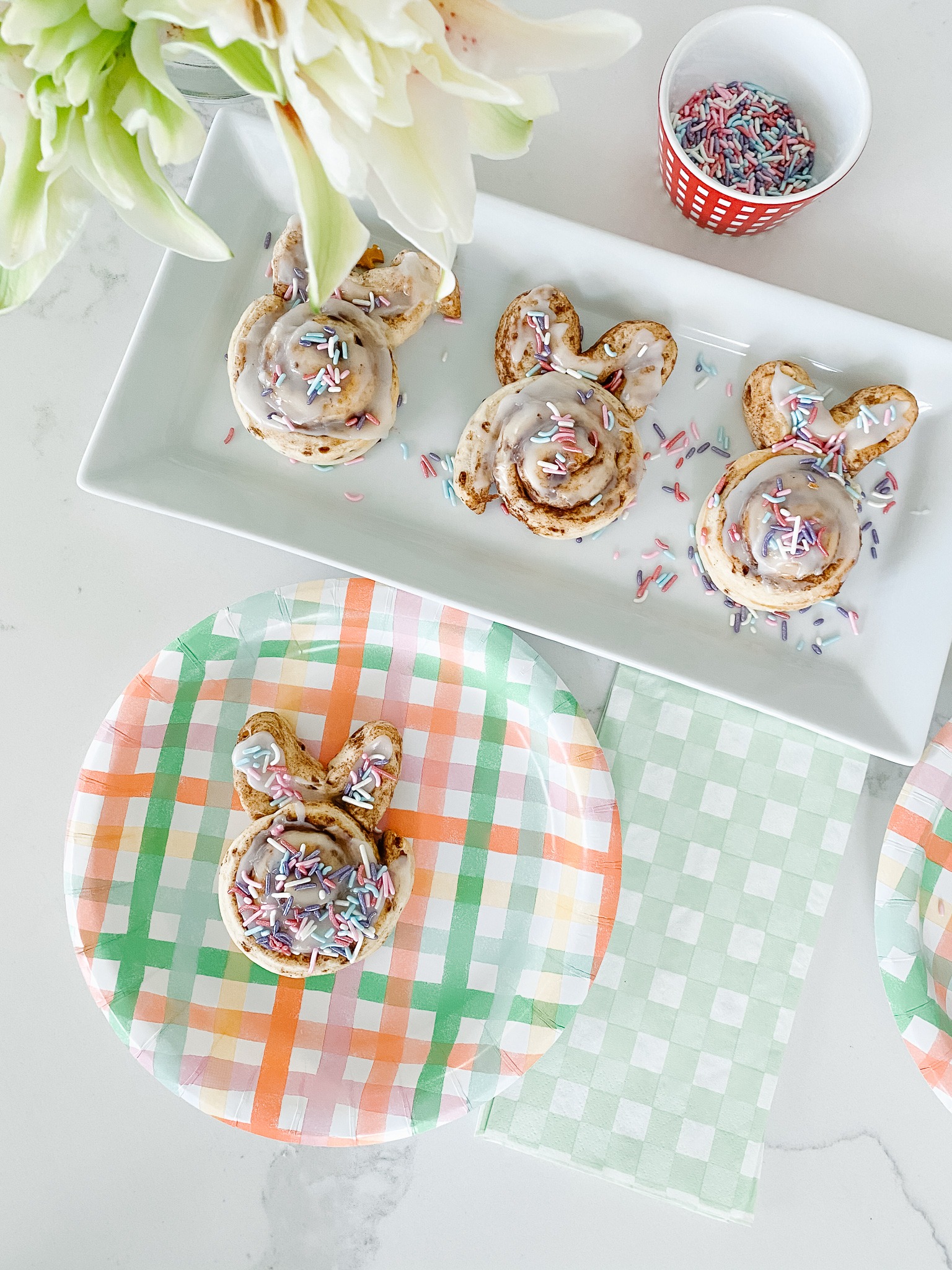 4. Closet Clean Out Hack
This week I cleaned out my closet so I could pack for spring break! I do this twice a year when it's time to swap out my seasonal wardrobe. It usually takes me a few hours because I literally remove EVERY item from my closet, deep clean all the shelves and then ONLY add back the items that I truly love and donate the rest. However, this clean out was a little different because not only did I pack away all my fall/winter clothes and hang all of my spring/summer items, I also cleaned out all my work clothes!!!! To be honest, there were SO many work blouses and pants that I haven't worn in years or were just tired looking and I was shocked at how much space they were taking up. I did save a few of my favorite work dresses and blazers but trashed or donated the rest — and it actually felt kind of cathartic.
Anyway, the hack — I've shared this before but every time I do my clean out I always re-hang all of my hangers backwards and as I wear each item I flip the hanger back around. So by the end of the season, if the hanger hasn't turned, it should probably go. I was really good about doing this for years…and then COVID. I didn't have very much opportunity to wear a LOT of the pieces in my closet so I kept everything the last few seasons, so it was an extra wild closet purge this time around. Even Matt walked in and said "where did all your clothes go?"
So all the hangers are turned and my spring/summer closet is ready to go!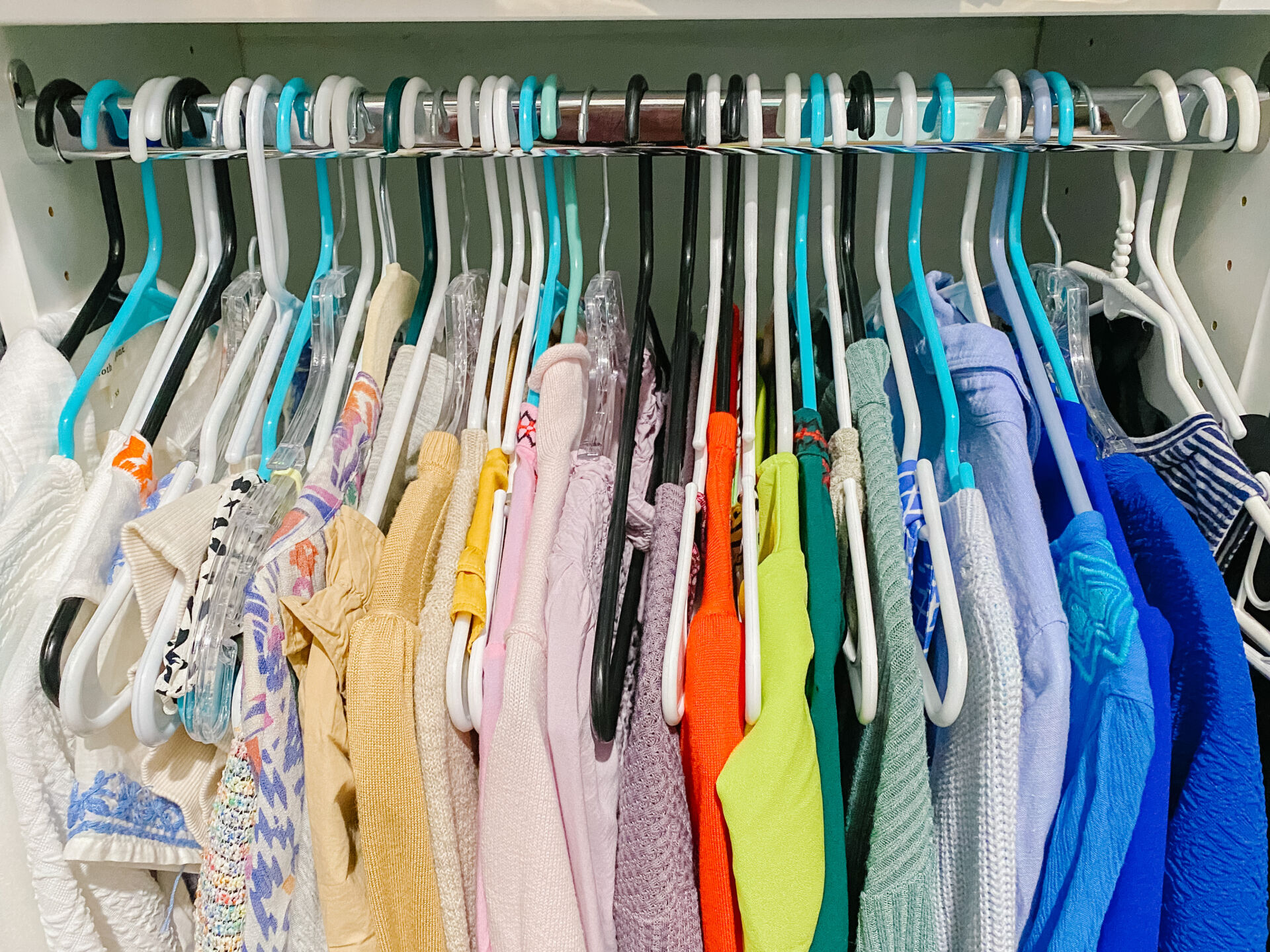 5. Sephora Sale: My Top 5 Product Picks
THESE are my top 5 favorite beauty products I'm restocking on during the Sephora sale…(and apologies ahead of time for sharing the same products over and over — but these really are my favorite!!!):
I can't remember how I originally got hooked on this product, it was either TIBAL or LRT, but I'm on my 3rd bottle! This ultra-light, hydrating face mist adds the perfect natural-looking golden tan — and it smells good. You can apply it under or over your makeup but I usually spritz my face after I apply my makeup (but before I apply my mascara). The description will tell you it lasts for days, but I am almost positive I scrub it all off each night. *If you want a product that lasts days, I recommend Isle of Paradise Tanning Drops [color: sun-kissed glow]. These are the drops I use for my face and I love them so much. I just add a drop to my moisturizer and apply it all over my face and neck — it's a gorgeous glow color!! I use these drops every 3'ish days.
Hands down, the best concealer out there. It works miracles! It's creamy, smooth and can cover even the darkest under eye circles. I've been using this for years and have never found any better concealer out there.
I'm very annoyed with myself for not waiting for the Sephora sale to restock on this incredible SPF sunscreen stick. This dry-oil stick offers glow-boosting hydration and invisible SPF 50 protection. It rolls on SO smooth and leaves a dewy finish without an oily residue so the kids don't complain when I roll it all over their faces. Highly recommend!!
I've been using this full coverage CC cream for years!!! It is lightweight, hydrating and has SPF 50 sun protection! I've tried SO many foundations and will forever use this one. I wear color Light.
I scooped up a bottle of Color Wow Dream Coat Supernatural Spray my friend Abby brought to our Supper Club Favorite Things Gift Exchange and have been using it ever since. This stuff is seriously AMAZING. This moisture-repellant, anti-humidity spray covers each hair strand with an invisible waterproofing cloak to combat frizzy hair. And I really love how it doesn't weigh down my hair at all which is important since I don't wash my hair every day. Oh and it lasts for days — even if you shampoo your hair! You can find it in full size or travel size bottle (if you want to try it before purchasing the full size).
In Case You Missed It