Happy Friday!
Before we get down to business I just want to say thank you to everyone who participated in this week's Working Mom Wednesday! It was seriously so much fun reading through the comments and learning what some of you do for work and how you explain it to your kids! There was such a diverse range of jobs mentioned and I loved seeing the connections among readers who do the same thing! I am so proud of the amazing women in this little community of ours and wish I could host a big party for everyone to meet each other in real life and become friends!
1. Tooth Fairy Visit
The Tooth Fairy came to our house this week after Caroline lost her first tooth! Caroline was elated to find a little note and $2 bill tucked under her pillow when she woke up and is now working on her next wiggly tooth. Also, I was cracking up so hard at the messages I received in response to the keep (43%) vs toss (57%) the tooth poll!!! There were hilarious stories of mother-in-laws gifting their daughter-in-laws their son's teeth they had saved (one reader even said her MIL had a necklace made with the teeth!!!). Then there was a debate about whether or not you can use teeth for stem cells (lots of conflicting messages on this), several recommendations for this tooth keepsake box, and the BEST stories of kids finding their own teeth years later! And more! You all had me so entertained with your messages!
PS — Shout out to my reader Sarah who recommended stocking up on $2 bills to have on hand for future Tooth Fairy visits! Also, you can find more reader Tooth Fairy tips here!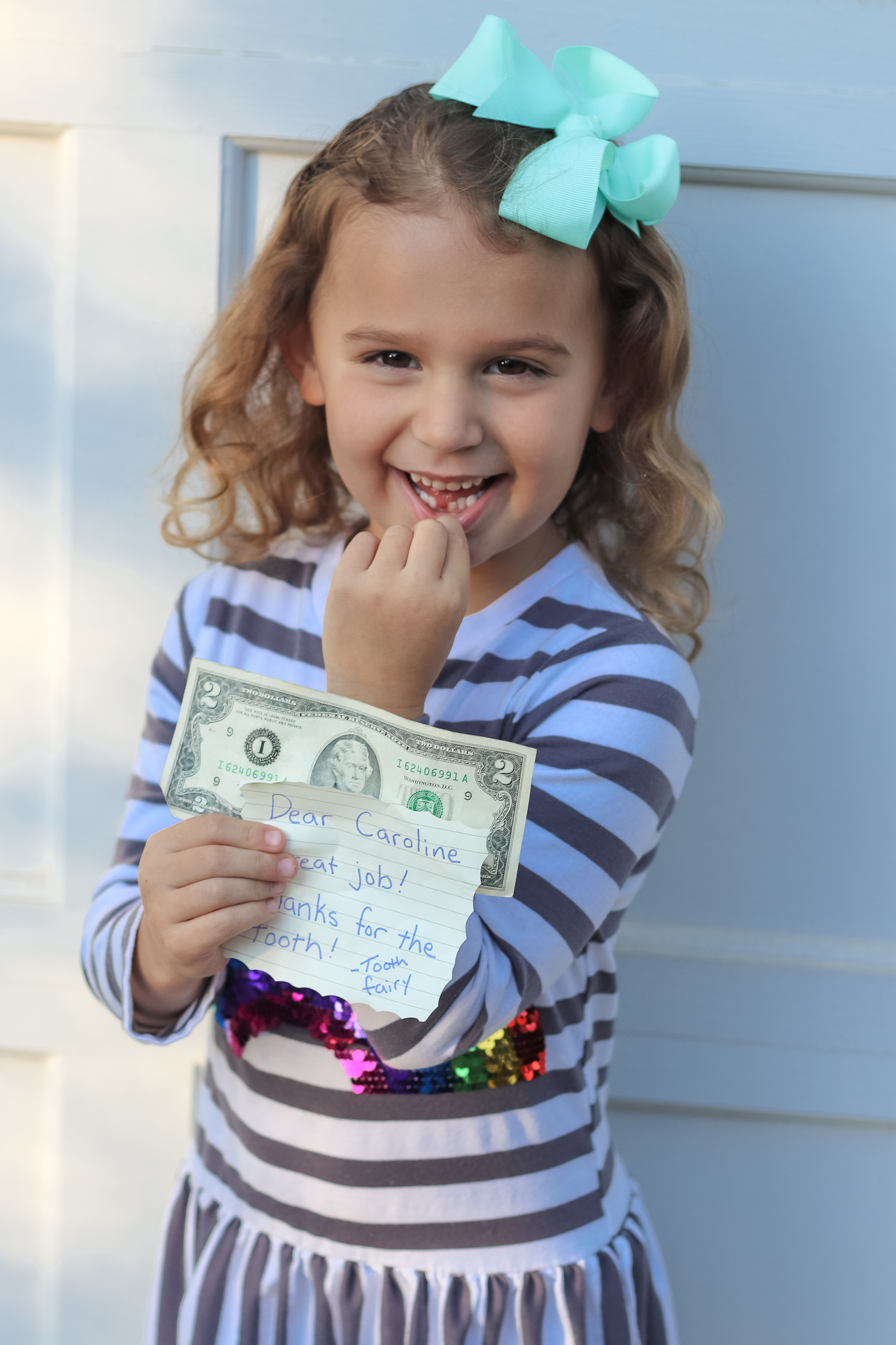 2. Date Night Outfit
I didn't think I'd be joining the flare jeans trend until I found these amazing high waisted flare jeans (that come in petite sizes!!!! And in white!!). I paired this pretty lace bodysuit with my jeans for date night recently and loved this outfit!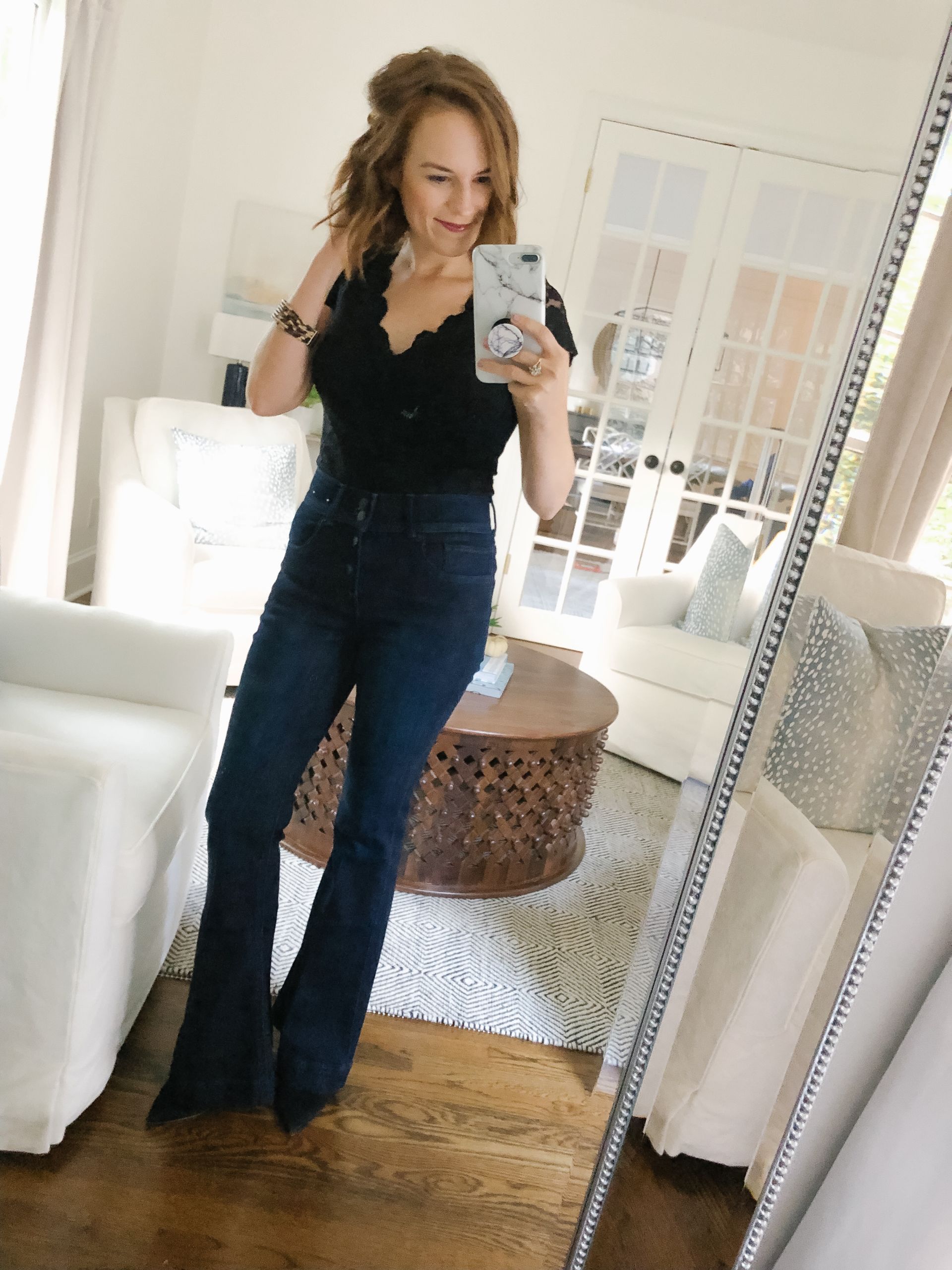 3. Family Photos
We did it! We tackled our family photos a few weekends ago and I am crossing my fingers we got at least one good Christmas card pic. The kids were extra rambunctious during the 20 minute session so we'll see.
Also, I had a lot of questions about Caroline's dress and I'm sure it will come as no surprise that it's from Amazon! In fact, my dress was an Amazon prime purchase too because there's nothing like waiting until the last minute to pull everyone's outfits together!

4. Spiced Chickpea Stew with Coconut and Turmeric
Soup Sundays are one of my favorite things right now and I've been having so much fun trying new recipes and sharing them with y'all. I also love that some of you have made recipes you found in the comments from other readers and reported back to me to double recommend the recipe! I seriously LOVE this so much. The most popular reader recommendation so far has been the Spiced Chickpea Stew with Coconut & Turmeric (thank you Anna)!!! At first I thought "ehhh, not sure a vegan recipe is at the top of my to-make list" but gave it a shot based on the glowing recommendations. Holy moly y'all, YOU NEED TO MAKE THIS RECIPE. Apparently it went viral a few years ago and now I know why! Don't let vegan scare you, this soup was a huge hit for my entire family (although my kids left the kale in their bowls)! I've included the New York Times recipe by Alison Roman below.

Spiced Chickpea Stew with Coconut and Turmeric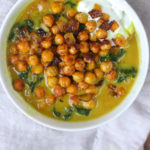 a perfectly spiced stew that will definitely have you coming back for seconds!
1/4 cup olive oil, plus more for serving
4 garlic cloves, chopped
1 large yellow onion, chopped
1 (2-inch) piece fresh ginger, finely chopped
sea salt and freshly ground black pepper
1 1/2 tsp ground turmeric, plus more for serving
1 tsp red-pepper flakes, plus more for serving
2 15 oz can organic chickpeas, drained and rinsed
2 15 oz cans full-fat coconut milk
2 cups vegetable or chicken stock
1 bunch organic Swiss chard, kale or collard greens, stems removed, torn into bite-size pieces
1 cup fresh mint and/or cilantro leaves, for serving
full-fat greek yogurt or dairy-free yogurt, for serving (optional)
toasted pita, lavash or other flatbread, for serving (optional)
Heat the oil in a large pot over medium heat. Add garlic, onion and ginger. Season with a big pinch of sea salt and pepper and cook, stirring occasionally until onion is translucent and starts to brown a little around the edges, 3 to 5 minutes.
Add turmeric, red-pepper flakes and chickpeas, and season with salt and pepper. Cook, stirring frequently, so the chickpeas sizzle and fry a bit in the spices and oil, until they've started to break down and get a little browned and crisp, 8 to 10 minutes. Remove about a cup of chickpeas and set aside for garnish.
Using a wooden spoon or spatula, further crush the remaining chickpeas slightly to release their starchy insides (this will help thicken the stew). Add the coconut milk and stock to the pot, and season with more salt and pepper. Bring to a simmer, scraping up any bits that have formed on the bottom of the pot. Cook, stirring occasionally, until stew has thickened and flavors have started to come together, 30 to 35 minutes. (Taste a chickpea or two, not just the liquid, to make sure they have simmered long enough to taste as delicious as possible.) If after 30 to 35 minutes you want the stew a bit thicker, keep simmering until you've reached your desired consistency.
Add the greens and stir, making sure they're submerged in the liquid. Cook a few minutes so they wilt and soften, 3 to 7 minutes, depending on what you're using. (Swiss chard and spinach will wilt and soften much faster than kale or collard greens.) Season again with more salt and pepper.
Divide among bowls and top with a dollop of yogurt, mint, cilantro, reserved chickpeas, a sprinkle of red-pepper flakes and a good drizzle of olive oil; dust the yogurt with turmeric if you'd like. Serve alongside toasted pita if using.
5. Meaningful Traditions for Kids
Next week I may be a little quiet on the blog as I will be traveling for work (shout out to Matt for tackling Veteran's Day with the kids home) and I have got to find some time to work on my gift guides! Y'all LOVED the gift guides last year — and I loved making them too! But they seriously take SO MUCH WORK! So I'm going to be focusing on those so I can get them out before Thanksgiving! If there is a particular guide you'd like to see this year, let me know! In the meantime, I'm sharing one of my favorite holiday round-ups — meaningful traditions for kids!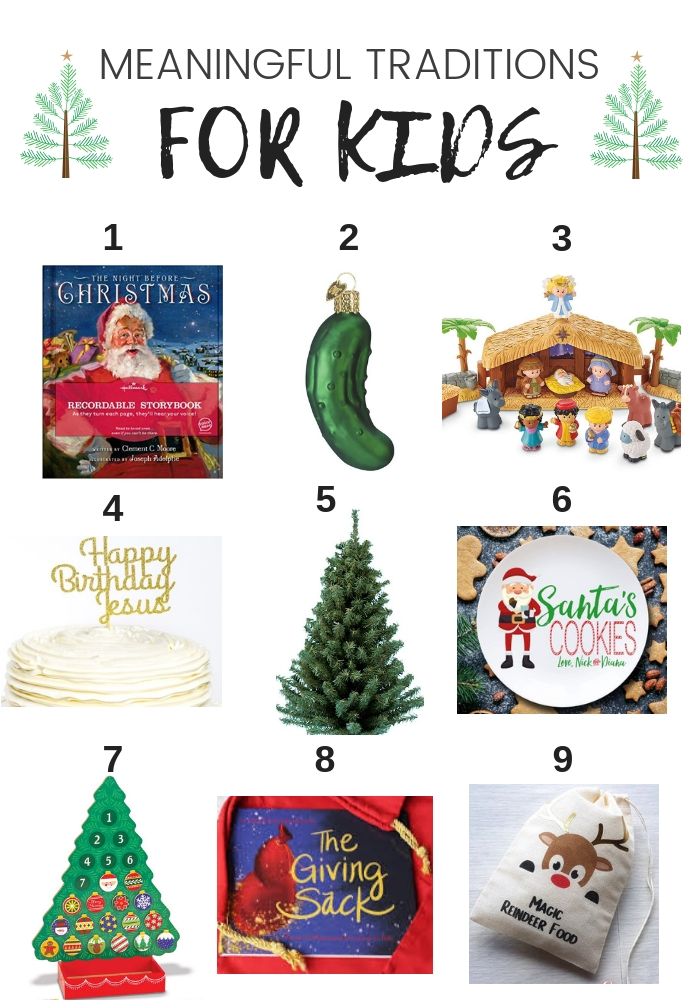 1. The Night Before Christmas Recordable Storybook: Hands down, my favorite item on this guide. Last year all of the grandbabies received this storybook from my dad. Hearing his voice telling the The Night Before Christmas is one of the most special gifts that we'll cherish forever. This is the perfect gift for grandparents to give their grandbabies. It's also the very first thing I tell my friends and readers to get when they are close to losing a parent to have for their kids or future kids.
2. Pickle Ornament: If you don't already have a pickle ornament for your Christmas tree you need one! The person to find the pickle hiding in the tree on Christmas morning gets to open the first present.
3. Fisher-Price Little People Nativity Set: A super simple way to break down the Christmas story for little ones. Both of our kids love this set. This is also a GREAT gift for baby's first Christmas!!
4. Birthday Cake: Each year we throw a little birthday party for Jesus with a cake or cupcake and sing "happy birthday" with the kiddos.
5. Mini Christmas Tree: Last year a note was sent home with both Thomas and Caroline's daily report cards asking parents to consider putting a small Christmas tree in their kids' bedrooms this year. Each year it's encouraged to add a new ornament so that one day when our kiddos go off to college they have a small tree with lots of meaningful ornaments of their own. Cue the tears.
6. Cookies & Milk for Santa: Growing up we always set out cookies and milk in front of our fireplace for Santa as well as some carrots for the reindeer. The set I posted is no longer available but here are some really fun options: 1 / 2 / 3 / 4 / 5

7. Advent Calendar: From candles to candy, there are tons of advent calendar varieties to choose from. a few years ago we received a wooden tree calendar with little boxes which we fill with m&ms. Every night leading up to Christmas Caroline would get so excited to open the next box (and eat an m&m). We saved the advent calendar as the very last activity before bed so it also doubled as an amazing toddler incentive to eat dinner, take a bath, clean up the toys and get in jammies.
8. The Giving Sack: A storybook authored, illustrated and self-published by Leanne Hill to cultivate a philanthropic mindset in our kiddos by teaching them how the holidays are also a time to be grateful and generous.
9. Magic Reindeer Food Bags: Last year one of the little girls in Caroline's class gave all the classmates bags of "magic reindeer food." I thought this was the cutest idea and we loved sprinkling it in the yard on Christmas Eve! Reindeer food is a mix of oats and glitter which makes for an inexpensive gift idea if you're trying to gift a class full of kids something at Christmas.
In Case You Missed It This Week