Last January Matt and I followed a variation of the Whole30 program, and not to sound dramatic but it really was life changing! We absolutely loved it and had never felt better. Our sleep improved. Our energy increased. We both got down to our goal weight. And overall we just felt great. So we're doing it again this January and are really excited about it.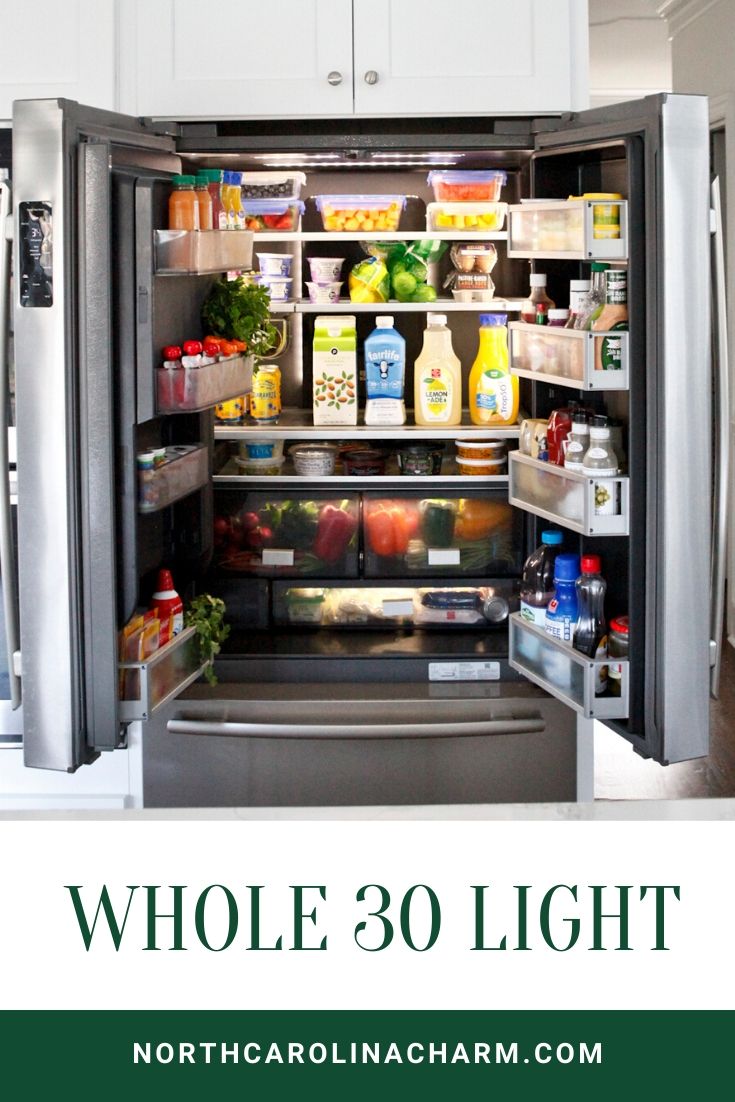 We call our diet "Whole30 Light" because we've adapted the program to better fit our lifestyle. If you know me in real life, you know I like to slightly bend the rules at times or color outside of the lines when I see a good reason to. I completely understand WHY the Whole30 rules are in place — I do! The true goal for Whole30 is to change your brain around how you approach food. And if you have the willpower not to slip off track or time to make broths or ranch or ketchup from scratch…you will thrive and see incredible results. I repeat — if you commit to the program, exactly as written, you will experience the benefits to the fullest potential.
However, my goal is to stop grabbing handfuls of candy when I open the pantry, to get better sleep, make more nutritious meals for my family and to shed some my holiday pounds. Our approach, while a little more laid back and much easier to stick to, previously gave us the results we had hoped for and allowed us form a lot of good habits — beyond 30 days!
If you're looking to follow the Whole30 program to the fullest extent, this post is DEFINITELY not for you. I would recommend you buy the book and read the rules! Below I'm covering the biggest rules for Whole30 and how we slightly adapt the rules for our "Light" version. And yes, I am again prepared for the Whole30 police to come after me…
Whole30 vs. Whole30 Light
Do not consume added sugar, real or artificial.

Light: Honey and agave nectar in moderation.

Do not consume alcohol, in any form, not even for cooking.

Light: Alcohol reserved only for the weekends. We try to stick to vodka, soda & pure fruit juice cocktails instead of heavy beers and wines…but there aren't any strict rules to avoid alcohol Friday – Sunday.

Do not eat grains.
Do not eat legumes.
Do not eat dairy.

Light: I switched to non-dairy, organic creamer for my coffee and use it in moderation.

Do not consume carrageenan, MSG, or sulfites.
Do not consume baked goods, junk foods, or treats with "approved" ingredients.

Light: If I can find a way to make pizza out of compliant ingredients…I'm gonna. There are some awesome recipes out there for recipes that use 100% compliant ingredients to make, nachos with plantain chips, pancakes with squished bananas, muffins with eggs, etc.
Light Snacks: Larabars (my favorite flavor!!!), almond butter, plantain chips — all of which are not approved for W30 got us through our afternoon cravings.

Do not step on the scale or take any body measurements for 30 days.

Light: I like to check my scale progress weekly but overall can tell the biggest difference isn't read by scale (sleep, energy, etc.).

Don't even consider the possibility of a "slip."

Light: This is the biggest difference in our version. We plan ahead for a cheat meal once a week — usually fish tacos and beers at our favorite restaurant after church. Or if we know we have a dinner planned, a business lunch or something else that may take us off track — that becomes our cheat meal for the week. Allowing ourselves one meal per week is what gets us through the finish line and prevents us from throwing in the towel on week 2 when we're dying for a slice of pizza.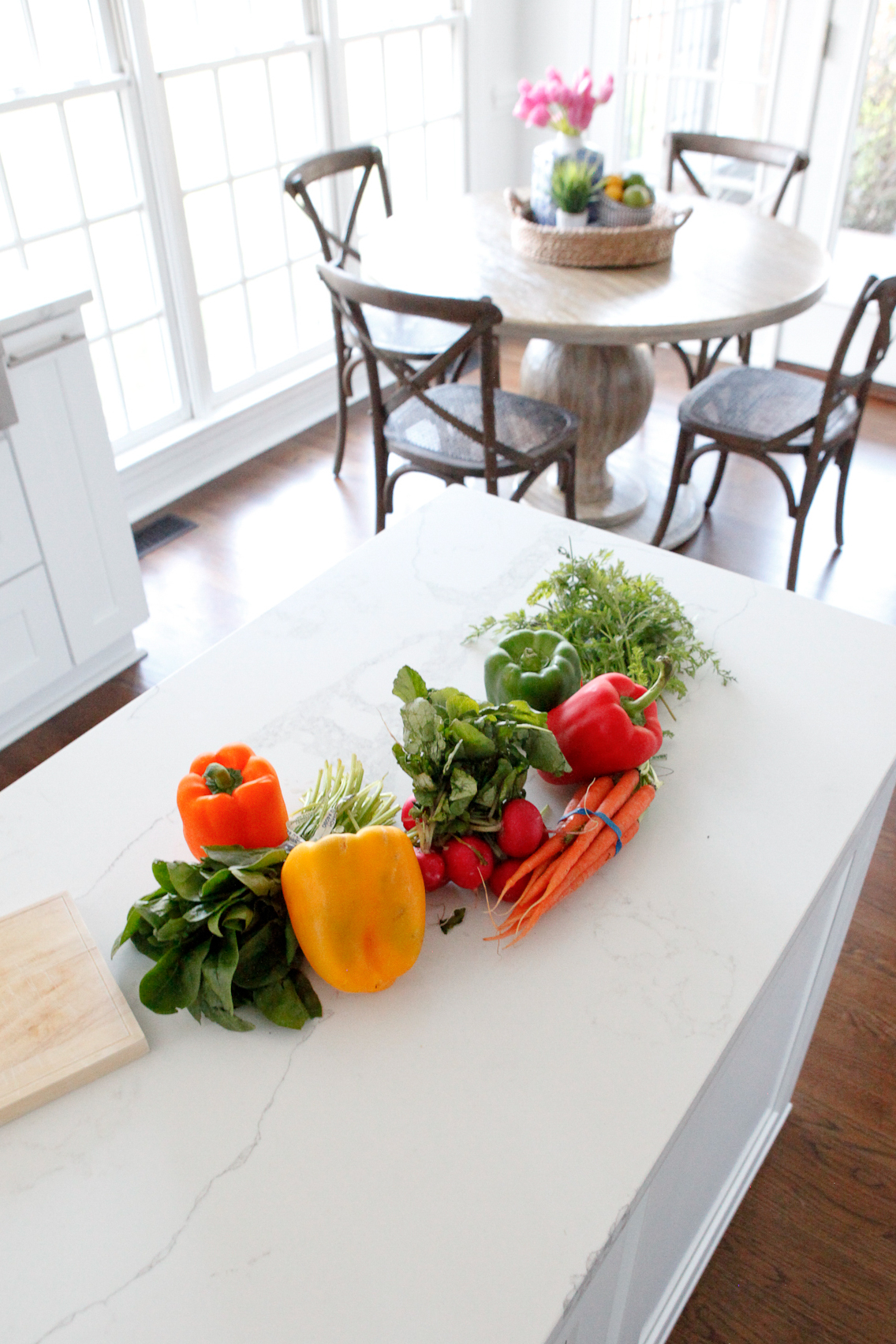 FAQ
A few of the frequently asked questions I've been asked…
Meal Planning: Planning our meals out for the week usually takes me somewhere between 30 minutes to an hour. My first step in the planning process is reviewing the weekly grocery ad to see which meats, veggies, fruits, etc. are on sale. Once I know what type of meats I'm working with I'll turn to my pin board to select my meals and start a grocery list. I always purchase enough of each meat to make one recipe last for at least two meals (dinner + leftovers for lunch).
Grocery Shopping: Since I don't have time during the work week to grocery shop, we are limited to the weekends to tackle it — usually on Saturday mornings. However, recently I've been ordering our groceries online Friday night and either doing curbside pickup on Saturday mornings or having them delivered from Walmart (only $10). This has been huge in giving us some time back in our weekend.
Meal Prepping: This definitely takes the longest time but is totally worth it. I usually prep as much as possible on Sunday afternoons. I make a breakfast casserole for the entire week of breakfasts, I boil tons of eggs, bake tons of bacon, prep all the snacks, prepare a few lunches and chop up as many ingredients as possible for the week. This takes me around 3 hours. It's a LOT of time. But you know what? It's really not. On a normal night it takes me somewhere between 30 minutes and an hour to get dinner on the table. But with all the prep done, it takes me somewhere between 5 minutes and 20 minutes. I also try to ensure at least 1-2 meals are done in the crock pot.
What About the Kids? The kids are eating what we're eating and are happy about it for the most part. Some recipes I have to hand pick every damn tomato out of for Caroline or every carrot out of for Thomas so they'll eat it. But overall, they really appreciate the break from frozen chicken nuggets and lunchables.
Biggest Challenge: Traveling for work. It's hard to stick to the program while traveling so I usually end up packing a handful of Larabars for snacks and breakfasts and try to find salads with balsamic vinegar for lunches and dinners.
Favorite Meals

Below is a sample meal plan which includes our most favorite W30 meals. I don't normally cook this many nights and instead double the recipes to eat leftovers the next night. Also, there will be many nights we simply eat scrambled eggs or a protein with a veggie. You can keep your meals simple!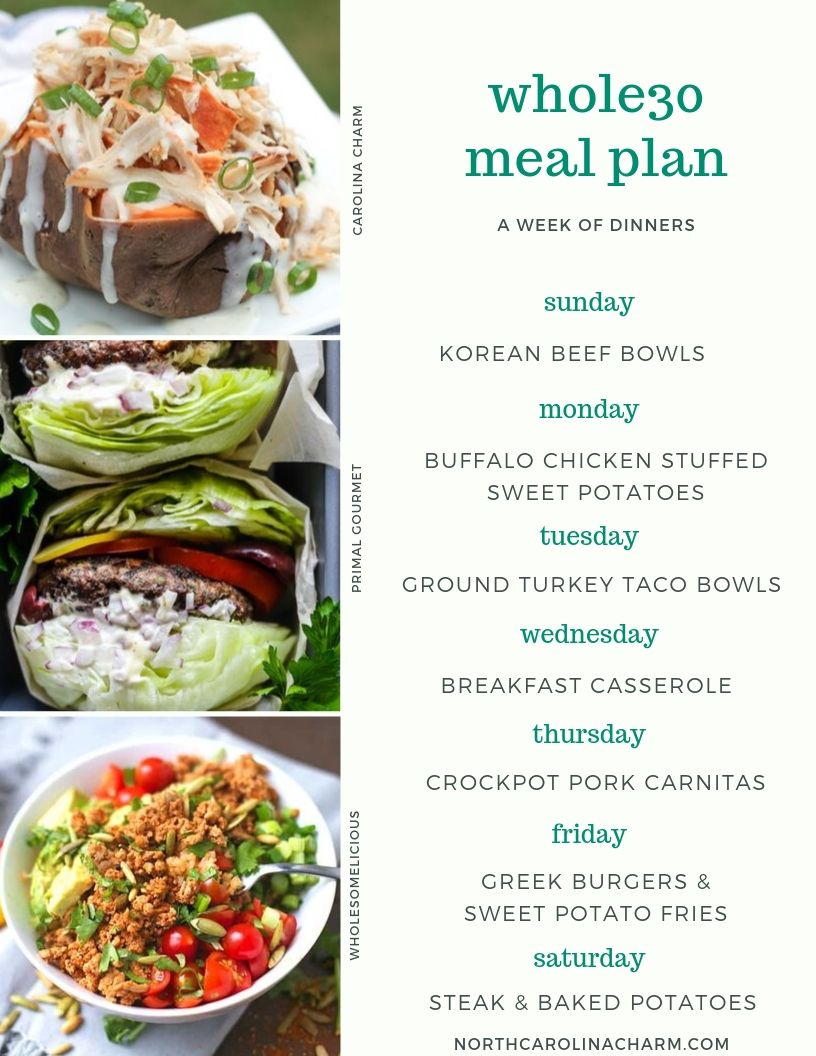 Korean Beef Bowls / Buffalo Chicken Stuffed Sweet Potatoes / Ground Turkey Taco Bowls with Spanish Cauliflower Rice / Breakfast Casserole / Crockpot Pork Carnitas / Greek Burgers & Sweet Potato Fries
Want to see our full meal plan from last year? Check out these posts: Weeks 1 – 2 / Week 3 / Week 4
If you're doing Whole30 in January, please share your favorite recipes in the comments!