Happy Friday! Thank you all so much for your sweet feedback on my Daily Faves post this week! I hope you all got to scoop up a new item to try and hopefully fall in love with as much as me!
1. Virtual School
If you follow me on Instagram, you may have seen my post about us trying to decide which room in our home to convert to a "virtual classroom" for Caroline in a few weeks when she starts 1st grade. We just received a sample schedule from our school and learned that Caroline will be expected to be on an iPad for virtual learning from 8:30 am – 3:30 pm (with a 1 hour lunch break).
When we went remote during the spring, she was over her Zoom meetings within a few weeks…and those were only once a day for 25 minutes!! So now I'm panicking trying to figure out how the heck we will keep her on task in her own home on a handheld tiny screen for the entire day. We're considering a "pod/microschool" with another family with a sitter/teacher/nanny to oversee and facilitate…because Matt and I have to work and cannot be on stand-by tech support all day, and we also cannot be available to constantly remind her to "stay on task, please! pay attention!" So we'll likely have to pay someone all day to watch Caroline watch a screen. Is that not crazy?!
If you're in the same or similar boat, there were some good tips shared in my Instagram comments. If you have other ideas for creating a home learning environment, forming a pod/microschool, finding a teacher/sitter or tricks for convincing a 6 year old to stay on task, please share them in the comments for me and anyone else looking for tips too!
2. Kitchen Table Update
Soooo, I've tried a TON of the tricks (and my goodness, there were SO many) that were suggested to get rid of our shrimp boil kitchen table stain. NOTHING has worked so far and I'm too tired to try the other 45839458934 tricks, so I've thrown in the towel and covered it up with a tray of decorative things. I think the reason most of the mayo, ironing, toothpaste, etc. tricks didn't working is because the table is a combination of wood and plastic. Also, can I just say how thankful I am that I did NOT buy the actual Restoration Hardware version of this table?! Phew.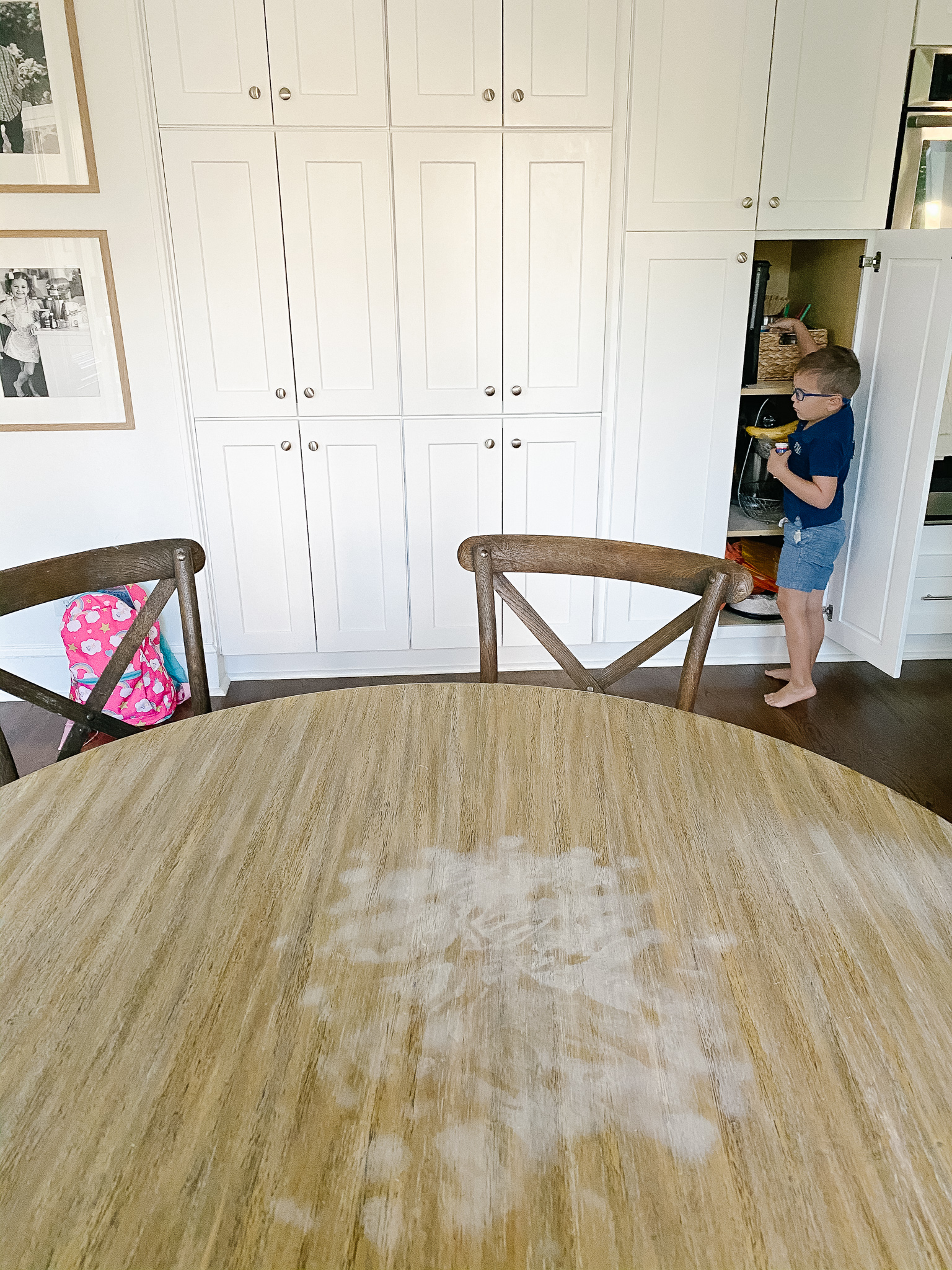 If you DM'd me asking for links, here they are:
Table: I guess the Round Blanca table is no longer available, but my original link now takes me to this version which looks VERY similar and is the same price.
Woven Tray: I went through a ton of baskets until I finally found this one. It's perfect and I love it.
Vase: It's from Home Goods! Here's a similar one from Target.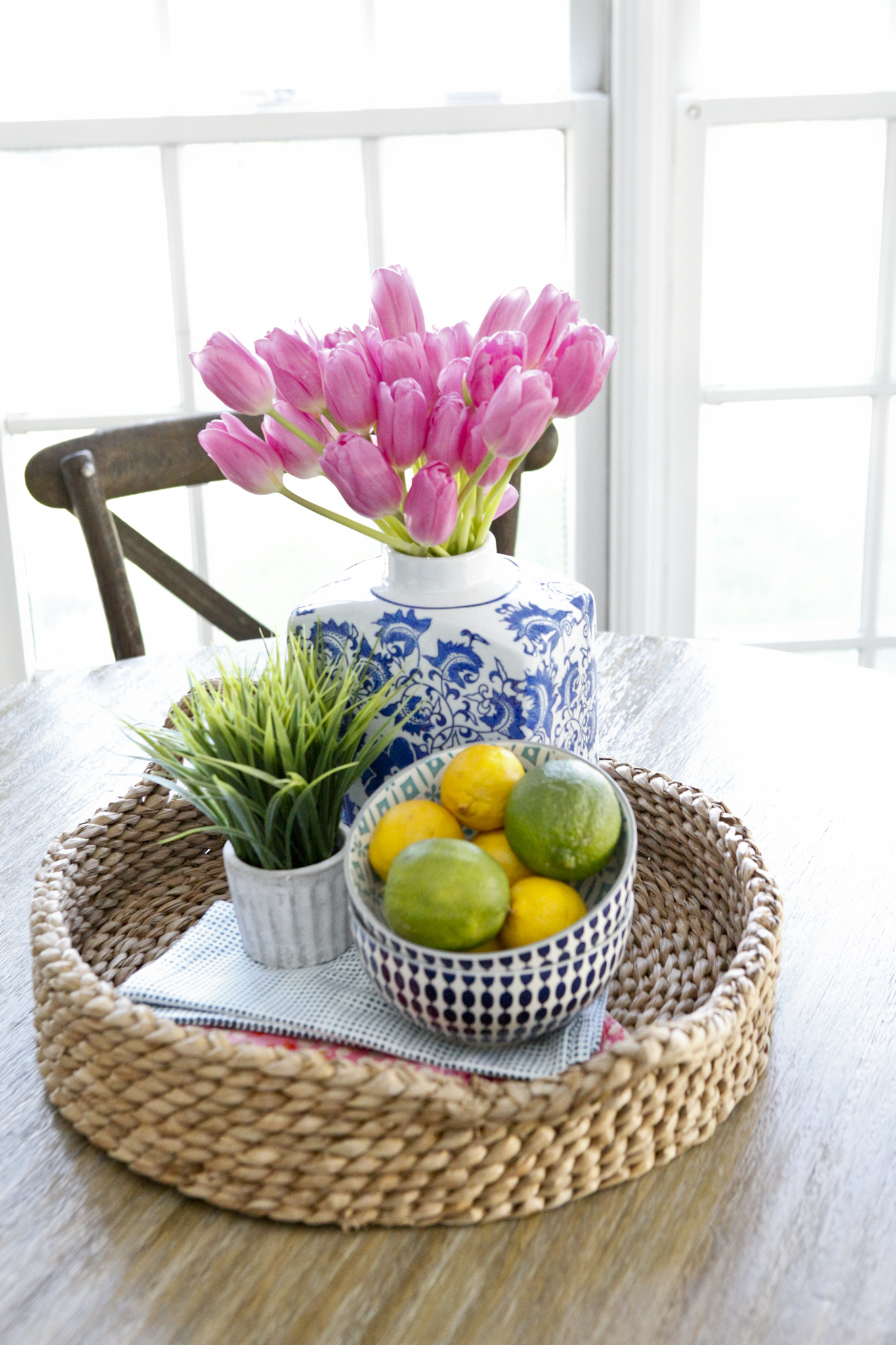 3. Slow Cooker Spinach Artichoke Dip
I made this Slow Cooker Spinach Artichoke Dip this week and it was unreal. It was super easy to throw together — just dump all the ingredients in the crock pot and slow cook for a few hours. Afterwards, I delivered a batch to a friend and poured the other half over some chicken and baked it! It was SO good!!!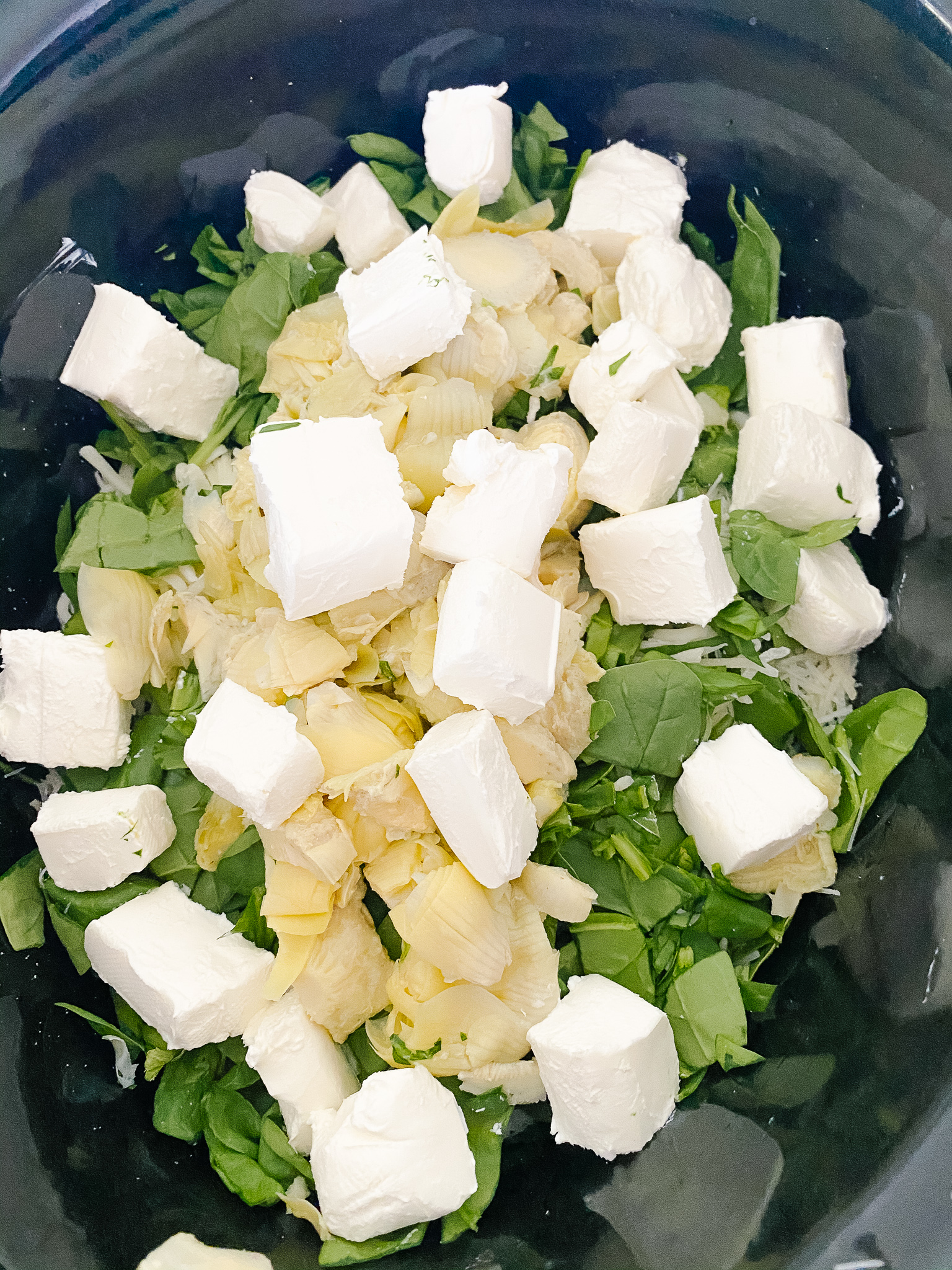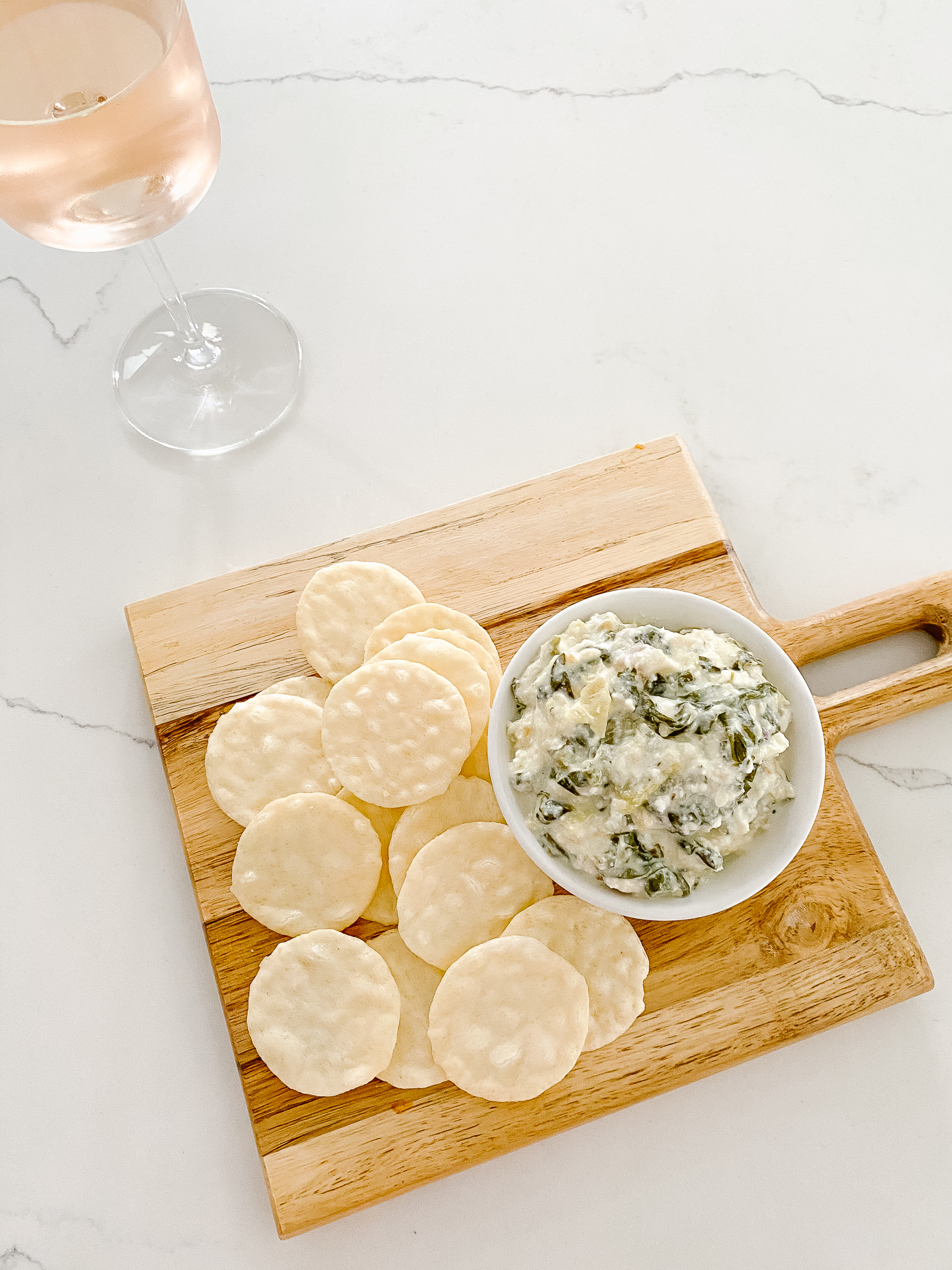 PS – this wine glass is my FAVORITE glass in my collection!! I'm obsessed with the shape.
4. 9Round
On a healthier note, it has been SO nice to get back to 9Round. When I'm stressed out I like to sweat, cook, drink wine or clean. So I've been doing a lot of all of those things lately…and so the re-opening of 9Round has been really good timing for me. I forgot how much I missed it and how efficient the workouts are. The classes are by appointment only and limited to a few people right now. However, most of my classes have been just me so I've been getting a lot of 1:1 training which has been hard but awesome. Last week, I convinced Matt to join me for a class after we dropped the kids off at daycare/camp. It was his first workout since he broke his foot and twisted his ankle during our Mother's Day hiking adventure and while he was definitely dying by the end of the workout, I was proud of him for getting back in the gym after months and months of weekly physical therapy. Update: he has not been back to the gym since that class.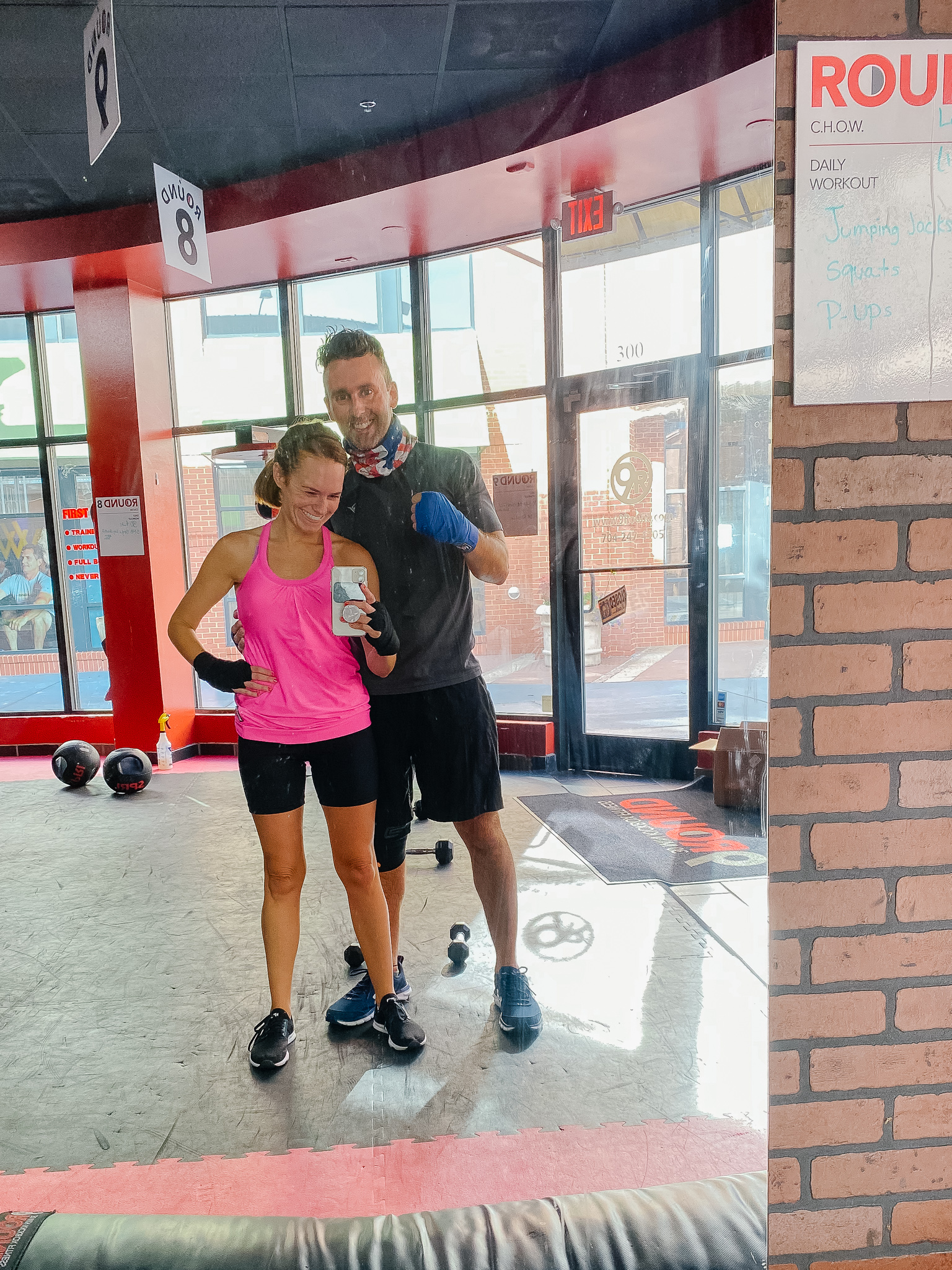 5. Kids Book Recommendation
It's been a very hard summer for our kids (Caroline in particular) and I've been diving into as many resources as possible trying to figure out how to parent two small children through a pandemic. Caroline has had to make all new friends at camp this summer while wearing a mask all day long. (Have you ever tried to build new relationships with people who you can only see half their faces?! I honestly cannot wrap my head around that.) Anyway, one of my favorite resources has been Raising Kids with A Growth Mindset Facebook group which focuses on raising kids to be resilient, confident, and happy. I've discovered so many books, podcasts, advice, strategies to implement, printables to tape to our fridge, etc. in this group, and wanted to share a great book recommendation — What Should Danny Do? It's a super fun, interactive book that allows kids to choose how they want to respond to a situation presented. Depending on their choice, you bounce around to different areas of the book exploring different storylines. Both kids have really loved it and while they see it as a fun story to read at bedtime together, I hope that they are picking up on the underlying message about how our choices shape our days…and ultimately our lives! Anyway, I highly recommend it.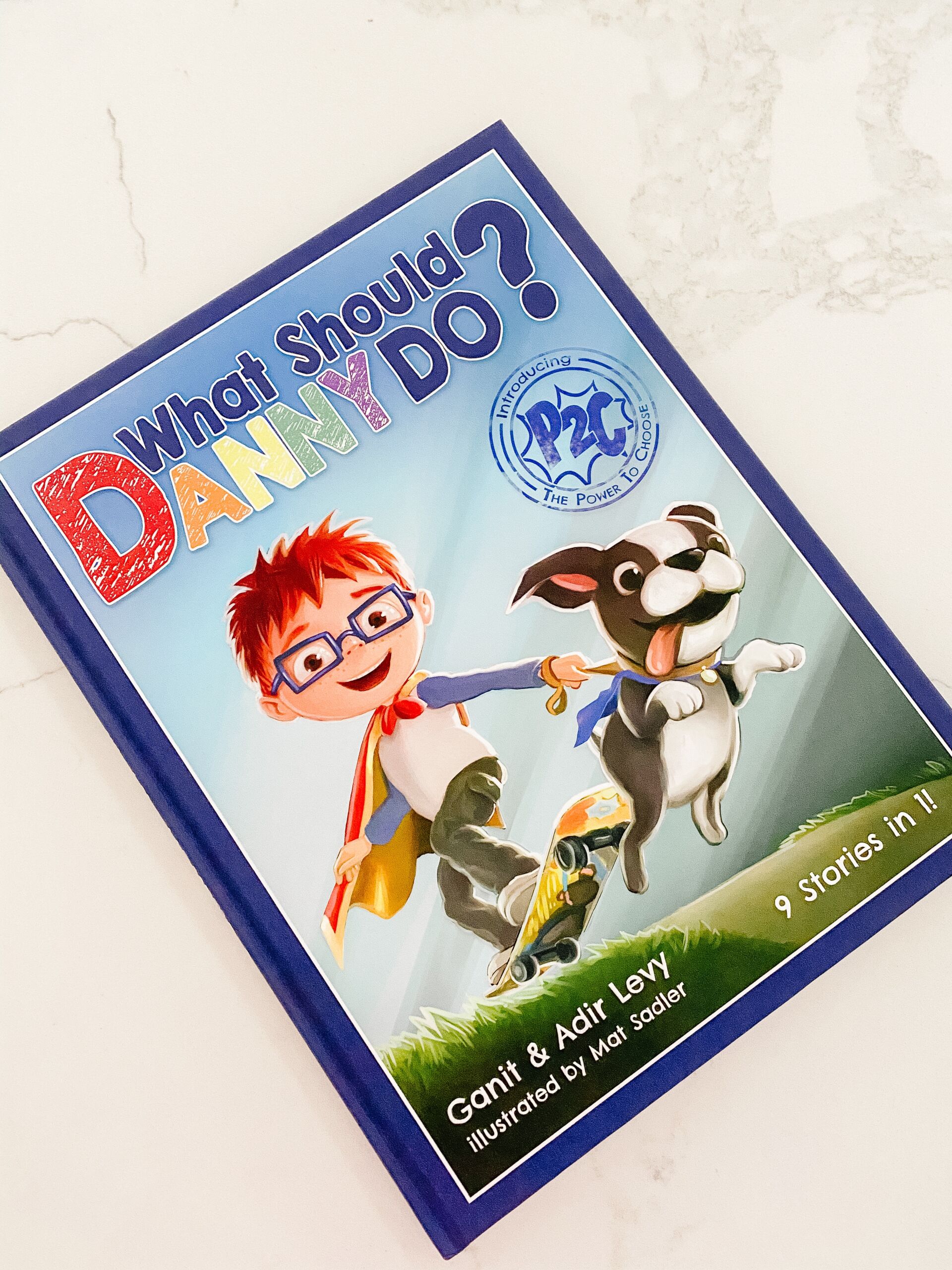 Have a great weekend friends!
In Case You Missed It