Yay! I got my act together and rounded up a list of my favorite things, along with items from my wish list this year!
Be sure to read through all the product descriptions because I included additional items to several of them that are also so good but I couldn't fit them in the collage! I also tried really hard not to include products from previous wish lists but there were a few items that are just SO amazing that I had to include them! If you put any of these on your wish list or purchase something for the lady in your life, I'd love to know because I seriously love all these things so much and it makes me happy to share them with y'all!
And as always, THANK YOU for shopping through my links! Your support truly means the world to me!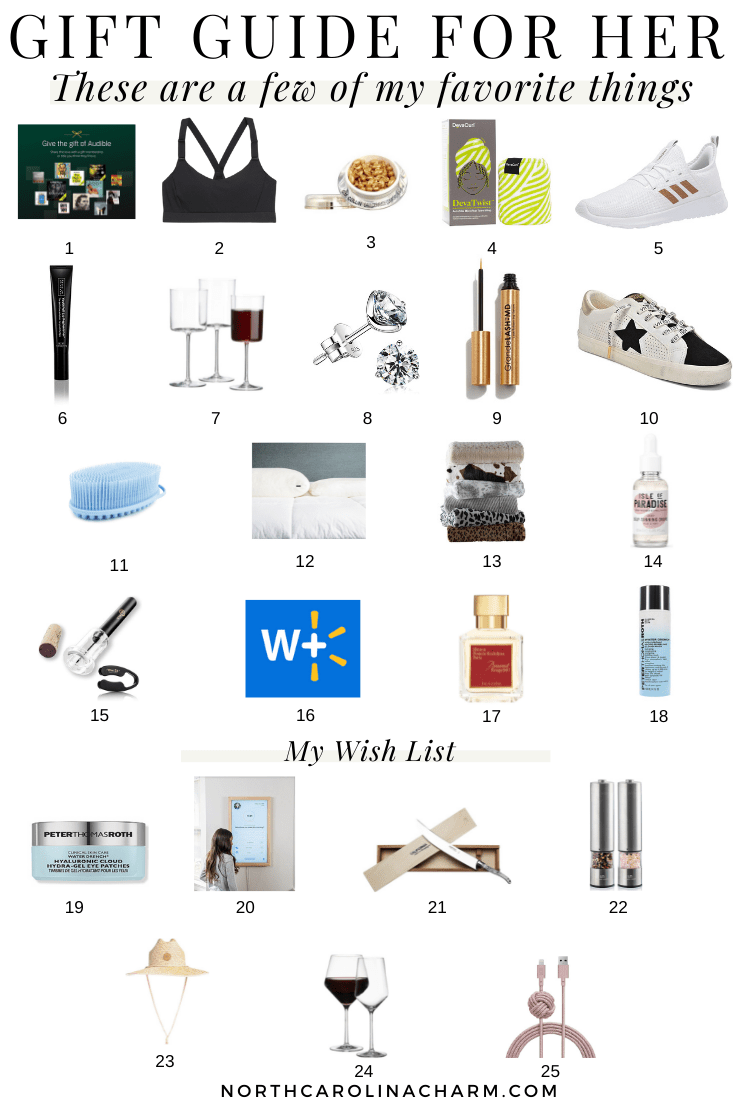 Audible Membership: I gifted this to myself when Audible ran a promo a few months ago and love it SO much. I download almost all my audio books through my library (for free!) but for the ones I'm too impatient to wait for (some wait lists are 12+ weeks) I've been using my membership!
Sports Bra: Earlier this year I polled y'all for the BEST sports bra with good support, adjustable straps and SEWN IN CUPS…and y'all came through. This Old Navy sports bra is absolutely amazing and checks all those boxes…but is also affordable (and almost always on sale). This is the ONLY sports bra I wear now and I put a few more on my Christmas list! It comes in lots of colors too.
GM Collin Daily Ceramide: Hands down, my absolute favorite luxury skincare product. I started using these magical ceramide capsules in the early fall after Priti recommended them to me and they are seriously incredible. Each capsule contains a time released silky dry oil that rapidly absorbs into your skin leaving the skin velvety-soft and supple.
Hair Towel: The microfiber hair towel wrap I gifted at my Favorite Things Party is sold out so I found this similar one. And this one is even cheaper and comes in a two pack. This is a great stocking stuffer or a solid gift to tack on to another present. I purchased one for Caroline too and she uses it every night.
Adidas Cloudfoam Running Shoes: Back in October I polled y'all for recommendations on athletic sneakers and these came highly recommended. They are suuuuuper comfortable, a good price point and really cute too.
Revision Lip Replenisher: Over the summer I was with two of my girlfriends at the pool (April and beauty expert, LRT) and both of them were raving over this product. So I purchased it immediately and haven't looked back. This lip replenisher is incredibly hydrating and provides instant lip volume. And it stays on for a really long time (it's pretty thick).
Edge Square Wine Glass: OK — so I'm actually going to share two wine glasses because I have a longtime favorite and a new favorite. The longtime favorite is my go to wine glass at home — and every time I show it on Instagram I get requests for the link. It's the perfect size and I love the shape. Now for the NEW one…April brought a set of the same shaped wine glass to my Favorite Things Party and they are ACRYLIC!!!! They come in a set of 6, are under $20 and are dishwasher safe!
Diamond Studs: I was trying really hard not to share any of the same items from last year's list but I can't help but include these studs. I have the 1.5 carat gold plated sterling silver – white studs and wear them daily. I have a second hole piercing and like to pair my diamond studs with these cute dainty bar studs.
Grande Lash: I switched to this lash serum earlier this year and am on my third tube. This stuff WORKS. And it's cheaper than revitalash (what I was using previously).
Vintage Havana Sneakers: My go to sneaker and my most worn shoe in my closet. I love these so much that I purchased a second pair (in green). They are comfortable, super cute and reasonably priced too. And I would be remiss not to mention my favorite no-show socks while we're talking about shoes. I was pulling the link for a friend the other day and discovered I've ordered these no-show socks 14 times in the last 3 years — Matt and I both wear these. Highly recommend the socks for a stocking stuffer.
Silicone Loofah: I know — another repeat item from last year's stocking stuffers guide…but I can't help myself. Our entire family uses and loves these silicone loofahs. Last year we purchased one for every family member to go with their Christmas gifts too. I discovered these after my bestie Lisa brought these to my Favorite Things Party two years ago and have raved about them several times on the blog since. These are the exact ones we use but I just discovered the new version with the loop handle which I love for hanging to dry. The scrubber is super easy to clean when it gets dirty (you can boil it or I throw mine in the dishwasher sometimes) and limits bacteria. And while we're covering awesome silicone shower stocking stuffers, I'm just gonna say that you should also grab this scalp massager shampoo brush. Not only is this soft hair brush super effective at cleaning your scalp (which is especially good for me since I don't wash my hair every day), it promotes blood circulation which helps foster hair growth.
HMBL Home Pillows: We have gone through one million pillows over the years. Matt is super picky about his pillows and complains about his pillow constantly…until a few years ago when HMBL Home, a local company, sent us their adjustable pillow to try. Matt stole it before I ever had a chance to use it and became so obsessed with this pillow that I had to get one for myself to experience the hype. Well folks, this is the last pillow you'll ever buy. For weeks I laughed watching Matt excitedly adjust his pillow with the magic filling (which is comprised of shredded memory foam) before bed each night by taking out a few handfuls of filling or adding a little back in until he finally perfected his pillow. After featuring his pillow on Instagram I had so many questions about it that I reached back out to the company and asked if I could share a promo code with my readers and they said yes! Use code NCCHARM15 for 15% off your purchase!
Sherpa Throw Blanket: THE $15 Walmart blanket I think I've featured a million times on the blog…but it's just SO good…and SO inexpensive!! We have 4 of these!!! They are so soft and cozy. Highly recommend!
Tanning Drops: My love for these self tan drops runs deeeeeep! These are the tanning drops I use for my face. I just add a generous dropper to my moisturizer and apply it all over my face and neck — it's a gorgeous glow color!! I usually use these every 2-3 days.
Wine Ziz Wine Opener: Another great stocking stuffer or gift to pair with a bottle of wine. My friend Stephanie brought these to last year's Favorite Things Party and well, it's now one of my favorite things! This is the most simple and easiest air pump wine opener. You simply slide the needle into the cork and pump it a few times and the cork pops right out damage-free! It also comes with a foil cutter. Oh, and while we're talking wine, you may want to grab a pack of Wine Wands too which is a filter you swirl in your wine glass to remove histamines and sulfites that trigger headaches, congestion, skin flush, etc.
Walmart+ Membership / Harris Teeter Express Lane: I honestly cannot believe I ever lived without grocery delivery/pick-up. It truly is a gift that has saved me an insane amount of time in-store (and saved me from making many Target trips). Every week I get a large delivery from Walmart (includes frozen and fresh groceries, all our paper products, personal products, cleaning products, etc.) and I also pick up another load of groceries from my local grocery store Express Lane later in the week (usually items I forgot to include in my W+ delivery, plus a restock on fruits, veggies and lunchbox items).
Maison Francis Kurkdjian Paris Baccarat Rouge 540 Eau de Parfum: OK — so this one is definitely the splurge item on my list but I promise, promise, promise it is worth every single penny. If you trusted me on the Creed Aventus Cologne for men, I promise this perfume is just as heavenly for women. I stumbled upon it by accident when it came as a free sample in one of my Nordstrom makeup orders and I fell in love with it. When I ran out, I gave the sample bottle to Matt to track down for my birthday and had NO IDEA how expensive it was until he purchased it. It definitely gave me a sticker shock but I kid you not…I get a compliment on this perfume almost EVERY time I wear it. Over Thanksgiving, my brother (a cologne/perfume connoisseur) recognized it immediately and said it's one of his favorite women's fragrances. Last weekend over dinner our server told me and Matt that we smelled amazing and wrote down both of our fragrances. Two days earlier, my girl who waxes my eyebrows did the same thing. I could seriously go on…
Peter Thomas Roth Water Drench Hyaluronic Micro-Bubbling Cloud Mask: I AM SO DANG OBSESSED WITH MASK. I have never experienced a face mask like this before but it legitimately feels like a bubble bath on my face which is weird and wonderful all at the same time. This whipped and creamy mask is packed with hyaluronic acid and uses moisture in the air to bring oxygen to your face (or something like that. I don't know. But it's MAGIC).
Peter Thomas Roth Eye Patches: I have been dying to try any of the PTR hydra-gel eye patches and was over the moon when Michelle brought them to my Favorite Things Party! I already used (and loved) my pair and am really hoping Santa brings me some more. I love the water drench cloud mask (see #18) so much that I know I'm gonna love the gel patches too.
Hearth Display: I don't think I've ever been more impatient for a product launch. The Hearth Display replaces

the white board, the scheduling apps, the post it notes on the fridge, the school calendar taped to the wall, the text messages and emails that get lost – all the things parents use every day to stay organized. Over summer I

rounded up the reader recommendations for digital calendars and Hearth Display actually reached out to me shortly after I shared their calendar and offered me a promo code (CHRISTINA5) to share with my readers, along with a lot of additional information. After learning about all the features, I decided this family command center is perfect for us — and I'm excited to help support a small, women-led startup. The

first batch of preorders sold out in less than three weeks over summer and are currently preparing for our second round of pre-orders. I will definitely update y'all when they launch the next round of pre-orders.

Champagne Saber: Because I love a good party trick.
Electric Salt & Pepper Grinder: I don't know why it's taken me so long to put this on my wish list.
Roxy Sun Hat: For the summer!
Tour Wine Glasses: I've been searching for really nice (super thin) wine glasses and my research led me to the Tour Wine Glasses and Riedel glasses. I ended up putting the Tour glasses on my wish list because I love all the shapes and want one of each.
Woven Phone Charger: My friend Stephanie brought this on a girls trip over summer and I thought it was genius. The weighted knot anchors the phone cable to any flat surface when detached from your device so I won't have to climb under my bed to find the end of my charger anymore.

Looking for more items? Here is last year's Favorite Things List!