Christmas is NEXT weekend and I've rounded up lots of fun and unique stocking stuffer ideas for you!!! I've got you covered for the guys, yourself, and the kids! I hope you find some fun new ideas…
TIP: If the items says it will not arrive before Christmas, see if another color/variation is in stock and will arrive in time.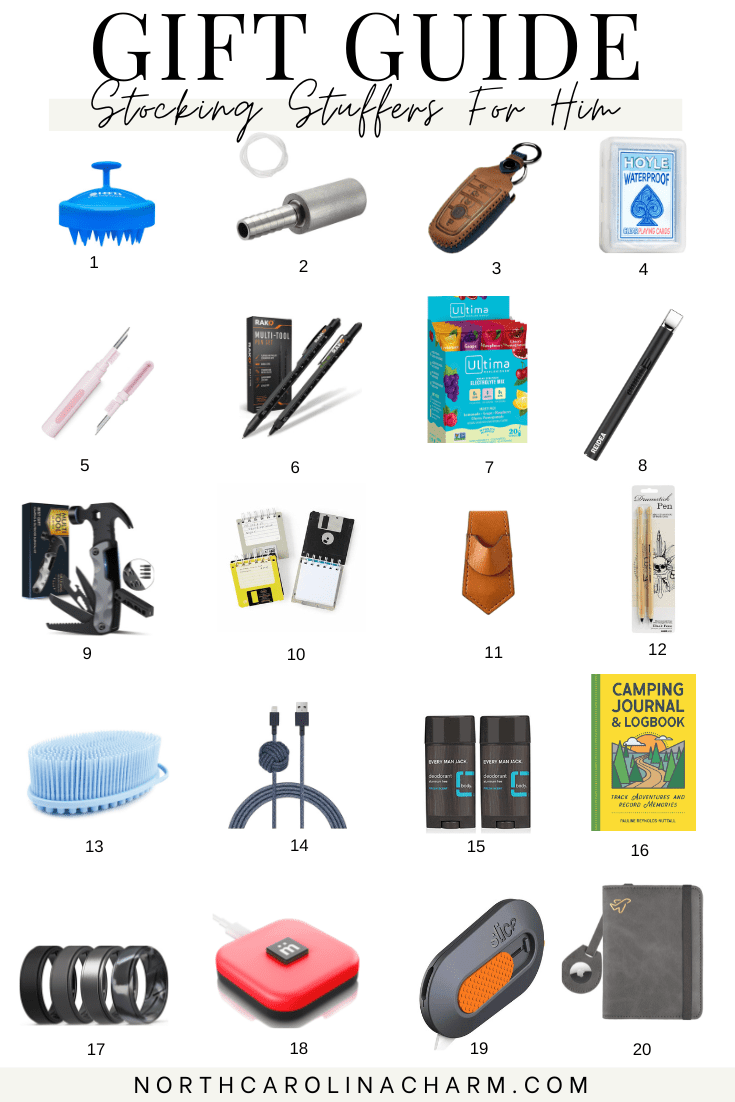 Stocking Stuffer Ideas for Men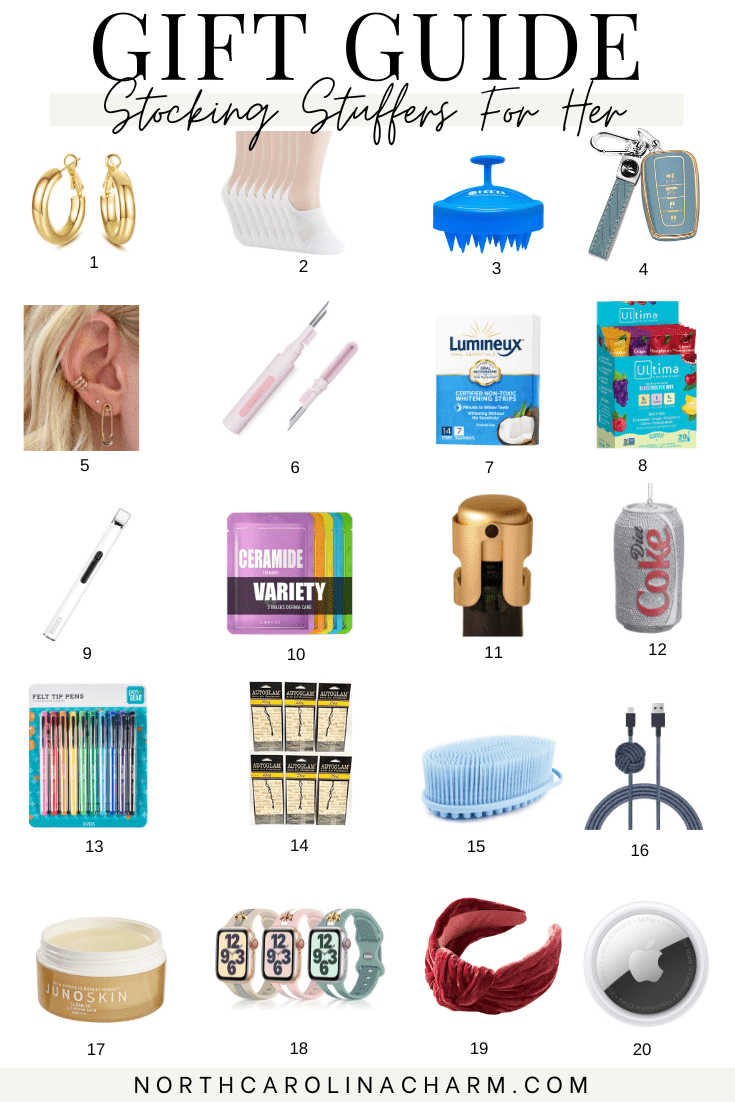 Stocking Stuffer Ideas for Women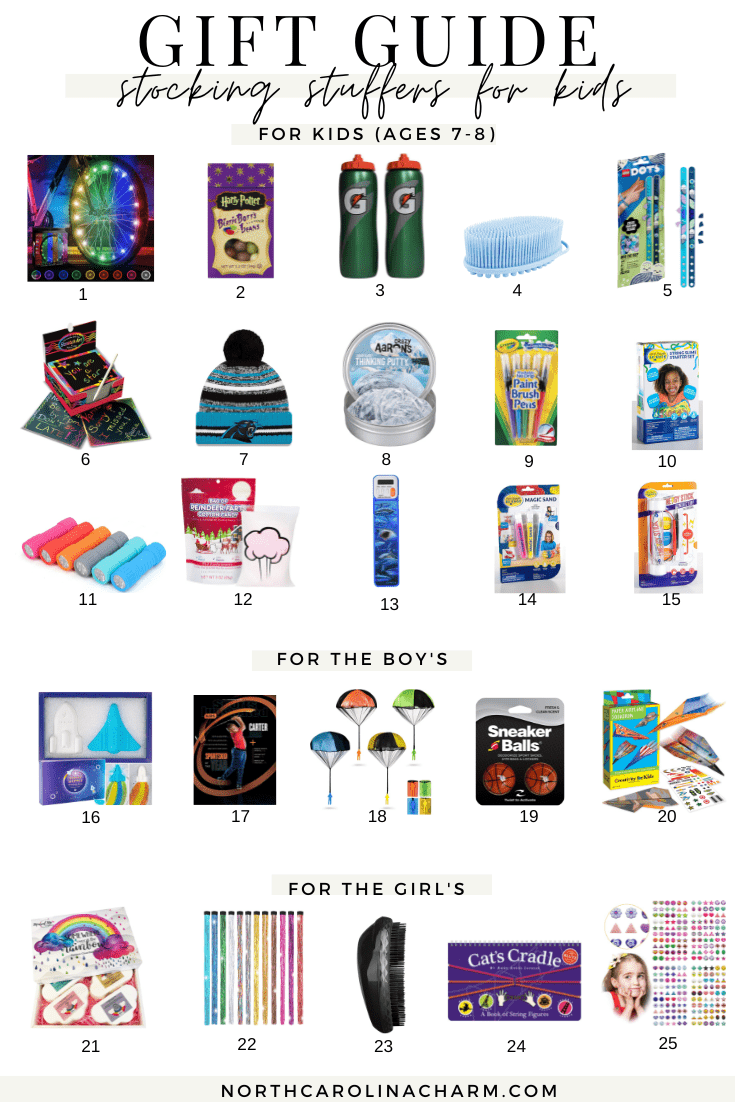 Stocking Stuffer Ideas for Kids
LED Bike Lights: Our kids have and love these. And we especially love the extra lights during the winter months when it starts getting dark earlier in the evenings.
Harry Potter Bertie Bott's Every Flavor Beans: And I mean EVERY flavor — soap, vomit, earwax. These jelly beans were a huge hit last year with the kids, and were a hilarious blend of gross and delicious.
Gatorade Squeeze Bottle: Our kiddos are obsessed with these water bottles — perfect for sports and backpack side pockets.
Silicone Loofah: On every single gift guide forever and ever. Our entire family uses and loves these silicone loofahs. The scrubber is super easy to clean when it gets dirty (you can boil it or I throw mine in the dishwasher sometimes) and limits bacteria.
LEGO Dot Bracelets: Our kids are LEGO-obsessed right now.
Scratch Art Mini Notes: A best-seller last year and a huge stocking stuffer hit.
Panthers Beanie: For the littlest Panthers fans! Available in 4 colors.
Crazy Aarons Thinking Putty: Squeeze it, tear it, bounce it, and sculpt it! We purchased for both kids this year. There are SO many fun putty options to pick from too.
Washable No-Drip Paint Brush Pens: Washable, non-toxic, less-mess painting option!
String Slime Starter Kit: This just looks SO fun. Caroline looooooves slime and this STEM kit is a little different from the usual kits we get her.
Flash Lights: Can never have enough.
Bag of Reindeer Farts (Cotton Candy): Because Santa has a good sense of humor.
Digital Bookmark & Reading Timer: I LOVE this for tracking our time spent reading and saving our places in the books we read at night together. Available in 6 colors.
Magic Sand: This sand that never gets wet is a fun reusable science toy. It starts out as normal sand but is then dyed and covered with a water-repelling polymer that keeps it dry. Perfect for building sandcastles under water too.
Energy Stick Conductor: A fun toy for learning about insulators and conductors. Watch your body conduct electricity, discover how electrons flow through circuits, and touch the probes to make a human circuit!
Airplane Bath Bombs: These are SO dang cool.
Sports Illustrated Magazine Subscription: For the sports-lover.
Parachute Flying Men: A fun, classic toy.
Sneaker Balls: Perfect for the boy who is really into sneakers!
Paper Airplane Kit: Create and customize a fleet of 20 paper airplanes with this complete craft kit!
Rainbow Bath Bombs: We have purchased these several times for the kids and they work SO well and are a blast to watch in the bathtub! They are made with natural oils and moisturizing shea butter too.
Clip-In Hair Tinsel: DIY fairy hair!!!! There is a rainbow of color options to pick from too.
Tangle Teaser Brush: The BEST brush ever. I know I've shared this a million times but it really does work SO well. Available in every color.
Cat's Cradle String Game: We bought this last year for Caroline and she is just now really getting into it. Takes me back to my childhood too — The Cup and Saucer, The Witch's Broom and Jacob's Ladder!
3D Gem Sticker Earrings: This set comes with 240 earrings! This is usually my "non-gift" I put in a birthday card for "no-gift" birthday parties.
Gift Guides You May Like