We kicked off Soup Sundays with a NEW soup!
Normally I like to kick off soup season with one of our favorites — sausage and cheese tortellini soup or chicken enchilada soup or creamy zuppa toscana soup. Unfortunately, all my faves are packed with delicious cheese or meats so I had to get a little creative and find a new soup that is vegan for Matt and my kids would eat. I ended up finding a non-vegan Lentil & White Bean Soup from Damn Delicious that I could adapt enough to make everyone happy. I substituted Parmesan rinds for nutritional yeast, chicken stock for vegetable stock, etc.
Then I topped the individual bowls with each person's preferences — vegan parm and vegan bacon for Matt and regular parm and regular bacon for everyone else! I wasn't sure if the kids would eat it but they did!!! So this one is definitely going in our soup rotation!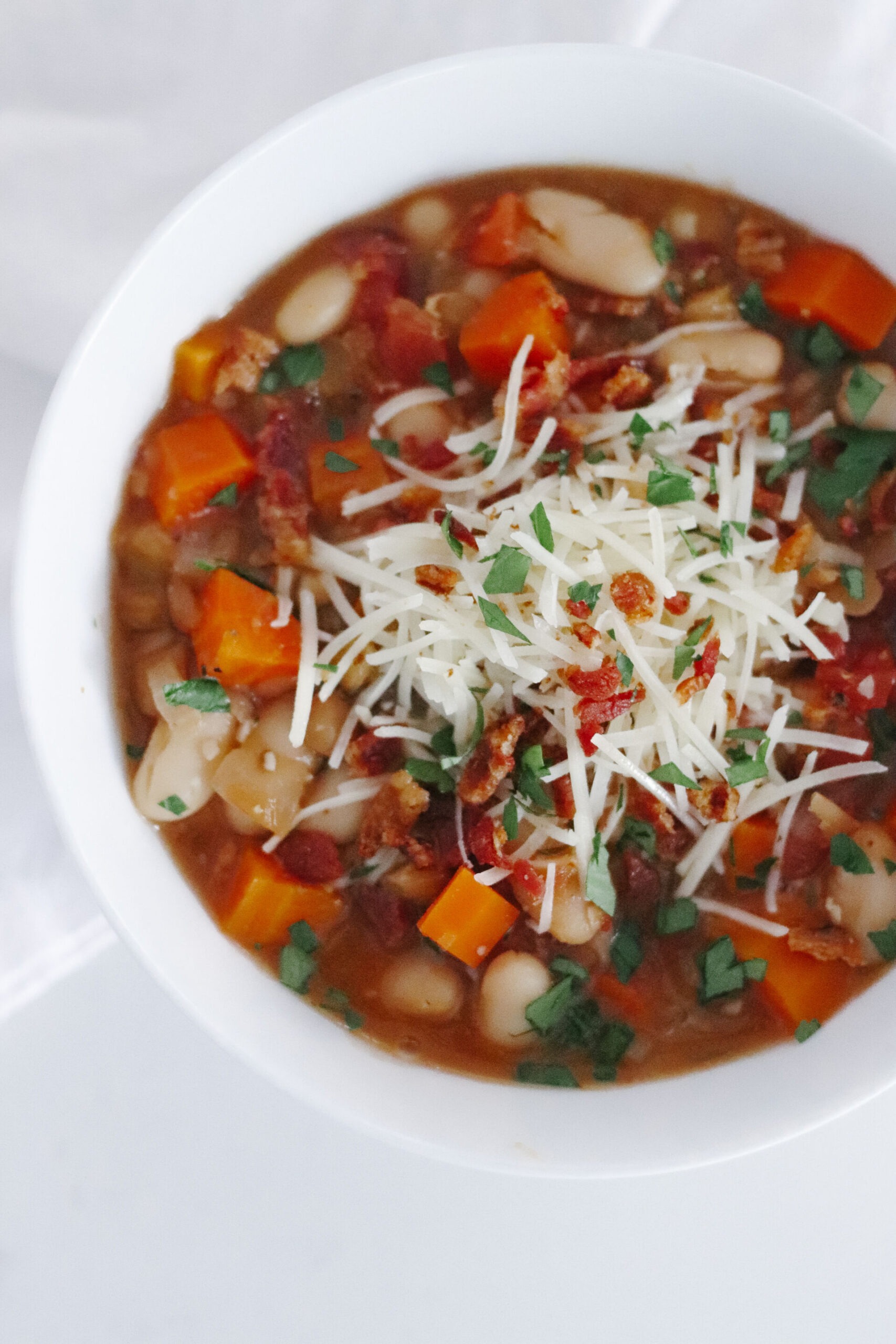 Easy and delicious!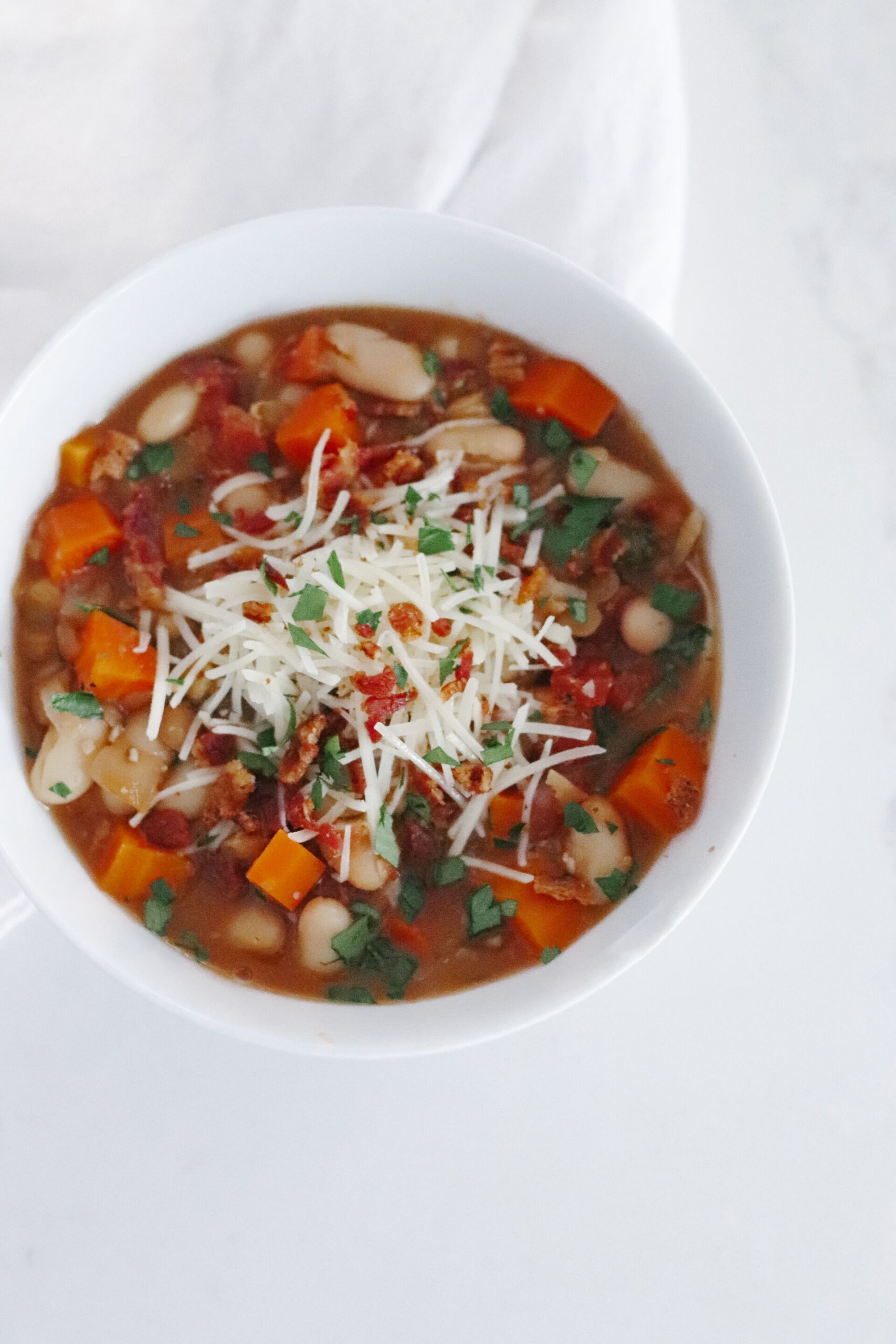 White Bean & Lentil Soup (Vegan & Dairy-Free)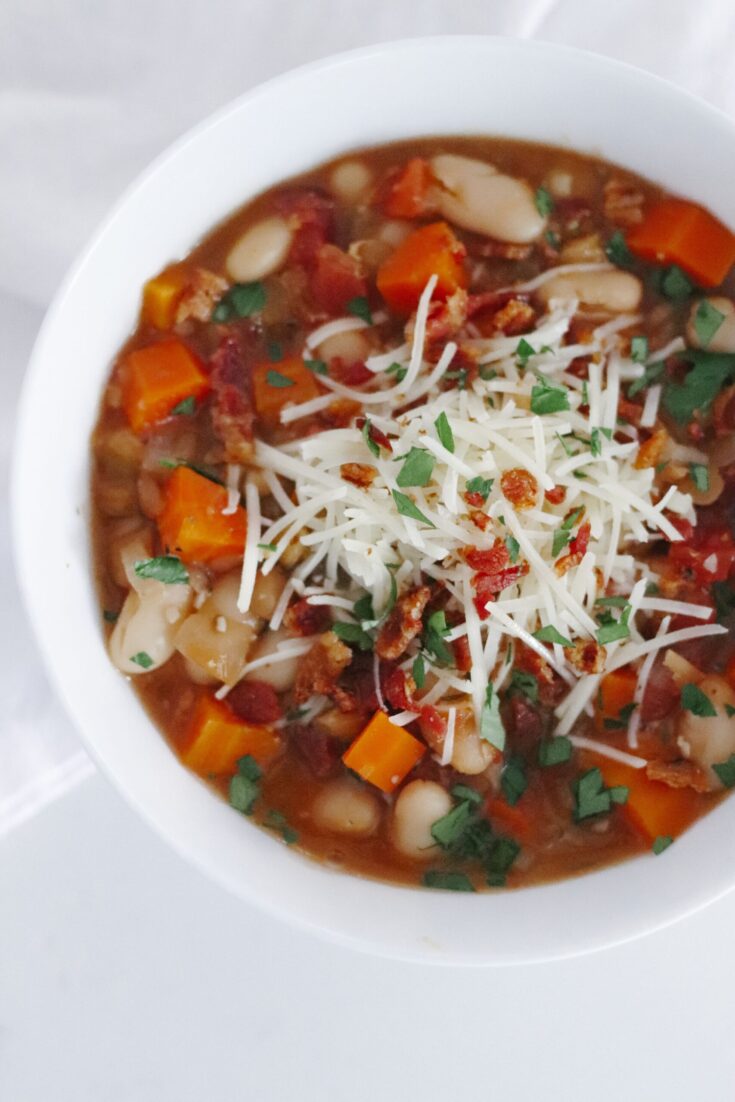 Ingredients
3 slices (vegan) bacon, diced
1 sweet onion, diced
2 carrots, peeled and diced
3 cloves garlic, minced
4 sprigs fresh thyme
3 bay leaves
6 cups vegetable stock
1/2 cup green or brown lentils
1/4 cup nutritional yeast
Kosher salt and freshly ground black pepper
2 (15.5 ounce) cans cannellini beans, rinsed and drained
1 (14.5 ounce) can petite diced tomatoes, drained
2 tablespoons chopped fresh parsley leaves
Instructions
Heat a large stockpot or Dutch oven over medium high heat. Add bacon and cook until brown and crispy, about 6-8 minutes. Drain excess fat, reserving 2 tablespoons in the stockpot; transfer bacon to a paper towel-lined plate.
Add onion and carrot, and cook, stirring occasionally, until onions
are translucent, about 3-4 minutes. Stir in garlic, thyme and bay leaves until fragrant, about 1 minute.
Stir in stock, lentils, and nutritional yeast; season with
salt and pepper, to taste. Bring to a boil; cover, reduce heat and
simmer until lentils are almost tender, about 12-15 minutes.
Stir in cannellini beans and tomatoes until lentils are completely tender, about 10-15 minutes more.
Serve immediately with bacon & vegan parmesan cheese, garnished with parsley, if desired.