Are y'all liking my dinner recipe posts each night on Instagram? I really love seeing what others make for dinner each night, especially W30 recipes right now! Anyway, I've had lots of requests to re-share recipes I posted earlier in the week so I'm rounding up ALL our recipes from weeks 1 – 2 of Whole30 Light! Matt and I have already trimmed down a bit and feel SO much better right now!
A FEW NOTES/TIPS
Favorite Whole30 Websites: My two favorite websites for whole30 recipes are Paleo Running Mama and 40 Aprons. I've never made a recipe we didn't love.
Store Bought Short Cuts: We couldn't live without Primal Kitchen condiments and Tessemae's salad dressings. These have saved us SO much time from making ranch or ketchup from scratch and they all actually taste GOOD!!! So although these aren't the cheapest ingredients, they are worth the investment. You can find Primal Kitchen at Target, Amazon and some grocery stores too! We really love the ketchup, mayo and all of the salad dressings. You can find also find Tessemae's at Target, Amazon and some grocery stores. We have loved all the salad dressings, especially the ranch
Compliant Fast Food Meals! On Friday night we always order takeout. Our favorites are Chipotle W30 Lifestyle Bowls and Five Guys lettuce wrapped burgers. YES — Five Guys is actually compliant as none of their burgers are seasoned. The patties are made up only of high quality ground beef. The mushrooms are not seasoned either. Everything made on the grill is grilled on the flat top WITHOUT butter or oil. So you can order a lettuce wrapped burger with loads of veggies and then add your own W30 condiments at home!
Dessert: The closest w30L compliant dessert recipe I can find for Family Movie Night are these Paleo Deep Dish Salted Caramel Chocolate Chip Blondies. This is NOT W30 compliant and is technically a paleo dish since it contains maple syrup and chocolate chips. However, I patiently look forward to this treat all week long. I do cut down on the chocolate chips (or sometimes omit them completely) and it's seriously just as good!!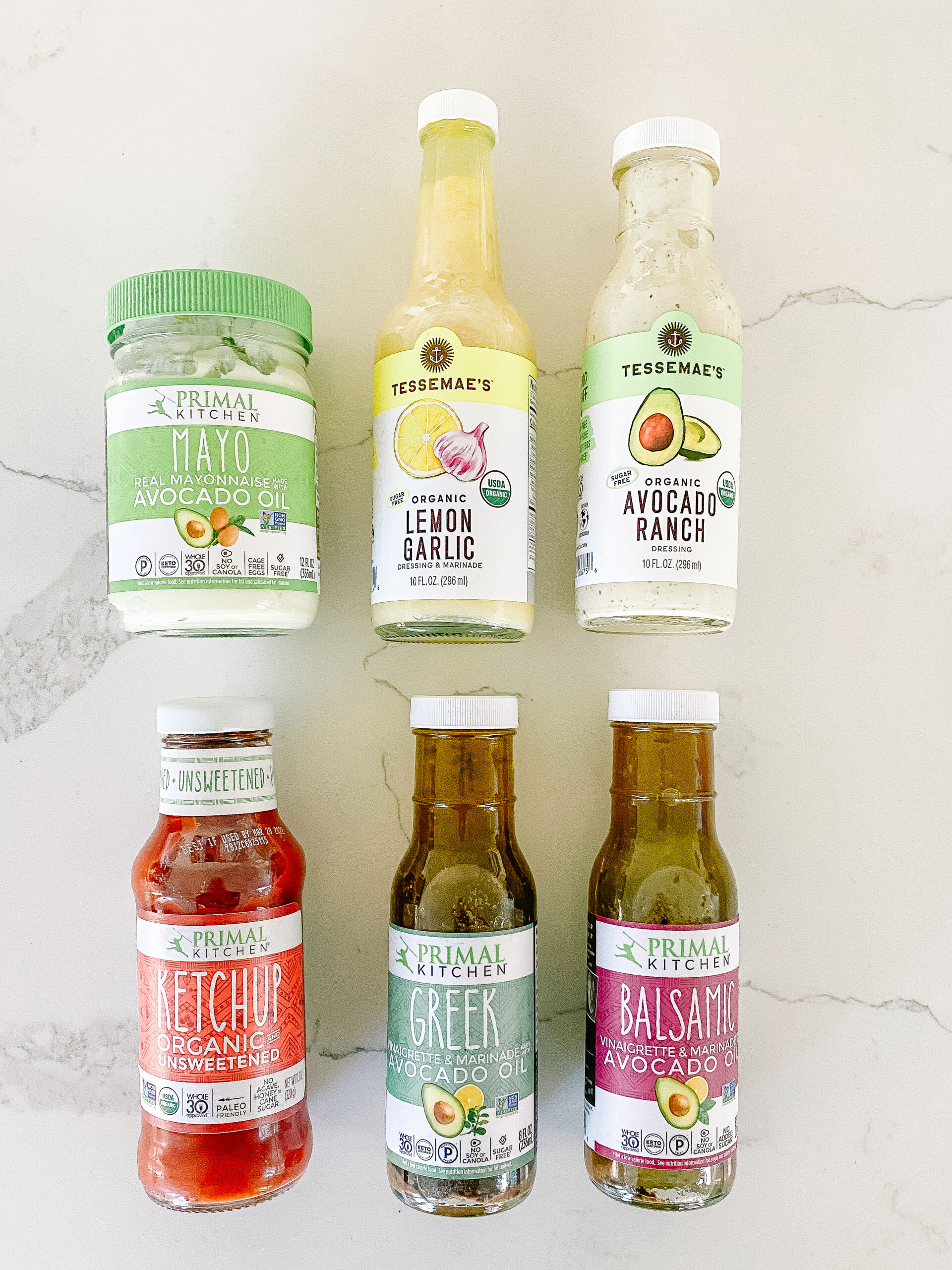 WEEK 1
Fave Meal of the Week: Grilled Chicken Cobb Salad w/ Honey Dijon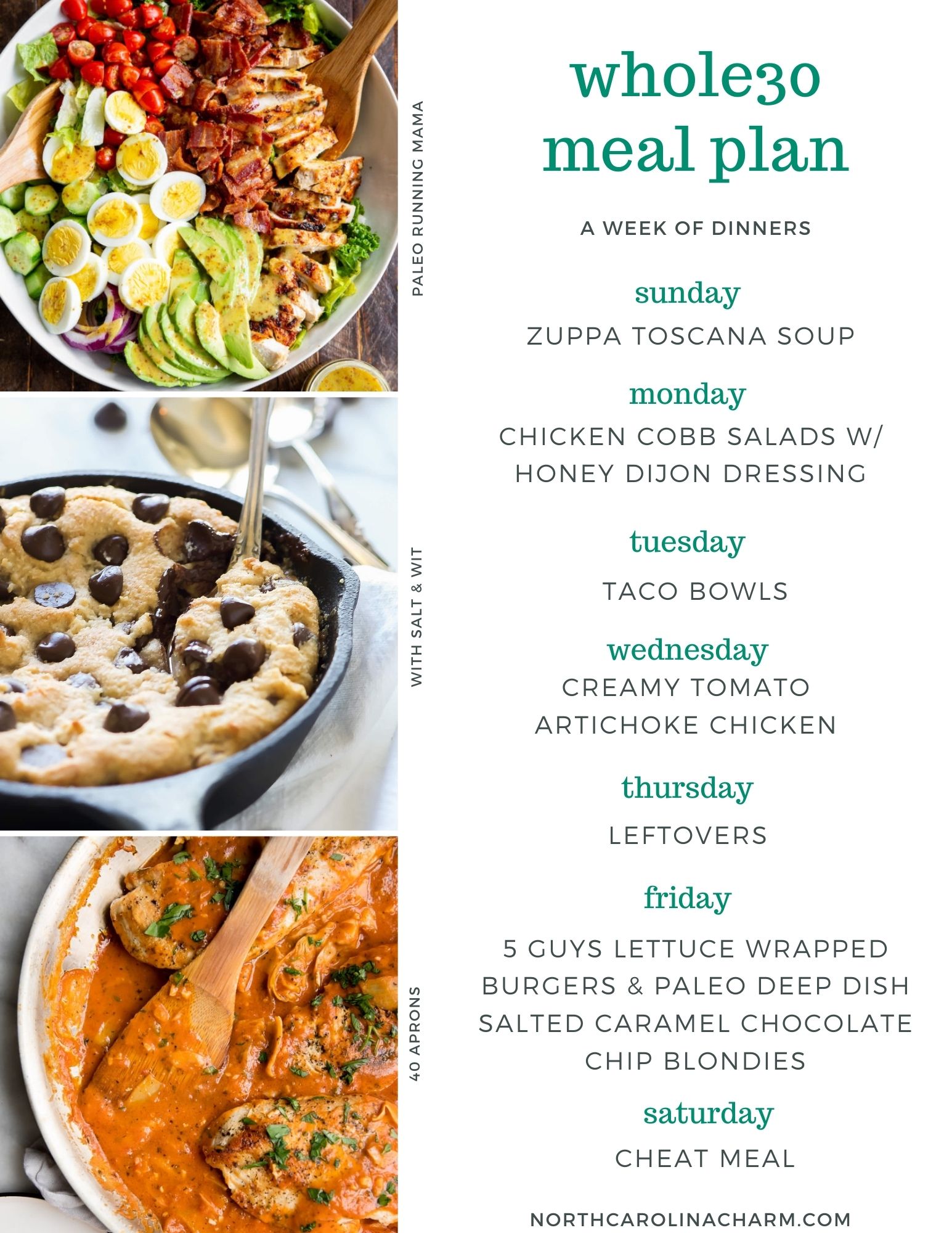 WEEK 2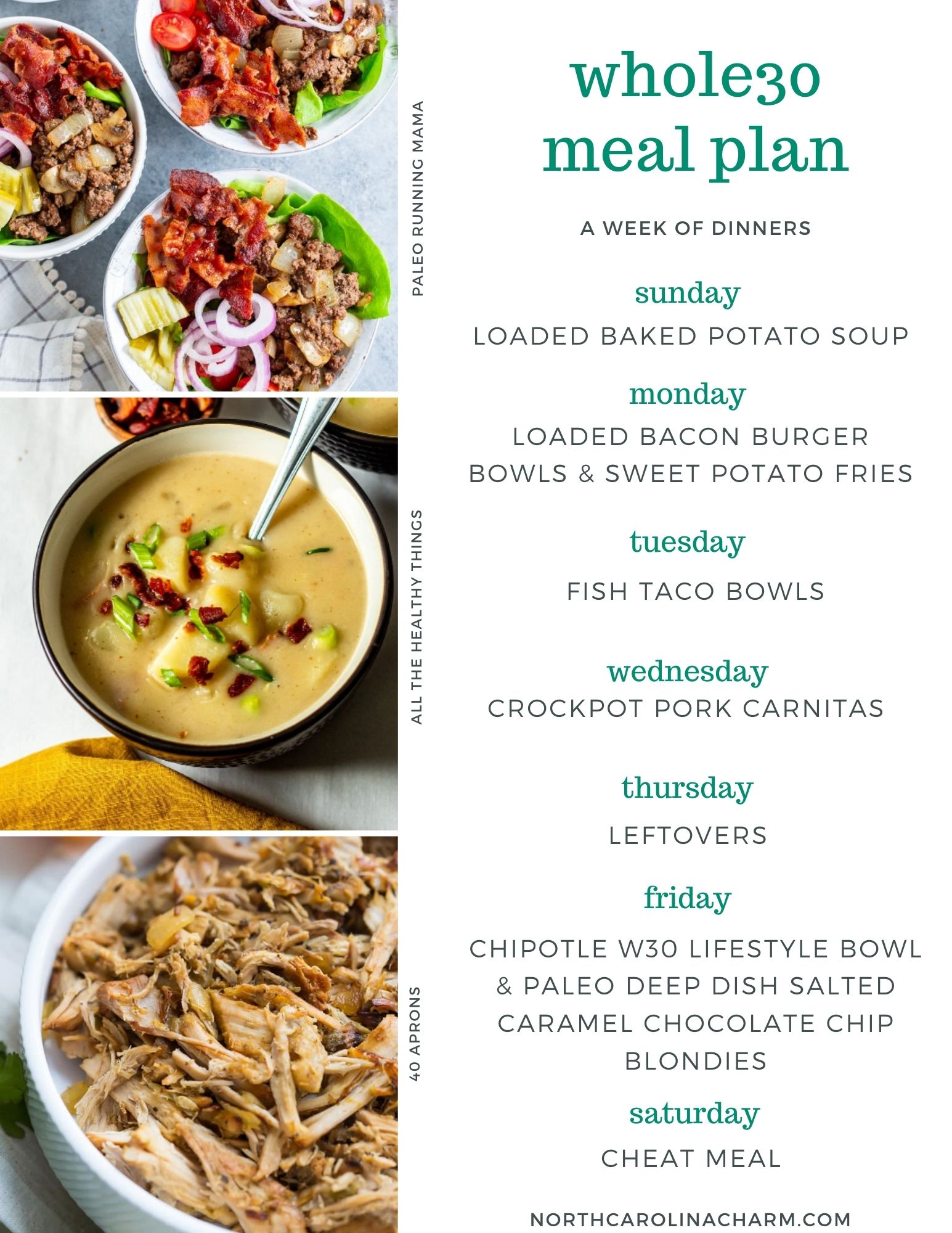 All Time Favorite Whole30 Meals