I recently shared my favorite summer cocktail hack — Chick-fil-A Spiked Lemonades on Instagram and y'all LOVED it. In case you missed it, I wanted to share it again here because it's super easy and refreshing to drink during the warmer months — especially poolside!
This cocktail recipe actually evolved from my original Rosemary Thyme Happy Hour Lemonade from a few years ago — back when I had time to make fresh squeezed lemonade myself. And then one warm summer day, I was enjoying a pool day with my friend McKinsey at her parents house and her mom surprised us with vodka lemonades. I couldn't get over how delicious they were and asked for the secret recipe. When I learned the secret ingredient was Chick-fil-A lemonade I was shocked. It never occurred to me to purchase a gallon of lemonade from Chick-fil-A. But oh yes, you can. In fact, you can order a gallon of regular or diet lemonade for $10.50!
So here's how I kick it up a notch — I add a few sprigs of thyme, rosemary or lavender to the gallon and let it marinate overnight. The fresh herbs give it an amazing flavor and you can adjust how strong you want it to be by adding more or less sprigs. Obviously, you can enjoy the lemonade as is or you can spike it with vodka.
And there you have it — the Chick-fil-A Happy Hour Lemonade.

Chick-fil-A Spiked Lemonades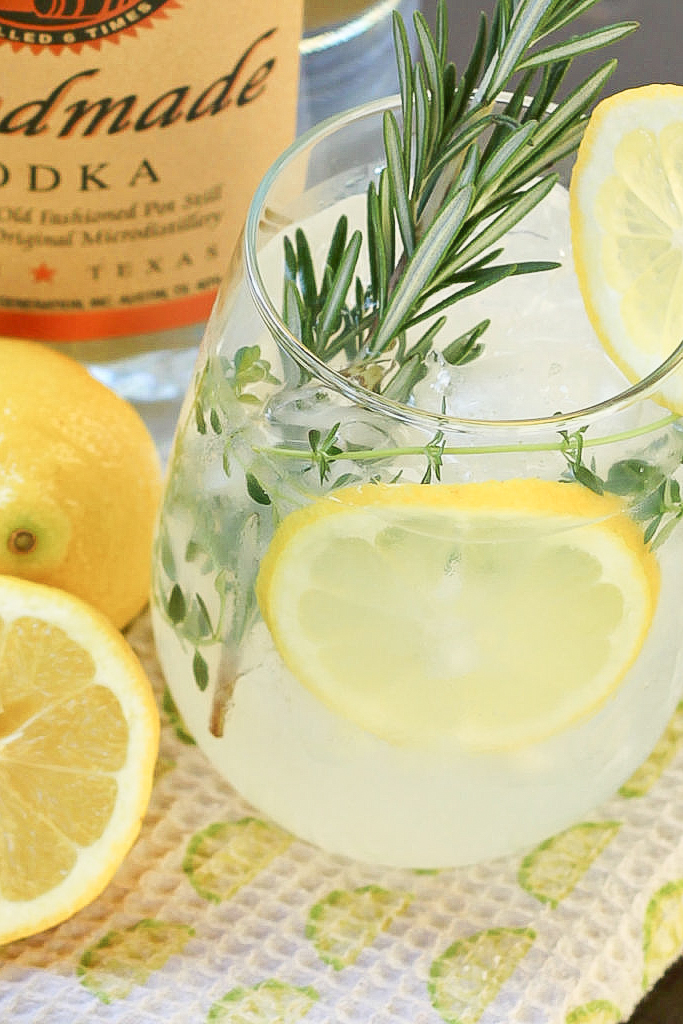 Grab a gallon of Chick-fil-A lemonade and add a few sprigs of FRESH thyme, lavender or rosemary and marinate overnight. (You can adjust the flavor by adding more or less sprigs.)
Serve over ice and 1.5 ounces of vodka.
*consider pinning to save for later