Caroline has been asking me to make chicken noodle soup for dinner. She's become a pretty picky eater and is mostly living off of fruit and flour tortillas these days so I obliged.
A few weeks ago one of my readers sent me a recipe for Chicken & Rice Soup with Garlicky Chile Oil that I've been saving for a Soup Sunday. I knew my kids wouldn't eat this recipe at its full potential, so right after direction #4 I ladled out some soup for them. Caroline only ate the noodles and Thomas only ate the chicken but I am still calling it a win.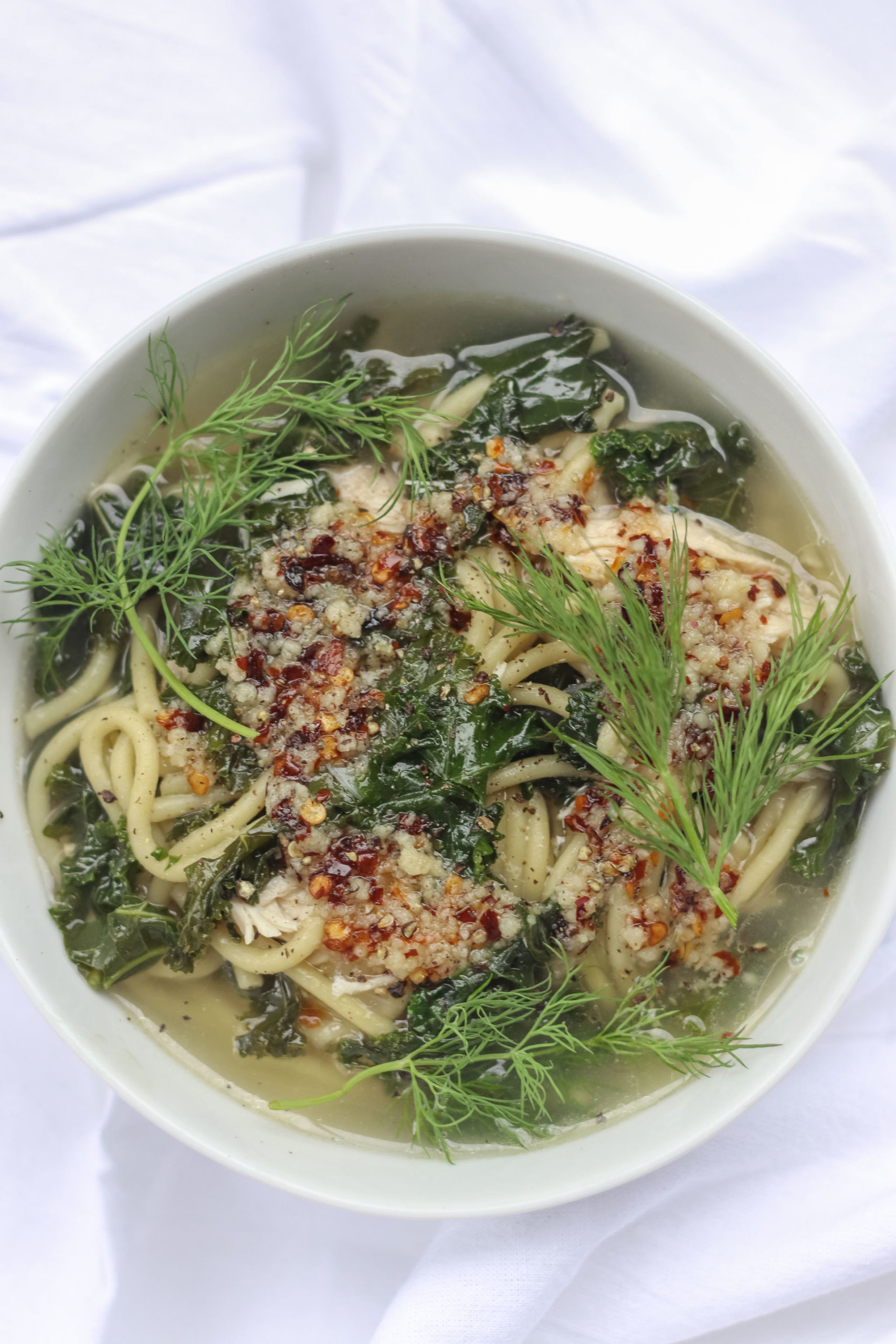 Matt and I devoured this soup! It is so flavorful and has a spicy kick to it!
Chicken Noodle Soup with Garlicky Chile Oil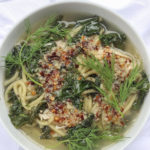 1 small onion, finely chopped
6 garlic cloves, finely sliced
8 oz spaghetti noodles (not quite the full box)
1/4 cup olive oil
2 tsp crushed red pepper flakes
32 oz chicken broth
1 lb boneless, skinless chicken breast
1 large bunch kale, chopped
2 1/2 tsp kosher salt, divided
2 lemons
freshly ground black pepper
dill sprigs, for garnish
In a large pot, heat olive oil over medium heat. Add garlic, stirring often, until golden brown, 3–5 minutes. Transfer to a small bowl, leaving 1 Tbsp. garlic oil in pot. Stir crushed red pepper flakes into garlic oil in bowl; set aside.

Add onion to pot with remaining oil and cook over medium heat, stirring occasionally, until onion is translucent, about 5 minutes.

Pour in chicken broth, noodles, chicken and 1 tsp salt. Bring to a boil, then reduce heat to low and bring to a gentle simmer. Simmer, uncovered, until chicken is cooked through, about 20 minutes.

Remove chicken and shred (I like to use my stand mixer to shred) and return chicken to pot.

Stir in kale and cook for 4-5 minutes.

Remove pot from heat. Squeeze in lemon juice, remaining salt (or more to taste), and stir to combine.

Serve soup with a drizzle of garlic-chile oil, a few grinds of pepper and garnish with dill.