We DID IT!!! We put ALL of our Christmas decoration boxes AWAY before Christmas this year!!! I am so proud of myself for finally getting them out of the middle of our garage so we no longer have to shimmy between them to get to the one unblocked car door for everyone to pile in through.
Anyway, here are a few of my favorite Christmas scenes from around the house this year…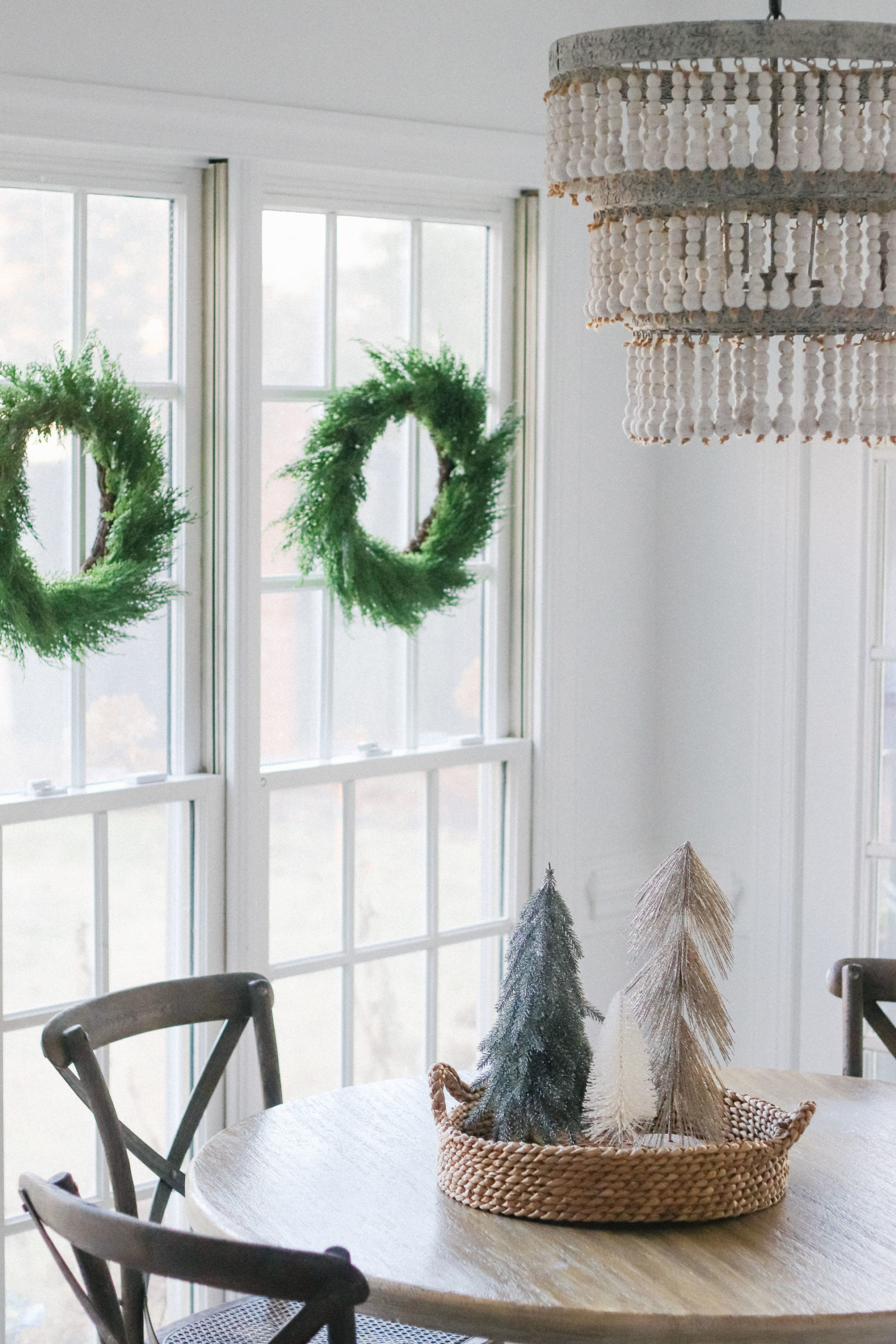 Cedar Garland: I absolutely love our 18 foot cedar garland from Lynch Creek Farms. Matt and I hung it with zip ties and fishing line. When it was time to add my silk ribbon (that I've been using for years) I couldn't find it. I searched all over the house only to discover that Caroline had stolen it from my Christmas tree box and had cut it into little pieces for crafting in her bedroom. Let's just say it wasn't my finest parenting moment. So I ended up ordering new ribbon which I really love.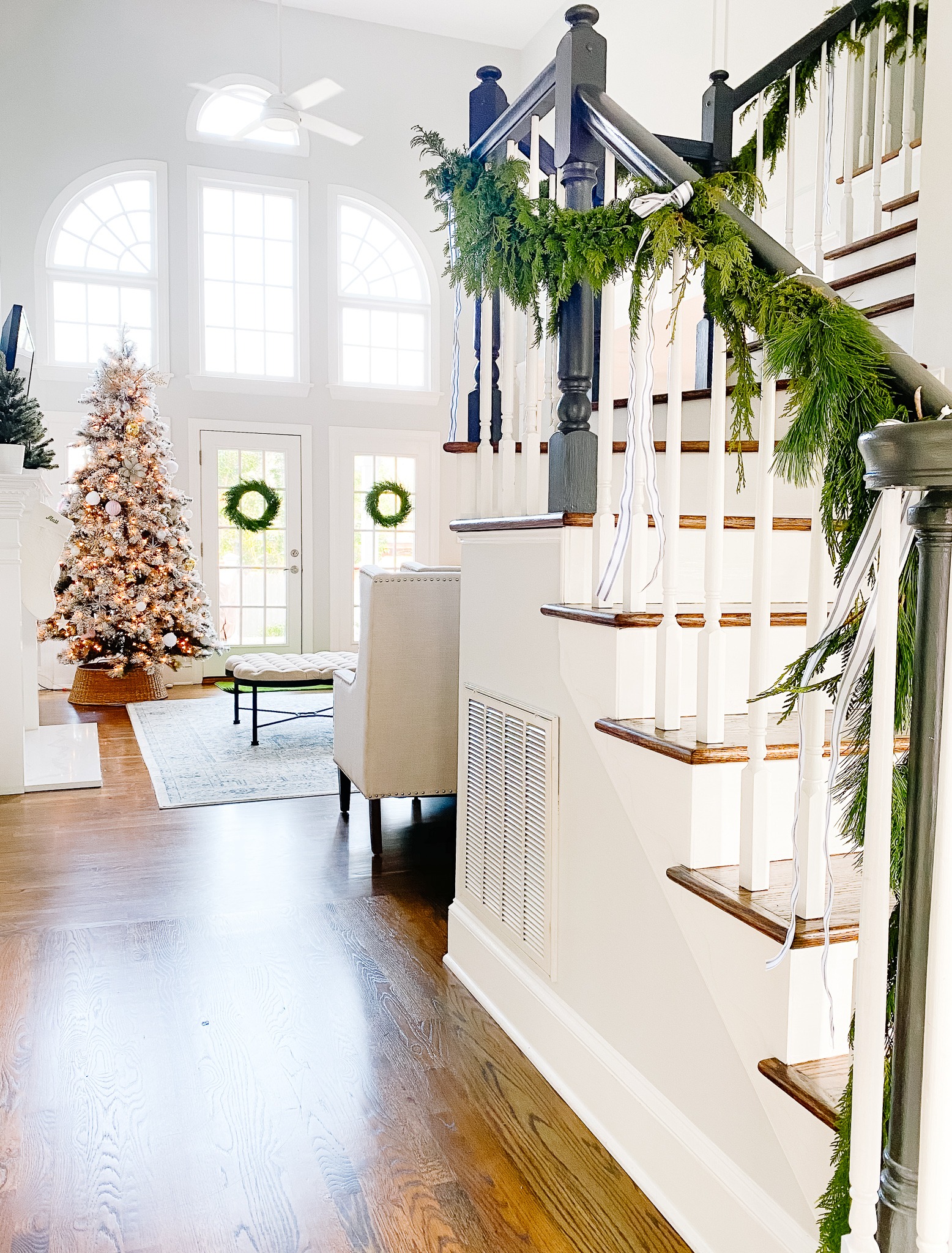 Christmas Cards: Every year I frame and display our Christmas card. It makes me SO happy every time I walk past them! You can see our 2020 Christmas card here! I also love walking past the wall of Christmas cards in our kitchen. At the end of the season, I like to snap a picture of each card and save it as the photo for that contact in my phone.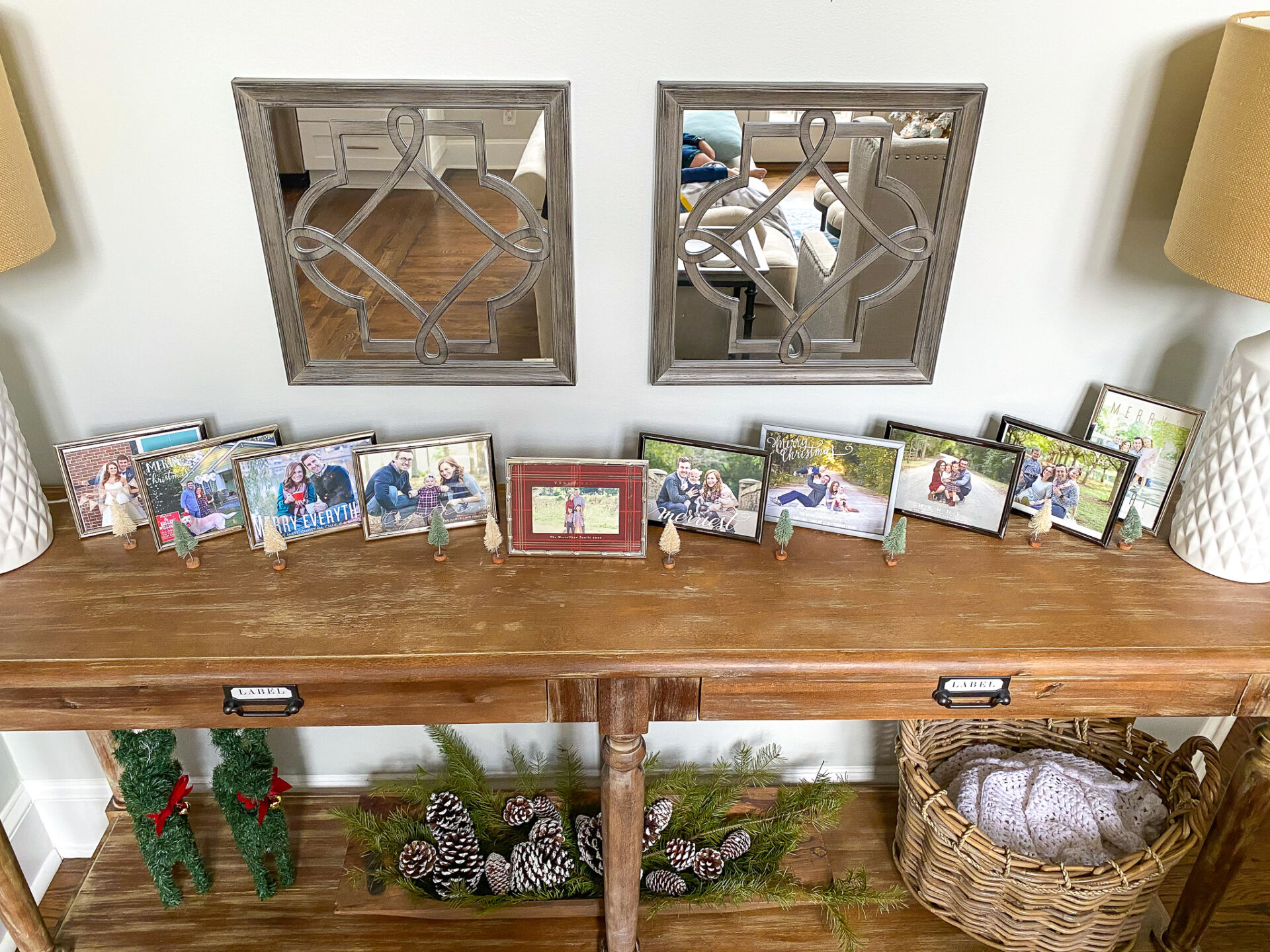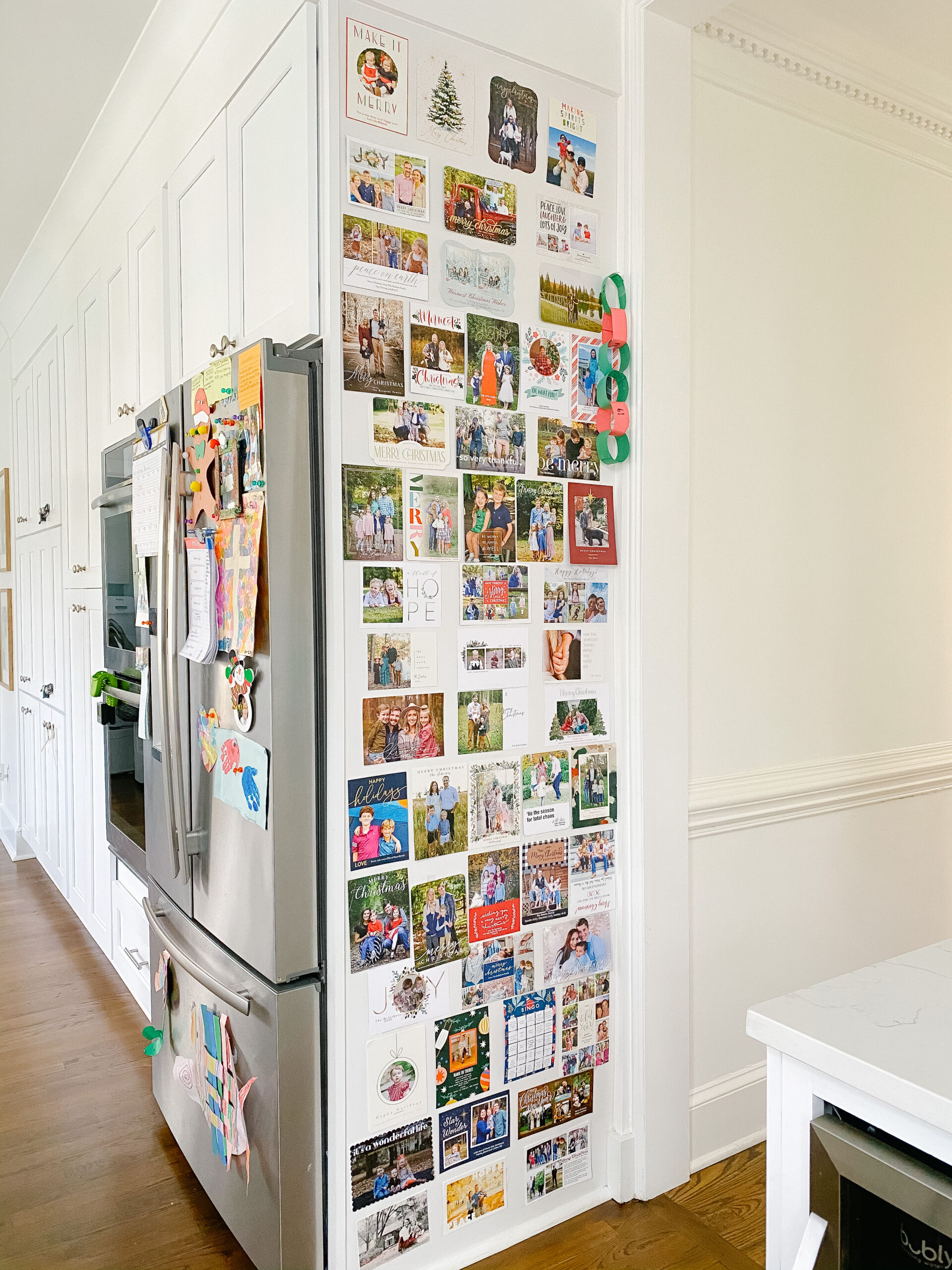 Door Snowman: On Thanksgiving Day, Caroline and I crafted this snowman for the door. If you follow me on Instagram, you know that Matt asked why the snowman was wearing red pants. I still don't see it, but somehow the red SCARF ribbon looks like snowman pants…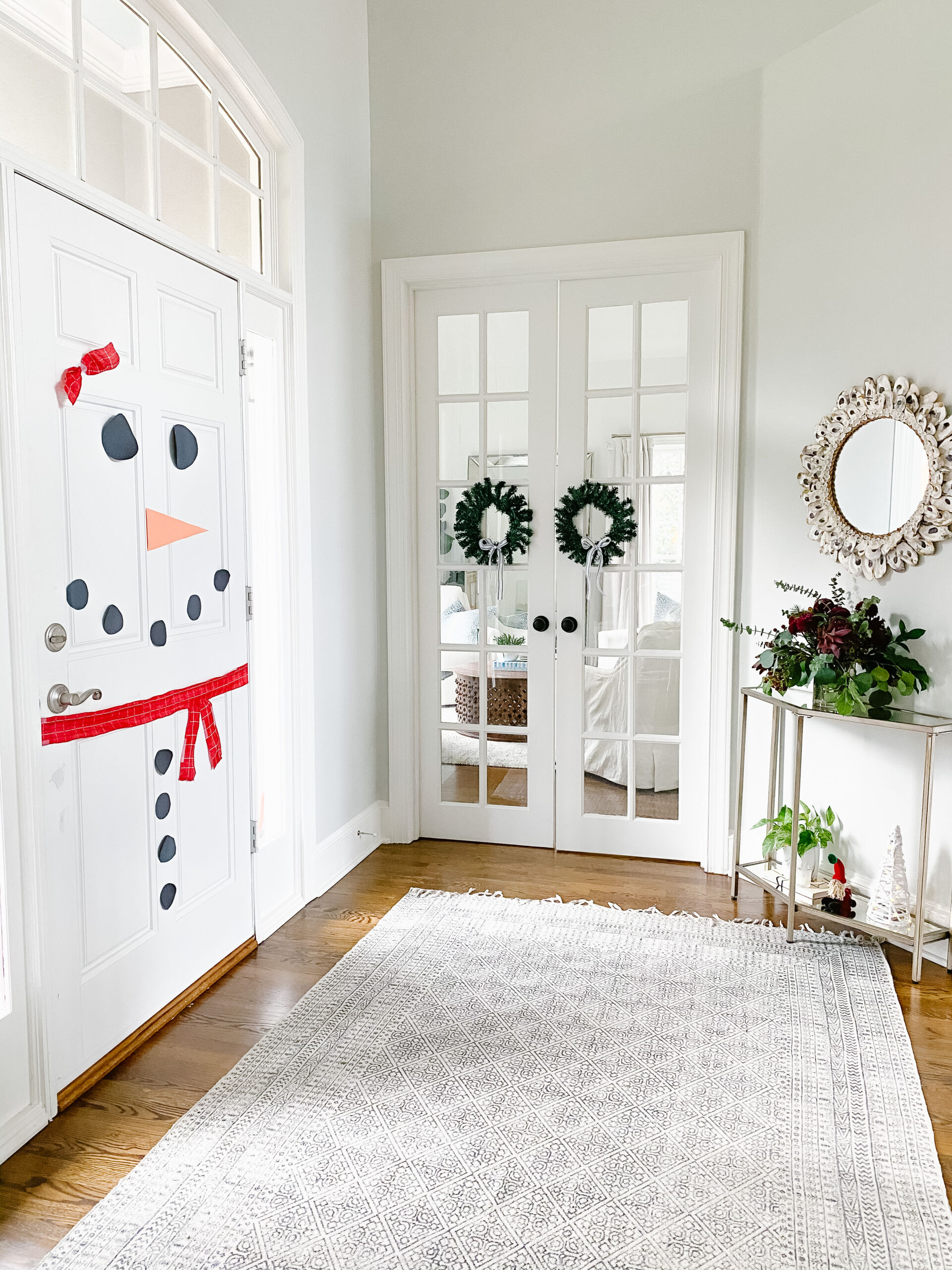 Christmas Tree: We got a faux tree this year and it's been a game changer. The past few years our trees have died SO fast and we were sweeping up pine needles daily. So after Christmas I scooped up this gorgeous 9 foot pre-lit flocked ponderosa pine tree and was SO excited (for Matt) to put it up this year. I completely underestimated how much I would love an artificial tree. Although it does still shed some of the flocking if you bump into it, it's nothing like the shedding of a real tree. Anyway, Matt assembled it in 3 clicks!!!!!! It was so so so so nice not to string lights (personally, my least favorite part of decorating a tree)!!!!! And we don't have to water it. I honestly couldn't be happier with our tree this year. Now if only one of us were tall enough to actually put the star on top…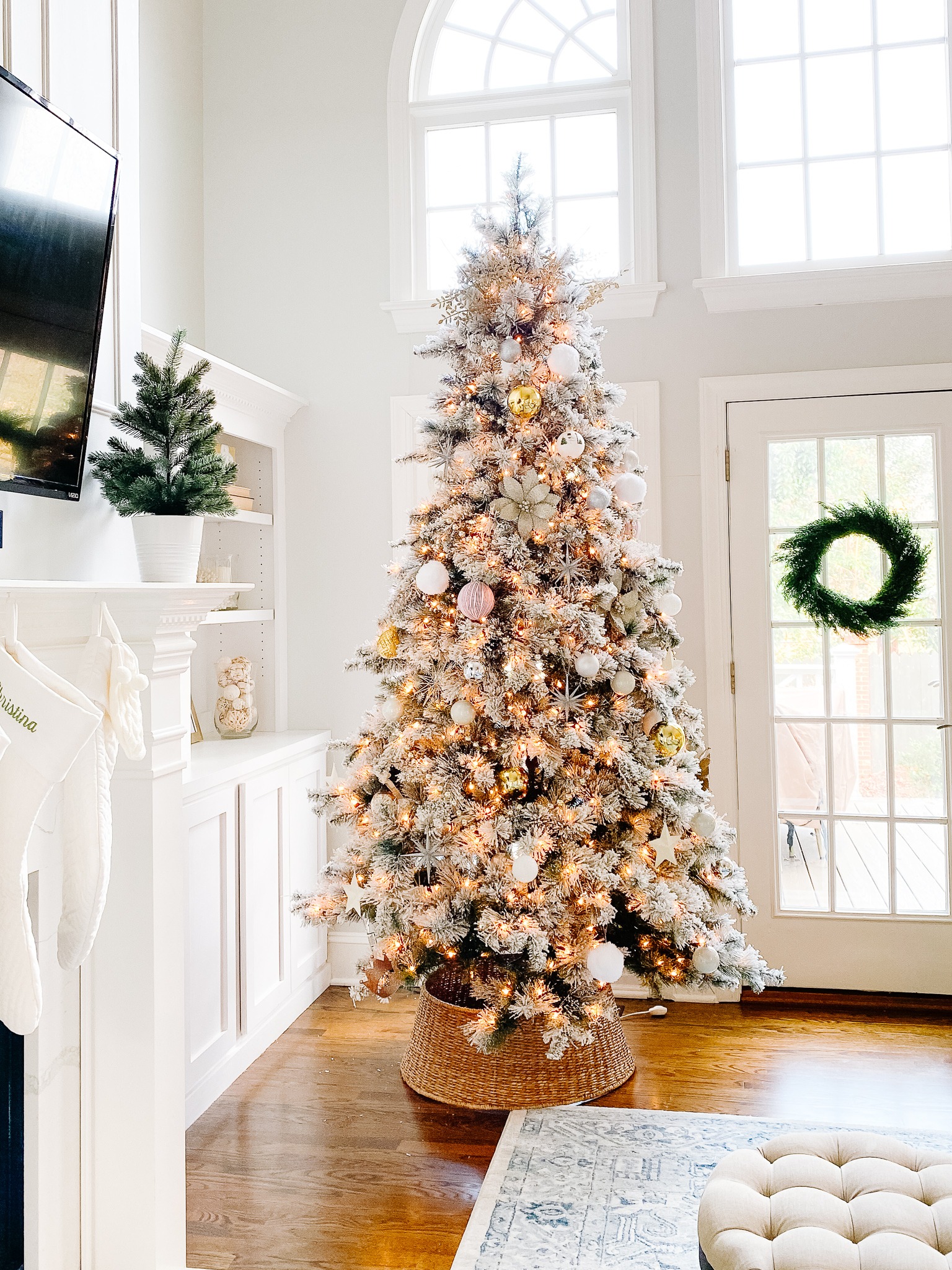 We do love the scent of a real tree, so I washed all of our throws and blankets in this heavenly smelling Frasier Fir Laundry Detergent and added pine scented plug-ins all over the house.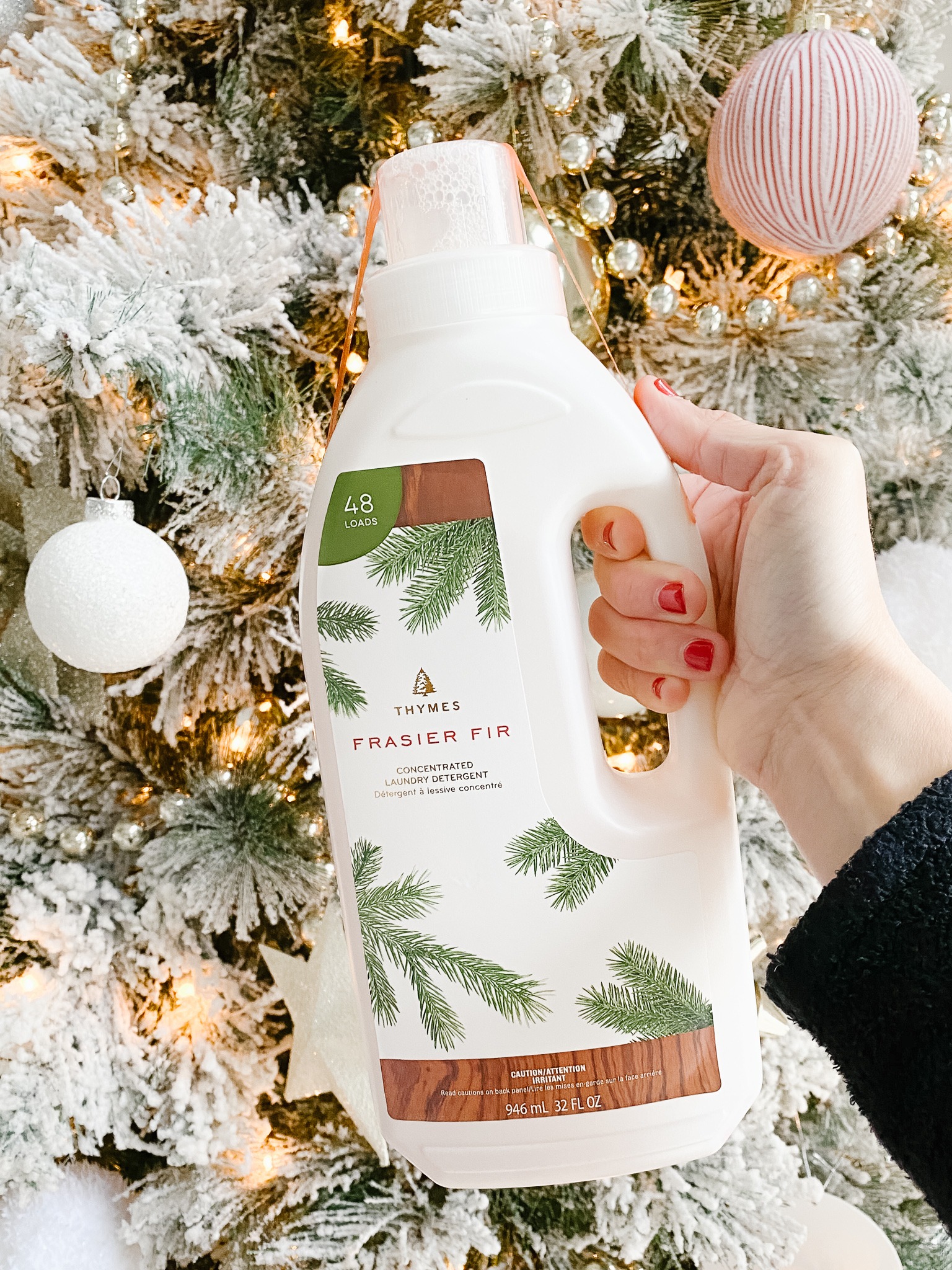 My Office/Caroline's Classroom/Santa's Workshop: I considered leaving this room off the blog because it's an absolute mess, but this is real life for us…
Not having a dining room since March has kind of driven me crazy. The first thing you see when you walk in is electronics, cords and office/school supplies everywhere. And my dining room was actually one of my very favorite decorated spaces last year! Anyway, this space is almost always a cluttered mess with me working from home while supervising Caroline attending school virtually right next to me. It's been hard. Like, really hard. But adding a few Christmassy touches (including a fresh wreath one of my besties gifted to me) at least makes this room more festive!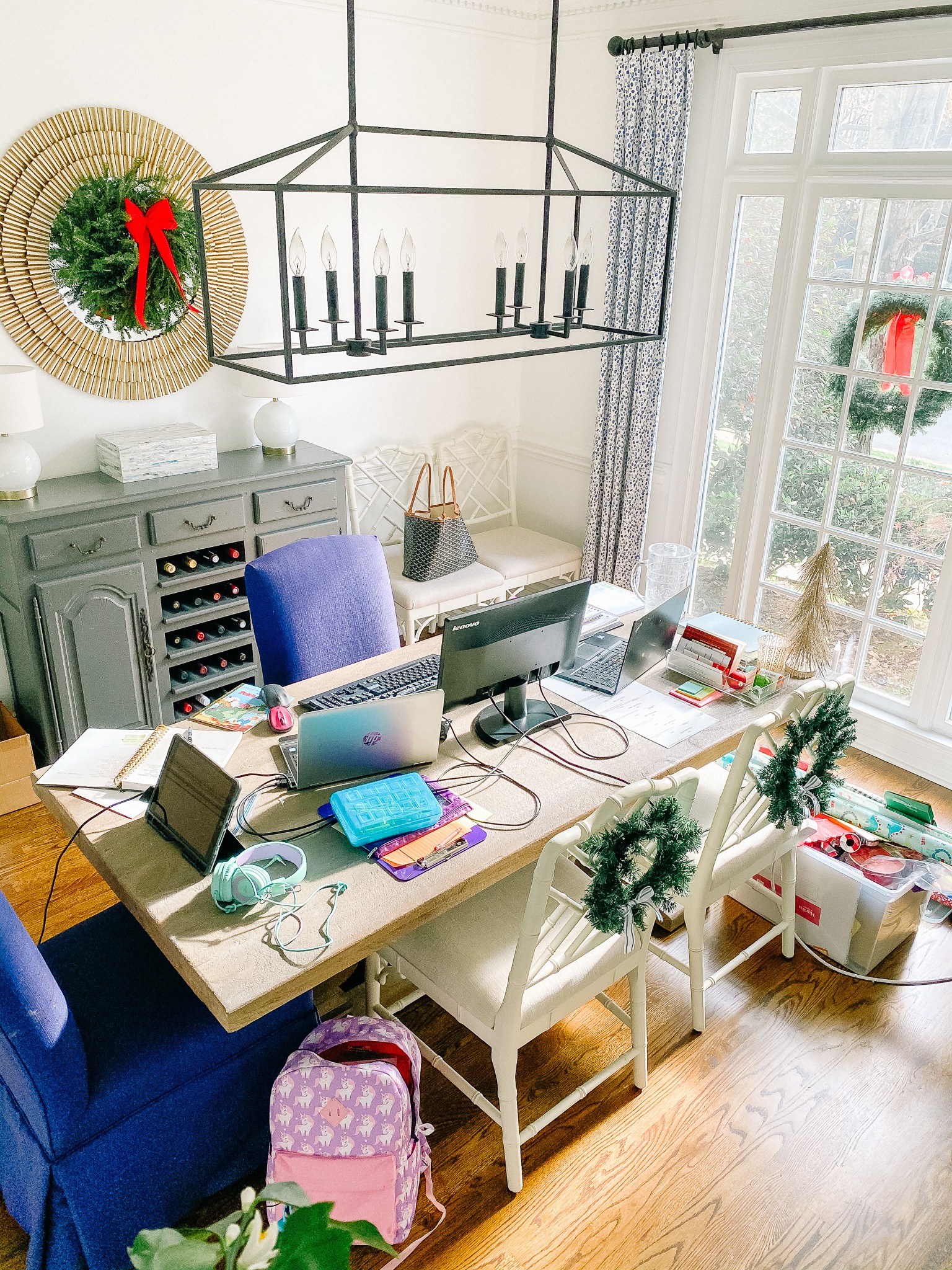 We stepped up our outdoor decor this year! I owe a huge shout out to Matt for risking his life hanging a wreath on every single window! I also love how he wrapped the front porch columns with red ribbon this year to look like candy canes.
Jolly Jiggler Inflatable Santa: This year we added a 12 foot dancing Santa to the front yard and it's been a huge hit with our kids and the littlest neighbors on the street. My "home office" is that big front window so Santa is pretty much in the corner of my eye all day long — sometimes funny, sometimes entertaining, sometimes freaks me out.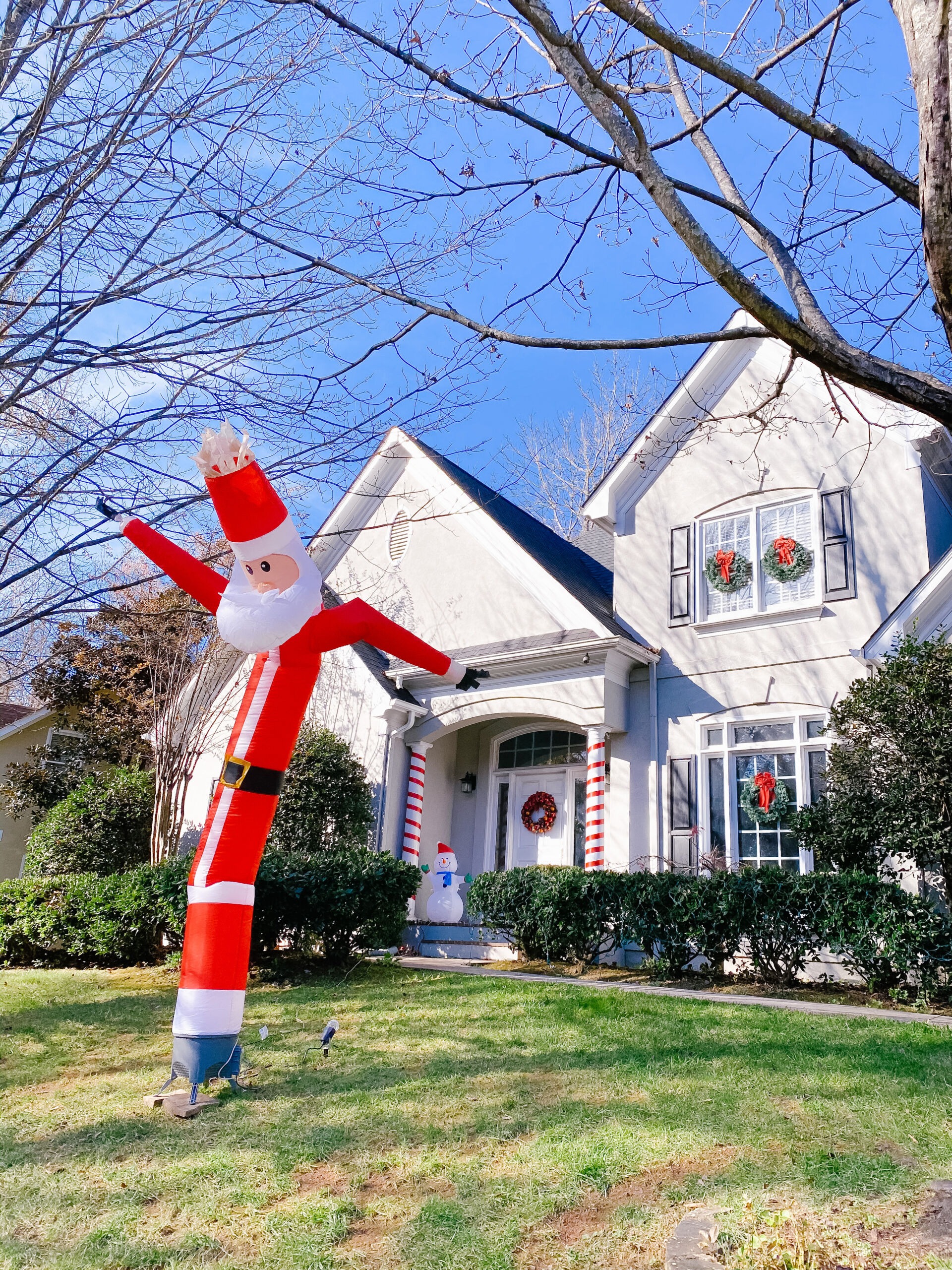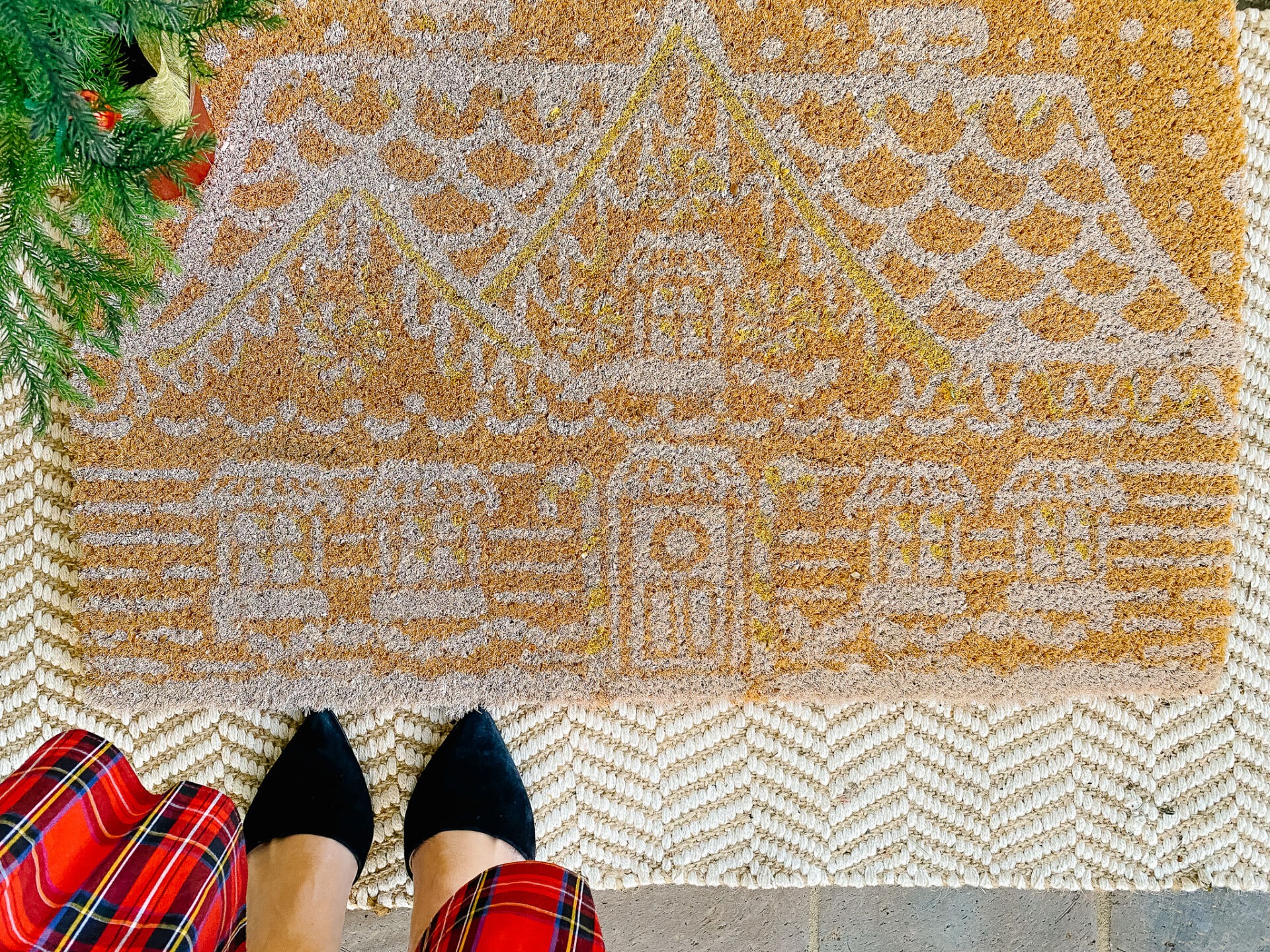 Rainbow Tree: We spend most of our time at home on our back porch so we decided to put a tree up to enjoy! We cut this tree down as a family over Thanksgiving and one night recently I crept upstairs to Caroline's room after bedtime and surprised her with a late night of tree decorating together. This tree may be my favorite ever!