Summer has been insanely busy for us. Wasn't I just whining about wishing I was spending the summer at the pool with my kids? Well now we are…only it isn't exactly as fun as I had envisioned in my head! Several nights a week we are cutting out early from work to pick up the kids from camp to take them to golf practice and/or swim practice — where I fire my laptop back up to continue working (at least it's poolside)!
Anyway, our practice nights go pretty late so the kids are starving by the time we get home and I literally have minutes to prepare something before they go to town on the snack cabinet (and then "aren't hungry" for dinner 6 minutes later). So now more than ever I am in desperate need of fast and easy dinners for those nights. And when I discover a simple meal that everyone will eat, I feel the need to share it…
My latest meal hack? SALAD KITS! I used to grab a few of these a week to bring to the office for lunch, or serve as a side salad with dinner, but the Caesar Salad Kit specifically has been a real winner over here. And I've been serving it two easy ways…
Grilled Chicken Caesar Salads
Again, this is not fancy or creative AT all…but in case you're looking for an easy dinner idea, I highly recommend trying out a salad kit (Caesar salad for us lately). My only gripe with the kits are 1. they tend to go bad quickly so I serve this meal within a few days of picking up my groceries and 2. while the toppings are a sufficient quantity, the fresh ingredients definitely do not feed a ravenous family of 4. I usually grab 1-2 kits plus an additional bag of chopped romaine hearts to make the salad a little larger. Then (and totally optional), I like to add some extra Parmesan cheese, more Caesar dressing if needed and my favorite plantain croutons from Trader Joe's. And (time permitting), I top the salad with grilled chicken! I don't even marinate the chicken since it's getting tossed into the salad — just salt and pepper.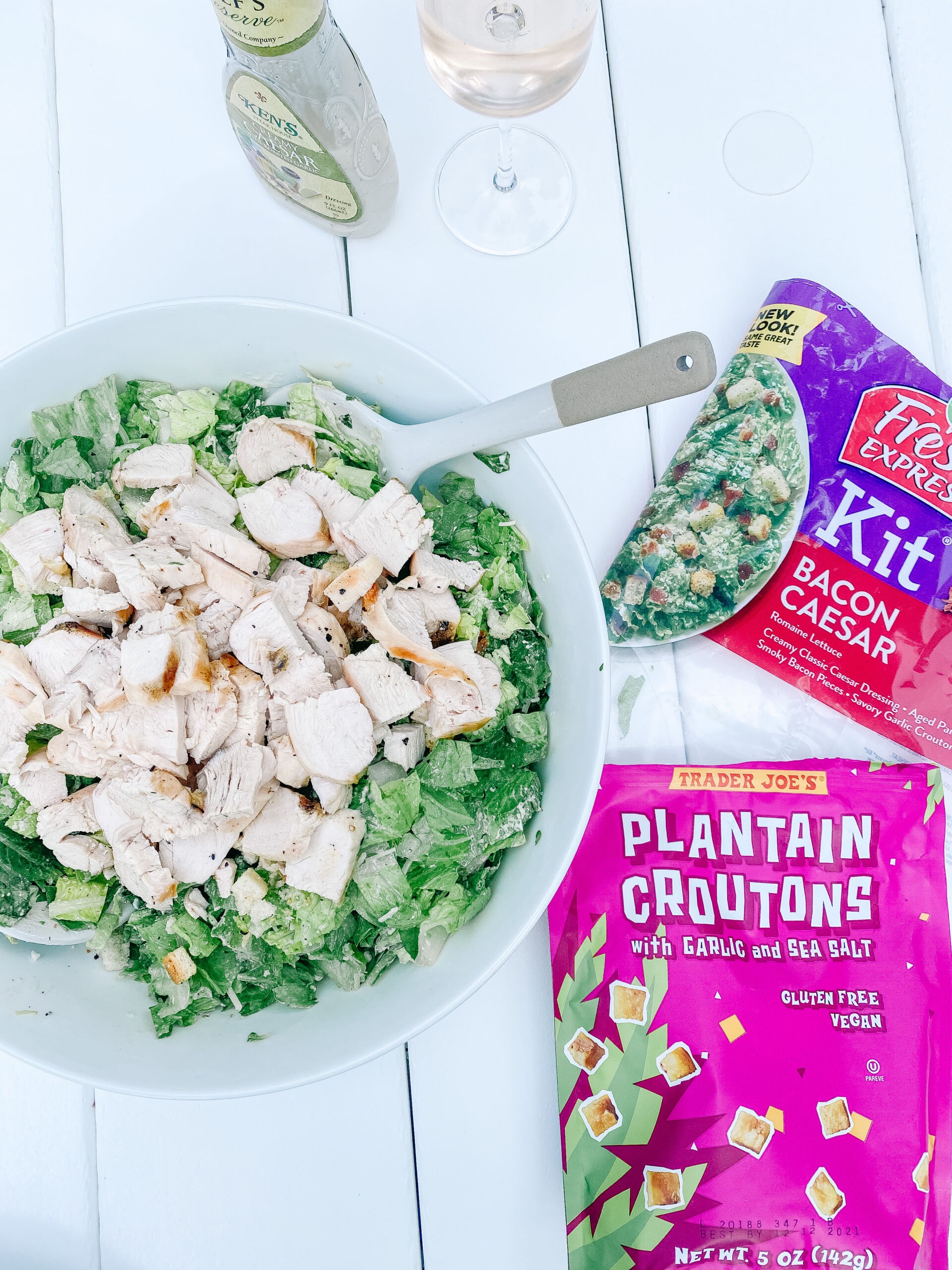 Caesar Salad Wraps
I actually got this idea from our pool cafe window. The chicken Caesar wraps are one of my favorite items on the menu so I order it often. And when my kids asked to take a bite of my wrap and loved it, I immediately thought to replicate these at home. They take less than 5 minutes to pull together. Just toss a caesar salad kit together and roll it up in a burrito sized wrap! Ta-da! You can also add chicken to these if you want! And I don't add croutons to this version but I love to add a generous handful of bread crumbs for a little crunch!!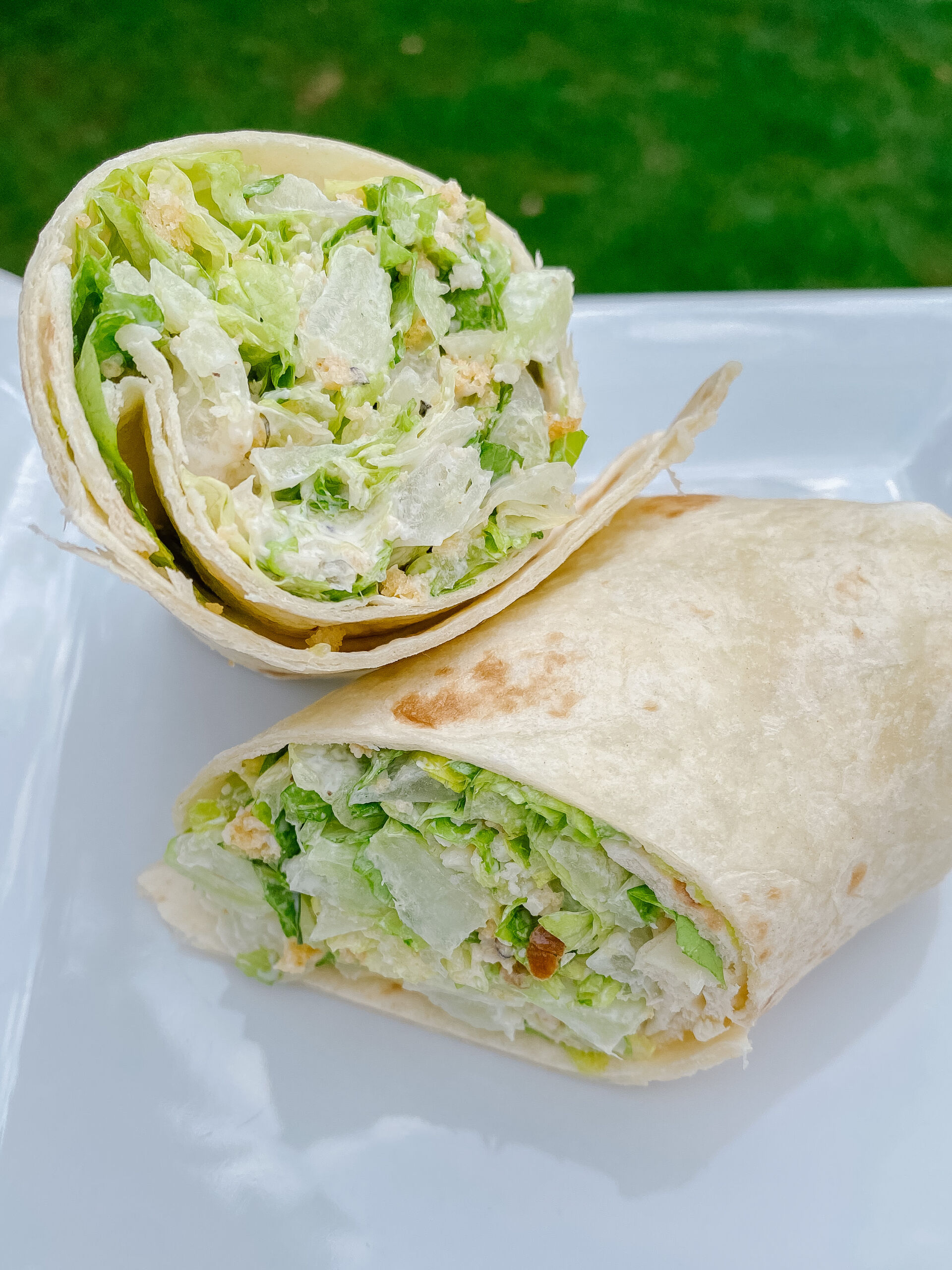 Again, picking up a salad kit from the grocery store is NOT a mind blowing meal idea or creative at all. However, I am the type of person who frequently forgets about rotisserie chickens, hot & ready family meal deals, take & bake pizzas and other easy items to serve for dinner when I'm meal planning. So hopefully this is one more idea for you as you're meal planning for sports practice night!