Happy Friday!! I am so unbelievably excited for the weekend because we have a special visitor arriving today — my mom!! She hasn't been here since last Thanksgiving and we cannot wait to have her here!!
A few announcements and random thoughts from the week before we dive into the 5:
I discovered the most delicious crockpot meal this week — CrockPot Tuscan Garlic Chicken with Spinach & Sun-Dried Tomatoes. I served ours over cauliflower rice and it was SO good! There was more prep work on the front end than I usually like, but it was worth it.
Speaking of meal planning — I have implemented so many of the reader tips I received and it's helped so much! We now have "themed" meal days each week (Sunday: Soup / Monday: Salads / Tuesday: Tacos / Wednesday: CrockPot / Thursday: Leftovers / Friday: Pizza / Saturday: Steak). I'm also still loving the reader recommended eMeals meal planning app which syncs with my new Walmart+ membership!!!!!! SO EASY! Anyway just another THANK YOU to everyone who sent tips and recommendations!
I received a ton of recommendations from y'all in response to my kid bikes question on Instagram. Several people asked me to share the results, so here are the top 7 reader recommended kids bike brands (in order by popularity). Side note: why are bikes so expensive?!

In case you missed my reminder — my Christmas Tree collar is IN STOCK (although it's already on shipping delay) and sells out every year before Thanksgiving. If you messaged me about it last year and missed it, now is the time to grab it! Target is also offering a similar version too. Check out my Christmas Tree & Holiday Home Tour post to see my tree collar.
1. Family Photos
We received our family photos and I'm so happy with how they turned out!! I'm going to share our favorites in another post. In the meantime, where is everyone ordering their Christmas cards from this year?!
Also, my dress from our photo shoot is from AMAZON! The quality is top notch and it's one of my most complimented dresses whenever I wear it. Last year I remember I attended a Christmas party where SIX different women (I didn't know) approached me to ask me where I purchased it. I'm telling you, it's the most flattering dress of all time and hugs you in all the right places. It comes in a rainbow of colors too. I have it in yellow too (see it on here). I really want it in green, but I feel like 3 colors may be a little much…although I did buy last year's holiday shoot Amazon dress in 3 colors (as did many of you!). haha.
2. 2021 Golden Coil Planner
I had so much fun customizing and ordering my 2021 planner earlier this week and just received confirmation that it's already on the way to me!!! Last year I discovered Golden Coil from a reader poll on the best planners (you can find the top 5 recommendations in this post). I've mentioned it a few times throughout the year (most recently on my Daily Faves post) and it is hands down the best planner I've ever owned. I'm super pumped about some of the customized pages I included in my new planner too, like blog planning pages, vacation/party/holiday planning pages and more. I'll share it when it arrives.
FYI — I received an email yesterday from Golden Coil announcing their early Black Friday sale starts this Monday, November 16 and runs through Friday, November 20. Use code BLACKFRIDAY for 15% off planners and some other stuff.

3. Piano Progress
I am addicted to practicing piano. My keyboard arrived almost a month ago and I have practiced almost every night after the kids go to bed since it arrived! I cannot wait to learn some holiday songs!
Below are some FAQs I've received on IG:
Where are you taking lessons? I'm using Skoove, a reader recommended piano app, to learn how to play! The app is pretty awesome and syncs with my keyboard so it monitors how I'm playing. It is designed for ALL skill levels — from no experience to advanced skill levels. I think I've already advanced through 26'ish lessons so far.
Do you have to know how to read music? No.
Do you think I could learn to play at my (insert age)? YES, YES, YES! You can!! So many of you said you didn't think you'd be able to pick it up as an adult, but I promise the app makes it easy for all ages. It's been a lot of fun to learn and I highly recommend trying it if you're interested. You're never too old to learn new things!
Which keyboard are you using? I bought the Yamaha P71 Keyboard which was the #1 reader (some of which are piano teachers) recommendation. A few good tips I also received were to get a full keyboard with all 88 keys (if you start small, you'll just end up buying a bigger one down the road so it's better to invest upfront) and spend a little more on a keyboard with weighted keys, which feels more like a real piano.
4. Reminder: The Glue Stick Hack
Don't forget to pick up an envelope sealer for sealing your Christmas cards this year!! This little trick was SO helpful last year. Caroline had so much fun using the dabber to seal up all of our Christmas cards.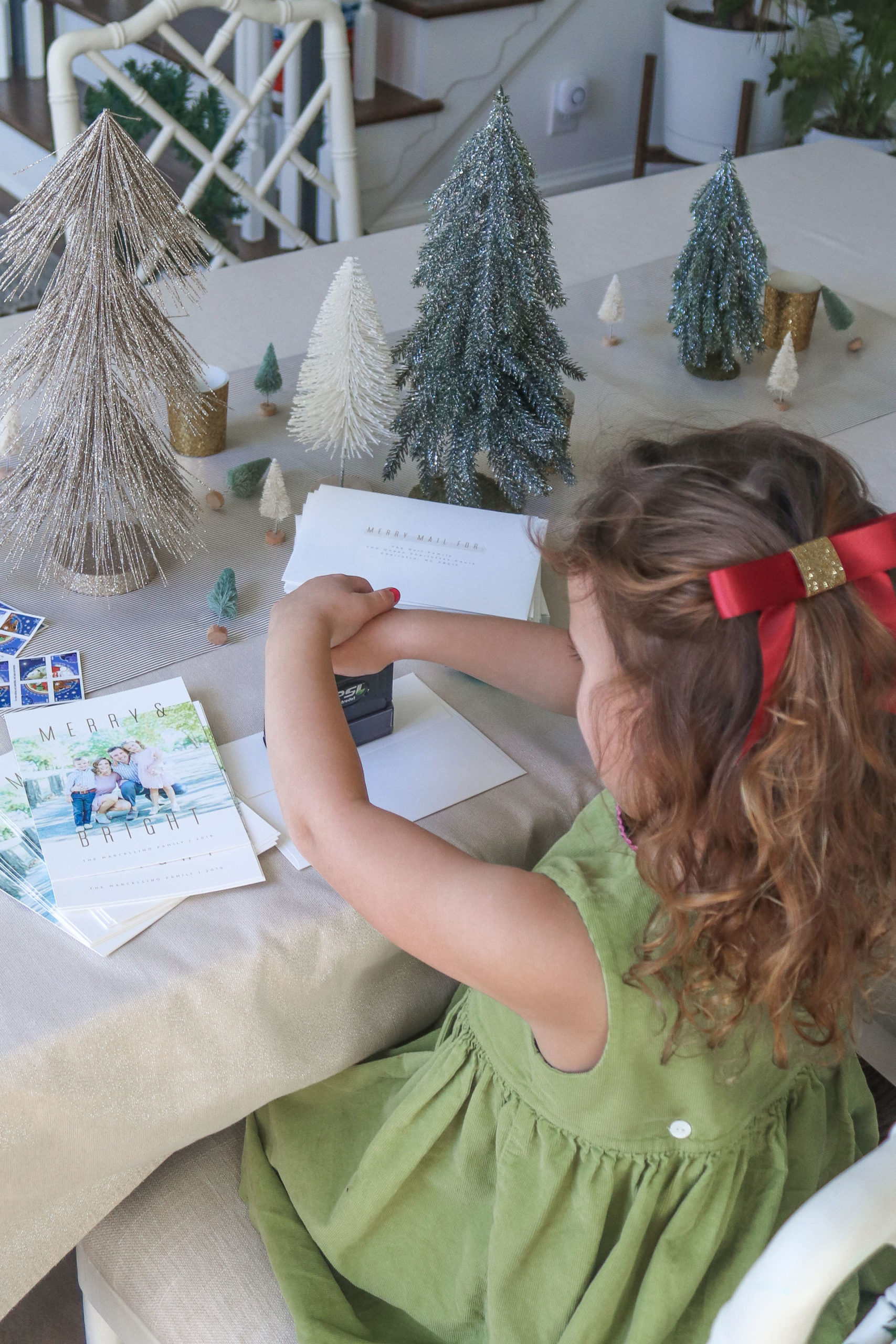 5. Maelove (Affordable Luxury Skincare)
Earlier this year I came across several articles revealing Maelove, a luxury skincare line had rolled out Glow Maker ($28) an affordable dupe for SkinCeutical's C E Ferulic serum ($166). Both serums contain the same key ingredients like vitamin C, vitamin E, and ferulic acid, which work to brighten and protect skin.The serum became wildly popular with almost 8,000 five-star reviews and frequently sells out. As of today, it's currently in stock.
So I was so excited when Maelove reached out to see if I'd be interested in trying some of their products. They let me pick the products and although you would think I would have picked the Glow Maker, I had actually just run out of my Drunk Elephant Marula Oil ($78) so I asked to try Maelove's Pure Marula Oil ($28) and the Creams Trio ($67) because y'all know I cry every winter about my face being so dry. The Trio is a crazy good deal and includes their Eye Enhancer, Night Renewer and One Cream. I was also elated to receive a bottle of Love 31 ($75) from their limited first batch.
I'm now in week 5 of using Maelove's products and can honestly say that they ALL live up to their hype — seriously. If I had to pick my favorite product, erghhhh…it would be hard to pick, but I think I would go with the Marula Oil. I literally cannot tell the difference between Maelove and Drunk Elephant's marula oil. I use it for my face (you can also use it in your hair) and just a few drops provides the same hydration for my super sensitive skin. It's lightweight, sustainably sourced and cold pressed to retain its integrity.
Despite working with the same cosmetic labs that manufacture products for luxury skincare brands, Maelove is able to offer more affordable products through its direct-to-consumer model. I highly recommend grabbing a few products for stocking stuffers or gifts.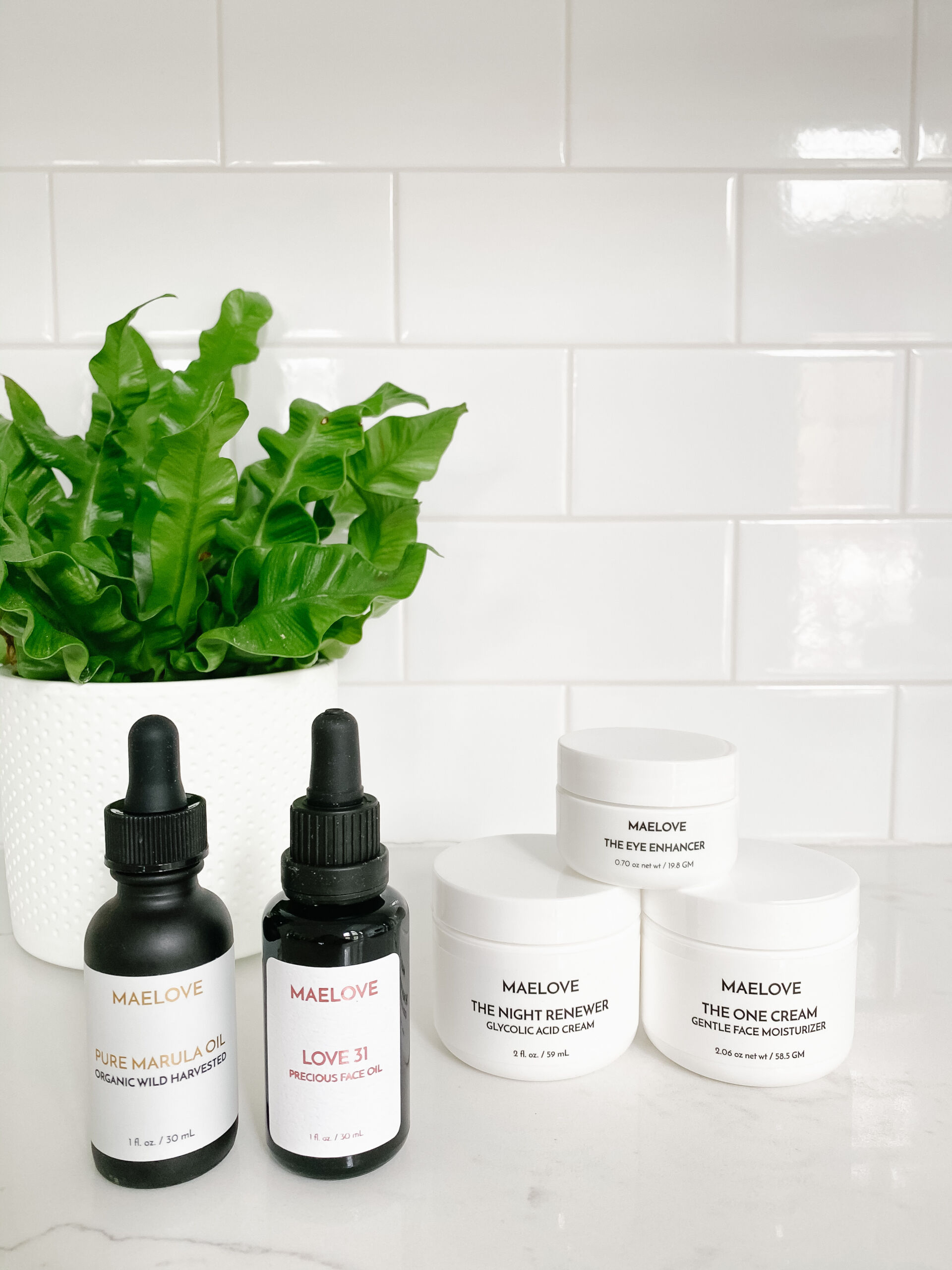 In Case You Missed It