Happy Friday! We have some fun plans to celebrate Caroline's birthday and Mother's Day this weekend!
1. Spring Dress
I recently snagged this gorgeous light pink lace dress for $20 and absolutely love it! I have gotten so many compliments on this dress. The quality is amazing and it's the perfect dress for work, church, showers and more! I paired it with my favorite earrings earlier this week! Also — my heels are FINALLY BACK IN STOCK!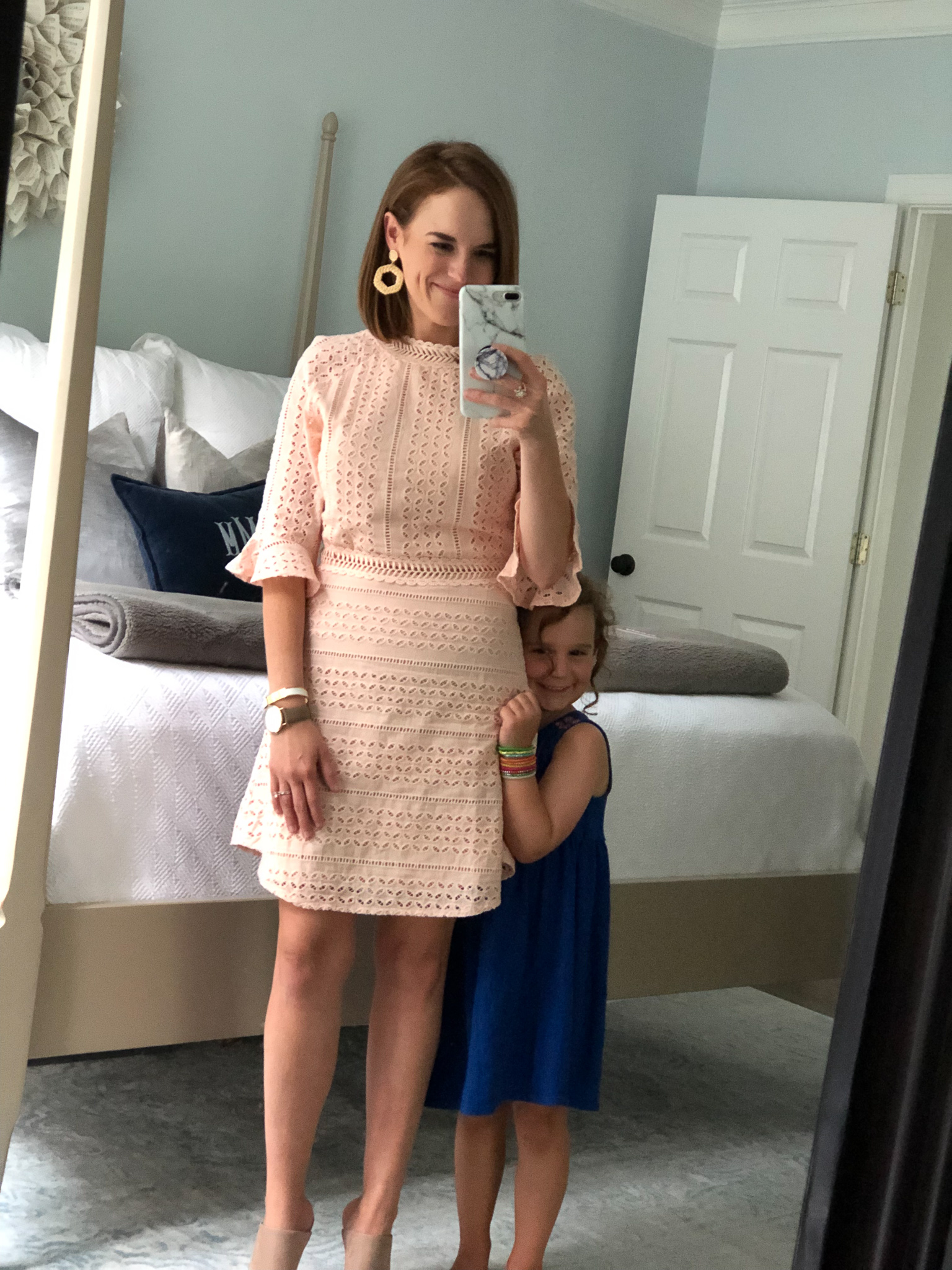 2. EltaMD
I had to report back and say THANK YOU to everyone who recommended EltaMD chemical-free sunscreens for my sensitive skin. I recently mentioned packing some to try out during our beach vacation and had to report back on my review. Drum roll please…I was actually able to use them on my face without my skin freaking out! This is a huge win for me as I've never been able to use sunscreen on my face! I packed 3 EltaMD sunscreens that I wanted to share:
EltaMD Tinted Facial Sunscreen SPF 41: Even though this is advertised as a facial sunscreen (for extra sensitive skin), this was my favorite for using on my body! I loved how the tint gave me an extra glow. It's not cheap and I went through a tube fast over the course of a week, but it was totally worth it.
EltaMD UV Moisturizing Facial Sunscreen SPF 30: Hands down, my favorite!!!! This is more of a moisturizing cream with SPF. It is ridiculously moisturizing and hydrating for those of you with extra dry skin like me! A little goes a long way and I barely made a dent in my 4 oz tub after using it for an entire week.
EltaMD UV Daily Facial Sunscreen SPF 40: I kept this tube in my beach bag to use daily for both my face and my body once my initial sunscreen application wore off and really liked this one too. This one is a good choice for sensitive and acne prone skin.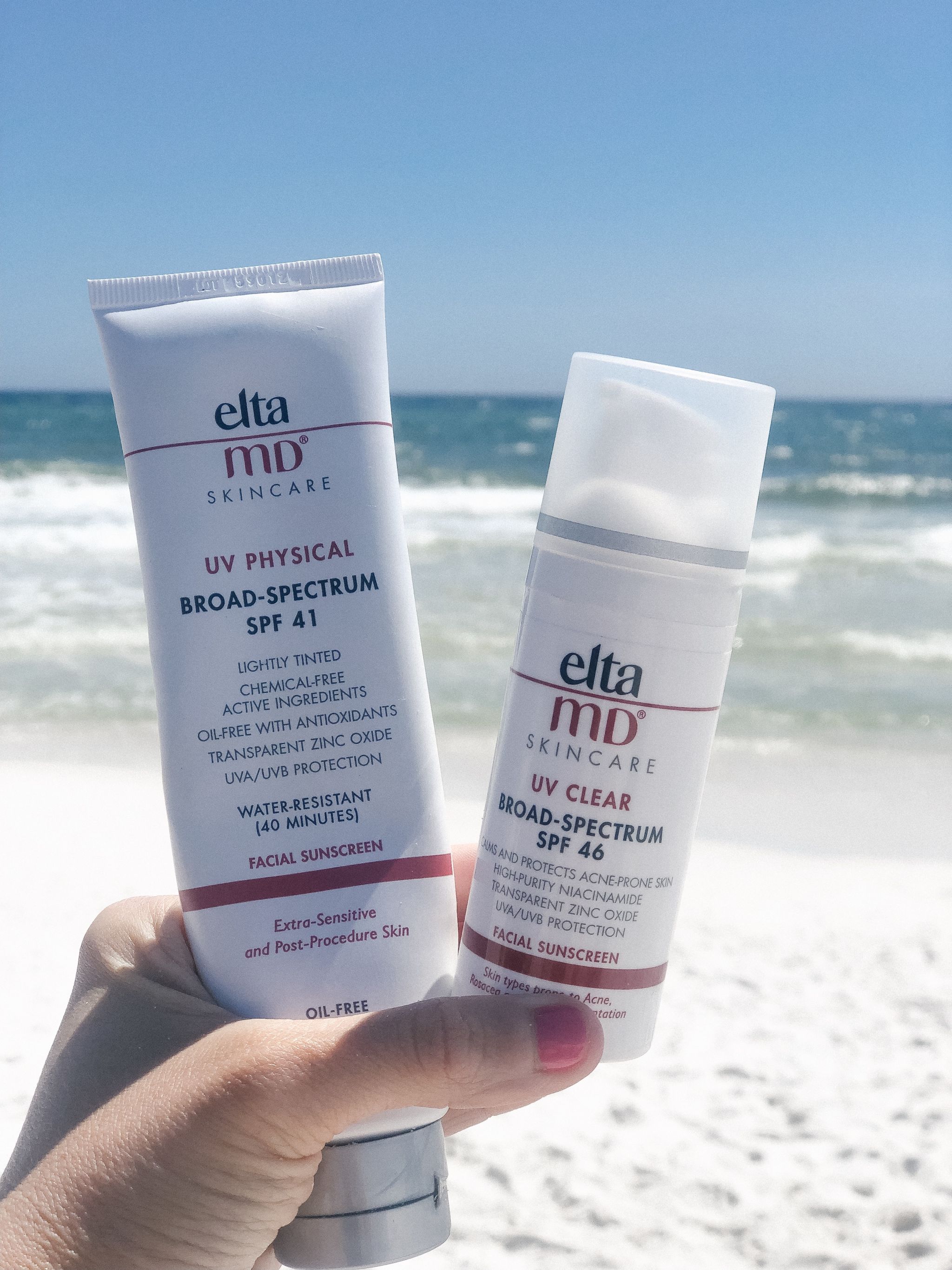 3. Muffins with Mom
Earlier this week our pre-school hosted Muffins with Mom! It was such a sweet way to start my morning. Thomas demolished his muffin. Also, I cannot believe this is the last MWM I will have with both of my kiddos together in the same school.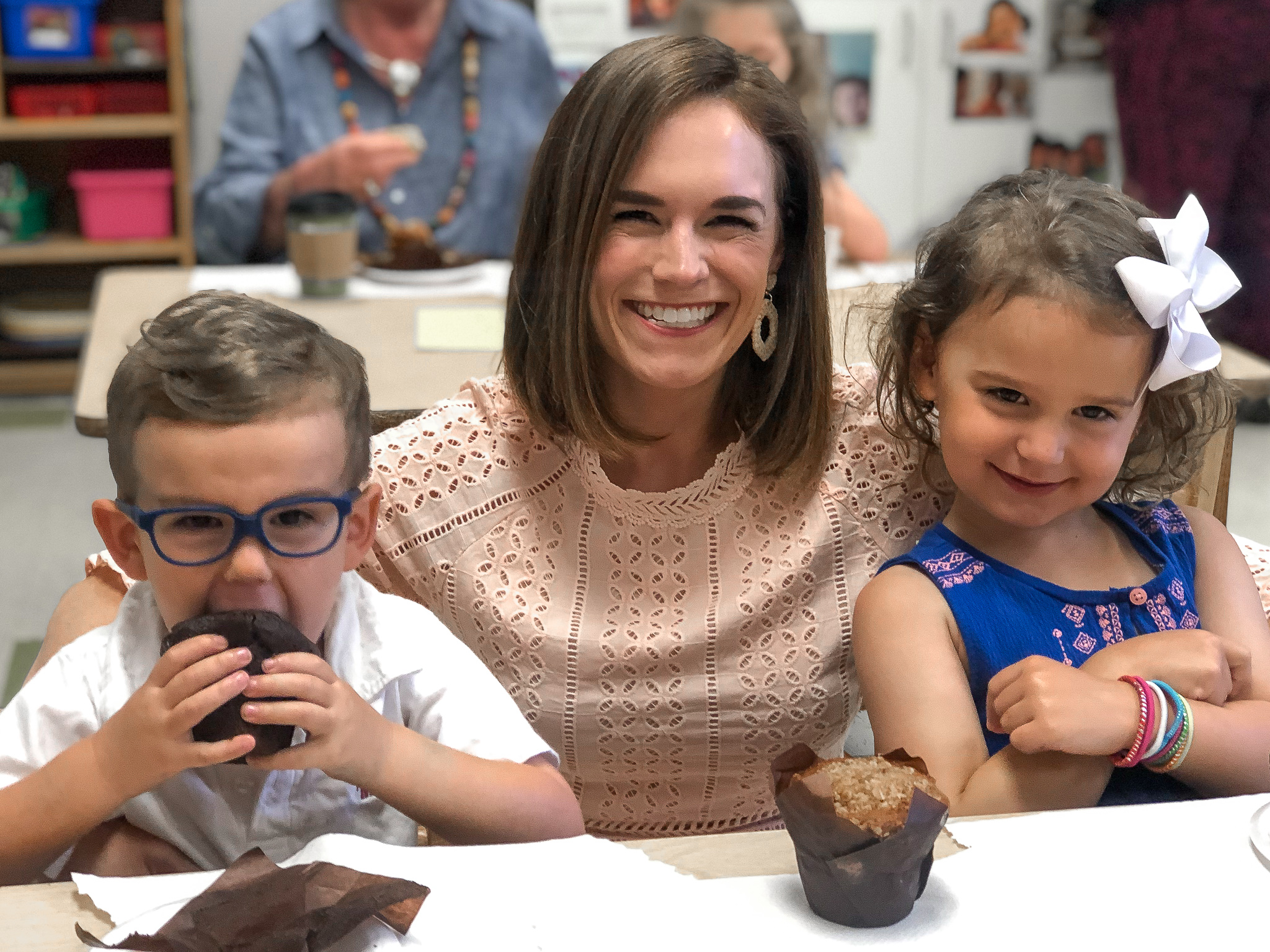 4. Book Review: The Perfect Couple
Title: The Perfect Couple
Author: Elin Hilderbrand
Genre: Drama & Crime
Back Cover Summary: It's Nantucket wedding season, also known as summer-the sight of a bride racing down Main Street is as common as the sun setting at Madaket Beach. The Otis-Winbury wedding promises to be an event to remember: the groom's wealthy parents have spared no expense to host a lavish ceremony at their oceanfront estate.
But it's going to be memorable for all the wrong reasons after tragedy strikes: a body is discovered in Nantucket Harbor just hours before the ceremony-and everyone in the wedding party is suddenly a suspect. As Chief of Police Ed Kapenash interviews the bride, the groom, the groom's famous mystery-novelist mother, and even a member of his own family, he discovers that every wedding is a minefield-and no couple is perfect.
Amazon Rating: 4 stars
My Review: Matt and I listened to the audiobook version of this story on our roadtrip to Florida and thought it was good! It was slow and overly detailed at times and I was a little sensitive to the ongoing (and unnecessary, in my opinion) details of one of the character's cancer. However, this book was a real who done it and Matt and I had so much fun guessing who the murderer was all the way down to the very last disk! I'd give it 4 stars!