One of the things we were really excited about when we purchased our home was having a garage! Not only for space to park our cars, but also for storage for ALL the things that were previously stashed in random attic space, under beds, the shed, etc. in our former homes. However, I was most excited about the garage because it would allow my outdoor refrigerator dreams come true, and Matt was most looking forward to no longer parking his truck outside.
Upon moving in to our home, we began packing out this space with very little organization. Quickly, we realized we only had room to park one car in the garage until we were able to come up with a more organized solution. My car won the parking spot.
After a year of half the garage being occupied with bikes, coolers, outdoor toys and more, we finally tackled the garage over a weekend together. It took us every bit of a Sunday to organize the garage (a fun task with kids).
At the end of a very exhausting day of organizing, purging and playing storage container tetris, we crossed our fingers as Matt backed his truck into his brand new parking space. And the devastation that washed over his face as we both realized his GMC Sierra needed about 12 more inches to close the garage door was cringe-worthy (all I could do was laugh…yet Matt was not laughing…not even a little bit).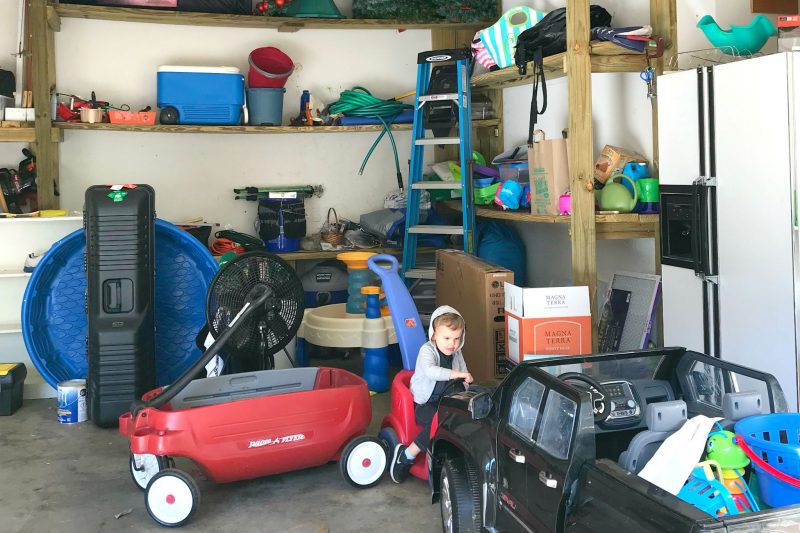 Another 18 months went by of rain, shine, snow and parking spot envy for Matt.
So when the girls from CW Home reached out and asked if we'd be interested in working together to organize a space in our home, I knew we were about to make Matt's garage dreams come true. Matt's jaw drop to the floor got when I showed him one of their incredible garage makeovers (and the caption was so spot on).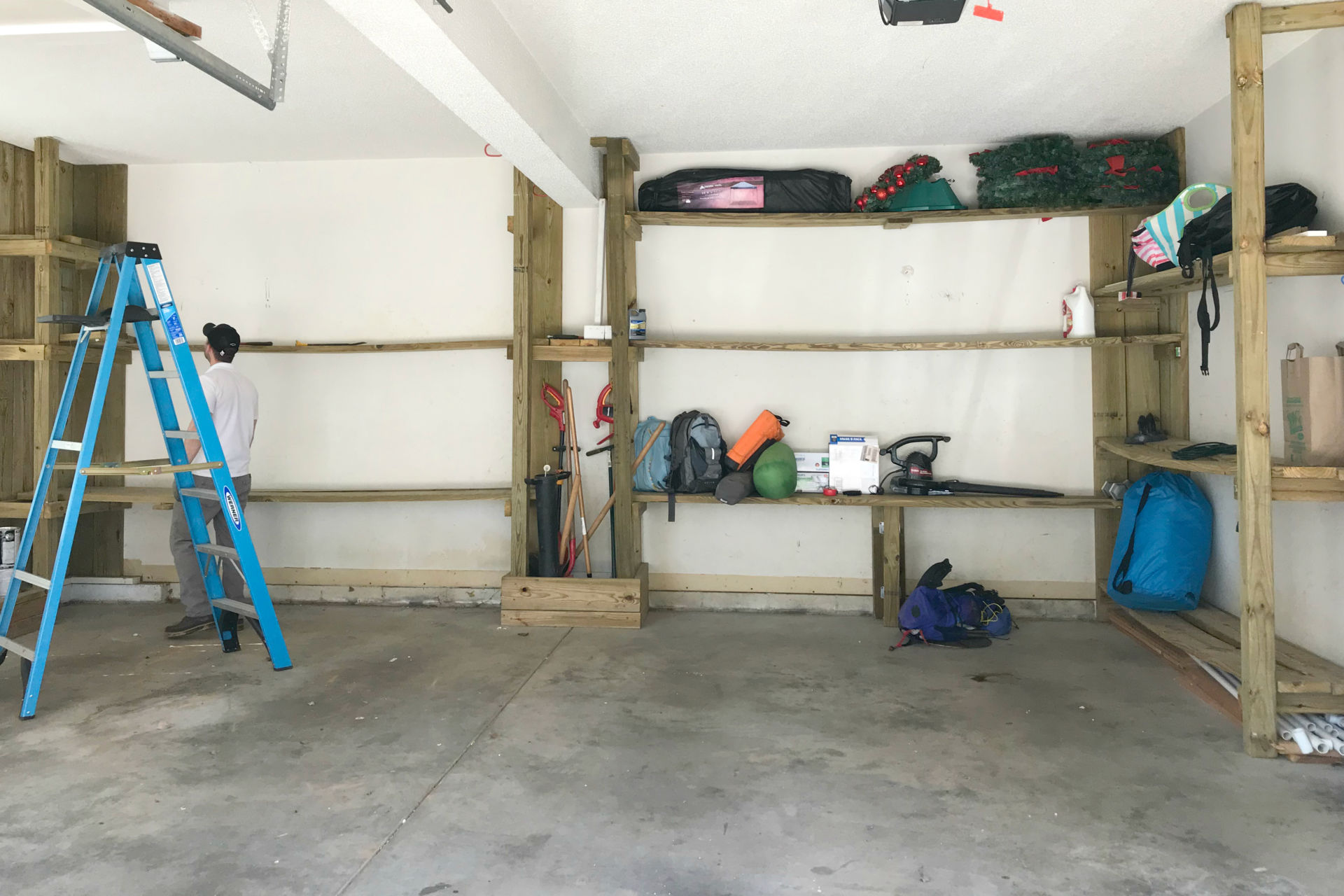 The Process
First, Caroline and Whitney came out and took measurements and inventory of all our things. Then they shared a plan with us which included the plans for the new space and the items they planned to use. We couldn't wait to get started.
A few days later the girls arrived and began sorting through ALL of our things, putting them into piles — keep, toss, donate. But here's the best part — we didn't have to be home for this! They created a shared photo album so Matt and I could check it at our convenience and comment with which pile to put each item in. Then they hauled away all the junk!!!
During this time, they brought in a contractor to demo all of the warped treated lumbar in the garage. Then they brought their painter in to clean up the walls (this actually made a HUGE impact).
Next — it was time for install!
The girls arrived bright and early and installed everything themselves while Matt and I were again at work! We received a few exciting photos of the progress throughout the day but would have to wait for the full reveal when we arrived home…
AND MATT WAS ABLE TO PULL HIS TRUCK INTO THE GARAGE!!!
Storage Containers
Fast Track Organization System

Tool Kit Organization System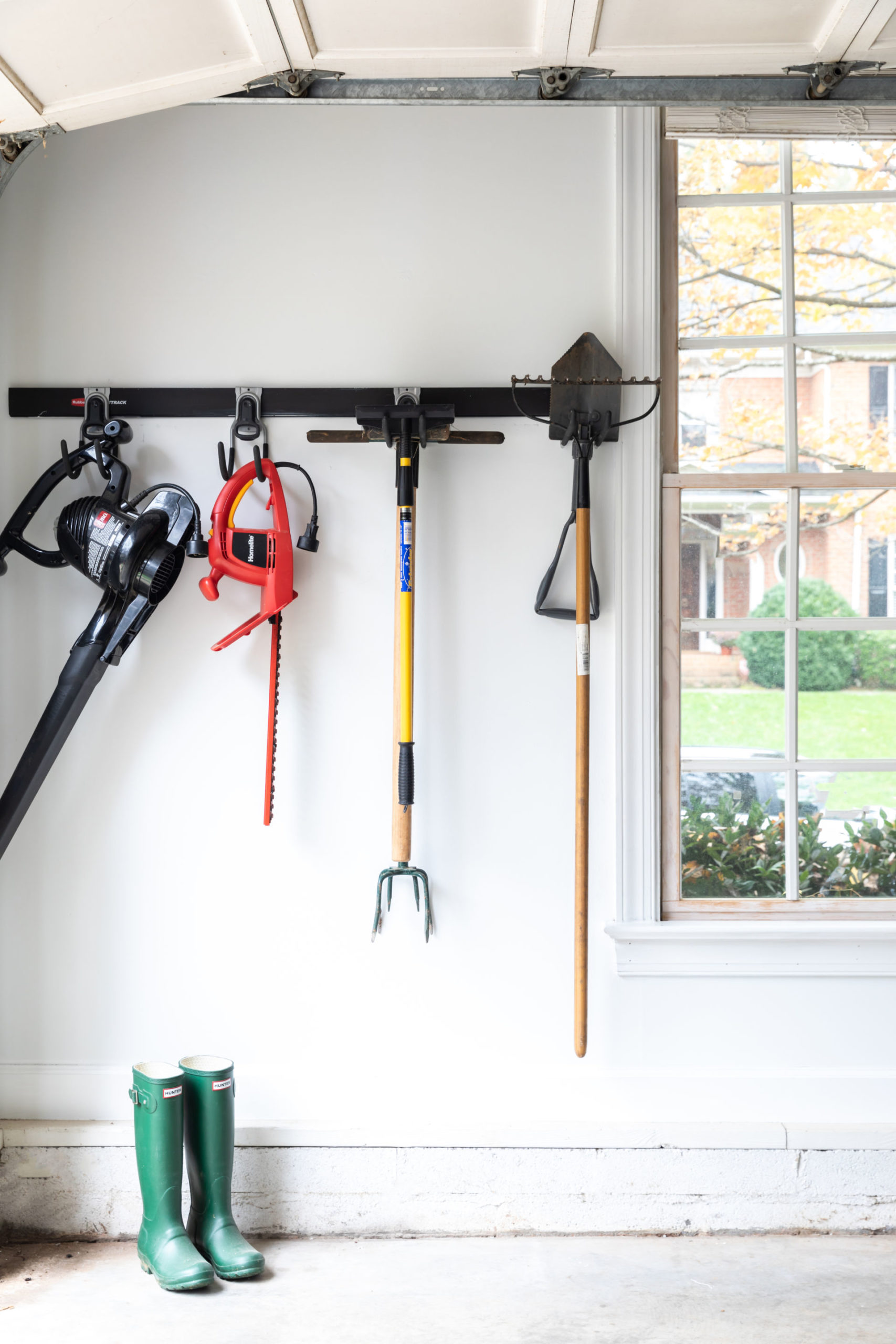 Yard Tools Organization
Caroline and Whitney also organized our garage drop zone as part of the project! You can find an entire post on that HERE!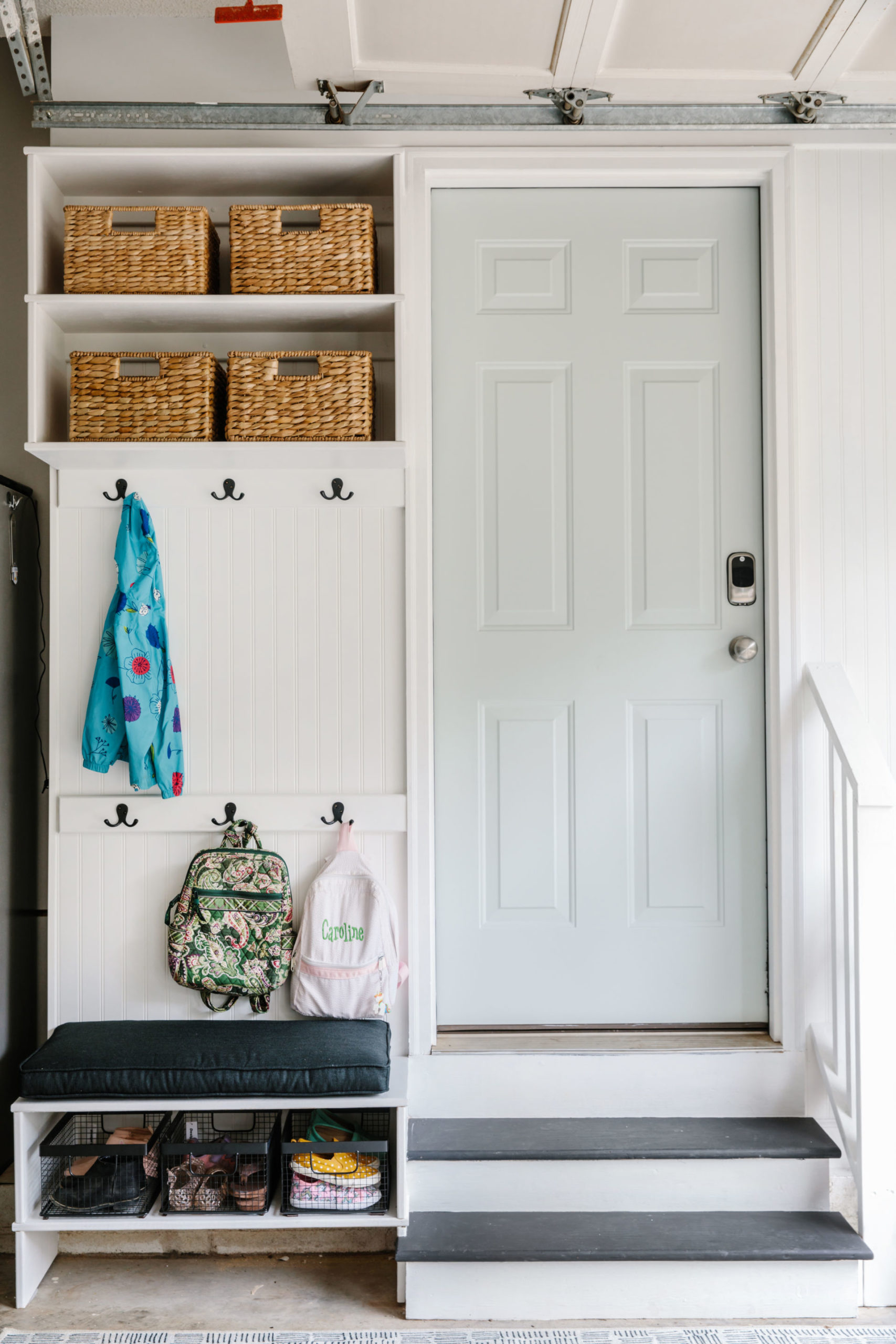 Drop Zone Products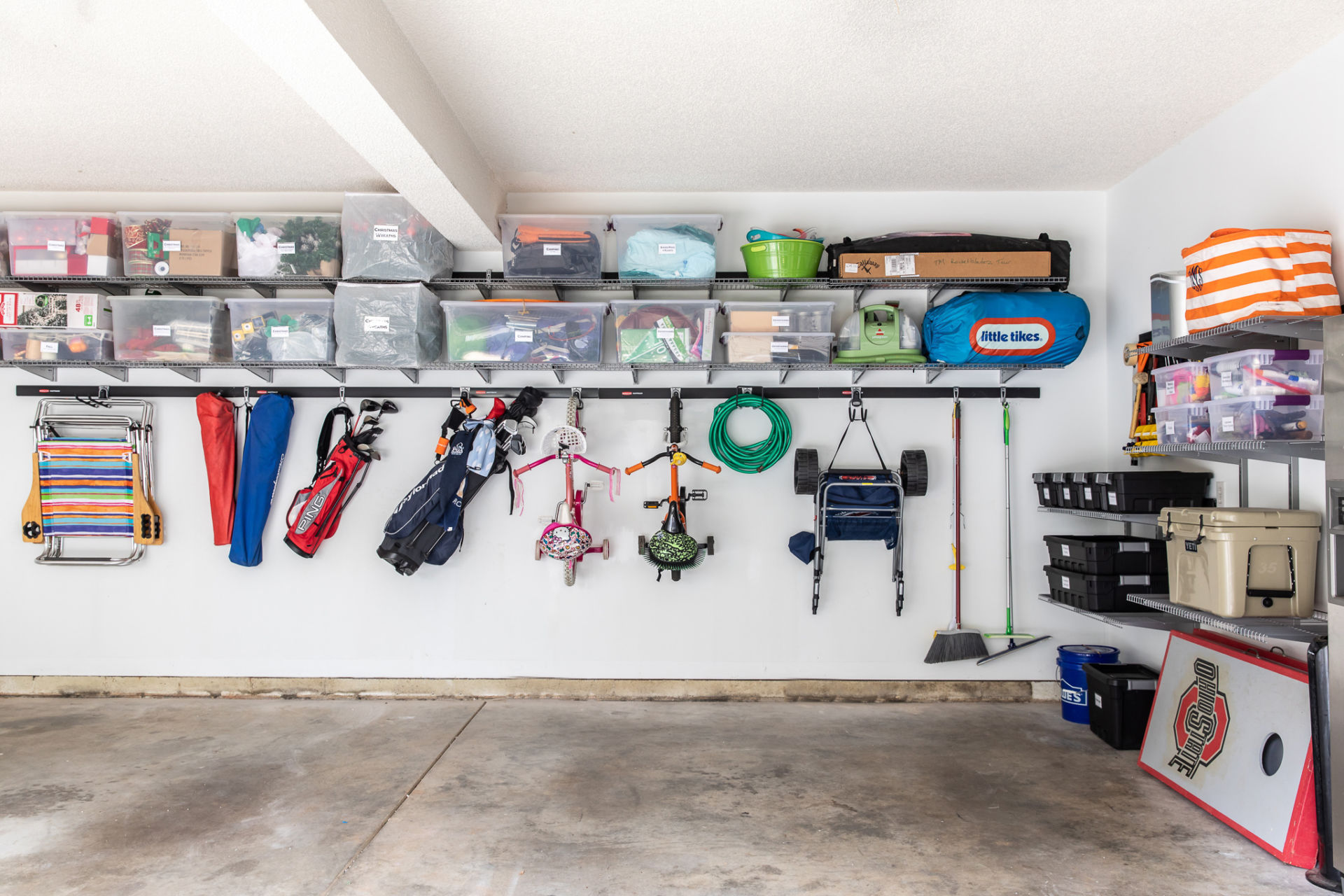 I could go on and on about how incredible CW Home is but I'm pretty sure the pictures speak for themselves. Am I right?! But for real, these girls run one heck of a business and were a dream to work with. I cannot recommend them enough…and would suggest getting them on the books NOW for organizing all your Christmas decorations (or your play room) after the holidays!!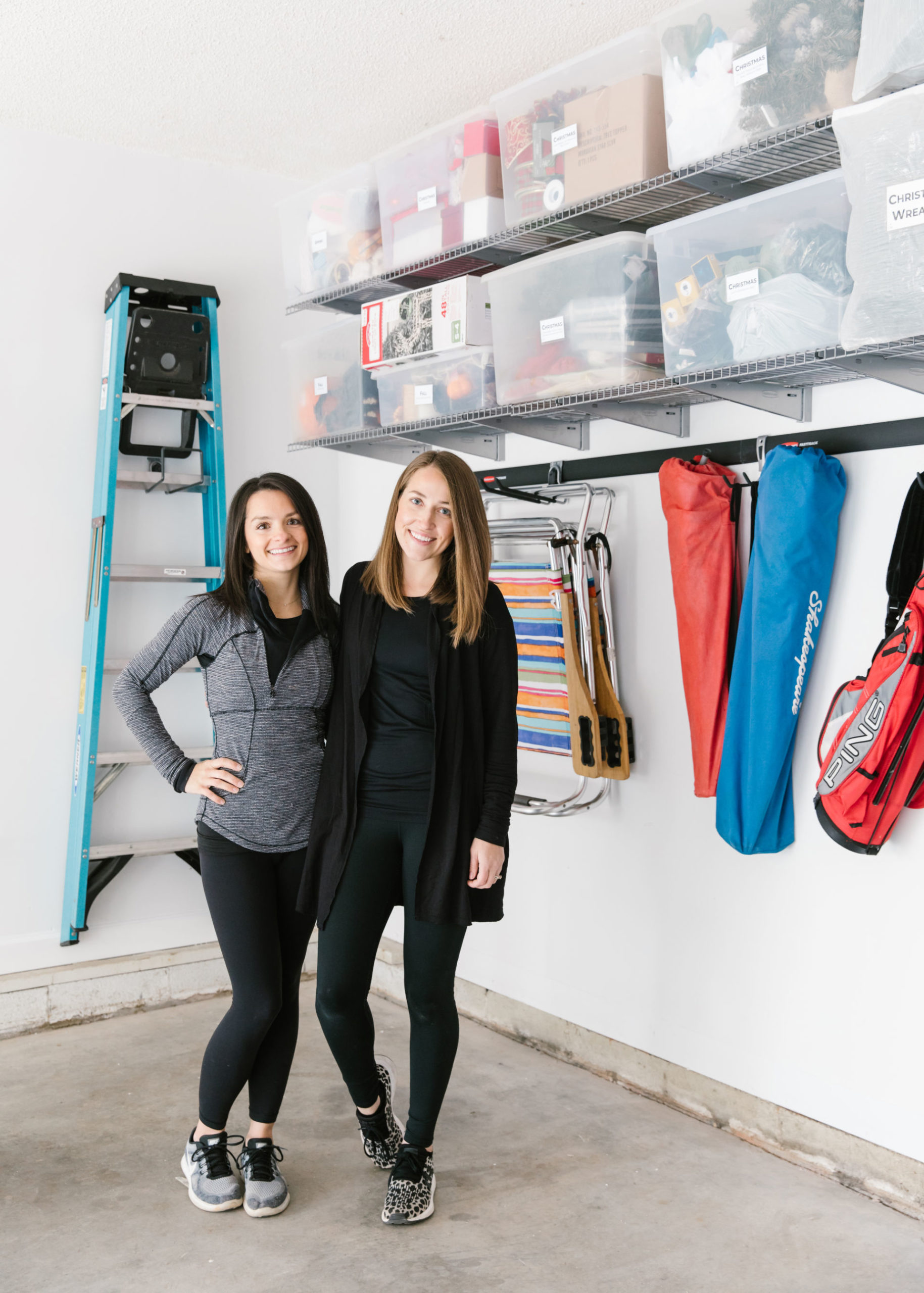 GARAGE SOURCES

Paint Colors
Drop Zone Door: Sherwin Williams Sea Salt / Steps: Benjamin Moore Wrought Iron / Walls: Benjamin Moore Chantilly Lace
Drop Zone
Octopus Hooks / Bench Cushion / Seagrass Storage Baskets / Wire Storage Baskets / Washable Rug
Fast Track Organization System
15 Piece Shelf Kit (8 Piece Kit) + Hardware Kit / Wire Shelving + / Extension Track / Attachments Bundle / Multi-Purpose Hooks / Vertical Bike Hooks / Hose Hook / Utility Hook / Ladder Hook / Power Tools Holder / Dual Handle Hook
Tool Kit Organization System
Pegboard Tool Kit / Peg Hook Kit
Storage Containers
Latch Bins (Sizes: 15 Quart | 32 Quart | 66 Quart | 110 Quart) / Stacker Totes / Storage Cubes / Label Holders + Label Inserts (Custom Made by CW Home)
Credits
Organization: CW Home **Use promo code CHRISTINA15 for a discount when you email [email protected] or fill out the form on their website.
Photography: Laura Sumrak