A few of my favorite items that I would recommend for the ladies in your life — mom, sister, sister-in-law, mother-in-law, co-worker, hostess, wife…or maybe even yourself! I love, use and blog regularly about all of these items so I can promise you that I stand behind every single recommendation on this list.


1. Capri Blue Volcano Reed Diffuser: One of my favorite "treat myself" items! Even Matt is a huge fan of this scent!
2. Swig Wine Tumbler: Comes in one billion colors (two of which I own), keeps beverages cold for 9 hours and hot for 3 hours. Oh, and it's dishwasher safe and shatter resistant, making this the perfect stemless wine cup!
3. 50mm Camera Lens: This is really the only lens I use on my camera and I always get a lot of questions from readers inquiring about my camera lens. Highly recommend!
4. BaBylissPRO Nano Titanium Dryer: This is the holy grail of hair dryers and totally worth the investment. It is lightweight and dries my hair so smoothly in a fraction of the time as my old dryer. I also use the diffuser attachment for my scrunchy hair. If you're looking to add more hair products to your list you must check out this post.
5. High Waist Tummy Control Capris & High Waist Tummy Control Leggings: I've blogged about these one million times (see last post here) so I won't go into detail again but the number of messages and emails I've received from y'all thanking me for this recommendation is unreal — you all love these!!!! I normally wear xs but order small in these. They come in TONS of colors and are $34 for TWO PAIRS or a THREE pack for $50!
6. J.Crew Coat: I've had this coat for 5 years now and it's probably the most complimented thing I've ever worn. The color is vibrant and gorgeous, the quality is amazing and it's extremely comfortable. I keep saying I'm going to buy another color to add to my collection but know I'll go for this one every time in my closet. I have this one (also found on Amazon) from Mercantile but this one is also beautiful and very similar (comes in 8 colors and tall, regular & petite sizes).
7. Oribe Dry Texturizing Spray: For days I particularly want a little volume boost! I normally wouldn't spend that much on a hair product but many of you assured me that it was well worth the splurge and that one can lasts forever (and so far that's true! I've had my can since June and it still feels completely full). The spray smells absolutely heavenly and it's an excellent alternative to dry shampoo. Check out this post for deeper review. (Psssst — The Garnier Dupe is a good stocking stuffer dupe)
8. Moraccanoil Root Boost: Another hair volume booster product! My girlfriend, hair dresser and many of you have raved about this magical root boosting spray. I started using this product in April and never looked back. It's a staple I'll never live without. And don't even bother looking for a dupe — this is the best. See post here!
9. Hearthside Slippers: An annual wish list item, my mom gets everyone in the family a new set of hearthside slippers every Christmas. They are fleece-lined and so cozy!
10. Bath Caddy: Conveniently holds a book/iPad, a candle, glass of wine and more. I use my caddy every single night while relaxing in the bath. Oh, and make sure to get this super inexpensive ($5) Epsom salt bath soap too for the stocking. It's my absolute favorite and smells heavenly (made with essential oils)!
Favorite Beauty Products
I have so many favorite makeup products that instead of crowding my gift guide with them I create a separate guide! All of these items are currently (and have been for awhile) in my makeup bag and are great gifts or stocking stuffers.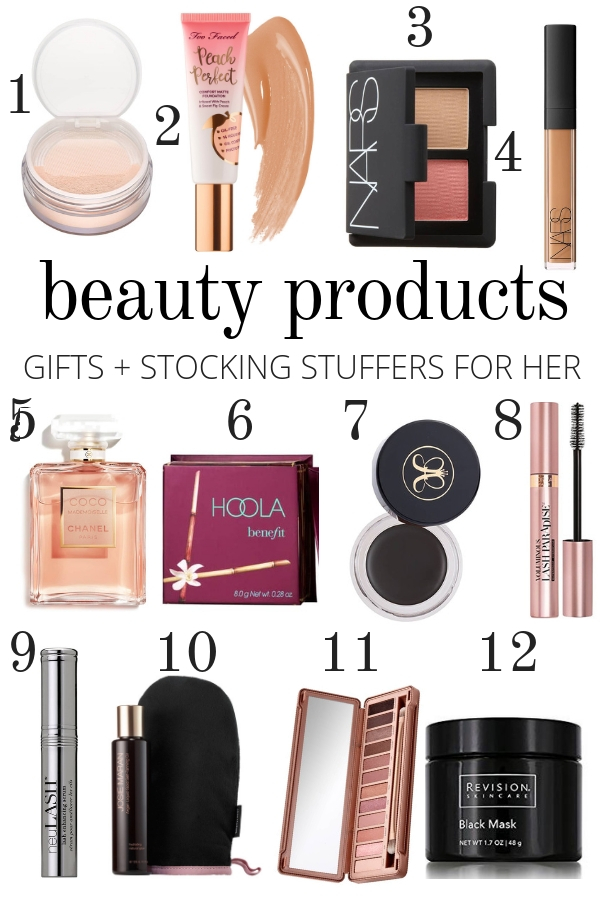 1. Becca Hydra-Mist Set & Refresh Powder // An ultra-translucent setting powder that sets makeup for extended wear with a revitalizing, mist-like effect on skin. Basically blurs any makeup imperfections and keeps your makeup looking fresh all day!
2. Too Faced Peach Perfect Comfort Matte Foundation [color: nude] // This is hands down the best foundation I've ever used. It's a medium coverage matte foundation that doesn't go on thick or cakey. It's smooth, light and infused with peach and sweet fig cream!
3. NARS Mini Blush & Bronzer Duo: This is the most perfect (and best-selling) combination from NARS ever — my favorite blush (color: Orgasm) and favorite bronzer (color: Laguna) in one mini compact!!
4. NARS Radiant Creamy Concealer [color: vanilla] // Hands down, the best concealer out there. It works miracles! It's creamy, smooth and can cover even the darkest under eye circles.
5. Chanel Coco Mademoiselle Eau De Parfum Spray: Another annual staple for my list! I'll never wear any other scent and I always happen to spray my last few drops right around Christmas.
6. Benefit Cosmetics Hoola Matte Bronzer // Best bronzer ever. And perfect for contouring.
7. Anastasia Beverly Hills DIPBROW Pomade // I can't tell you how many brow products I've tried — waxes, pencils, shadows, gels, etc. For awhile I was using Anastasia Brow Wiz Pencils but I was going through them too fast and it wasn't a product I could quickly apply without it looking like I had, well, penciled eye brows! This smudge-free, waterproof pomade is truly the perfect all-in-one brow product for those of you who fill in your brows every day.
8. L'Oreal Lash Paradise: An incredible $7 dupe for Too Face Better Than Sex mascara ($23)! I've never been married to a specific mascara (I swear I've tried them all and they are all the same) until I used this one. I am now on my third tube and not only does this mascara make my eye lashes look fuller, they are drastically longer since I started using it. If you don't believe me, just read the Amazon reviews for yourself.
9. NeuLash: I have seen insane results in my eye lash growth since using this lash enhancing serum. It is incredible and works to strengthen your lashes so they can grow longer and thicker!
10. Josie Maran Argan Liquid Gold Self-Tanning Oil // I've always been a Josie Maran product junkie, but this tanner takes the cake as my favorite JM product. I love that it's 100% pure argan oil, coconut water and aloe, smells amazing (which I didn't know was possible for a tanner) and lasts all week. So yeah, it definitely lives up to it's "liquid gold" name for sure! Oh, and it only comes in one color that develops into a medium tan so you can't get the wrong color for your skin!
11. Urban Decay Naked3 Palette // Features a dozen gorgeous, rose-hued neutrals—from the palest, shimmery pink to a deep black matte with rosy red micro-glitter. This was my #1 Christmas wish list item last year and I use it almost every day!
12. Revision Black Mask: I use this mask 3x a week! It's so so so good.
Stocking Stuffers
All items under $20. I've included a link to the blog post that covers each item in more detail and why I love it!


Don't forget to check out last year's Gift Guide for Her too! Lots of other items I still love and use!