Last year I wrote a post on Our Morning Routine and had every intention of following up with an evening routine post and then it slipped off my editorial calendar (that sounds fancy, but it's really just a note in my phone of blog post ideas and reader requests). I started to write another Day in Our Life post but after reading last year's post, I realized much of our crazy is still the same — except we've added in Kindergarten and evening activities. So today I'm finally tackling our evening routine despite my concerns it may appear we successfully navigate the evenings. So let me give a disclaimer: despite the pretty pictures, our evenings (and heck, most mornings) are a complete cluster around here…
The Bus/Daycare Pick-Up
Kindergarten significantly impacted our routine this year and although we've finally ironed out all of the logistical kinks, it was a rough start for everyone. Allowing Caroline to ride the bus has been huge in solving most of our logistical challenges. School is dismissed at 4:15 pm and right away I learned it was impossible for me to leave work every day at 3:45 to get in car line by 4…and then sit in line for 30+ minutes to pick Caroline up. We also wanted to avoid extending her day with an after school program, if possible. Thankfully, my boss is flexible and allows me to leave the office a few minutes early so I can get Caroline off the bus, and together we pick up Thomas. This is also one of my favorite parts of the day. Caroline is chattiest right when she gets off the bus and I love hearing about her day while it's still fresh and she's energized.
The past year has been really slammed for Matt at the office, so while he still does pick-up from time to time, I really try to avoid asking him to cut out of work to make it to the bus stop in time. More often though, he can grab Thomas on his way home so I can bring Caroline straight home and start dinner and she can unwind for a few minutes before Tornado Tom arrives home. However, most days Caroline and I will scoop Thomas up from daycare. Caroline absolutely loves picking Thomas up from her old stomping grounds and immediately runs to Austin's class in hopes he hasn't been picked up yet, hugging all of her former teachers along the way.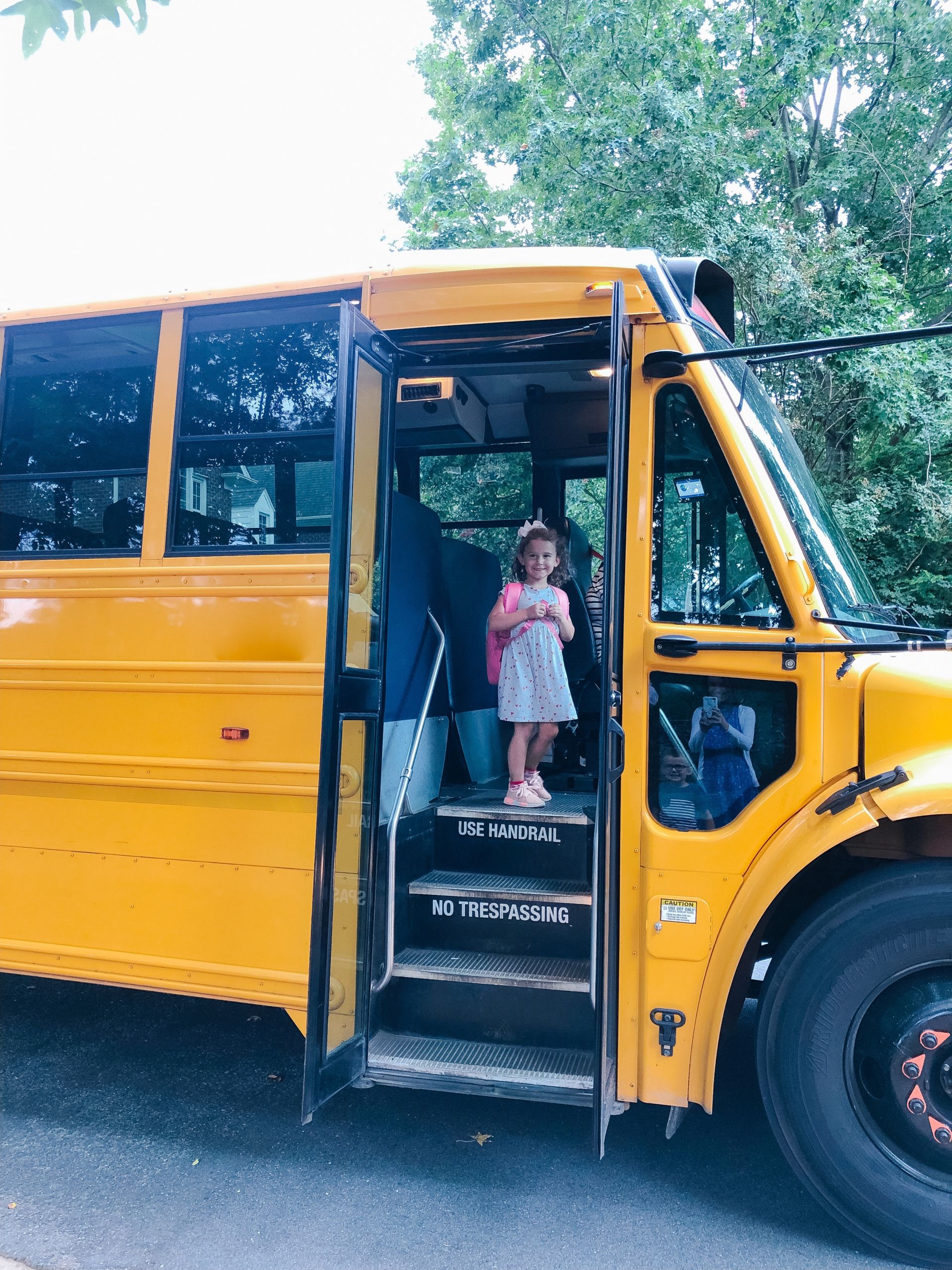 Dinners & Evening Activities
Upon arrival home, now that it doesn't get dark so early, I can send the kids out to the backyard to play while I get dinner ready, then I make them take showers when they come inside because they are filthy (a sign of a great day!) — if there isn't an activity that night. Matt almost always arrives home within an hour, unless work is too crazy.
Here's a typical meal plan/activity rotation for us right now:
Monday
To keep things quick and easy, I've been picking up a Home Chef Kit for Monday nights because a lot of the ingredients are prepped and it makes assembling dinner a breeze. The kit is technically for two people but we'll give the kids some of the protein and then fill in their plates with lots of fruit, veggies and a yogurt. Or, if I'm really prepared that week, I'll purchase extra protein to add to the kit. For example, this week I bought extra chicken for Tuesday's crockpot meal and used one of the chicken breasts to add to our Home Chef kit on Monday. Also, since dinner is done so quickly, we can almost always eat as a family on Monday nights (which is the only night we even attempt this).
Tuesday
We have Girl Scouts every other Tuesday at 6:30 pm which I absolutely LOVE. Since we have an activity, this night is almost always a crockpot dinner that the kids love helping prepare earlier that morning. We scarf down dinner around the kitchen island and then I take Caroline to Girl Scouts and Thomas stays home with Matt. Although rare, if Matt can't get home in time from the office, I'll take Thomas with me to Girl Scouts where he'll happily watch his tablet the entire time and eat snacks.
Our current family favorite crockpot rotation:

Wednesday
We have karate lessons every Wednesday at 5:40 pm. After probably 6 months of begging, we finally signed Thomas up for karate. The first few lessons were amazing and he was SO into it. But now he's already complaining about going so we're trying to determine how to proceed with this activity because it's not inexpensive and it requires a lot of begging to get him in his uniform. We're forcing him to go right now but I don't know how much longer we'll be willing to fight this battle. Sometimes he loves it, sometimes he doesn't. Ergh.
Anyway, so on Wednesdays, Caroline and I will pick Thomas up from daycare and head straight to karate, or Matt will pick Thomas up from daycare and take him while Caroline and I go home and make dinner, which is usually another Home Chef Meal Kit.
Thursday
Dinner on Thursdays is usually either leftovers (soup from Soup Sunday or Tuesday's crockpot meal), breakfast or lunchables. The first Thursday of each month I attend Community Group and the third Thursday of the month is Supper Club for me. Both of these start at 7 pm so I can usually help get the kids fed and Matt takes them to the finish line.
Friday
Family movie night!!!! Hands down, my favorite night of the week! As soon as I arrive home from work I order a pizza, grab C from the bus (and Thomas from daycare if Matt is stuck at the office), throw a treat in the oven, the kids shower and I pick out a movie! Then as soon as Matt arrives home I make cocktails (usually palomas) and we all unwind and watch the movie together over pizza and dessert! Although this breaks the rules, I usually multi-task by knocking out our meal planning for the following week and ordering our groceries online (for pickup on Saturday morning)…and sometimes I'll fold some laundry too. I have a hard time sitting still when there are chores I know I can be tackling!
Homework
This is new for us this year! With the exception of Friday nights, Caroline tackles her homework right after dinner while I clean the kitchen and Matt starts getting the bedtime routine ready (water bottles, vitamins, etc.) and resetting for the following day (prepping coffee, packing C's lunch, going through the communication folder to see if there are any forms to review/sign, etc.). It's a 50/50 success rate right now to get Thomas to do some sort of letter writing practice while Caroline does her homework and always requires a dessert (right now it's a Girl Scout cookie) to motivate him.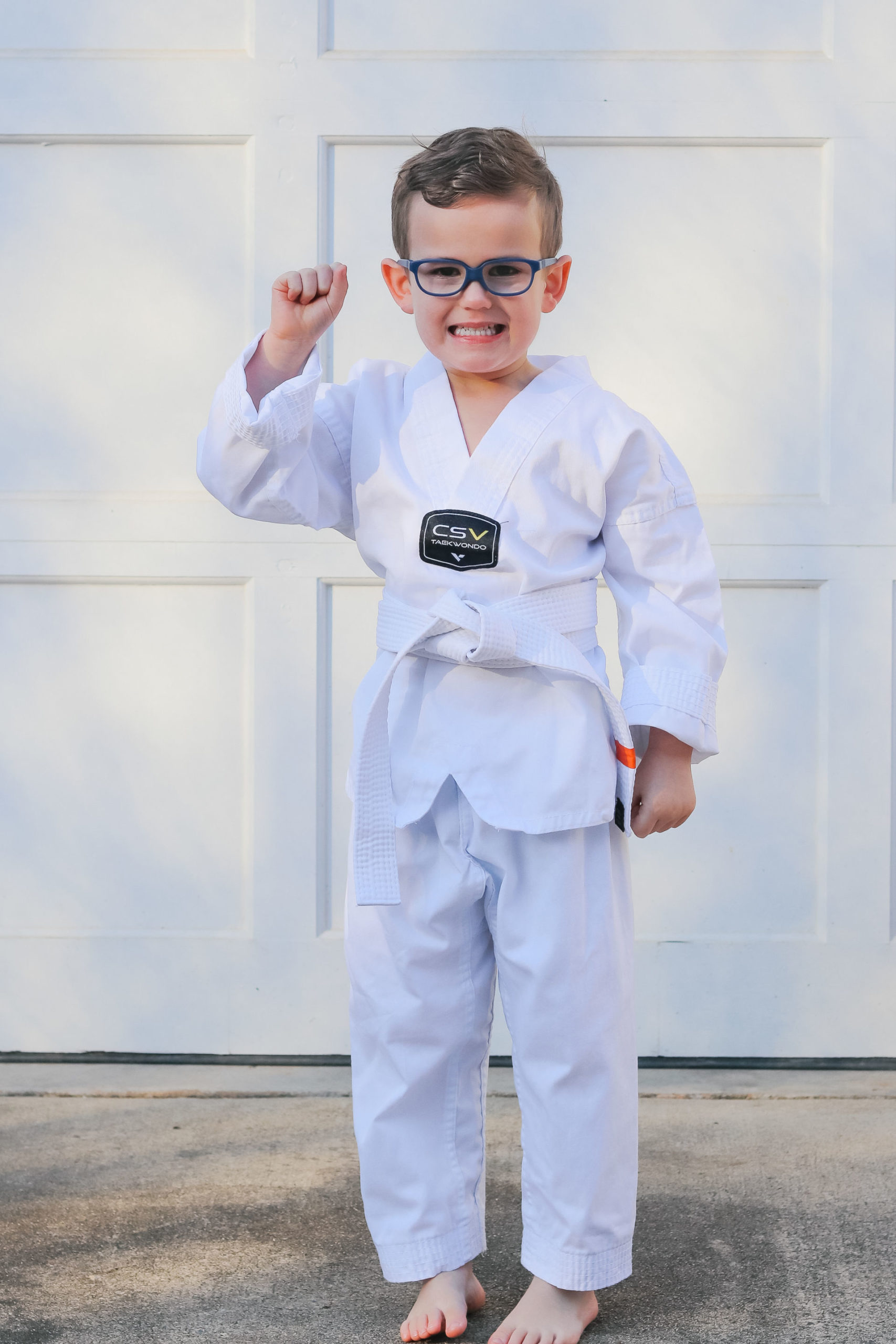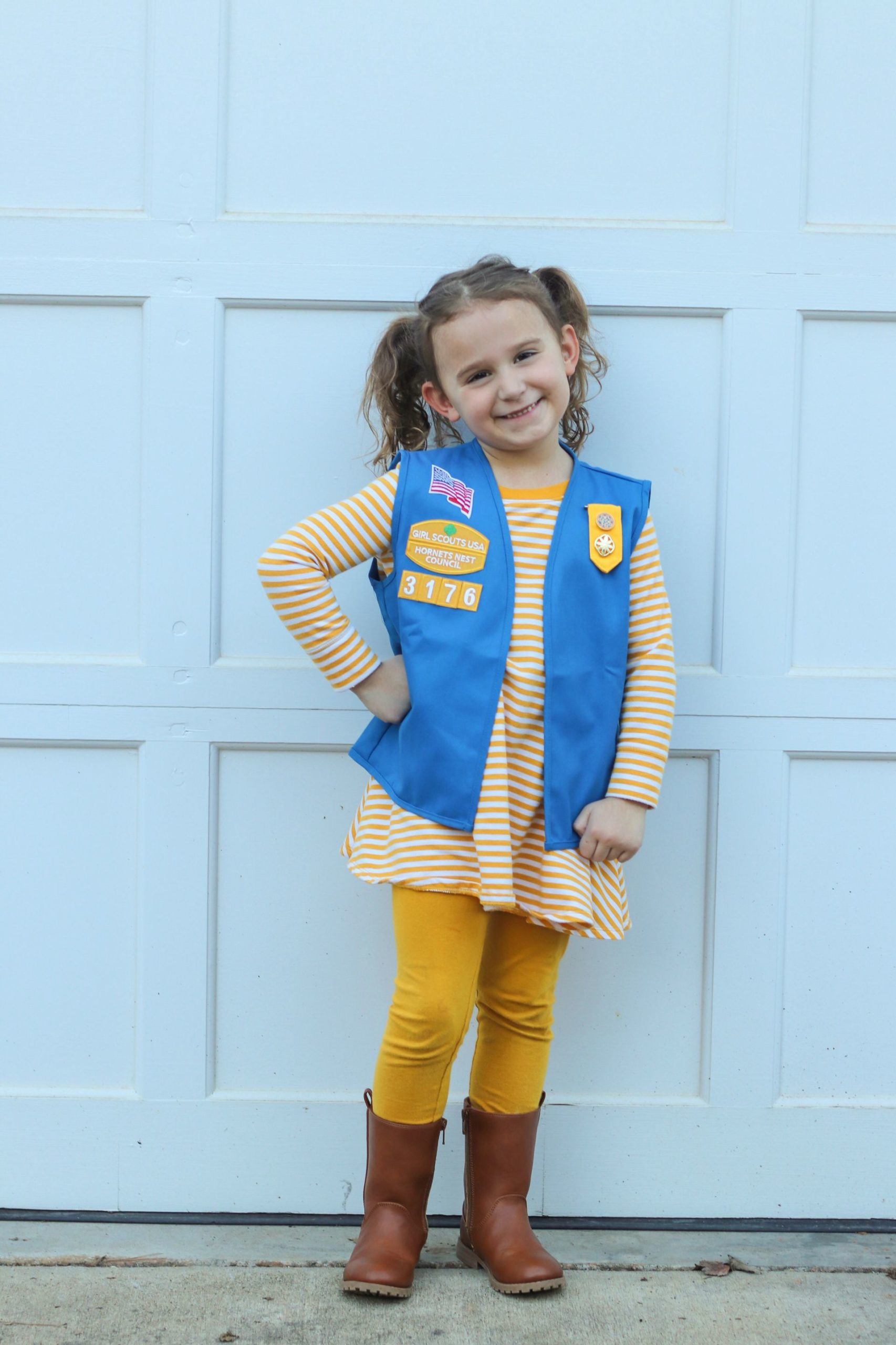 Bedtime
Again, with the exception of Friday nights, we try and get the kids in bed around 8 pm. We try to save "night night gummies" for the weekends and most of the time Thomas doesn't need them anyway (he's our good sleeper but early riser). However, Caroline is a night owl and will stay up (no matter how many times we tell her to go to bed) until 9:30 – 10 pm. Matt gets bedtime started by supervising teeth brushing, picking out books, etc. while I finish up whatever needs to be done in the kitchen. Then once they've run out most of their energy and are in bed waiting to be read to, I'll come up and change Tom's contacts and read to one kid while Matt reads to the other. He has so much more patience than me by this point in the night and actually enjoys the evening routine. I thrive on the morning routine and am literally sprinting through the evening stuff like a drill sergeant so I can collapse into bed as fast as possible. This is an area I've really been working on in mommyhood — "enjoying these moments," and it's definitely a work in progress.
Once the kids are down, they will then sneak back and forth into each other's rooms to read books together while Matt and I take turns busting them and taking away a privilege each time (usually morning TV). Still, several times a week both kids wake up in the same bed together, which I let slide because it's super cute and I know it wont last forever (and it means they didn't sleep in our bed).
Matt hops straight into bed and gets back to work, usually until 11 pm or later. I will sometimes take a bath to unwind, do my skincare routine and then join him in bed with my laptop and try and get some blogging done while we watch whatever Netflix show were bingeing that week.
We usually turn off the TV around 10:30 or 11 pm since we get up early for the gym and I'll turn on a podcast to fall asleep to. Matt will sometimes stay up late into the night working so I'll put my eye mask on and pass out (if I didn't fall asleep already while watching TV). Once Matt shuts down for the night it takes him awhile to fall asleep…and usually nods off right as our first visitor is tapping one of our shoulders to see if they can crawl into bed with us…
And that's a wrap on our evenings!
FAQ
And I know you're going to ask…do we still have the Hall Pass? Sadly, this isn't really feasible most weeks anymore. We knew it would be short lived and we enjoyed it while it lasted! However, Matt and I try really hard to recognize when the other person has had a really hard day or is about to lose their shiz, and will suggest the other person take the night off after dinner to retreat to the bedroom (lock the door) and skip the bedtime routine. Matt almost always uses this opportunity to get a head start on tackling more work (especially if he left early to cover pickup for me or attend a kid/school activity). I also should note that Matt is way better about recognizing my burnout than I do for him (mostly because it's hard for me to tell when he's totally spent, whereas I become visibly grumpy), so this is another area I'm working on.
Lastly, because it's easy for us to feel like ships passing in the night during the work week, we try to prioritize date nights twice a month and a weekend away a few times a year to recharge!
A Day In Our Life Series