Thank you to Walmart for partnering with my family on this post and to my readers for supporting my blog. I have made all my product purchases, and all reviews are my own.
Traveling with kids for vacation requires a lot of packing. For our recent beach trip, I had seven pages of packing lists (Christina, Thomas, Caroline, Sprinkles, Beach/Pool Stuff, Kitchen/House Supplies, Inside Car Travel Bag & Cooler). As the kids have gotten older, we've been able to pack a little lighter…yet somehow the car is still completely stuffed to the brim with boogie boards, beach chairs, booze, bags and more.
Additionally, 5 days with 4 kids and 2 adults requires a LOT of groceries. It's impossible for one family to bring it all so previously we would create a shared grocery list and divide up some of the items between families and then make a big grocery store run for all the cold stuff once we arrived to our destination.
Since we've been using Walmart's Online Pickup + Delivery. service for over a year now, the thought occurred to me that I could have our vacation groceries delivered directly to our beach villa. I honestly cannot describe how huge this was for us this year. I was able to order literally everything we needed — snacks in bulk quantities, cases of bottled waters, all of our meal ingredients, several bags of ice, charcoal & lighter fluid for grilling, so many melons, extra kids sunscreen, disposables (paper towels, napkins, paper plates, solo cups), laundry & dishwasher detergent and SO many more items. And I scheduled our delivery for one hour after our check-in time which was perfect. Everything we needed came right to our doorstep just as we had finished unloading the cars and all of our bags.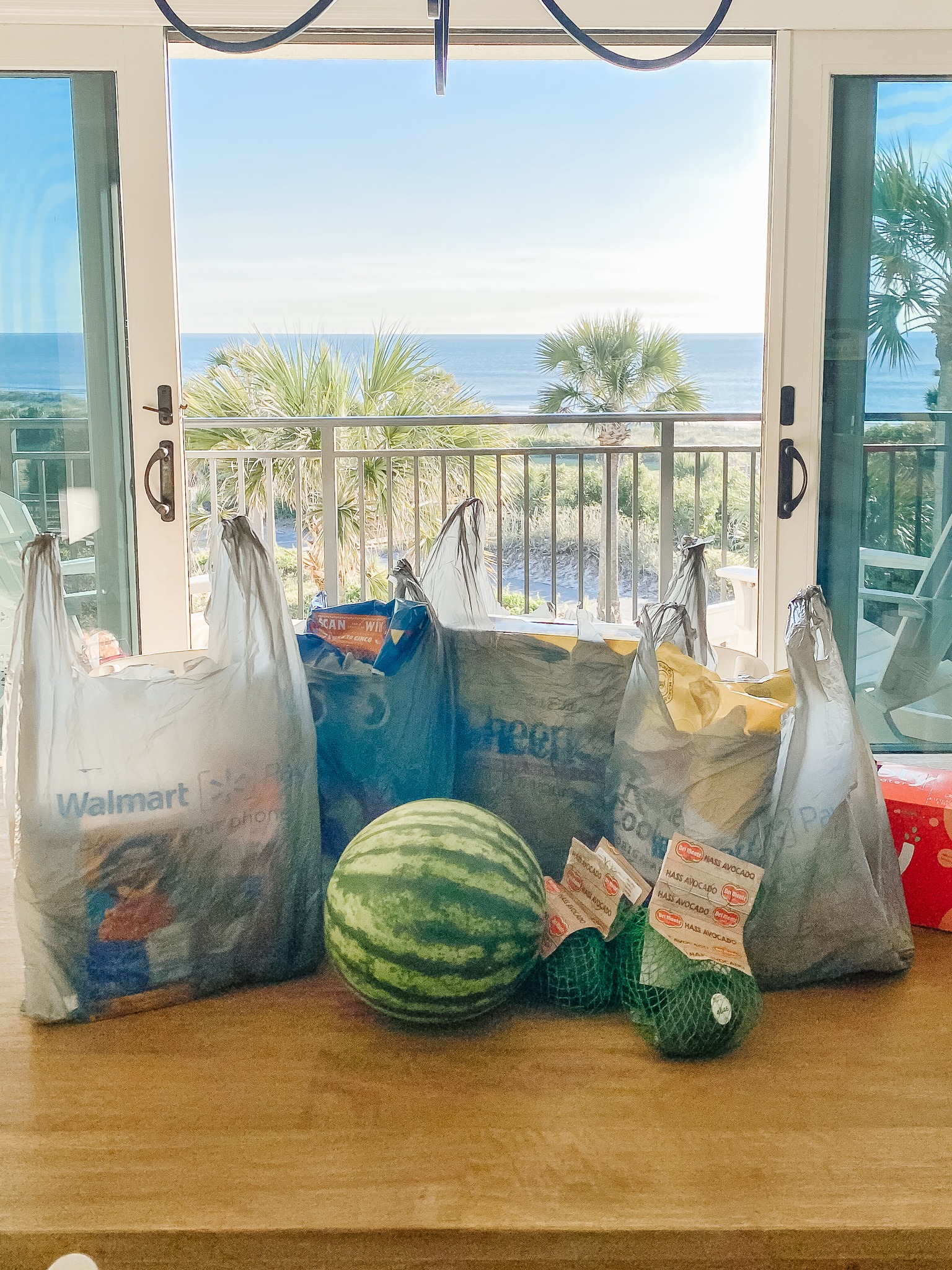 I cannot recommend this hack enough as you plan your summer family trips. I gave my sister my Walmart account log-in information so we could both add to the shopping cart leading up to our trip. And we scheduled our grocery delivery about 10 days out to make sure we got the delivery window we wanted, then we continuously updated our shopping cart all the way up until the night before.
One more tip! Without a doubt we always need additional items halfway into our vacations. I recommend securing your next delivery time slot as soon as you receive your first delivery. Once you have the time slot, you can remove or add as many items as you need up until the evening before your scheduled delivery. This was huge for us and saved us from missing out on several hours of precious beach time by not having to run up to the store for items we didn't know we'd need until after the first day (ie: extra sunscreen, pool floats, phone charger, several more bags of ice, new pair of kid flip flops, beach towels, more tubes of SPF lip balm, etc.)!
Vacation Supplies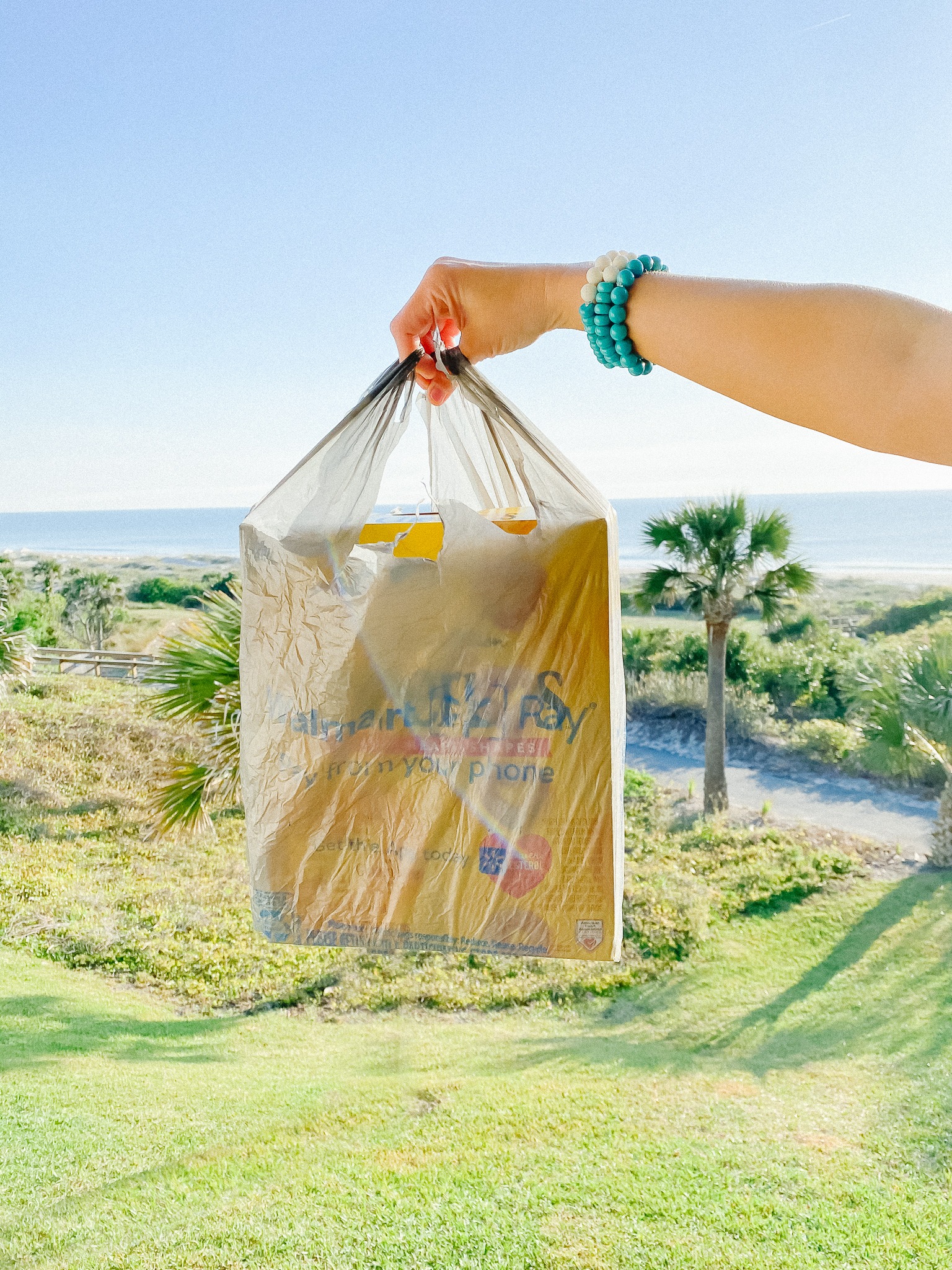 Walmart Pickup + Delivery provides the same Walmart Every Day Low Prices as in store, so there are no hidden fees or markups and pickup is always FREE (small delivery fee applies & $35 minimum order applies). Pickup and Delivery available in select markets.