We are spending a ton of time at the pool this summer! I am constantly packing and repacking our pool bag depending on if it's a swim team night or a weekend pool day, so I thought I'd share a few items I always have stocked in our pool bag…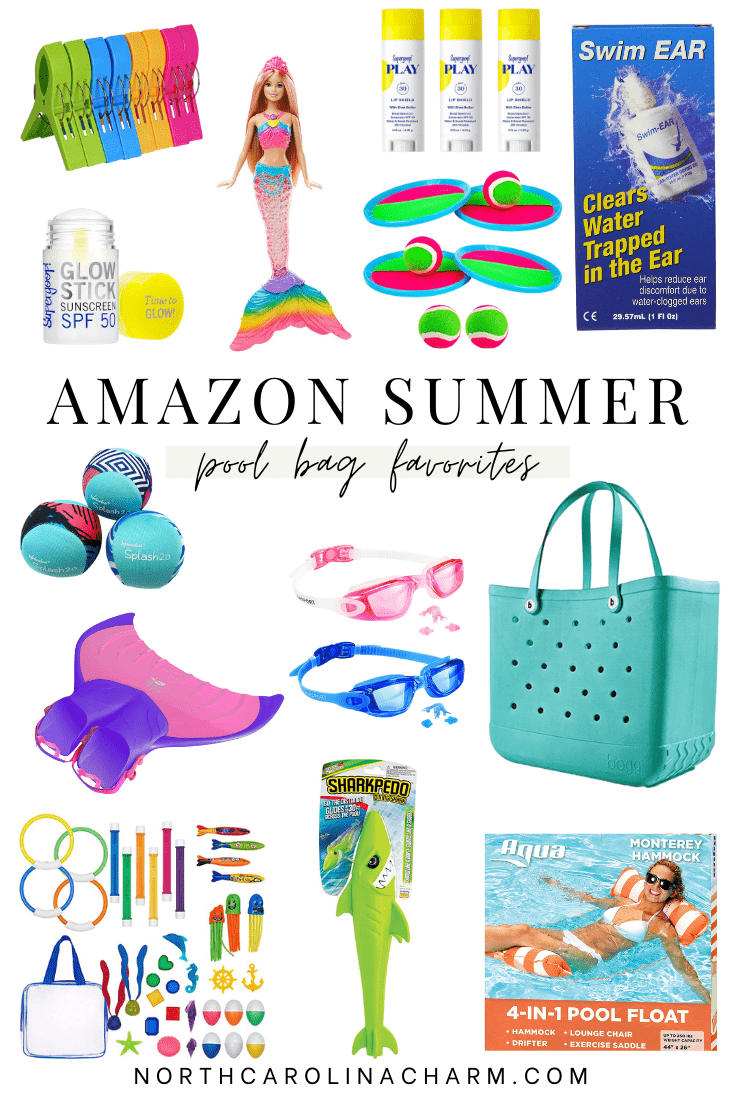 Towel Clips: I've been using these for years! They are so great for keeping your towel in place on your chair so it's not constantly sliding around.
Mermaid Barbies: We have a ton of these. Caroline is always seeking out little girls at the pool to play mermaid Barbies with! We also have a ton of these mini mermaids too!
Supergoop! SPF Chapstick: My favorite lip protection from the sun!
Supergoop! Glow Stick: We are huge Supergoop! fans and this is my most recent favorite sunscreen product! My sister brought this 50 SPF sunscreen stick to the beach and I loved it so much that I immediately purchased one for myself. This dry-oil stick offers glow-boosting hydration and invisible SPF 50 protection. It rolls on SO smooth and leaves a dewy finish without an oily residue. I use it on the kids too and they love that it doesn't leave a white film on their skin. Highly recommend!!
Toss & Catch: Such a fun game to play in the pool or on the beach and doesn't take up too much room in the bag.
Swim Ear: With pool time at camp each day and swim lessons several evenings a week, we have been super diligent about putting drying aid drops in the kids' ears each night at bedtime. Swim Ear drops came highly recommended to us after both kids got swimmers ear last summer and we've been using it ever since! And so far (knock on wood), we've been able to avoid the swimmers ear this summer.
Splash Balls: This is actually Matt's favorite pool bag item. He is obsessed with these water bouncing balls.
Mermaid Fin: We recently surprised Caroline with a mermaid tail and she is absolutely obsessed with it. I was definitely on the fence over this purchase due to safety concerns but she is swimming SO well with these fins and it's so fun to watch her swim like a mermaid. Earlier this week I was passing through the family room and spotted her wearing her fins on the couch while watching TV. It was so cute and I love how happy this little tail makes her.
Goggles: Hands down the best goggles. They fit well, don't leak or fog up and unclip in the back so you don't have to rip out your hair while taking them off your head!
Extra large BOGG bag: This is our new pool bag this year and we LOVE it. It's rubber so it's easy to rinse clean and is big enough to fit ALL our things. It comes in a bunch of colors too.
Dive toys: We buy a huge set of dive toys every year and this is the 39 piece set we purchased for this past summer. Don't forget to write your name or initials on these with a sharpie before using them. I always forget to do this and end up trying to figure out which sticks are ours at the pool while we're packing up.
Sharkpedo: Thomas's favorite pool toy! This shark glides under water and can go as far as 30 feet!!
Pool Float Hammock: We found this pool float last year and have been using it so much again this summer. It really is the best float we've purchased. I like that it can be deflated and is easy to store or travel with! It comes in 15 colors has almost 43,000+ reviews on Amazon and is inexpensive!
You can find all of these pool bag favorite and many more summer items in my AMAZON SHOP!