For Salad Night last week, I made a Vegan Nicoise Salad and am happy to report everyone ate most of it (both kids avoided the hearts of palm like they were poison).
This salad did take more steps than I prefer during the work week so I won't be making it often but wanted to share it since it was delicious.
Oh, and this salad is adapted a bit from the traditional nicoise salad to make it dairy-free and vegan!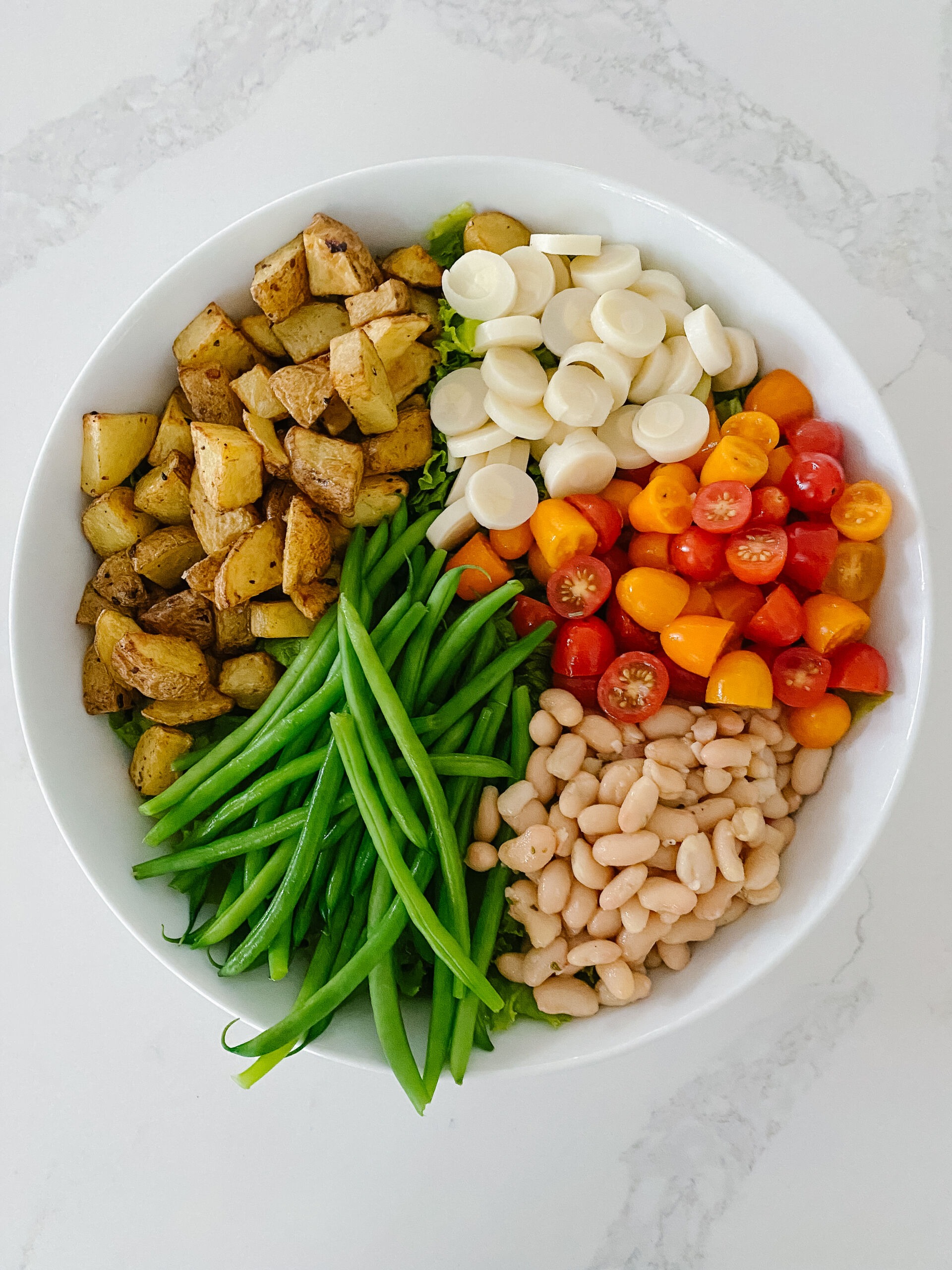 Vegan Nicoise Salad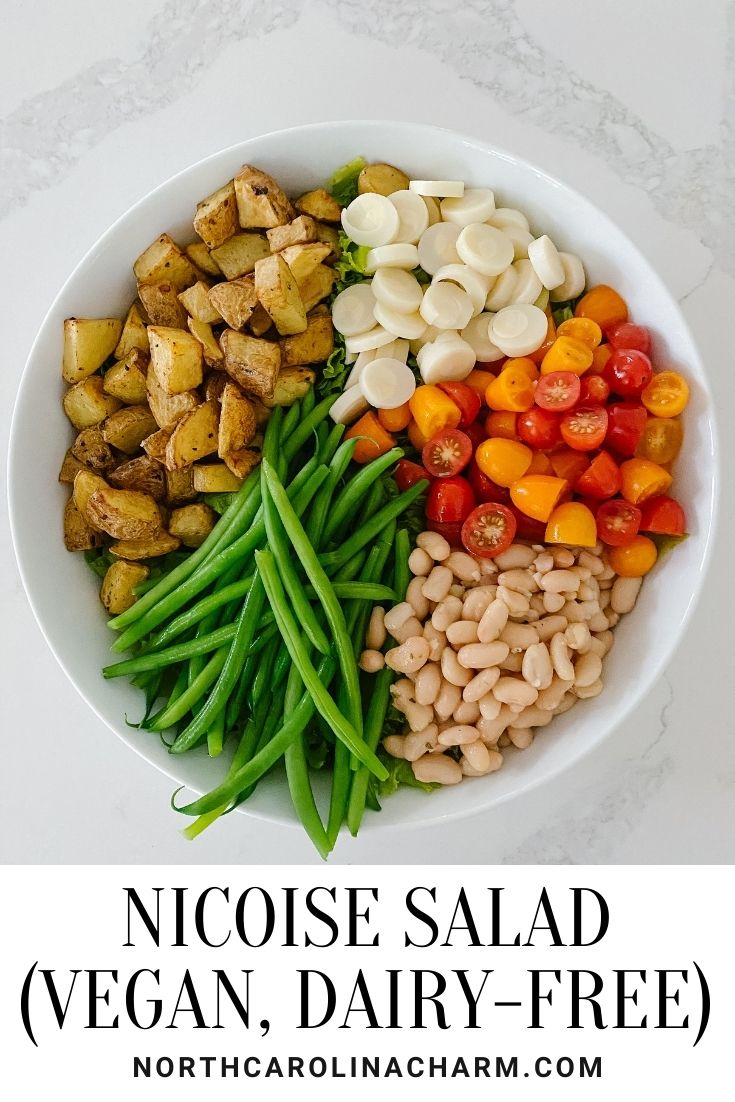 Nicoise Salad (Vegan, Dairy-Free)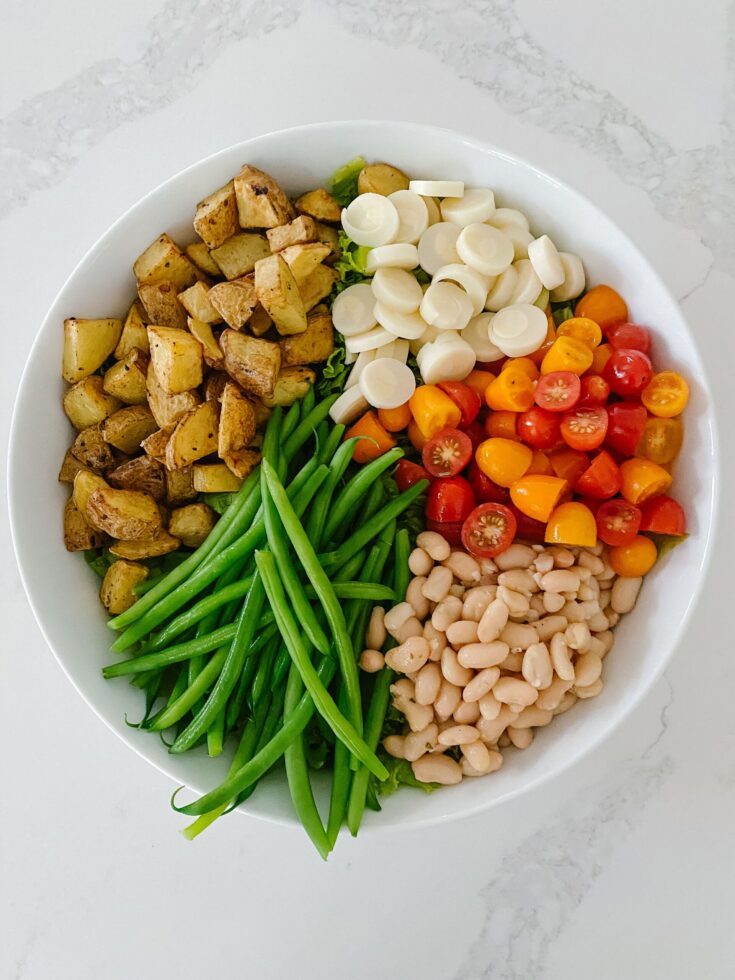 Ingredients
4 cups diced red or yellow potatoes
3 tbsp olive oil
1 tbsp dijon mustard
2 tsp Herbes de Provence
1 clove garlic, minced finely
1 head of romaine lettuce, chopped
1 cup cherry tomatoes, halved
1 cup green beans or haricot verts (trimmed)
1 cup cannellini beans or chickpeas, drained and rinsed
1 cup hearts of palm, sliced thinly
salt & pepper
Dressing
3 Tbsp minced shallot
1 heaping tsp dijon mustard
1/2 tsp Herbes de Provence
1/3 cup white or champagne vinegar
1/4 tsp each salt and pepper
1/4 cup olive oil
Instructions
1. Whisk together olive oil, dijon mustard, Herbes de Provence, garlic, salt and pepper. Toss potatoes in olive oil mixture and spread evenly on a baking sheet. Roast until tender and slightly crispy - about 30-35 minutes.
2. While potatoes are cooking, fill a medium saucepan with water and bring to a boil. Add green beans and boil for 2-4 minutes, or until bright green in color and slightly tender. Immediately transfer to a bowl filled with ice water to stop cooking. Drain and pat dry – set aside.
3. Whisk together dressing ingredients. Stir 2 tbsp of dressing into cannellini beans and toss. Set aside.
4. Assemble salad. In a large bowl, add romaine lettuce and top with cannellini beans, green beans, tomatoes, hearts of palm and potatoes. Serve with dressing.
Salads You May Also Love: