Last weekend while we were family tent camping, I received some messages requesting a post on our car camping essentials and packing lists. While we are certainly not experts, we have now completed 3 family camping weekends, and each time we've gotten a little better at it.
Camping requires a TON of work but is SO very worth it. If you're considering a family tent camping weekend, I highly recommend starting with car camping at a campground. You can park your car right next to your tent which allows you to bring so much more stuff to make the experience easier and more comfortable. Most campgrounds also offer really nice amenities like fire pit rings, picnic tables, electrical hookups, water spigots, and bathrooms!
Before kids, Matt and I really loved hiking out to the middle of nowhere to camp more primitively. However, I've come to really enjoy car camping as I get to sleep on an air mattress, bring a coffee maker, and don't have to haul a ton of water on my back.
We like to try new places each year and so far we've taken the kids camping at Hot Springs Campground (our favorite), we've camped beachside on Edisto Island (also a super amazing campsite), and Table Rock (stunning destination with lots to do).
If you've never booked a campground site before, they can be VERY difficult to secure (especially the beach sites or campgrounds that offer lots of amenities and things to do) and most of them stay pretty booked throughout the popular camping months.
We book our campsite 12-13 months in advance of our trip (which is when campgrounds usually open their booking windows). And if you are planning to camp over a holiday weekend, it's even more difficult. A good site makes the world of difference too. If you want to be close to bathrooms, wifi, beach access, not stuck between two ginormous RVs, etc. then you'll want to scope out the campground map ahead of time, write down the sites you want and be ready to book them as soon as they go live.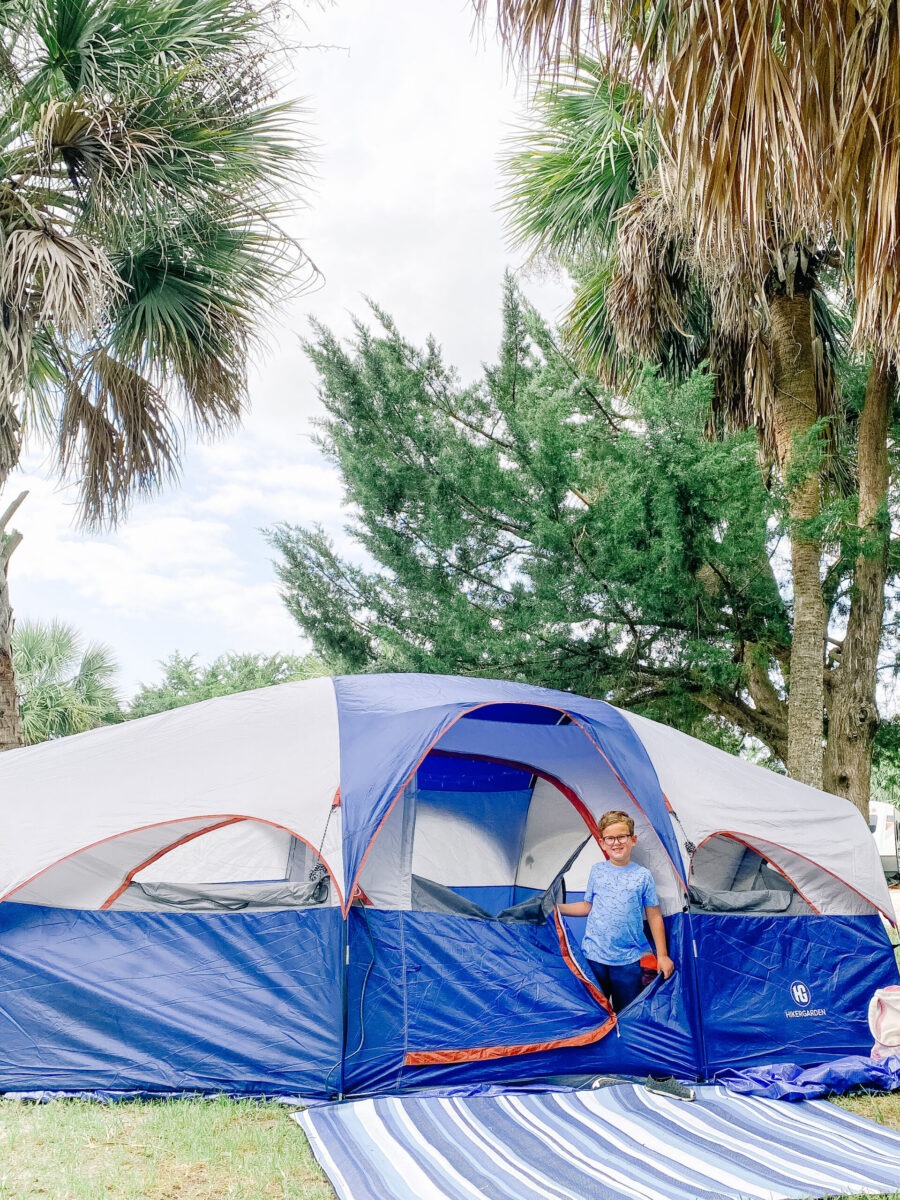 As I mentioned, camping requires a ton of prep work and I am hoping that you find our packing lists and organization system helpful and most importantly, that it makes the planning process less stressful! Don't forget to scroll to the very bottom of this post for a printable version of our camping pack lists!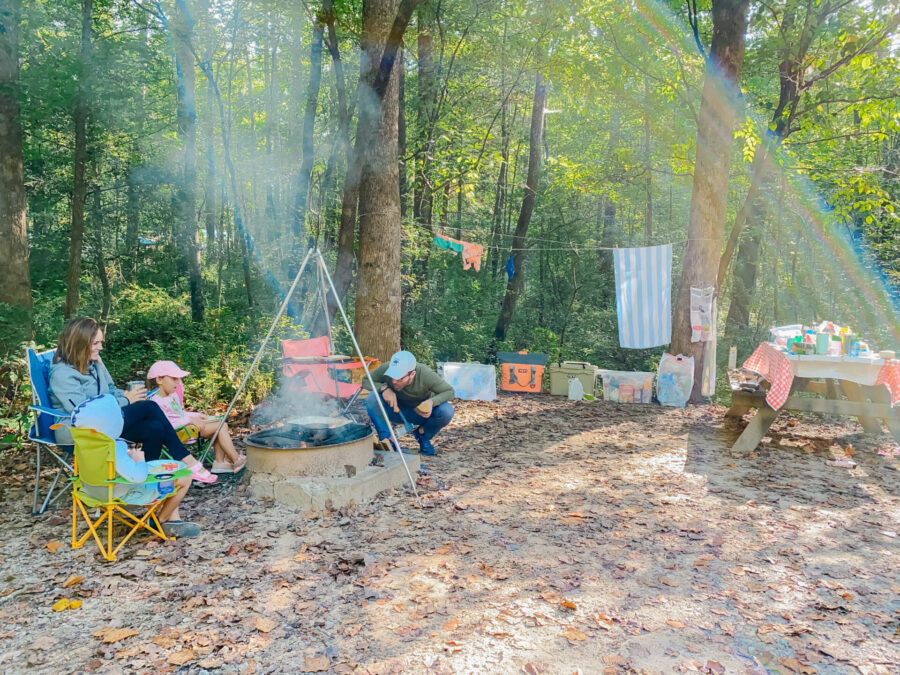 Camping Essentials & Favorite Gear
Over the years we've slowly added more and more gear to our collection and have never regretted the extra supplies. In fact, camping has become much more comfortable and enjoyable with these items…
A few years ago, I spent hours and hours agonizing over which tent to purchase for our family. I must have read a thousand reviews and had our options narrowed down to 4 tents until finally selecting the 8-person Hikergarden Campros tent. The features that ultimately sold me were the number of mesh windows to allow for max airflow and the curtain room divider so the kids could have their own space separate from ours. We can fit two queen-size air mattresses inside and still have a ton of room for all of our bags, toys, etc.
The only negative tent reviews were around the door zippers (which are hard to open but we figured out how to make these a lot easier to unzip). After three camping trips in this tent, I can honestly say I would buy it again and again and again. During our most recent camping trip we experienced a TON of rain and the tent held up perfectly and kept us 100% dry.
TENT TIPS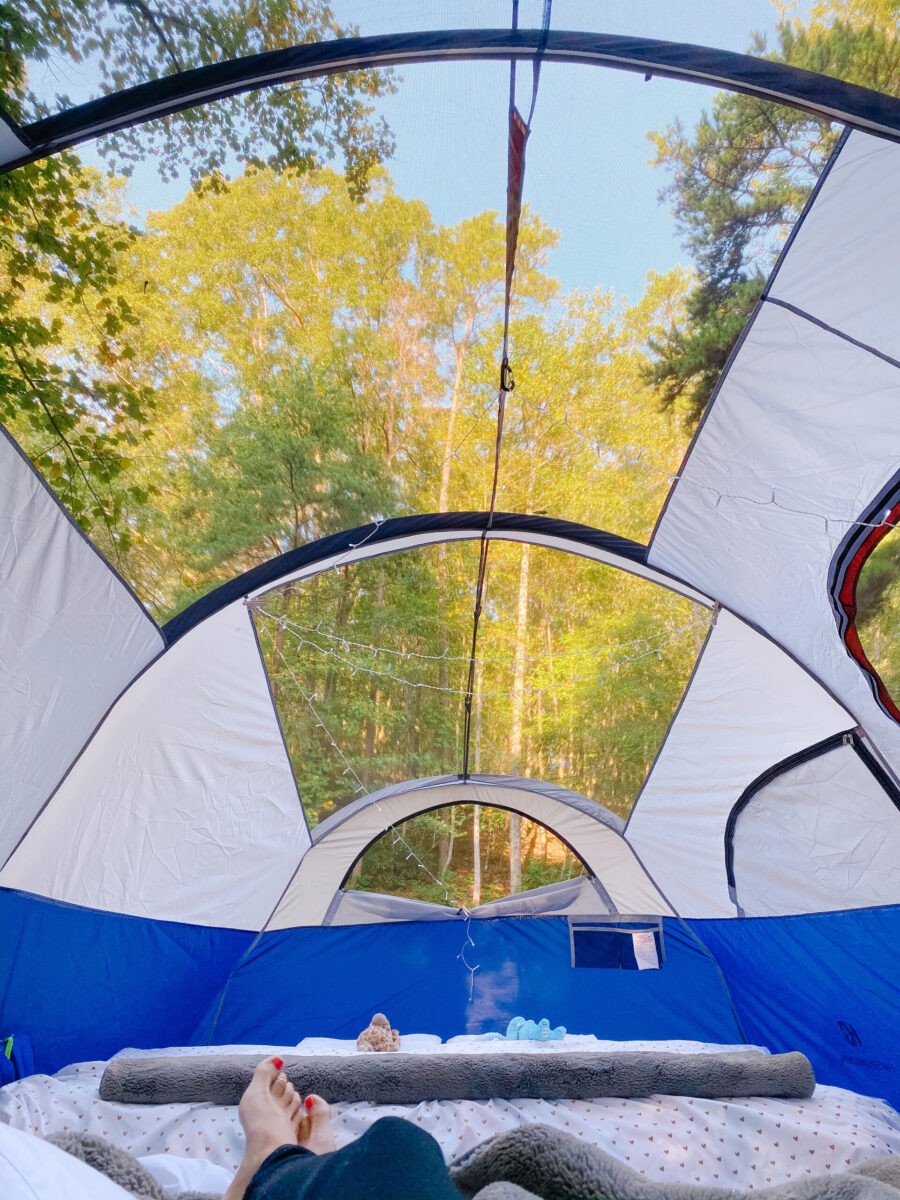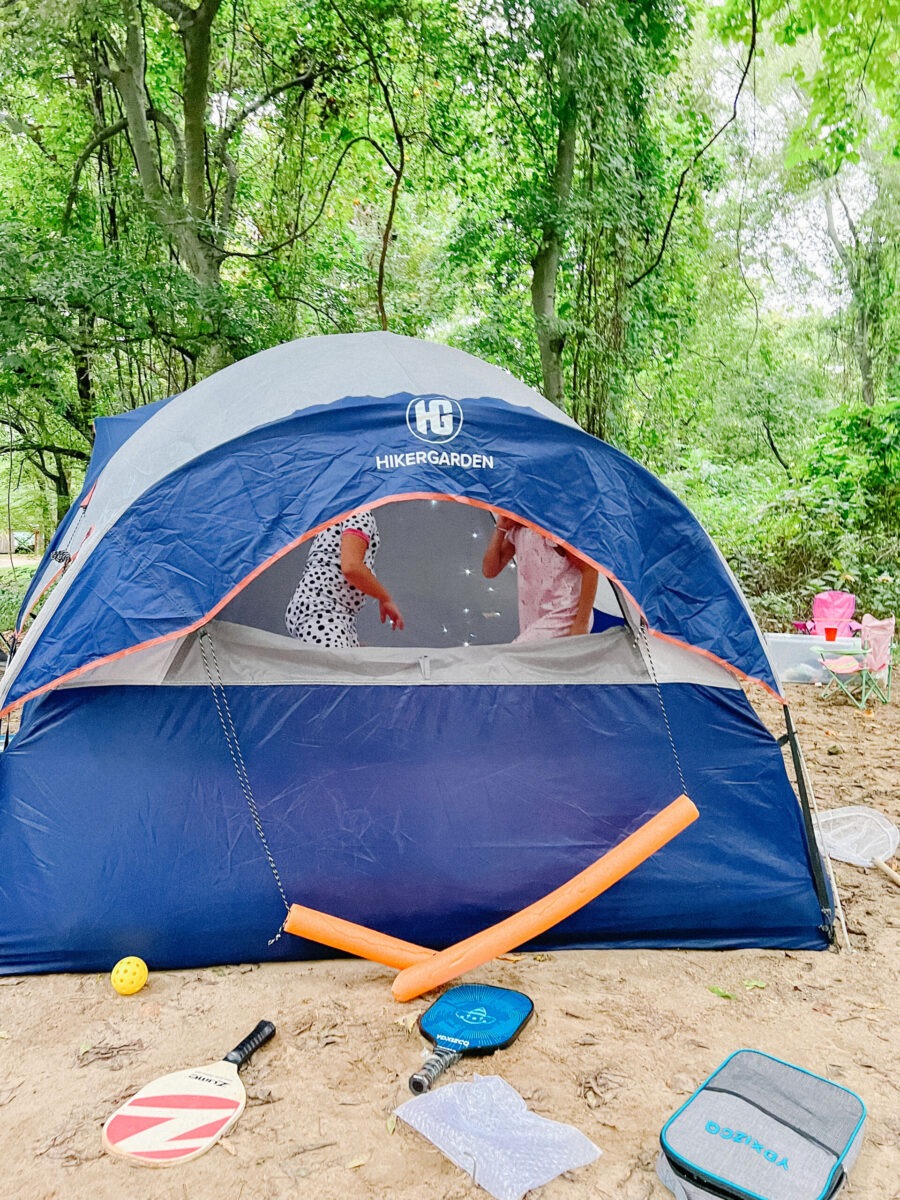 For our most recent trip, we decided to purchase a camping cook station table and it was a total game changer. Not only was it nice not having to share our cooking station with our dining picnic table, this folding table has a lot of awesome features too. There's plenty of counter space to accommodate our stove, cooking utensils & cookware, a storage rack for paper towels, a collapsible sink, and a lantern pole!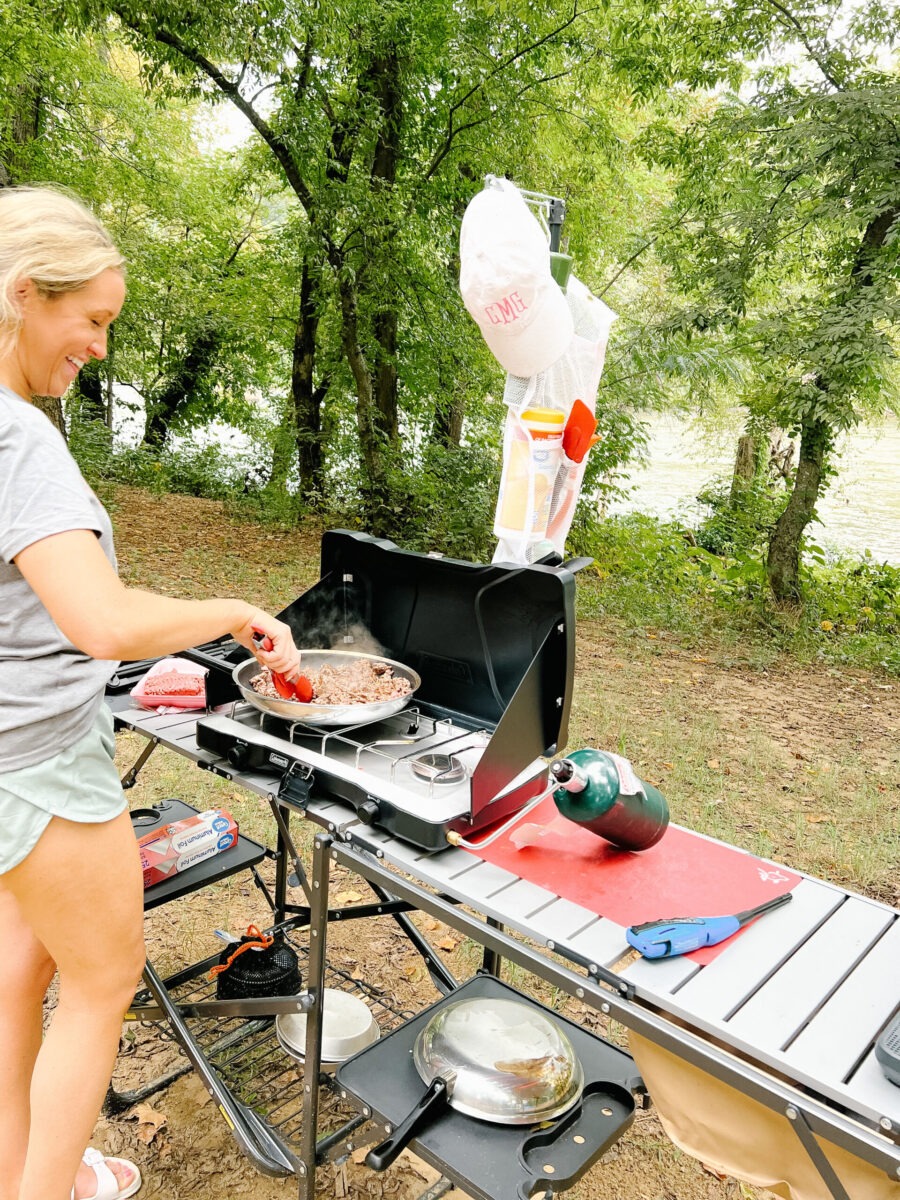 Camping Stove & Grill
We really love our 2-burner camping stove for quickly cooking items we don't want to slow cook on the tri-pod grill. But we pack and use both quite a bit during our camping trips.
FAVORITE CAMPING MEALS & SNACKS
My best tip is to bring meal items as prepared as possible. For example, make a batch of sandwiches ahead of time instead of trying to do it at the campsite. If you're making tacos, bring all your toppings pre-diced and pre-cook the meat ahead of time and warm it over the fire. If you like scrambled eggs, pre-scramble the eggs and store in a container until you're ready to use so you aren't cracking a dozen eggs at the picnic table.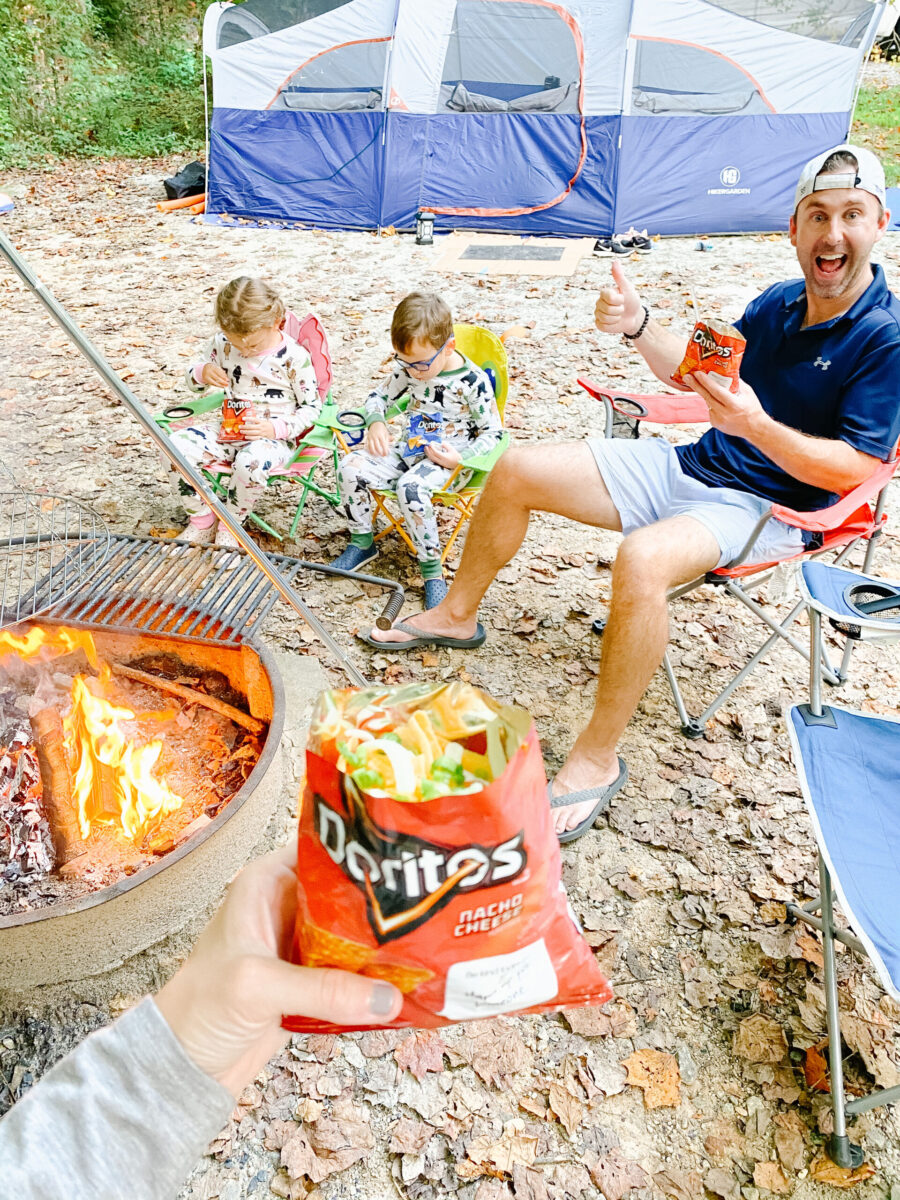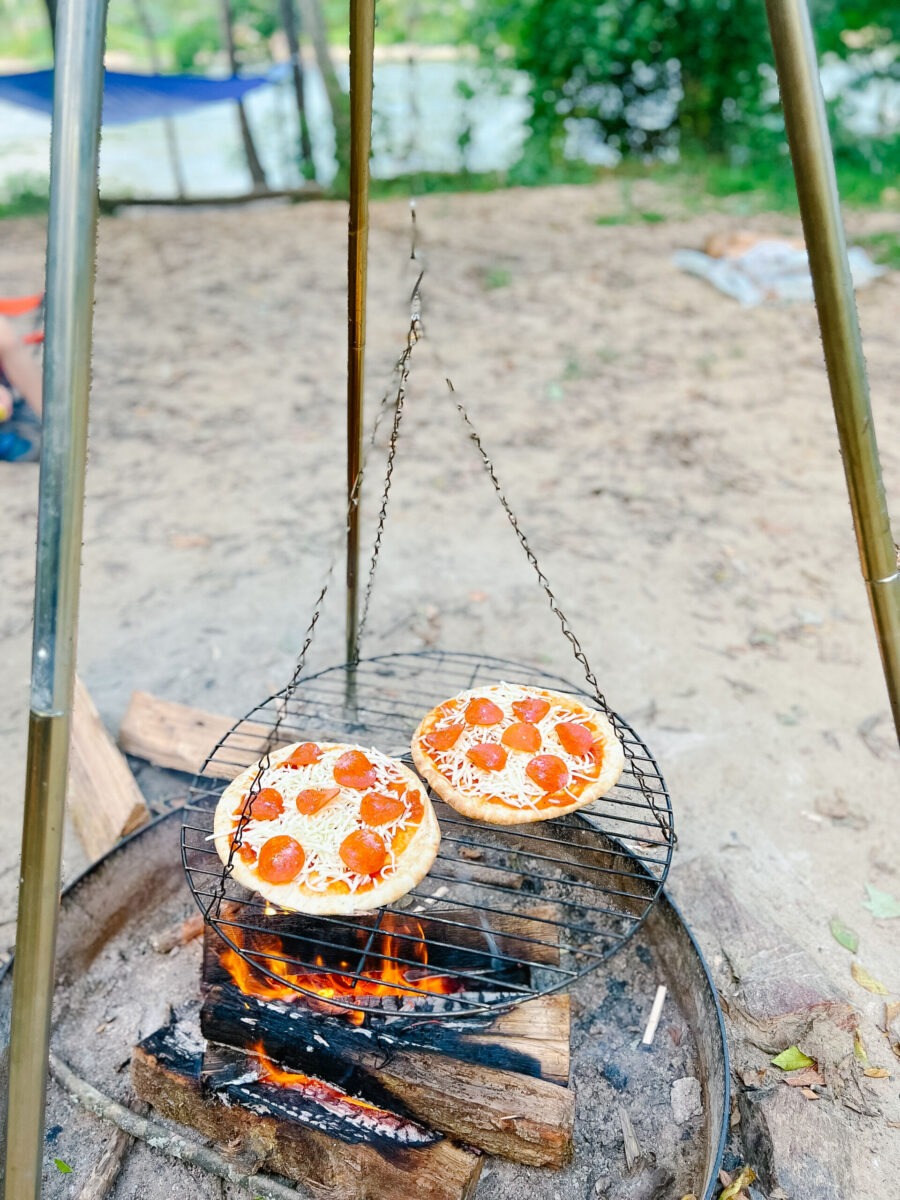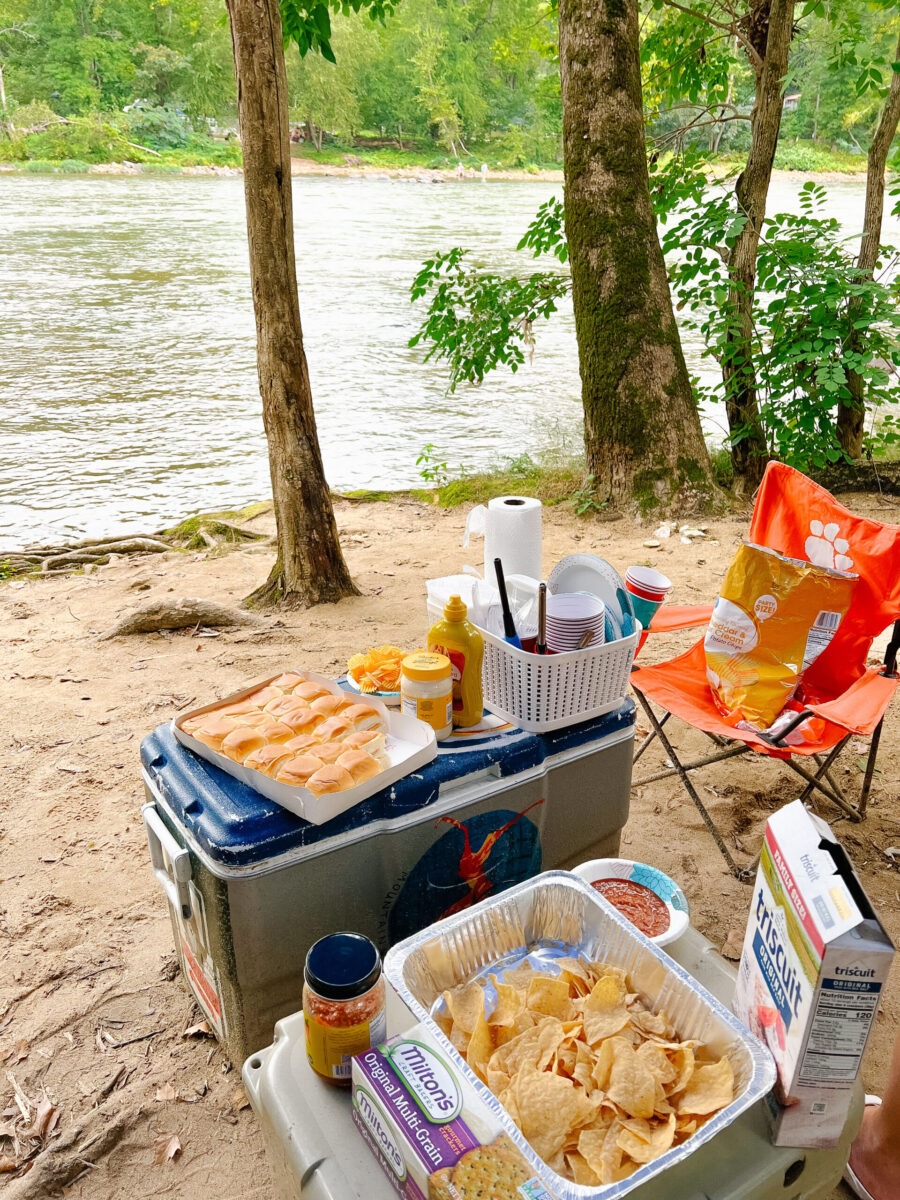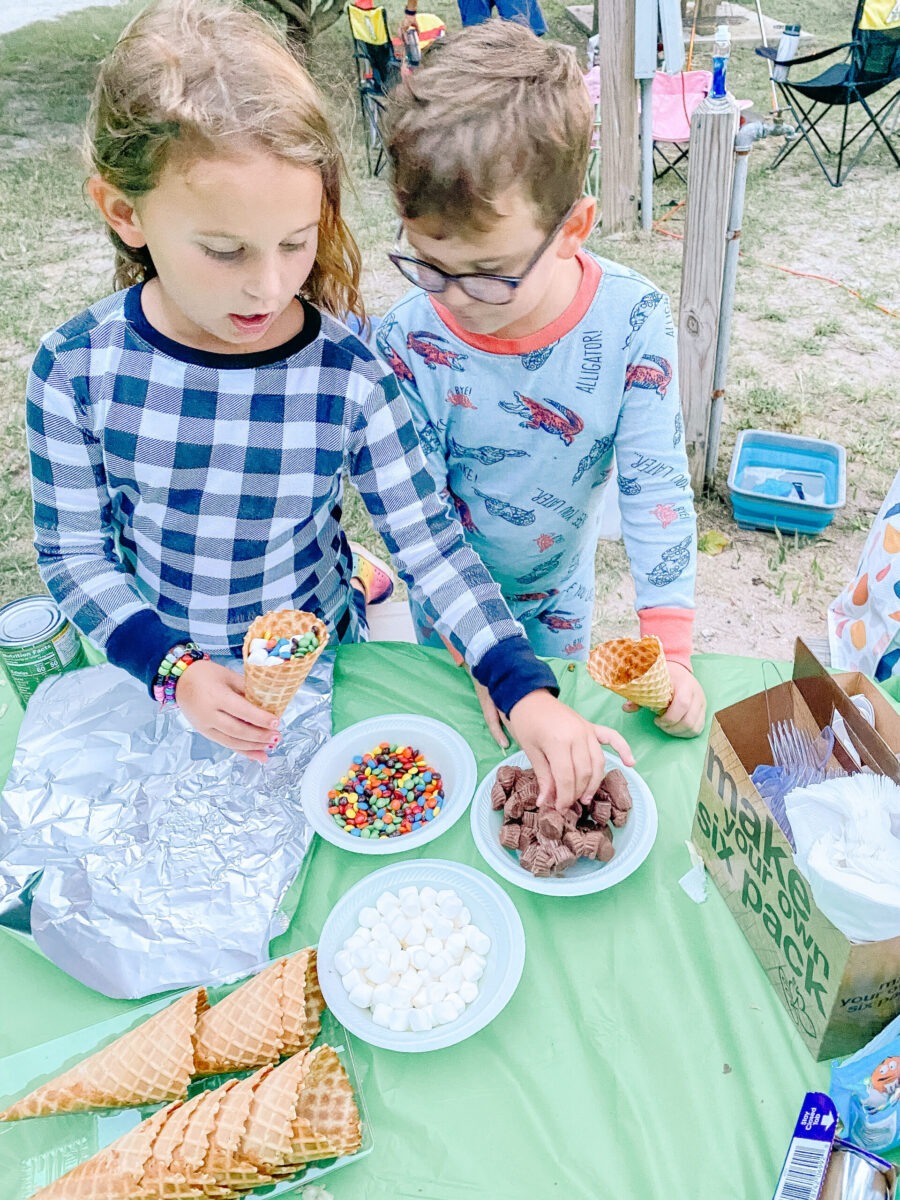 Mosquito Repellent
For as much as I love camping, I equally despise mosquitoes. They love me and eat me alive anytime I'm outside for more than a minute, so I'm kind of crazy about mosquito repellent when we're camping. And I'm happy to report that I didn't experience ANY bites during our most recent camping trip!
OK, so here is how we keep the mosquitoes away. First, multiple Thermacell lanterns. We use these anytime were outside at home and definitely bring them with us for camping. These also double as an extra light source at nighttime too! Don't forget to pack a stash of repellent refills too.
We also used these Mosquito Repellent Patches on our recent camping trip and they WORK! The patches are made using all-natural plant-based ingredients, and they are 100% DEET-free. You can also stick them anywhere – clothing, tables, backpacks, and even the tent.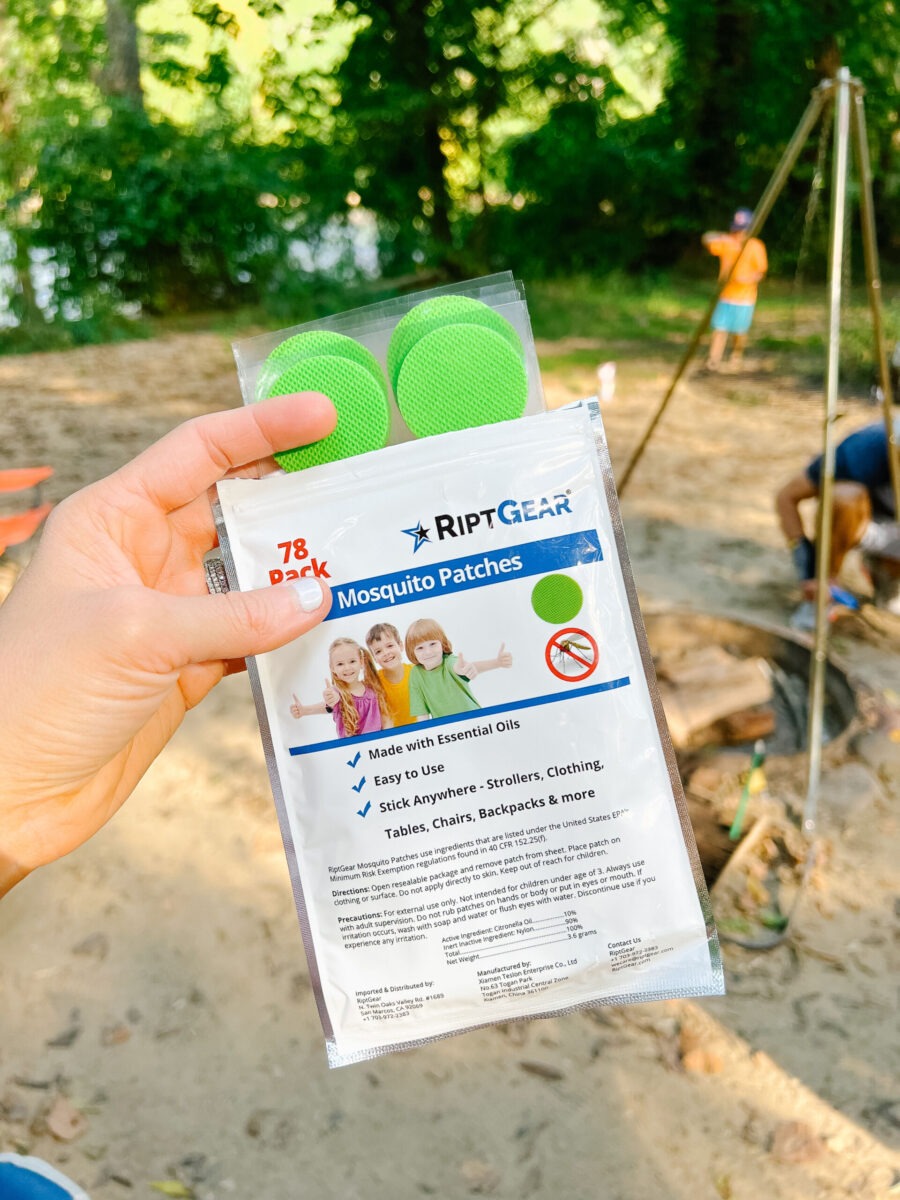 Camping Organization System
We pack as much gear and supplies as possible into large plastic storage containers organized by category — camping gear, camping food, etc.
TIP: make sure you get the plastic containers that lock into place because you will likely fill these to the brim and will need the latch to keep the bins closed. We like the 66-quart plastic storage bins for food and dry supplies, and we pack our camping gear and larger supplies in a 105-quart plastic storage bin.
We love this packing method because it helps expedite the campsite set-up, you can safely store and keep your supplies dry overnight (we usually throw the food and anything the critters may enjoy into one storage container and lock it up in the car before bedtime), and the containers are easy to hose out at the end of the trip.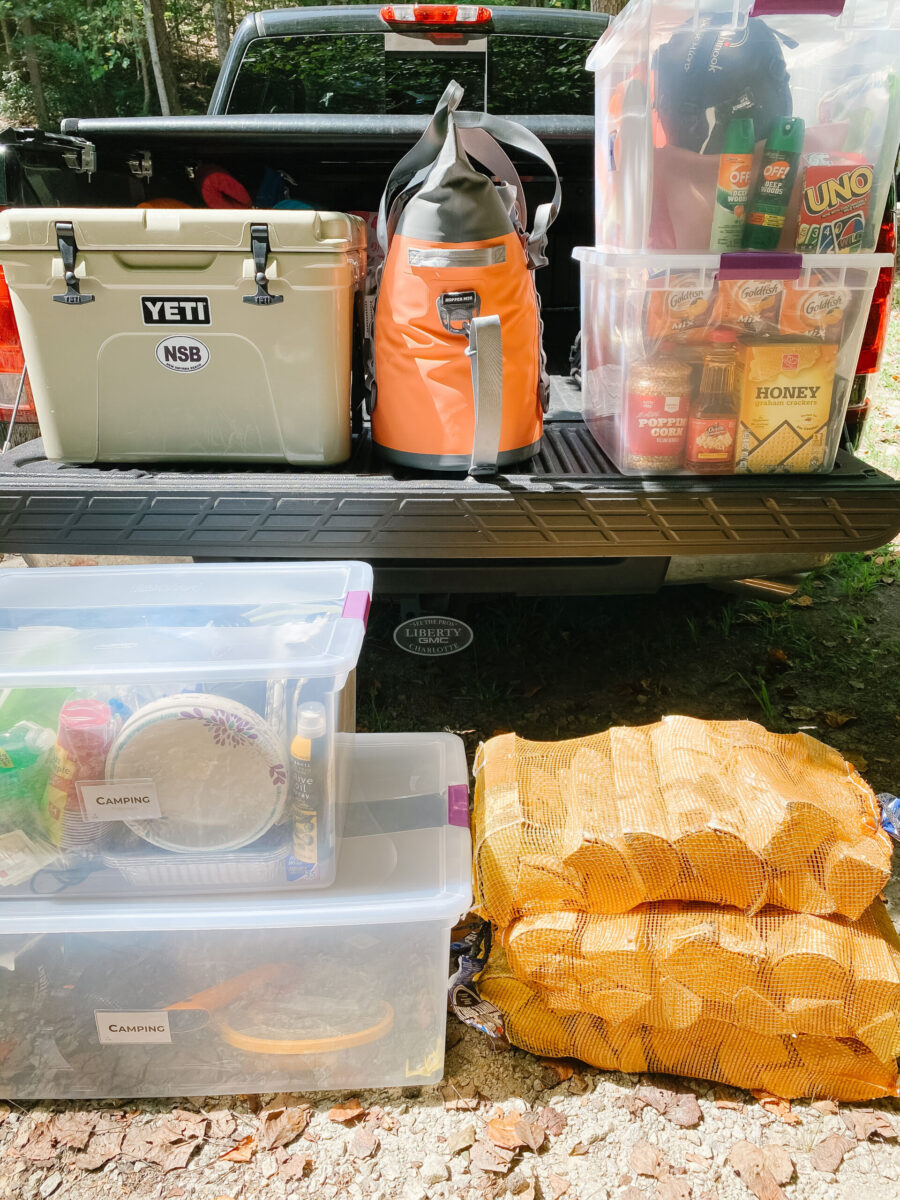 Camping Pack Lists
Alright, here is a list of all the gear and supplies we bring!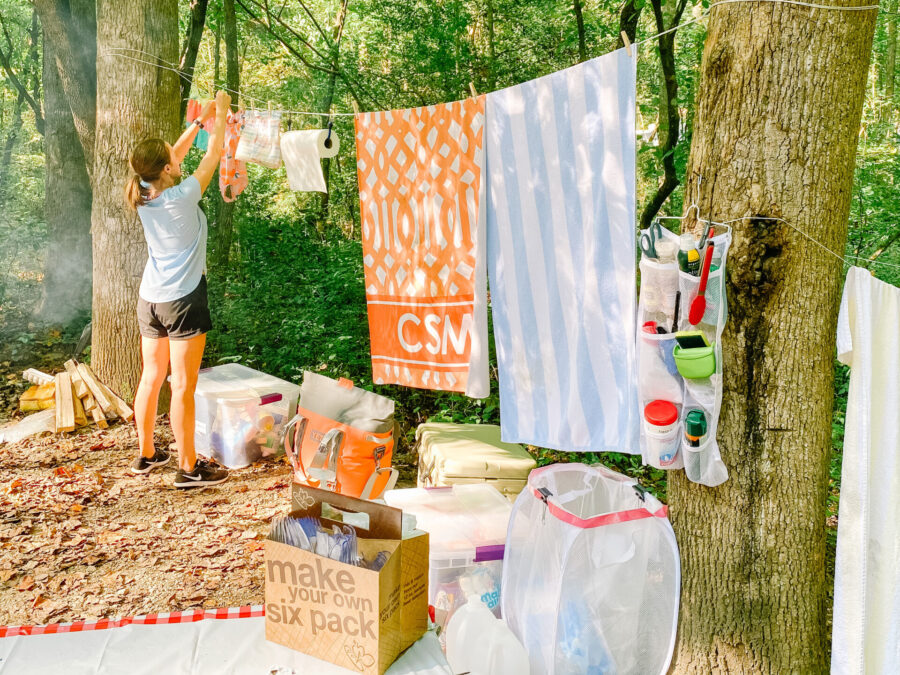 Camping Gear Container
Additional Gear (not stored in container)
Family Container
Kitchen Container
I would highly recommend making a trip to the dollar store for most of these items!