Over Labor Day weekend we took the kids tent camping in Edisto Island, South Carolina! Last year we had so much fun camping at Table Rock that we immediately booked our 2021 camping trip as soon as we arrived home. We actually got quite lucky to get a reservation at this camp site which books out 13 months in advance. No really, the park rangers told us that Edisto usually books up at 12:01 am on the day the reservations open (which is true because we tried to book it again for next year one day too late). And I can see why. This tent camping experience was unlike any I've ever experienced before. It was SO cool to be steps from the ocean all weekend long!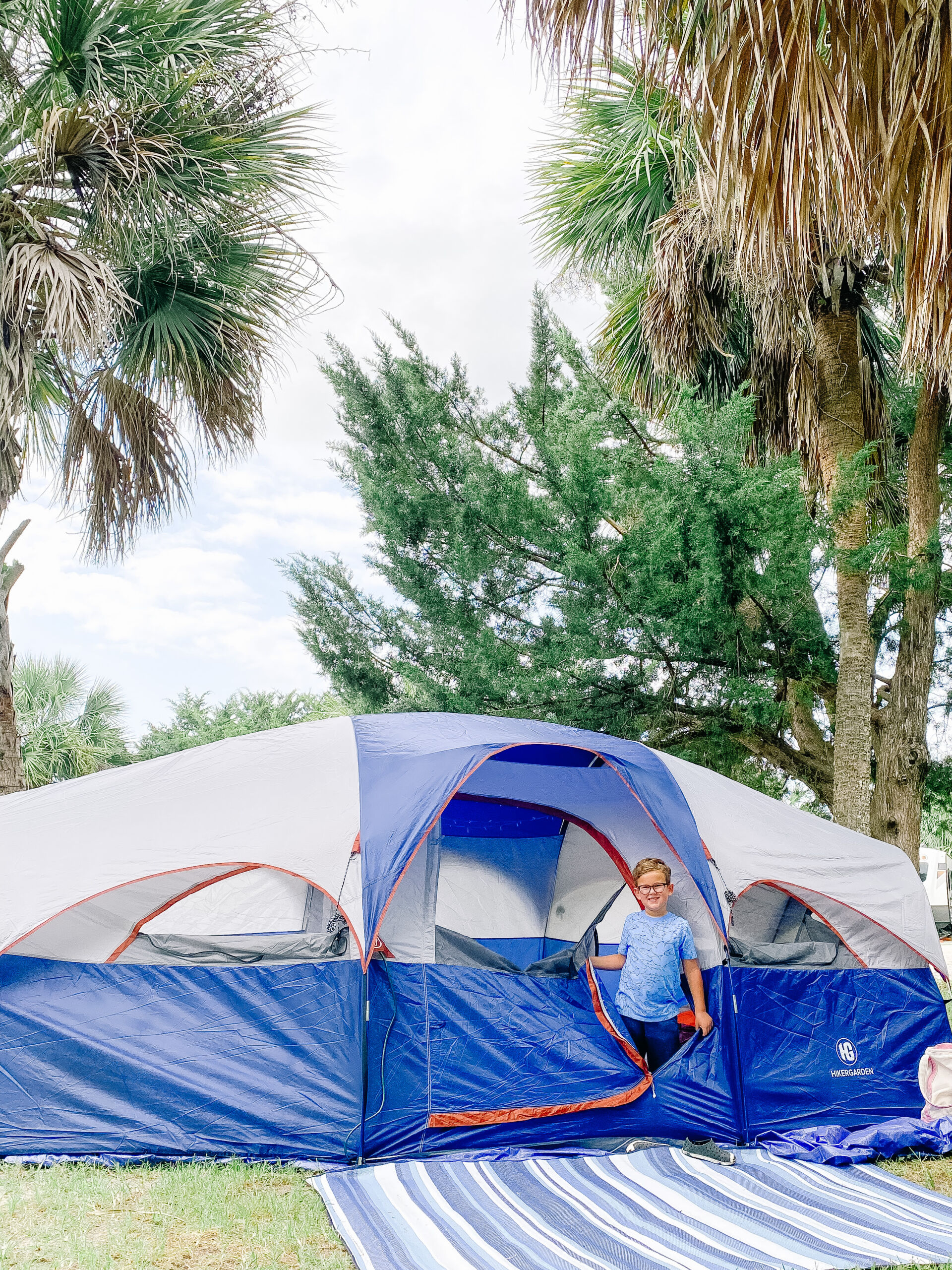 It took us almost 4 hours to get to the camp site from Charlotte and we arrived right at check-in time. This year, our friends Aaron, Michelle, Nora and Palmer came with us too which made the trip even more fun (and easier). Upon arrival the dads immediately began pitching the tents while the moms unpacked supplies and fetched the first round of snacks and juice boxes for the kids.
While the parents were inflating air mattresses and unpacking a dozen tupperware storage containers (see my container packing tip here), the kids were wildly entertained by the Chillbo Inflatable Couch that Aaron brought. This blow up chair was a huge hit and provided hours of entertainment throughout the weekend.
I received a lot of questions on Instagram about our tent.This was our second year using this tent and my review remains the same — it's amazing.
I spent hours and hours agonizing over which tent to purchase for our family last year. I must have read a thousand reviews and had our options narrowed down to 4 tents until finally selecting the 8-person Hikergarden Campros tent. The features that ultimately sold me were the amount of mesh windows to allow for max air flow and the curtain room divider so the kids could have their own space separate from ours. We inflated two queen-size air mattresses inside and still had a ton of room for all of our bags, toys, etc. We also strung twinkle lights inside the tent which was so fun at night!
The only negative tent reviews were around the door zippers (which are hard to open but we figured out how to make these a lot easier to unzip). After two camping trips using this tent, I can honestly say I would buy it again and again and again.
We had gorgeous weather the entire trip so I can't speak for how it holds up in the rain, but we did spray the entire tent and rain fly with a coat of heavy duty water repellent, which I highly recommend doing to any new tent.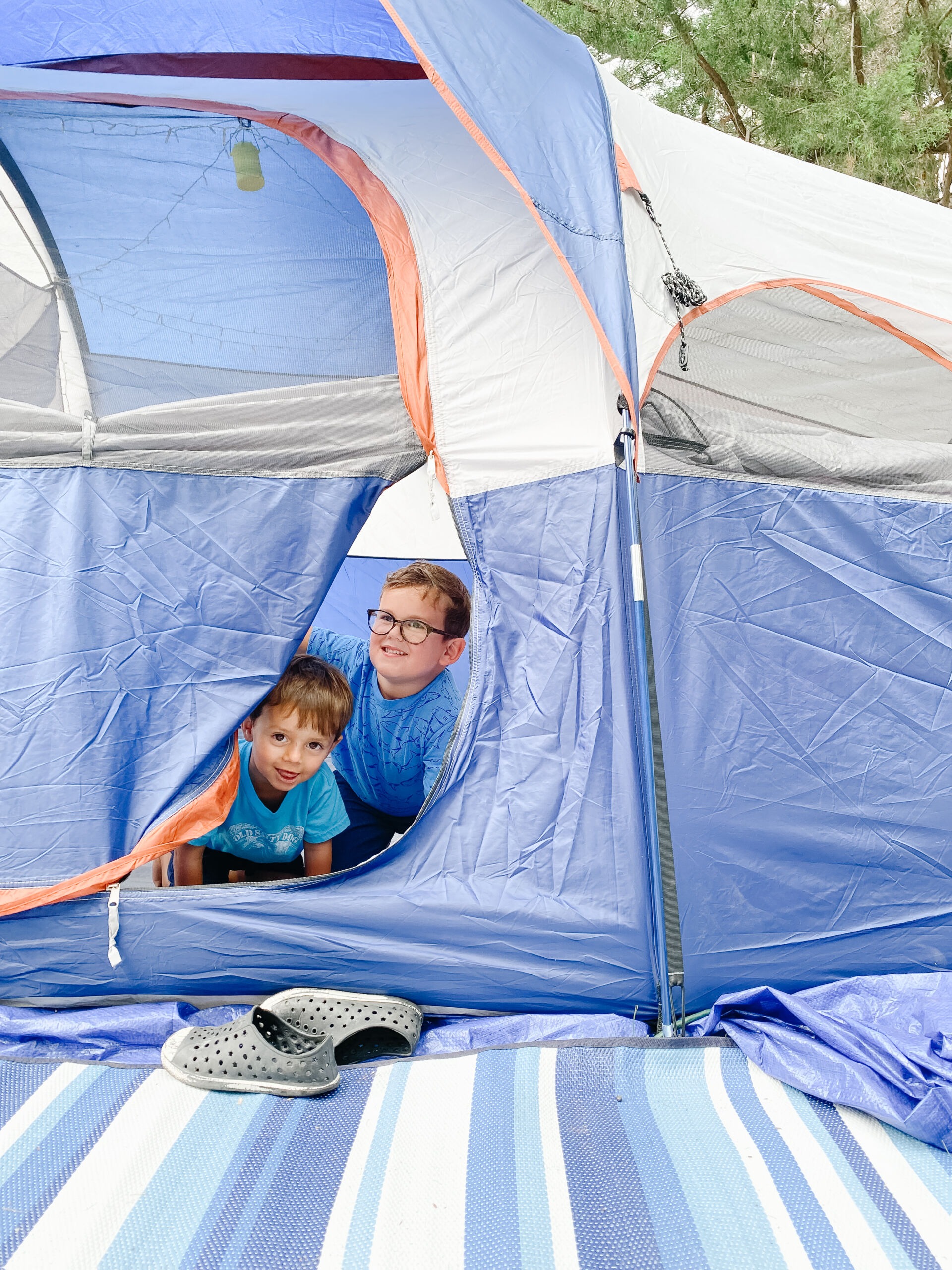 Once we were all set up we walked 100 steps to the ocean. I'll say it again — this was SO unbelievably cool. Combining two of my favorite experiences (beach and camping) was mind blowing for me. I could not get over it — especially the glorious ocean breeze that kept the mosquitos away from our camp site on the first day.
*Edisto Camp Site Tip: Our beach camp site was #65 which was perfect for tent camping as a family. The bathrooms/showers were steps away from us on one side and the beach path was steps away from us on our other side. This made it even more convenient throughout the day as we could quickly run back and forth between the camp site and beach. Next time, we want to try and get a camp spot on the marsh side of the row (better view, more privacy) but still near the beach access and restrooms.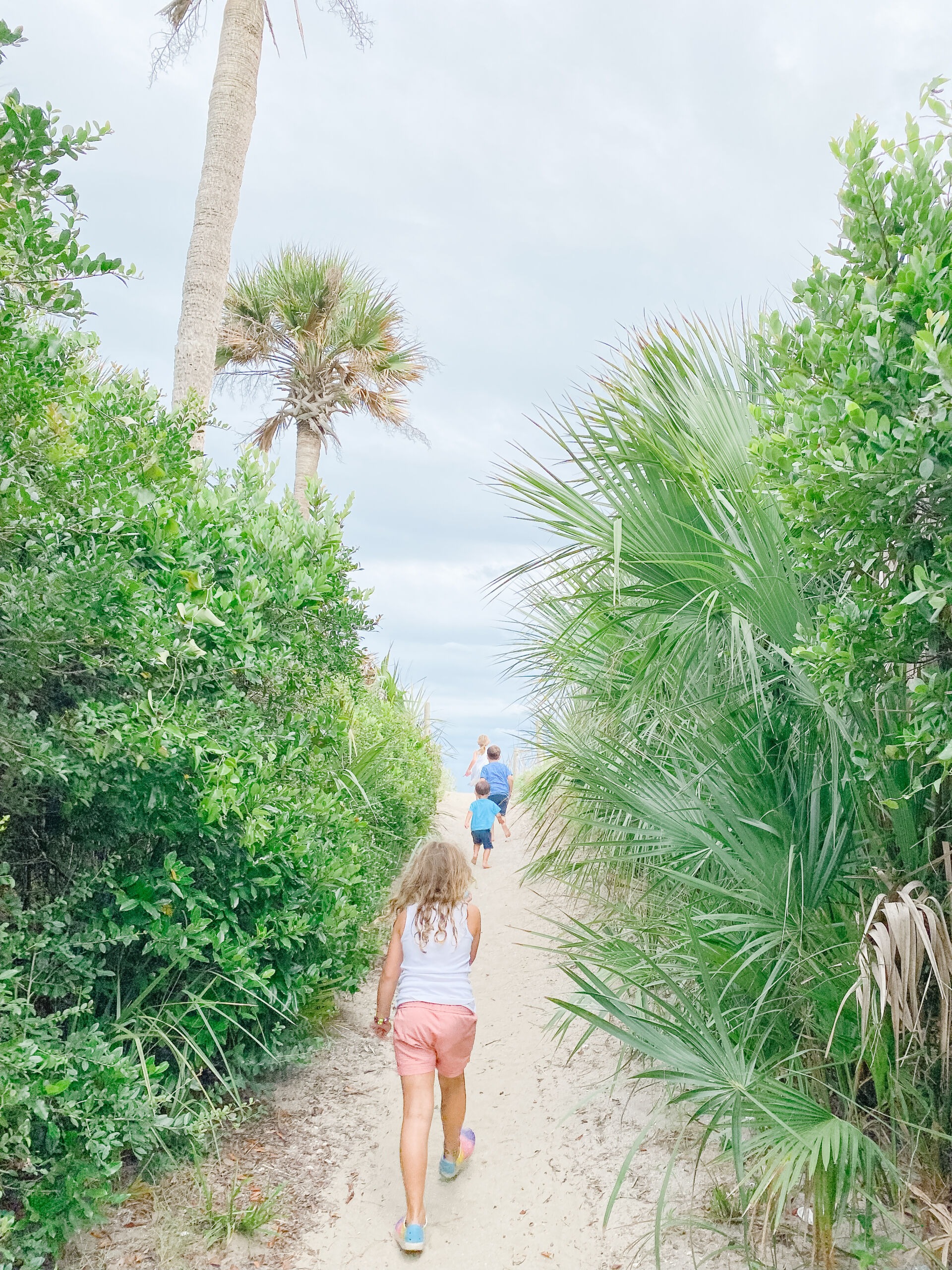 After getting the kids showered and in pajamas we got the fire going. All the kids wanted to help so it took forever (especially since the fire pits were below the ground making it hard to get oxygen to the flames) but with a little assistance from the air mattress pump we were able to get it going.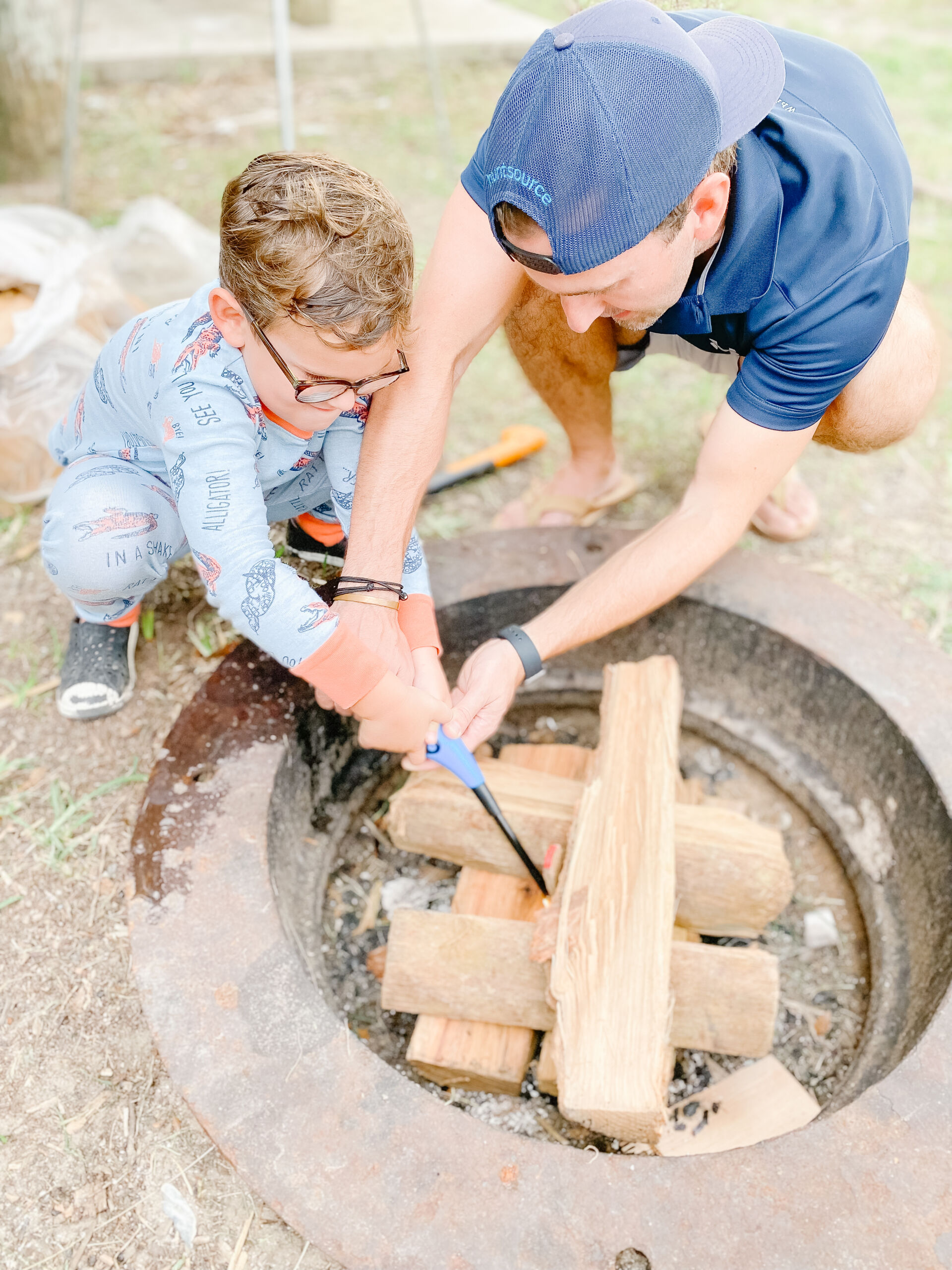 I'm going to be honest — one of the best parts about camping is THE FOOD. The kids get to eat so many treats and snacks we usually don't keep in the house and were elated to crush boxes of sugary cereals for breakfast, bags of cheetos, cones stuffed with candy and more.
Tacos In A Bag
Hands down, everyone's favorite camping meal is tacos in a bag — so that's what we made for our first dinner.To keep things easy, I pre-cooked and seasoned the taco meat at home before we left, so all we had to do was toss it into an aluminum pan and warm it up over the fire. Assembling the taco bags was really fun. We slightly crushed mini bags of Doritos before adding the taco meat. Then we piled on all the toppings (diced tomato, shredded lettuce, shredded mexican cheese, etc.). This was definitely our favorite campfire meal of the trip. It was so easy and delicious!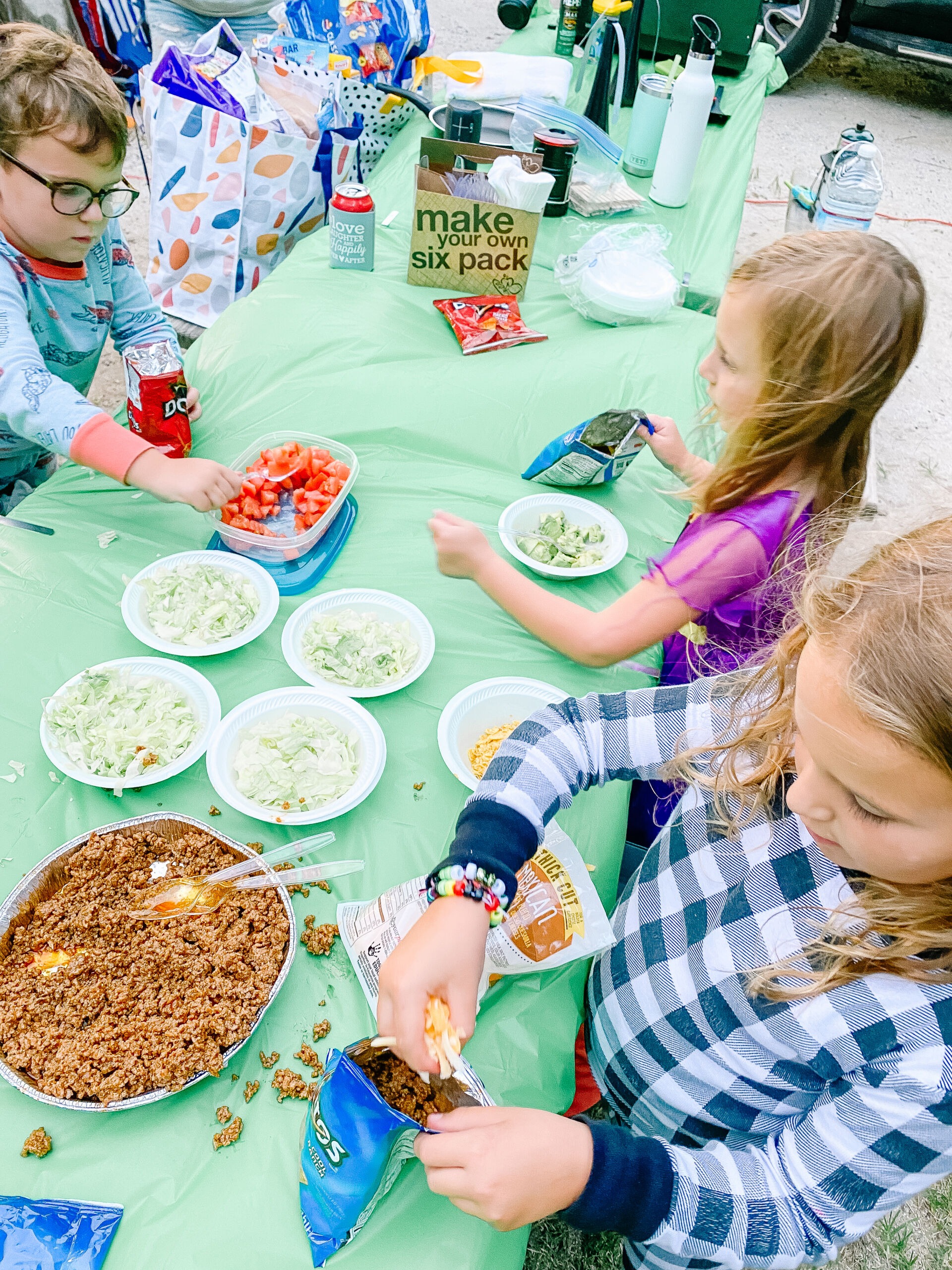 S'mores Campfire Cones
During our mother-daughter weekend earlier this year at Camp Merri-Mac, Caroline and I discovered the most delicious and fun s'mores recipe — CAMPFIRE CONES! These were so easy, delicious and slightly less messy than traditional s'mores. In a waffle cone, we layered marshmallows, mini m&ms and mini reese's cups. You can really go wild with so many other toppings too including fruit like raspberries and bananas (which I brought but we failed to remember to pull out of the cooler). Once the waffle cones were stuffed to the brim, we wrapped them in foil and slowly roasted them over the campfire until they were warm and melty. And they were insanely delicious.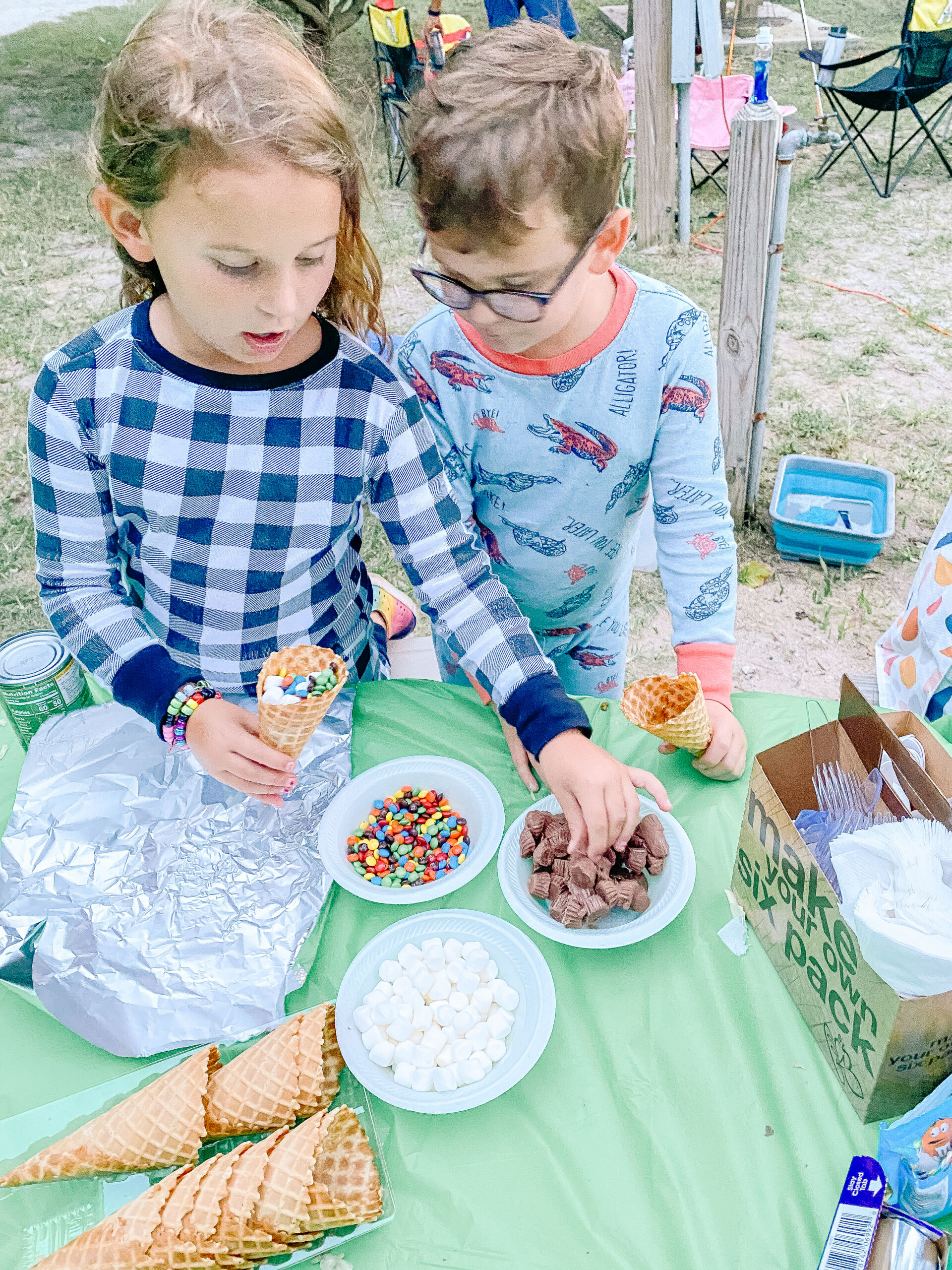 Saturday night after the kids were in bed, the adults were having a blast sitting around the fire when the first raccoon arrived…
We had been warned that the raccoons in Edisto were unafraid to hang out so we had packed away all of the food but overlooked the trail of mini m&ms, marshmallows and cheeto crumbs sprinkled throughout our campsite by the kids. And as promised, Randy the raccoon literally waltzed right between our chairs startling all of us and began enjoying dessert right at our feet. Once he had polished off the crumbs, Randy CLIMBED INTO A KID CHAIR and began eating cheetos out of a bag in the chair cup holder. It was truly unbelievable. Even though we double and triple checked our site for food before we all retreated to bed, an army of raccoons showed up to party at our campsite in the middle of the night. They were on the table, scratching at the coolers and fighting each other over any remaining crumbs. The kids went wild over the video footage the next morning.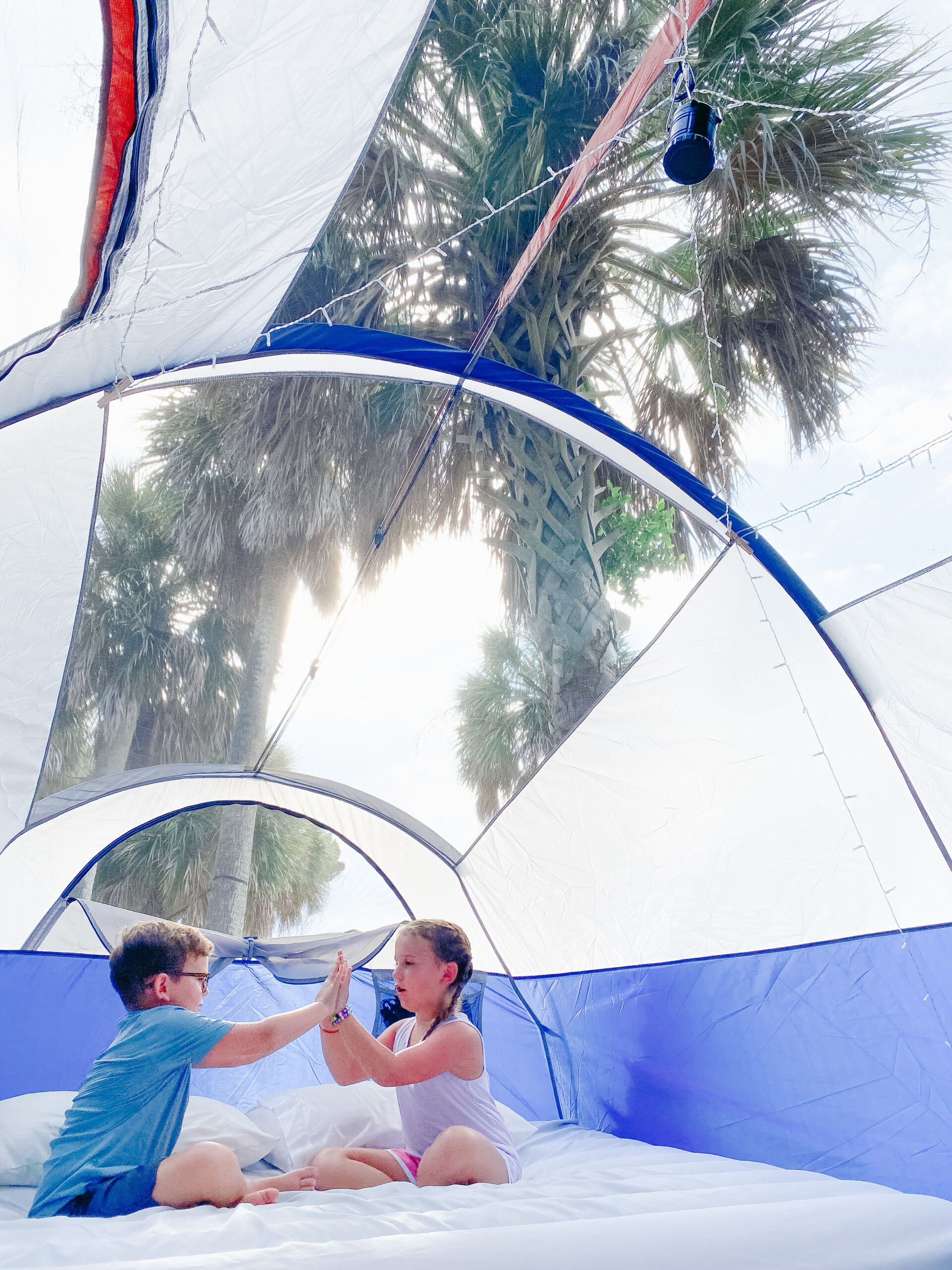 Sunday morning we were all up too bright and early. After a bacon and eggs breakfast, we packed up the wagon and coolers and hit the beach for the day. It was a perfect day for the beach too. The 1.5 miles of beach wasn't crowded at all and was a gold mind of pristine ginormous seashells. Caroline could not collect them fast enough.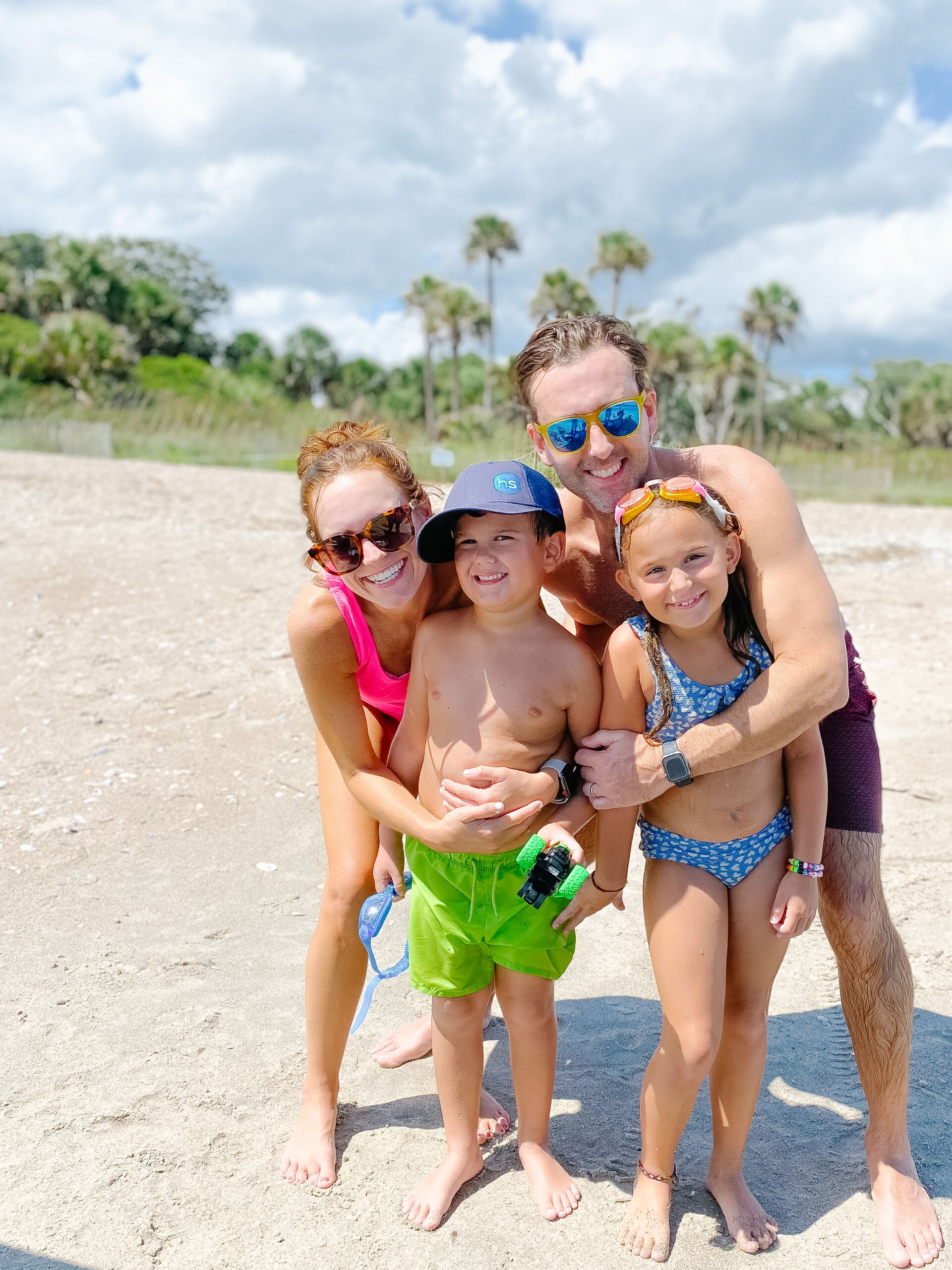 After a fun beach day, we packed up and headed back to the campsite for showers and got a fire going for dinner. The ice cream truck came by at sunset every night too which was so exciting.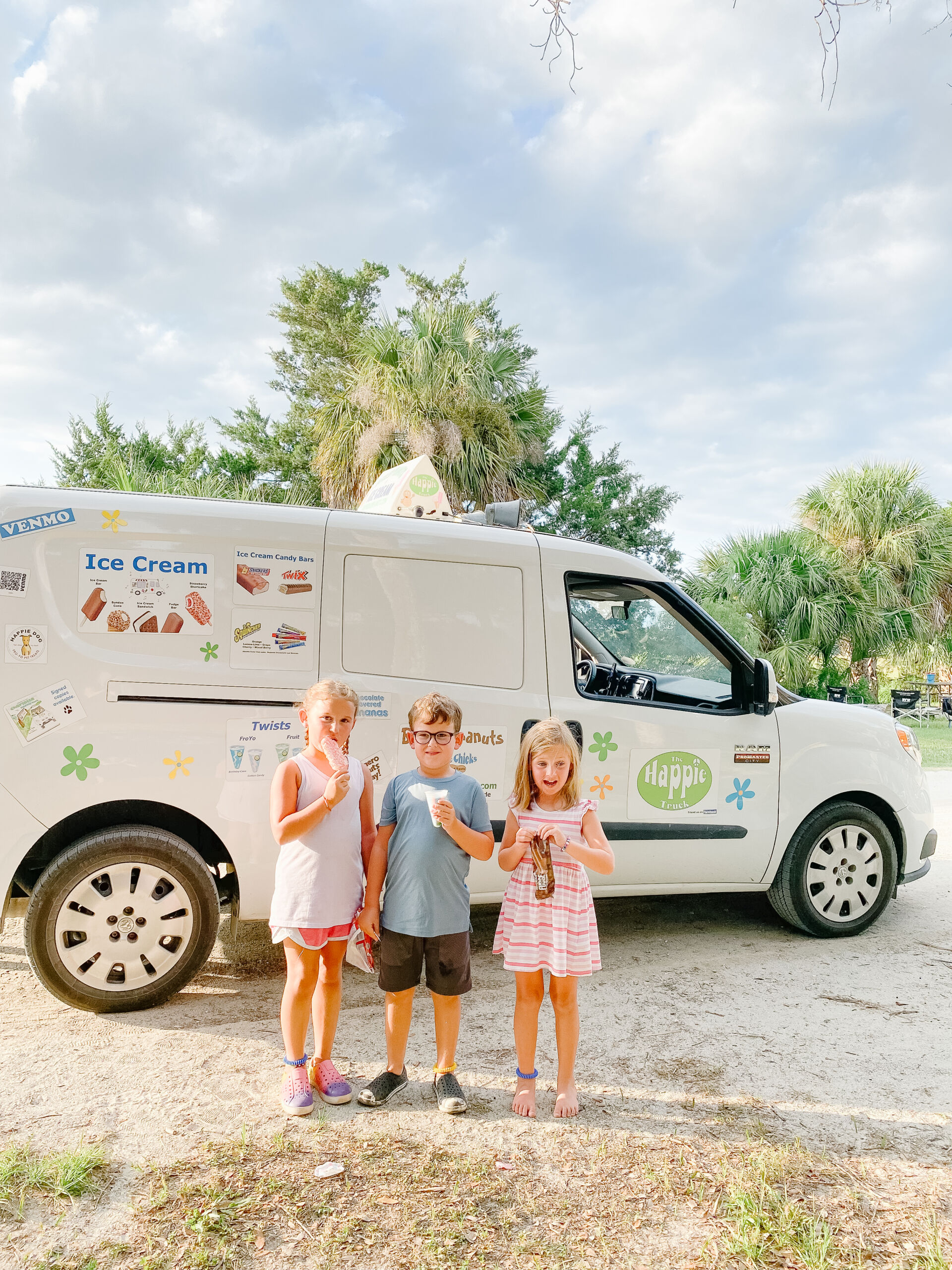 We made our second favorite meal for dinner #2 — pizzas!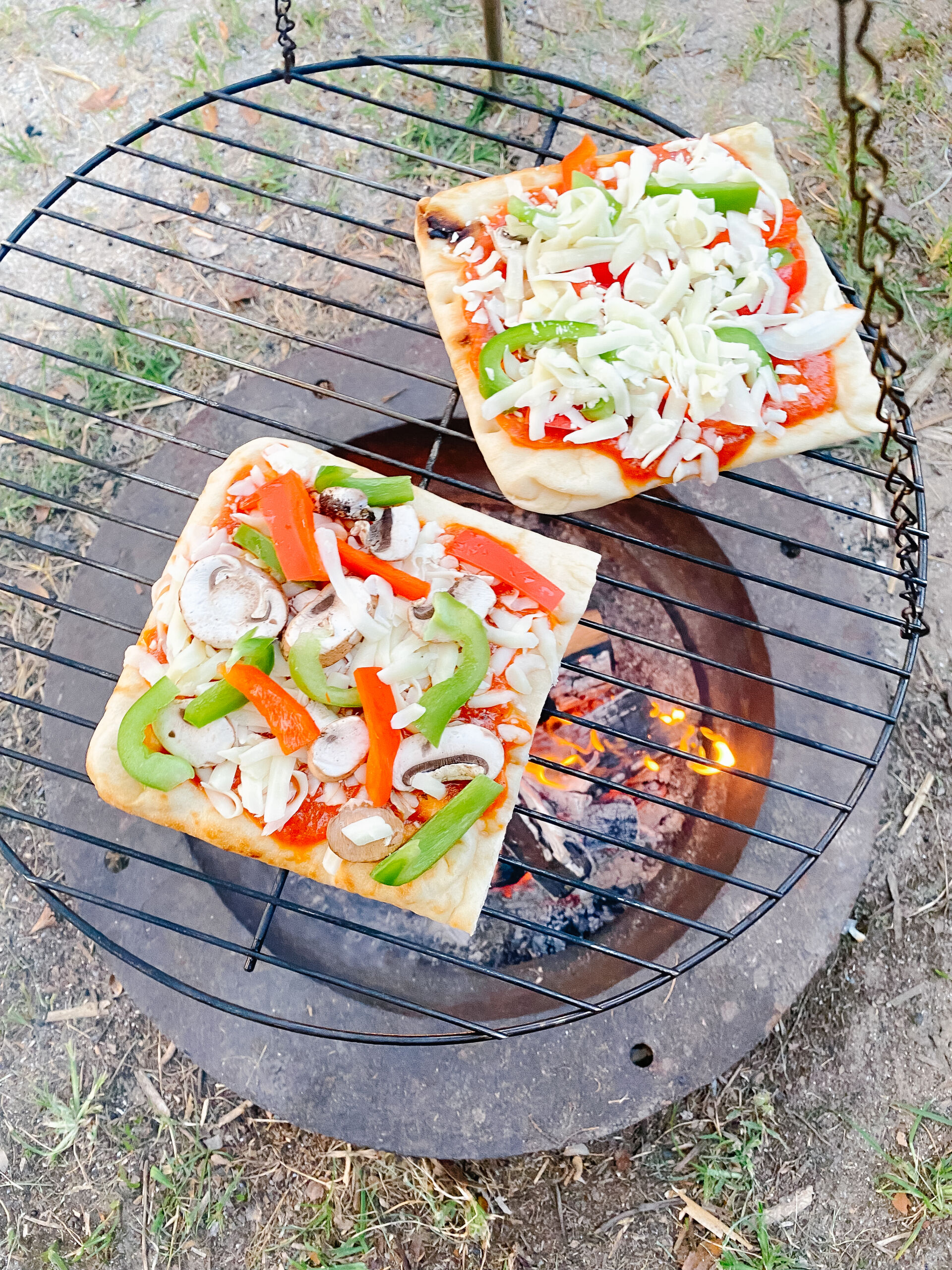 After another late night around the fire, Monday morning came too early. We made breakfast, packed up and said goodbye to our amazing campsite.
We were all exhausted, sweaty and dirty, but we had a blast!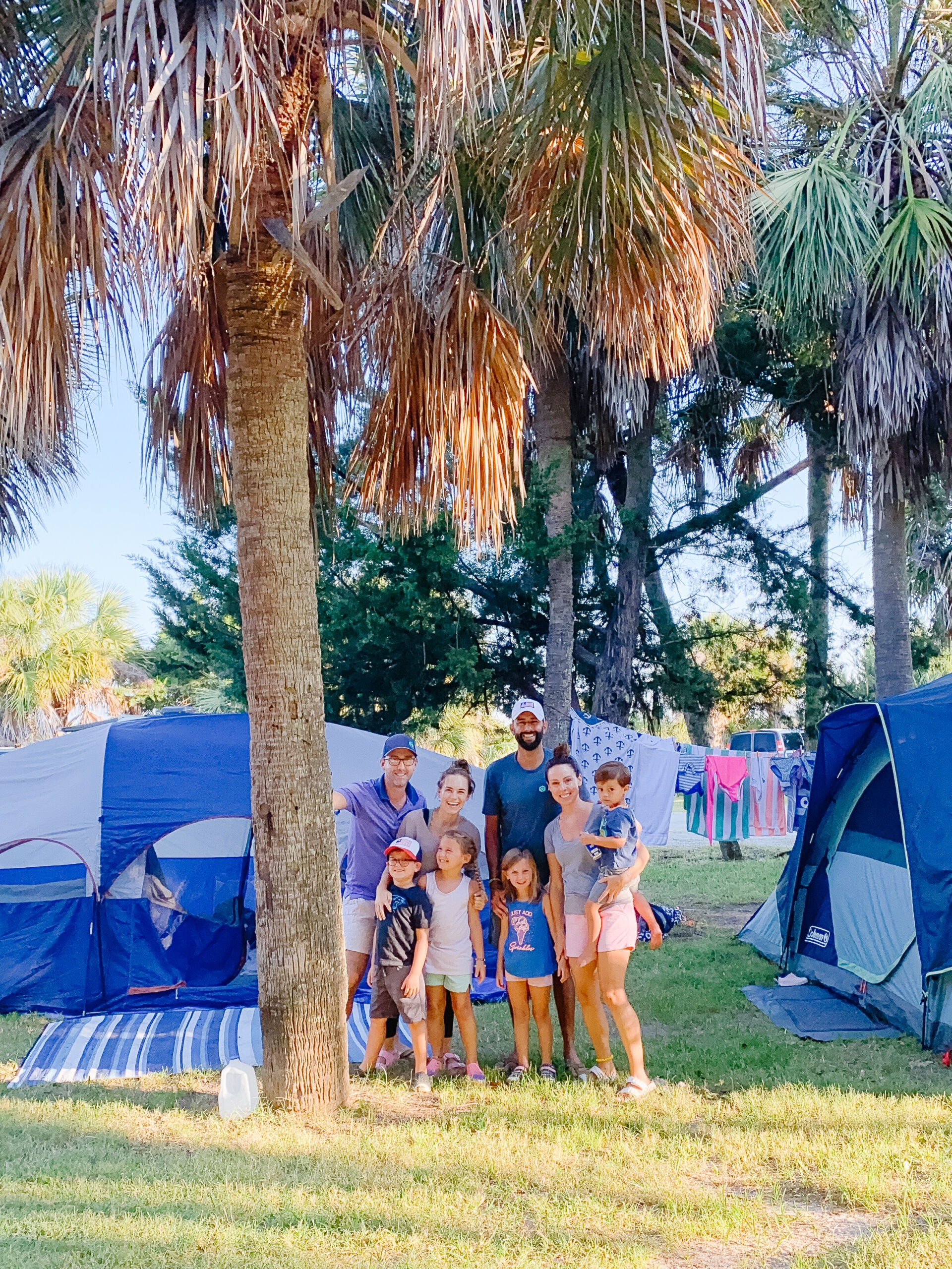 And as soon as we arrived home…I booked our campsite for next year!